We are reader supported and may earn a commission when you buy through links on our site.
Learn more
Motor 99 Kodi addon: Stream Motorsports Online on Kodi
If you're looking to watch one of the big four US sports, soccer, cricket, rugby or any other popular team sport, Kodi's ecosystem of unofficial addons has got you well covered. But what if you're looking for something else, like motorsports? There is a sizable audience out there that isn't able to really get their fix from general sports addons. Enter the Motor 99 Kodi addon.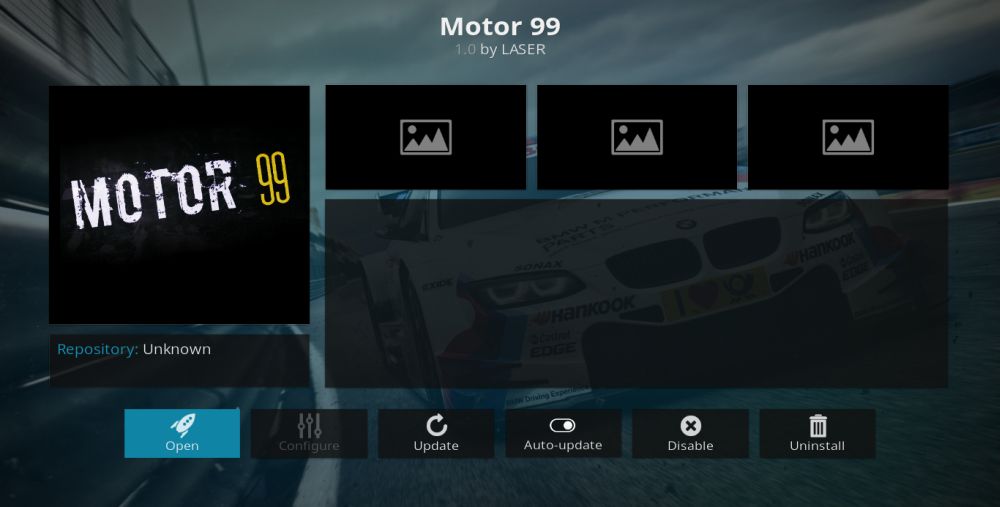 The Motor 99 addon is a dedicated motorsports addon. It offers content and coverage of all the most popular motorsports on a single addon, which is well designed and easy on the eye. You won't just find races, but plenty of background content, documentaries, and much more besides. In this guide, we will tell you everything you need to know about the Motor 99 Kodi addon, including a simple step-by-step guide on how to download and install it.
30-days money back guarantee
Before you download the Motor 99 Kodi addon, Install a VPN
Unofficial Kodi addons such as Motor 99 can sometimes allow users to access copyrighted content and this is the main reason why we always recommend all Kodi users have downloaded and installed a VPN before streaming. In recent times, copyright holders have come down hard on Kodi users with a number of addon and repositories going offline, while some users have also received legal notices and even further sanctions for watching. Sports addons have found themselves especially in the firing line as copyright holders are spending more and more to get rights and are willing to invest to protect them.
A VPN can help you to mitigate these risks by encrypting all of your online traffic and ensuring that your IP Address is kept hidden from prying eyes. This helps to keep you protected. The question is, which VPN is the right one to use with Kodi and addons like Motor 99?
The Best VPN for Kodi – IPVanish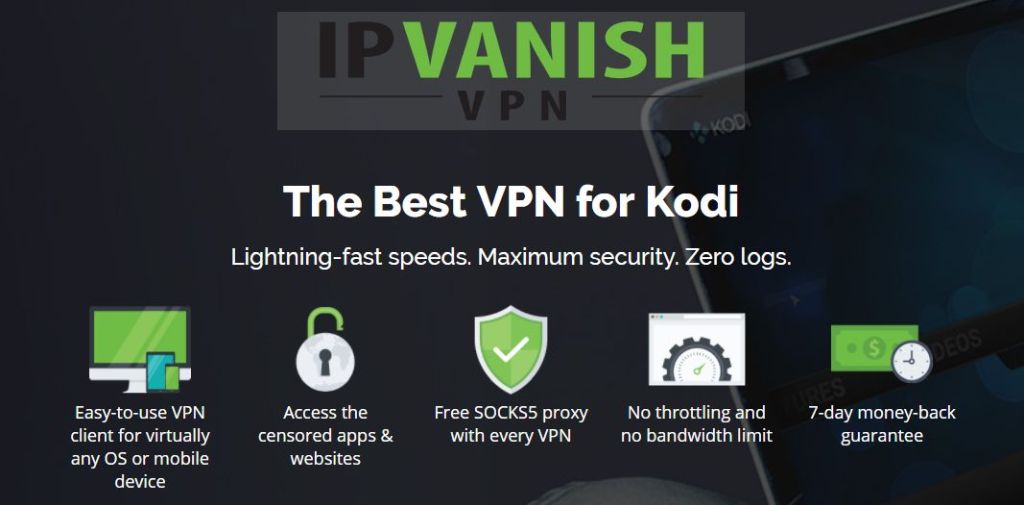 IPVanish offers fast and consistent connection speeds across their whole server network, which Motor 99 users will need to stream content smoothly. It also offers strong encryption and great privacy protections, including a no user logs guarantee that you can trust. The IPVanish server network is made up of more than 950 servers in 60 countries across the world. This is more than most other providers offer and means that Kodi users can unlock content that might be geo-restricted as well as helping to keep connection speeds fast. There are also no restrictions on either file types or data amounts that you can use, which is because some addons stream content from lots of different sources. And no matter what device you are running Kodi on, IPVanish offers a dedicated and easy-to-use app for you too. This even includes the Amazon Firestick. IPVanish is a one of the very best all-round VPN and it has everything Kodi users need.
IPVanish offers a 7-day money back guarantee which means you have a week to test it risk-free. Please note that Addictive Tips readers can save a massive 60% here on the IPVanish annual plan, taking the monthly price down to only $4.87/mo.
How to install the Motor 99 Kodi addon
With a growing number of developers, unofficial Kodi repositories seem to be very much out of fashion at the moment. Instead, the trend is to push out new addons as a plugin instead. There are pros and cons to this. The download and installation process is a simple on with a plugin, although repository downloads are not exactly complicated. But on the flip side, any updates to the addon have to be downloaded manually with plugins whereas repositories will do this automatically. But if you want to download the Motor 99 Kodi addon, the plugin option is the only one available at the moment. It is, as we just said, a fairly simple process. All you have to do is follow these 8 simple steps:
Motor 99 Kodi addon review
As a motor racing fan, you are no doubt excited by the prospect of a new Kodi addon dedicated to motorsports. And so you should be, although it is worth noting that while there are plenty of different types of motor racing series covered by Motor 99, it is not 100% comprehensive. It is nonetheless an impressive addon, which has been well designed and is extremely intuitive to use. This begins with the main menu, which users will first arrive at upon launching the software. The developers have wisely kept this addon very simple and all you will see here are the different motor racing series that the Motor 99 addon offers content on. Let's take a closer look at what this addon has to offer: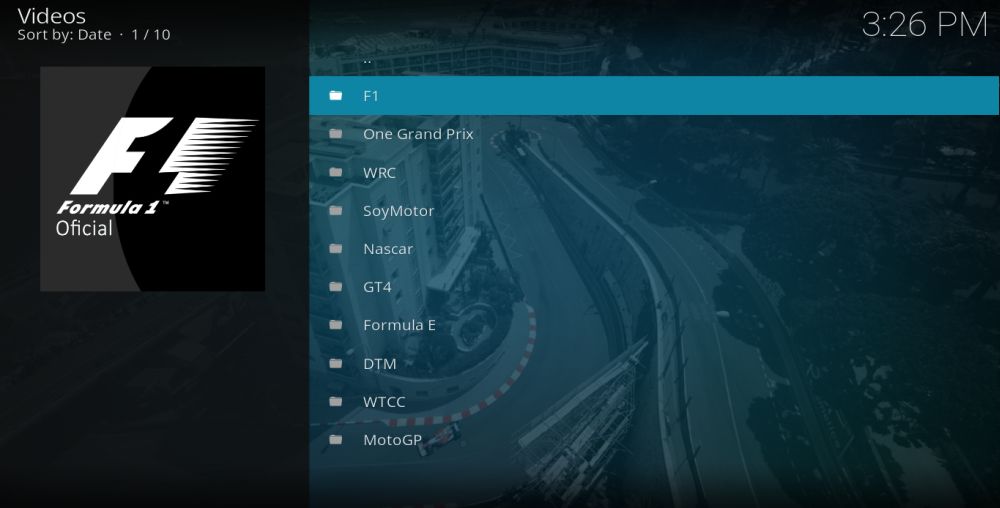 F1
Formula 1 is perhaps the most popular motorsport in the world, so it should come as no surprise to find this at the top of the main menu. Clicking on it opens up a submenu which is mostly filled with highlights and documentary content related to F1. There is a lot to explore and the content goes on for several pages. Unfortunately it is not listed in any discernible order, but actually browsing through to find the videos that interest you most is fun in this instance. The top three menu items offer something different though. Playlists offer on-demand coverage of races and testing that has already happened as well as some compilations and highlights too. Live is the place to go for live links for races, qualifying and testing, while the Search options allow you to pick through all the F1 content searching for drivers teams, or any other keywords.
One Grand Prix
F1 is a national pastime in Brazil where heroes such as Ayrton Senna and Rubens Barrichello are household names. This section has F1 coverage in Portuguese which is a shrewd move by the developers, who clearly want to attract a global audience.
WRC
WRC is the place to come for all the latest content related to the World Rally Championship. The layout of this section is much the same as F1 with Playlists, Search, and Live content at the top followed by a long list of videos, documentaries, highlights, and much more. All of the content is up to date and this section at least appears to be in chronological order.
Soy Motor
Formula One has a big following in Spanish speaking countries and Latin America, so having another F1 section available in Spanish too is another pretty shrewd move by the developers. As far as we can tell, the content is much the same as the English and Portuguese sections.
Nascar
The US always likes to be a little bit different and across much of America, it is Nascar that is the dominant sport. The Nascar section of the Motor 99 addon appears to consist solely of on-demand race coverage at the moment. But there are lots of races to watch and it is a great resource for fans of oval track racing.
GT4
The GT4 European Series sees mostly amateur drivers competing in production-based racing cars at events across Europe. It is probably not the fastest racing you will find on the Motor 99 addon, but you will see some of the best driving and some amazing looking supercars. The addon offers both magazine content and on-demand streams of recent races, as well as live links to events as they are taking place too.
Formula E
This is the FIA's official racing series for electronic cars and after being much derided when it was first launched, it is now one of the fastest growing motorsports disciplines around. Motor 99 offers live and on-demand coverage of E-Prix's as well as a whole host of other content and highlights as well.
DTM
DTM stands for Deutsche Tourenwagen Masters and is the German Touring Car Championship. It features events which are held mostly in Germany, but also in other countries across Europe too. Motor 99 offers plenty of content for fans of touring cars to enjoy here, including documentaries, highlights and live and on-demand race coverage.
WTCC
There is more touring car content available too with the World Touring Car Championship section which features mostly on-demand race coverage and extended highlights programmes but also live links to races too.
MotoGP
Only on its final discipline does Motor 99 move away from four-wheel racing and onto two-wheel events. MotoGP is every bit as popular as Formula 1 and arguably more competitive and exciting. It has a huge following around the world and fans will love the Motor 99 addons offerings. They have masses of MotoGP content to explore, all of which appears to be in chronological order. There are interviews, highlights, compilations, documentaries, and of course live and on-demand race coverage too.
Motor 99 Kodi addon pros and cons
Pros
The first thing that leaps out when using the Motor 99 addon is just how user-friendly it is. It is a truly well-designed addon with everything where you would expect it to be and the whole thing easy to navigate around. All of the content on Motor 99 begins to stream with a single click. This is great as it means once you find a link to something you want to watch, you can get down to it asap.
In our testing, all of the links worked well too. We didn't come across any broken links, all of the content streamed with a very high quality, and we also didn't encounter any issue with buffering either. On an addon with such a huge number of streams available, this is a real achievement by the developers.
Cons
One downside to the Motor 99 addon is that some of the content is not listed in any discernible order. This is a real bugbear of ours as it makes it tough for some users to quickly find the content they are looking for. However, much of the additional content on Motor 99 is magazine style video clips and in this instance browsing through to find what you are interested in is actually rather fun. It wouldn't hurt to list content alphabetically or even chronologically, however.
But that aside there isn't much to criticise. There are, of course, other motor racing series that the developers could add to this and a few users will no doubt be disappointed to find their favourite isn't there. But more may be added in time so it seems a little harsh to criticise over that at this point when all the main motorsports series are included.
Conclusions
If you are a fan of motorsports, Motor 99 is an absolutely essential addon for you. It has a huge amount of content on all the major motor racing series available for you to explore. The addon is neatly designed and really easy to use. Streams play with a single click and all to work extremely well. The only criticisms we had were niggling little things and our conclusion has to be Motor 99 will quickly become a mainstay of your Kodi library if you are into any of the motorsports included.
How did you find the Motor 99 Kodi addon to use? Did you have any problems or issues that we didn't identify? What motor racing series do you think they should add next? Did our download and installation guide help you at all? We are always keen to hear your thoughts and opinions, so why not share them with us using the comments box below?