We are reader supported and may earn a commission when you buy through links on our site.
Learn more
Not Sure Kodi Addon: How to Install and Watch Live TV
Kodi fans are always on the lookout for a reliable all-in-one addon, but in recent times they have become something of a rarity. In this modern Kodi landscape, it's no wonder many people are getting excited about the Not Sure addon. It brings together a great range of on-demand content and, perhaps more crucially, offers reliable live TV streams as well. This allows users to enjoy everything from live sports and movies, to the latest big TV shows.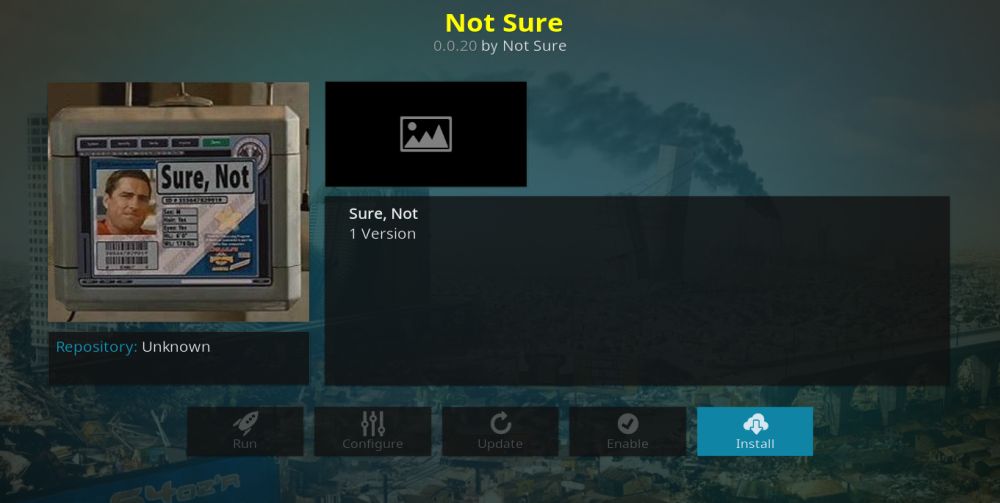 Not Sure has rapidly become an essential download for many Kodi users. But that has also drawn some unwanted attention, leading to the addon becoming unavailable for a short period. But it is back, and, in this article, we will show you a working method to download and install it onto your Kodi system. We will also explain why it is vital to use a VPN with the Not Sure addon and recommend the best VPN for the job. 
30-days money back guarantee
First Things First – Always Use a VPN with Kodi
It is absolutely vital to use a VPN if you are streaming any content on Kodi. That is because unofficial addons often enable users to access copyrighted content. While the Kodi team takes no responsibility for what third-party developers create, you still need to take responsibility for your own security. Many copyright holders have been cracking down on Kodi users of late, so if you don't want to receive a legal letter–or face even worse repercussions–it is sensible to take precautions.
The best possible precaution is to use a VPN to encrypt all of your online data and so keep your online activity obfuscated against third-party observation. A VPN also hides your real IP Address, which helps to keep you anonymous when using the Not Sure addon.
VPNs are an increasingly essential online tool for Kodi users in general, and that is even more the case for addons like Not Sure. The dilemma most users face is not whether to use a VPN or not, but which VPN to choose.
The Best VPN for Kodi – IPVanish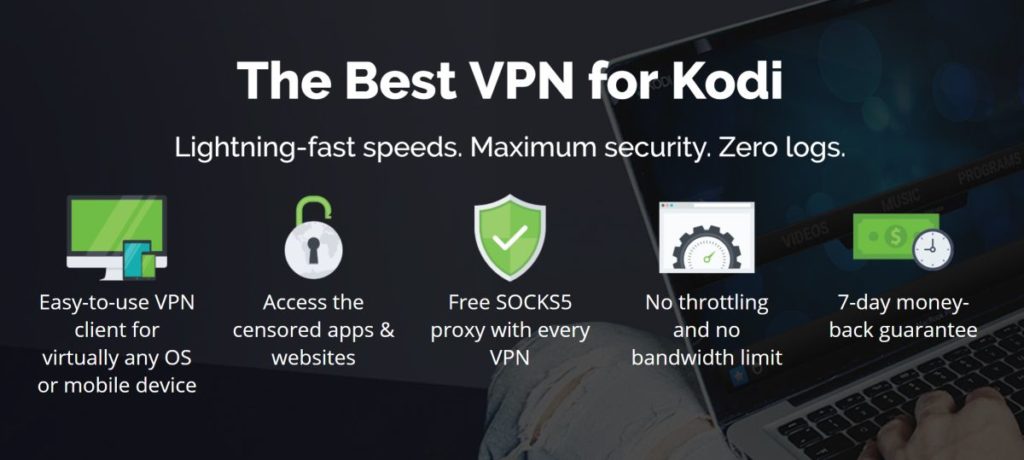 Our tests have revealed that the best VPN for all Kodi users is IPVanish, which has the fast and consistent connection speeds that Kodi users need to stream live and on-demand content. Behind this high-performance, however, is incredibly strong 256-bit AES encryption, which is virtually impossible to crack. Any trail of breadcrumbs left behind by your online activity is swiftly swept away with IPVanish's strict no-logging guarantee.
IPVanish offers users access to a large server network, which consists of more than 1,000 servers across 60+ countries around the world. It imposes restrictions on neither file types nor the amount of data you can use. This makes it ideal for Not Sure users as streaming can be very data intensive. IPVanish offers a great range of dedicated apps for almost every Kodi-compatible device too, including the Amazon Firestick.
IPVanish offers a 7-day money back guarantee which means you have a week to test it risk-free. Please note that Addictive Tips readers can save a massive 60% here on the IPVanish annual plan, taking the monthly price down to only $4.87/mo.
How to Install the Not Sure Kodi Addon
The Not Sure Kodi addon has moved a few times recently, and for a while was unavailable to download. But it is now back and can be found on the seduNdneS Repository. The process for downloading this repository is slightly different for the standard method of downloading other unofficial repositories. It is therefore important for users to follow our step-by-step guide below carefully:
Type the following EXACTLY: https://notsure.kodi.expert/ Then, select OK. Then in the box underneath and give this source a name like Bubbles and then click OK
Select Install from Zip File > Bubbles > not_sure_step_1.zip and wait for the Add-on enabled notification.
Wait for Add-on enabled notification.
When you first open the Not Sure addon, it will pop up a copyright disclaimer which you have to accept before being able to use the addon.
Not Sure Kodi Addon Review
Not Sure is an all-in-one addon with a lot of content to explore. When you first open the software, you will be greeted by an extensive main menu. The top three items on the menu are administrative while the fourth is a short selection of popular content from the developers. At the bottom is a decent search feature which we actually found very useful in testing. But it is when the menu changes to yellow that you reach the content most users are after: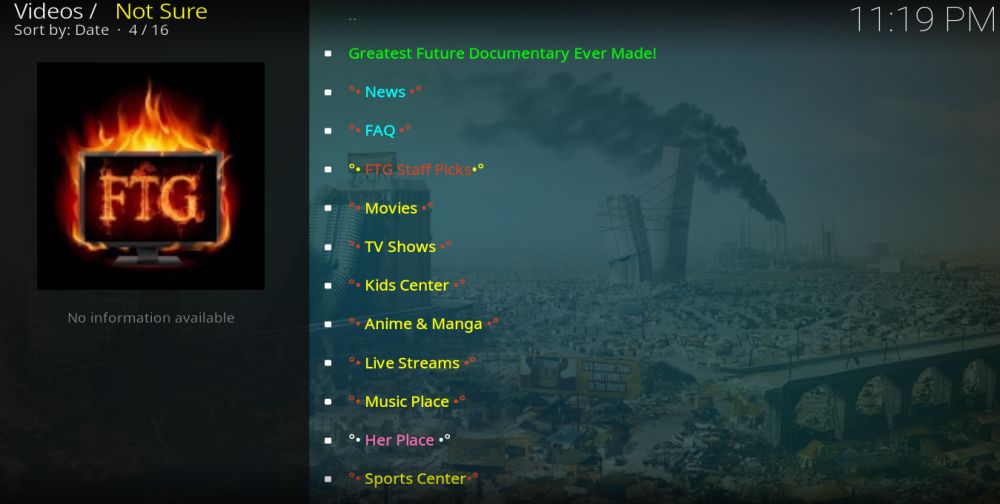 Movies
The Not Sure Movie selection is a big one, but very easy to navigate. The movies section gives users the option to search through an alphabetized list, look through collections, or seek out box sets of popular franchises or movie series. It also includes an IMDB Movie Scraper feature.
TV Shows
Like the movie section, there is an extensive range of on-demand TV shows to choose from. This section allows users to search through alphabetized listed, which are broken down into A-F, G-L, M-S, and T-Z both for ease of use and to help break up the huge list of available shows.
Kids Center 
This section is all about family-friendly content and includes sections for general animated TV shows, one entitled Every Disney Movie, and a cartoon scraper. There is also a link to YouTube Kids.
Anime and Manga
As the name suggests, this is where you can access a decent selection of adult animation. Most of the available content is Japanese and Asian content, but there are some western shows available too.
Live Streams
This is the Not Sure live IPTV section and it is a big one. Some titles are not particularly clear, but it is worth exploring because all contain some fantastic TV channels from all over the world. A couple of tabs, such as the USA List and UK List are self-explanatory and offer a long list of available TV channels from those two countries.
Music Place 
Music fans can head here if they want to tune into radio from around the world. There are two long lists of live radio station feeds to choose from. Alongside this are three great selections of karaoke content, so if you want to annoy the neighbors, there is plenty of content here to help.
Her Place
This is a range of content ostensibly aimed towards women. It includes a selection of rom-coms, plenty of Hallmark Movie Channel content, movies with female leads, and lots of style and make-up content.
Sports Center 
Sports is a big pull to Not Sure, and this is the where to head to find it. There is a long list of available live sports streams to choose from. The focus is on soccer primarily, but it is a section worth exploring as there are plenty of other live sports available if you hunt around.
Fitness
A decent selection of content on fitness, exercise, diet, and weight loss can be found under this tab. There are better dedicated fitness addons out there, but Not Sure offers a reasonable selection to keep you active.
Not Sure Kodi Addon – Pros and Cons
Pros
The biggest attraction to the Not Sure Kodi addon is the sheer volume of content available. It is an all-in-one addon that certainly delivers, with both an extensive selection of live IPTV channels and big on-demand libraries available too. But the reason Not Sure has been attracting big audiences is not just that it is still operational while many other all-in-ones have gone offline. It simply offers a very positive streaming experience overall.
The on-demand content is well organised and easy to navigate around. There is also an effective search feature when you can't find what you are looking for. Links open quickly and, in our testing, a large majority of them were not only functional but also of a good quality. In an all-in-one addon with so much content available, this is not always easy to deliver, but Not Sure succeeds.
Cons
There are still a few areas where Not Sure could be improved. While there are plenty of IPTV channels available, finding the ones you want to watch is not as easy as in the on-demand sections. The quality of links was a bit more mixed as well and, in testing, there were a few occasions when we went to the effort of finding a channel only to discover the stream wasn't watchable. This is frustrating, but sort of understandable given the number of channels that are on offer.
Some sections, such as Music and Fitness are a little lacking in content, which will be a let-down to some users, while the Her Place section is a little misguided in the 21st Century and may offend some female Kodi users. But for the most part, these downsides are relatively minor ones and certainly should put users off what is one of the best all-in-one addons around right now.
Conclusion
Finding a good and reliable all-in-one Kodi addon is getting harder, so Not Sure is a real godsend. It offers a great range of content which, for the most part, streams well. All of the core content that most Kodi users are looking for is here, with big selections of on-demand movies and TV shows, as well as plenty of live IPTV channels too. What criticism we have about this addon are relatively minor and it is certainly one worth adding to your Kodi library. It is the sort of addon you will find yourself using more and more.
Have you downloaded the Not Sure Kodi addon? How did you find it to use? Did you have any thoughts that we didn't cover in this review? We always welcome the thoughts and comments of all our readers, so why not share them with us using the comment box below?