We are reader supported and may earn a commission when you buy through links on our site.
Learn more
PlayOn Browser Kodi Add-on: How Install and Overview
The PlayOn video streaming service gives the world exactly what it wants: access to free movies and free TV shows. It also serves as a convenient aggregator for the most popular streaming services. Want to watch something on Netflix, Hulu, or Amazon Video but don't want to mess with their clumsy apps or annoying websites? Just fire up PlayOn, choose your channel, then start binge watching.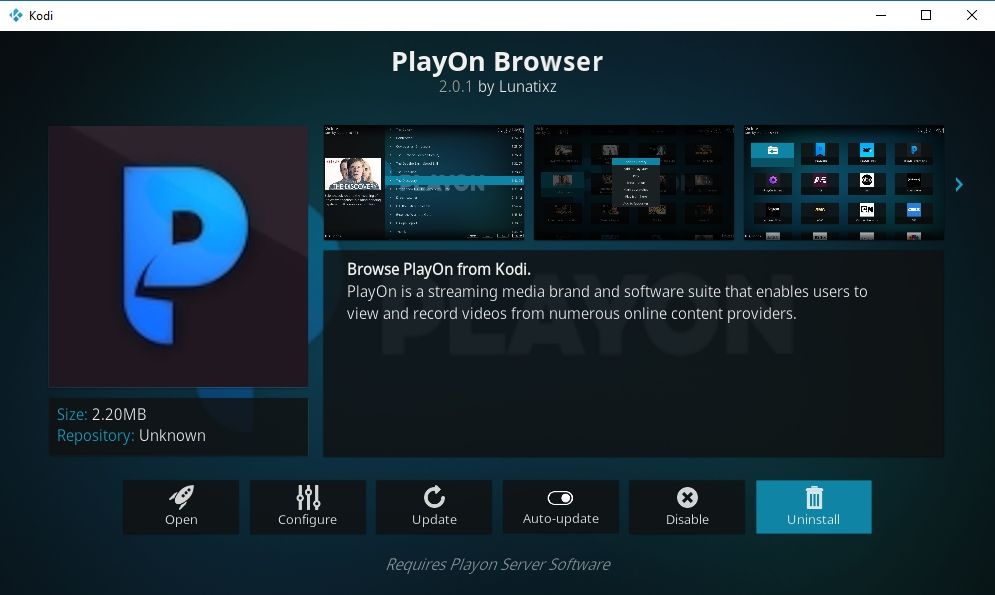 Combining PlayOn with Kodi circumvents some common problems of device accessibility. You can easily browse and stream from PlayOn on any device without having to install their apps, which is incredibly useful if you love Kodi's simplicity and compatibility. Getting things ready to go requires a little setup, however. Our guide below makes it easy install the PlayOn browser add-on to Kodi and stream any video you want.
30-days money back guarantee
Stay Safe with a Good VPN
The Kodi app is completely free to use. Because it doesn't come with any content itself, it's also 100% legal. Kodi's design opens the door to third party developers, though, which means it's possible to find and install add-ons that access pirated videos. If you stick with official Kodi add-ons such as the PlayOn browser discussed in this article, you never have to worry about breaking content copyright laws. This hasn't stopped ISPs and government agencies from taking action against Kodi streamers as a whole, unfortunately, which means you could be at risk simply for running Kodi on your PC.
You can keep yourself safe from spying third parties and throttling ISPs by using a reliable virtual private network. VPNs turn ordinary online activities into an encrypted stream of information, all without any extra work on your part. ISPs can't see through encrypted data packets, meaning they can't throttle or spy on your activity, no matter what you watch. This restores a basic level of privacy to all your online activities, allowing you to surf and stream with complete peace of mind.
We compared many of the top VPN providers on the market to find a service that was fast and secure enough to use with Kodi. We also made sure it offered top level encryption and software that's easy to use. Check out our recommendation below to lock down your Kodi activity and keep it safe from prying eyes.
The Best VPN for Kodi: IPVanish
IPVanish knows exactly what Kodi users need in a VPN. The service offers incredibly fast servers backed by a strong privacy policy, excellent encryption practices, custom software for every modern device, and a huge network of servers around the world. With IPVanish you'll stay invisible while surfing the web, and your Kodi streams will be completely private, no matter which platform you use.
The IPVanish experience starts with an incredible foundation , built on a network of over 950 servers in 60 different countries. Each one provides impressive speed test scores and low latency results around the world, giving you a strong connection no matter where you live. Data that passes through this network is secured with 256-bit AES encryption and protected by a zero-logging policy on all traffic, as well. The IPVanish software even provides DNS leak protection and an automatic kill switch for added privacy.
IPVanish offers a 7-day money back guarantee which means you have a week to test it risk-free. Please note that Addictive Tips readers can save a massive 60% here on the IPVanish annual plan, taking the monthly price down to only $4.87/mo.
IPVanish's best features include:
Unlimited bandwidth, no speed caps or throttling, and no restrictions on P2P networks or torrent traffic.
Lightweight apps for all modern platforms, including Windows, Mac, Linux, Android, and iOS.
Access geo-restricted videos and websites through a huge network of servers.
Download torrents and Kodi add-ons with full privacy and anonymity.
Setting Up the PlayOn Browser on Kodi
The PlayOn service is entirely separate from Kodi. Before you can make use of the add-on, you'll need to create an account with PlayOn and install its software to your PC. The entire process is free and doesn't take long to do. Follow the steps below to get everything set up and ready to go.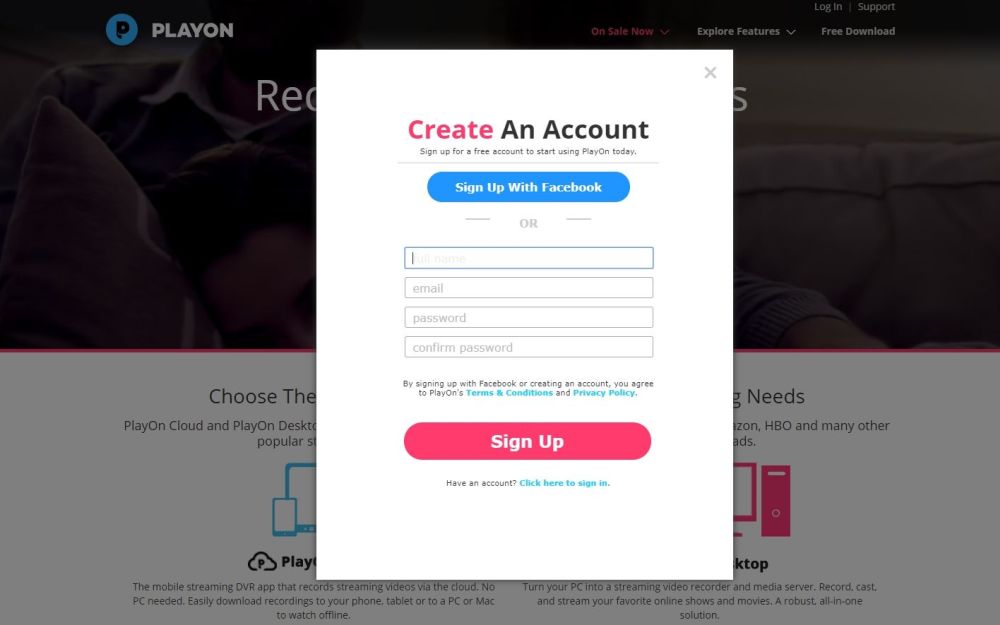 Step 1 – Set Up PlayOn on Your PC
Go to the PlayOn website and click the link at the top right that says "free download". A small window will open in your browser, prompting you to create an account. Either use your Facebook credentials or fill in your name, e-mail address, and password manually, then click the "sign up" button at the bottom.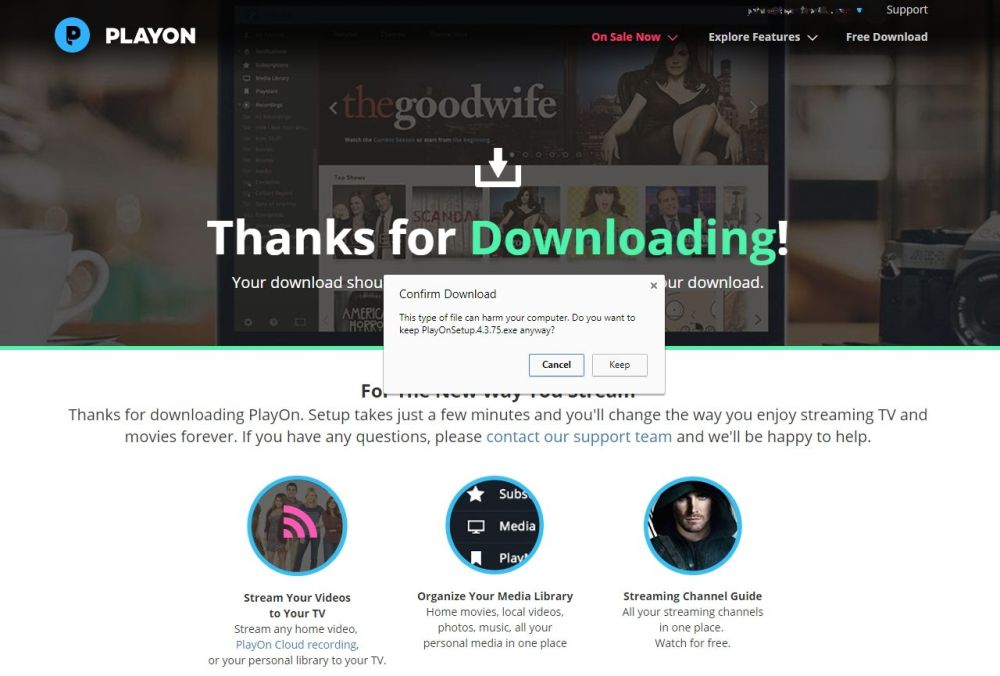 PlayOn will redirect you to the download page. First you'll see a features comparison between the free and paid versions of the service. For now, we'll start with the free. Scroll down to the bottom of the checklist and click the link that says "Just download the latest version" below. The file will start to download to your computer. It's about 150 MB in size, so it may take a few moments depending on your connection.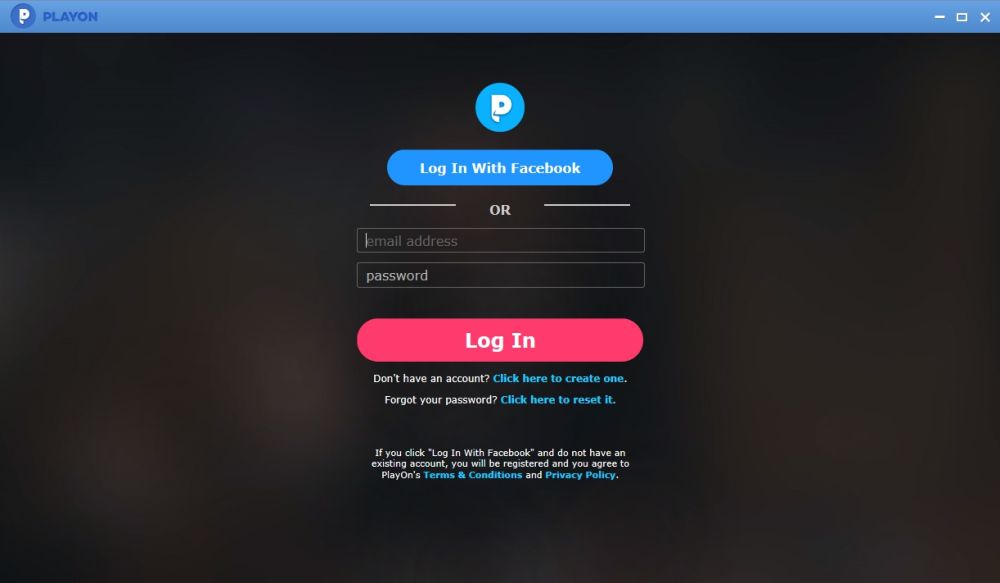 When the download completes, locate and run the setup file. PlayOn will take a few moments to install to your system and configure itself. When prompted, enter your login details either manually or connect via Facebook. PlayOn will then show you a quick start guide. Scroll through this at your leisure, or just close it and get straight to the main interface.
Now that PlayOn is installed to your system, you can run Kodi and the PlayOn add-on and start streaming.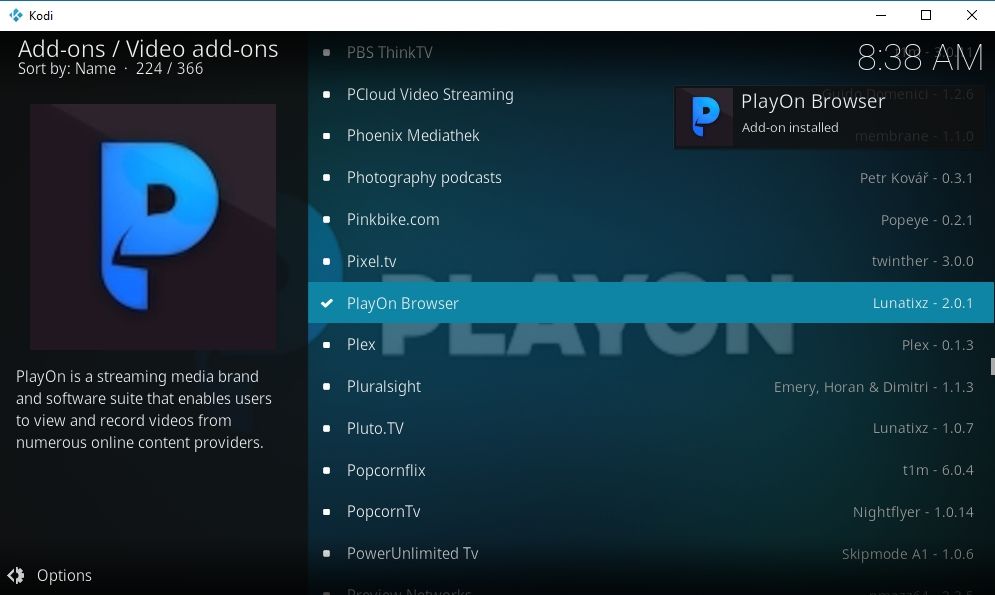 Step 2 – Install PlayOn for Kodi
The PlayOn Kodi add-on is included with the official repository bundled with every Kodi installation. This means you won't have to worry about hunting down repo URLs or accessing dangerous external content, just have your PlayOn account ready to roll, then install and start streaming. Follow the steps below on any Kodi-enabled device and you'll have it ready in no time.
Open Kodi, go to the main menu, then click the gear icon.
Go to File Manager > Add Source
Click Install from Repository, then choose the Kodi repo.
Go to the Video Add-ons category near the bottom, then scroll to the PlayOn browser in the alphabetical list.
Open the link, then choose Install on the next screen.
After a few moments you'll see a confirmation message showing that the add-on has been installed. You can now access it from the main add-ons menu at any time.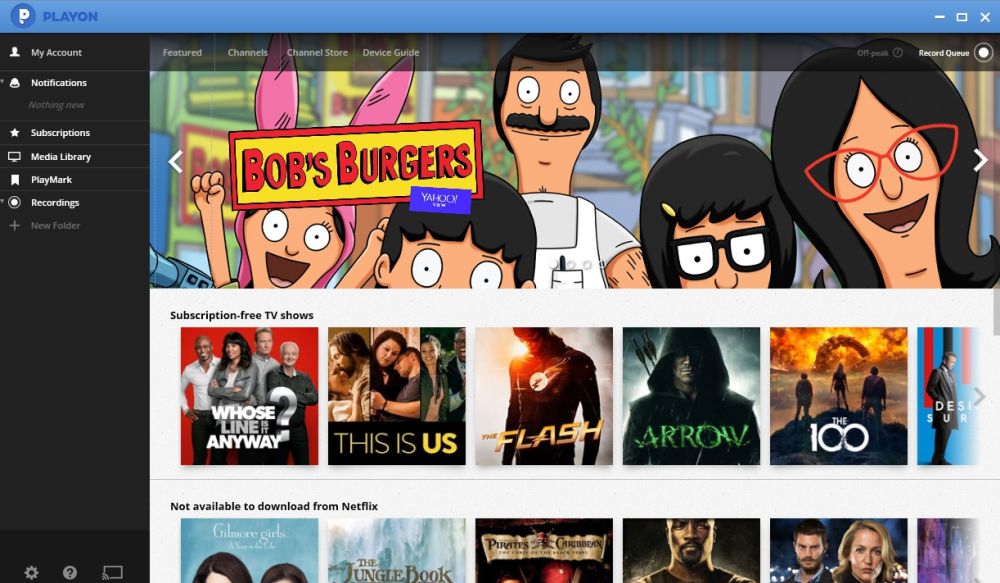 Using the PlayOn Add-on to Stream Videos
Now that you've got an account and your Kodi add-on installed, it's time to watch some videos. PlayOn is an incredibly convenient resource for all kinds of free and paid online content. The free stuff is available right away, but if you want to use services like Netflix or Hulu with PlayOn, you'll need to go through a little extra setup beforehand.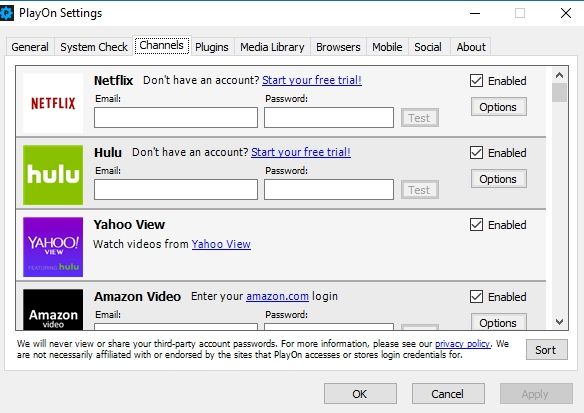 Enabling Netflix, Hulu, and Others
Make sure you've downloaded and installed the PlayOn software as described in the steps above. Next, open the app and click on the gear icon in the bottom left corner of the main screen. A small window will pop open. Go to "Channels" and you'll see spaces for a handful of paid video streaming services, everything from Netflix to Yahoo View, Amazon Video, HBO GO, and a number of cable TV providers.
Scroll to the service you want to enable, then enter your e-mail and password details into the box. Click "test" to make sure everything is ready. PlayOn will automatically try to connect. If it's a success, a window will open saying the password is correct. Click "OK" to apply the settings. You can also customize your experience through the options at the right, but it's not necessary.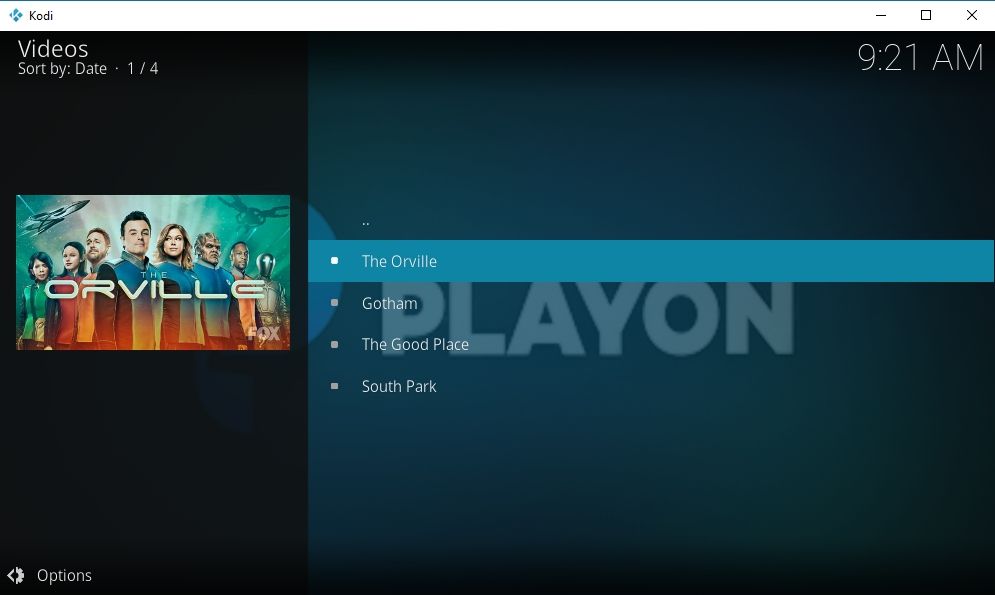 Watching Free Movies and TV Shows with PlayOn
The PlayOn service offers a surprising amount of content that's completely free (and legal) to stream. Some of these options are right at the top of the add-on's menu under PlayOn Picks. In this category you'll find three sections with a rotating selection of free content:
Totally Free TV – New and free episodes from TV shows on major networks.
Totally Free Movies – A few free Hollywood movies.
A Walk Down Memory Lane – Classic TV shows.
To stream any of this content, all you need to do is follow our guide above to setup and install PlayOn, launch Kodi and the PlayOn add-on, then pick an episode and kick back.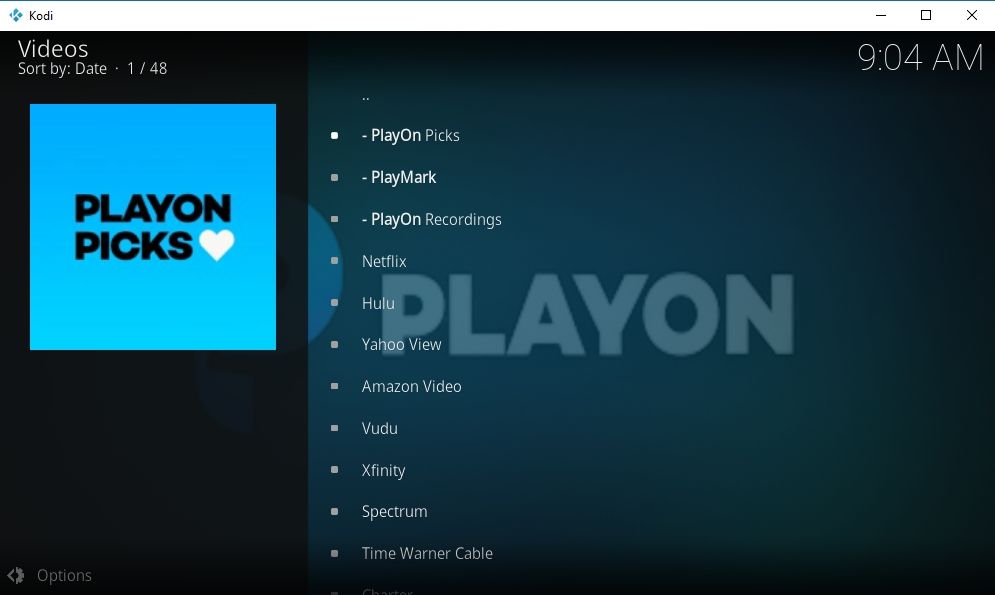 Network TV with the PlayOn Browser
PlayOn offers dozens of broadcast and cable TV channels directly on its interface. Some of its biggest channels include a selection of shows from ABC, CBS, FOX, NBC, PBS, CW, FX Now, Syfy Now, and many more. There are also dedicated news and business channels for those days when you're feeling like a serious adult. Unfortunately, streaming episodes and aired specials from these channels to the add-on requires an upgrade to PlayOn's paid service.
It's worth noting that you may encounter issues streaming certain pieces of content from behind a VPN, as these network services tend to be strict about region locking their videos. In our tests, though, we were able to check out a variety of clips without any problems. If you do get an error, try temporarily disabling your VPN and relaunching the stream.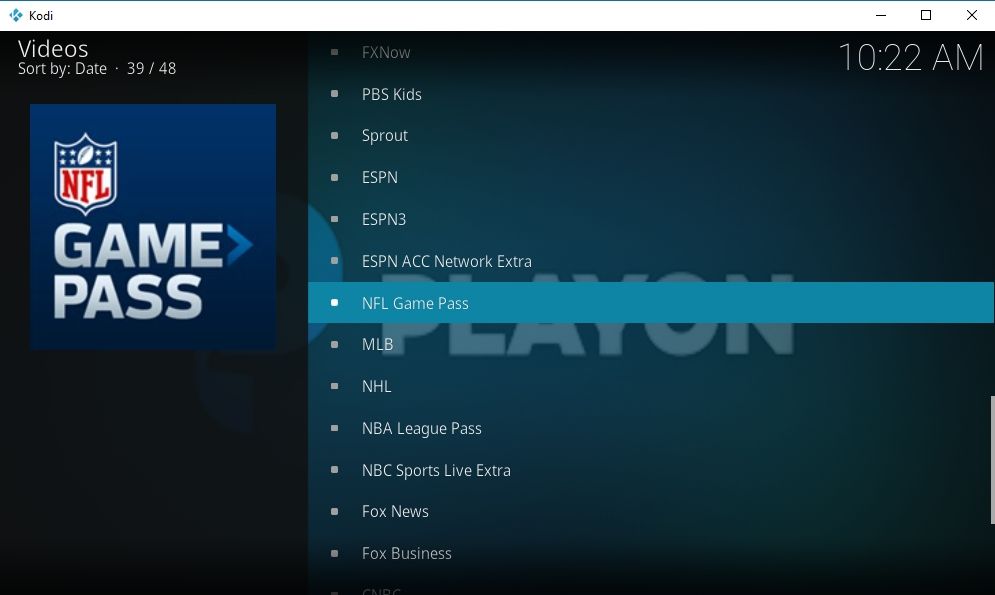 Watch Sports with PlayOn
Got the urge to watch a little football? PlayOn can help with that! As an extension of your paid subscription with the individual services, you'll be able to check out select content from ESPN, NBC Sports Live Extra, NHL.com, MLB.com, and many more. Streams are handled just like paid content mentioned above. Simply open the PlayOn software, enter your login details, then fire up Kodi and let the games begin.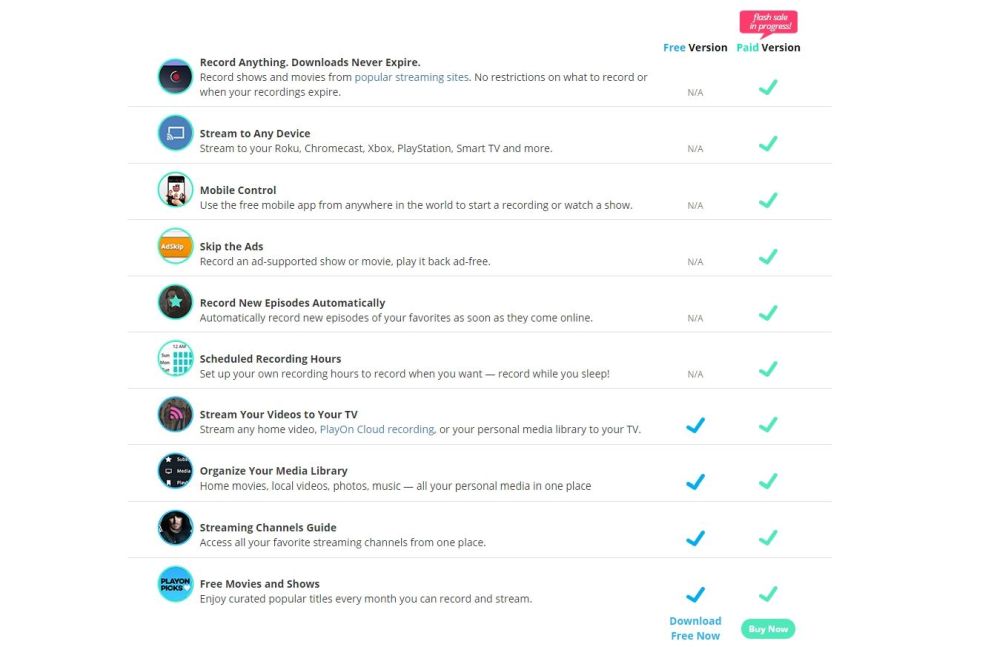 PlayOn Free vs Paid
PlayOn is free for everyone to use, but there is a paid version you can subscribe to for additional features. The site shows a handy checklist before you install the desktop software. The gist of it is PlayOn Paid offers an ad-free experience that lets you record videos to watch later, save them for as long as you like, and watch content from a wider variety of sources. It also lets you stream to any device, including Roku, Chromecast, and gaming consoles. Using the Kodi add-on for PlayOn conveniently works around this limitation, however.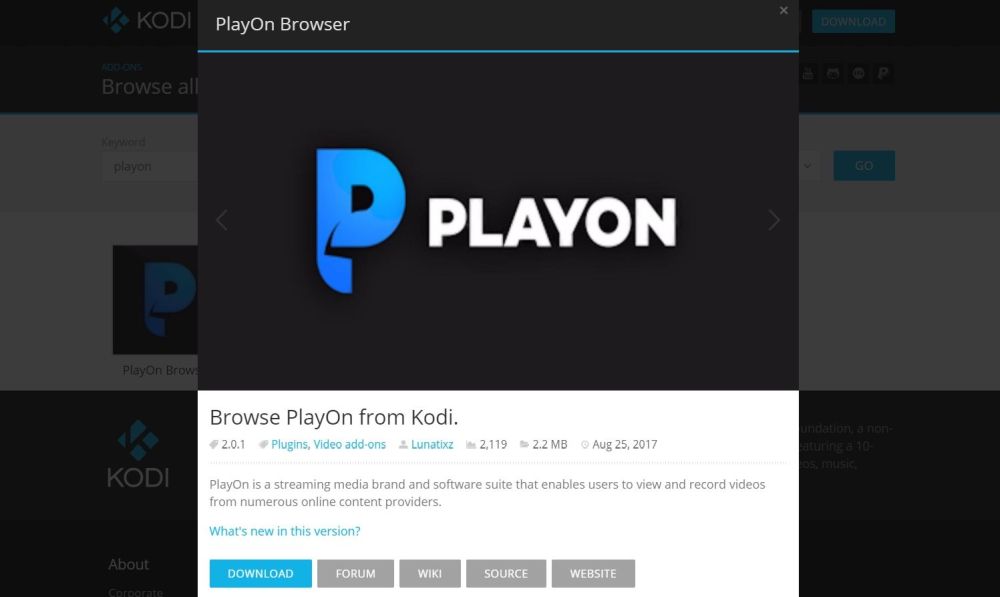 Add-on vs App
Using the PlayOn add-on with Kodi comes with its fair share of advantages and disadvantages. It doesn't provide a perfect translation of features, for example, yet it allows you to stream from a wider variety of devices. You have to use PlayOn's software to get your account up and running, so it's worth checking it out in addition to Kodi's official add-on, just to see which one you like best. Below is a quick rundown of the biggest differences between the two platforms.
Use PlayOn with any device, including platforms that run Kodi but PlayOn doesn't natively support.
Bypass some (but not all) region restrictions on content, as PlayOn can't tell if you're using a VPN with the Kodi add-on.
Kodi's interface is much easier to use on mobile devices than PlayOn's app.
PlayOn software is still required to set up certain accounts and features, even if you only stream through Kodi.
Some content doesn't show up on the add-on, even though it's freely available from PlayOn.
Streams through Kodi's add-on tend to take a long time to load, whereas PlayOn is much faster.
The add-on won't receive updates as fast as the browser or native PlayOn experience.
You get more categories and more options with the PlayOn app.
Conclusion
Kodi has been one of the most popular media center apps for the better part of a decade. It's ease of use and incredible number of features make it an indespensable tool for some TV show and movie fans, especially those who hate dealing with awkward or restrictive streaming interfaces. PlayOn fills a similar niche but comes with its own set of drawbacks. Combining the two gives you an amazing amount of freedom. Got any tips or tricks to help maximize the PlayOn add-on? How about a favorite show you stream through Kodi? Let us know in the comments section below!