We are reader supported and may earn a commission when you buy through links on our site.
Learn more
Pro Sport Addon Not Working: Best Alternatives to Sports on Kodi
Watching live sports streams is one of the main reasons people love Kodi. The open-source media center supports a ton of third-party add-ons that let you watch everything from soccer matches to UFC to American football. Pro Sport took this concept and ran with it. It offered a bare-bones interface that let you stream content from a few different custom sources, including Reddit. This created a reliable method of watching live sports by taking advantage of user-posted streams.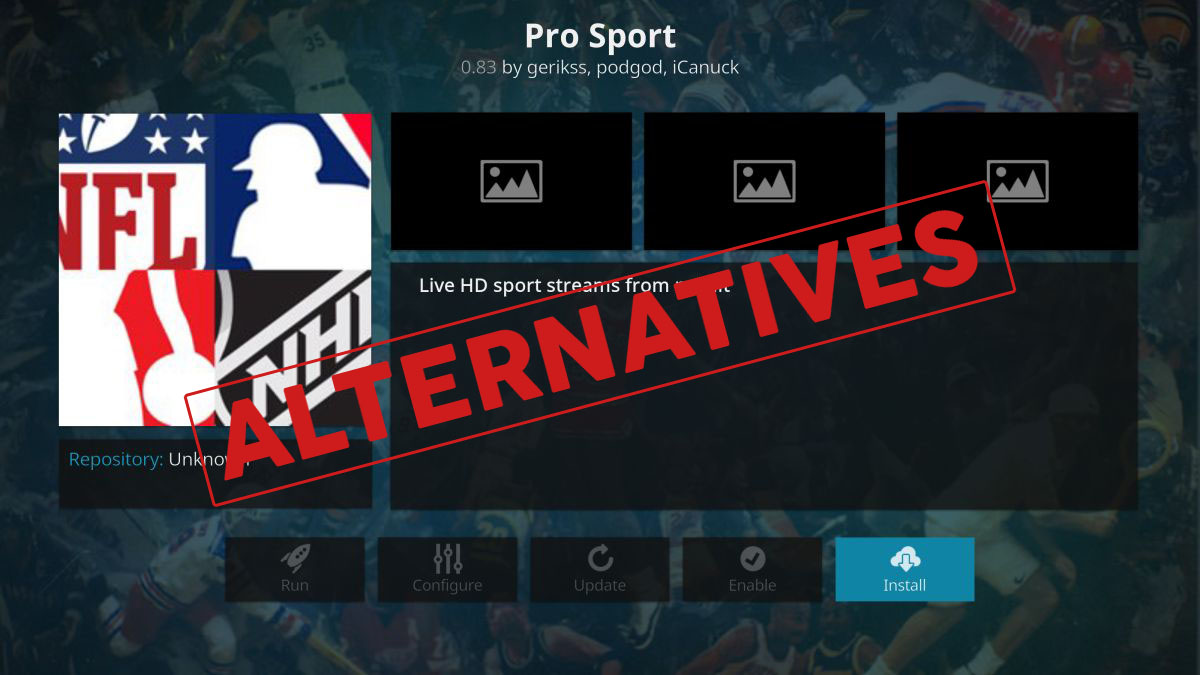 Unfortunately, Pro Sport is no longer under development. The add-on is still available through a few repository resources, but you won't be able to do anything with it. To keep up with your favorite teams, you'll need to find a good alternative to Pro Sport, one with fast downloads, high quality videos, and access to a wide variety of sports. Check out some of our suggestions below to get started.
30-days money back guarantee
Keep Your Streams Private with a VPN
It's tough to overstate the importance of using a virtual private network (VPN) when streaming content on Kodi. The software itself is perfectly safe, but there's some concern with unofficial add-ons accessing content illegally. As a result, anyone who streams movies or sports could find themselves under increased scrutiny from ISPs or even government agencies. Risking your privacy just isn't worth it, which is why VPNs should always be used alongside Kodi streams.
A VPN encrypts data before it leaves your device, making it impossible for anyone else to read. This is a handy way to defeat mass surveillance, ISP throttling, and hackers snooping for personal information. It also lets you access censored websites, break through region locked content, and keep your real location hidden from the world. With a VPN you can enjoy a free and open internet without worrying about your online privacy.
Stay Safe with IPVanish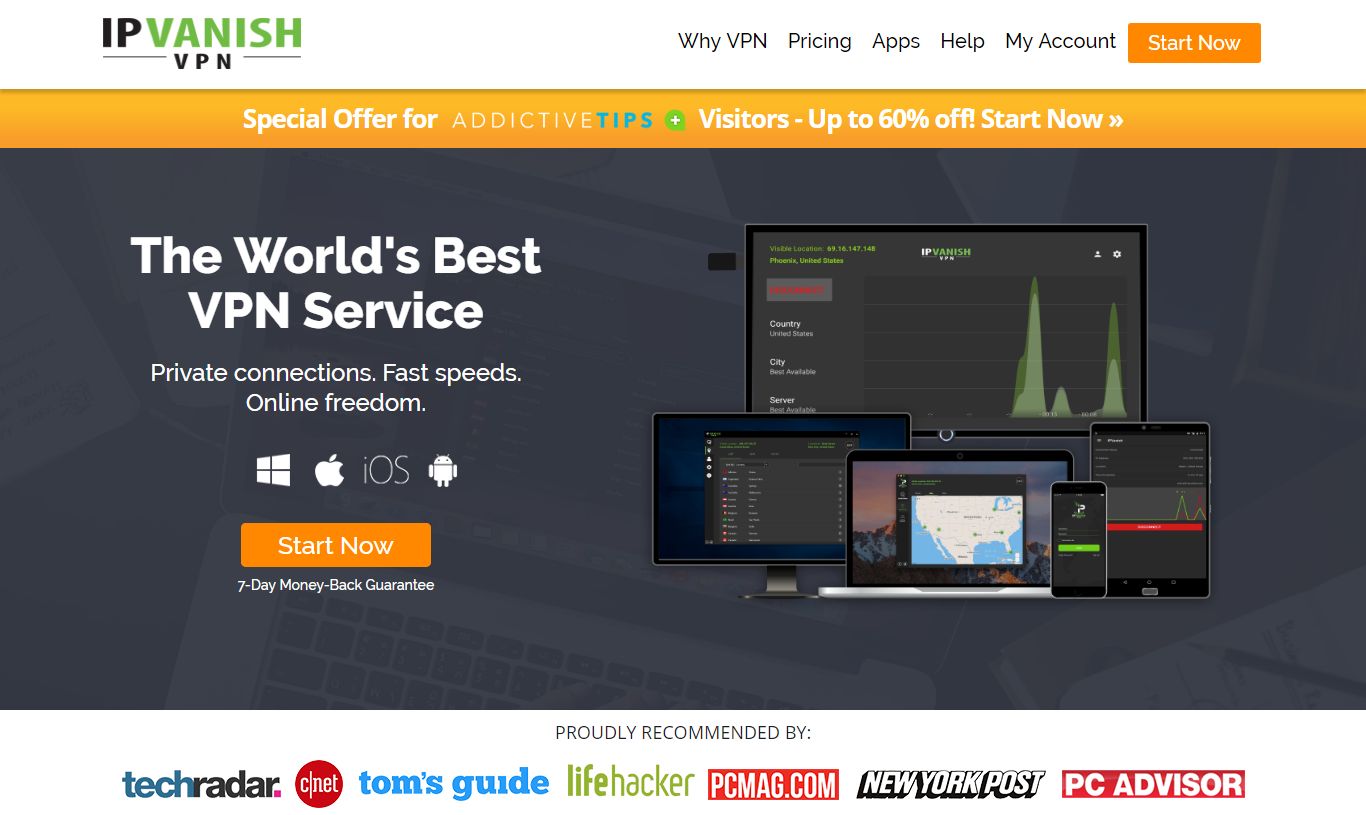 IPVanish knows what Kodi users need. The service offers the best blend of speed and anonymity, perfect for anyone that needs a private connection but can't sacrifice fast downloads. It starts with IPVanish's large network of 850 servers in 60 different countries, enough so you'll always find a low traffic server in the region of your choice. The network's 40,000 shared IP addresses help keep you anonymous, but the real benefit is the ability to access geo-restricted content. If you're sick of seeing messages about videos not being available in your country, IPVanish makes it easy to switch virtual locations and watch any stream you desire.
IPVanish offers a 7-day money back guarantee which means you have a week to test it risk-free. Please note that Addictive Tips readers can save a massive 60% here on the IPVanish annual plan, taking the monthly price down to only $4.87/mo.
IPVanish's most popular features:
Easy to use apps for Windows, Mac, Linux, Android, and iOS.
256-bit AES encryption on all data.
Full access to all of Kodi's add-ons with no bandwidth limitations.
Stay hidden online with anonymous torrent and P2P downloads.
Before Installing Pro Sport Alternatives
Repositories and add-ons shutting down without notice is one of the most frustrating things about using Kodi. The first thing most people do is jump up and start hunting for replacements. After all, it won't do to go without access to your favorite streams! Before you do this, though, there are a few quick steps you should take to secure Kodi and set it up for new installs. Follow the guides below and you'll be watching sports in no time.
Step 1 – Uninstall Pro Sport
Old add-ons take up space and can slow down Kodi. Even worse, if a rogue group gets their hands on the closed add-on's code, they can push updates to users and send them malicious code quietly in the background. For these reasons it's a good idea to uninstall add-ons as soon as they stop working. If a new, legitimate version is ever released by the original creator, you can always re-download it. Below are the steps you should follow to remove Pro Sport.
Go to Kodi's main menu (you may need to press Escape a few times).
Select Add-ons from the nav bar, then click My Add-ons.
Choose Video add-ons near the bottom of the list.
Scroll down and select Pro Sport.
In the next window, click the Uninstall button in the lower right.
A window pops open asking "Are you sure?". Click Yes.
Pro Sport will be removed from your system in just a few seconds.
Step 2 – Allow External Sources
Installing new add-ons is a multi-step process with Kodi, especially if you use unofficial sources. You have to find repo URLs, enter them as sources, let Kodi download the file, then pick and choose your add-ons. Before any of this can happen you have to give Kodi permission to fetch content from the internet. If you installed Pro Sport in the past, then chances are the option will already be set. If you didn't, or if you get an error when trying to add a new source, follow the steps below to turn on Kodi's "unknown sources" option.
Open Kodi and go to the main menu.
Click on the gear icon to enter the System menu.
Go to System Settings, then click Add-ons.
Toggle the slider next to the Unknown sources option. It will point to the right when it's enabled.
Accept the warning message that pops up.
Official Add-ons to Replace Pro Sport
Using official Kodi add-ons is almost always better than going the unofficial route. Not only are you guaranteed to be using legal streaming sources, you often find better quality streams, more unique content, and fewer dead links. Below are some great sport streaming alternatives for Kodi that keep things straightforward.
1. FOX Sports GO
The official add-on for FOX Sports GO pulls content from FOX network's TV Everywhere, a service designed to deliver TV content straight to the internet. With its focus on sports, you'll be able to watch official NBA games, Major League Baseball, the NHL, and even Super Bowl! FOX Sports GO also grabs highlights and interviews featured on the network's sports channels, giving you more than just live game streams.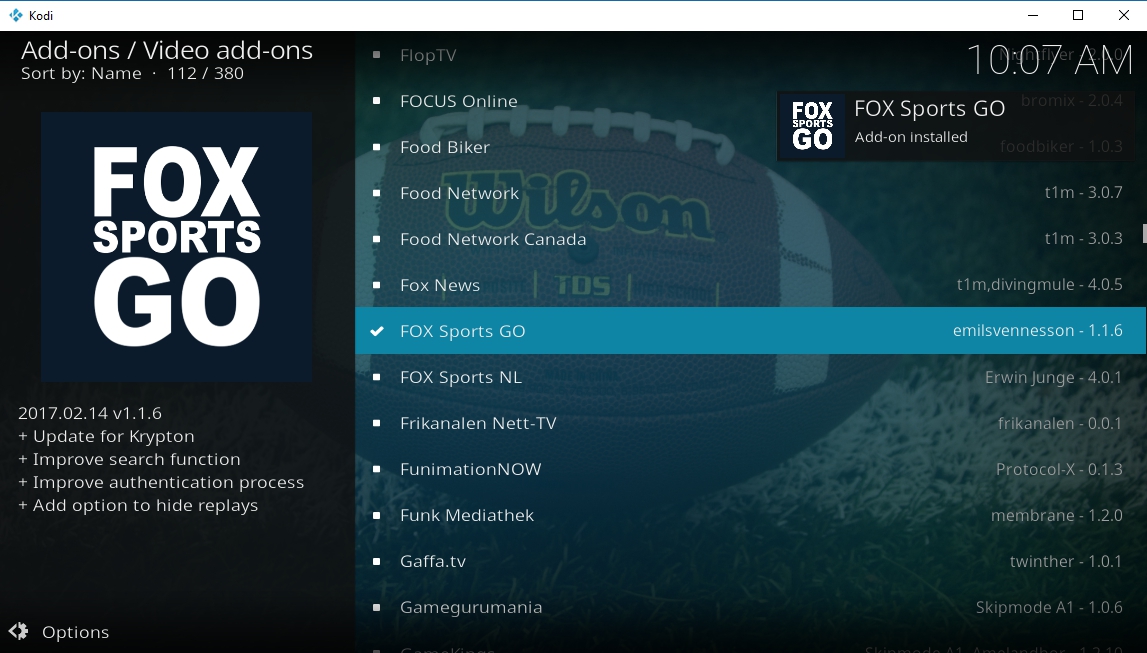 Installing FOX Sports GO
Installing FOX Sports GO is a quick and easy process. The file is packaged with Kodi's official repository, which is included with every Kodi app download. You won't need to add new repo sources, just dive in and start installing.
Open Kodi and head to the main menu by pressing Escape.
Select Add-ons, then click the open box icon at the top of the navigation menu.
Choose Install from repository, then scroll and click Kodi Add-on repository.
Choose the Video add-ons folder.
Select FOX Sports GO.
Click the Install button in the lower right corner.
How to Use FOX Sports GO
FOX Sports GO needs to pair with your cable TV account before loading content. You'll also need to activate your device to enable the streams. After installing the add-on, simply choose any video and try to play. Kodi will prompt you with an activation window. Follow the steps below to confirm your account in seconds.
Copy the activation code from the Kodi window.
Visit foxsportsgo.com/activate
Enter your code, then select your cable provider.
You'll be redirected to the cable provider's login page.
Enter your details and sign in.
Once activation is complete, go back to Kodi and start streaming.
2. NBC Sports Live Extra
Similar to FOX Sports GO above, NBC Sports Live Extra takes content from the network's official broadcasts and makes it available to stream via Kodi. The channel is home to a number of professional sports organizations, everything from the NFL to NASCAR, the NHL, the PGA Tour, the Premier League, the Olympic Games, and even the Triple Crown of Thoroughbred racing.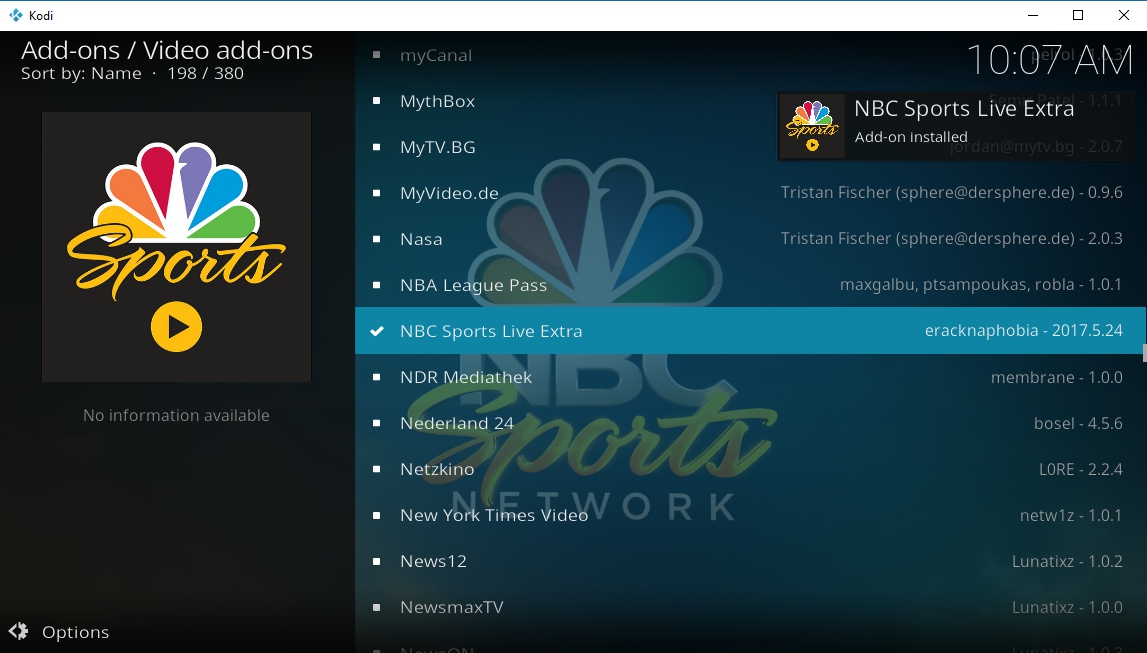 How to Install NBC Sports Live Extra
NBC Sports Live Extra is included in Kodi's official repository, which is pre-installed with every Kodi release. You won't need to add new repo sources or anything like that, just follow the quick steps below and you'll be set.
Run Kodi, go to the main menu, then choose Add-ons.
Click the open box icon and select Install from repository.
Scroll down and click Kodi Add-on repository.
Choose the Video add-ons category, then select NBC Sports Live Extra.
Click the Install button in the lower right corner of the window. Moments later the add-on will be ready.
How to Use NBC Sports Live Extra
To keep things above board, NBC Sports Live Extra requires activation via your cable provider's login page. Install the add-on first, then Kodi will prompt you to pair your device by following the instructions below.
Visit activate.nbcsports.com
Enter your device and cable provider.
Type in your activation code listed in the Kodi pop-up window.
When activated, NBC's website will redirect you to your cable provider's login page.
Enter your details and sign in.
Once activation is complete, go back to Kodi, close the pop-up, and start streaming.
Unofficial Alternatives to Pro Sports
Official add-ons are great, but they do have their limitations, especially if you don't have a U.S.-based cable account. Unofficial add-ons step around those problems and provide free, easy-to-access live sports streams no matter who you are or where you live. The quality can be hit or miss, and unofficial sources can disappear without notice, which is what happened with Pro Sport. If you find a good resource, though, nothing could be sweeter.Note: Unofficial Kodi add-ons can link to a variety of media sources, some of which may include pirated materials. Addictive Tips does not condone or encourage any violation of copyright restrictions. Please consider the law, victims, and risks of piracy before accessing copyrighted material without permission.
1. Project Mayhem
A lot of the dedicated sports streaming resources for Kodi have disappeared over the years. One of the reason Pro Sport gained popularity was its ease of use and streamlined focus on nothing but sports. Project Mayhem aims to capture a bit of that success by ditching the movie and TV streams in favor of a huge menu of sports resources, everything from live soccer to American football.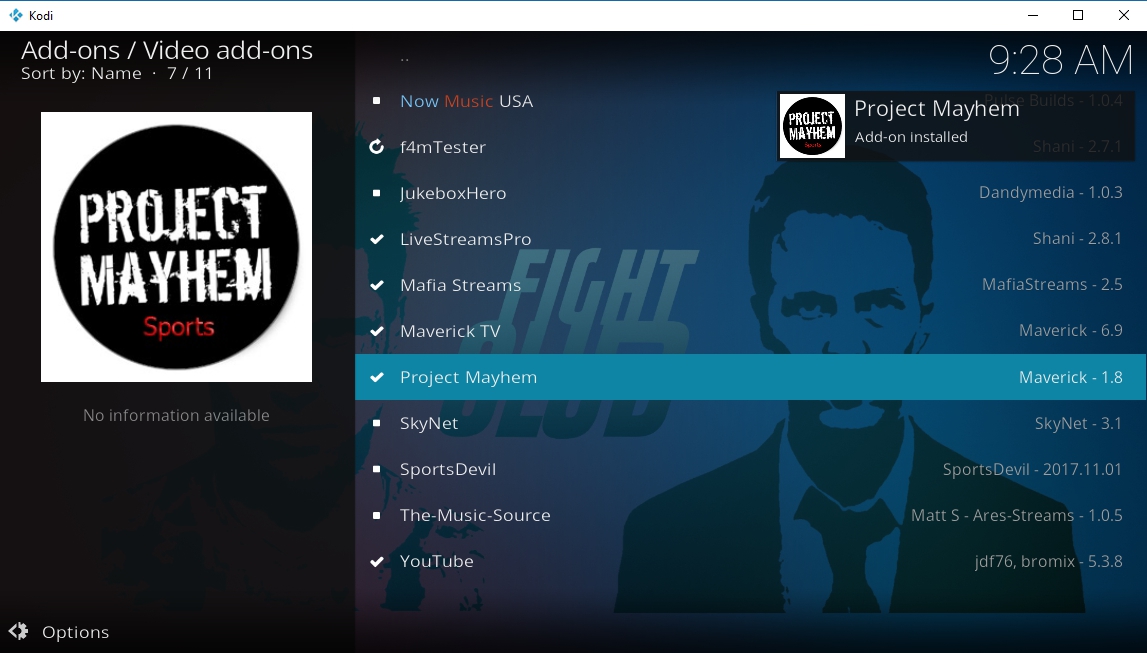 How to Install Project Mayhem
Project Mayhem is packaged in the Maverick repository. Installing it is just like installing most add-ons. Follow the steps below to download the repo file, add it to Kodi, then get Mayhem sports up and running.
Open your web browser and visit the official Maverick repository page.
Download the file repository.maverickrepo-#.#.zip and save it somewhere convenient.
Open Kodi, go to the main menu, then choose Add-ons.
Click the open box icon at the top and select Install from Zip File.
Navigate to repository.maverickrepo and install it.
From the open box menu again, choose Install from repository.
Scroll down and open the MaverickTV repository.
Enter the Video add-ons folder.
Select Project Mayhem and install.
Note: You may need to install SportsDevil to access some of Mayhem's streams. The add-on is included with Maverick and can be installed via the instructions below.
Watching Sports on Project Mayhem
With Mayhem installed from the Maverick repo, your live sports options suddenly got huge! To boot, the interface couldn't be simpler; as soon as you run the add-on you'll see a list of folders that correspond to sports channels. Click a channel and you'll see a collection of sources, some of which may or may not be online. All you have to do is locate a currently broadcasting source, click to stream, then sit back and watch the game.
Below are some of the more notable sports streaming channels featured on Project Mayhem.
Bein Sports
BT Sport
Canal+ Sports
European Football
Football Fanzone
Major League Baseball
Martial Arts Section
Sky Sport
Sports Extra
Sports Highlights
2. SportsDevil
For a long time, the most popular go-to resource for live sports on Kodi has been SportsDevil. The add-on doesn't try to create a pretty interface or anything like that, it simply collects the most active sports streaming sources into a big list, then lets you click through them. With SportsDevil you can snag live streams from and watch on-demand videos for golf, tennis, soccer, NFL, NBA, UFC, hockey, and dozens more.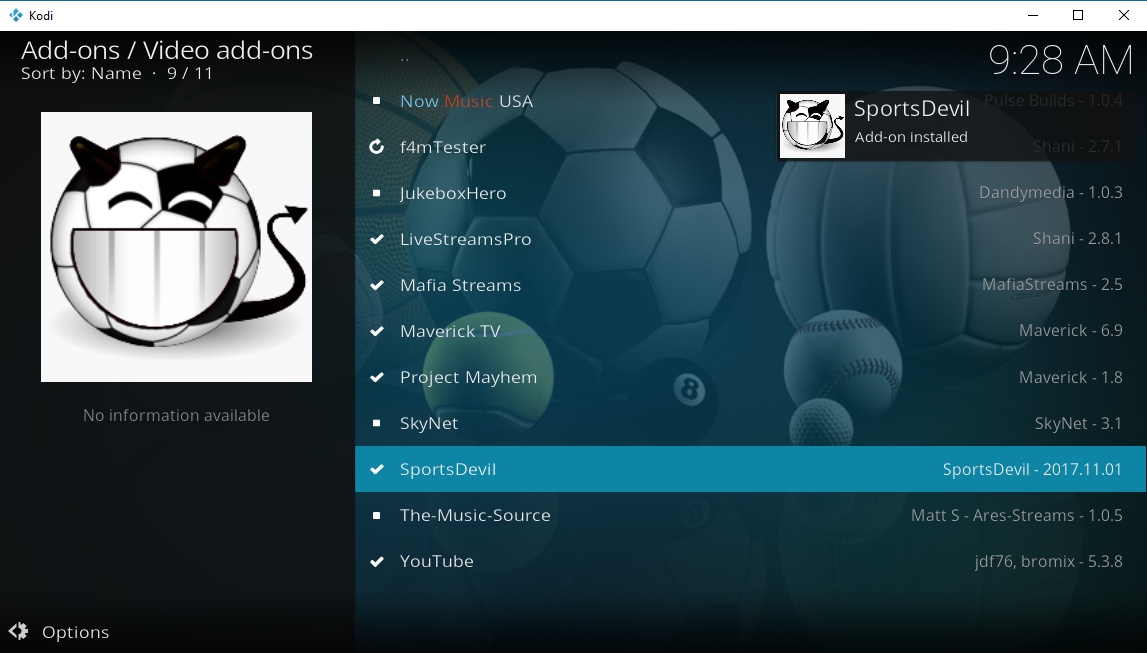 How to Install SportsDevil
The good news is SportsDevil comes with the Maverick Repository discussed above, which means no extra repo sources to install. In fact, the add-on is required for a few of Project Mayhem's streams, so it's a good idea to install it even if you're not sold on its premise.
Make sure you have the Maverick repo installed by following the guide above, then go through the steps below to add SportsDevil.
Open Kodi, then navigate to the main Add-ons menu.
Choose the open box icon at the top of the navigation bar.
Select Install from Repository and find the MaverickTV Repository.
Scroll to the Video add-ons folder.
Find SportsDevil near the bottom and install it.
How to Use SportsDevil
SportsDevil can be confusing at first, especially if you're coming from a clean and straightforward Pro Sport experience. The add-on dumps its sources into a single folder with few attempts at organization. You'll need to click around a bit to find what you want, but chances are you'll find a good stream no matter which event you're after.
The main SportsDevil menu has a handful of options to pick through. The main ones you'll want to focus on are listed below:
Live Sports – The main category with tons of links to different streams, different sports, and different events.
Blogs – Sports streams from popular blogs, a feature similar to Pro Sport.
Favourites – Add your favorite sources for quick streaming access.
Highlights – Best-of videos pulled from different sources.
Sports TV – Choose broadcast and IPTV channel streams to watch in Kodi.
Your main resource will be the Live Sports folder. Here you'll have a couple dozen streaming sites organized first by source, then by sport. Click through in any order you like and choose an active stream. We've collected a few of the more interesting links below to help you on your search.
Bundesliga-Streams.net – A list of live events sorted by time. A great place to look if your team is playing right now!
eu – A large category list that covers all the biggest sports with some of the smaller ones, too.
eu – Tons of sports options that include football, basketball, hockey, boxing, and UFC.
ws – Catch in-progress soccer matches.
ru – Has an excellent "now playing" section with worldwide broadcasts.
3. FTFA
FTFA's main purpose is to provide reliable and high quality live TV streams from both the U.S. and the UK. With it you can watch movies, TV shows, documentaries, sports, and a lot more, all from one streamlined interface. If you have a favorite sports broadcast channel, chances are FTFA will let you watch it right from Kodi.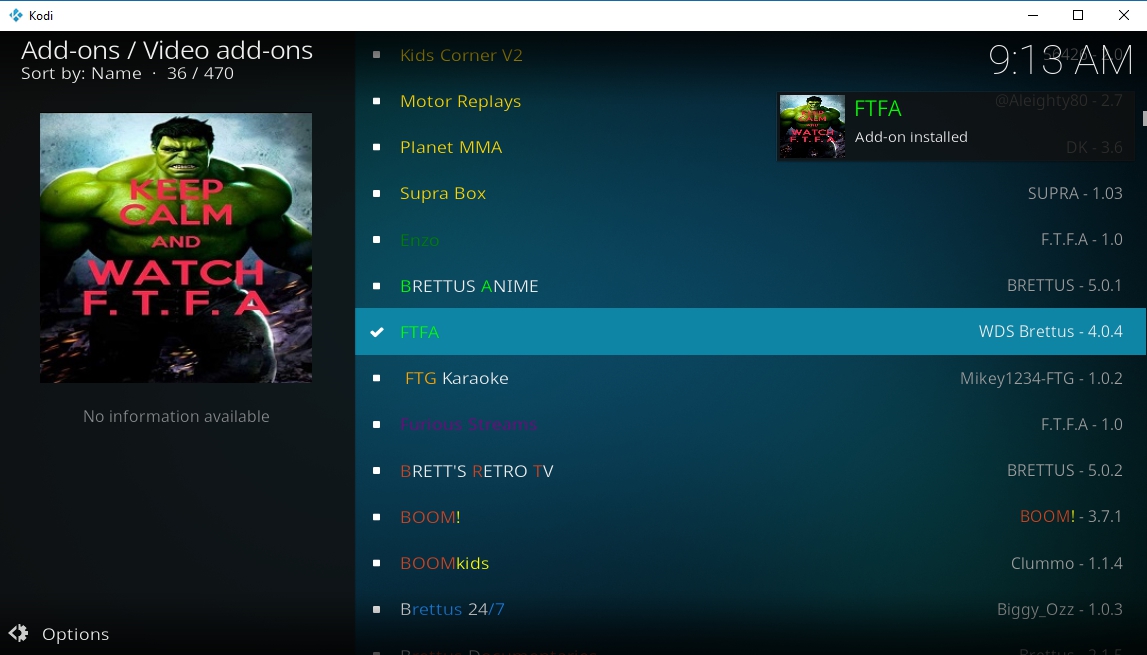 How to Install FTFA
FTFA is available through the Brettus Repository, which comes packaged with a lot of unique streaming programs. The installation requires activation, but if you follow the steps below you can have everything set up and ready to go in a few minutes.
Open Kodi and click the gear icon.
Go to File Manager then choose Add Source.
Add the following URL: https://toptutorialsrepo.co.uk/kodi/Repos/
Enter an easy to remember name, such as .toptuts
Click OK. Kodi will add the repo to your sources list.
Go back to the main menu and select Add-ons.
Click the box icon at the top of the menu.
Choose Install from Zip File, then select the repo.
Scroll down and find the file named repository.Brettusrepo-#.#.zip
Install the repo, then go back and choose Install from Repository.
Select the entry named Brettus Builds Repository.
Navigate to Video add-ons and look for the FTFA add-on.
Launch the add-on. A window will open asking for a PIN.
Click OK and a website will load in your browser.
Click the blue GENERATE button to receive a PIN. It should look something like this: AB1234
Copy the PIN, then go back to Kodi and paste it into the active window.
The PIN will validate and you're free to stream.
How to Watch Sports on FTFA
FTFA is organized by channel servers, so using it is a lot like surfing through cable or satellite TV. As soon as you open the add-on you'll see a list of streams that are currently online. Pick a category, pick a channel, then see what's on! There are plenty of options for spotting random sports broadcasts, but if you don't want to play the hunt and click game, check out the dedicated suggestions below.
PPV LIVE – Pay per view events broadcast as they air. The selection will be varied, but if there's a PPV sports event you want to watch, check here first.
UK Channels – The UK server options spread across a variety of sources that include BT Sport, Euro Sport, Sky Sport, and several sources devoted to soccer, racing, and other events.
USA Channels – The U.S. server options will usually have a selection of broadcast channels that include the main networks (CBS, NBC, FOX, ABC), all of which show sports on a regular basis. Sportsnet is also available, as are ESPN, Fight HD, and multiple channels dedicated to the NBA and NFL.
Conclusion
Pro Sport's demise was a loss to the Kodi community. Fortunately, there are a lot of other developers out there who love sports just as much as we do. Got any suggestions for Pro Sport replacements? Let us know in the comments below!