We are reader supported and may earn a commission when you buy through links on our site.
Learn more
Pulse Build and Pulse Wizard Not Working: These Are Your Alternatives
You might have heard the news this month that a whole lot of Kodi repositories were recently hit by DMCA takedowns. It's normal for some Kodi repositories to go up and down occasionally, but this was a big blow as many different repositories went down at the same time. If you're a Kodi user, you don't need to panic – your Kodi system will still work find and any existing add-ons that you have installed will continue to function as usual. However, it might be more difficult to find some of your favourite add-ons or repositories in the future because of this crackdown.
To help with this, we're offering advice on alternatives now that Pulse Build & Wizard no longer work.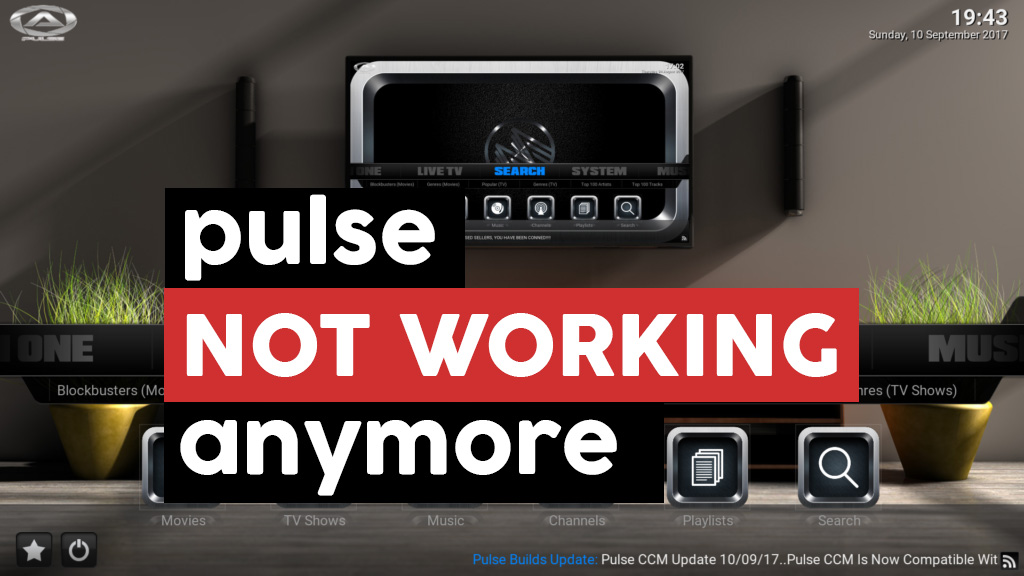 30-days money back guarantee
Get A VPN Before Using Kodi Add-Ons
As you can see from this legal scuffle, there are still many organisations out there which are targeting Kodi developers. If you're going to use Kodi – especially if you're going to use a build with third-party add-ons which let you potentially access copyrighted content illegally – then it's important to keep yourself safe while you do so. If you get caught using add-ons to stream content illegally (or in some cases even legally) then you could be liable for a fine or even for prosecution.
To keep yourself safe when using Kodi, we strongly recommend that you use a VPN. This works by encrypting all of the data which your device sends over the internet, so that no one can see what sites you are visiting or what content you are streaming. Your ISP will be able to see how much data you are using, but not what the content of that data is, which helps to keep you safe.
To use a VPN with Kodi, just start up your VPN software any connect to any nearby server before starting up Kodi. This way, when Kodi accesses the internet to find content for you to watch, it will all be encrypted and kept private.
We Recommend IPVanish For Kodi Users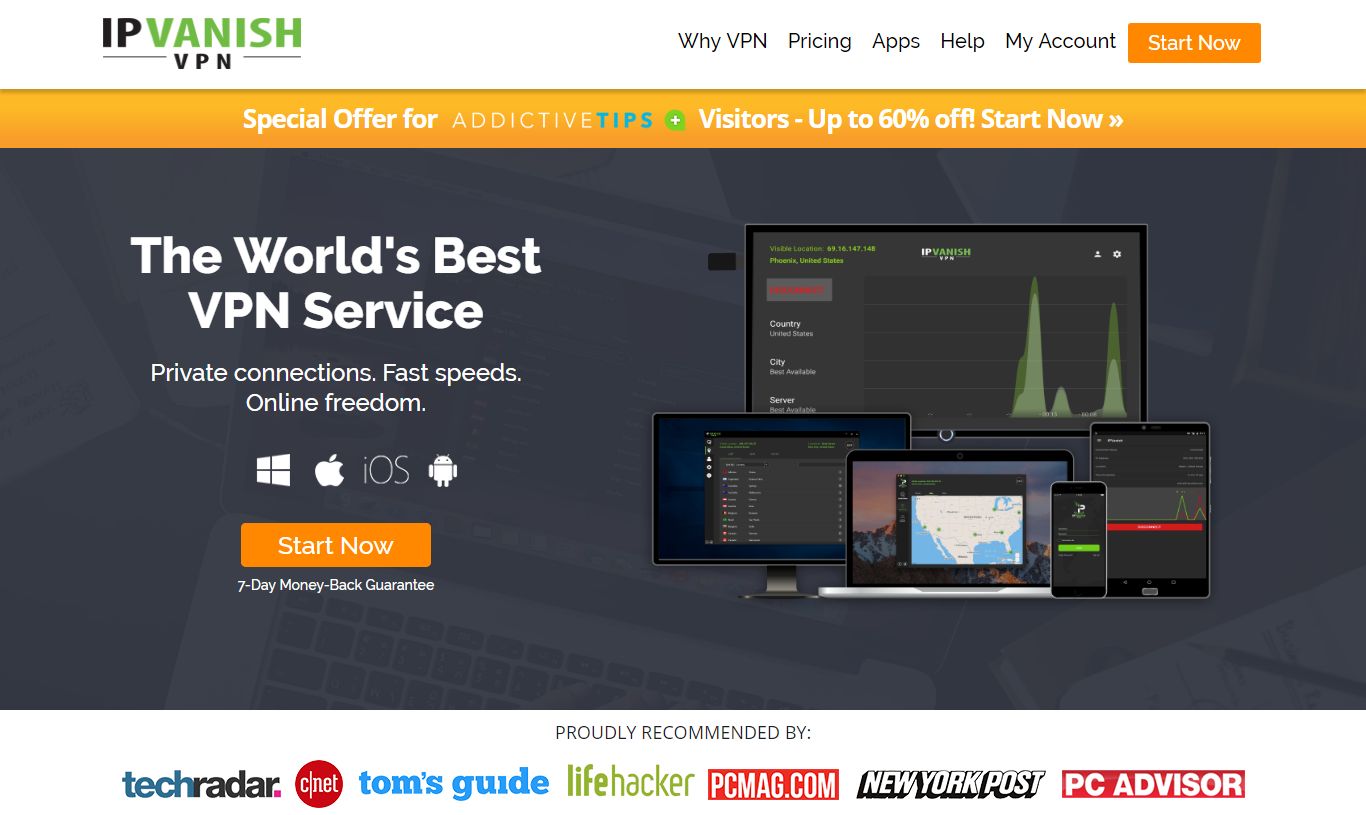 When we select a VPNs for recommendation, we base this decision on several factors, including: security (strong encryption and a no logging policy), ease of use (good software which supports many operating systems), and quality of service (super-fast connection speeds and plenty of servers available). With all this in mind, the VPN that we recommend for Kodi users is IPVanish. The connections are incredibly fast, making them ideal for Kodi users who stream video, and they have a large network with over 850 servers in 60 countries. They use strong 256-bit encryption and have a no logging policy, and the software is user friendly and supports all the major platforms.
*** IPVanish offers a 7-day money back guarantee which means you have a week to test it risk-free. Please note that Addictive Tips readers can save a massive 60% here on the IPVanish annual plan, taking the monthly price down to only $4.87/mo.
What Happened In The Crackdown?
On November 15th, a number of prominent repository developers posted messages to Twitter and to other platforms saying that they were retiring, taking their repositories offline, or in other ways limiting what content they would make available. Some of the most popular repositories that were taken down include Ares Wizard, Smash, and Colossus.
The first site to go down was the Colossus Repo, which is best known for hosting popular add-ons like URLResolver, Covenant, and Bennu. One of the developers said on Twitter that they would no longer be developing add-ons for Kodi and called for the community to support developers against legal battles. This same day, the Colossus Repo became unavailable to access at its old URL.
Soon after, the Twitter account of popular Kodi assistant program Ares Wizard was deleted, and the URLs for the pages no longer work either. Sometime shortly after this, the Smash Repository was found to have gone too. The owner of this repository has said that they will be moving on from Kodi add-ons. Yet more losses followed: the Mucky Duck repository and add-on were confirmed to be shutting down by their developer, and while Noobs and Nerds will be keeping their repository for now, they are no longer going to be active on Twitter.
Finally, the topic we are covering today: users of the Pulse Build, which is a very popular complete build for Kodi, reported seeing notices that the Pulse Wizard would be going offline and would not work in the future.
It is clear that some kind of legal action has been threatened or already started against many of these Kodi developers. The exact details of the legal issues are not publicly available, but it is highly likely that they are being prosecuted, or threatened to be prosecuted, for hosting add-ons which enable the illegal sharing of copyrighted content.
Leaving aside the issue that none of these repositories actually host content illegally themselves, as they merely provide links to other sites where the content is hosted, you can see why many repository owners decided to shut up shop rather than to face a battle with a team of the entertainment industry's famously determined lawyers.
Which Repositories Were Taken Down?
Here are all the repositories which were taken down in this period and are no longer working:
Alpha Repository
Soulless Repository
Origin Repository
DandyMedia Repo
Pulse Build / Wizard
Which Add-ons Were Taken Down?
And here are some of the add-ons which were in these repositories, which will be harder or impossible to find now:
Colossus
Bennu
Fear of the Dark
Icefilms
1Channel
Triton
Poseidon
Sportie
Gurzil
UK Turk Playlists
Myriad
Yes Movies
Duck Pool
123Movies
Openload Movies
1080p Movies
M4U
Imperial Streams
DandyMedia
Film Emporium
HEVC VideoClub
Ares Football
What Should You Do Now?
The first thing to remember if you are a regular Kodi user is that you don't need to panic. You are not in danger and your system should continue working as is for the foreseeable future. The loss of URLResolver will be a problem for users of add-ons like Covenant or Bennu in the long term, as it means that the links available will no longer be updated. Over time, the links in these add-ons will become less active and not work so well. However, for now, everything will work as normal.
The problem comes when you want to install a new add-on or a new build. While you used to be able to load up one of the repositories mentioned above to download your add-ons or builds, now they will no longer work and you won't be able to install anything from them.
If you want to install more add-ons in the future, you'll need to find alternative sources. This is what we'll do doing below, sharing an alternative to the popular Pulse Build and Wizard.
Alternative Source For Builds
A build is simply a pre-configured version of Kodi. Underneath it is the same software that you would download from the Kodi site, but it already has a bunch of add-ons included and a build usually has its own theme too. This makes it quick and easy to set up a new Kodi system – instead of having to manually download a whole lot of different add-ons and themes to get your system how you want it, you can install just one build and have all that work done for you.
Pulse CCM Build was popular, thanks to its big range of add-ons and frequent updates. It had a clean user interface and was ready to go with a bunch of ways to watch movies, TV shows, sports, and live television. Unfortunately, though, the Pulse build is no longer available through the Pulse Wizard. Luckily, we can recommend an alternative source called Fire TV Guru which will let you install Pulse Build, or an alternative build called Fire TV Build.
How To Install The Fire TV Guru Wizard
Open Kodi and begin on your home screen
Go to the settings icon
Go to File manager
Click on Add source
Type in this URL (including the "https://"): https://firetvguru.net/fire/
Give it a name, such as Fire, and press OK
Go back to your home screen
Go to Add-ons
Click the icon that looks like a box
Click Install from zip file
Navigate to Fire and then click on firetvguru.zip
Wait a second until you see confirmation that the repository has been installed
Now go to Install from repository
Go to Fire TV Guru Repo
Go to Program add-ons
Select Fire TV Wizard
Once the add-on is installed, you'll see a notice of news and information. Click on Dismiss
Now you see options for keeping your settings. Click Continue
Now you'll see options for builds you can install. Currently, there are three builds available for Krypton (Kodi v17) and they are:

Fire TV Build Krypton
Pulse CCM Krypton
Fire TV Build Krypton Lite

Then choose either Fresh Start then Install, which is good if you have an old build that you want to clear off before installing the new build, or choose Standard Install, which will install the build on top of your existing system
Which Build Is Right For Me?
From these three builds, you might wonder which is the best for you to use. If you just want your Pulse CCM Build back, exactly as it was before, then you can use this method to install the build without the Pulse Wizard. This build will continue to work for now, however, it will not be updated in the future. If you're reasonably familiar with Kodi and you know how to update add-ons and to install new ones when required, then this might not be a problem for you. You'll have to do a little bit more work to keep the build updated, but if you really love the build then you might decide that it's worth your time.
If you're a bit less familiar with Kodi, however, or you just don't fancy having to work around broken add-ons and bits of your system suddenly no longer working, then it might be time for a new build. The Fire TV Build makes an excellent replacement. The build is easy to navigate, with clear heading for Movies, TB Shows, System, and more. The installed add-ons include popular viewing add-ons like Exodus, Specto, Zen, and Salts. As the name would suggest, this particularly suited to anyone who watches a lot of TV shows.
The Fire TV Build Lite is also a helpful option for those who are running Kodi on a lightweight device such as a Firestick or another small Android device. If your device doesn't have a whole lot of processing power or RAM, then the Lite build is a less system resource-intensive option which gives you a similar experience, with just a few tweaks to make it run better on less powerful systems.
Conclusion
It's a real shame that so many great repositories got taken down in this crackdown, as there were many useful add-ons stored in those repositories. However, if you're a regular Kodi user, you don't need to worry that your already installed add-ons will suddenly stop working, or that your system won't work anymore. In other words, your existing system should be just fine! The only concern is how to install new add-ons in the future.
One of the pieces of Kodi software that will no longer be available is the Pulse Wizard, which is used to install the Pulse Build. The Pulse Build was popular for its ease of use and its many add-ons for viewing media, and TV shows especially. But fortunately, you can still install the Pulse Build from the Fire TV Guru Wizard. This wizard will allow you to install a new build too, called Fire TV Build, which is a great replacement for Pulse Build if you decide that it's time to move on to something new. The Fire TV Build is similar to Pulse Build in that it is easy to navigate around and has a ton of options for watching TV shows and other media.
Are you going to keep using Pulse Build, or will you be moving onto a new build? Have you tried out Fire TV Build, and do you think it's as good as Pulse Build? Let us know what you think in the comments below!