We are reader supported and may earn a commission when you buy through links on our site.
Learn more
Titanium Kodi Build; How to Install Titanium on Kodi, the Right Way
The Supreme Builds Wizard is home to a number of popular Kodi builds, so if you are looking to personalise your Kodi setup with a wide range of unofficial addons as well as a funky new skin, it is a great repository to add. Most of their builds have their merits, but the Titanium Kodi build is undoubtedly the pick of the bunch. It brings a clean and easy-to-use design, great menu, and a good selection of addons.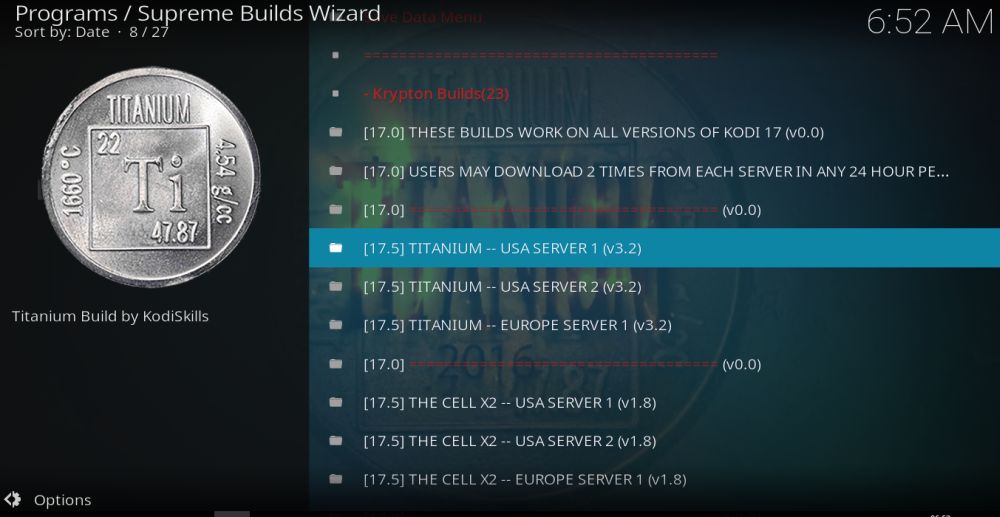 With the rapid turnover of Kodi addons in recent months, many builds have found themselves suddenly out of date. Titanium is not perfect in this regard either, but it has fared better than many. You can still find a great selection of addons covering movies, TV shows, live and on-demand sports coverage, kids content, and much more besides. In this guide, we will tell you everything you need to know about the Titanium Kodi build, including an easy to follow download and installation guide.
30-days money back guarantee
Before You Download the Titanium Kodi Build – Install a VPN
It is highly recommended that all Kodi users have a VPN installed and running, especially when streaming content on unofficial addons. As the Titanium Build automatically installs a number of these, for purposes of this guide our recommendation stands firm. Using such addons to stream copyright content can result in users finding themselves subject to legal action. Copyright holders have been targeting Kodi with a vengeance in recent times and some users have found themselves in receipt of legal letters or even stronger legal action. A VPN can help to protect users by encrypting all their online data and helping to hide their IP Address. This makes it very hard to track your internet activity back to you. There are a large number of VPNs on the market, so the real question for Kodi users is, which VPN is the best one to choose?
The Best VPN for Kodi – IPVanish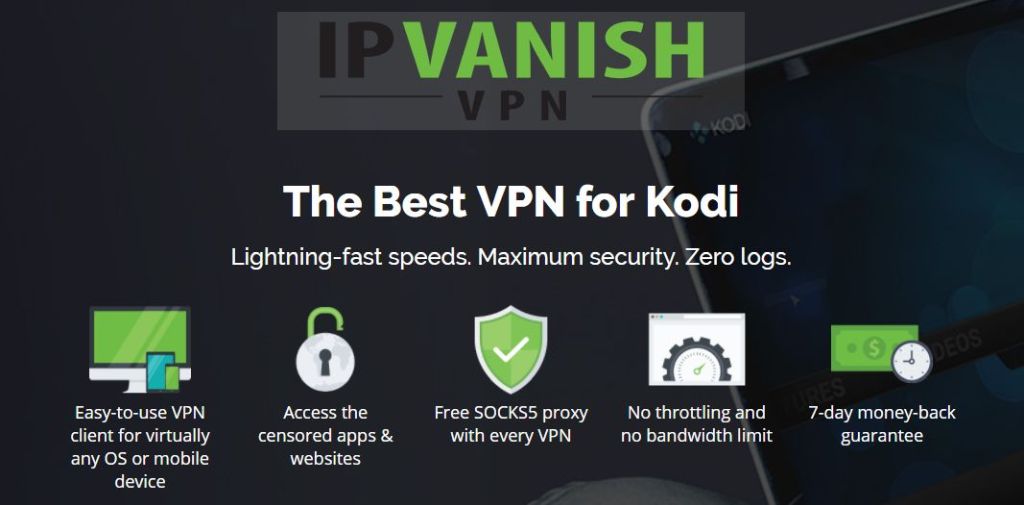 Our recommended VPN for users of the Titanium Kodi build, and indeed all Kodi users is IPVanish. It offers fast and consistent connection speeds which are perfect if you want to stream media content like movies, TV shows, and sports. It combines this with top-of-the-range encryption and thorough privacy provisions including a no user logs guarantee you can trust. IPVanish also has a large server network, with more than 950 servers available in 60 countries around the world, allowing you to unlock content from just about everywhere. IPVanish also has no restrictions on file types or data amounts that can frustrate Kodi users with other providers. To sweeten the deal, there are dedicated apps for almost every device including the Amazon Fire TV Stick. Add all this together and there is little doubt that IPVanish is the perfect VPN provider for all Kodi users.
*** IPVanish offers a 7-day money back guarantee which means you have a week to test it risk-free. Please note that Addictive Tips readers can save a massive 60% here on the IPVanish annual plan, taking the monthly price down to only $4.87/mo.
How to Install the Titanium Kodi Build
The Titanium Kodi build can be found on the Supreme Builds Wizard which is home to a number of decent Kodi builds. Titanium is for our money the pick of the bunch, and if you want to know how to download and install it, you are in the right place. Keep reading and you will find an easy-to-follow guide which will show you exactly how to get the Titanium build up and running:
Titanium Kodi Build Review
The Supreme Builds repository is home to a number of decent Kodi builds, but the best of them is undoubtedly the Titanium build. It is built on the Xonfluence Skin which has not only a great appearance but is also lightweight enough to run smoothly on almost all devices.
It is regularly updated, which means that unlike some Kodi builds, it does not suffer from the number of popular addons which have stopped working in recent times. There are a few still there, but for the most part, everything on Titanium works perfectly.
This build offers a wide range of addons covering all the usual areas that Kodi users are looking. In a recent update, it also added a dedicated section for Spanish language users too, which is a great touch and undoubtedly aimed at the American market. But don't let that make you think this is a build solely for US Kodi users. There is plenty of content for people from right around the world as you will see from this brief rundown of the main types of content you can expect to find:
Movies
As the Titanium build brings together a whole host of popular addons, it should come as no surprise that almost any film you can think of can be found here. Search by Top Rated, Trending, In Cinemas Now, or directly in the best movie addons. As with all content, the quality and speed will depend on the addon and link it is using, but because Titanium is regularly updated, almost all of the addons on here working well and as a result, stream quality is generally very good.
TV Shows
Whether you are after the latest TV shows or looking for some older ones, the Titanium build will have something for you. The TV menu links directly to Top Rated, Trending, and Most Popular TV Shows as well as a selection of the most popular addons too. No matter what sort of shows you are into, they are all available on the Titanium build for free. And furthermore, of the ones we tested, viewing quality was generally excellent too.
Live Sports
The Live Sports section offers users the chance to search directly for all the major league American sports action. Whether it is baseball, basketball, American football, or ice hockey you are into, you can find it on Titanium. There is also a direct link to all the latest MMA action too. Don't worry if you're into other sports, there are also a whole host of PPV and live sports link for all other sports so you should have no trouble finding a high quality working link for the game you are looking for.
Sport Replays
If you need to catch up on the latest sports action, this section is the place to go. Again, it finds sources from a whole host of addons and in testing, we had success when looking for even the most obscure of sporting events.
Live TV
This is the place to go for all the latest IPTV addons. The Titanium build includes all of the best on the market right now. That means no matter what country or language you want to watch TV in, there will be a multitude of channels for you.
Kids Zone
The Kids Zone section has all the best family-friendly entertainment. It includes links to animated films and a handful of the very best kiddie-focused addons around, all of which are included in the Titanium Build.
Issues with the Titanium Kodi Build
There have been some reports from Kodi users of the Titanium Kodi build not working for them. It appears that the majority of these users are running Kodi Krypton v17.5. For some unknown reason, this version of Kodi can cause the Titanium build to either stop working or fail to load.
If you do experience this issue, the easiest fix is to update your Kodi to Krypton version 17.6. Reports of issues with this version of Kodi are much rarer which suggests that whatever was causing problems for users has been resolved in this update. If you have already downloaded and installed the Titanium build, you will need to uninstall and then reinstall the latest version of Kodi before downloading the Titanium build again.
Titanium Kodi Build Conclusions
If you are not the type of Kodi users to want to download addons individually and completely personalise your Kodi experience, then a build is definitely the best bet for you. And the Titanium Kodi build really is one of the very best. It is lightweight, fast, well-designed, and easy-to-use. There is a great selection of unofficial addons included and there are laid out in an easy-to-follow menu structure. Crucially, the Titanium Kodi build also continues to be regularly updated which means that the content and the addons included also remains up-to-date. There aren't many who download the Titanium Kodi build and regret it, which is a testament to a great build and credit to its developers.
What has your experience with the Titanium Kodi build been? Did our installation guide help you out? How did you find this addon to use? Have you experienced any issues with the build, its addons, or the content you have been trying to stream? We always welcome user feedback to inform our articles and our readers, so please do leave your comments below.