We are reader supported and may earn a commission when you buy through links on our site.
Learn more
Simply Caz Repo Not Working: Best Alternatives to Caz for Kodi
The Cazwall repo, often known as Simply Caz, is a long-lasting repository of Kodi add-ons that's been part of the community for years. The team delivered a good variety of content with its repo, everything from movies to sports, TV shows to cartoons. Some of the highlights of the Cazwall experience included the Caz Wizard, a handy tool that helped users tweak and maintain their Kodi installation and install custom builds.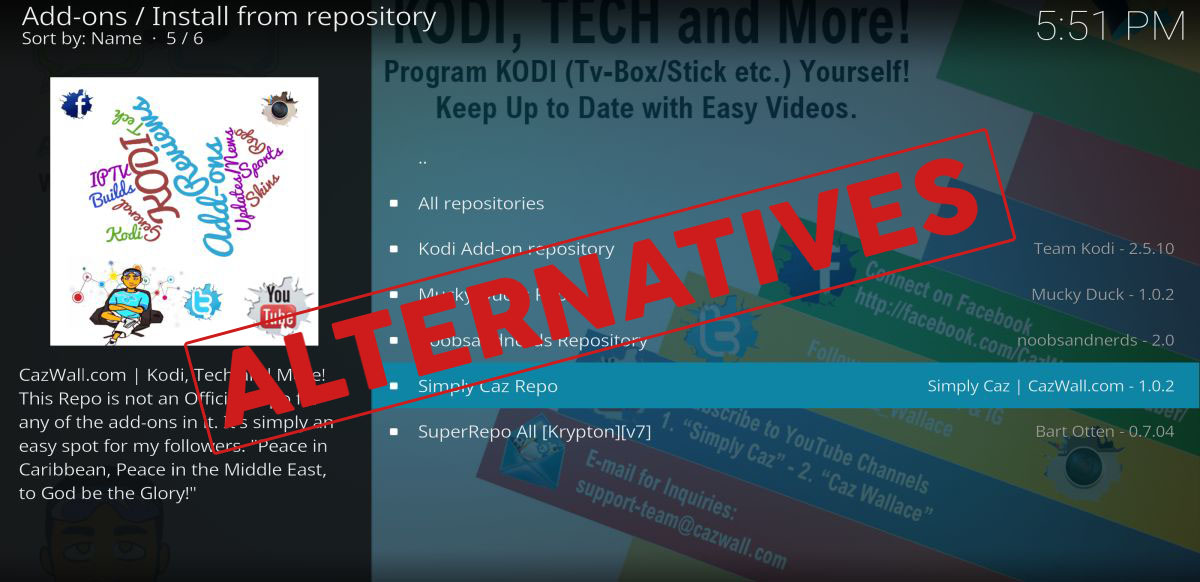 While the 2017 DMCA takedowns didn't directly hit Cazwall, shortly after the team announced a huge shift in direction. Instead of offering links to questionable sources, Simply Caz would instead focus on 100% legal content. This was a safe decision on their part, but it also meant the death of Caz Wizard, which a lot of users depended on. Now that Cazwall is effectively gone, we went looking for replacements so we can stream and configure our Kodi installation with ease.
30-days money back guarantee
Keep Yourself Safe with a Good VPN
Staying safe online is something everybody thinks about from time to time. Kodi users are especially careful, as a lot of ISPs have started monitoring Kodi traffic to look for pirated streams. You don't have to give up your right to online privacy each time you use Kodi, however. With a good VPN you can log on and stream anything you want without sharing private information.
VPNs work by encrypting all data that leaves your device. This makes it impossible for anyone to track your activity or match downloads/streams to your location. You can stay anonymous with a VPN, and you'll enjoy better privacy and increased security, as well, even on public networks or in censorship heavy countries.
Choosing the right VPN for Kodi streams can be a difficult decision. We ranked some of the top VPN providers using the following criteria to select the best one for the job.
Apps for a variety of devices
Extra security features
Zero-logging policy
Strong encryption
Fast speeds
The Best VPN for Kodi – IPVanish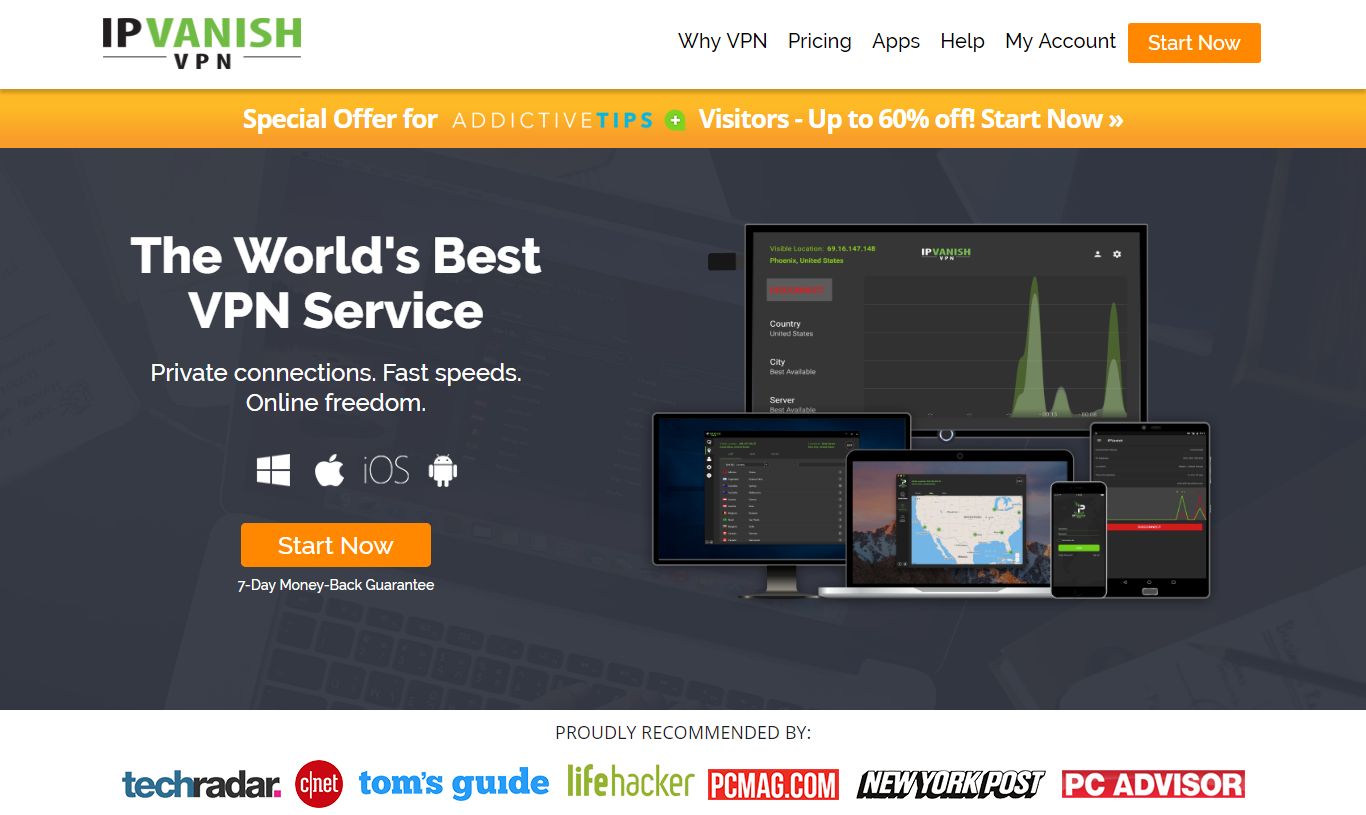 A good VPN for Kodi needs to strike the perfect balance between speed, ease of use, and privacy. Most services sacrifice at least one of those features in favor of the others, but not IPVanish. IPVanish provides incredibly fast downloads and streams through a huge network of 850 servers in 60 different countries. All data passing through this network is secured with 256-bit AES encryption, DNS leak protection, and an automatic kill switch, as well. Each time you log in you'll get a fast connection anywhere in the world, all while staying completely invisible online.
IPVanish offers a 7-day money back guarantee which means you have a week to test it risk-free. Please note that Addictive Tips readers can save a massive 60% here on the IPVanish annual plan, taking the monthly price down to only $4.87/mo.
More IPVanish features:
Apps for Windows, Mac, Linux, iOS, and Android devices.
Anonymous access to torrents and all of Kodi's add-ons.
Unlimited bandwidth and no speed throttling.
Zero-logging policy on all traffic.
Should You Delete Cazwall?
Normally when a Kodi add-on or repository is shut down, we recommend removing it and all associated source links from your device. It's safer that way, as it helps prevent accidentally downloading bad files if a rogue element takes over the original repo's code. The situation is somewhat different with Simply Caz, however. The repository wasn't shut down by a DMCA takedown, it was voluntarily scaled back by the Caz team. The repo is alive and well but now focuses on legal add-ons, a process which cut out most user favorite features, including Caz Wizard.
If you have Cazwall installed you don't have to remove it from your device, you're safe leaving everything as-is. The Caz team is still in command and could release new content in the future. In the meantime, browse the current offerings and install any updates they release. You never know when the Caz Wizard will make a comeback!
Alternatives to Cazwall Wizard
The main exclusive feature of the Simply Caz repo was the Cazwall Wizard. This handy add-on gave you all the tools you needed to install new repositories, uninstall add-ons, speed up Kodi, clear out your video cache, manage builds, and more. With the Caz Wizard gone, here are a few good replacements that can help you keep Kodi tidy.
Before Installing a Wizard
Kodi comes with a few security features that help keep your system safe from malicious code. One of these is a setting that, by default, prevents the app from accessing outside sources. If you want to install unofficial content, however, you'll need to toggle this off. It's completely safe to do, and it only takes a few moments.
From Kodi's main menu, click the gear icon to enter the System menu.
Go to System Settings followed by Add-ons
Toggle the slider next to the Unknown sources option. It will sit on the right side and turn a lighter color once it's active.
Accept the warning message.
Note: Unofficial Kodi add-ons may feature links to content that could be illegal in your area. AddictiveTips does not condone or encourage any violation of copyright restrictions. Please consider the law, victims, and risks of piracy before accessing copyrighted material without permission.
Brettus Builds Wizard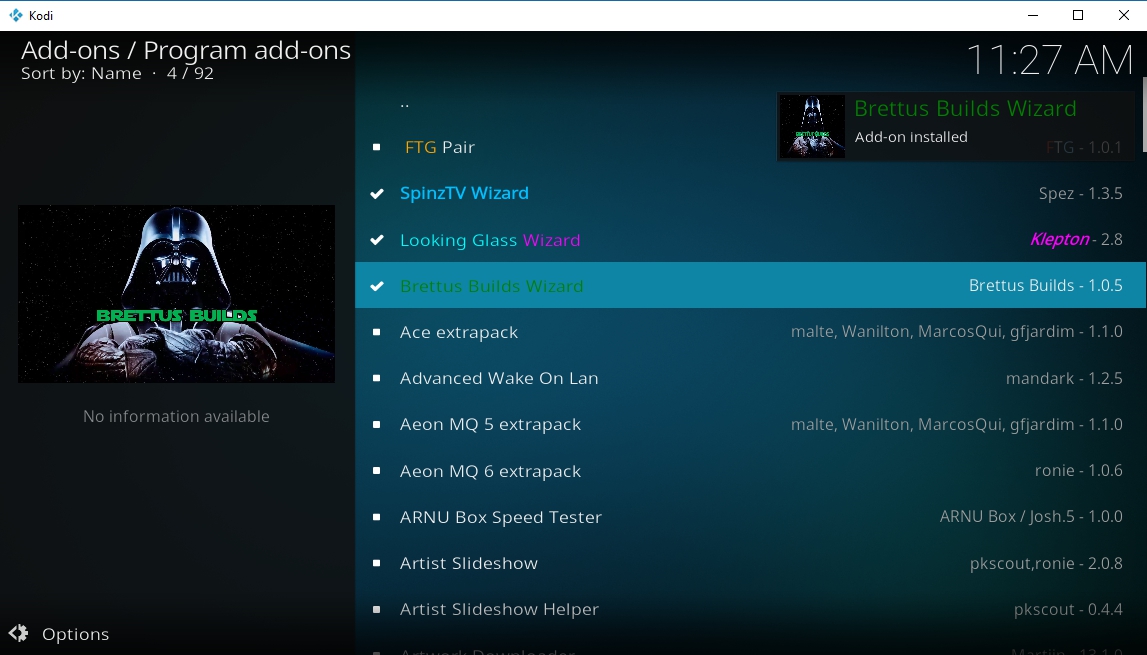 The Brettus Repository snagged traction after the 2017 DMCA takedowns removed some of the more popular repos from the internet. Brettus provides a nice variety of basic streaming add-ons, but it also has a handy wizard you can use to tweak Kodi and install custom builds.
How to Install Brettus Builds Wizard
The Brettus repo is available through a secondary repository. It requires a small extra step to install, but in the grand scheme of things isn't more difficult to use than any other repository. Follow the guide below to install the repo, then the Brettus Builds Wizard.
Open Kodi, go to the main menu, then click the gear icon.
Go to File Manager > Add Source.
Add the following URL: https://toptutorialsrepo.co.uk/kodi/Repos/
Enter an easy to remember name, such as .toptuts
Click OK. Kodi will automatically add the repo to your sources list.
Go back to the main menu and select Add-ons.
Click the box icon at the top.
Choose Install from Zip File, then select the repo you named above.
Scroll down and find the file named repository.Brettusrepo-#.#.zip
Install the repo, then go back to the open box menu and choose Install from Repository.
Select the entry named Brettus Builds Repository.
Navigate to Program add-ons and look for the Brettus Builds Wizard.
Click to install the wizard. It will then be available from the main add-ons screen.
How to Use Brettus Builds Wizard
Brettus Builds is one of the more straightforward wizards out there. It lacks some of the insane features that makes other wizards so useful, but it's got the basics and is an excellent "first time" wizard for anyone slightly new to Kodi.
After running the wizard, the first menu option you'll see is for new builds. This section lets you browse and install Kodi conversion skins that change the layout and installed sources for your version of Kodi. After new builds you'll see sections for old builds, a build admin panel, community created builds you can install, and ALs Wizard, which has a few miscellaneous builds.
If installing Kodi builds isn't your thing, Brettus Wizard offers a maintenance section at the bottom of the list. Here you can do basic tasks like backup or restore Kodi, remove old add-ons, perform a factory reset (fresh start), clear the video cache, or remove outdated builds and other files from your system. Each option is tidy and easy to select, giving you one-click access to some of the most common wizard functions.
Cosmic Saints Wizard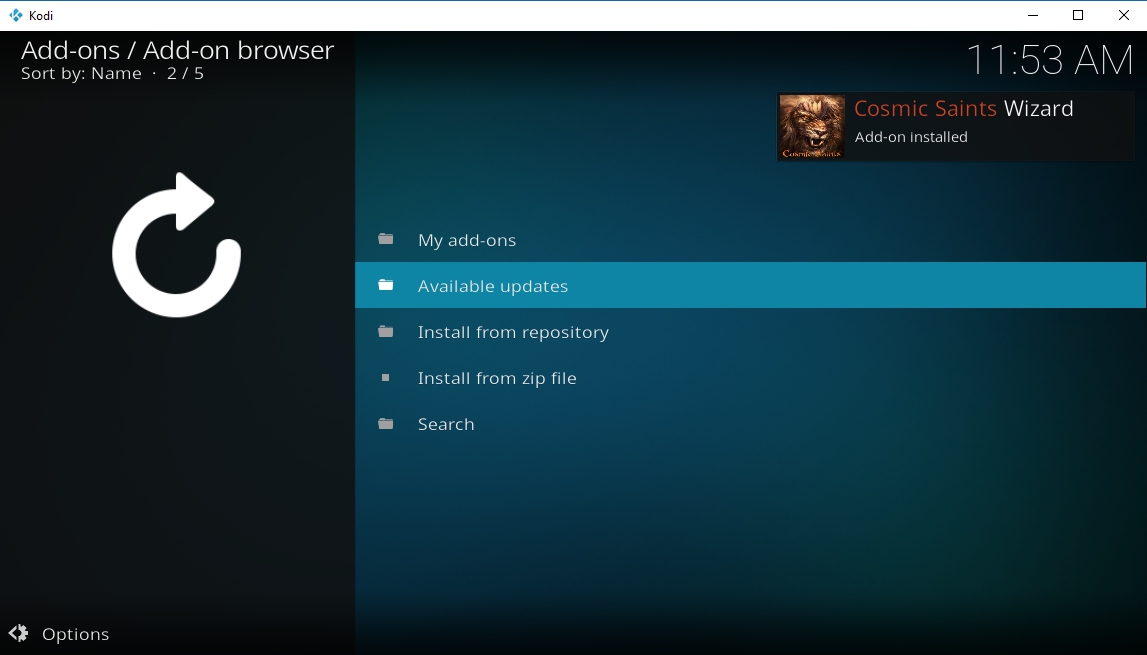 Another wizard that survived the DMCA takedowns is Cosmic Saints. This add-on emulates a lot of the functionality provided by Cazwall Wizard and includes some Android-specific features useful for Fire TV Stick or Android device owners.
How Install Cosmic Saints Wizard
The CS Wizard add-on comes as its own standalone installation. You won't have to install any repositories or anything like that, just download the file and you're ready to go. Follow the steps below to get started.
Visit the CSaintsWizard plugin download page in your web browser.
Download the zip file named plugin.program.CSaintsWizard.zip and save it somewhere convenient so you can access it again in a moment.
Open Kodi and select Add-ons from the navigation bar.
Click the box icon, then select Install from zip file.
Navigate to where you saved the CSaintsWizard.zip file, then click OK.
The Cosmic Saints Wizard will install in the background. Check the main add-ons menu in a few moments and you'll see the wizard, ready to run.
What Can Cosmic Saints Wizard Do?
Cosmic Saints is a great multi-use wizard. All of the basic tools will help you speed up Kodi, install new builds, and remove broken content with just a few clicks. There are also some fantastic backup features you can employ to save custom data in case you decide to remove and reinstall Kodi. Explore the categories below to see what the wizard is really capable of!
Cosmic Saints Builds – Install Kodi skins to customize your current setup with a brand new look and feel. Includes nearly three dozen options for Kodi 17.6 Krypton and Kodi 16.1 Jarvis.
Maintenance Tools – An incredibly detailed section with all of the wizard's cleaning and tweaking tools. Use these to clear your cache, delete old thumbnails or packages, perform a fresh start factory reset, get rid of unused add-ons, and so much more. You can even set a lot of these features to run on a regular schedule, even upon startup!
APK Installer – A useful feature for Android owners (including Fire TV Stick). This section links over 30 different apks you can download and install right from the wizard.
Turn off Auto Clean for All Wizards
One feature most wizard add-ons love to do is clean up files each time you start Kodi. They'll remove the video cache, delete thumbnails, and just generally tidy things up before you start streaming. This can be a good idea and is a great practice in theory, but unless you leave Kodi running all day, it can be annoying seeing five or six of those noisy "Cache Cleaned!" messages pop up after startup.
Even though most wizards leave the auto-clean feature enabled by default, you can quickly turn it off by navigating to the Maintenance section, then scrolling down until you see something like Auto Clean: ON. Simply highlight the entry and select it to toggle it off. If it's not under the maintenance menu, look for a separate configuration page with the auto clean option.
Some wizards give you fine-grain control over what they do when Kodi starts up. They even allow you to schedule cleanings so they don't happen every time you close and re-open the program. In these cases, you can customize things as you like and leave auto clean turned on.
Alternatives to Cazwall (Simply Caz) Repository
Although Simply Caz isn't actually dead, most of the add-ons it featured have been removed, replaced with lower-quality but legal content. Using the repository now means picking through a scant selection of streams, only a couple of which focus on live cams and free TV. Your best bet is to move on from the Cazwall repo and look for another resource for your Kodi content. Fortunately, there are dozens of repositories out there that make great alternatives!
Official Kodi Repository
The official Kodi repository shouldn't be ignored! The pack-in repo has dozens upon dozens of add-ons ready to install, all of which are reliable, free, and 100% legal. You can catch up on cartoons, watch live TV, dig through film archives for forgotten classics, and so much more.
How to Install Official Add-ons
Installing add-ons from Kodi's official repository is extremely easy. You don't have to change any settings or add any new sources, just dive into the file, find what you want, then you're ready to go. Follow the steps below for each official add-on you want to install.
Go to Kodi's home menu, then select Add-ons from the navigation bar.
Click the box icon and choose Install from repository.
Click Kodi Add-on repository.
Navigate to the Video add-ons folder near the bottom.
Browse for the add-on you want to install.
What to Watch in the Kodi Repo
Even though its add-ons avoid potentially illegal content, the official Kodi repository has a great selection of content that can go a long way to replacing Cazwall. Check out some of our favorites below.
Toonjet – Watch classic animation from the golden age, everything from Merrie Melodies to Betty Boop, Popeye, Tom & Jerry, and more.
Snagfilms – Got the urge for a great indie movie? Snagfilms collects dozens of free independent and foreign movies and organizes them into tidy categories.
Viewster – TV shows and movies from around the world, all free, all legal, all easy to stream.
USTVnow – One of the best ways to watch broadcast TV and cable channels from U.S.-based sources.
NBC Sports Live Extra – A great way to watch live sports and archived highlights.
JohnLocker – Stream free documentaries from over a dozen genre categories.
seduNdneS Repo
seduNdneS is an unofficial repository that focuses on a select few areas of content designed to deliver high-quality and reliable streams. You don't have to worry about bumping into dozens of dead add-ons or broken links, just install the repo, use the add-ons, then start your streams.
How to Install seduNdneS
To gain access to the seduNdneS content, you'll need to install the repository first, then pick and choose which add-ons you want to grab. Follow the steps below to get your Kodi installation set up and ready to stream.
Starting at Kodi's main menu, find and click the gear icon at the top of the nav bar.
Scroll to the File Manager icon then choose Add source in the left pane.
In the Add File Source window, click the box that says <none>.
Type the following URL exactly as you see it into the window that opens: https://firetvguru.net/fire
Click OK, then type a name in the box where indicated. Use something descriptive like .sedundnes.
Click OK, then return to the Kodi main menu.
Open Add-ons and click the open box icon at the top.
Choose Install from zip file and select the entry you named above.
Click the file marked repository.sedundnes-#.#.#.zip
Wait a moment for the install to complete.
From the open box menu, choose Install from repository.
Scroll down and open the seduNdneS Repo.
Enter the Video add-ons folder to install as many streaming add-ons as you like!
What to Install from seduNdneS
The seduNdneS experience is centered around two main add-ons: Not Sure and SportsDevil. Not Sure has a large selection of high-quality movies and TV shows, ranging from Hollywood blockbusters to the latest and greatest on-air series. Everything is organized by genre and category, too, making it pretty easy to dive in and start streaming. With SportsDevil, you get access to some of the best live sports streams around. Soccer, hockey, football, baseball, UFC, basketball, tennis, and so many more, all a couple of clicks away.
Brettus Repository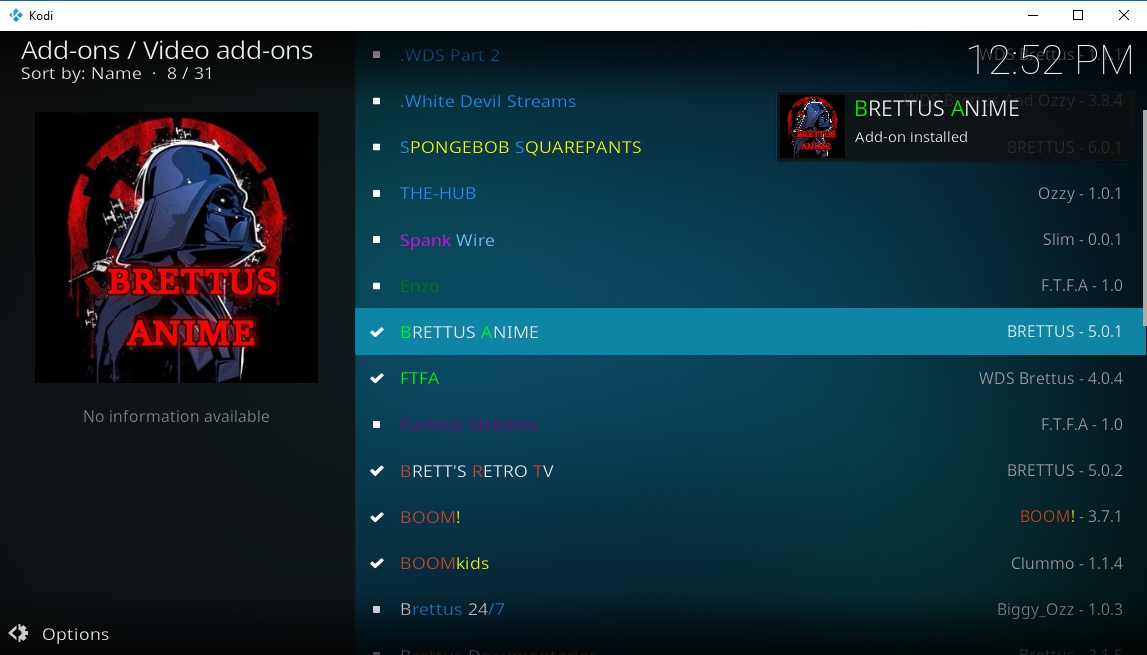 If you installed the Brettus repository above to gain access to the Brettus Builds Wizard, you're in luck! The repo happens to have some great add-ons that help you replace some of the features missing in Cazwall. The organization leaves a bit to be desired, but if you're patient and curious enough, you might just find some great new streams in this shiny new repository.
How to Install Brettus Repository
Need a hand installing the repo? Follow our instructions listed above under the section titled How to Install Brettus Builds Wizard. They're quick and easy and should only take a few seconds!
What to Watch with Brettus
Brettus' selection of add-ons is diverse, unique, and quite literally a rainbow of color. The interface is splashed with all kinds of shades, sometimes making the add-on names tough to read. If you persist and scan the entire list of 30 or so files, though, you'll find some great diversions. Below is a quick look at some of the main categories you'll find in Brettus.
FTFA – An incredibly useful streaming resource for new movies, TV shows, and plenty of on-demand content. If you only install one add-on from Brettus, make it FTFA.
BOOMKids – Bring in the little ones and sit them down in front of cartoons, learning shows, or kid-friendly movies.
Brettus Anime – Binge on your favorite anime series or discover something new.
Brett's Retro TV – Watch old school TV on new school technology.
Brettus Documentaries – Informative videos from a variety of sources on everything from nature to history to culture.
Devils Advocate – An add-on specializing in big movie releases, PPV streams, live TV, and sports.
Conclusion
The Simply Caz shutdown removed a lot of great streaming sources from the internet. Losing the Cazwall Wizard was another big hit to the Kodi community. With the above replacements, though, you should be able to soldier on. Got any suggestions for other alternatives to Caz? Let us know in the comments!