We are reader supported and may earn a commission when you buy through links on our site.
Learn more
SkyNet Kodi Add-on – How to Install SkyNet on Kodi
Some say that the SkyNet add-on for Kodi is the only one you'll ever need to turn the hugely popular media player into the ultimate entertainment system. It that true? We're about to try to answer that question. The SkyNet add-on has a plethora of content of all kinds. It has sports, it has on-demand movies and TV shows, it has live IPTV, it has music. Perhaps it is indeed enough to satisfy all your entertainment needs. And most of its content appears to be working fine; even its multiple live IPTV lists (which is usually where we find the most dead links).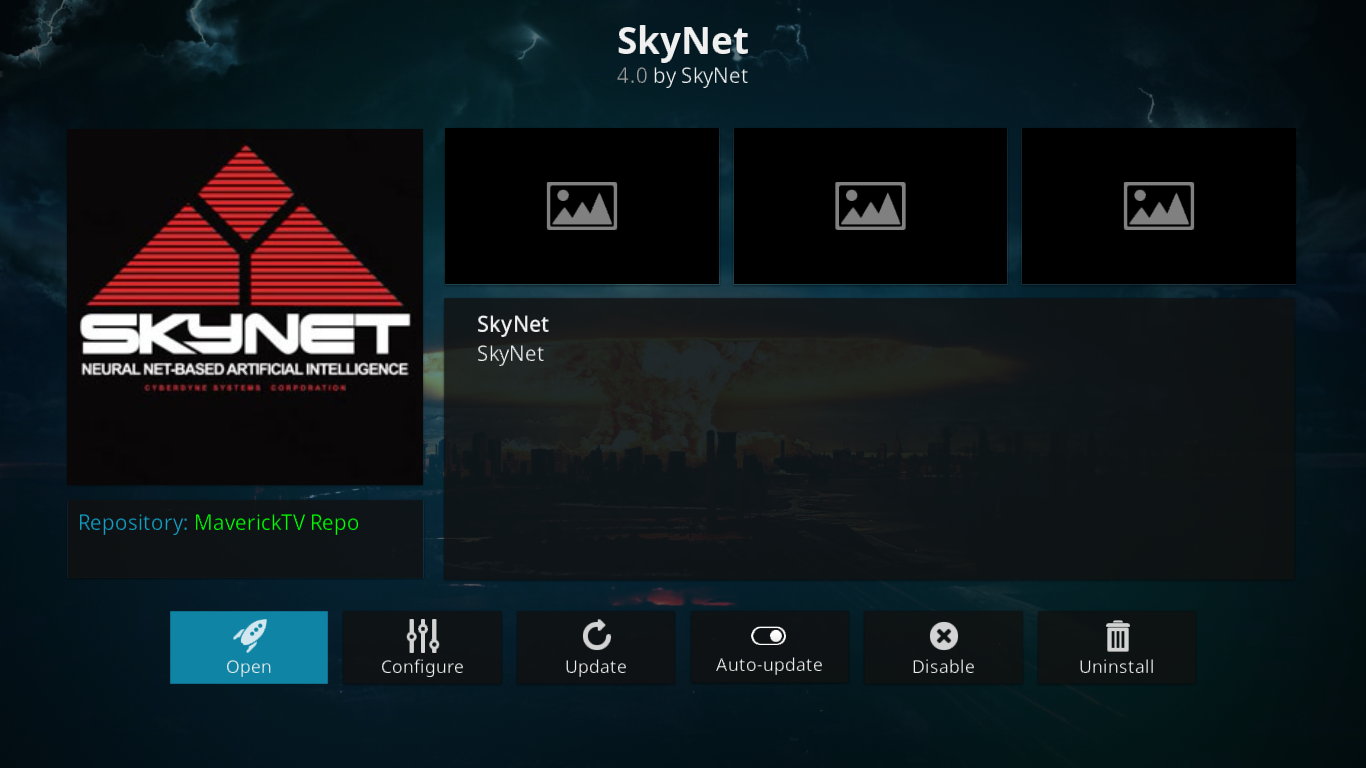 Today, we'll show you how to install this add-on. Our step-by-step guide we'll ensure installation is an easy job. And once we have the add-on installed, we'll show you what it is all about. We'll explore its different sections, see what they have to offer and tell you along the way about any quirks and issues we find.
30-days money back guarantee
Keep What You're Doing to Yourself – Use a VPN
If you want to prevent attacks from ill-intentioned people or avoid the scrutiny of overzealous Internet Service Providers, you must use a VPN. When ISPs suspect you might be violating their terms and conditions, they could react by throttling down your speed, sending you copyright infringement notices or even interrupting your service. A VPN protects your privacy by encrypting your data using strong algorithms, making it almost impossible to crack. As a bonus, by using appropriately located servers, a VPN will also allow you to bypass most geographic restrictions.
But with so many VPN suppliers available, choosing the best one can be a daunting task. Important factors to consider include a fast connection speed to avoid buffering, a no-logging policy to further protect your privacy, no usage restrictions to access any content at full speed and software that is available for your device.
The VPN We Recommend for Kodi Users – IPVanish

We've tested several VPN against our criteria and the one we recommend for Kodi users is IPVanish. With servers worldwide, no speed cap or throttling, unlimited bandwidth, unrestricted traffic, a strict no-logging policy and client software available for most platforms, IPVanish delivers impressive performance and value.
IPVanish offers a 7-day money back guarantee which means you have a week to test it risk-free. Please note that Addictive Tips readers can save a massive 60% here on the IPVanish annual plan, taking the monthly price down to only $4.87/mo.
How to Install the SkyNet Add-on
Installing third-party add-ons on Kodi is a simple task. It requires several steps that must be performed in the right order, but with the help of our detailed instructions, you'll manage to get it done in no time and without any issue. Just follow along.
Preliminary Step – Enabling Unknown Sources
By default, Kodi won't let you install third-party add-ons. We need to change that before we start. If you've previously installed other third-party add-ons, this has probably already been done and you may ignore this step.
So, from the Kodi home screen, click the Settings icon. It is the icon that resembles a little gear at the top left of the screen.
Click Add-ons at the left of the screen and make sure that Unknown Sources are enabled. If they aren't, click the switch at the right of the line to enable them.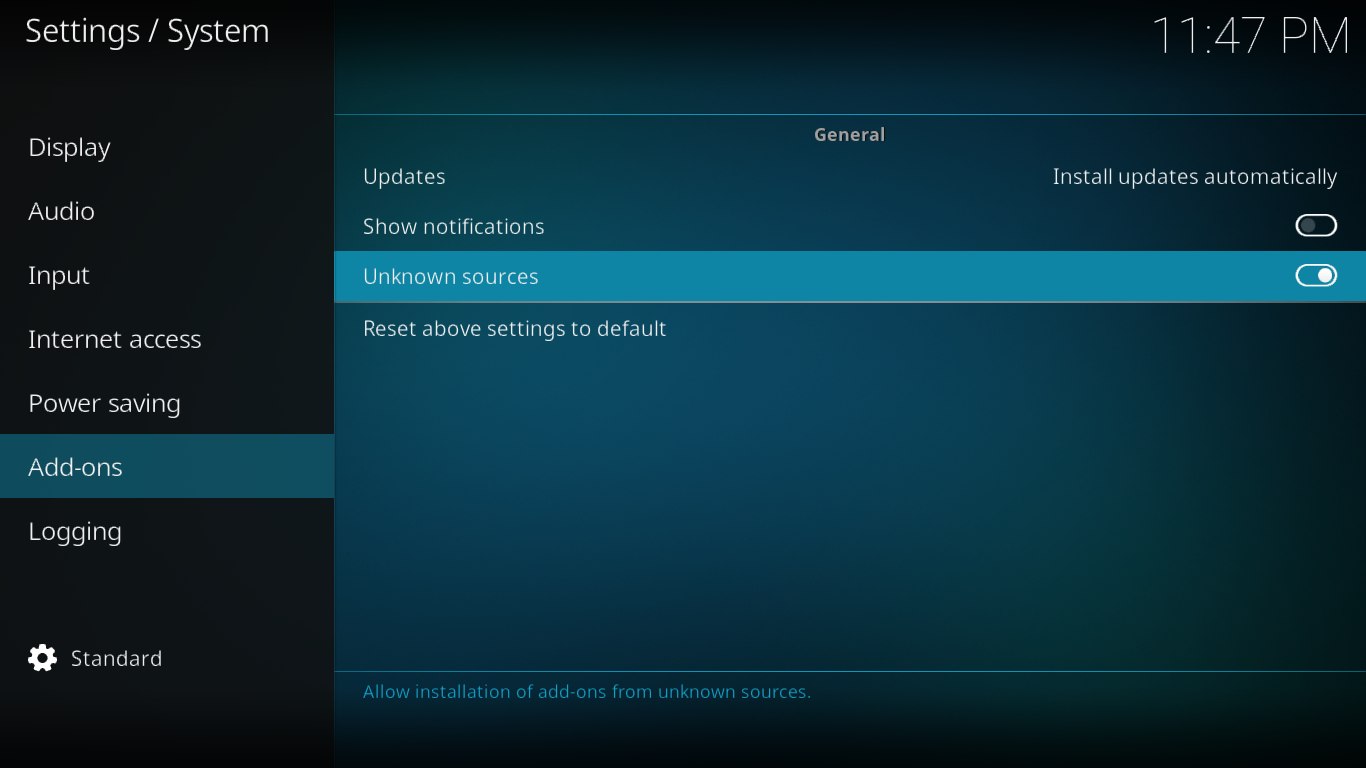 Adding the Repository Source Path
We're ready to start with the first step, adding the repository installation source path. SkyNet is installed from the Maverick repository so let's go ahead and add that as a source.
Back to the Kodi home screen, click the Settings icon one more. Next, click File manager.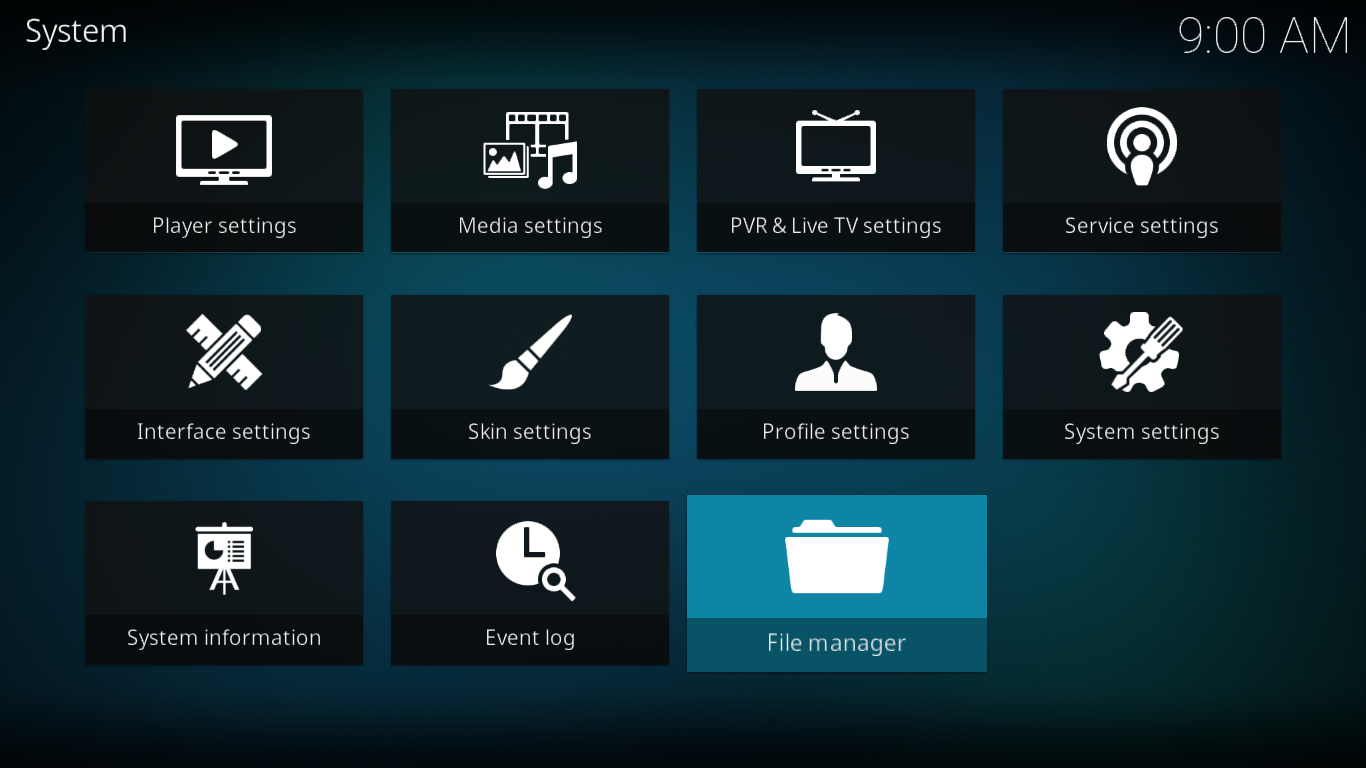 From the File manager screen, click Add-source in the left pane.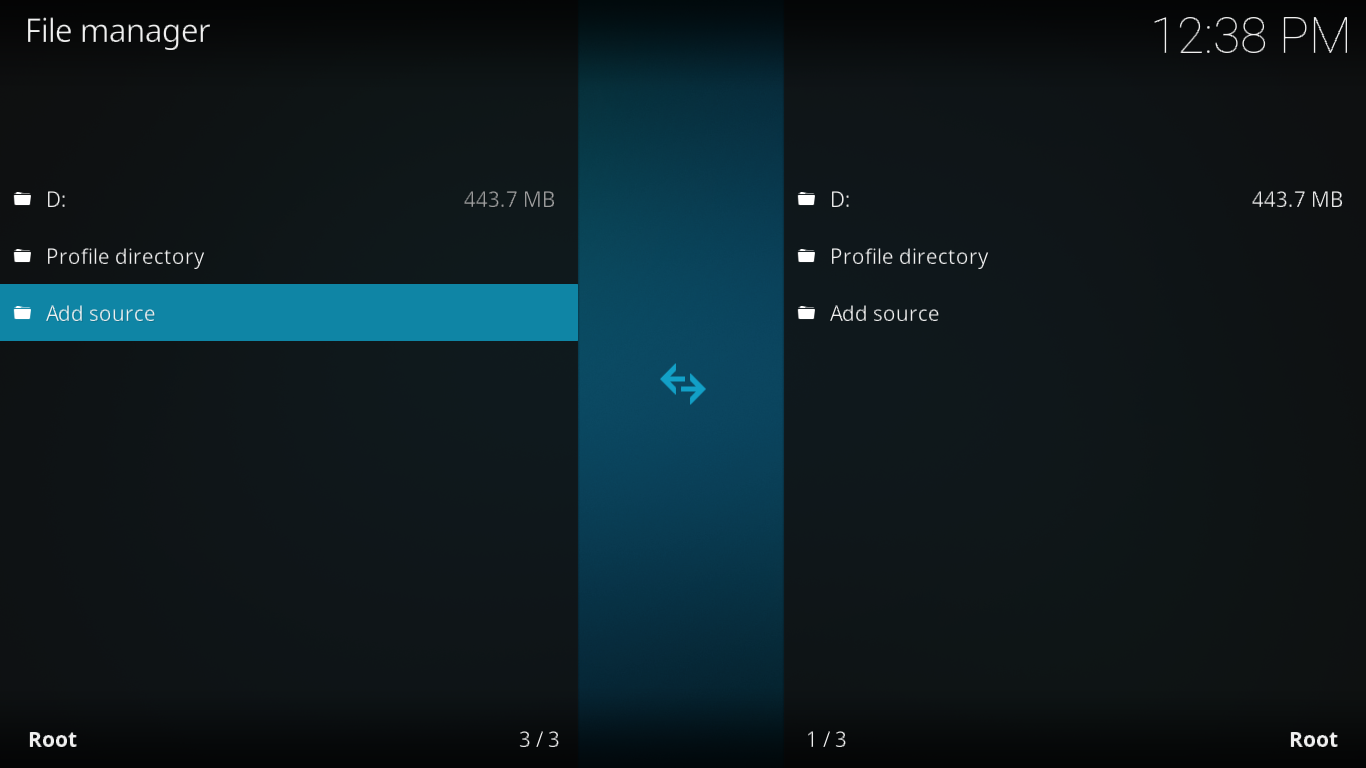 Next, click <None> and, on the screen that opens, type in this path, exactly as shown: https://mavericktv.net/mavrepo/ and click OK.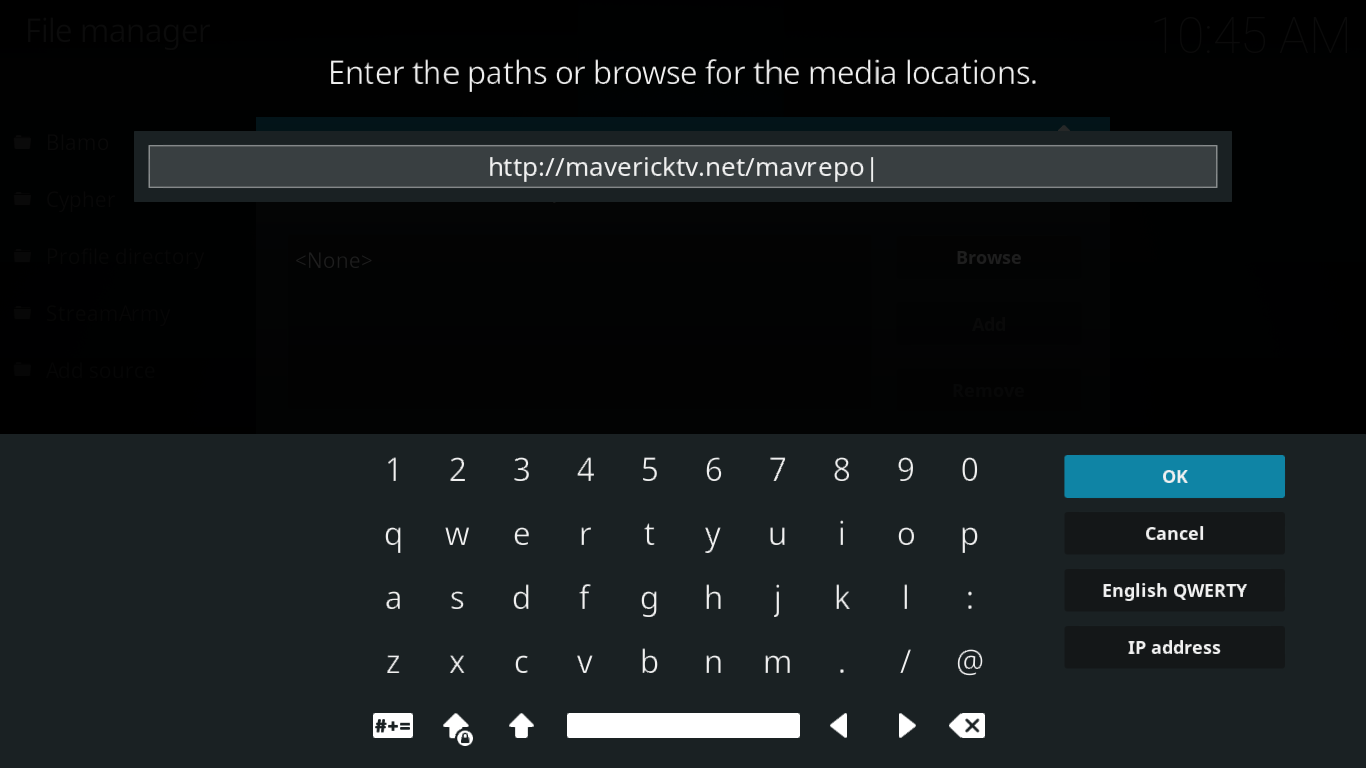 Back to the Add file source screen, click OK once more to save the source.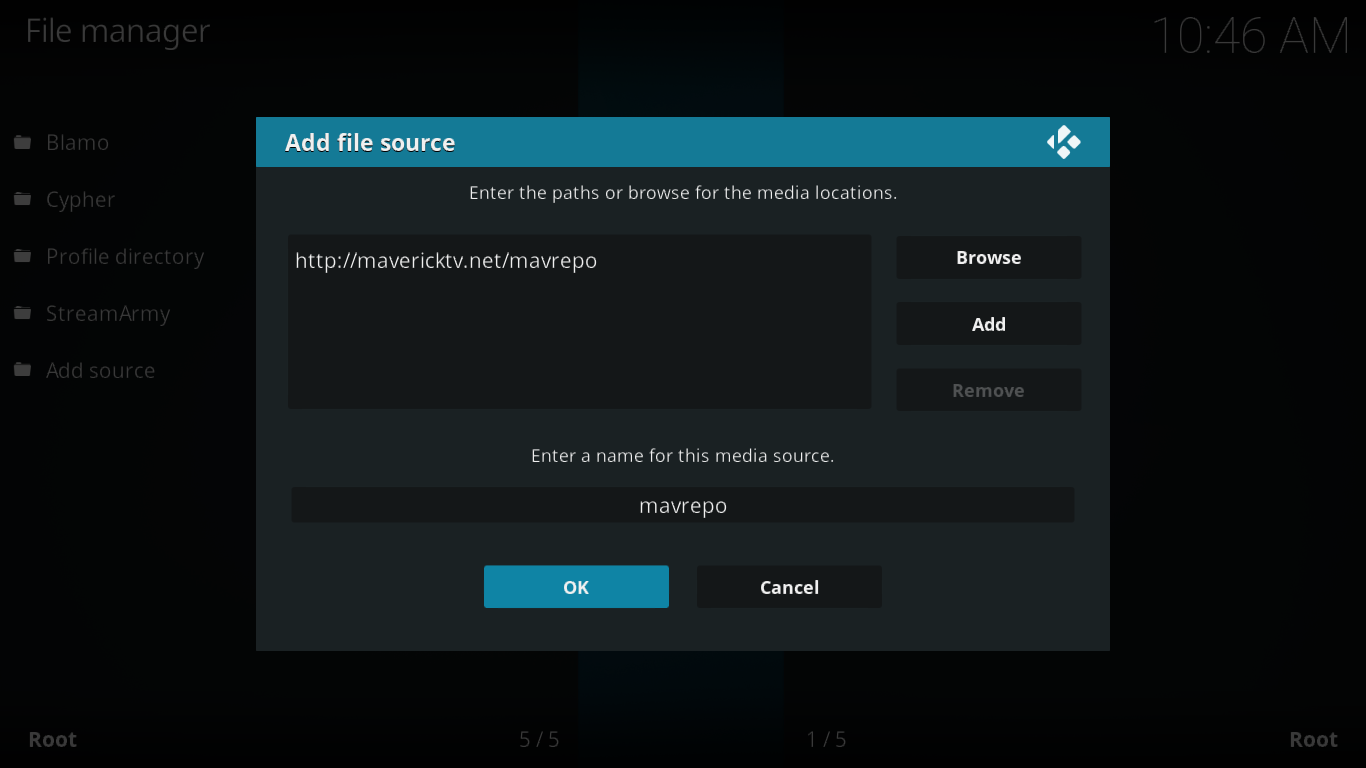 Installing the Maverick Repository
From the Kodi home screen, click Add-ons on the left side. Then, click the Add-on browser icon at the top left of the screen. This one looks like an open box.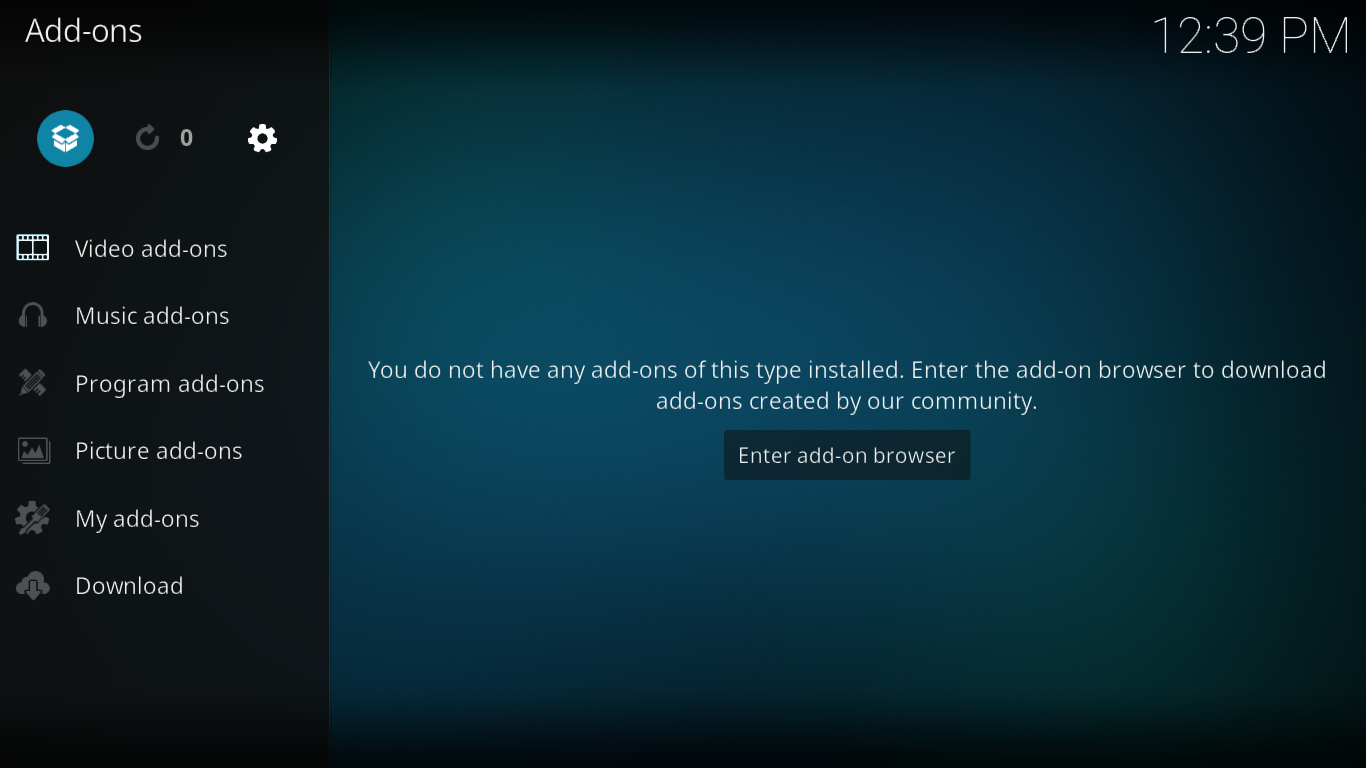 Click Install from zip file.
Click the mavrepo source and then click repository.maverickrepo-X.X.zip.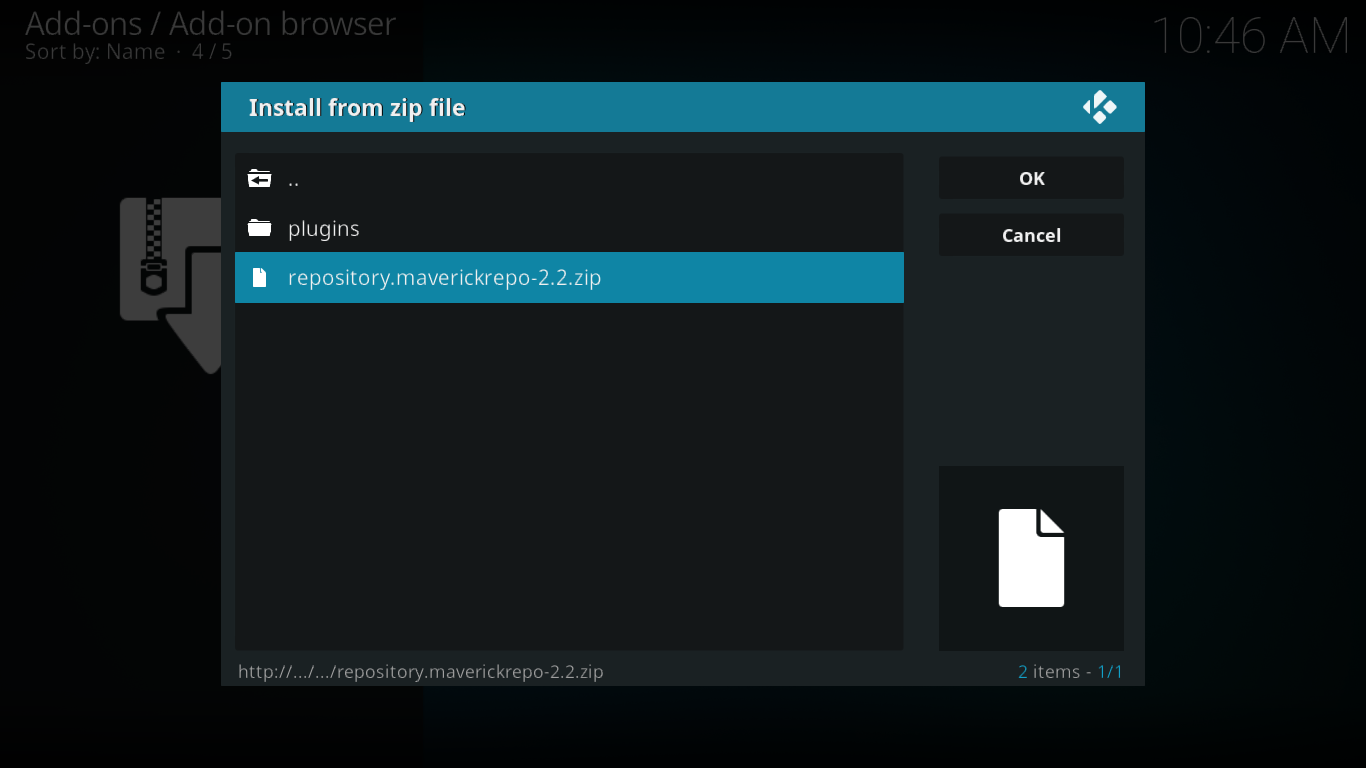 This will launch the repository installation. Pretty soon a message at the top right of your screen will confirm the successful installation of the repository.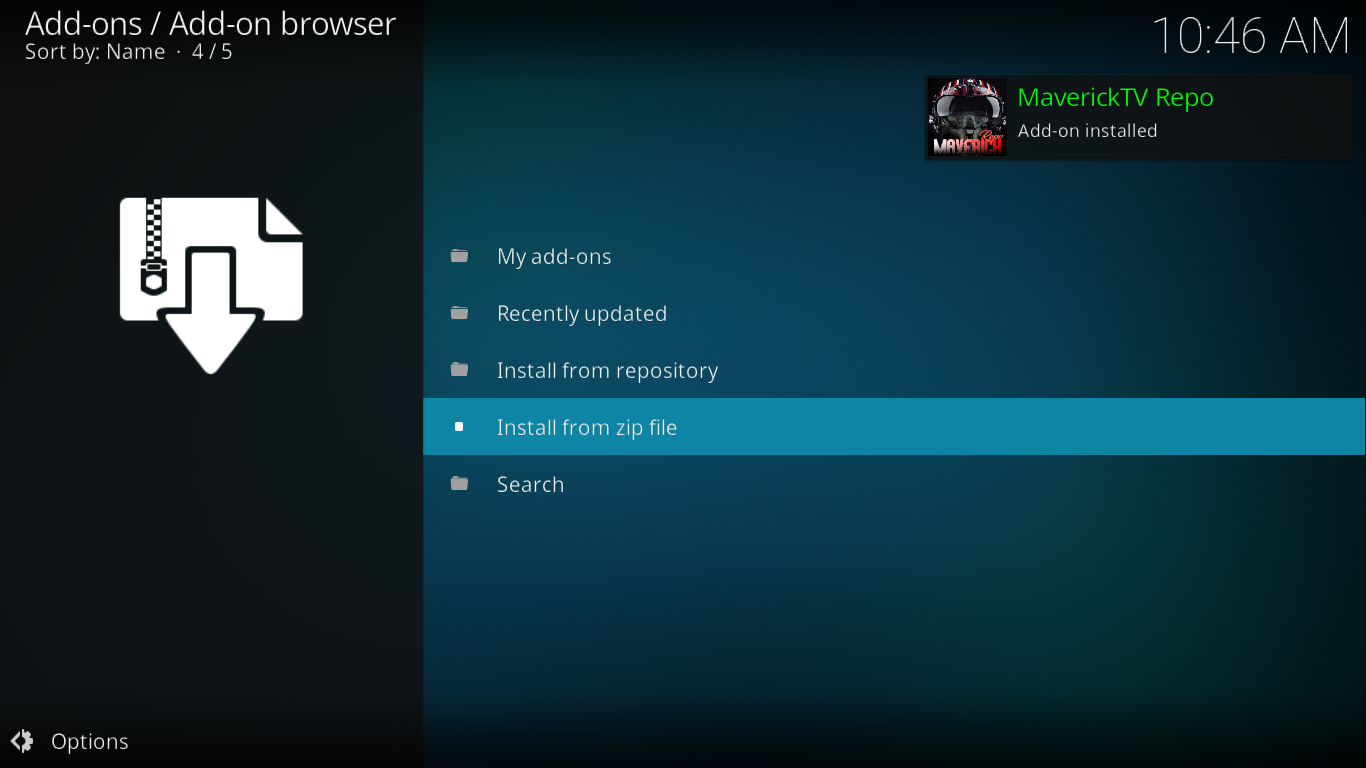 Installing the SkyNet Add-on
With all the preliminary steps behind us, we're now ready to go on with the actual add-on installation.
You should still be on the Add-on browser screen, This time, click Install from repository.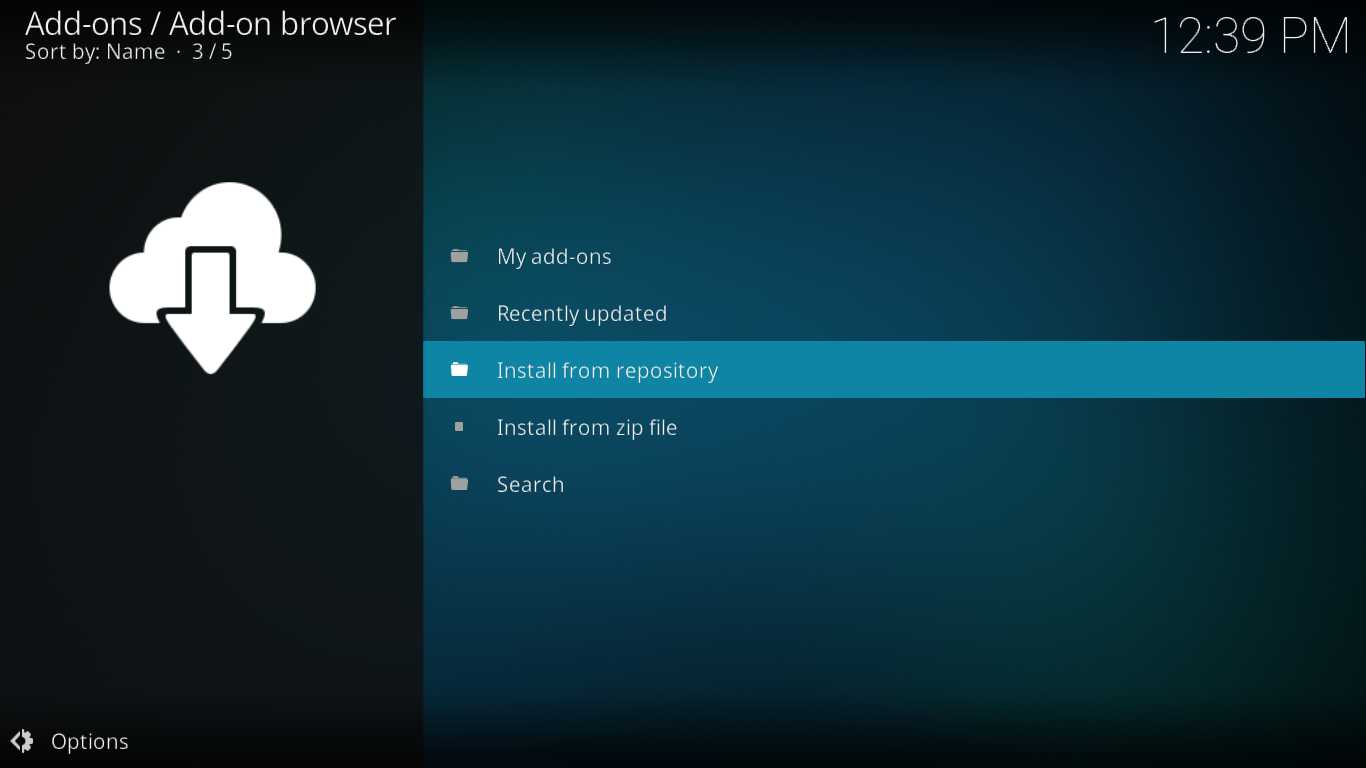 Click MaverickTV Repo, then Video add-ons and finally SkyNet.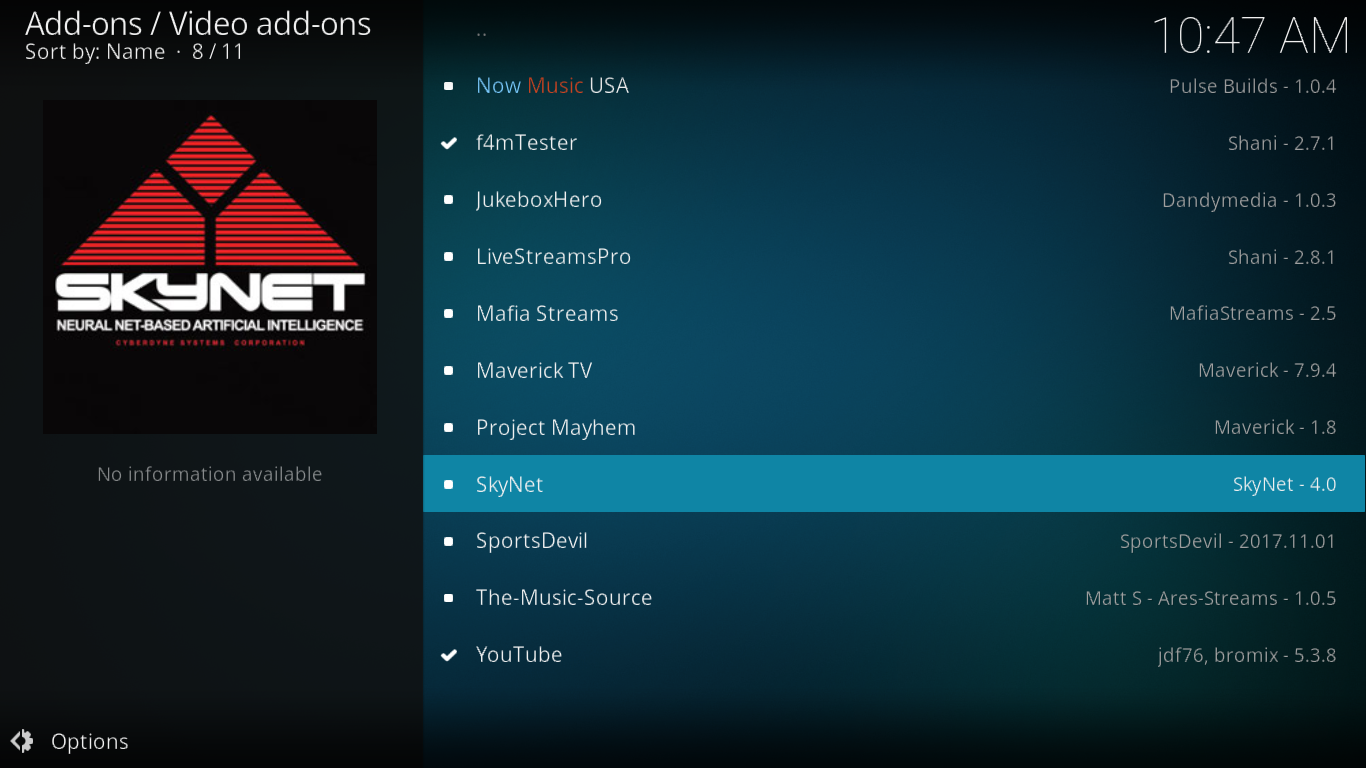 This will bring up the SkyNet information page. Click the Install button at the bottom right to start the installation of the SkyNet add-on and all its dependencies.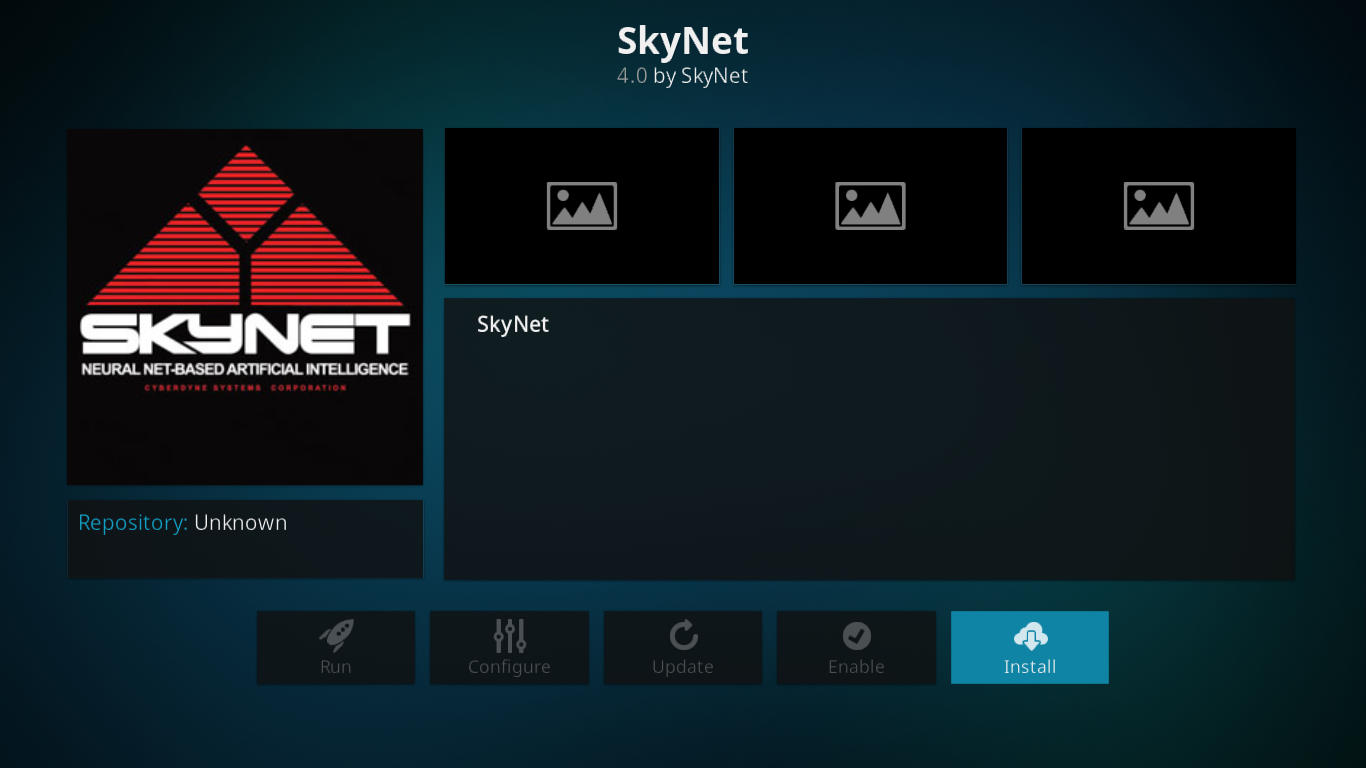 You'll see a few messages flash at the top right of your screen with the last one confirming the successful installation of the SkyNet add-on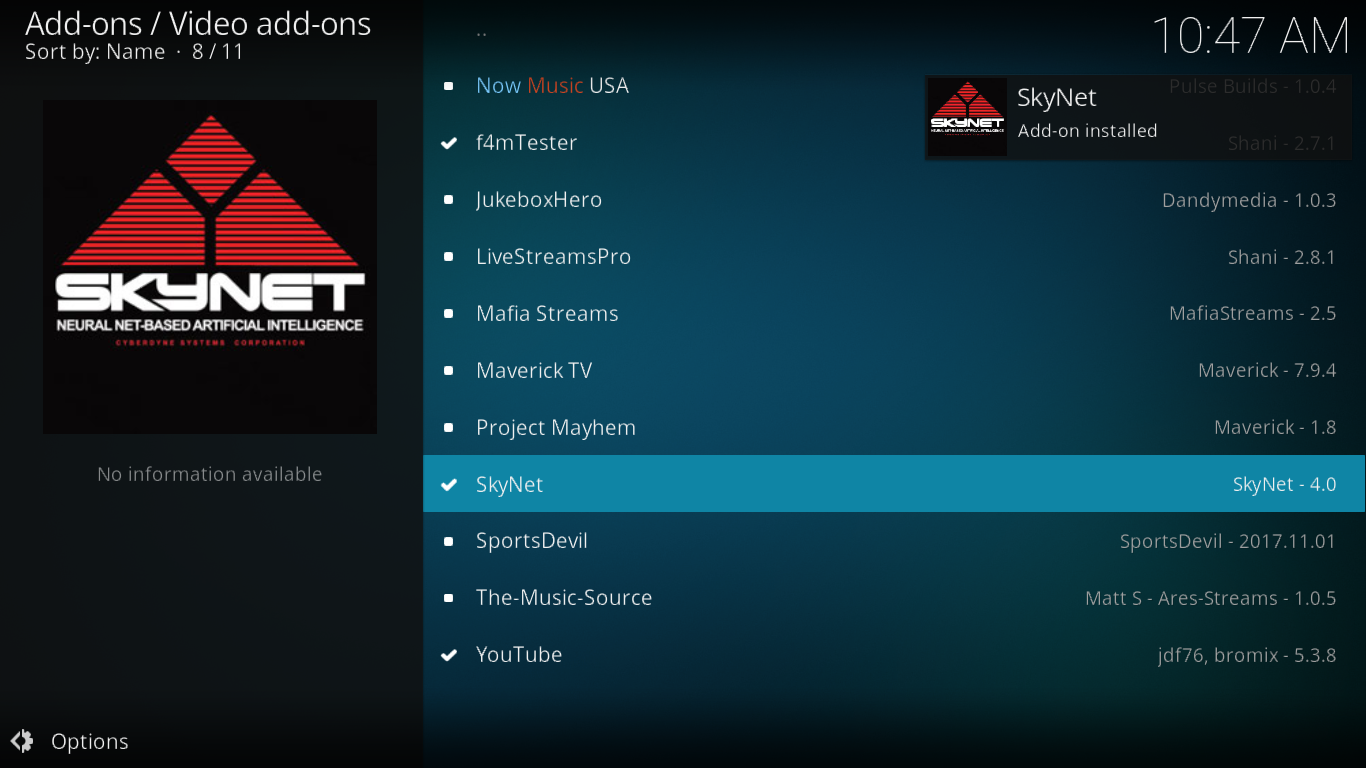 An Overview of the SkyNet Add-on
The SkyNet add-on is unique for several reasons. One of them is that it completely integrates two well-known add-ons, Maverick and Supremacy. It's really like the SkyNet developer incorporated both add-ons within his own. And not only that, several sections of SkyNet are nothing but shortcuts to sections of Maverick and Supremacy. More on this as we encounter these sections.
The add-on also relies heavily on the Fluxus.tv IPTV sources, a well-known source of IPTV links.
When you first start the add-on, you're taken to its main menu. With no less than 12 entries, there's a lot of content to explore.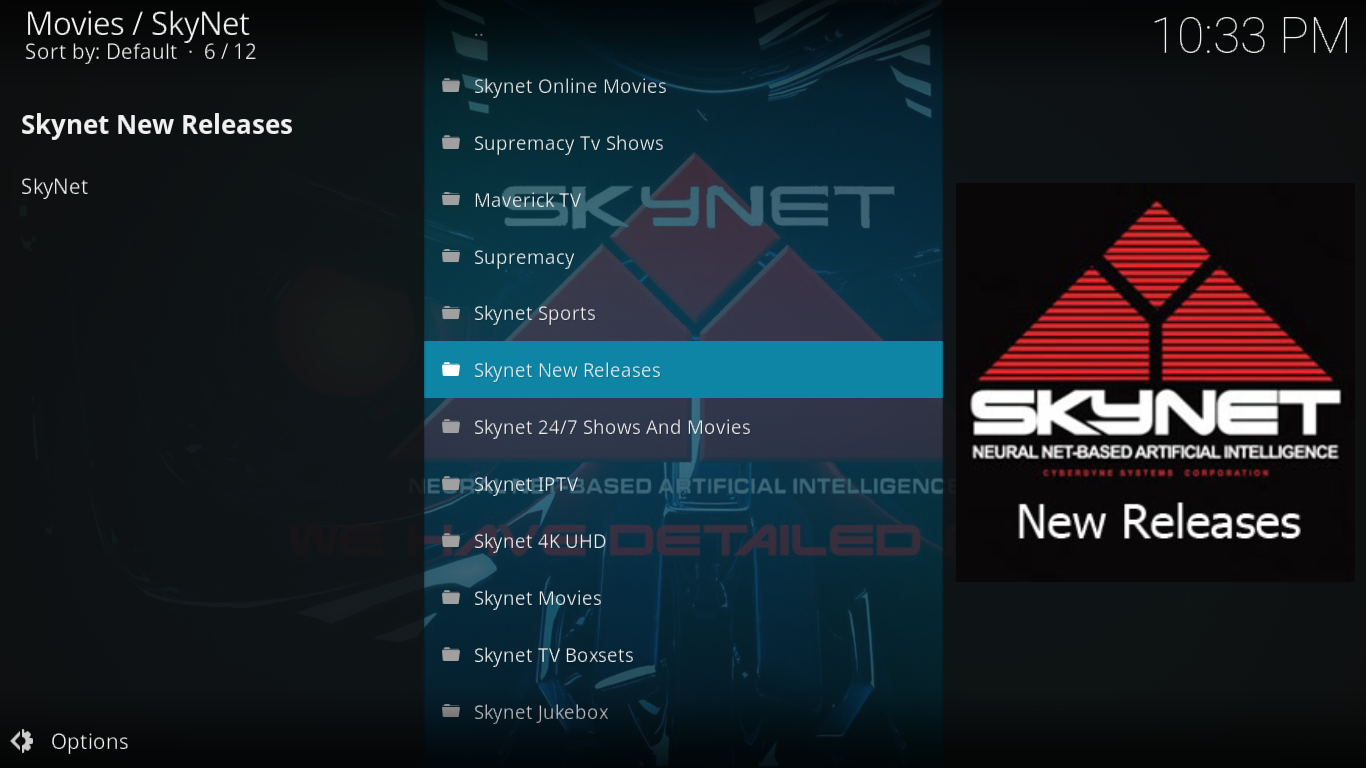 Let see in deeper details what lies behind each main menu selection.
Skynet Online Movies
This is not a huge section of the SkyNet add-on but certainly one of the most interesting. It has only four subsections.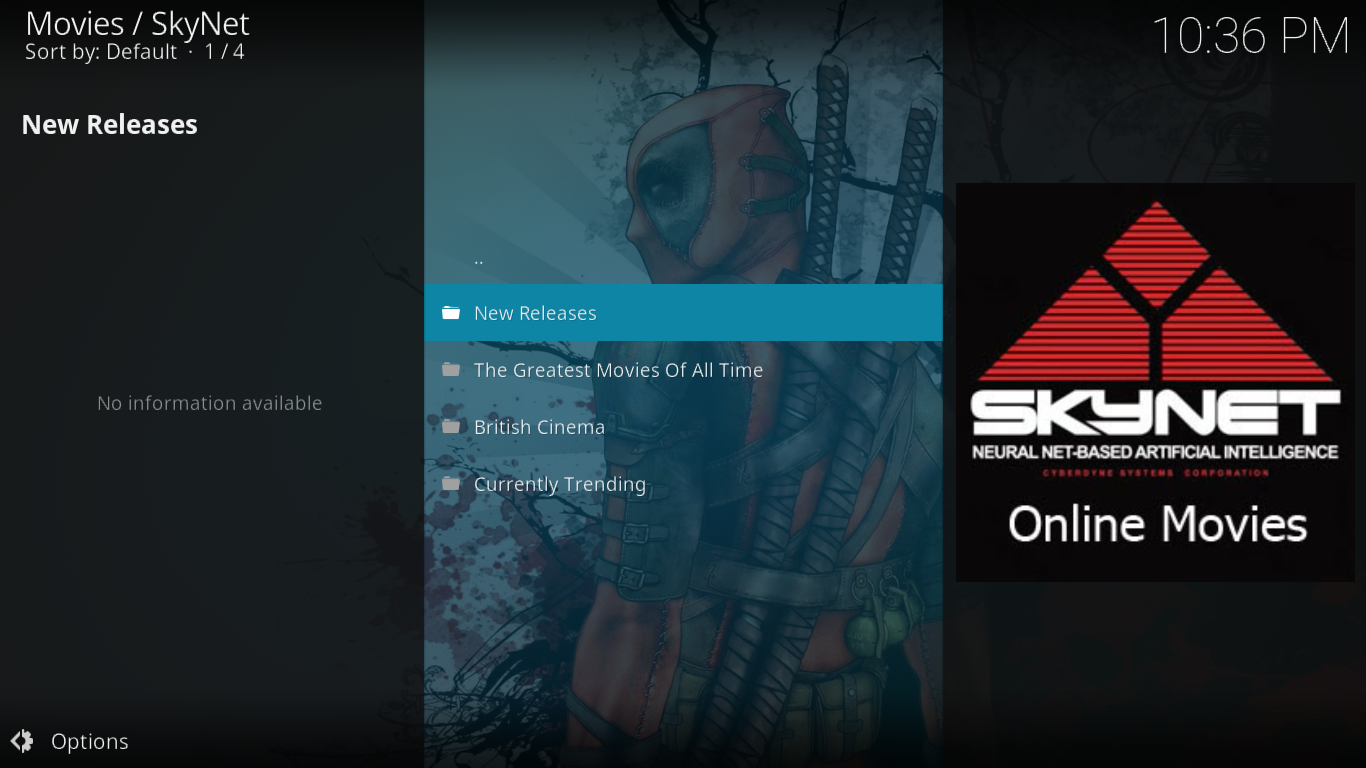 The first section, New Releases contains about 70 of the most recently released films. It is in reverse chronological order with the most recent films at the top. The list appears to be very thorough and has some pretty recent films, released just a few days ago.
Next comes our personal favourite section, The Greatest Movies Of All Time. This one as over 200 titles and we have to admit that we're pretty much in agreement with the selection. There are not only recent movies in there. it goes as far back as Charlie Chaplin and has only great movies.
The British Cinema section is pretty obvious. It is a list of over 60 British films taken from the Maverick add-on.
Currently Trending is just as obvious and has 100 films whose popularity is on the rise. Some are fairly recent, a few have not even been released and some are older. Of course, unreleased films are usually not watchable.
Supremacy TV Shows
If you prefer TV shows to movies, you'll spend more time in here than in the previous section. Its menu is deceptively simple but don't let that fool you. The section has a lot to offer.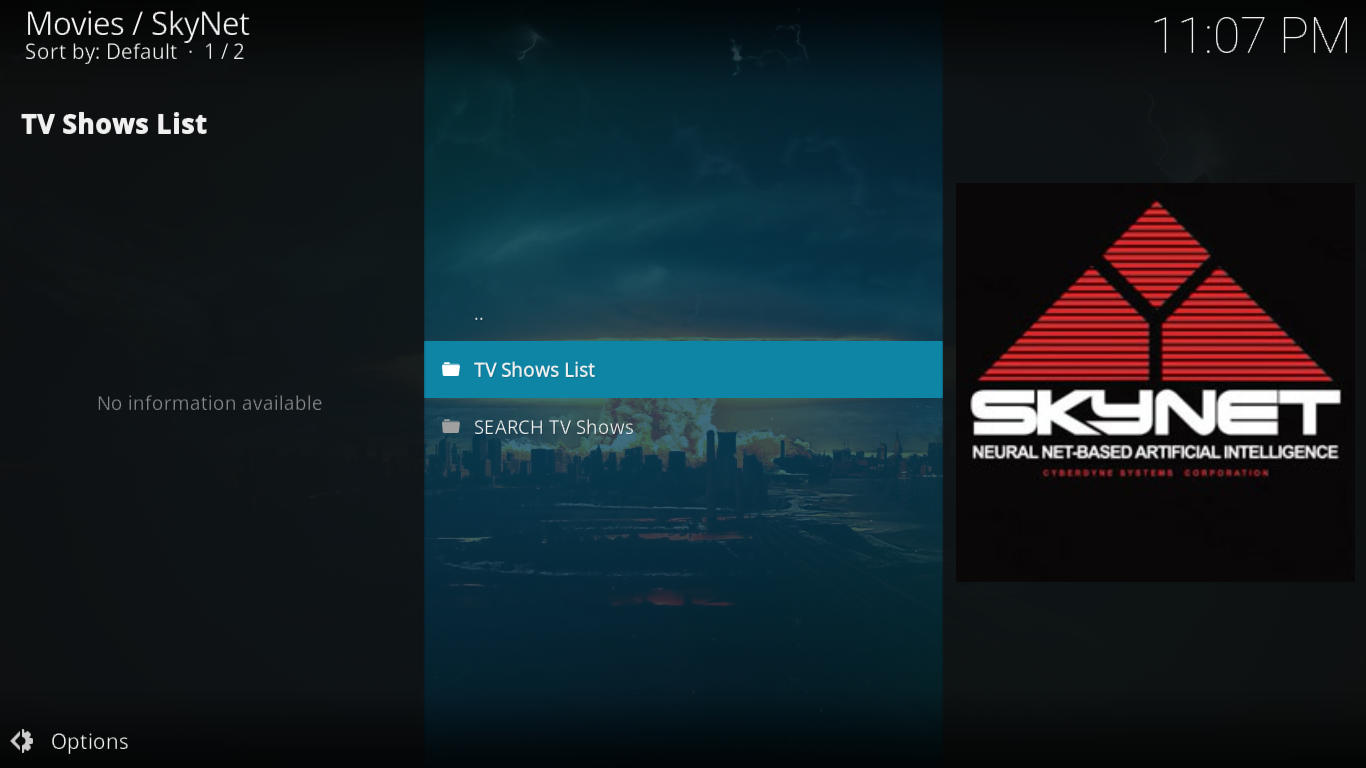 The TV Shows List has page after page after page of TV Show titles in seemingly random order. Finding specific show could prove to be hard.
This is where the second section, SEARCH TV Shows, comes in handy. It will allow you to quickly find any title you"re looking for.
Maverick TV
This section is actually the whole Maverick add-on integrated right into SkyNet. It has all the same menus and structure and all the same content.
If you want to know more about the Maverick TV add-on, addictivetips.com recently published an article about it.
Related reading: Maverick Kodi Add-on: Is Maverick Legal and Safe? How to Install?
There is simply too much content in there to go over it all. Many of its subsections are reachable from other sections of SkyNet, as we shall soon see.
Supremacy
Just like the previous one, this section is the entry to the Supremacy add-on which is built right into SkyNet. And like Maverick TV, several of Supremacy's subsections are used in other parts of SkyNet.
Supremacy is another great multipurpose add-on with movies, TV shows, sports, and live IPTV. It has a bit of everything and most of its content is of high quality.
Skynet Sports
This section is where sports fans will want to go. And chances are they'll love what they find. SkyNet takes a best-of approach here. This section packs the best of Maverick and the best of Supremacy in terms of sports content. And just to complete the offer, it adds an AceStream Sports subsection.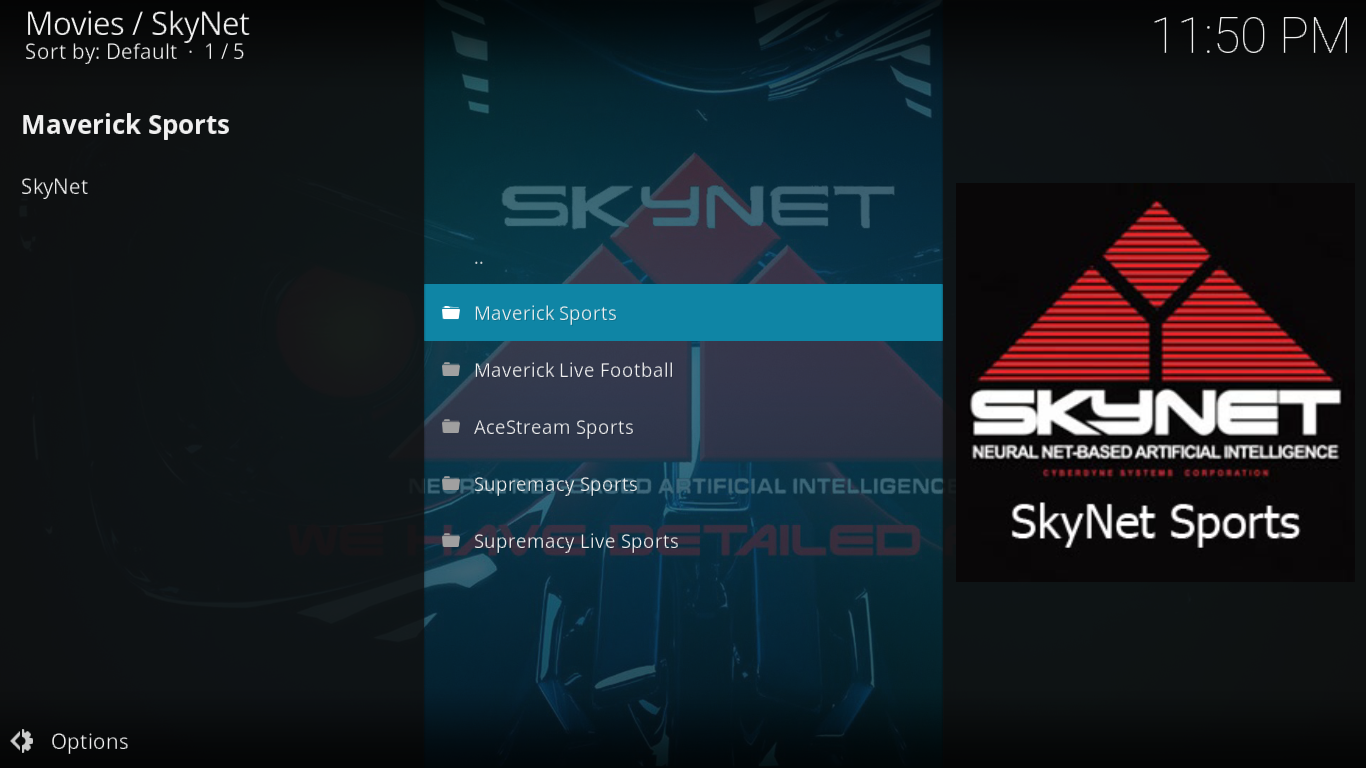 Maverick Sports is exactly what you'd think it is. It has 15 subsections and playlists offering all sorts of sports content.
The next section, Maverick Live Football is great for fans of the round ball stuff. Fans of the NFL will have to look elsewhere.
AceStream Sports has links to close to 100 different sports channels. Watching them requires the Plexus add-on and the AceStream engine so it is not for everyone.
The next two sections are from the Supremacy add-on. Supremacy Sports has a combination of on-demand and live IPTV content while Supremacy Live Sports did not work when we tried it.
Skynet New Releases
This is another section that borrows heavily from the Maverick and Supremacy add-ons. It has three subsections.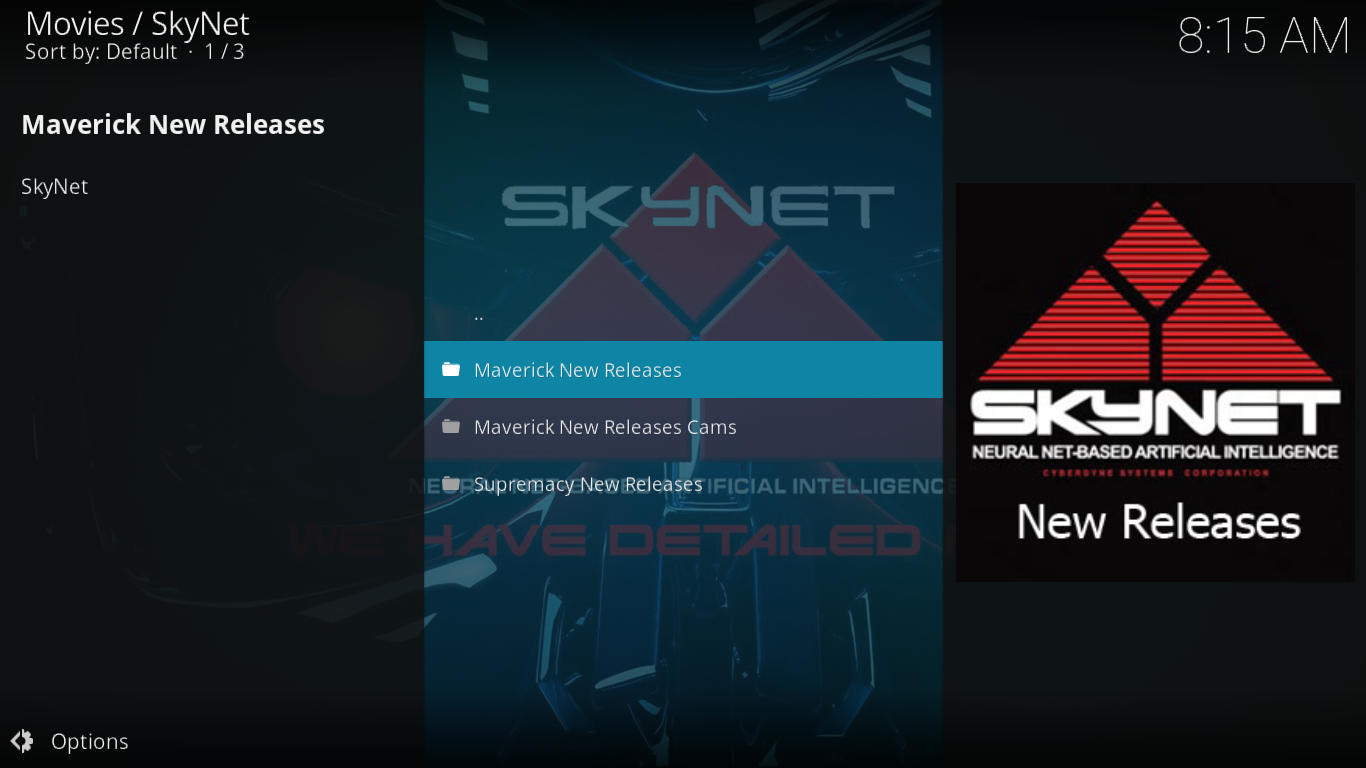 Maverick New Releases has a selection of over 300 titles. Their definition of new release is clearly stretched a bit, but it is to the advantage of movie fans.
Maverick New Releases Cams is a short list of about 20 movies that have been digitally captured by someone sitting in a movie theater with a camera. As you can imagine, the quality varies quite a lot. You will, for example, see silhouettes of people walking between the camera and the screen. It's not the best experience but if you just can't wait for something better, it's nice to know it's there.
Finally, Supremacy New Releases is somewhat like its Maverick counterpart. It is half its size and includes cams as well as true digital movies.
Skynet 24/7 Shows And Movies
There are a few issues with this section. First, we don't quite get what it's supposed to be. It has three subsections, all taken from the Maverick add-on.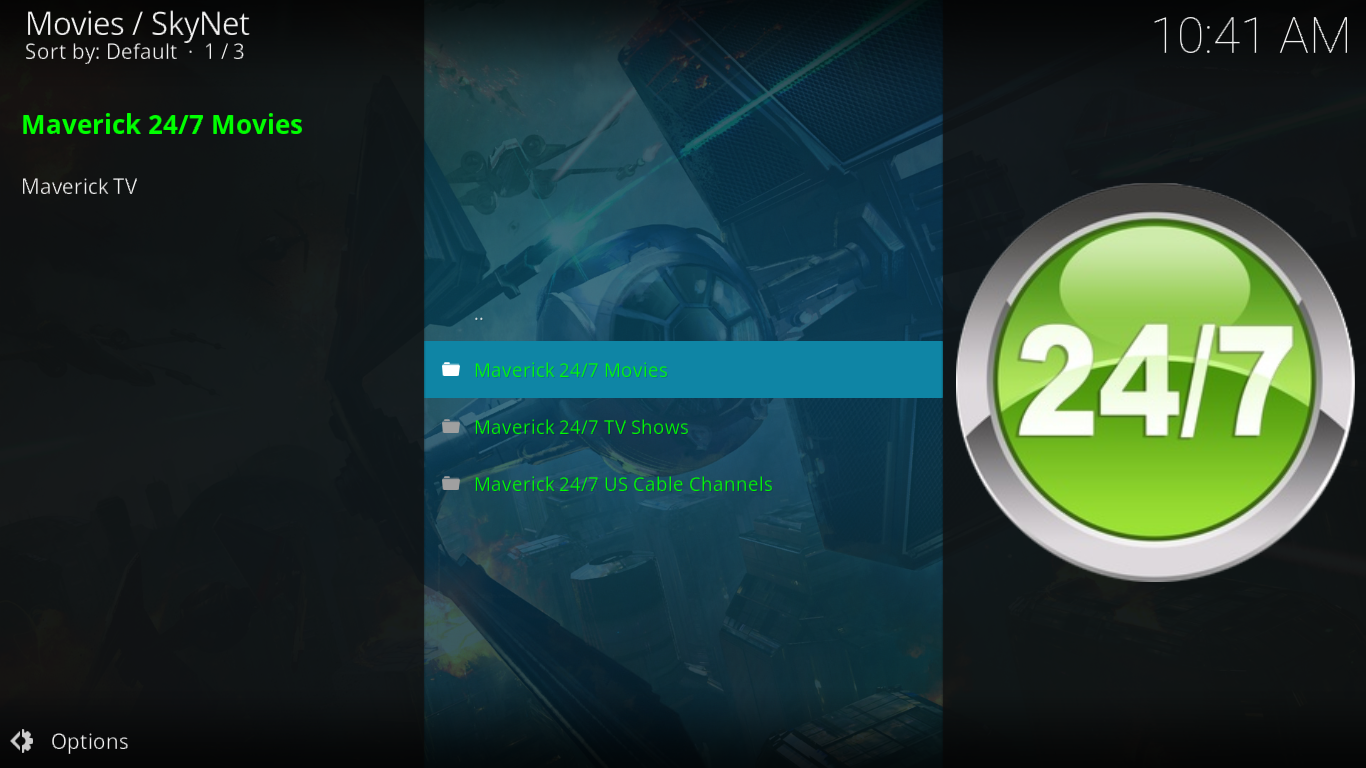 The first two sections are listing on-demand content. What's that got to do with 24/7? The last section has a list of US live IPTV channels. There are just over 20 of them. Nothing too impressive.
But the biggest issue with this section is that it doesn't work at all. Clicking anything quickly returns a "No stream available" message. Maybe it will coalesce into something useful one day.
Skynet IPTV
That's the place to go for live IPTV. The section feeds itself from Maverick, Supremacy and Flexus.tv. The result is an impressive array of live channels.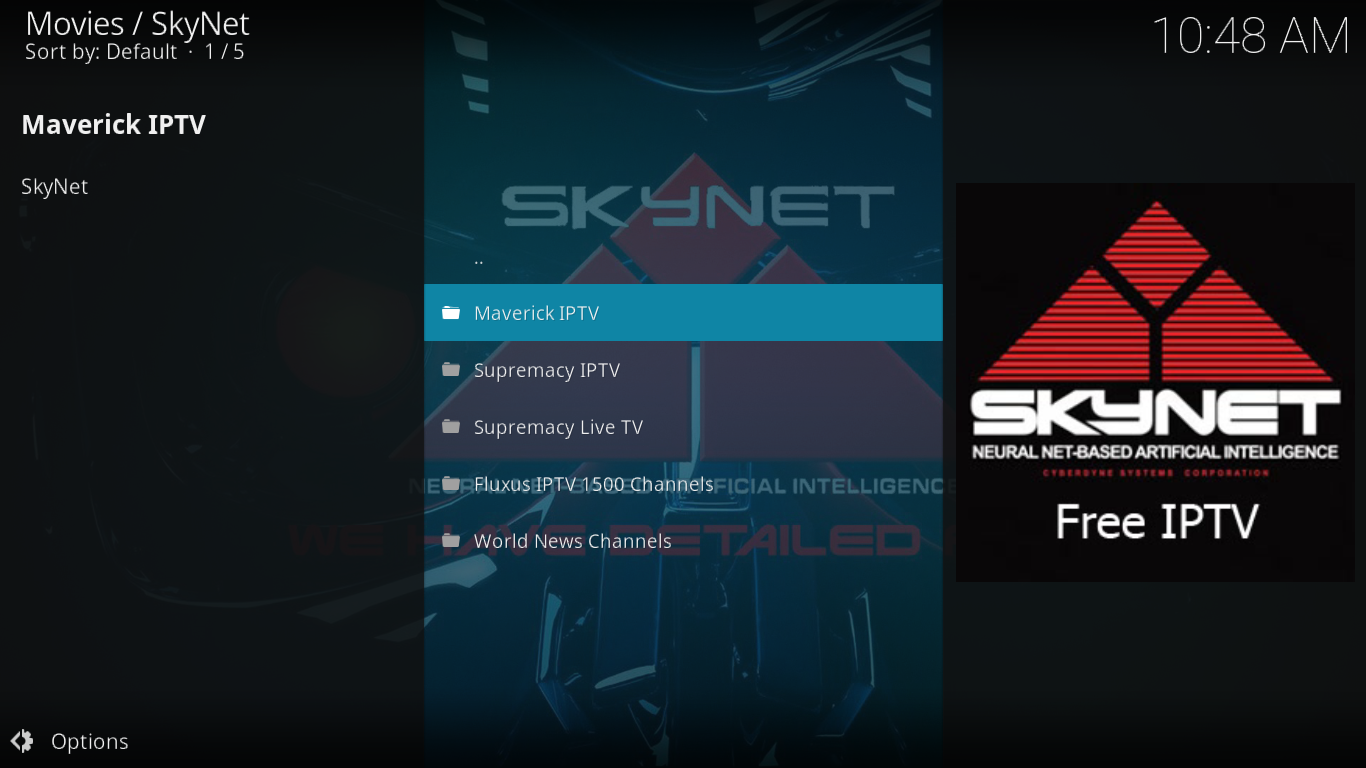 Maverick IPTV has over 100 channels. It has American and British selections as well as a few international ones. The quality of the live streams varies but what it lacks in quality it makes up for in variety.
Supremacy IPTV is a UK-only list of live IPTV channels. Some of them are UK versions of US channels, though. And with over 300 selections, it is a huge list.
Supremacy Live TV is different from the previous section in that is is longer with close to 500 selections and it has a lot of US and Canadian content, in addition to British content.
The Flexus IPTV 1500 Channels section is really that big. The main drawback is that it is a single list of almost 2000 lines. Entries are arranged by country and/or theme but the divisions are hard to see. While there's obviously some interesting content in here. Locating it could be next to impossible.
The last section, World News Channels has almost 200 different channels. All the big news networks are there an so are a lot of US local news channels.
Skynet 4K UHD
If your hardware supports it, this is where you'll find Ultra Hich Definition content. You'll need a fast Internet connection with unlimited usage.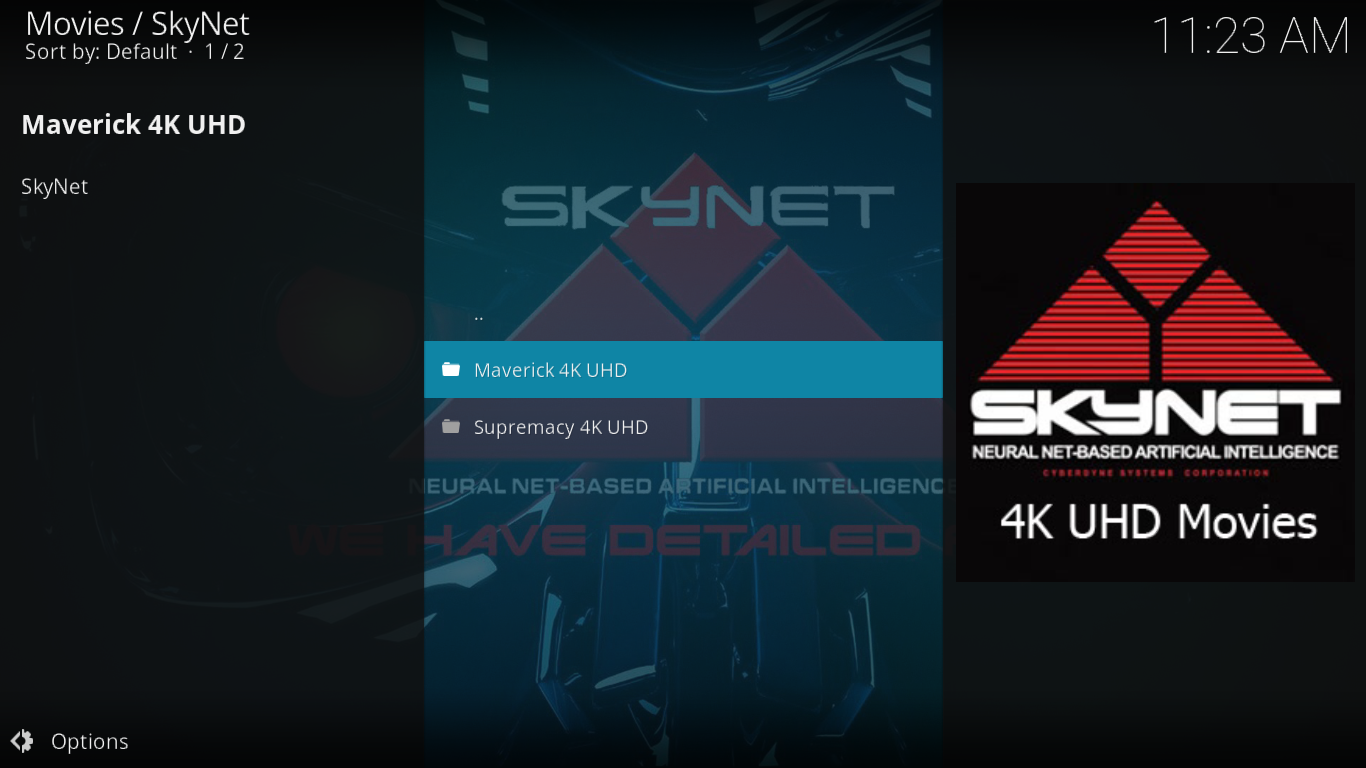 The section has two lists of UHD movies, one from Maverick with around 50 items and one from Supremacy which is about twice as long.
Skynet Movies
At first glance, this section would seem to be redundant. After all, the first section we looked at was called Skynet Online Movies. Upon closer inspection, we find that although somewhat redundant, the organization of this section is different.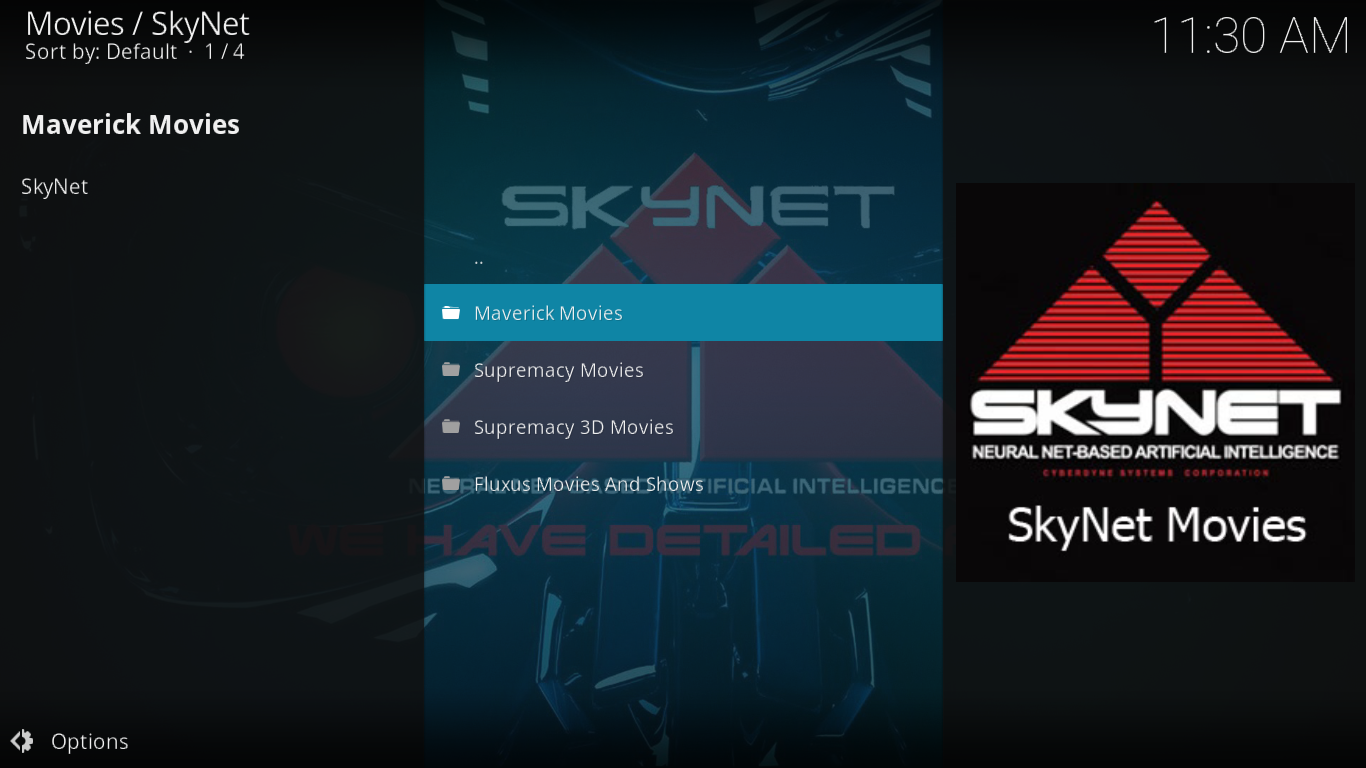 The Maverick Movies section is neatly organized with different categories. Supremacy Movies is a single alphabetized list of over 1000 movies. Supremacy 3D Movies is similar and has close to 100 selections. The 3D movies are meant to be watched using the appropriate hardware.
The last section, Flexus Movies And Shows is an enormous list of over 3000 entries. Fortunately, they are in alphabetical order but even then, scrolling down such a long list can take a while.
Skynet TV Boxsets
This is an ideal section for those who want to binge through TV shows. It has a list from Maverick with close to 100 different shows and one from Supremacy which has 200 entries although individual seasons each have an entry on that list.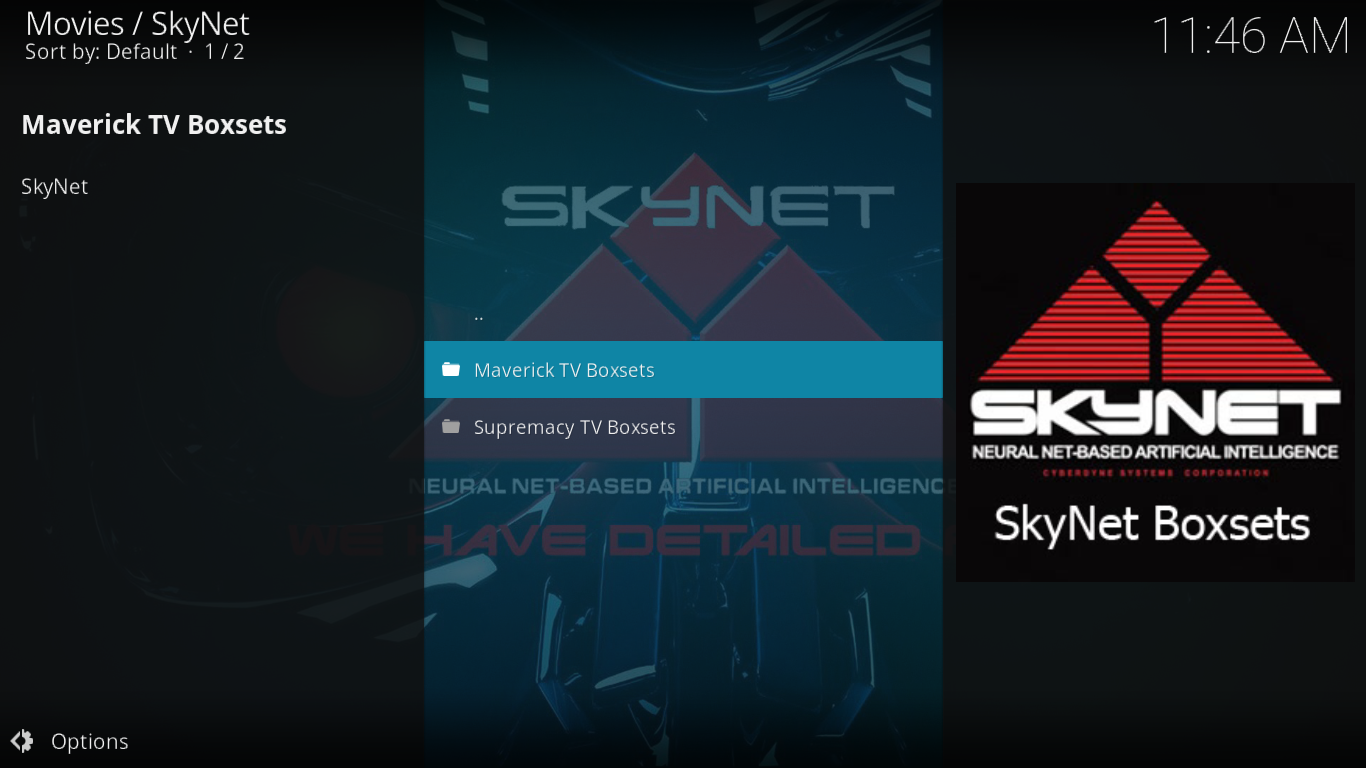 Skynet Jukebox
This last section is for music lovers. Its four subsections will let you find lots of music videos and live music TV channels from around the world.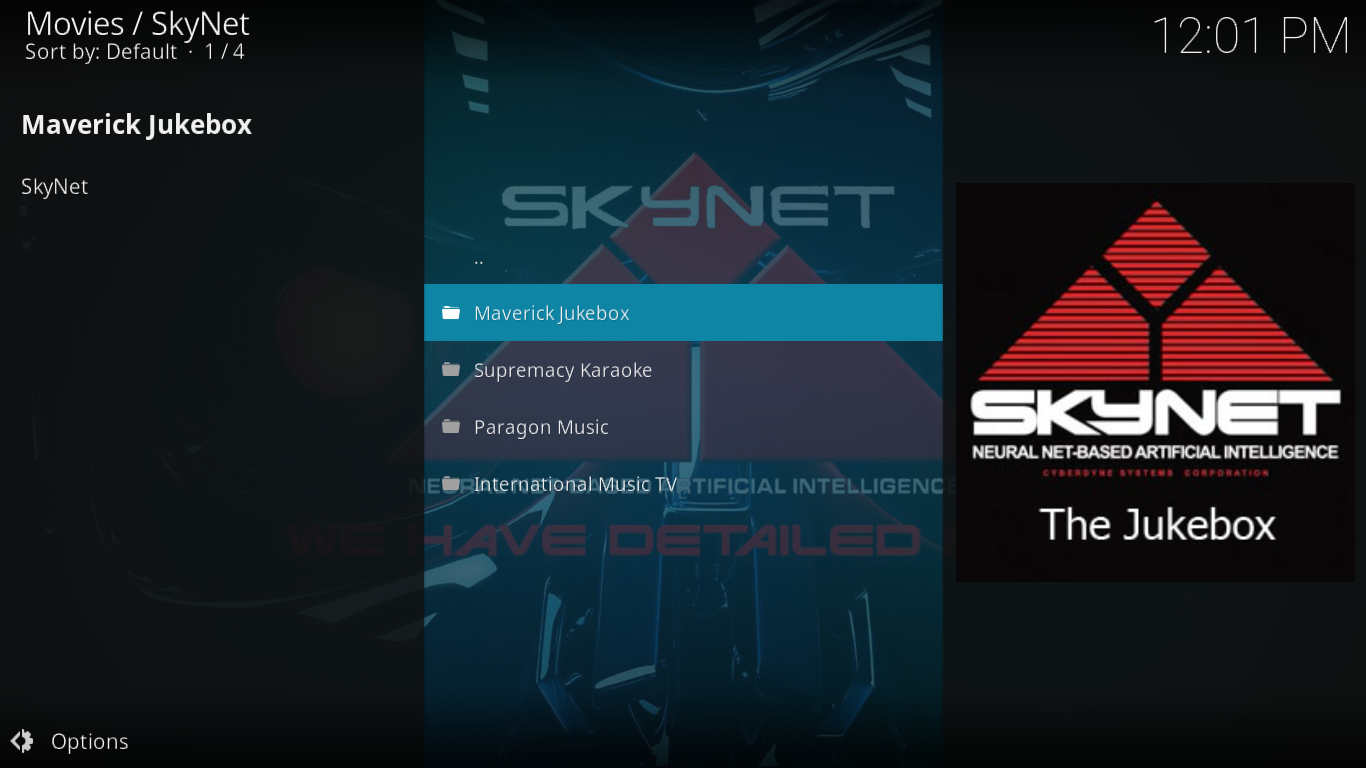 The first section, Maverick Jukebox is Maverick's on-demand music videos section. It has various categories by genre, by decade and by artist. Finding what you're looking for shouldn't be too hard.
Next comes Supremacy Karaoke, a section dedicated to singing along. There are hundreds of videos with the vocal part removed and the lyrics appearing on screen.
The Paragon Music section is hard to describe. perhaps your best bet is to give it a try. Perhaps you'll find something in there for you.
The last entry, International Music TV has about 50 different live IPTV music channels from around the world.
Wrapping It Up
The SkyNet add-on for Kodi feels like someone took their favourite add-ons and bundled them into one. And it is probably exactly what it is. It makes sense as it gives you the functionality without having to reinvent the wheel. Overall, this add-on will give you a lot of sports, movies, TV shows, live IPTV, and Music videos. And it includes Maverick and Supremacy without even having to install them. Not too shabby!
Did you find this article useful? Have you tried the SkyNet add-on? What did you most like about it? Did you have any issue? Share your feedback with us using the comments below. We love to hear from our readers.