We are reader supported and may earn a commission when you buy through links on our site.
Learn more
Best Add-ons for Soap Operas on Kodi
Mad about soap operas, but lacking ways to watch them on demand? We recommend Kodi, a media streaming platform with expandable functionality via add-on installation. Today, we review the top confirmed-working Kodi add-ons for soap operas, so read on!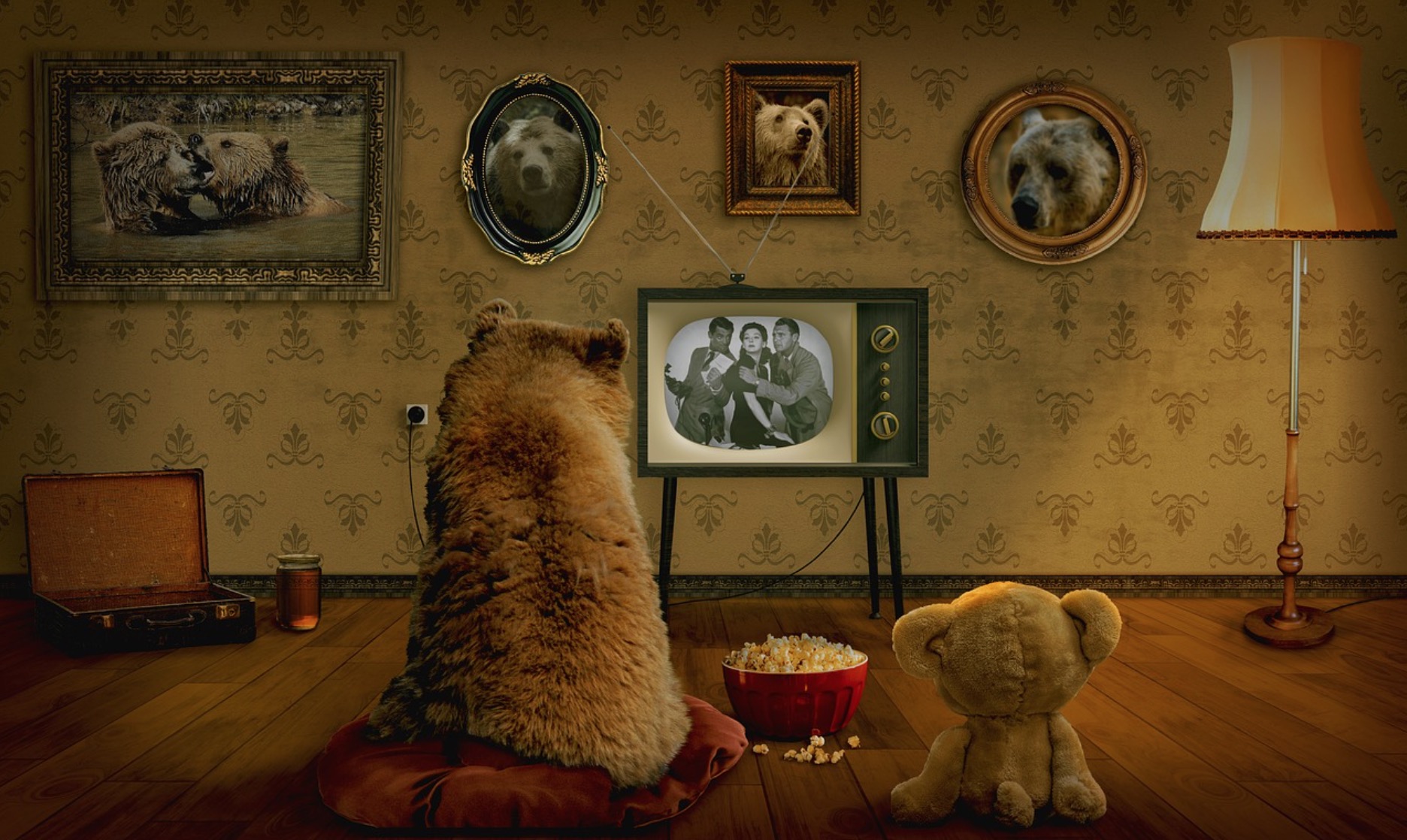 Daytime soap operas are some of the longest-running programs on television. Many of them have been on the air for decades, following the dramatic lives of powerful families as their fortunes wax and wane. Whether you're hunting for daytime soap operas, telenovelas, or even Korean soaps, the open-source media player Kodi can help you get your fix. Check out our suggestions below for the best add-ons for soap operas.
30-days money back guarantee
Protect Your Identity with a VPN
Online privacy has gone from a niche body of knowledge to a worldwide concern. Governments have kicked off mass surveillance programs to record user data, hackers steal credit card numbers, and ISPs log information and sell it to third parties. Kodi users will find themselves under extra scrutiny due to fears that all Kodi add-ons illegally pirate content. It seems like everyone's out to get you on the internet, which is why running a virtual private network (VPN) is a smart thing to do.
VPNs take ordinary data and encrypt it before it leaves your device. This means your real identity and location can't be seen, adding an element of anonymity to your activities. With a VPN in place you can surf, browse, stream, and download in complete safety.
NordVPN – Fast, Secure Kodi Streams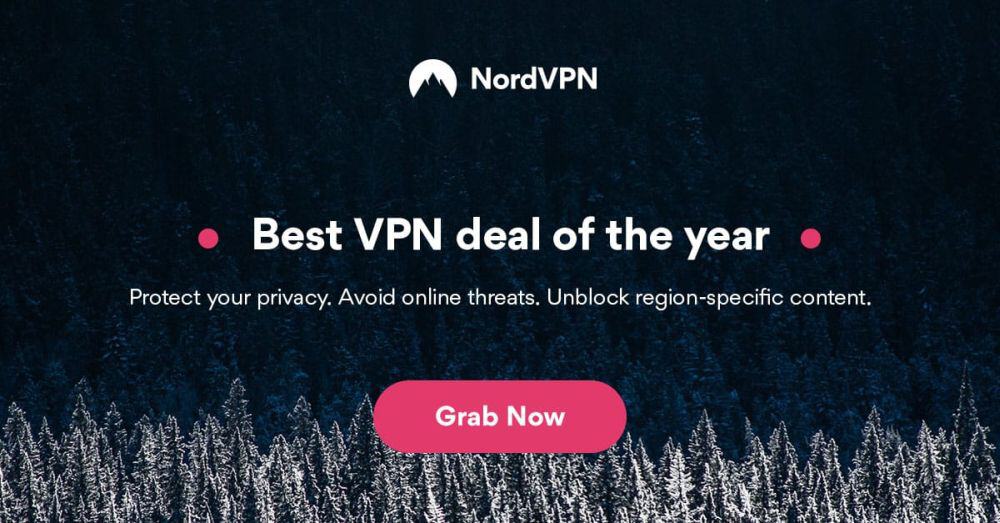 NordVPN solves many of the most pressing issues facing Kodi users: privacy, performance, and limited access to content. What's more, the answer to all these questions is one and the same: encryption.
With NordVPN, you can completely hide your Kodi traffic by re-routing it through to one of over 5,800 servers in 59 countries around the world. The link your VPN app establishes between your device and that network is secured by an unbreakable 256-bit AES encryption cipher, courtesy of the blazing-fast NordLynx protocol. This one-two combo of encryption + spoofing completely befuddles your ISP's attempt to track and throttle your Kodi traffic, effectively speeding up streams while locking your privacy down. What's more, your rerouted traffic now bears the IP address of a located different to your own, allowing you to bypass geoblocks and watch international soap operas that have always otherwise been unavailable to you.
We love NordVPN because it's affordable, user-friendly, and never limits your fun streaming with Kodi (no caps on bandwidth, speed, or server switches). And of course, this industry-leading privacy solution guarantees your anonymity with a solid no-logging policy.
Read our full NordVPN review.
Pros
SPECIAL OFFER: 2-yr plan (68% off - link below)
Over 5,400 servers in 61 countries
Allows up to 6 devices to be connected at once
Extra-secure Double VPN for data encryption
Live chat support is available.
Cons
Not much
Apps can be a bit cumbersome to use.
Installing Kodi Add-ons
The best way to install Kodi add-ons is to grab them from repositories. Repos, as they're generally called, are zip files stored and maintained by outside websites. They're often centered around certain themes and can contain a few dozen to a few hundred add-ons. By using repositories you'll have an easier time discovering new content as well as keeping existing add-ons up to date.
Our favorite method of installing repos is to use Kodi's "external sources" feature. Not only is it easier to do on mobile devices, but it helps keep things tidy in the long run. Before you can start, you'll need to switch one of Kodi's settings to allow it to manage downloads:
Open Kodi and click on the gear icon to enter the System menu.
Go to System Settings > Add-ons
Toggle the slider next to the "Unknown sources" option.
Accept the warning message that pops up.
Once that's complete you're ready to go! All you have to do is find a repository you like, add the URL as a source, let Kodi install it for you, then start browsing add-ons. The process only takes a few minutes from start to finish, and our guides will walk you through the entire thing every time.
Note: It's not always possible to verify the integrity or legality of the sources used by unofficial Kodi add-ons. AddictiveTips does not condone or encourage any violation of copyright restrictions. Please consider the law, victims, and risks of piracy before accessing copyrighted material without permission.
Best Add-ons for Soap Operas
Two soap-centric add-ons ended their runs in recent years, which has left something of a void in the Kodi community. Streaming soap operas isn't a huge priority for most Kodi add-on developers, either. For these reasons it's difficult to find a reliable source for soap content, especially if you want same-day releases or a huge archive of on-demand content.
To find the best soap opera add-ons, your best bet is to install multi-purpose streaming add-ons and search for your favorite shows by name. There's also the option of watching live network TV broadcasts through Kodi and tuning in when your show normally airs. It's not as convenient as clicking and watching at your leisure, but you will have faster, more reliable access to soaps with higher video quality.
Tubi TV
Tubi TV is a well-known streaming service that's available on many smart TVs and media players. It boasts one of the largest content libraries of any online platform, second only to Netflix's. With over 50,000 movies and TV episodes, including 600 titles rated "Fresh" on Rotten Tomatoes, you'll have plenty of choices. And unlike Netflix, Tubi TV is completely free to use. It is available in Canada, the US and the UK, although not all content is available in every country. Of course, using a VPN will let you bypass the country restrictions and access any content you want from anywhere in the world.
Contrary to most other free streaming services, Tubi TV features a good selection of well-known titles including The Inbetweeners, Hard Candy, and Death Note. And content is neatly organized into categories, making it easy to find something to watch.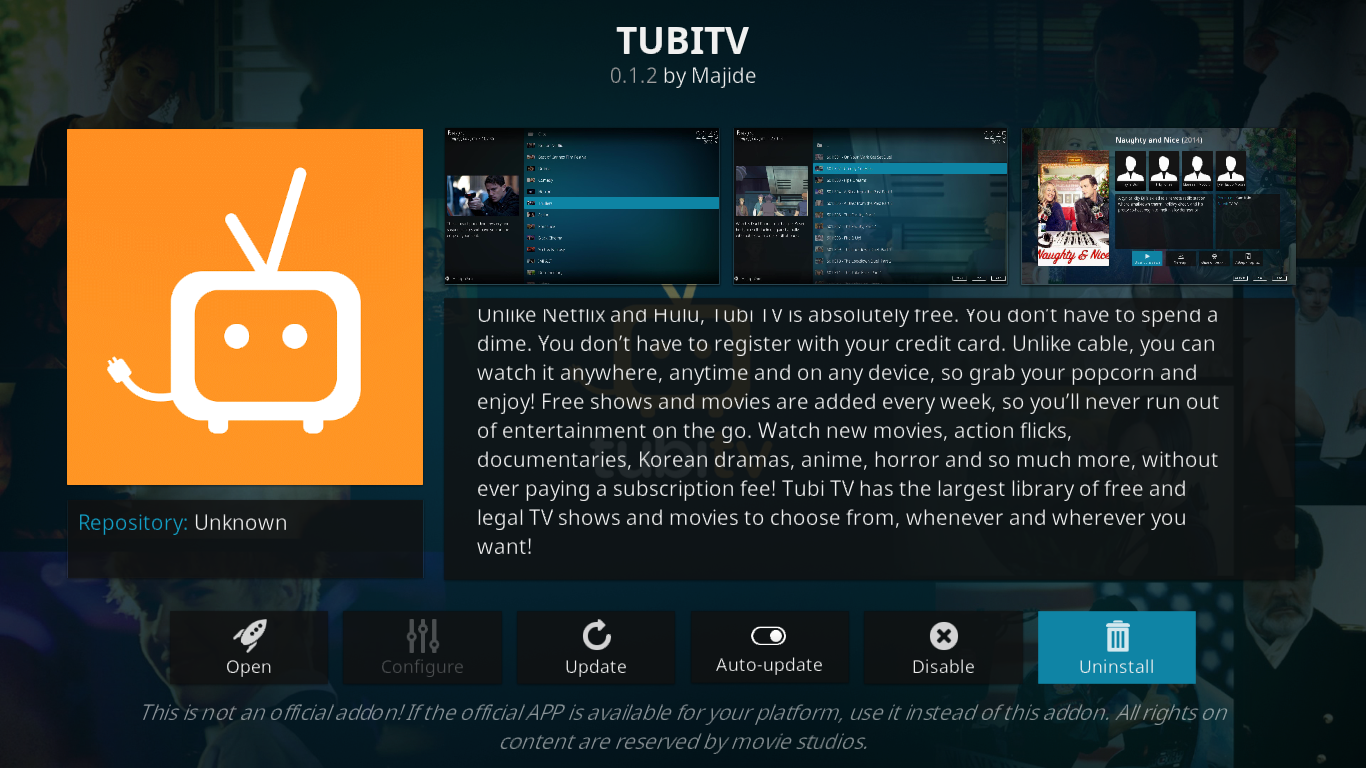 Installing And Using The Tubi TV Add-on
You can get the .zip file directly from GitHub.
From that page, download the file plugin.video.tubi-X.X.X.zip.
From the Kodi home screen, Click Add-ons from the left-side menu.
Then, click the Add-on browser icon. Its the one that looks like an open box in the upper-left corner.
Click install from zip file.
Navigate to the location where you saved the zip file and click it to launch the add-on's installation.
Once installed, using the add-on is very intuitive. You might find its thirty-something-item main menu intimidating but don't let that fool you, The add-on is actually quite well-organized and you shouldn't have much trouble finding content to your liking.
Crackle
Crackle is another streaming service like Tubi TV but with one major difference: it's owned by Sony. And with Sony and its subsidiaries producing tons of movies, you can expect a good selection. Sony also has the funds required to secure other non-Sony titles. While the online service uses ads to generate revenue, ads are inherently blocked on Kodi so they aren't present in the Kodi add-on. You'll be able to for hours-on without interruption.
Crackle might not have as many titles as some other services, but the ones it does have are other better-known. For instance, there's Heroes, House of Flying Daggers, and Fear and Loathing in Las Vegas. As expected, most of Crackle's content is a few years old.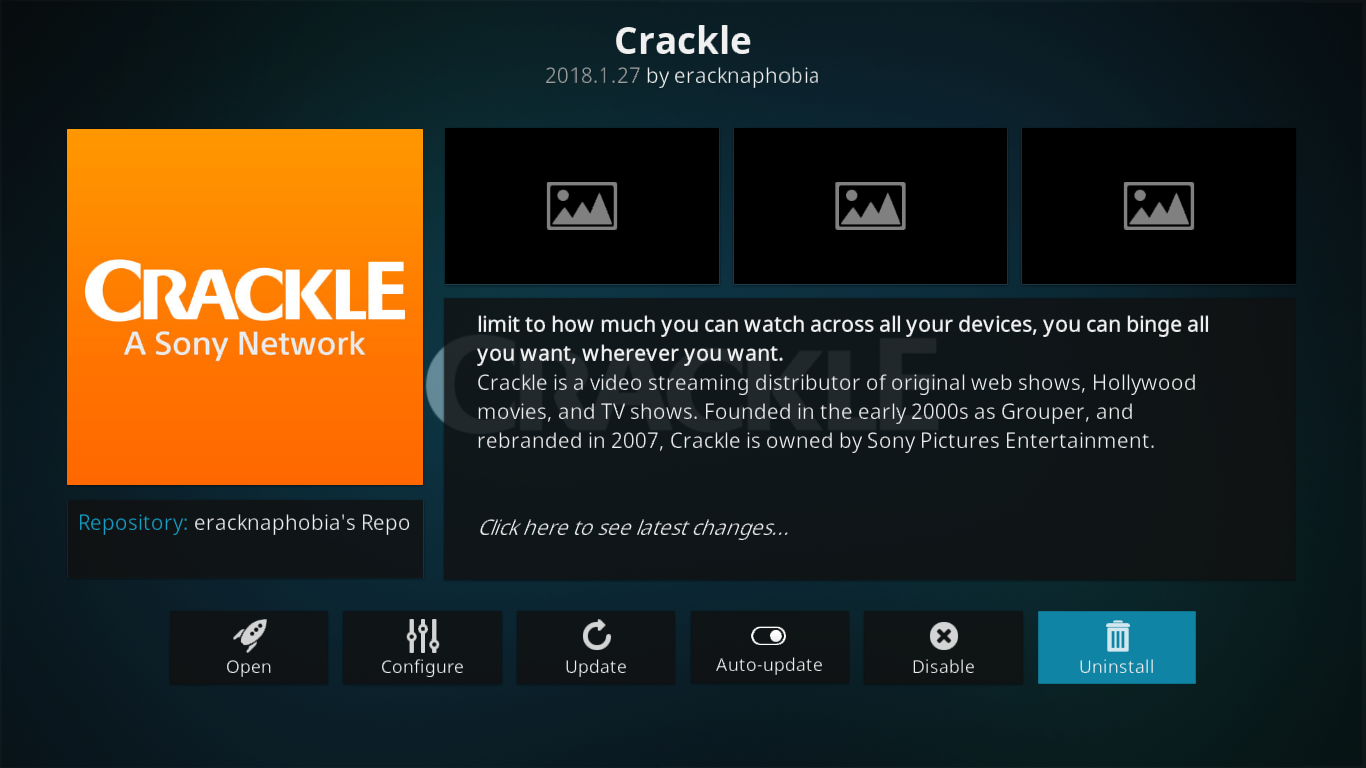 Installing And Using The Crackle Add-on
Go to this URL to find the eracknaphobia repository zip file.
Locate and download the repository.eracknaphobia.zip file to your computer.
From the Kodi home screen, Click Add-ons from the left-side menu.
Then, click the Add-on browser icon. Its the one that looks like an open box in the upper-left corner.
Click install from zip file.
Navigate to the location where you saved the zip file and click it to launch the eracknophobia repo's installation.
Once you get a confirmation of the repository's installation on the top right corner of the screen, click Install from repository.
Click the eracknaphobia's Repo repository, then click Video add-ons and finally, click Crackle.
From the Crackle add-on installation page, click the Install button at the bottom right to launch the add-on installation.
After a few seconds, a message at the top right of the screen confirms the successful installation of the add-on.
Once installed, navigating the add-on is easy. You first choose between movies and TV shows an then you select a title of your choice. For TV shows, you could be disappointed to find out that they don't usually have full series but rather a selection of seemingly random episodes from various seasons.
SnagFilms
The SnagFilms add-on has a collection of over 5000 free-to-watch independent films. Furthermore, most of the add-on's content is available in high-definition. The contents are grouped by genre with categories that are more in-depth than you'd usually find in typical add-ons. This makes locating specific content easier which is great considering the add-on lacks a search function.
With no configurable options, the add-on is very simple to use. Just install it and start watching. Of course, with such a free service that can't generate income via ads on Kodi, you can't really expect much more than basic functionality. Don't let that stop you, though, as you might discover some great content in here.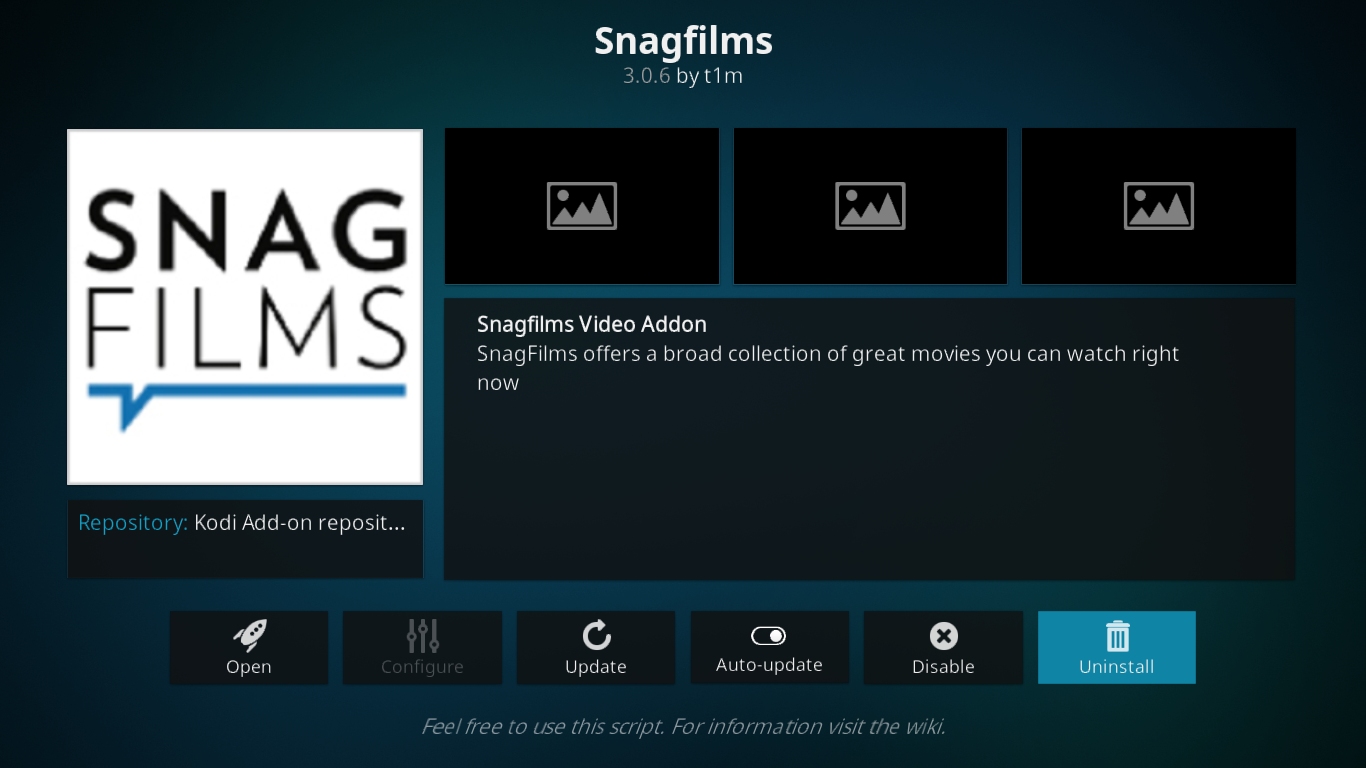 Installing The Snag Films Add-on
The Snagfilms addon is available from the official Kodi addon repository. This makes its installation even simpler.
From the Kodi home screen, Click Add-ons from the left-side menu.
Then, click the Add-on browser icon. Its the one that looks like an open box in the upper-left corner.
Click Install from repository.
Click the Kodi Add-on Repository, then click Video add-ons and scroll down until you get to the Snagfilms add-on and click it.
From the Snagfilms add-on installation page, click the Install button at the bottom right to launch the add-on installation.
After a few seconds, a message at the top right of the screen confirms the successful installation of the add-on.
DramaGo and Viki for Asian Soaps
If your soap opera tastes extend beyond General Hospital and Young and the Restless, Kodi has a few add-ons you might be interested in. Asian dramas, especially Korean series, take the soap format and run with it. They've been gaining worldwide popularity in the past few years, which means the vast majority are subtitled in multiple western languages, including English. Using Kodi add-ons means free access to all the Asian dramas you can handle. Give one or two a shot, you might get hooked!
What Happened to We Love Soaps and Soap Catchup?
Both We Love Soaps and Soap Catchup have been Kodi's go-to resources for daytime soap opera content for years. Unfortunately, both add-ons have suffered in the wake of the repository shutdowns that began in mid-2017. At the time of writing, We Love Soaps is completely non-functional, and Soap Catchup is part of the Metalkettle repository which ended development in the fall of 2017. Neither add-on works or even launches.
With any luck other developers will pick up the pieces and either clone these soap opera add-ons or make new ones with similar functionality. There's also the chance the above software could magically spring back to life in the weeks or months to come. Your best bet is to seek out alternative sources for the time being.
Is it Safe to Install Kodi Add-ons?
Kodi's unofficial add-ons have a rough reputation. Not only does everyone assume they're packed with viruses and malware, but newbies to the Kodi community are convinced every single one streams nothing but pirated content. The truth is you'll find a spectrum of reliability among third-party content. Nefarious code is rare, but it does happen, which is why you should take a few quick precautions to keep yourself safe.
One of the best things you can do to avoid bad add-ons is to stick with reliable repositories. The content in these repos is verified by the file managers, adding an extra layer of protection against malicious content. It's also a good idea to keep your firewall, anti-virus software, and VPN active whenever you use Kodi.
Soap Opera Suggestions from Readers
It's not easy finding good soap opera content on Kodi. Do you know of a hidden resource that's perfect for daytime drama fans? Did We Love Soaps rise from the dead? Let us know in the comments!