We are reader supported and may earn a commission when you buy through links on our site.
Learn more
Sportie Not Working – Best Alternatives to Sportie Add-on
DMCA (Digital Millennium Copyright Act) shutdowns have hit a number of Kodi repositories in the past, destroying some of the community's favorite add-ons overnight. Another wave hit in late 2017 and crippled the repository scene by removing some of the giants of Kodi streaming, including Colossus, SuperRepo, Mucky Ducks, and more. The result of these takedowns forced Kodi users to seek alternatives to their favorite add-ons in an effort to keep the streams alive.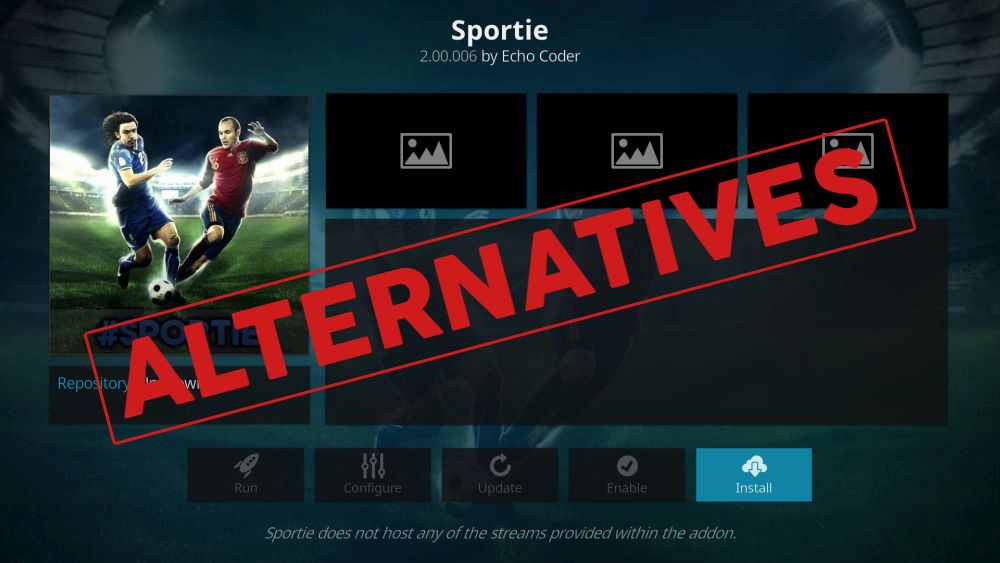 Sportie was one of the victims of the DMCA notices. The add-on pulled together a variety of streaming sources for live sports, making it possible to watch boxing matches, NFL games, baseball playoffs, soccer games, and a lot more, all from a single united interface. Now that Sportie is down, what are some of the best alternatives? Take a look below for some of our favorite Kodi add-ons for streaming live sports.
30-days money back guarantee
Always Use a VPN with Kodi
DMCA takedowns are a sobering reminder that the internet isn't as free and open as it used to be. ISPs monitor traffic, government agencies spy on our data, hackers look for any weakness they find, and websites track activity and sell the information to third parties. It seems like everyone's out to take advantage of the average internet user, which puts you at risk each time you hop online.
VPNs provide an excellent first line of defense against these types of threats. With a VPN active your data will be encrypted as it leaves your device, making it impossible for anyone to see what sites you're visiting or which Kodi streams you're downloading. VPNs also make it difficult to determine your identity or location, bringing a measure of anonymity back to the web.
VPNs are crucial for a smooth and private Kodi experience. Picking the right one can be an enormous hassle, however. We've provided a recommended service below that fits all the criteria for the best VPN to use with Kodi. It's fast, it's private, and it's easy to use, so you don't have to worry about snooping ISPs or copyright infringement notices ever again.
The Best VPN for Kodi – IPVanish

IPVanish is an all-around superb VPN. The service comes with just the right balance of security and speed, letting you stream movies without interruption while keeping you safe in the process. Every IPVanish user gets to take advantage of over 850 servers in 61 different countries, 256-bit AES encryption, DNS leak protection, an automatic kill switch, and tons of other privacy and anonymity features. Just sign up, run the software, and you're safe!
IPVanish offers a 7-day money back guarantee which means you have a week to test it risk-free. Please note that Addictive Tips readers can save a massive 60% here on the IPVanish annual plan, taking the monthly price down to only $4.87/mo.
IPVanish features include:
Anonymous access to torrents, P2P networks, and Kodi's add-ons.
Unlimited bandwidth with no speed caps or throttling.
Apps for Windows, Mac, Linux, Android, and iOS.
Zero-logging policy on all traffic.
What Did Sportie Do?
Sportie was a multi-scraping playlist add-on that pooled resources from dozens of locations to provide up-to-date sports streams from around the world. There were categories for everything from golf to football to soccer, all sorted for easy access and fast downloads. Sportie also had a section devoted to Reddit streams, which made it easy to follow sports-specific subreddits that posted resources for live games.
The multi-use nature of Sportie means it's difficult to replace with one (or even several) Kodi add-ons. Instead of picking things out feature by feature, we're going to focus on alternatives to Sportie that let you stream all the latest sports events live on any device. After all, at the end of the day you don't really care which add-on you're using, only that you don't miss the hockey game.
Official Add-ons to Stream Sports
All of the repositories hit by the DMCA takedown are what we call "unofficial". They were developed by third-party coders, not the Kodi team themselves, and they sometimes accessed content that wasn't exactly legal. The good news is you don't have to worry about breaking any laws if you stick with official Kodi add-ons. These software extensions are vetted by the Kodi team and are 100% legitimate. No pirated content, no illegal streams, just solid streaming entertainment you can rely on.
NBC Sports Live Extra
NBC Sports Network is a large sports broadcasting channel based in the U.S. The channel is the official home of a number of pro sports associations and delivers a diverse range of content. With NBC Sports you can watch the Olympic Games, the NFL, NASCAR, the NHL, the PGA Tour, the Premier League, and even the Triple Crown of Thoroughbred racing.
The NBC Sports Live Extra add-on for Kodi interfaces directly with the official NBC Sports website. With it you can pull live content as well as a variety of on-demand videos from NBC's servers, all completely above-board without bending any laws. Most of the content is already available to stream from the website, but by running it through a Kodi add-on you get some added stability as well as the convenience of a single interface.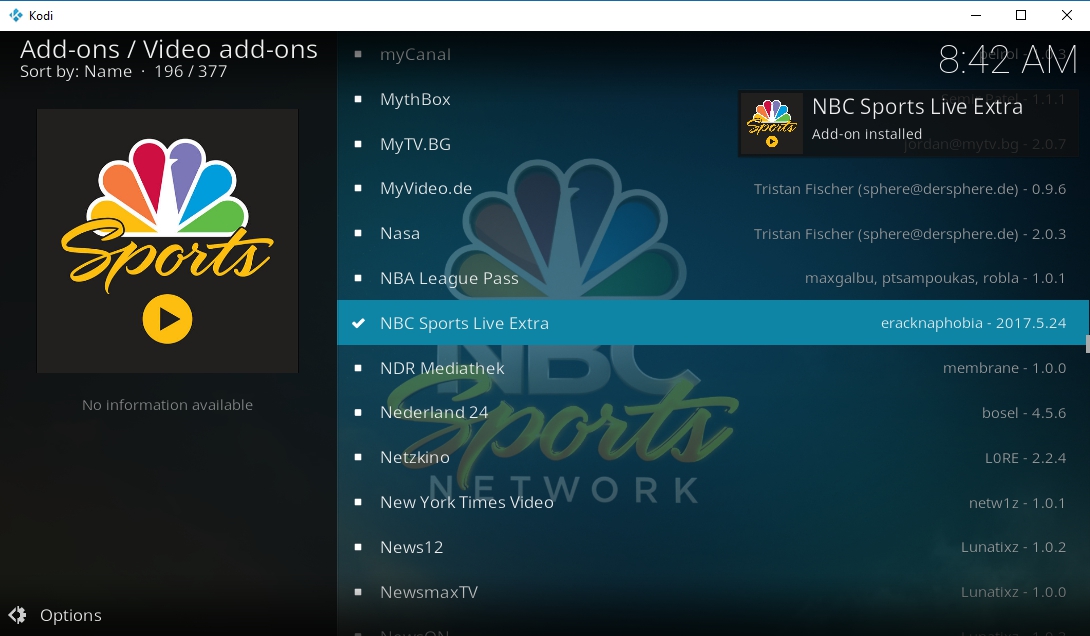 How to Install NBC Sports Live Extra
The NBC Sports add-on is included with the official Kodi repository, which comes standard with every Kodi download. This means you can install the add-on in a matter of seconds! Make sure you have an active cable subscription with a U.S.-based company, as you'll need it to take advantage of NBC Sports Live Extra.
Open Kodi on your device and go to the main menu.
Select Add-ons
Click the open box icon at the top of the screen.
Choose Install from repository.
Scroll down and click Kodi Add-on repository.
Choose the Video add-ons category.
Select NBC Sports Live Extra.
Click the Install button in the lower right corner of the window.
When the installation completes you can access the add-on from the main menu.
How to Use NBC Sports Live Extra
Before you can watch sports streams through NBC you'll need to activate your device. After running the add-on and clicking on a video Kodi will prompt you with a message with the information you need. Follow the steps to confirm your account:
Visit activate.nbcsports.com
Enter your device and cable provider.
Type in your activation code listed in the Kodi pop-up window.
When activated, NBC's website will redirect you to your cable provider's login page.
Enter your details and sign in.
Once activation is complete, go back to Kodi, close the pop-up, and start streaming.
FOX Sports GO
The official FOX Sports GO add-on accesses the FOX network's TV Everywhere service to provide smooth, high-quality streams for a ton of different sports. It works in a similar manner as the NBC Sports add-on above, only instead of Premier League and PGA Tour content, you get to watch NBA games, regional telecasts, Major League Baseball, the NHL, and the Super Bowl! FOX Sports GO is also completely legitimate and doesn't pull from illegal or pirated sources, just official FOX-branded streams and archived shows.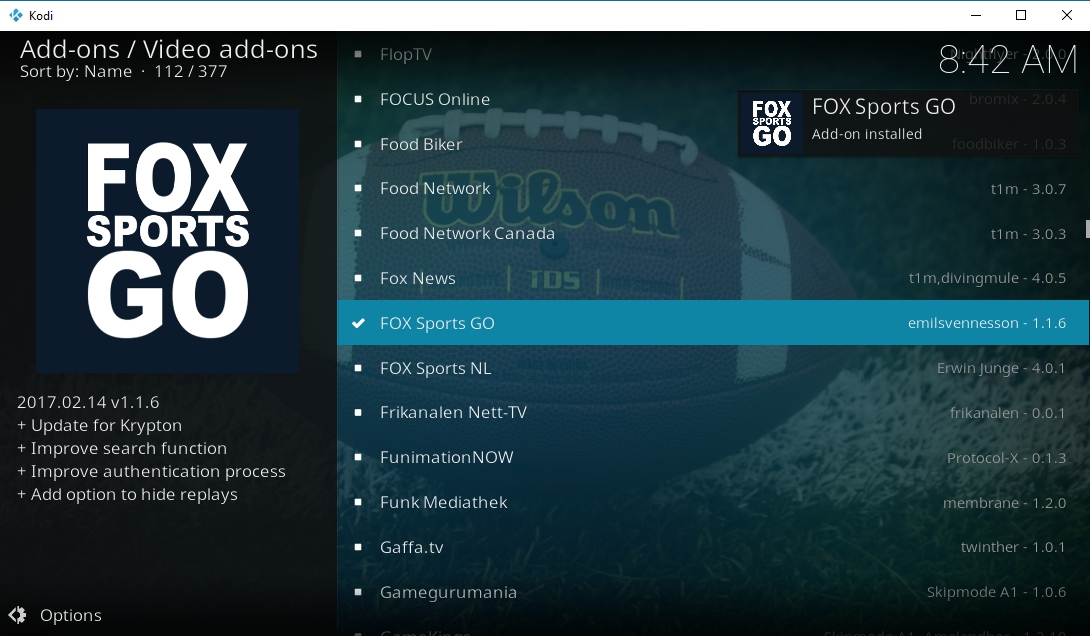 How to Install FOX Sports GO
The FOX Sports GO add-on is a quick and easy install that comes straight from Kodi's official repository. This repo is included with every Kodi download, so there's no need to add new sources or anything like that, just follow the steps below and you're set.
Open Kodi and make sure you're on the main menu.
Select Add-ons, then click the open box icon at the top of the menu.
Choose Install from repository.
Find and click Kodi Add-on repository.
Choose the Video add-ons folder.
Scroll down the alphabetical list and select FOX Sports GO.
Click the Install button in the lower right corner.
When the installation completes, access the add-on from the main add-ons menu.
How to Use FOX Sports GO
The FOX Sports GO add-on has to pair with your active cable account before loading content. You'll also need to activate your device to access the sports streams. Install the add-on using the steps below, then click on any video. Kodi will automatically prompt you with the information you need to complete the activation. Follow the steps to confirm your account:
Copy down the activation code in the Kodi window.
Visit foxsportsgo.com/activate
Enter your activation code, then select your cable provider.
You'll be redirected to the cable provider's login page.
Enter your details and sign in.
Once activation is complete, go back to Kodi and start streaming.
Unofficial Add-on Alternatives to Sportie
The vast majority of Kodi's content lies in unofficial repositories. These resources are massive collections of dozens or even thousands of add-ons created by coders unaffiliated with the core Kodi team. Unofficial add-ons can be sketchy, unreliable, or downright broken, but they compensate by pulling in content from off-the-wall sources official add-ons won't touch. More variety, but lower quality. It's an interesting trade-off!
How to Install Unofficial Add-ons
To install unofficial add-ons, you'll need to change one of Kodi's internal settings. This allows the software to download files from external sources, saving a few steps each time you add a repo. Once this is set, you're free to add repository URLs and install as many add-ons as you like!
In Kodi, click on the gear icon to enter the System menu.
Go to System Settings > Add-ons.
Toggle the slider next to the Unknown sources option. If it's blue, it's turned on.
Accept the warning message that pops up.
Note: Some of Kodi's add-ons may link to illegally obtained content or even pirated video sources. AddictiveTips does not condone or encourage any violation of copyright restrictions. Please consider the law, victims, and risks of piracy before accessing copyrighted material without permission.
FTFA
FTFA is somewhat new to the Kodi scene, but it's already turning heads with its variety of content sources from major channels in the U.S. and UK. With FTFA you can stream movies, TV shows, documentaries, sports, and more, all from a single interface that's easy to browse and navigate. You'll also find a healthy selection of sports channels that stream live events as well as interviews, highlights, and play-by-plays throughout the day.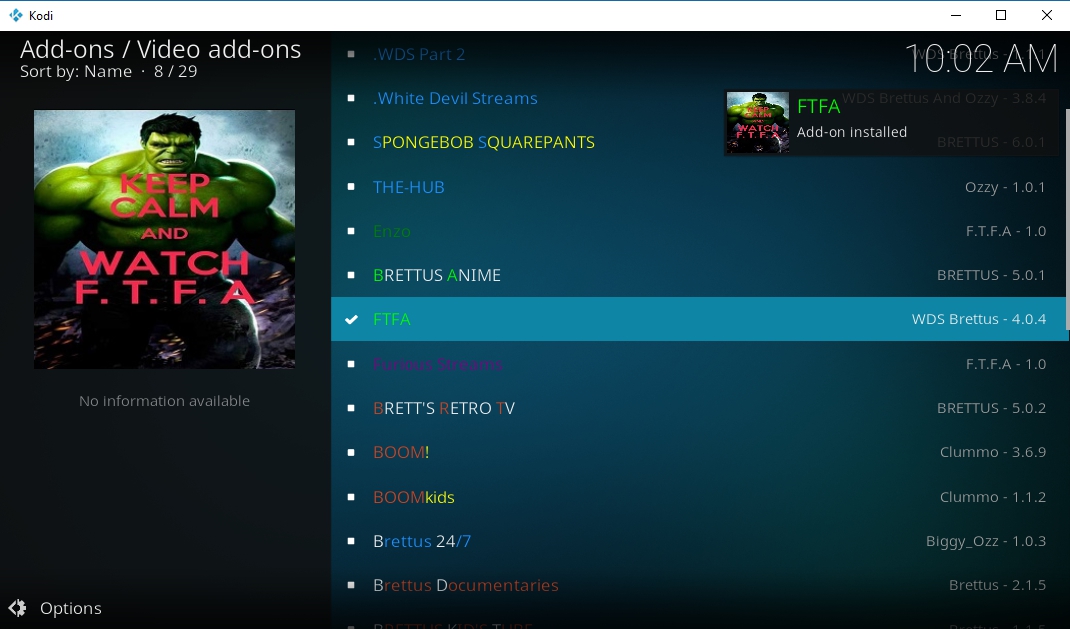 How to Install FTFA
FTFA is available through the new Brettus Repository, but it's nice and easy to use once you get it running. We've outlined the necessary steps below.
Open Kodi on your device and click on the gear icon.
Go to File Manager > Add Source.
Add the following URL: https://toptutorialsrepo.co.uk/kodi/Repos/
Enter an easy to remember name, such as .toptuts
Click OK. Kodi will add the repo to your sources list.
Go back to the main menu and select Add-ons.
Click the box icon at the top of the menu.
Choose Install from Zip File, then select the repo.
Scroll down and find the file named repository.Brettusrepo-#.#.zip
Install the repo, then go back to the open box menu.
Choose Install from Repository.
Select the entry named Brettus Builds Repository.
Navigate to Video add-ons.
Look for the FTFA add-on in the alphabetical list and install it.
Launch the add-on. A window will open asking for a PIN.
Click OK and a website will load in your browser.
Click the blue GENERATE button to receive a PIN.
Copy the PIN, then paste it into the Kodi window.
After a moment the FTFN add-on will validate
You'll need to get a new PIN every three hours to keep using the content. Don't worry, it's free.
How to Use FTFA
FTFA is organized by channel servers, so using it is a lot like watching cable or satellite TV. When you open the add-on you'll see a list of the streams that are currently online. If you're in the mood for sports, choose one of the categories, then search for a popular sports channel. Sky Sport is prominently featured in several of the UK sections, for example, or you can browse broadcast sports networks from the U.S. Either way, you'll be able to catch a staggering amount of sports news and live events from your Kodi device, and all for free.
SportsDevil
SportsDevil is by far one of the best sports streaming resources for Kodi. The add-on has survived countless shutdown attempts thanks to the developers' willingness to share the code with a wide variety of repo teams. With SportsDevil you can snag live streams from around the world and watch on-demand videos for soccer, NFL, NBA, UFC, hockey, golf, and dozens more.
How to Install SportsDevil
SportsDevil is packaged with a number of repositories. Many of the main ones have been shut down by DMCA efforts, but a few did survive the wave of takedowns. All you have to do is download the repo listed below, then add SportsDevil. Follow the steps and you'll be streaming your favorite sports in no time.
Open your PC web browser and visit the Looking Glass repository page.
Download the zip file named repository.lookingglass.zip
Save the file somewhere easy to access.
Open Kodi, then go to the main menu and choose Add-ons.
Click the open box icon at the top.
Choose Install from Zip File.
Find the file you downloaded above and install it.
Return to the add-ons menu and choose the open box icon again.
This time, select Install from Repository.
Scroll to Looking Glass.
Enter the Video add-ons folder.
Find SportsDevil near the bottom.
Click the Install button.
After a few moments SportsDevil will be ready to go!
How to Use SportsDevil
Once you install SportsDevil you can browse sports streams with ease. Content is organized by source first, then sports type. This can be a little confusing the first time you see it, but with a little experimentation you'll be able to go right to the games you're looking for. Most sources cover the same type of content, anyway, which serves as secondary links in case one site goes down.
As soon as you enter SportsDevil you'll see the following categories:
Favourites – Add your favorite sources for quick access.
Blogs – Sports streams from a few popular blogs.
Highlights – Best-of reels pulled from half a dozen different sources.
Live Sports – The main category with tons of links to different streams.
Sports TV – Choose broadcast and IPTV channel streams to watch in Kodi.
Live TV – Take a break from sports and watch some regular old TV.
The category you'll spend most of your time in is Live Sports. This section displays over a dozen streaming sources that are further divided into sports categories. A few are more reliable and have more content than others, so you'll need to click around until you find the match you're looking for in the best possible quality.
Is it Safe to Install Kodi Add-ons?
Kodi's add-ons community is vast and varied. You'll find resources for old movies, classic TV series, modern animated films, and just about everything you can imagine. The downside to this untamed jungle of content is you never know who's sitting in the developer's chair. Is it someone who just wants the world to watch more independent movies, or are they more interested in distributing viruses to Kodi streamers?
It's not all that common to encounter malware in Kodi add-ons or repositories. It does happen from time to time, though, which means you should take a few basic precautions when investigating new content. The first step is to use official add-ons whenever you can, as these are verified safe and legal by the Kodi team. If you have to dive into the unofficial add-on world, stick to reliable repositories you know other users have had success with. Also make sure your anti-virus software, firewall, and VPN are active at all times. We download and verify each add-on before featuring it in our articles. If it appears above, you know it was safe to install at the time of writing.
Conclusion
Getting live sports delivered to your screen isn't always an easy task. With Kodi and the right add-ons, though, you can keep the games coming no matter where you travel. If you know of a great alternative to Sportie we didn't cover, let us know in the comments below!