We are reader supported and may earn a commission when you buy through links on our site.
Learn more
How to Back Up and Restore Kodi on Any Device: Quick and Easy
Using Kodi is like setting up your own apartment. You decorate it with the right add-ons, you make lots of little customizations to make things more intuitive to use, you even decorate it with wallpapers and different interface themes! From time to time, though, you might need to move Kodi to a new device or simply refresh the installation and start from scratch. And with a good backup and restore plan in place, you won't have to rebuild all of your customizations.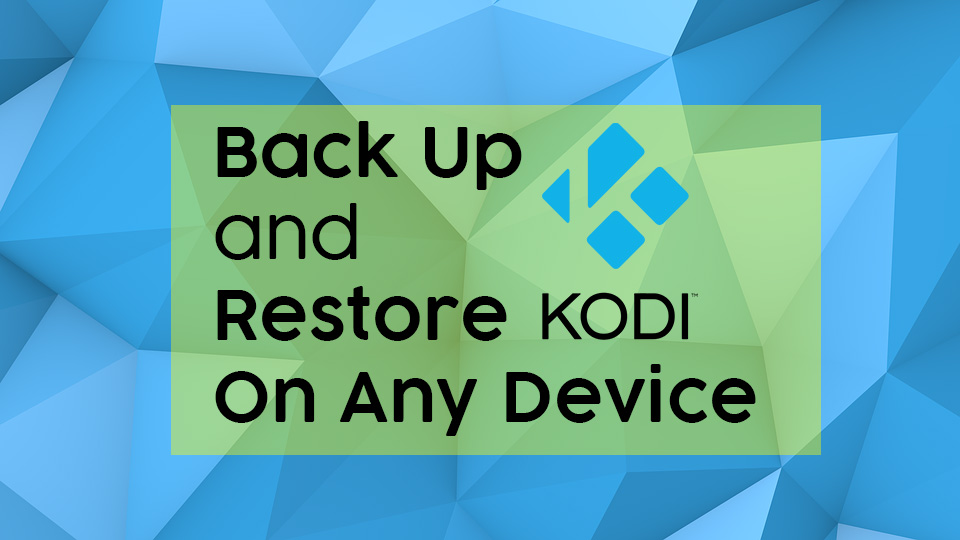 30-days money back guarantee
Keep Kodi Secure with a VPN
Kodi itself is an incredibly safe piece of software. Some of the third party add-ons you can install bend those rules a little bit, however. Some extensions have been found sourcing pirated videos or other illegal content. This has set off red flags in government agencies and ISP companies, causing them to pay special attention to all types of Kodi traffic.
If you run Kodi, you could be the unwitting victim of ISP throttling or even government surveillance. Fortunately, using a VPN can protect you from these threats. Virtual private networks encrypt data before it leaves your device, turning ordinary packets of information into unreadable code. No one can tell who you are or what you're streaming, allowing you to stream anything you like without worry.
IPVanish -The Best VPN for Kodi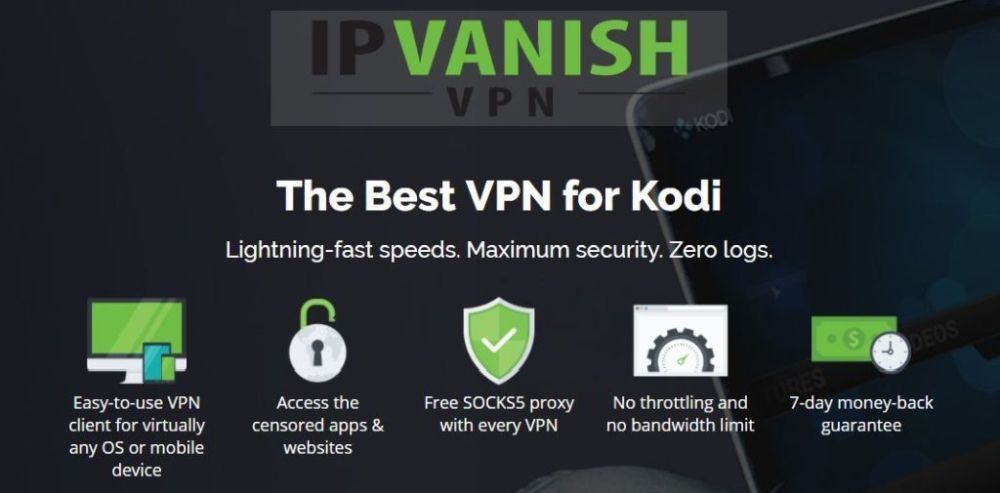 Of all the VPNs on the market, IPVanish stands out as the best choice for Kodi. It includes strong 256-bit AES encryption on all data, DNS leak protection for improved privacy, an automatic kill switch to guard against accidental breaches, and an incredible zero-logging policy on all traffic. IPVanish also delivers full, fast, and anonymous access to Kodi's add-ons with no restrictions on P2P traffic or torrent content, and it works on just about every device imaginable. To top it all off, IPVanish runs a massive network of 950 servers in 60 different countries, all completely free from bandwidth restrictions and speed limitations!
IPVanish offers a 7-day money back guarantee which means you have a week to test it risk-free. Please note that Addictive Tips readers can save a massive 60% here on the IPVanish annual plan, taking the monthly price down to only $4.87/mo.
About Backing Up and Restoring
Kodi is an incredibly user-friendly piece of software. It's completely free and open-source, meaning anyone can install it, and anyone can take a peek at the source code. It's also designed to seamlessly interface with third party software. By creating add-ons, the Kodi community can add functionality to the core software that the developers never dreamed of.
The downside to all of this is it's easy to run into trouble. Installing, uninstalling, and re-installing tons of different extensions leaves traces of files behind, which can clutter your system up over time. It's especially concerning if you run Kodi on a smartphone, Fire TV Stick, or other low-powered device. To keep Kodi fast and clean, it's a good idea to make regular backups, do a factory refresh, then start over with restored settings.
Below are the basic steps you'll need to take to perform a complete backup and restore. Later, we'll outline the best tools needed for the job.
First Step – Make the Backup
No matter how cluttered Kodi gets, there's always an add-on or two you just don't want to part ways with. Maybe it's hard to find on the internet, maybe it took you months to get it set up just right. Either way, keeping certain pieces of information around is what backups are for.
The first step in any Kodi refresh is to save your current setup. In the next section we'll discuss which tools can help you do this, but for now, know that you can save everything from source lists to repositories to add-on configurations, all at the press of a button.
Next – Factory Refresh
Once you've secured the important stuff, it's time to gut Kodi! Factory refresh (sometimes called factory restore) is a common setting found in a number of different Kodi tools. Simply put, this erases everything associated with your Kodi installation, including add-ons, thumbnails, and both settings and configuration files. It'll be just as if you installed Kodi new from the factory.
Depending on your device you can also uninstall Kodi and reinstall it manually. This can sometimes be faster than a factory refresh, especially if you're on a mobile device. In general, we recommend Android and iOS owners replace this step with an old fashioned delete and re-download.
Finally – Restore Your Data
Once the canvas is cleared, it's time to restore your most cherished settings to get Kodi running again. This step takes the data you backed up earlier in the process and adds it to your new Kodi installation. It's fast, it's harmless, and it's easy to do. You'll also appreciate not having to set everything up from scratch again.
Backup and Restore Kodi with a Kodi Wizard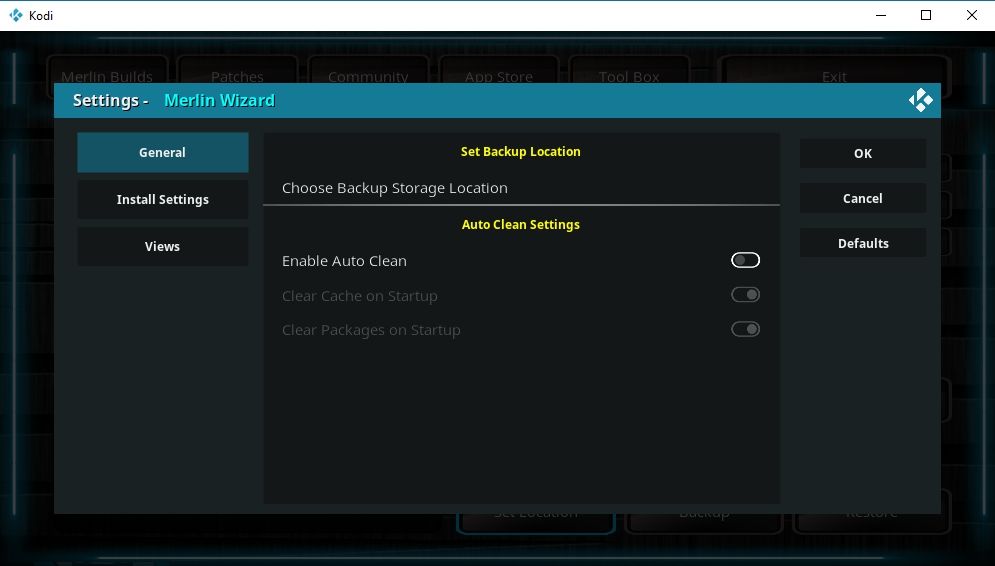 Kodi itself doesn't come with any backup or restore features. Sure, you can manually copy dozens of files and delete Kodi by hand, but who's got time for that? Instead, go with a good wizard add-on. It'll do all the backing up, resetting, and restoring work for you.
How to Install Kodi Wizards
For the most part, Kodi wizards are just like any other add-on. They come bundled in repositories, which are large file collections hosted on external servers. To get the wizard you need to install the repo first, then dig in and find the right add-on inside. Kodi offers several methods of installing new repositories, but we prefer the "external sources" method, as it works the same way on every platform.
Before you install anything, follow the quick steps below to set Kodi up to manage external downloads for you.
Head to Kodi's main menu, then click the gear icon to enter the System menu.
Go to System Settings and then click on Add-ons.
Click the slider next to Unknown sources. Make sure it's facing to the right.
Accept the warning message.
Are Wizards Safe?
Absolutely, yes. They're arguably even safer than other Kodi add-ons, since they rarely include links to any kind of content, just maintenance tools and backup scripts. They usually don't make dramatic changes to your system, either, so you won't have to worry about accidentally deleting something important. Wizards outline what files they're about to delete and give you ample warning before doing so. They're safe, and they're pretty much fool-proof, as well.
Install a Wizard to Backup and Restore Kodi
Ready to start your backup and restore adventure? Below are our favorite wizard add-ons available from Kodi's unofficial development community. Each one offers tons of maintenance and cleaning tools, along with factory refresh, backup, and restore settings. Pick any wizard you like, then follow the instructions to install it and use it to protect your sensitive Kodi data.
Brettus Builds Wizard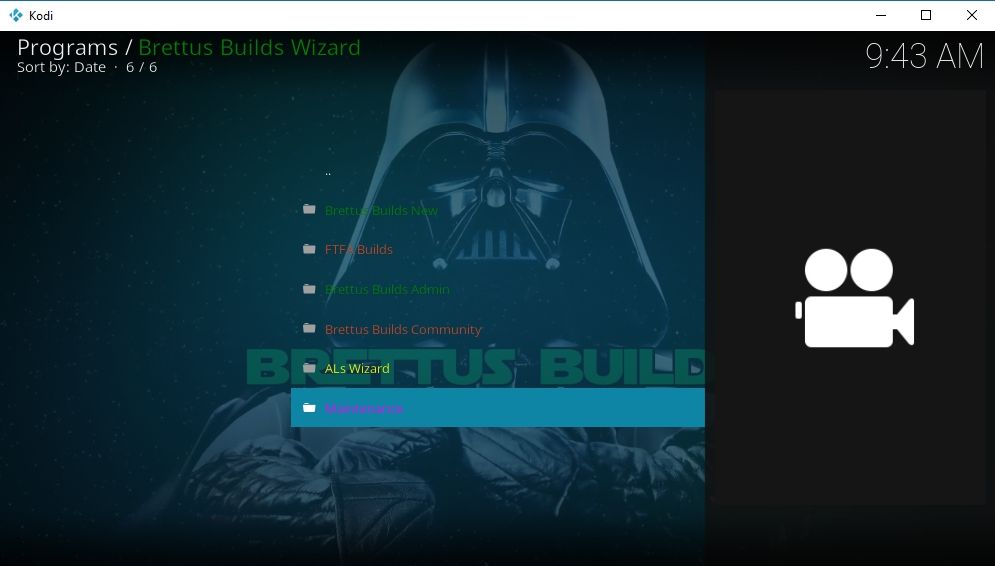 The Brettus Repository has a big variety of streaming add-ons, and it comes with a unique wizard that's nice and easy to use, too. In addition to cleaning, backup, and restore functions, the Brettus Wizard lets you install custom builds, fix problematic add-ons, or force close Kodi. There's even a built-in factory reset options to make your Kodi cleaning as automatic as possible.
How to Install Brettus Builds Wizard
The Brettus repo is available through a separate repository. You'll need to install it first, then the Brettus repo, and finally the wizard itself. The process isn't very time consuming, so don't worry!
Open Kodi, go to the main menu, then click the gear icon.
Go to File Manager > Add Source.
Add the following URL: https://toptutorialsrepo.co.uk/kodi/Repos/
Enter an easy to remember name, such as toptuts
Click OK. Kodi will automatically add the repo to your sources list.
Go back to the main menu and select Add-ons.
Click the box icon at the top.
Choose Install from Zip File, then select the repo you named above.
Scroll down and find the file named repository.Brettusrepo-#.#.zip
Install the repo, then go back to the open box menu and choose Install from Repository.
Select the entry named Brettus Builds Repository.
Navigate to Program add-ons and look for the Brettus Builds Wizard.
Click to install the wizard.
Use the Brettus Wizard Backup and Restore Kodi
Brettus Builds is one of the more straightforward wizards around, a fact that smartphone Kodi users will definitely appreciate. You'll be able to set and restore backups with ease, and you can even run factory reset options to customize which bits of data you want to erase. It's the perfect wizard for getting a fresh start with Kodi on any device.
Go to Kodi's main menu and choose Add-ons > My Add-ons
Find the Brettus Builds Wizard icon and click it.
Choose Configure at the bottom.
Make sure the Backup Storage tab is selected, then set a location to save your backup content. Somewhere easy to find is best, like a desktop folder.
Run the Brettus Builds Wizard and choose the Maintenance folder.
Choose the Backup/Restore Content options.
Next, select Backup My Content.
Brettus will show you a list of backup options. Choose Full Backup to save everything, or pick out items individually. Addons and Source backups are crucial.
Use the Clean/Wipe options in Brettus to factory reset Kodi.
To restore your settings, follow the same instructions above but choose Restore instead of Backup.
Cosmic Saints Wizard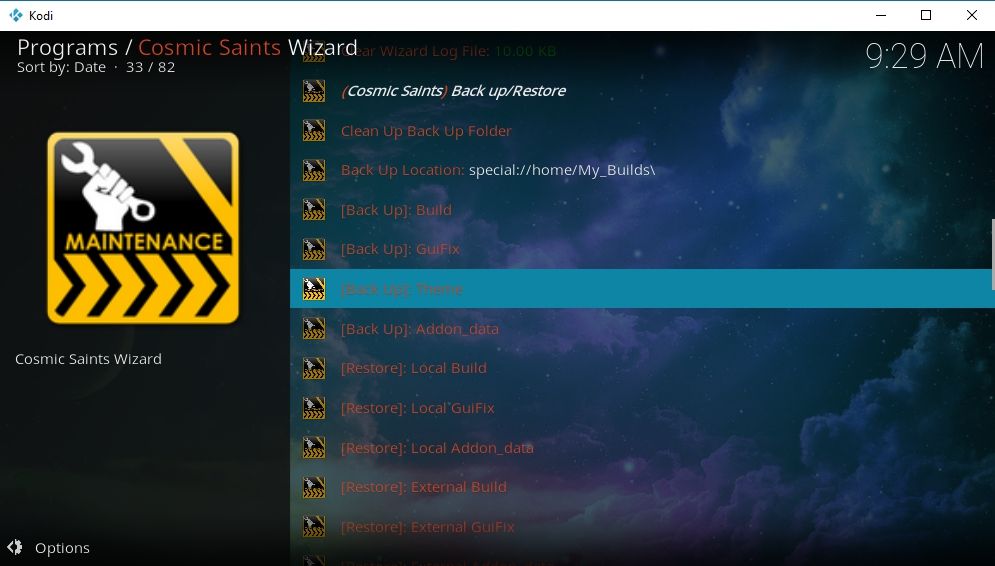 The Cosmic Saints Wizard is a superb maintenance and backup tool. It comes with all the features you need to keep Kodi clean and tidy, and it includes a handy apk installer/uninstaller Android and Fire TV Stick users will grow to love! Better still, Cosmic Saints Wizard splits backup and restore options into individual categories. Don't want to back up your entire build? No need, just save add-on settings and you're set.
Installing Cosmic Saints Wizard
The CS Wizard comes as a standalone installation, meaning you won't have to install a repository, just grab the add-on file and go from there.
Visit the CSaintsWizard plugin download page in your web browser.
Download the zip file named CSaintsWizard-1.2.9.zip. Save it somewhere convenient so you can access it again in a moment.
Open Kodi and select Add-ons from the navigation bar.
Click the box icon, then select Install from zip file.
Navigate to where you saved the CSaintsWizard.zip file, then click OK.
The Cosmic Saints Wizard will install in the background. Check the main add-ons menu in a few moments and you'll see the wizard, ready to run.
Use Cosmic Saints Wizard to Back Up and Restore Kodi
Once the CS Wizard is installed, you can create or restore a backup on any device in just a few seconds.
Run the wizard and choose Maintenance Tools from the main menu.
Scroll halfway down the next screen until you see the white Back up/Restore section.
First, choose a backup location, somewhere easy to find like your desktop.
Next, select the individual items you'd like to backup. Addon_data and Build are highly recommended.
After the backup completes, you're ok to reset Kodi or uninstall it completely.
To restore, head to the same section, then look for individual Restore options to activate.
Merlin Wizard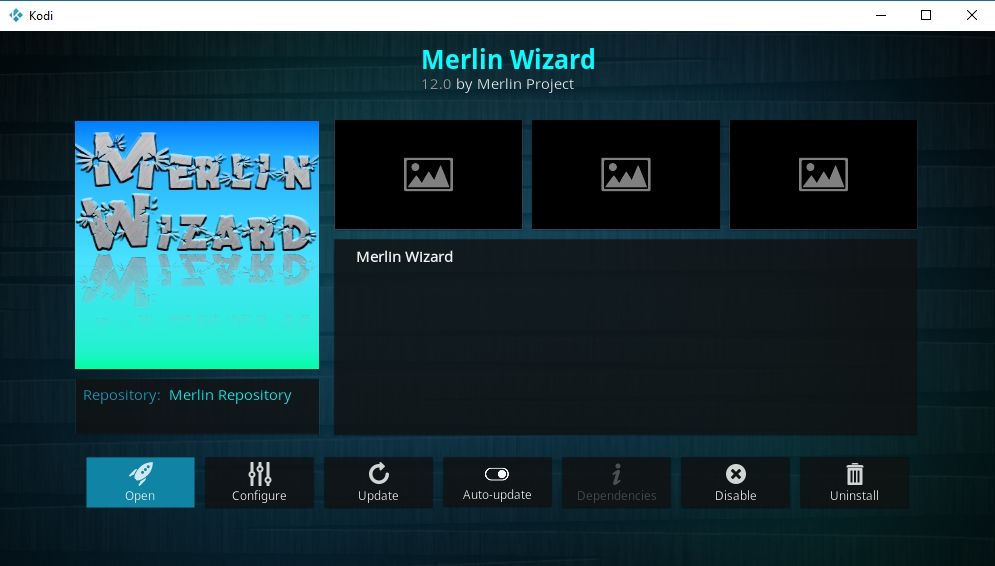 The Merlin Wizard is a standalone project that keeps things simple. The interface comes with just a few cleaning features, not thousands of options found in most wizards. Its backup and restore routines are clear and easy to find, as well.
How to Install Merlin Wizard
Installing Merlin is nice and straightforward. Just grab the repo from the site linked below, add it to Kodi, then grab the add-on!
Visit the Merlin repository download page in your web browser.
Download the zip file named repository.merlin.zip
Open Kodi and select Add-ons from the navigation bar.
Click the box icon, then select Install from zip file.
Navigate to where you saved the repository.merlin.zip file, then click OK.
Go back to the box icon menu, then choose Install from repository.
Select Merlin Repository > Program add-ons > Merlin Wizard and install.
When the process completes, launch the Merlin Wizard from your main add-ons menu at any time.
Backup and Restore with Merlin Wizard
The Merlin Wizard may not have thousands of crazy features, but its backup and restore options are laughably easy to use. Just three buttons to click, that's it!
Run the Merlin Wizard, then click on Tool Box at the top of the screen.
At the bottom you'll see a section marked Backup/Restore Centre. Start by clicking "Set Location".
Choose a backup storage location in the menu. Somewhere easy to find is best, like your desktop.
Click the Backup button. The wizard will ask for a confirmation before beginning.
Once that's finished, your content will be safe and sound. Factory reset Kodi, uninstall it, or do whatever!
To restore, go back to Merlin's Tool Box page, click Restore, then find the restore file saved on your device.
Backup and Restore on Other Devices
The instructions and wizards above will work on any device you can install Kodi on. Fire TV Stick? Yep. Android TV box? You bet! You can follow the guides in exactly the same manner, substituting clicks for remote control button presses or touchscreen taps. There are a few unique considerations you can take into account for alternative devices, however. Little optimizations that can make things go smoother than you expected.
Uninstall and Reinstall on Android Devices
Got Kodi on a smartphone or tablet, especially one that runs Android? It's much faster to create a backup of your settings then manually uninstall the app than to perform a full factory refresh. Skip the reset details above and simply remove Kodi by dragging it to the uninstall icon on your phone. Head back to the Google Play Store to download Kodi again, then continue the above instructions to restore your previous settings. Easy!
Factory Reset on Alternative Devices
If you run Kodi on a device that doesn't natively support the app, it's likely you spent a lot of time trying to install the software in the first place. There's no need to uninstall Kodi to perform a backup and restore. Simply run the factory reset option in one of the wizards and your app will be as good as new. In fact, doing regular backups can save you from a lot of hassle in the future, so don't hesitate to update yours on a monthly basis.
Transfer Settings with Backups
Backing up Kodi's data doesn't have to be paired with an immediate factory reset and restore. You can save your settings data on any device, move the file to another piece of hardware, then use a wizard to restore from there. This is a quick and easy way to port your settings on one device to another. The best use case for this is to set up Kodi on your PC or laptop, create a backup, move the content to your TV box or smartphone, then restore it from there. Bam, instant Kodi customization anywhere you want!
Conclusion
Kodi is an incredible piece of software that offers a wealth of customization options. Keeping your data safe is nice and easy, too, thanks to third party wizard add-ons. Save your setup, send it to another device, restore it after a factory reset, then keep streaming like nothing happened!
Experiencing performance issues after a factory reset? Check out our guide on dealing with buffering in Kodi.
Did you find this guide helpful? Got another wizard recommendation you think is right for the job? Leave us a comment in the section below!