We are reader supported and may earn a commission when you buy through links on our site.
Learn more
Stream Reddit Videos With The Reddit.com Kodi Add-on
Reddit.com is one of the best known sites on the internet, with a homepage visited by thousands of people every day. As well as the main Reddit page, there are also hundreds of subreddits, which are forums dedicated to topics covering everything from games to sports to baking. Reddit calls itself the "front page of the internet", and it is the first page that many people visit each day, thanks to its constantly updating content. Reddit uses a system of upvotes and downvotes, where memebers can leave a thumbs up or thumbs down on any particular item posted to the forum to indicate whether they liked that content. The more upvotes a topic gets, the higher it moves up the front page. This ensures that there is always fresh and interested content available right on the front page of Reddit in general and on the subreddits too.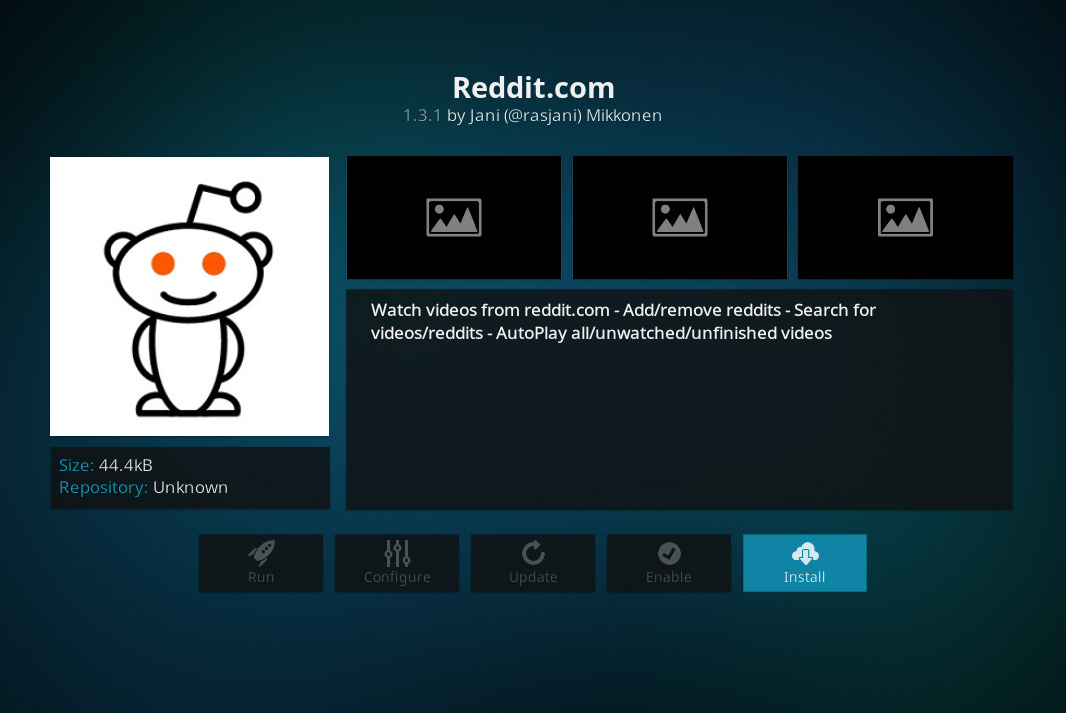 One reason you might want to use Reddit is to watch videos. Although Reddit does not host video content itself, users often make posts linking to videos that they found interesting and which are hosted on YouTube, DailyMotion, or another video hosting site. For example, on a gaming subreddit people might post videos of speed runs of particular levels or of walkthroughs or funny bugs that they have found.
If you want to watch a bunch of videos from Reddit, normally you would have to use your web browser and manually click through the links on any given subreddit to find the videos that you want to see. But if you use the Kodi media centre software, there is a simple way to watch Reddit videos using an add-on. The Reddit add-on for Kodi is part of the official Kodi add-on repository, so you can be sure that it is safe to use and coded to a high standard. In our testing, we've found this add-on to be very helpful and very stable.
Read on for full instructions on how to install and use the add-on so that you can stream Reddit videos with the Reddit.com Kodi add-on.
30-days money back guarantee
Use A VPN When Streaming With Kodi
The Kodi software itself is fully legal to use, as are the add-ons that you can download from the official Kodi add-on repository. However, because the software is open source, anyone may create their own add-on for Kodi without consulting the developers. This means that many of the add-ons that you find online have not been officially approved and may allow you to access content illegally.
If you get caught using a Kodi add-on to illegally stream or download content, you could face a range of consequences, from getting kicked off your ISP's network, to receiving threatening letters from lawyers, to being stuck with a fine. Obviously, you want to avoid this, and the best way to keep yourself safe from legal issues when using Kodi add-ons is to get a VPN. A VPN will encrypt all of the data that your device sends over the internet so that no one can see what sites you are visiting or whether or not you are downloading or streaming content. This will keep you safe when using add-ons for Kodi.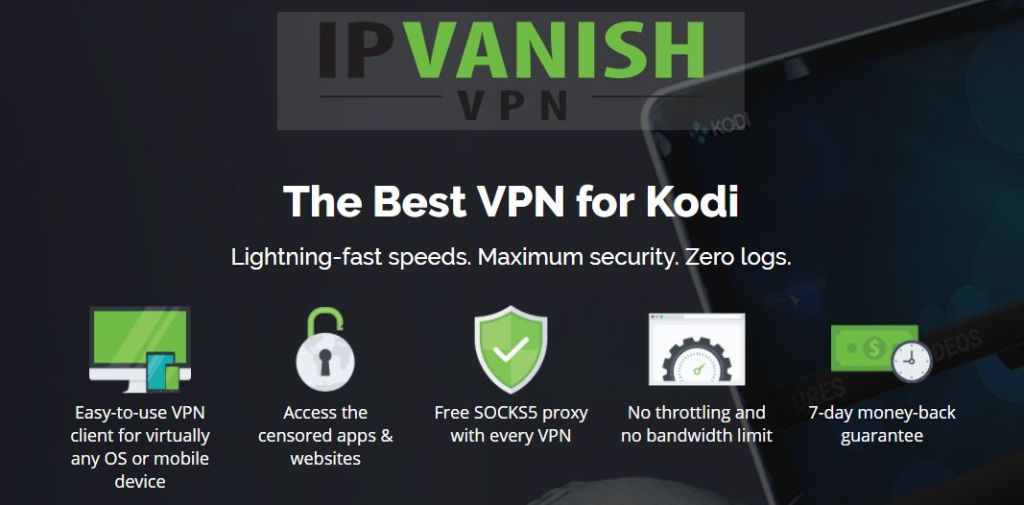 The VPN provider that we recommend for Kodi users is IPVanish. This service has super fast connections which are perfect for streaming high definition video content. The VPN uses strong 256-bit encryption and has a strict no logging policy so that you can be sure that your data will be kept safe and private. The server network gives you access to over 850 servers in 60 different countries, and the software can be installed on Windows, Mac, iOS, and Android.
IPVanish offers a 7-day money back guarantee which means you have a week to test it risk-free. Please note that Addictive Tips readers can save a massive 60% here on the IPVanish annual plan, taking the monthly price down to only $4.87/mo.
How To Install The Reddit.com Add-on For Kodi
Installing the Reddit.com add-on for Kodi is very simple. Because the add-on is from the official Kodi add-on repository, you can be sure that it is safe and you don't need to add a new repository to your system. Here's how to install the add-on:
Start on your Kodi home screen
Go to Kodi Add-on repository
Go to Video add-ons
Click on it and a box describing the add-on appears. Click install on the bottom menu
That's it! Now your add-on is installed and you're ready to start watching Reddit videos
How To Use The Reddit.com Add-on For Kodi
With the add-on installed and ready to use, here's how to open up the Reddit.com add-on and navigate through its main menu:
Start on your Kodi home screen
Go to Add-ons
Go to Video add-ons
You'll see the following options:

All: To see all of the latest videos from across subreddits and hosters
Hosters: Vimeo.com, YouTube.com, Liveleak.com, Dailymotion.com, GfyCat.com: Here you can see videos organised by the site which hosts them
– Add reddit: to add your favourite subreddit to this main menu
– Search for reddits: to help you find a particular subreddit to explore

And here's how you can start browsing for videos on Reddit:
Start on the main page of the add-on
You'll see options for:

New
Hot: Hour
Hot: Today
Top: Week
Top: Month
Top: Year
Comments: Today
Comments: Week
Comments: Month
– Favourites
– Search

Go to New to see the most recently added videos across all of Reddit
This will take you to a grid of videos with thumbnails, titles, and information which appears in the left hand column. In the information column you can see the full title of the video, the date of upload, the number of upvotes and downvotes the video has received, and the number of comments left on the video
There are also options to Play unwatched which will play all of the videos you haven't watched yet in order, or Randomly play unwatched which will play all of the videos you haven't watched yet in a randomised order

To start a video, click on any thumbnail or title
The first time that you open a video, you'll see a popup asking if you want to Execture setup-wizard? And you should click Yes
Then you'll be asked if you want to adjust language and region. To keep the add-on in English and the region as US, click No. To adjust the language or region to another setting, click on Yes
A handy feature of the Reddit.com add-on is that you can add links to your favourites subreddits to the main menu. For example, let's say that you love the /r/amv subreddit, where people post anime music videos. If you want, you can add a link to /r/amv to your Reddit.com add-on for Kodi. Here's how to do that:
Start off on the main page of the add-on
Now click on OK
Click on Amv and you'll see the same options that you get on the all page: New, Hot, Top, Comments, Favourites, and Search
Now you'll see the newest videos that have been posted to the AMV subreddit. There are also options for Play unwatched and Randomly play unwatched
You can use this method to add any of your favourite subreddits to the add-on home screen
There is also another feature that you should know about: favourites. This lets you keep a list of your favourite videos, from any of the different subreddits. It's a useful way to keep track of a video that you want to watch again later. Here's how to use favourites:
Find a video you want to save for later, either through browsing or searching. When you locate the video you want, hover the cursor over it
Now either right click on your mouse or press c on your keyboard
This will add the video to your favourites
To view your favourites, start on the add-on home screen
You can also use the Search function from the add-on home screen to search for particular videos, or use the other categories on the home screen to view the most popular videos (using the Top: Week, Top: Month, or Top: Year categories) as well as the most commented videos (using Comments: Today, Comments: Week, and Comments: Month) and the currently promoted video (using the Hot: Hour and Hot: Today categories).
Conclusion
There is a ton of great video content posted to Reddit every day, but unless you are following specific subreddits then you might miss a lot of this content. If you want to browse for funny, topical, or recent videos that have been posted on Reddit and then to watch them in an easy to use format, then the Reddit.com add-on for Kodi is just what you need. This simple add-ons pulls video information and links from Reddit so you can easily browse and search for fun video content to play through your Kodi system.
The customisation features of the add-on let you add your own favourites subreddits to the main menu so that you can see the latest videos that have been posted in your subreddit very quickly. The favourites function is also handy, letting you save any video to your favourites section and quickly find it later. One more feature which is worth remembering is the random play unwatched option at the top of every video page. This will play an almost endless stream of videos from across Reddit in a random order, which is perfect for when you are bored and looking for a funny or entertaining video to amuse you.
Overall, the Reddit.com add-on is simple and to the point: all it does is provide an easy to use interface for browsing Reddit videos on Kodi. But it performs this function very well, and fans of Reddit are sure to enjoy it.
Which subreddit do you think has the best video content? Do you use the Reddit.com add-on for Kodi, or do you prefer to view your videos in a browser? Let us know what you think about this add-on in the comments below.