We are reader supported and may earn a commission when you buy through links on our site.
Learn more
Stream US TV Shows with the USTVcatchup Addon for Kodi
The current climate around Kodi has made many developers and viewers wary of the legal risks of accessing copyrighted content. Despite the protections that a VPN can afford you, plenty of people are still loath to take the chance. The outcome of this is addons such as the USTVcatchup Kodi Addon. Whilst USTVcatchup is still an unofficial addon, its content appears to be primarily sourced from legitimate sources.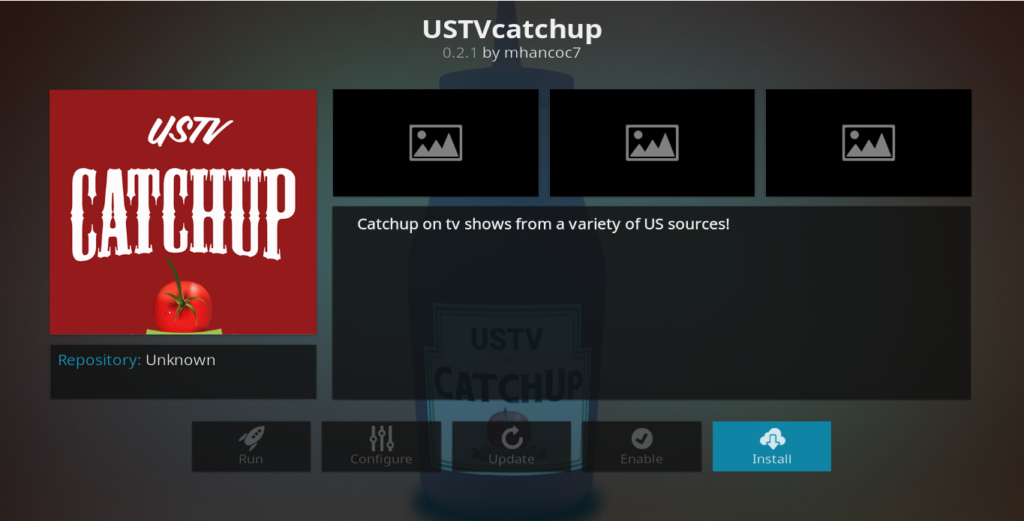 As a result, USTVcatchup is not the place to go if you are looking for the latest episode of the big HBO drama of the moment, a live sports feed, or a movie channel. What it does offer is what some might describe as 'daytime' or 'couch-potato' TV. If you want reality TV, cookery shows, DIY shows, daytime soaps, then USTVcatchup is definitely the addon for you. In this guide, we will tell you more about what USTVcatchup has to offer as well as a detailed step-by-step guide on how to download and install it.
30-days money back guarantee
Before You Install USTVcatchup, Get a VPN
If you are using any type of unofficial addon with Kodi, it is always advisable to use a VPN. Even though USTVcatchup uses legitimate sources for the content it streams, the developer offers no guarantees on this. And all unofficial addons have other potential privacy and security issues which a VPN can help protect you from. The question all Kodi users should be asking is not should I use a VPN, but which VPN should I use. There are a lot of VPNs on the market and choosing the right one is important. For Kodi users, there are four main criteria you should consider when making your choice: fast connection speeds, strong privacy provisions, no data restrictions and broad server availability.
The Best VPN for Kodi – IPVanish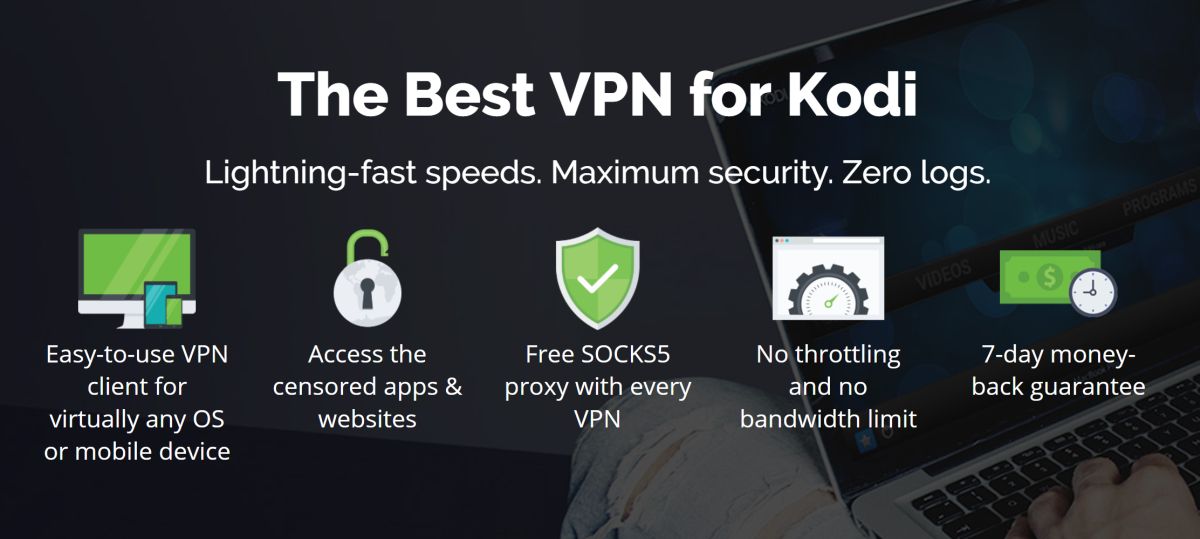 Applying these four criteria should leave all Kodi users reaching the conclusion that the best VPN for them is IPVanish. It ticks all of the boxes, with lightning-fast connection speeds, top of the range encryption, as well as great privacy provisions, including a guarantee of no user logs being kept. There are no restrictions on what files users can download or the amount of data they can use, and with more than 850 servers in 60 different countries, there are plenty of servers to choose from for optimal performance. Throw in IPVanish's great apps, which are available on almost every platform, including an Amazon app for Firestick users, and there is little doubting IPVanish's suitability for Kodi users.
IPVanish offers a 7-day money back guarantee which means you have a week to test it risk-free. Please note that Addictive Tips readers can save a massive 60% here on the IPVanish annual plan, taking the monthly price down to only $4.87/mo.
How to Install USTVcatchup
The USTVcatchup addon can be found in the resurrected TVaddons repository (commonly known as Fusion). TVaddons used to be the go-to repository for almost all of the most popular Kodi addons before it suddenly disappeared earlier this year. It has since returned, but is now only playing host to addons which strictly offer legal content.
It's important to note that there are many questions over who is behind this new version of TVaddons. However, TVaddons have staunchly denied rumours that they are using addons to spy on users Kodi habits for the Canadian copyright lawyers who currently hold their website domains. There is no concrete evidence to support such rumours and claims either way, but users should still be aware of them before proceeding with this installation.
Open Kodi and click on the Settings icon, which looks like a gear wheel, at the top left of the screen.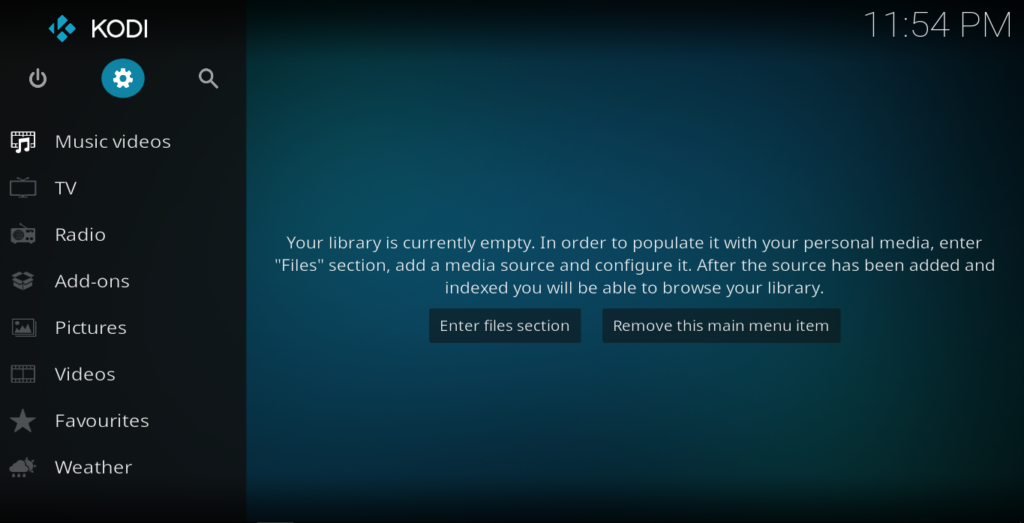 Select the File Manager tab at the bottom of the screen then click on Add Source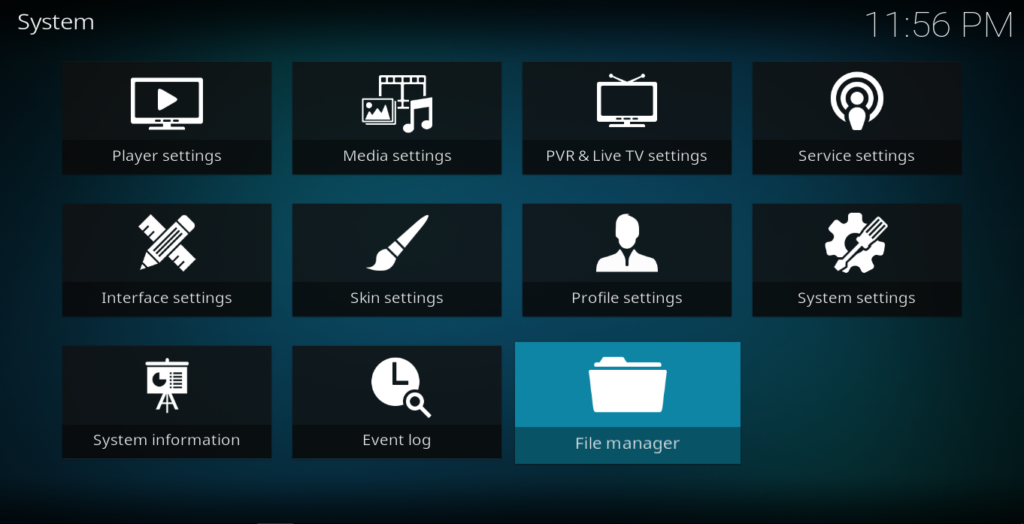 In the pop-up box which follows, click where it says <None> and enter the following URL exactly: https://fusion.tvaddons.co before clicking OK. Then enter a name, like Fusion, for the source and click OK again.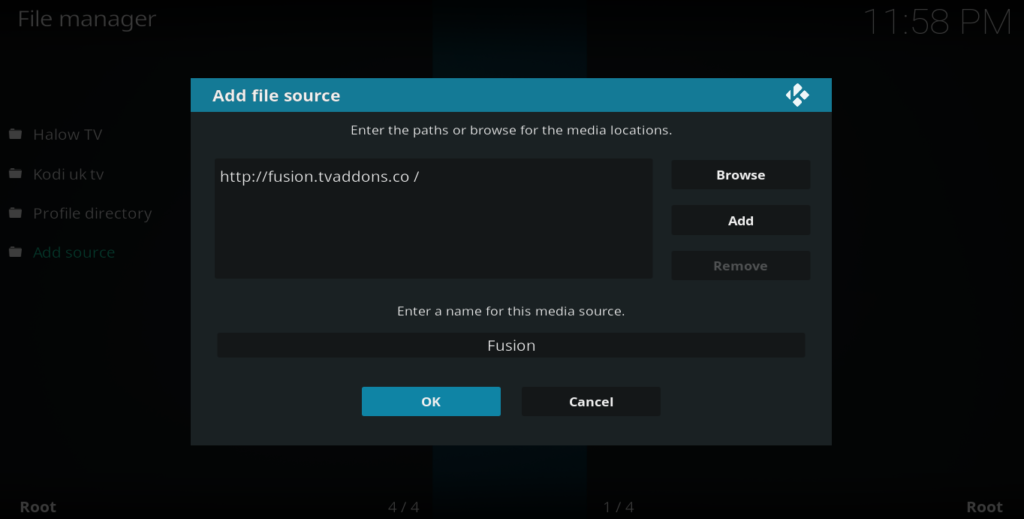 Return to the Kodi home page and this time click on the Addons tab.
Click on the Addon Browser icon, which looks like an open box and is in the top left of the screen.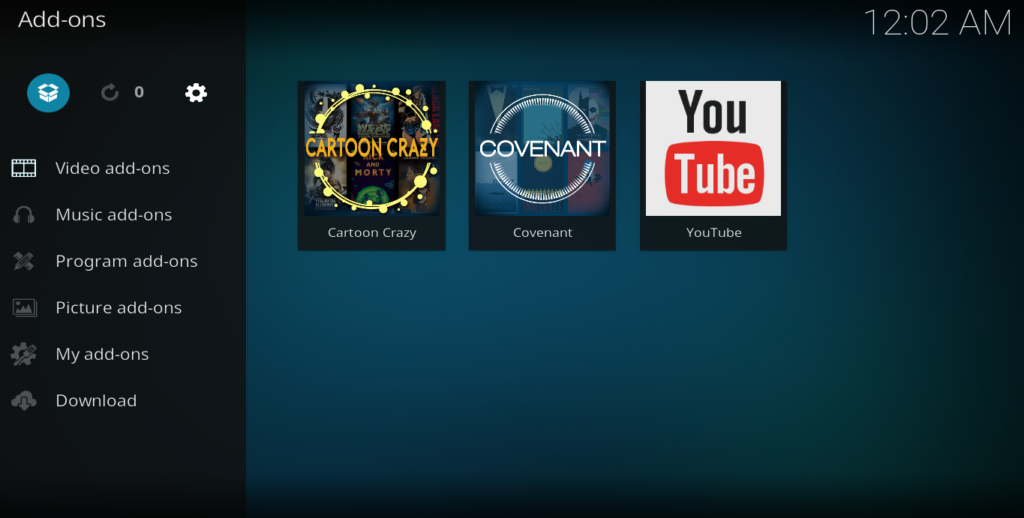 Now choose Install from zip file and click on Fusion > kodi-repos > english >  and then scroll down to the file called repository.xbmchub-x.x.x.zip. Click on this to install the TV Addons repository. A notification in the top right of the screen will confirm when this has been done successfully.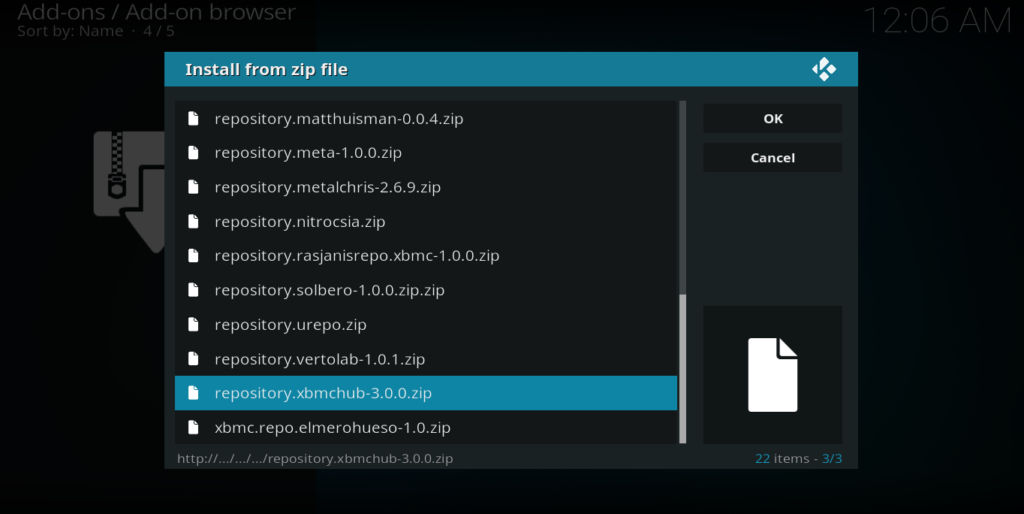 Now return to the Addon browser menu and this time click on Install from repository > TVADDONS.CO Add-on Repository > Video Addons > USTVcatchup > Install. This will download and install the addon and again you will be notified in the top right of the screen when the process has been successfully completed.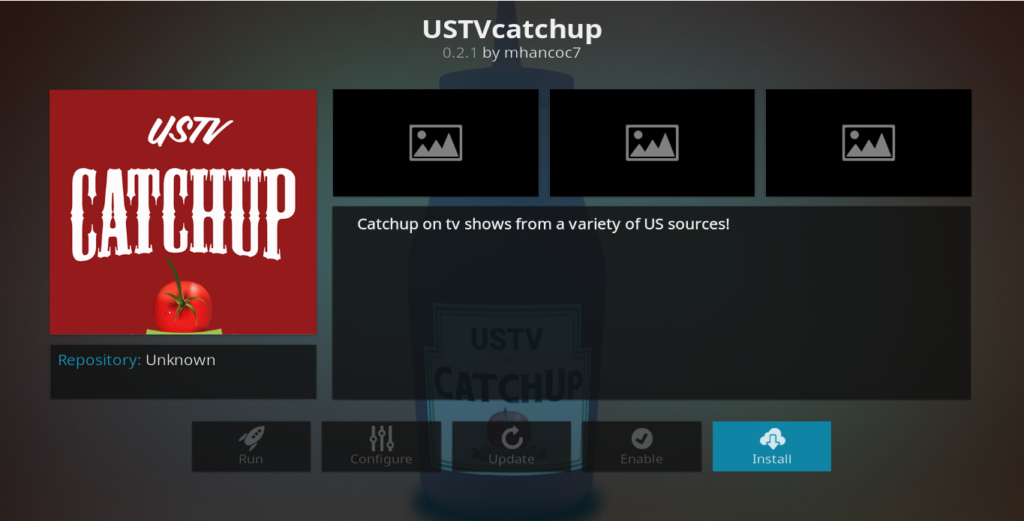 Now you can return to the home screen and click through Add-ons > Video Addons > USTVcatchup and then enjoy everything this addon has to offer.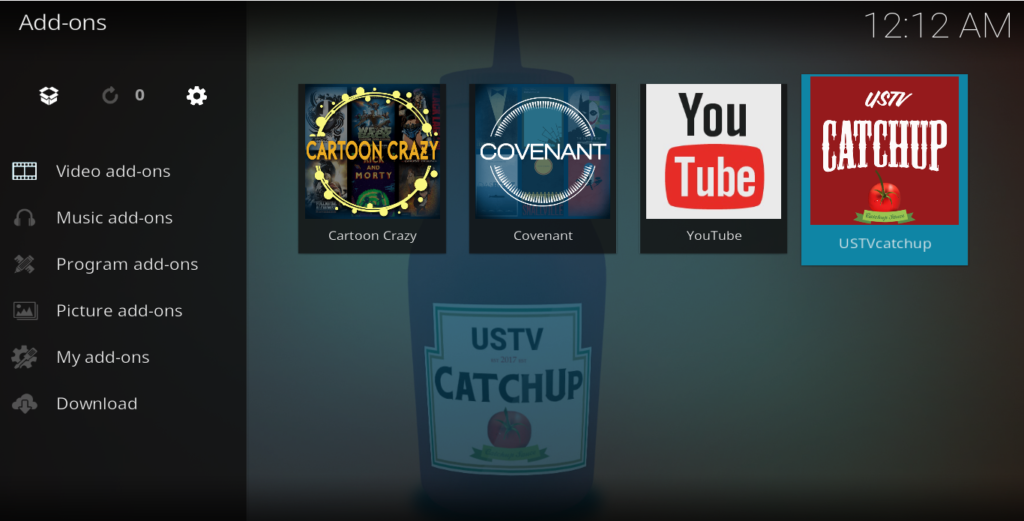 USTVcatchup Kodi Addon Review
When you open the USTVcatchup Kodi Addon, you'll notice the menu couldn't be simpler. It is comprised of a list of eleven US TV channels, which encompasse various different types of content with everything from kids TV to DIY catered for.  The list in full is ABC, Cooking Channel, DIY Network, Food Network, Freeform, HGTV, Smithsonian Channel, SundanceTV and Travel Channel. All of these channels have made some of their content available for users to watch for free. The only catch is that most of this content is only available to US viewers, so you will need to use a VPN connected to a US server to access it.
Let's take a more detailed look at what USTVcatchup has to offer:
ABC – The ABC section is the biggest on USTVcatchup. They have made a huge amount of content available for free on their website and it all be viewed on USTVcatchup. Some highlights of the many available shows include:

America's Funniest Home Videos
The Bachelor: Season 1
Boston EMS
Celebrity Family Feud
General Hospital
The Gong Show
Grey's Anatomy
Jimmy Kimmel Live!
Marvel's Agents of S.H.I.E.L.D.
Modern Family
The Muppets
My So-Called Life
Once upon a Time in Wonderland
Quantico
Shark Tank
Ugly Betty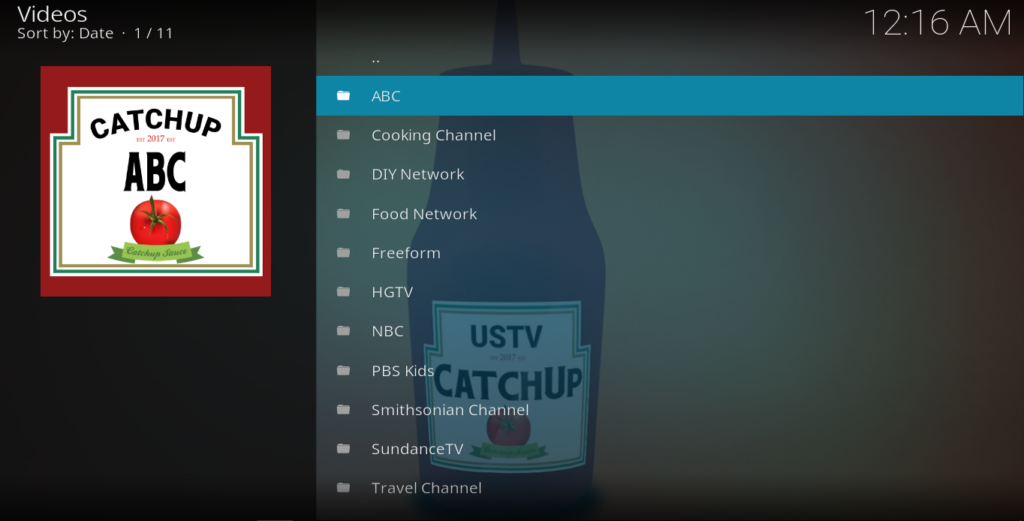 Cooking Channel – This is a spin-off channel from the Food Network (see below) which is focused solely on food and cookery shows. They have made seasons of several of their shows available for free to US viewers, including Big Bad BBQ Brawl, Cake Hunters, Cheap Eats, Late Nite Eats, and Man Fire Food.
DIY Network – A channel solely devoted to DIY and home improvement shows which has also made a number of shows available for free including Yard Crashers, Renovation Realities, and Salvage Dawgs.
Food Network – The parent channel to the Cooking Channel offers a broader range of shows related to food, cooking, and the restaurant industry. They have made a small number of shows available including Cutthroat Kitchen, Ginormous Food, Good Eats, Trisha's Southern Kitchen, and Worst Cooks in America: Celebrity Edition.
Freeform – Freeform used to be known as ABC Family. It offers a range of reality and family friendly shows as well as a changing selection of family movies for free. This includes The Fosters, Jane by Design, Make it or Break it, Melissa and Joey, and Dinner with Dad.
HGTV – HGTV is another home improvement channel offering a small range of free programmes for US viewers. Those on offer include My Lottery Dream Home, Fixer Upper, Island Hunters, and Beachfront Bargain Home.
NBC – A selection of popular shows from the US commercial network are available for free on their website and therefore also through USTVcatchup too. This is another lengthy list and includes a number of classic and popular shows including:

Access Hollywood
America's Got Talent
Battlestar Galactica
Chicago Fire
Dateline
Days of our Lives
The Good Place
Knight Rider
Late Night with Seth Meyers
Law and Order
Miami Vice
Quantum Leap
Saturday Night Live
The Tonight Show with Jimmy Fallon.

PBS Kids – The US public service broadcaster's dedicated kid's TV channel has made a few of its popular cartoons and children's programmes available online for nothing including Arthur, Bob the Builder, Caillou, Dinosaur Train, Odd Squad, Plum Landing, Sesame Street, the Cat in the Hat, and Thomas and Friends.
Smithsonian Channel – This is a channel dedicated to science, nature, history, and culture shows and named in a nod to the famous museum. Their available content includes Air Disasters, Perfect Storm, History in HD, Inside Buckingham Palace, and the Real Mad Men of Advertising.
Sundance TV – Sundance TV used to be dedicated to high-quality content, with documentaries, short films, and independents movies a staple. But, they have inevitably branched out into reality shows and dramas too, some of which are available for free including Law and Order, Cleverman, and Close up with The Hollywood Reporter. But there is also a movie section with a small but decent selection of independent movies you can watch for free too.
Travel Channel – As the name suggests, this offers a range of travel documentaries and related reality shows all based around the themes of travel and tourism. Shows available for free include Booze Traveler, Bizarre Foods: Delicious Destinations, and Expedition Unknown.
USTVcatchup – Pros and Cons
PROs: The USTVcatchup has plenty going for it, but it is by no means perfect. However, if you enjoy watching US daytime TV, it is a great resource. There is lots of content available and the layout of the addon is simple, clean, and easy to navigate.
And of course, the fact that all of the content is sourced legally will be a big attraction to many. People are becoming increasingly concerned about the legal risks of using Kodi, even with the protections a VPN can provide. USTVcatchup offers a free and legal source of popular content and this is always going to attract a big audience.
CONs: There is very little information on the shows that are available. You can find the show's title and a single image which represents it, and that's it. If you need any more information, you will have to go find it for yourself somewhere else. This can be annoying if you are just browsing for something that looks interesting.
The addon also has no search facility or bookmarking capability. This makes it hard to search for individual shows and if you find a show you like, you will need to remember how to navigate through the menus to find it each time you use the addon. Some of the channel's menus are a little disorganised too. Although most only offer a handful of shows so this isn't too much of a problem, on some of the bigger channels it can be problematic.
And lastly, as with all addons, there are a few links that don't work. This is because the source websites do change the content they make available and USTVcatch-up is not always up-to-date. The addon is still updated periodically though.
Conclusion
The USTVcatchup Kodi addon certainly isn't for everyone, but if you are interested in exploring a huge back catalogue of free reality series as well as travel, history and science shows, it is definitely one for the list. It has its faults, as we have detailed above, but if you can live with these, then this addon has much to offer and could provide you with hours of entertainment.
Did you find our review and installation instructions helpful? What do you watch with USTVcatchup? We'd love to hear from you, so leave a comment in the section below!