We are reader supported and may earn a commission when you buy through links on our site.
Learn more
TDB Toons Add-on for Kodi: Install and Watch Kids Cartoons with TDB Toons
If you've installed the Kodi media centre program on your PC, Mac, or mobile phone, then you'll know that it's a great way to organise all of your TV and movie viewing. But did you know that Kodi can be fantastic for keeping kids entertained too? With the TDB Toons add-on for Kodi you can stream cartoons of all kinds for your kids to enjoy. The cartoons accessible by this add-on are specially selected to be appropriate for younger age groups, so you can be sure to find something that your children will love watching. And if you're an older cartoon fan, there's plenty there to keep you amused too!
We'll show you how to install the TDB Toons add-on and how to use it to find the cartoon that you or your kids want to see. It's simple and you'll be streaming great content in no time! Read on to find out more.
30-days money back guarantee
Get yourself a VPN before using Kodi
Before you start using Kodi or installing add-ons, there's one thing that it's absolutely imperative that you do first: You need to install a VPN onto your system to encrypt your web traffic. Why is this? Well, Kodi is fully legal, open-source software. However, many of the add-ons available for Kodi are made by third-party developers and exist in a legal grey area. If you use Kodi with add-ons over an unsecured internet connection, you might find yourself dealing with legal consequences for streaming movies or TV shows.
So it's important to protect yourself when you use Kodi, and the best way to keep your internet usage private is to use a VPN. This is a service which encrypts your internet traffic so that your ISP cannot see your online activity. Using a VPN means that your ISP can see how much data you have transferred from your computer, but they cannot see the contents of that data. This means that if a government or law enforcement agency asks your ISP to hand over details of your account use – which they are legally required to do – then no one can see what you have been downloading or viewing.
We highly recommend that you get a VPN before using add-ons for Kodi!
How do I choose a VPN?
So now that you know that you need a VPN, how do you go about selecting one? There are so many different VPN services out there, the choice can be daunting indeed! We think that there are three vital factors when it comes to choosing a VPN:
A no-logging policy
A fast connection speed
Many types of allowed traffic
No logging means that a reputable VPN should not keep any logs of the data which you are using. This is because, like your ISP, your VPN provider can be obliged to hand over logs of your internet usage to law enforcement or the government if they ask for it. The only way to avoid this is to have your VPN not keep any logs of your activity, and then there is nothing for them to hand over. This is the most important factor in choosing a VPN to keep your connection secure and private.
The other two factors we mentioned are obvious. You want a VPN with a fast connection so that you don't have to wait around for pages to load or videos to buffer. Cheap or free VPNs often have slow speeds or data caps which limit your usage, which is a pain. A good VPN should let you browse and download as much as you want, whenever you want, and shouldn't slow you down. The final factor is to consider when choosing a VPN is the types of file transfer which are allowed. Some VPNs have limitations on whether you can use torrents or other P2P file transfers, for example. Others may have restrictions on using VoIP for programs like Skype. So you need to make sure that your VPN allows the kind of traffic that you need.
To help narrow down your choice of VPN, here are our picks for the top three VPNs to keep you safe while using the TDB Toons add-on for Kodi.
IPVanish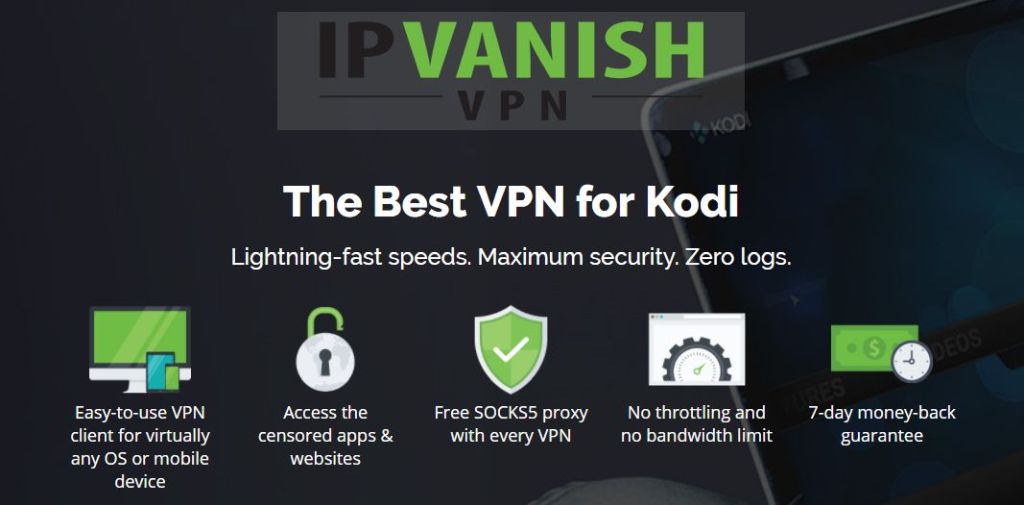 One of the most respected VPN providers is IPVanish, and they're perhaps unsurprisingly our top pick for a VPN to protect you while you use Kodi. They have more than 750 servers in over 60 countries, so you'll have plenty of choices for accessing region-locked content. They offer exceptional security too, using strong 256-bit AES encryption for both L2TP and OpenVPN protocols. A unique feature of IPVanish is the ability to cycle through IP addresses at a time interval of your choosing in order to keep your data even more secure. Plus, there's an automatic kill switch, so if your connection is interrupted for any reason then your downloading will be cancelled until the connection is back up, which prevents you from accidentally sending unencrypted data if your network goes down.
Most importantly, IPVanish has a strict no-logging policy. Logs aren't kept even for troubleshooting purposes, so you can be sure that no one will be able to access your data. Another winning feature of IPVanish is that it has no bandwidth limitations, and they allow simultaneous downloads, which is terrific if you download large quantities of data.
IPVanish offers a 7-day money back guarantee which means you have a week to test it risk-free. Please note that Addictive Tips readers can save a massive 60% here on the IPVanish annual plan, taking the monthly price down to only $4.87/mo.
How to install TDB Toons add-on for Kodi
Now that you have a VPN in place and your system is secure, it's time to start finding and installing add-ons. It's easy to install the TDB Toons add-on to your Kodi system for watching cartoons, and we'll walk you through the process below, step by step. You'll be watching cartoons in no time! The first thing we need to do is to add a repository. This is a place where all the data for the add-on is stored, and we need to add its URL to our Kodi installation so that we can download the TDB Toons add-on.
Option 1: The TDB repo
At the time of writing, the TDB repo is all empty. You have the installation guide below, but we don't know for sure when it's going to work again. Do note, the TDB Toons add-on is also available from the SuperRepo repository, so scroll below to find that info, instead.
Start on the home screen of your Kodi system
Go to SYSTEM and then to File Manager
Select the Add Source option which you'll see in the left hand menu
A pop up window will appear. Select <None>
Now you type the following URL into the text field: https://tdbrepo.com. Make sure that you type this address exactly as written, including the https://, or you will run into problems trying to use the repository
Click Done
Now we need to give this repository a name. In the text field at the bottom of the screen, type in a name such as TDB repo and then click OK
Kodi will take a moment to add the repository source  and then show a confirmation notification
Start at your Kodi home screen
Go to VIDEOS and then to Add-ons
You'll see a menu of options on the left. Select the option which says Install from zip file
Open the folder which says TDB
Inside this folder you should find a file called repository.teamtdb-2.02.zip. Click on this to select it
Kodi will take a moment to perform the installation, and then you will see a notification that the TDB repository has been enabled.
Option 2: The SuperRepo repo
An alternative to the TDB Repo, SuperRepo has loads to offer. Here's how to install SuperRepo – the full tutorial.
Install the TDB Toons add-on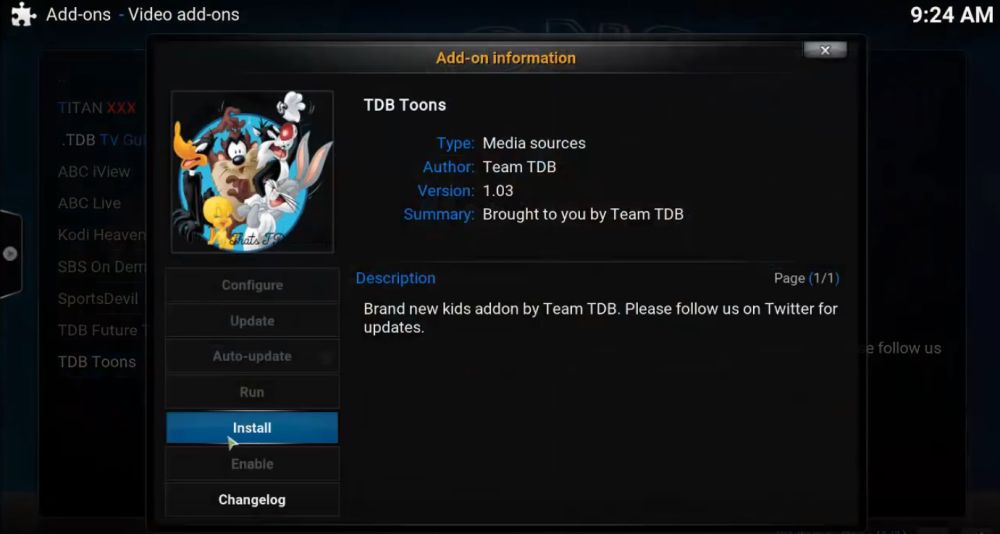 The next thing to do is to find the TDB Toons add-on and install in onto our Kodi system. This is what you need to do:
Go to Add-ons
Now choose Install from repository from the left hand menu
Select the TDB repo or the SuperRepo from the list
Select Video add-ons
Select TDB Toons
This will take you to a page for the Toons add-on. Click install
It will take a minute to install and when it's done you'll see a TDB Toons enabled notification
And we're done and you're ready to watch!
How to use the TDB add-on to watch cartoons
Using the TDB Toons add-on is easy. Start at your Kodi home screen, then select VIDEOS and then Add-ons. You'll see the TDB Toons add-on in the list of add-ons you have already install. You can quickly spot the TDB Toons add-on from its icon of the classic Looney Tunes characters. Click on it and the add-on will take a few seconds to open.
Once the add-on is open, you will see a list of options including Cartoons. Click on Cartoons, and you'll find a long alphabetised list of classic cartoons. To stream a cartoon, just pick a title, then select a series, then select an episode. The episode should start streaming straight away and you can enjoy watching with your kids.
As well as cartoons, you'll find sections in the TDB Toons add-on for Movies, Kids TV, and Music. These channels have the kind of content that your kids will love! The Movies section includes big recent hits like the Kung Fu Panda, Cars, Toy Story, and Angry Birds films. You'll even find some of these movies available to stream in high definition – designated by a note in yellow saying 1080p next to the movie title.