We are reader supported and may earn a commission when you buy through links on our site.
Learn more
How to Update Kodi on the Firestick and Fire TV, Quick and Easy Guide
Amazon Fire TV and Fire TV Stick devices make it easy to watch all the latest movies and TV shows from your TV, all without a cable subscription. Adding Kodi to the mix means you can stream even more content, everything from Hollywood blockbusters to your favorite foreign films, all for free. It's extremely important to keep Kodi up to date on your Fire TV, as each new version is faster, has extra features, and includes vital security updates that help keep you safe while streaming.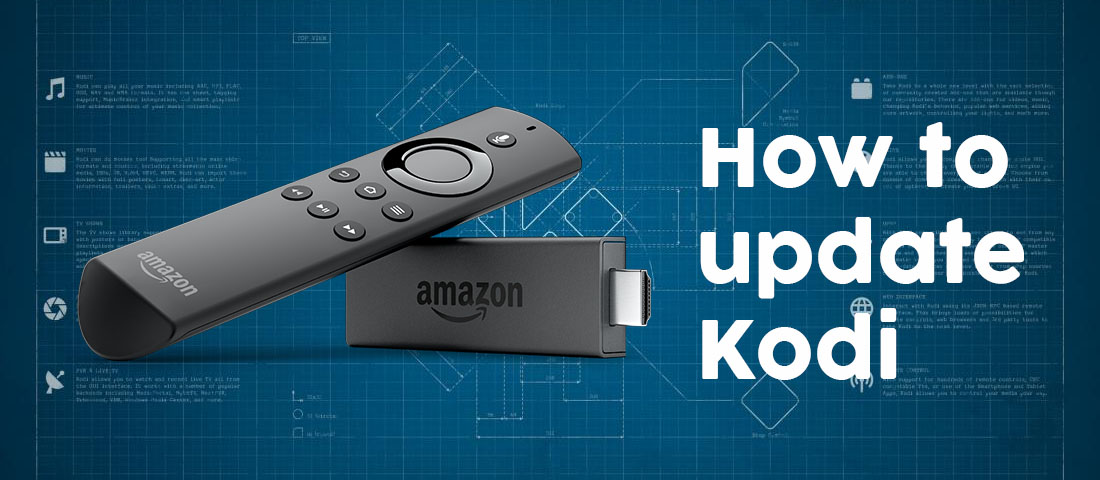 30-days money back guarantee
Enjoy Full Privacy with a VPN
Before you run off and start updating Kodi, there's one more thing you should consider adding to your Fire TV: a VPN. Virtual private networks give you an incredible amount of anonymity and security, two important features Kodi streamers should take note of. With a VPN all data that leaves your device gets encrypted, making it impossible for third parties to see what you're streaming. This puts an end to ISP throttling and prevents things like mass surveillance. It also gives you the ability to break through censorship and geo-restriction barriers to watch content from around the world.
Picking the right VPN for Fire TV and Kodi use can be a confusing affair. After all, not every VPN works on the low-powered device, meaning you could ruin your streaming experience with the wrong selection.
IPVanish – The Best VPN for Fire TV and Kodi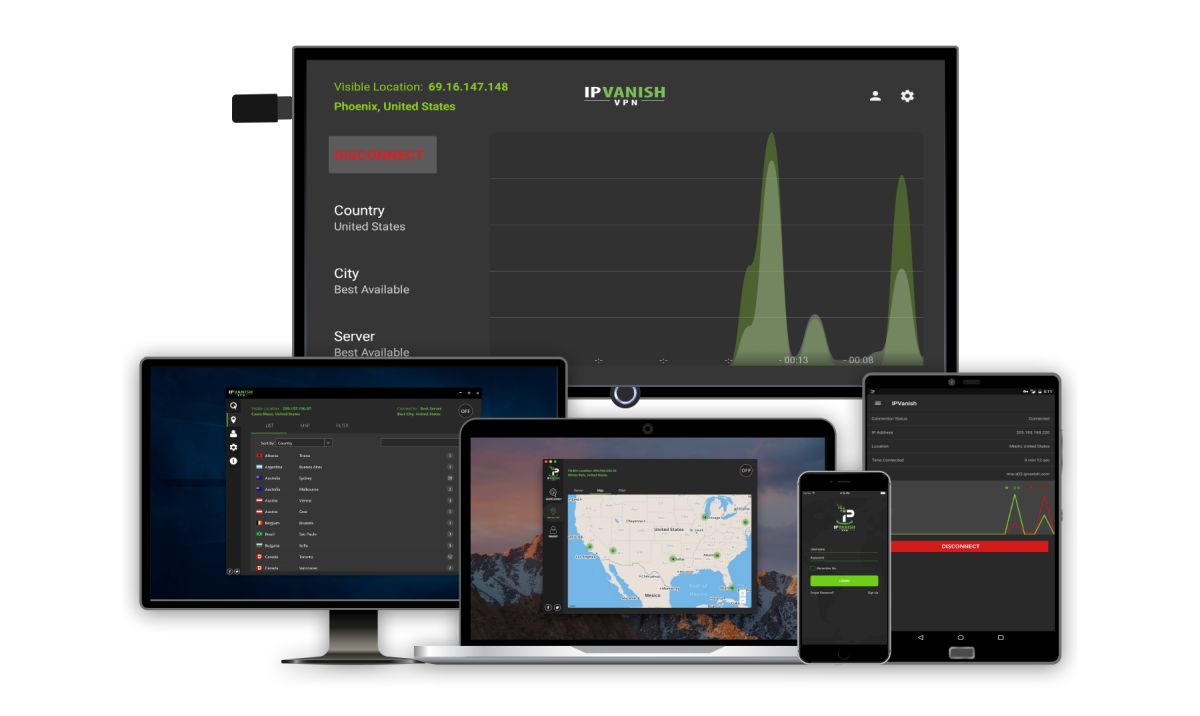 IPVanish is one of the best VPNs to use with Kodi on Fire TV devices, hands down. It's fast, secure, lightweight, and incredibly easy to use. It's also the only reliable VPN to have its app featured on Amazon's download market, meaning you can install it from your Fire TV without having to sideload! This alone makes IPVanish and Fire TV the perfect pair, but things get even more exciting when you factor in the service's excellent privacy record, strong encryption practices, and focus on high download speeds.
IPVanish's best features include:
Unlimited bandwidth with no restrictions on P2P traffic or torrent downloads.
Easily defeat ISP throttling and break through region lock barriers.
256-bit AES encryption with a strict zero-logging policy on traffic.
Huge network of 950 servers in 60 different countries.
IPVanish offers a 7-day money back guarantee which means you have a week to test it risk-free. Please note that Addictive Tips readers can save a massive 60% here on the IPVanish annual plan, taking the monthly price down to only $4.87/mo.
Kodi on Fire TV – The Basics
We've already covered the surprisingly simple process of installing Kodi on your Fire TV. Sideloading is pretty easy on the device, especially if you're not afraid of using third party software. The downside to adding apps through external sources is they won't update automatically, you have to manually re-install the app each time a new version releases.
Step 1 – Check Your Kodi Version
Kodi is constantly updating with new releases both large and small. While you don't have to stay on the most current version, it's always a good idea to keep the software as close to the latest as possible. Follow the steps below to check your Kodi version on your Fire TV device.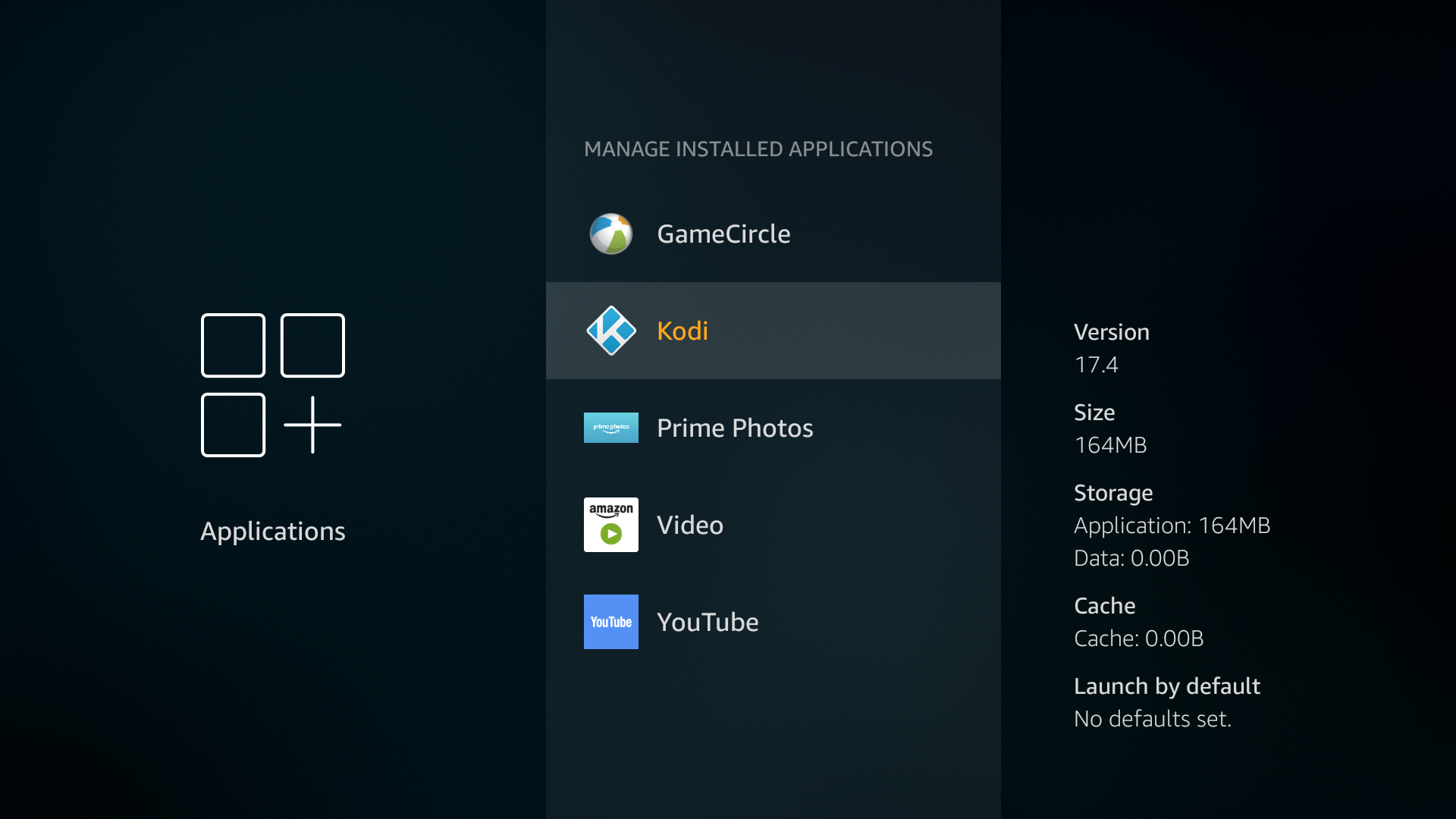 Run Kodi on your Fire TV.
From the main menu, navigate over to Settings.
Select the Applications icon from the Settings screen.
Scroll down to Manage Installed Applications.
Look for Kodi on the list and highlight it.
The version number will be displayed on the right side of the screen.
Step 2 – Compare the Version to Kodi Releases
Once you have the version number from your Fire TV installation of Kodi, it's time to check it against the official latest release.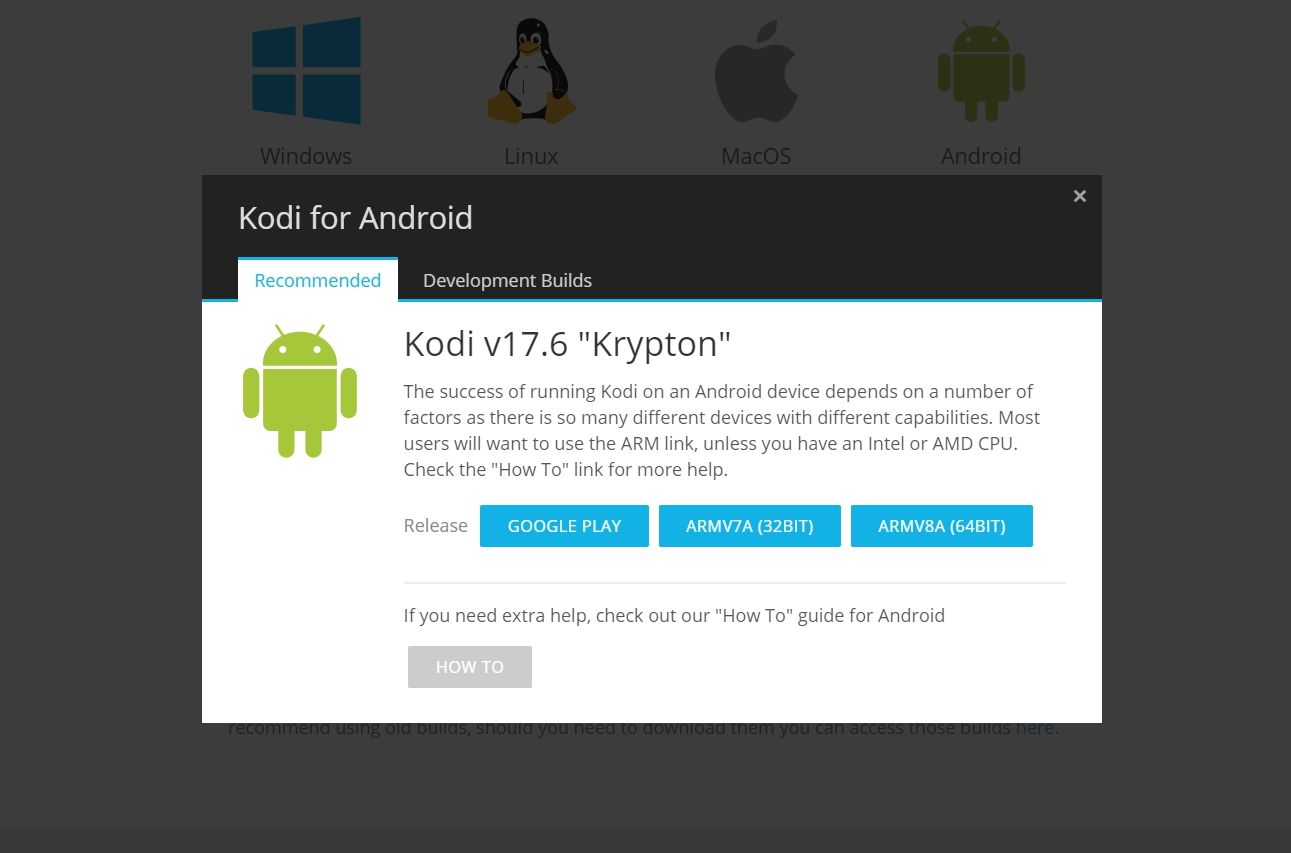 Visit the official Kodi website at Kodi.tv
Click on the blue Download button at the top right.
Scroll down to the download icons and choose Android. Fire TV's operating system is based on Android, and this is the version you'll need to use.
A small window pops open. Make sure you're on the "Recommended" tab, not "Development Builds".
Look at the current Kodi version listed in large print above the download links. It should follow this format: Kodi v17.6 "Krypton"
If your Kodi version number is lower than the one listed on the website, it's a good idea to go ahead and upgrade. If it's not, you don't have anything to worry about. Go watch a movie or something!
Step 3 – Start the Kodi Update Process
If your Kodi installation is a bit behind, it's time to get everything up to date. The update process is as straightforward as the sideloading process used to install Kodi in the first place. We've outlined a few of the more popular methods in the sections that follow.
How to Update Kodi on Amazon Fire TV
Updating Kodi on any Fire TV device is the exact same process as installing a fresh copy. Whatever method you used before will work the second time around, simply go through the steps with a newer Kodi apk and you're set. If you don't remember how you installed Kodi in the first place, don't worry, we cover the entire process below.
First, the Necessary Update Steps
There are a couple of popular methods for updating Kodi on Fire TV Stick and related devices. Which one you choose is entirely up to you, but there are a few necessary steps you have to follow no matter what. Go through the following points in order, then jump to either of the methods listed below.
Visit Kodi.tv and click the blue Download button.
Scroll down to the icons and choose Android.
In the window that opens, make sure you're on the "Recommended" tab.
Choose the button marked ARMV7A (32BIT) to copy the link or download the Kodi apk file.
On your Fire TV, go to Device > Developer Options and set "Apps from Unknown Sources" to ON.
Accept the warning message about installing external apps. Now you're free to install Kodi updates from any source.
As a final note, remember there's no need to uninstall Kodi before updating to the new version. Doing this will remove your personalized settings, add-ons, and themes. No matter which method you use below, leave Kodi on your Fire TV device and simply install the new version right on top of it.
Update Method 1 – adbLink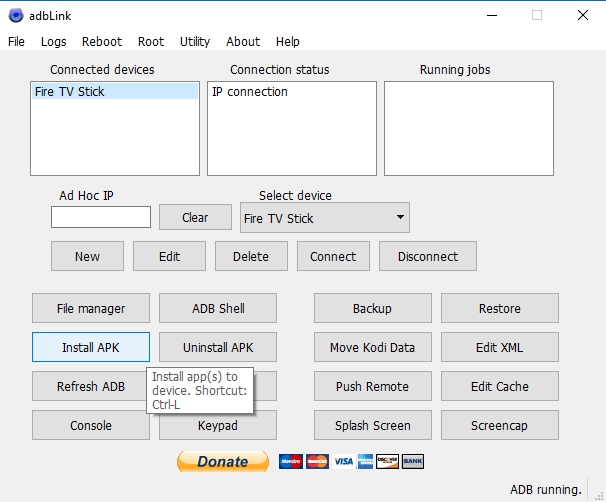 Sideloading apps to your Fire TV is a quick and painless process. There's no need to root or jailbreak your Fire TV, simply grab the right program, connect it to your Fire TV, then install away. We're big fans of adbLink, a free app for desktop PCs that gives you full control over your Fire TV. Follow the steps below to download and adbLink and use it to manually update Kodi.
Follow the necessary steps listed in the section above. Make sure you download the Kodi apk in step 4.
On your Fire TV device, go to Settings > About – Network and write down the IP address on the right.
Visit the adbLink website on your PC and download the program.
Install adbLink and launch it.
In adbLink, click "new" next to the devices box and add your Fire TV.
Type the IP address of your Fire TV Stick into adbLink.
In adbLink, click the Install APK button.
Select the Kodi apk file you downloaded earlier and add it through adbLink.
Click Yes when the Install APK prompt appears.
The new version of Kodi will install to your Fire TV and be available to use right away.
Update Method 2 – Downloader App
If you'd rather stick to your Fire TV for updates, there's an extremely useful piece of software you can download directly from the Amazon Appstore. Downloader App is a simple program that lets you enter any URL and install files without the need for a PC. It's perfect for adding third party apps like Kodi to your Fire TV, and using it to update apks is just as easy. Follow the steps below to use Downloader App to update Kodi.
Follow the necessary steps listed in the section above. Make sure you copy the apk download link in step 4.
Open the Amazon Appstore on your Fire TV by going to the home page and choosing Apps.
Browse for Downloader under the utilities category and install it.
On your Fire TV, run Downloader and type the Android apk URL from the Kodi website into the box.
Downloader will get the file from the website. When it completes, launch the apk from Downloader and Kodi will install it automatically.
Update Method 3 – apps2fire
If you have an Android device separate from your Fire TV Stick, apps2fire is an excellent way to install and manage apps on it. It's a free download and works must like adbLink above, only instead of downloading apks separately, you simply install them on your Android phone first, then "push" them to the Fire TV device. Follow the steps below to get everything set up on both pieces of hardware.
Follow the necessary steps listed in the section above.
On your Fire TV, go to Settings > About – Network and write down the IP address on the right.
Install the newest version Kodi on your Android phone or tablet. You can do this directly from Google Play by searching for "Kodi" on that device.
On the same Android phone, install apps2fire from Google Play. Make sure it's the one developed by Koni, as there are some copycats on the marketplace.
Run apps2fire and let it create a list of your local installs.
Slide the menu left and tap Setup.
Enter your Fire TV's IP address from step 2, then tap "Save". You may also need to tap "Search Fire TVs" just below that.
Go to the Local Apps tab and scroll down to Kodi.
Tap on Kodi, then select "Install" when the window opens.
After a moment, Kodi will upload to your Fire TV and automatically update to the latest version. This can take some time, as the app itself is pretty large.
Notes About Kodi Fire TV Updates
Kodi is a straightforward piece of software that works the same on just about every device. The Fire TV interface is somewhat limited in scope, however, which can create some confusion. You don't have access to all the same update and management options as you do on desktops or smartphone operating systems, after all.
Does Kodi Automatically Update?
On most devices Kodi can check for updates and open a notification screen informing you a new version is available. You have to download and install it yourself, however, which is a simple security measure put in place by the software designers. Since Kodi is only available on Fire TV through sideloading, however, it doesn't gain the same benefits of automatic updates as the rest of your Fire apps. It's a good idea to check for new versions every few weeks just to make sure your installation stays as current as possible.
Are Kodi Updates Required?
Kodi's update cycle sticks to a simple plan. Most updates are incremental, jumping from 17.4 to 17.6, for example. Others are named updates that jump a whole number and get their own name. The 16.X versions of Kodi were called Jarvis. When version 17 was announced, it was named Krypton. Kodi 18 has already been announced for some platforms and goes by Leia.
Most incremental updates aren't necessary for Kodi's continued performance. They mostly contain speed improvements, security fixes, and maintenance things like that. When it jumps up a full number, however, you know you'll eventually have to upgrade or risk losing access to your favorite add-ons. There's usually a grace period of months or even years between this mandatory update, however.
What's the Difference between Release and Nightly Builds?
When downloading Kodi for several platforms, including Android/Fire TV, you'll notice two tabs filled with links. The one marked "Release" is reserved for tested and official downloads marked as stable and ready for public consumption. Nightly Builds, on the other hand, are bleeding edge compiles that could be full of bugs or crash without warning. Since the Fire TV update process is cumbersome by comparison, it's a good idea to stick with Release builds.
Conclusion
Pairing Kodi with Fire TV means a nearly infinite source of free movies, TV shows, cartoons, and more, all available at the touch of a button. It's pretty much guaranteed to turn you into the king of all couch potatoes. Keeping Kodi up to date is an important step in getting the most out of your installation, as well. All you have to do is run a few apps and you're good to go.