Vimeo Kodi Add-on: How to Watch Vimeo On Kodi
Vimeo is a popular alternative video hosting platform. Unlike YouTube which is huge and has videos on almost every subject imaginable, Vimeo is more narrowly focused. Some of the most popular content on Vimeo is fashion videos, music videos, documentaries, and amateur video projects like animated shorts. If YouTube is the Hollywood of video streaming platforms, then Vimeo is the indie film circuit.

If you like to watch Vimeo and you're a Kodi user, then you might want to find a way to show Vimeo videos through your Kodi system. The Kodi media centre software is open-source software which is great for displaying your media library right out of the box. But when you install add-ons for Kodi, you can expand its functionality even further. The Vimeo add-on for Kodi lets you browse and stream Vimeo content straight from your Kodi device. Below we'll show you how to install the Vimeo add-on and how to use it so that you can watch Vimeo on Kodi.
Why You Should Get A VPN When Using Kodi
But before we get to the installation of the add-on, we need to address potential security issues. Although the Kodi software itself is open source and totally legal to use, some of the add-ons which you can install are created by third-party developers and so can exist in a legal grey area. Some of these add-ons enable you to stream copyrighted content for free, and even if you do so accidentally, if you're using an unsecured internet connection then you could be fined or face other legal repercussions.
To avoid any such legal problems when using add-ons with Kodi, we recommend getting a VPN. A Virtual Private Network works by encrypting all of your internet traffic so that even if your ISP or a law enforcement agency looks into your internet activity, all they can see is how much data you used, not what the contents of that data was. Here are the features that we think are most important in a VPN provider: fast connection speeds, support for several operating systems, plenty of servers in many different countries and no logging.
We Recommend IPVanish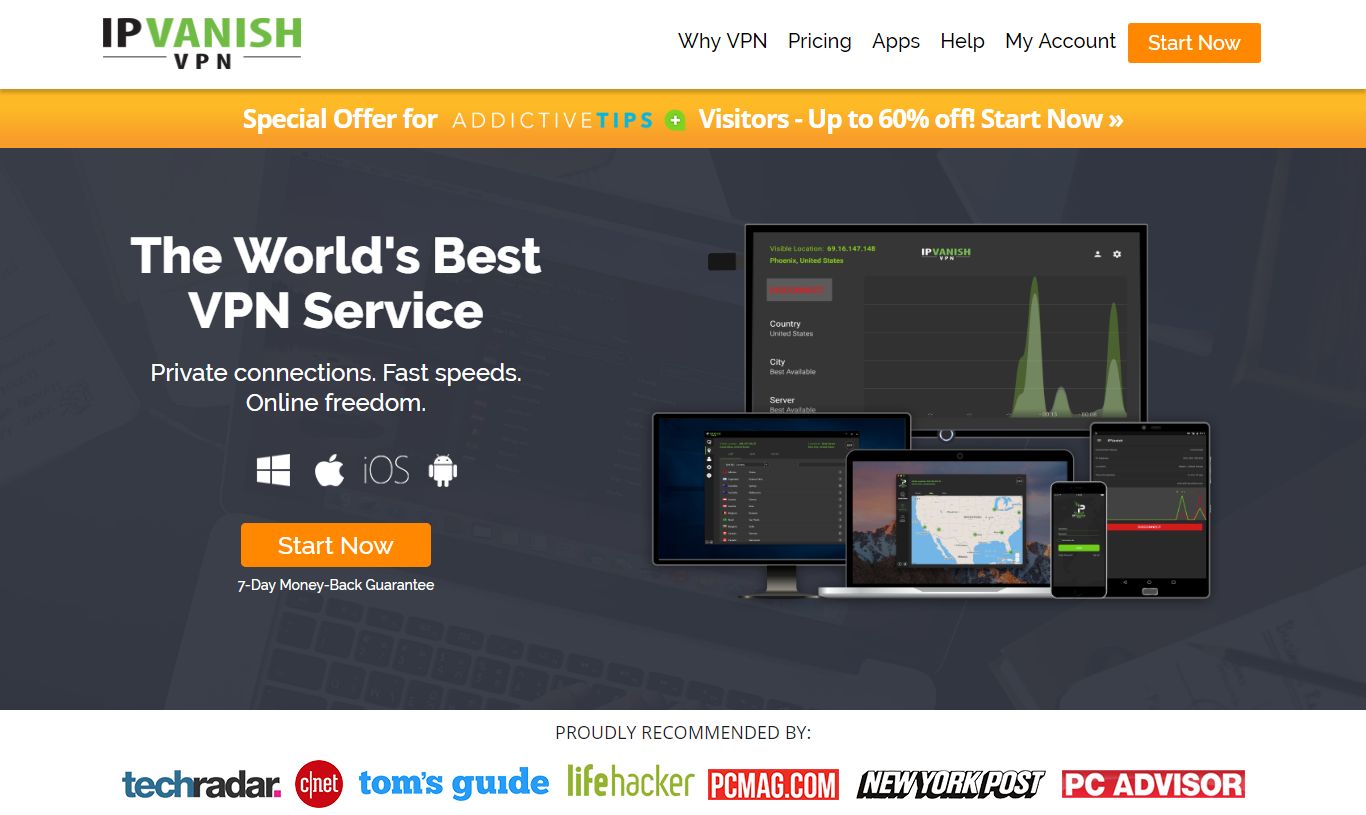 The best VPN for use with Kodi is IPVanish. We made our decision because of it its wide availability across platforms (including PC, Mac, Android, iOS, and even the Amazon Fire TV stick), expansive network of over 850 proxy servers in 60 countries across the world, strong 256-bit AES encryption, and strict no-logging policy.
If you want to try out IPVanish, we have a special offer which is exclusive to Addictive Tips readers! You can get a huge 60% discount on the yearly plan, which works out to only $4.87 per month. There's even a 7-day money-back guarantee so you can buy in confidence.
With the VPN issue sorted, we can move on to installing the Vimeo add-on for Kodi.
How to Install the Vimeo Add-on for Kodi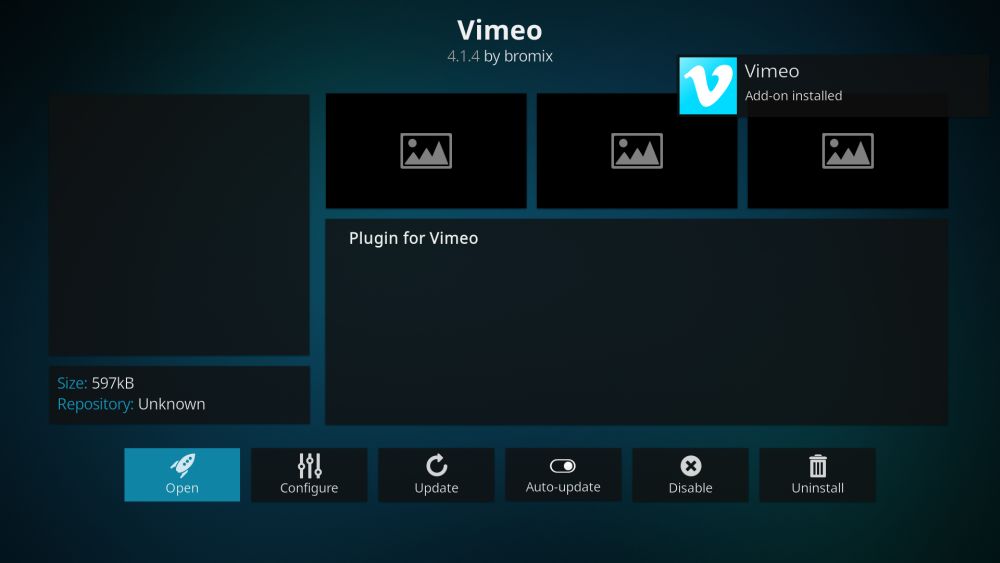 We're going to install the Vimeo add-on for Kodi. This is very simple to do as the Vimeo add-on is an officially supported add-on. This means that we don't need to add any third-party repository, and we can install straight from the default Kodi repository.
To install the Vimeo add-on, just follow these step-by-step instructions:
Start on your Kodi home screen
Click on Add-ons
Click on the icon that looks like an open box (upper left corner)
Click on Install from repository
Go to Kodi Add-on repository
Go to Video add-ons
Scroll all the way down to Vimeo
Click on it and a box describing the add-on appears. Click install on the bottom menu
Wait a minute and you'll see a notification once the add-on in installed
That's it!
How to Use the Vimeo Add-on for Kodi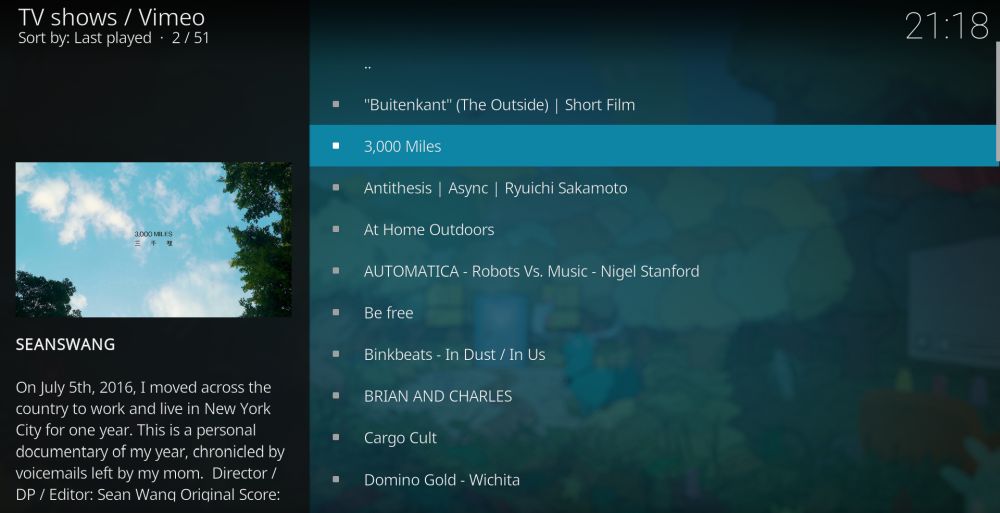 With everything installed we can start using the add-on. Here's how to use the Vimeo add-on for Kodi:
Start on your Kodi home screen
Go to Add-ons
Go to Video add-ons
Click on Vimeo
You'll see three options: Featured, Search, and Sign In

Featured shows you videos which have been highlighted by the Vimeo staff. You'll find sections like Vimeo Staff Picks, Short of the Week, selections from The New York Times, an Everything Animated section, and Vimeo Weekend Challenge Winners. The Staff Picks section is particularly good and hosts everything from documentaries to music video to homemade animated shorts. Select any category and it will open up a list of videos in alphabetical order. Click on the title of any video to open it
The Search feature brings up a text input box which you can use to search. Type in any keyword such as "documentary" and click OK to search. A list of videos related to your keyword will appear. Click on the title of any video to open it. A useful feature is that the add-on will keep track of your previous searches. So next time you come back to Search, you can see your search results for your previous search – in this case, documentary – or you can choose to perform a new search
The Sign In function takes you to the settings page for the Vimeo add-on. Here you can enter your Vimeo username and password if you have one in order to be able to access your saved videos and other personal features. On this settings page you can also change options like the default video quality (we recommend leaving it at 1080p (HD) for the best viewing experience), how many items should be displayed per page, and how many of your previous searches should be saved. Once you have changed any options that you want, click OK on the right hand side to go back to the add-on
Conclusion
The Vimeo add-on for Kodi is easy to install and easy to use. You can use it to access content like documentaries and homemade animated movies which you can't find on other video hosting sites. Also, because the add-on is officially supported, you'll find that the video streams are fast, reliable, and high quality. If you're looking for specific video content which isn't hosted elsewhere, or if you want to explore videos that have a different feel than YouTube or other streaming sites, then we highly recommend you check out the Vimeo add-on.
If you have any issues installing or using the Vimeo add-on, just let us know in the comments below and we'll do our best to help!