We are reader supported and may earn a commission when you buy through links on our site.
Learn more
Watching CBC Sports on Kodi — For The Best In Canadian Sports
The Canadian Broadcasting Corporation, also known as CBC, is Canada's public TV and Radio broadcaster. It offers viewers a wide range of programming. The CBC Sports section specializes in covering sports events such as the Winter Olympics 2018 in PyeongChang, Korea. And the CBC Sports add-on for Kodi allows you to watch content from the cbcsports.ca website directly from Kodi.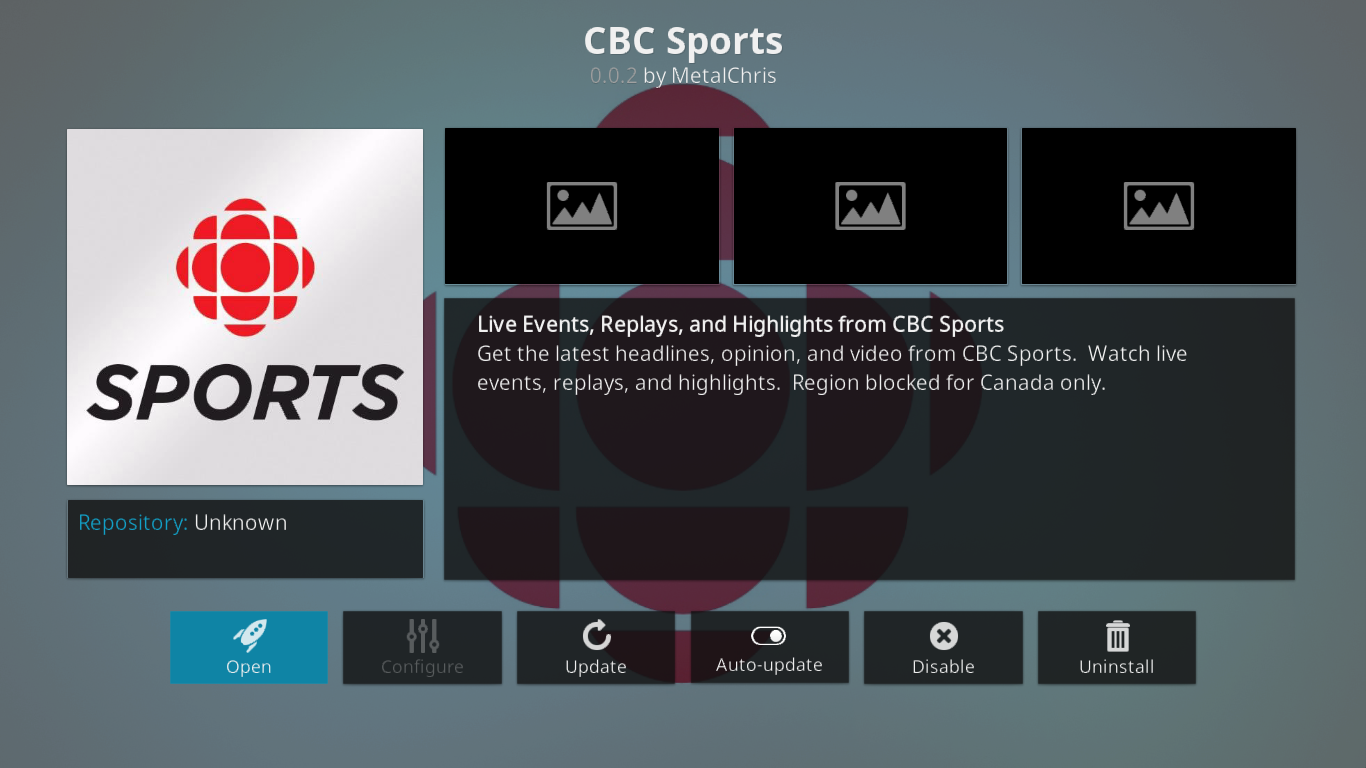 We'll begin our article today by introducing the Canadian Broadcasting Corporation and its sports division, CBC Sports. We'll then give you detailed instructions on how to install the CBC Sports add-on on Kodi. Once we're done installing it, we'll take you on a guided tour fo the add-on. This is a relatively small add-on so we'll be able to tell you about everything it has to offer. And since this is the winter Olympics' season, we'll also introduce the CBC Olympics add-on and give you detailed installation instructions and an overview of its features.
30-days money back guarantee
For Your Protection When Streaming, Use a VPN
Your Internet Service Provider could be monitoring your online activity with the goal of ensuring you're not violating their terms and conditions. And if they suspect–even erroneously–that you are, they might react by throttling down your speed, sending you infringement notices or even interrupting your service. To protect yourself and avoid the scrutiny of an overzealous ISP, you should use a virtual private network. A VPN protects your privacy by encrypting all data in and out of your computer using strong algorithms that make it almost impossible to crack. Even your ISP won't be able to see what you're doing or what resource you're using. As an additional benefit, by choosing appropriately located servers, a VPN allows bypassing geographic restrictions.
There are many VPN providers to choose from. Choosing the best can thus be a daunting task. There are several factors to consider. Among the most important, a fast connection speed will reduce buffering, a no-logging policy will further protect your privacy, no usage restrictions will let you access any content at full speed and software for multiple devices will ensure it works with your equipment.
The Best VPN To Use With Kodi: IPVanish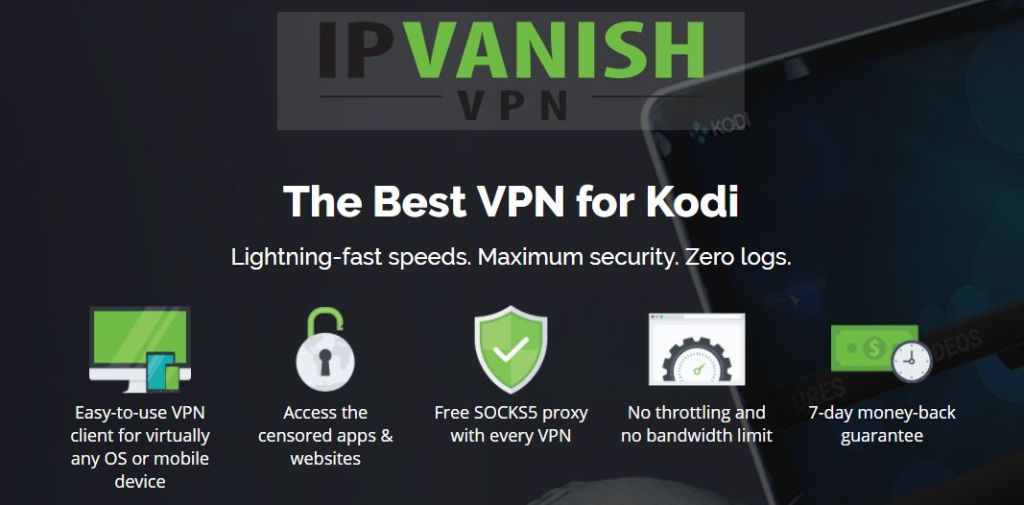 We've tested several VPN providers against our criteria and the VPN we recommend for Kodi users is IPVanish. With servers worldwide, no speed cap or throttling, unlimited bandwidth, unrestricted traffic, a strict no-logging policy and client software available for most platforms, IPVanish delivers impressive performance and great value.
*** IPVanish offers a 7-day money back guarantee which means you have a week to test it risk-free. Please note that Addictive Tips readers can save a massive 60% here on the IPVanish annual plan, taking the monthly price down to only $4.87/mo.
CBC Sports in a Nutshell
CBC Sports is the division of the Canadian Broadcasting Corporation responsible for English-language sports broadcasting. Their programming primarily airs on CBC Television and CBCSports.ca. As for the Canadian Broadcasting Corporation, it is a Canadian Federal Crown Corporation. It is Canada's national public radio and television broadcaster.
CBC Sports used to be Canada's primary sports broadcaster. In recent years, however, it has lost many of its past signature properties. They used to have the Canadian Football League, Toronto Blue Jays baseball, Canadian Curling Association championships, the Olympic Games, the FIFA World Cup, and the National Hockey League. They've lost most of it to the Canadian specialized channels TSN and Sportsnet. The first is a partly owned by ESPN while the other belongs to Rogers Communications. Being privately owned, they can spend much more on broadcasting rights than the CBC can.
In recent years, the CBC's sports coverage has been mostly restricted to Olympic sports and the Olympics themselves, several amateur events, as well as the Calgary Stampede and show jumping from Spruce Meadows. CBC has managed to keep partial rights to the NHL as part of a sub-licensing agreement with current rightsholder Rogers Communications. All they have left is the Saturday-night Hockey Night in Canada–which started as a radio program back in 1931 and moved to the TV when the CBC opened its first station in 1952–and playoff coverage. And even then, this coverage is produced by Sportsnet. Most of the CBC's sports coverage is broadcast by CBC Television on weekends under the title Road to the Olympic Games.
The CBC Sports Add-on Installation
The CBC Sports add-on is installed from the Indigo Tool. This is quite different from the usual process of installing add-ons from repositories. It is not any harder, though, especially if you follow our detailed, step-by-step instructions.
Enabling Unknown Sources
Before installing third-party add-ons on Kodi, you must first enable Unknown Sources. Here's how it's done.
From the Kodi home screen, click the Settings icon. This is the little gear at the top left of the screen.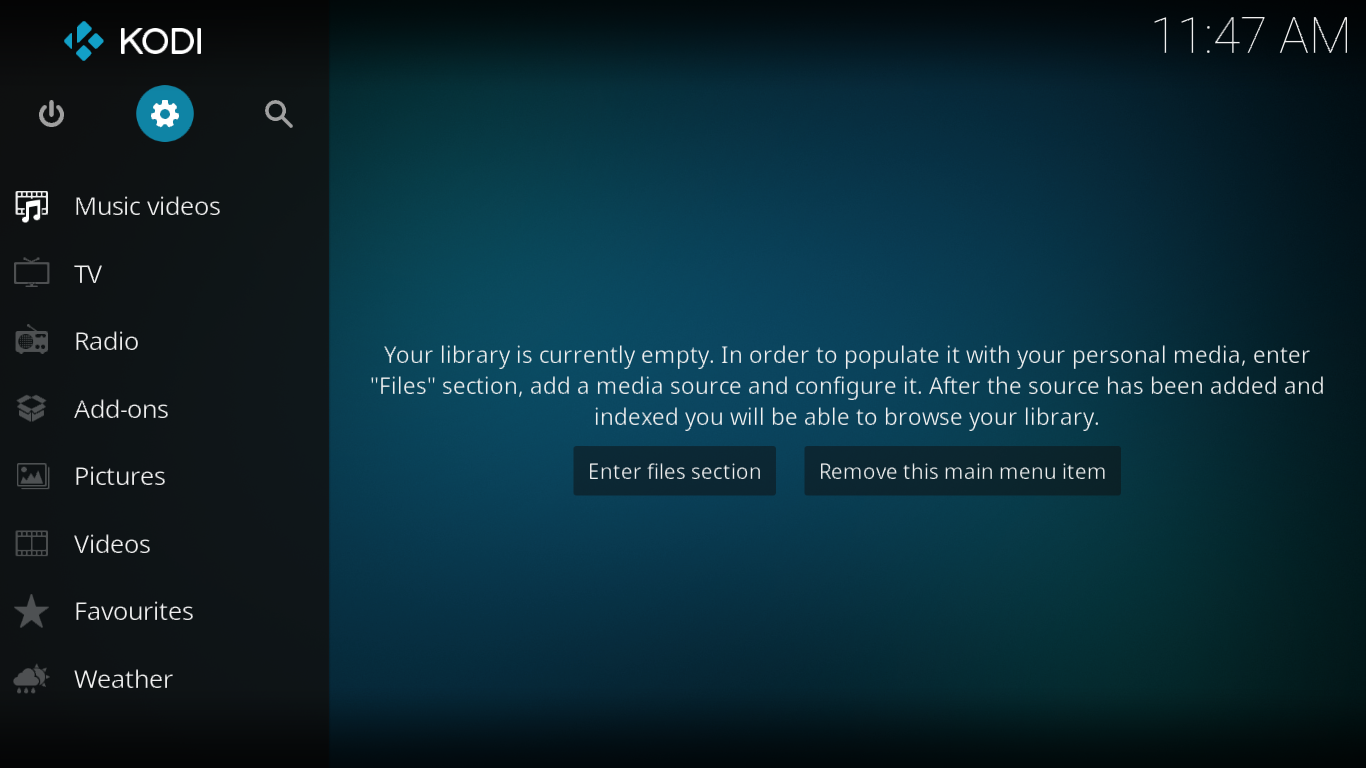 Then, click System settings.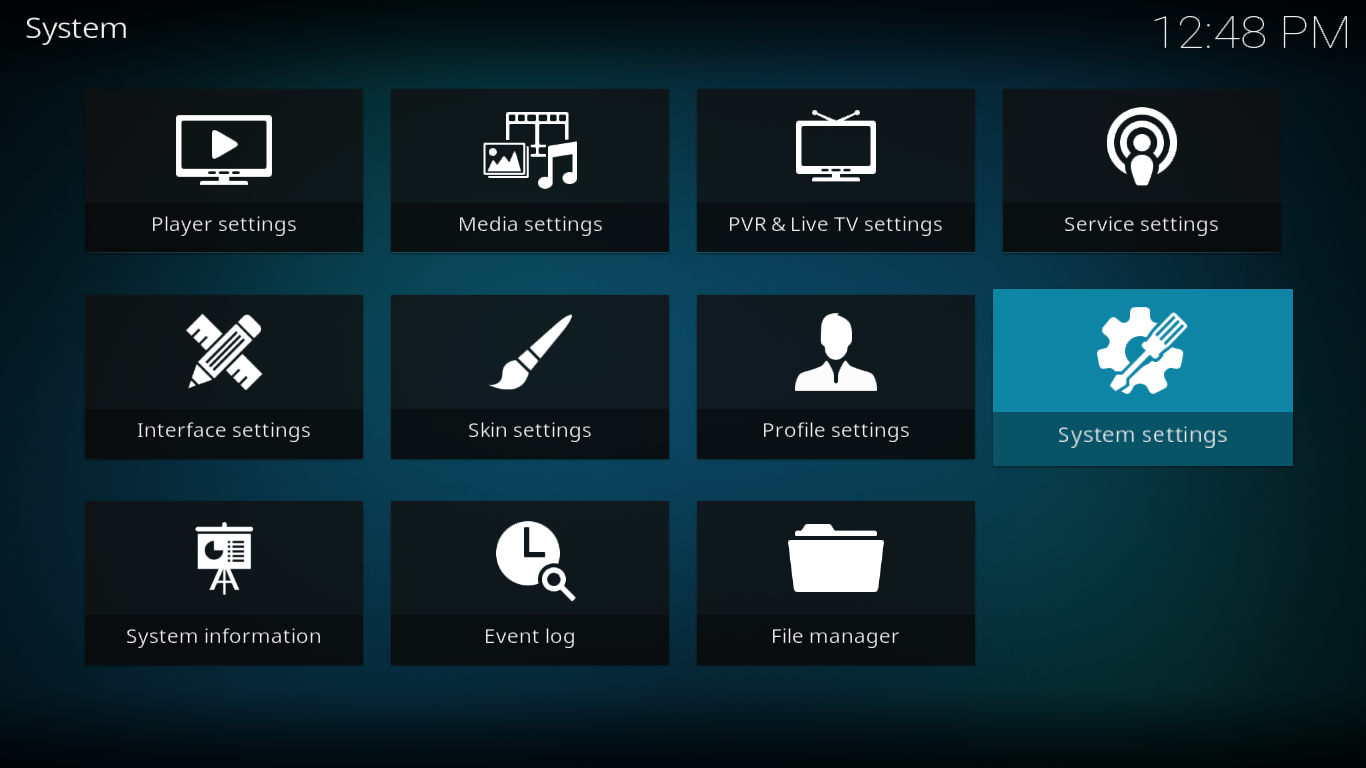 From the System settings screen, click add-ons on the left side menu and click the line that says Unknown sources to enable them.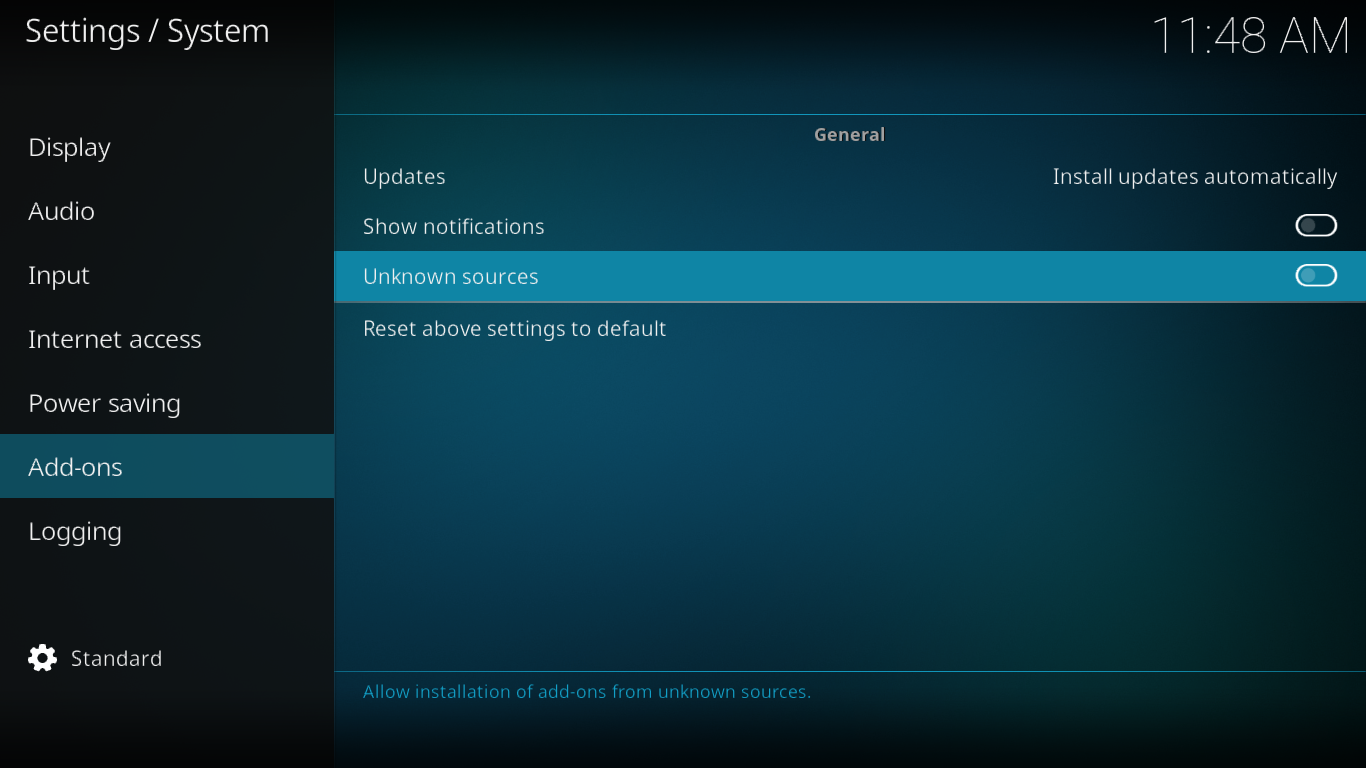 A message box will pop up. Read the warning and click Yes to close the box.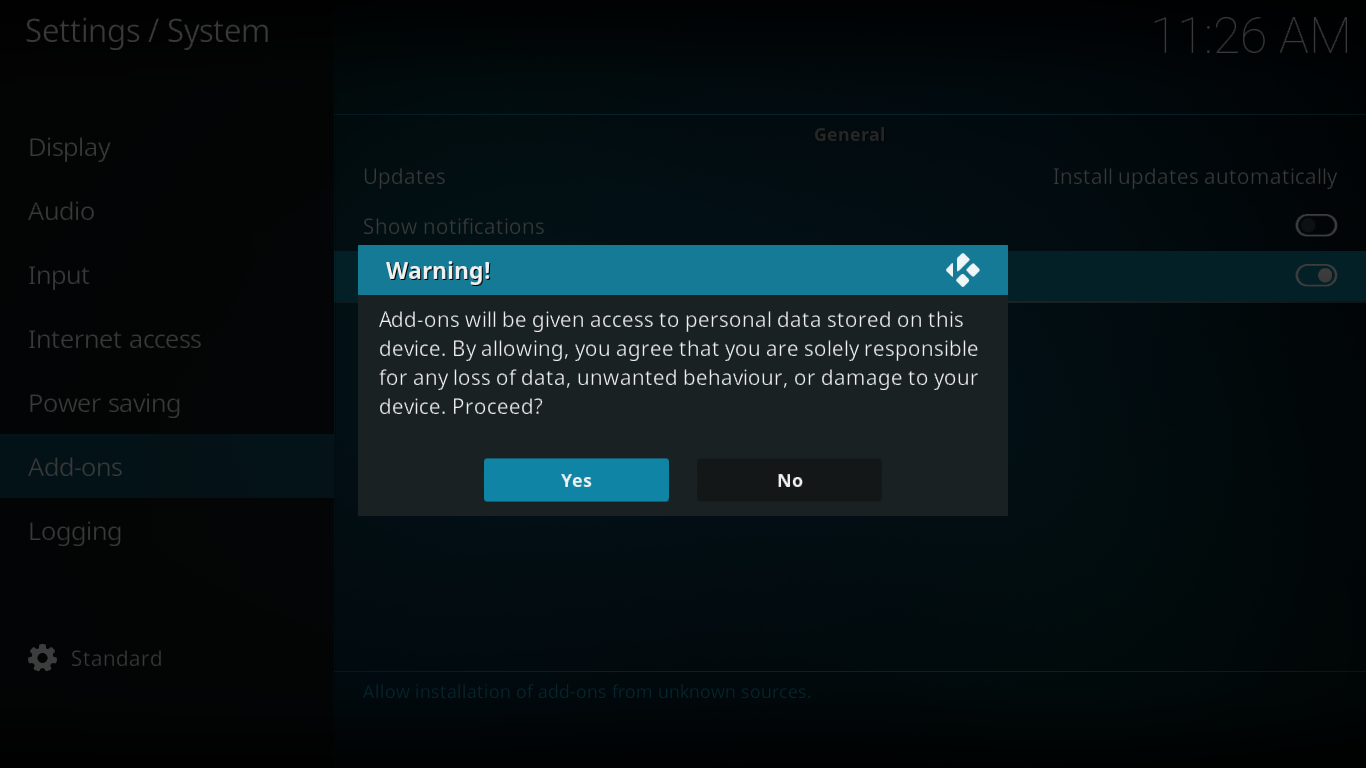 Installing The Indigo Tool
Starting from the Kodi home screen, click the Settings icon. Then, from the settings screen, click File manager.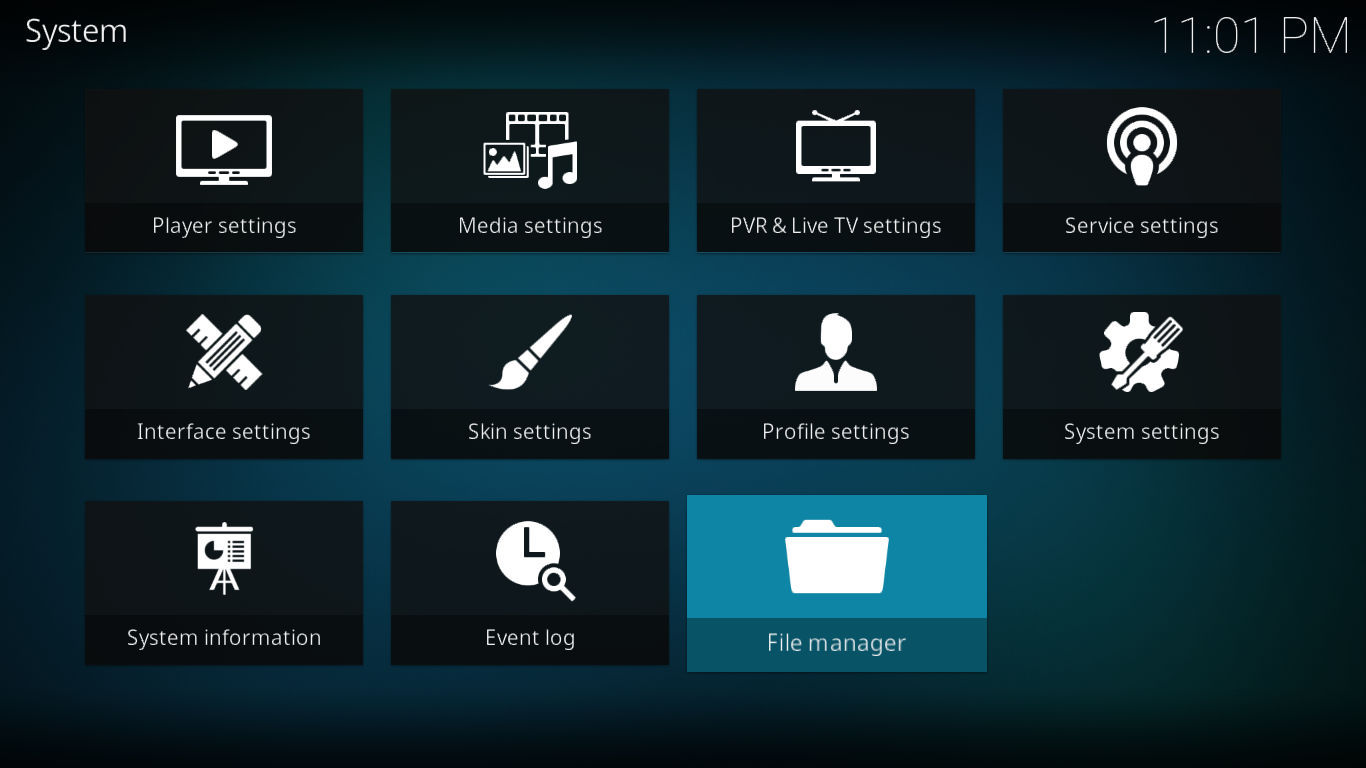 From the File manager screen, double-click Add-source on the left pane.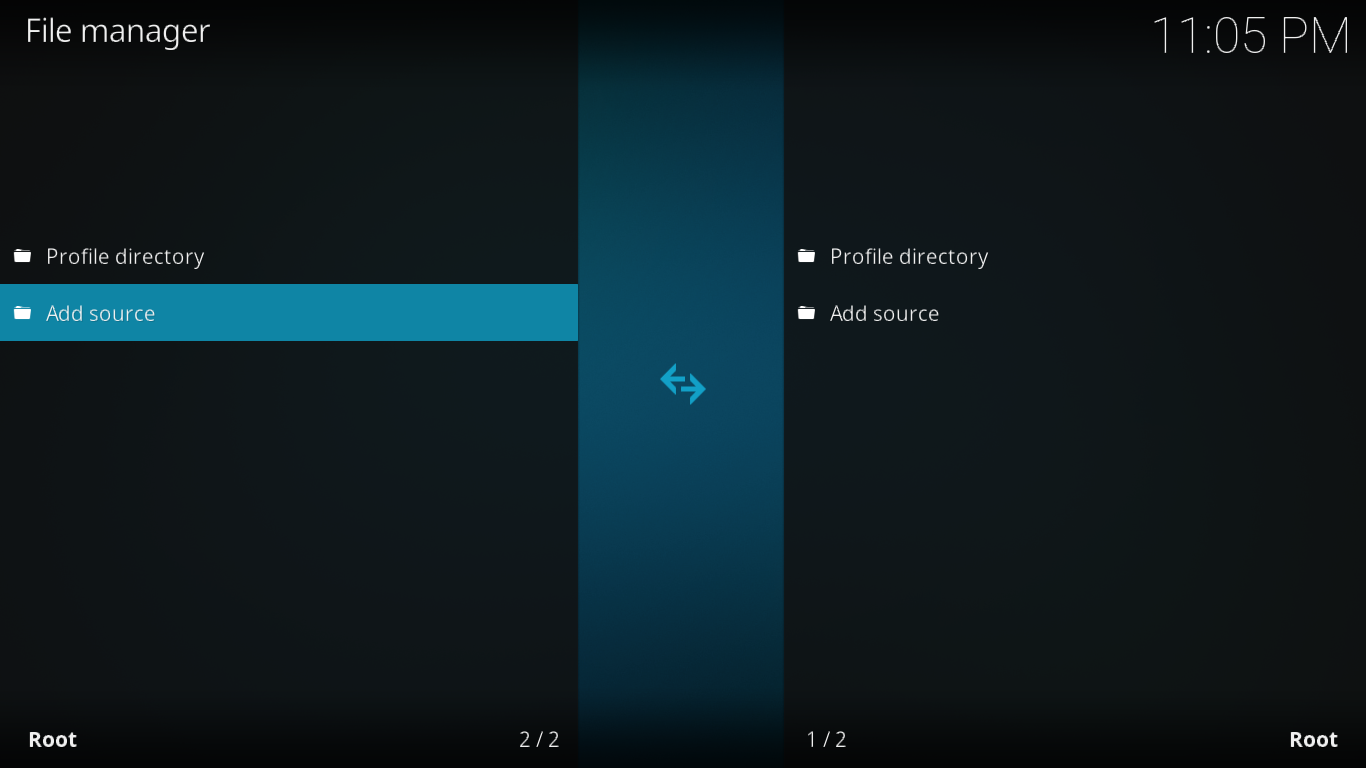 Click <None> and then type in the path exactly like this: https://fusion.tvaddons.co then click OK.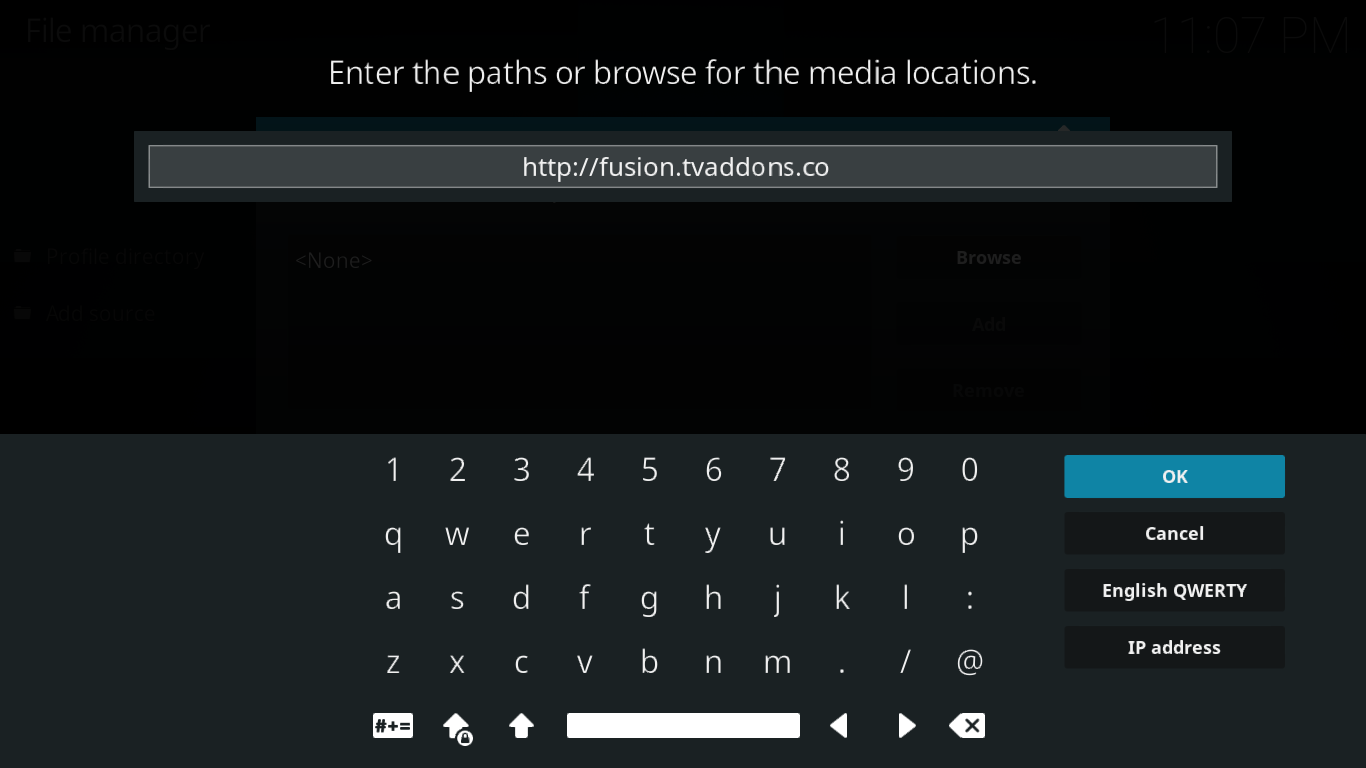 Click the box below "Enter a name for this media Source" and type in a meaningful name. Let's call it Fusion.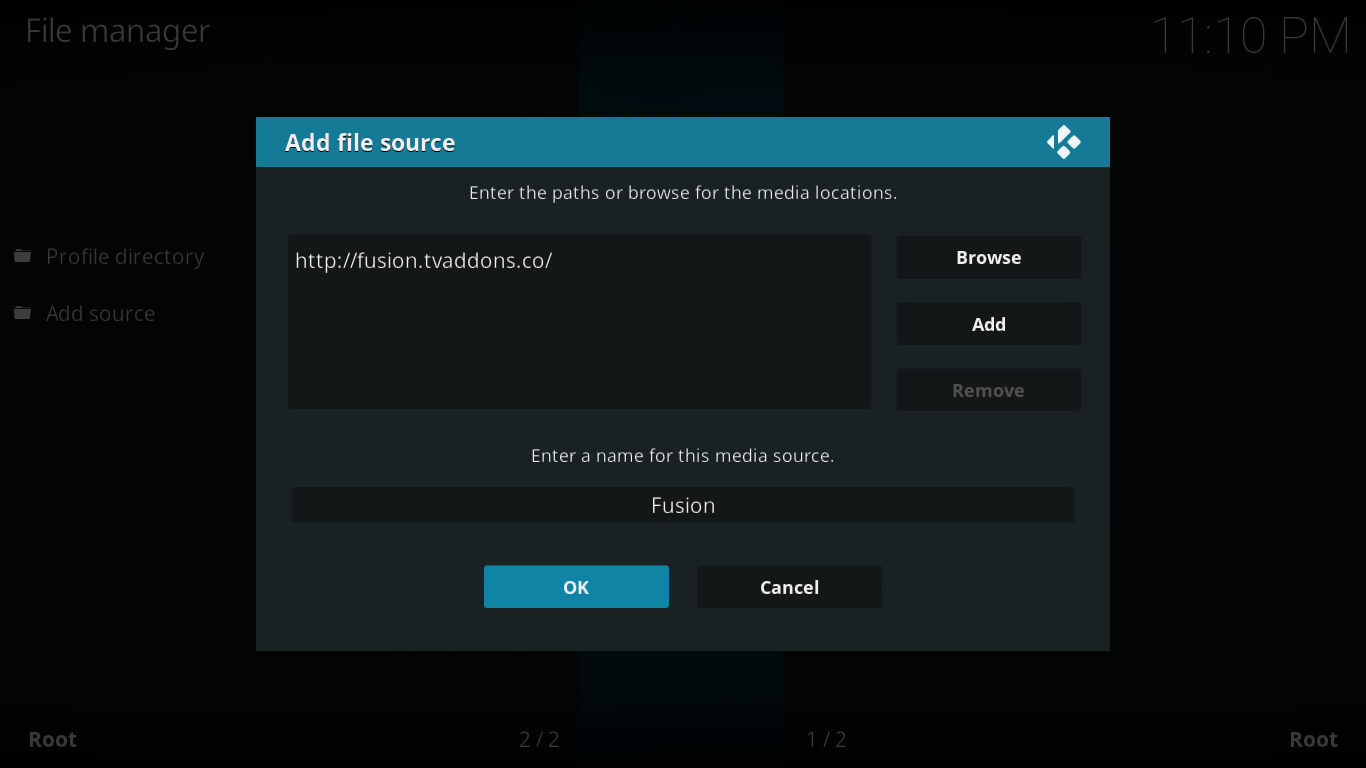 Make sure everything looks correct and click OK to save the new file source.
navigate back to the Kodi home screen and click Add-ons from the menu on the left side.
Click the Add-on Browser icon. This is the one that looks like an open box.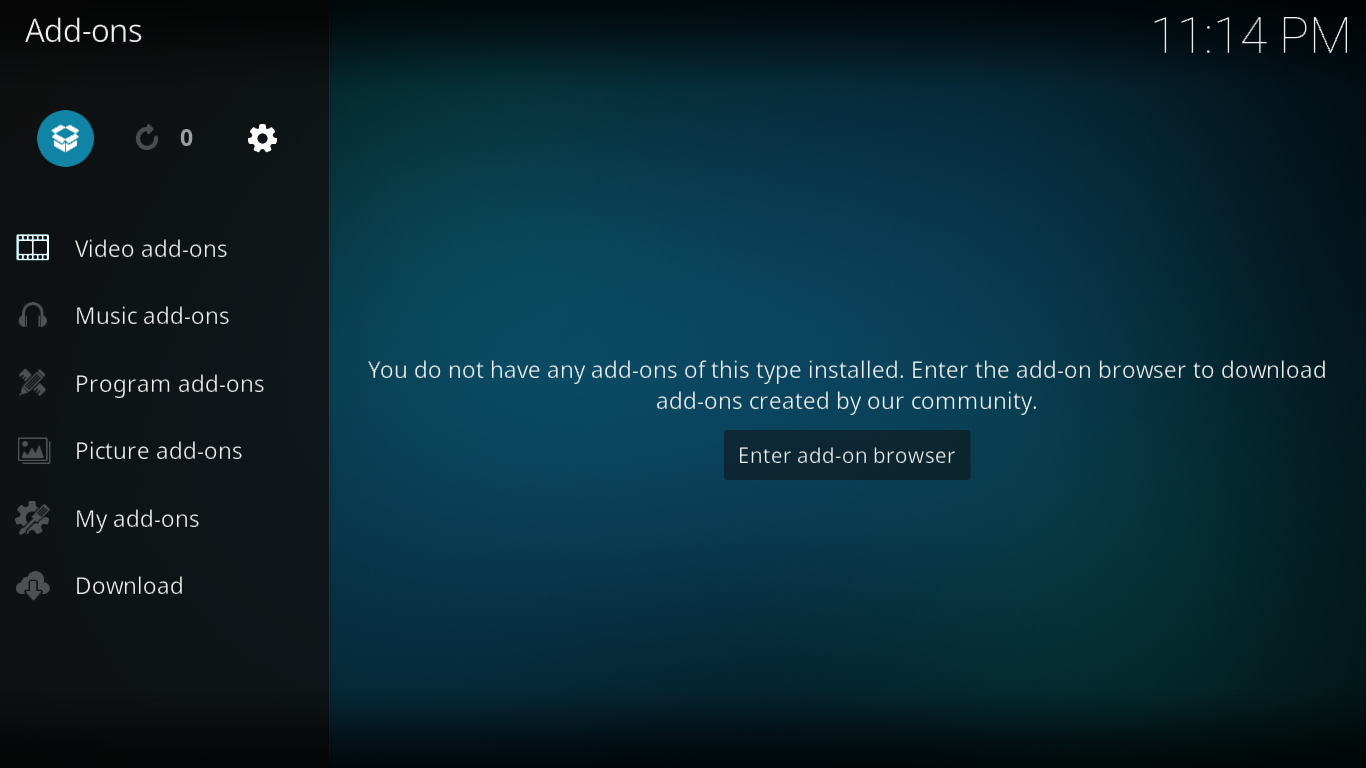 From the Add-on browser screen, click Install from zip file.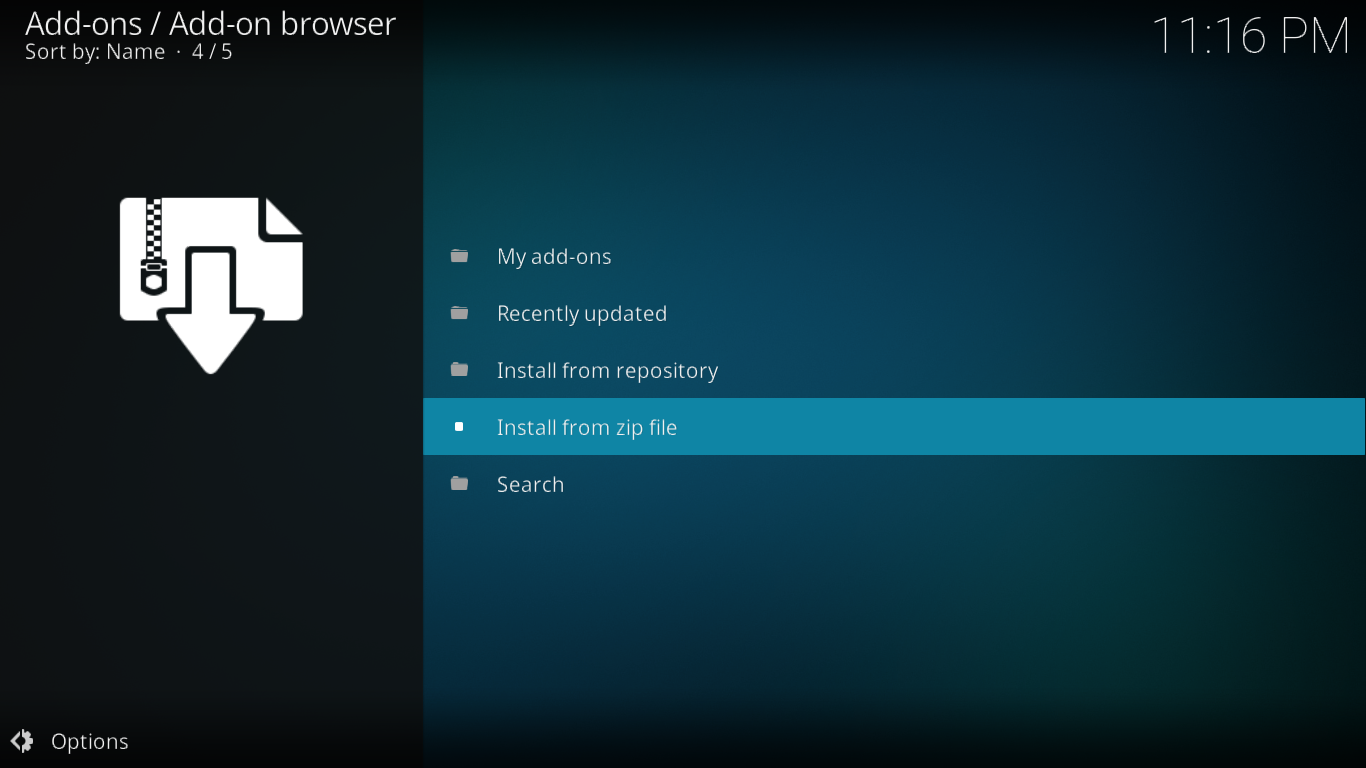 Click the Fusion source that we just added in the previous step, then click begin-here, and finally, click plugin.program.indigo-x.x.x.zip. This will launch the Indigo Tool installation.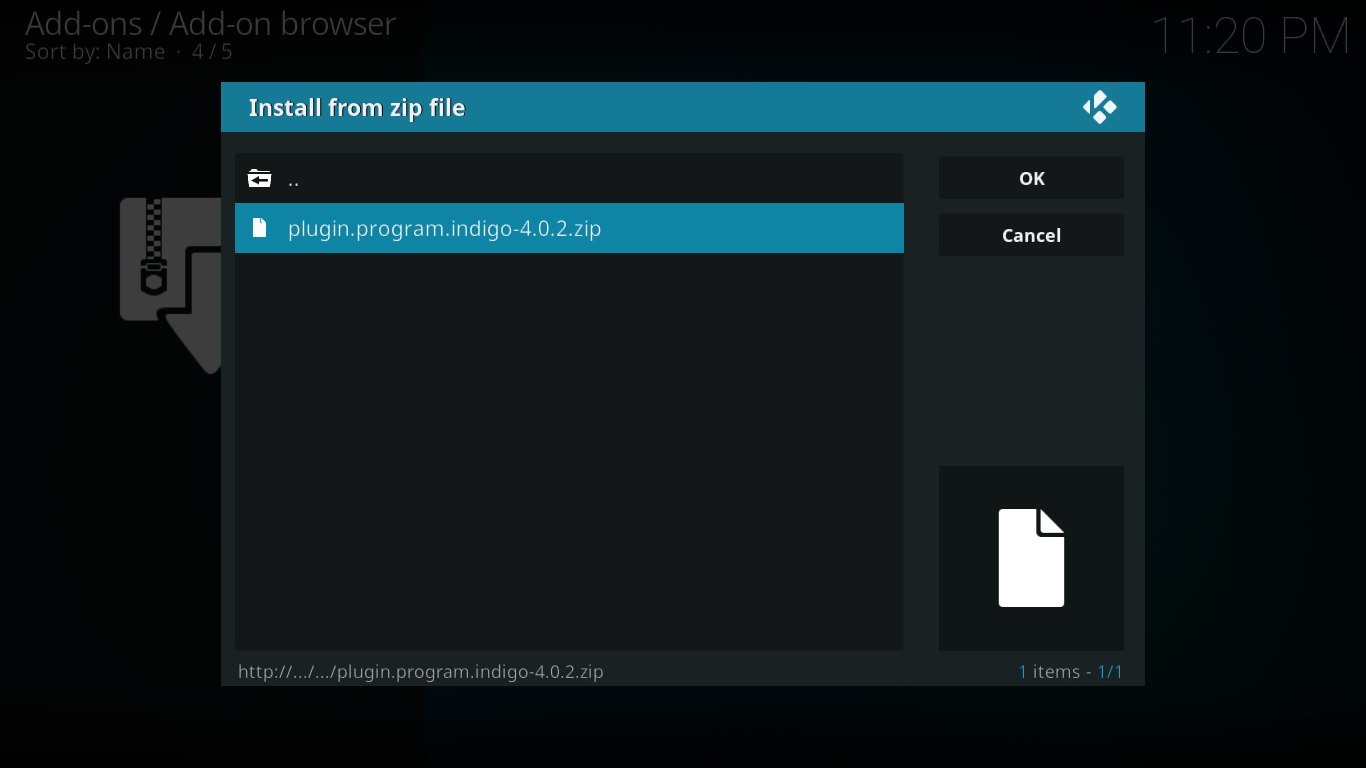 The installation should take a few minutes and a message at the top right of the screen will soon confirm its successful completion.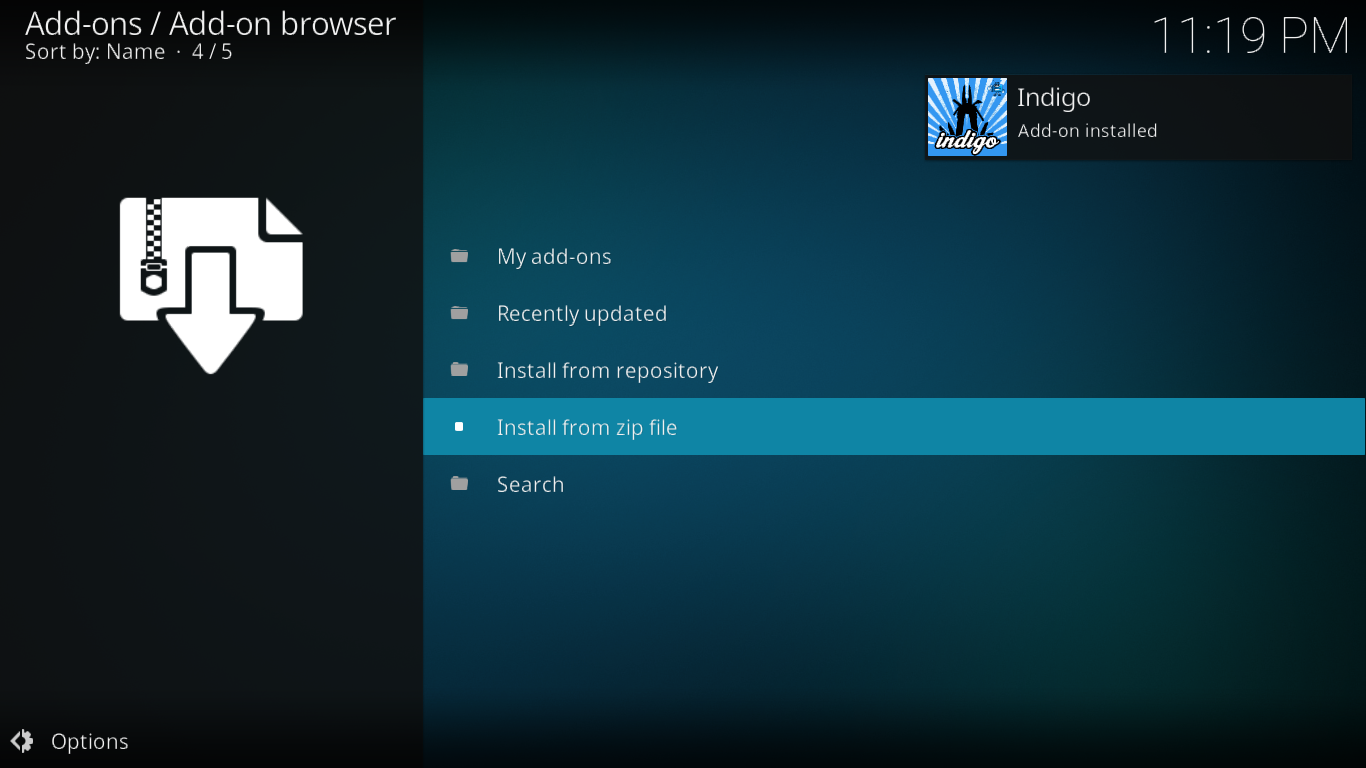 Installing The CBC Sports Add-on
Begin by launching the Indigo tool. You'll find it under either Video add-ons and Program add-ons.
From the Indigo tool Main menu, click Addon Installer.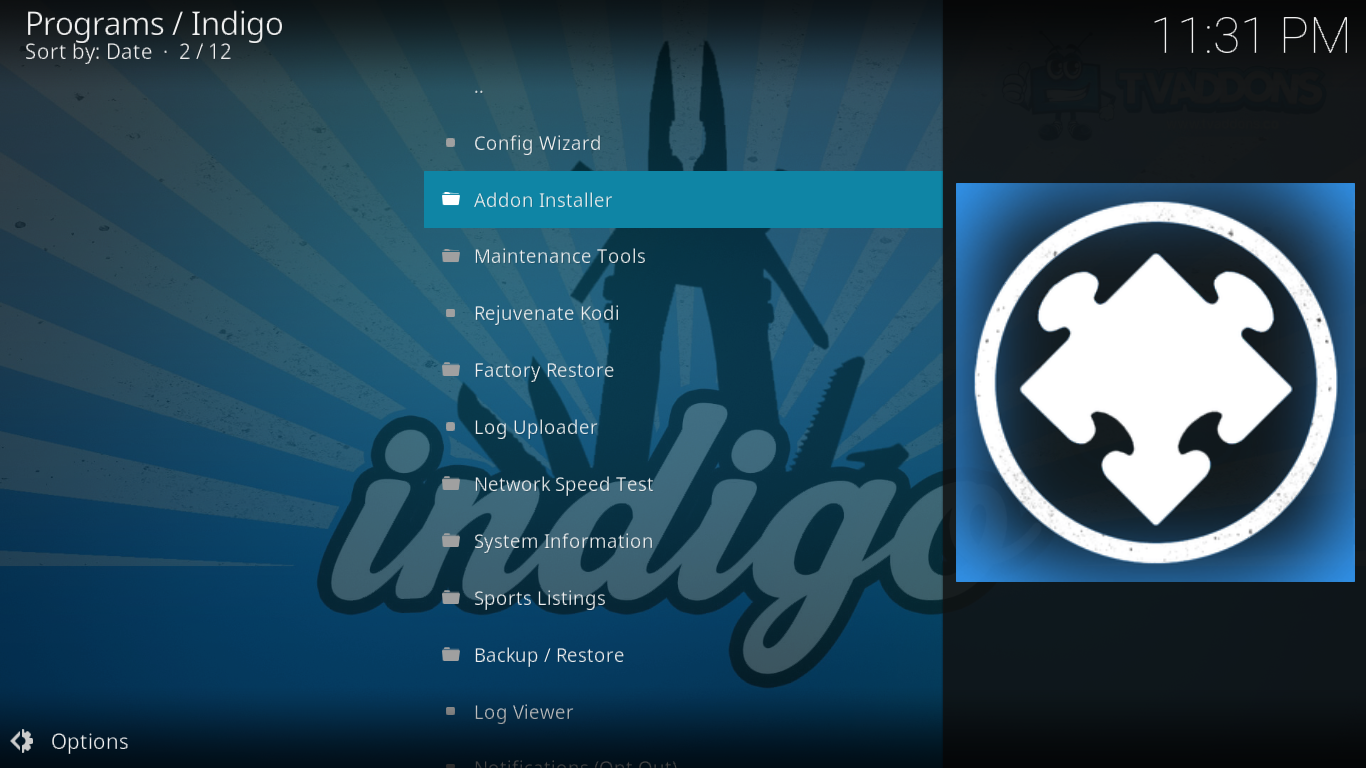 Next, click Video Addons, and then click "C". Finally, click CBC Sports.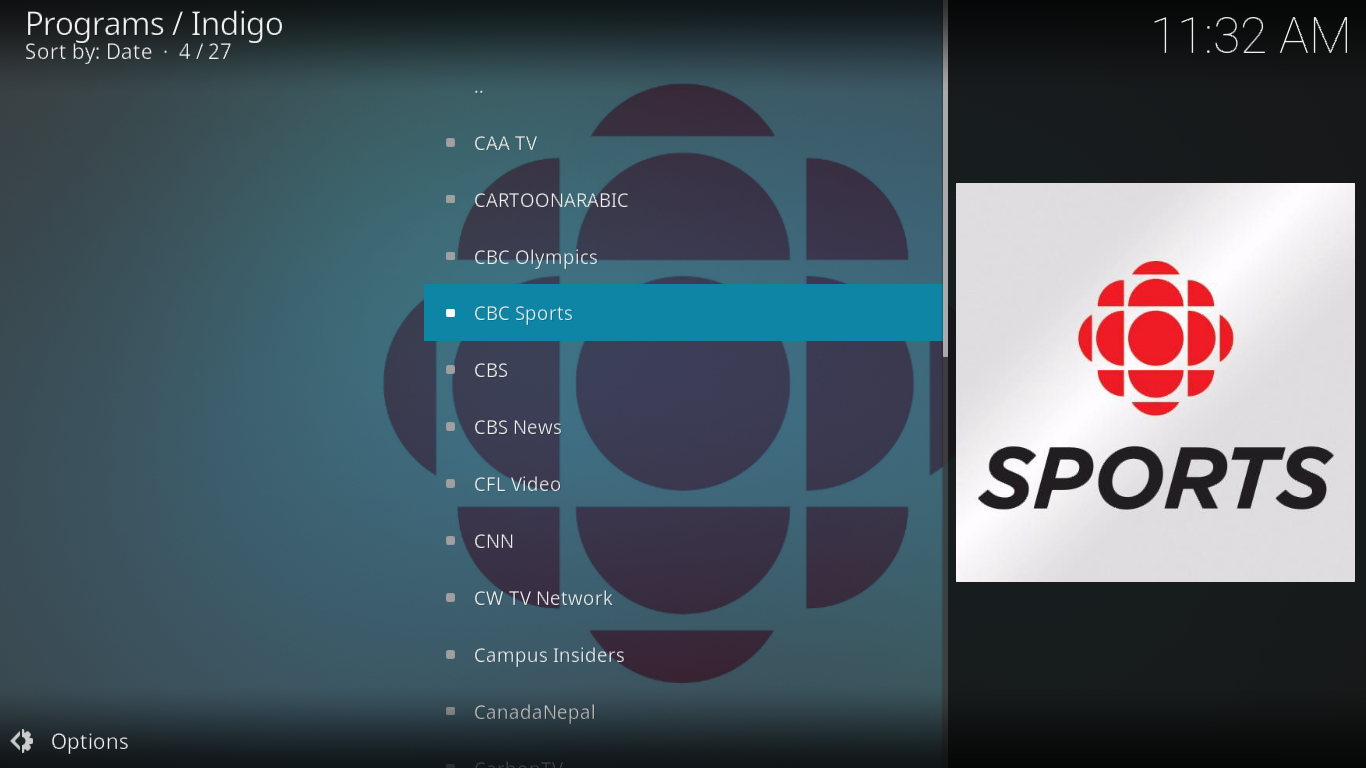 A confirmation request will pop up. Click Install to launch the installation of the add-on, its repository and all its dependencies.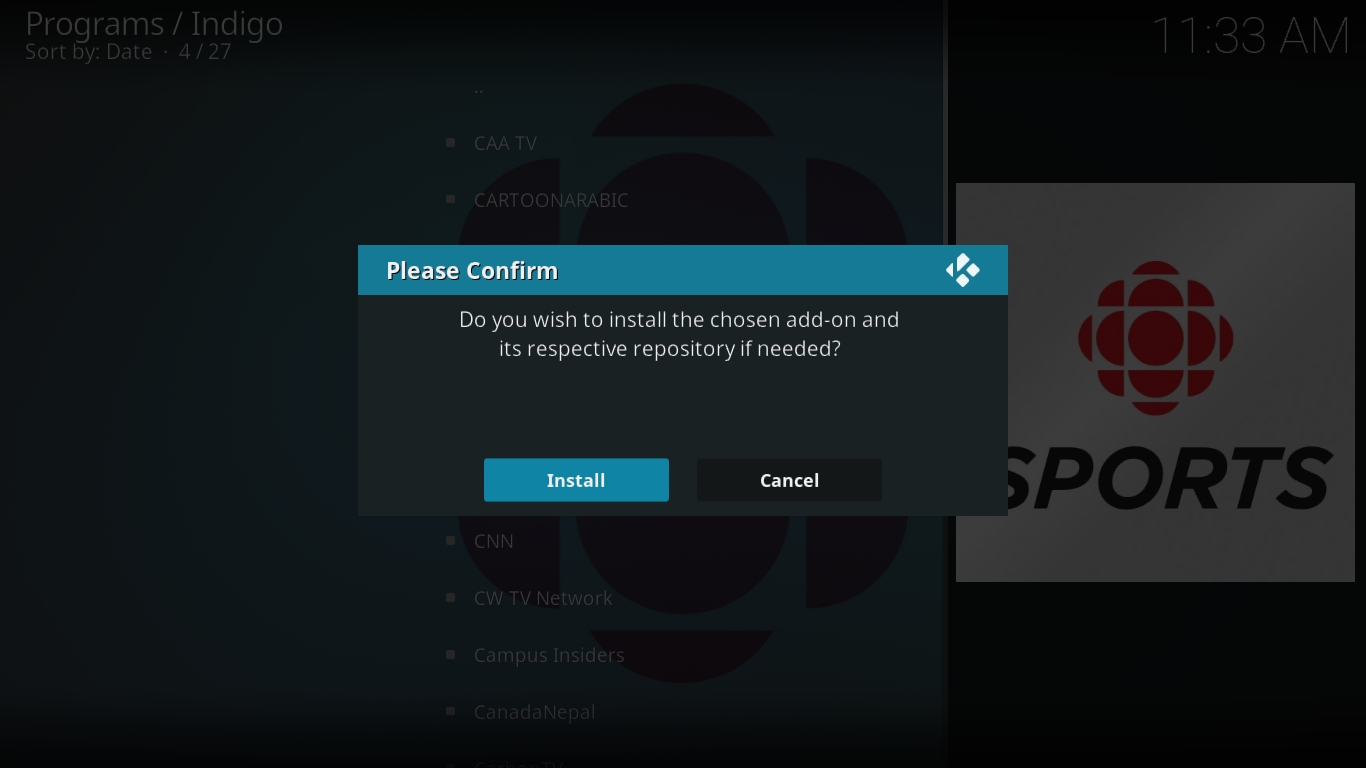 During the installation process, several progress boxes will pop up as each dependency is installed. Once the installation completes, you'll be prompted to restart Kodi.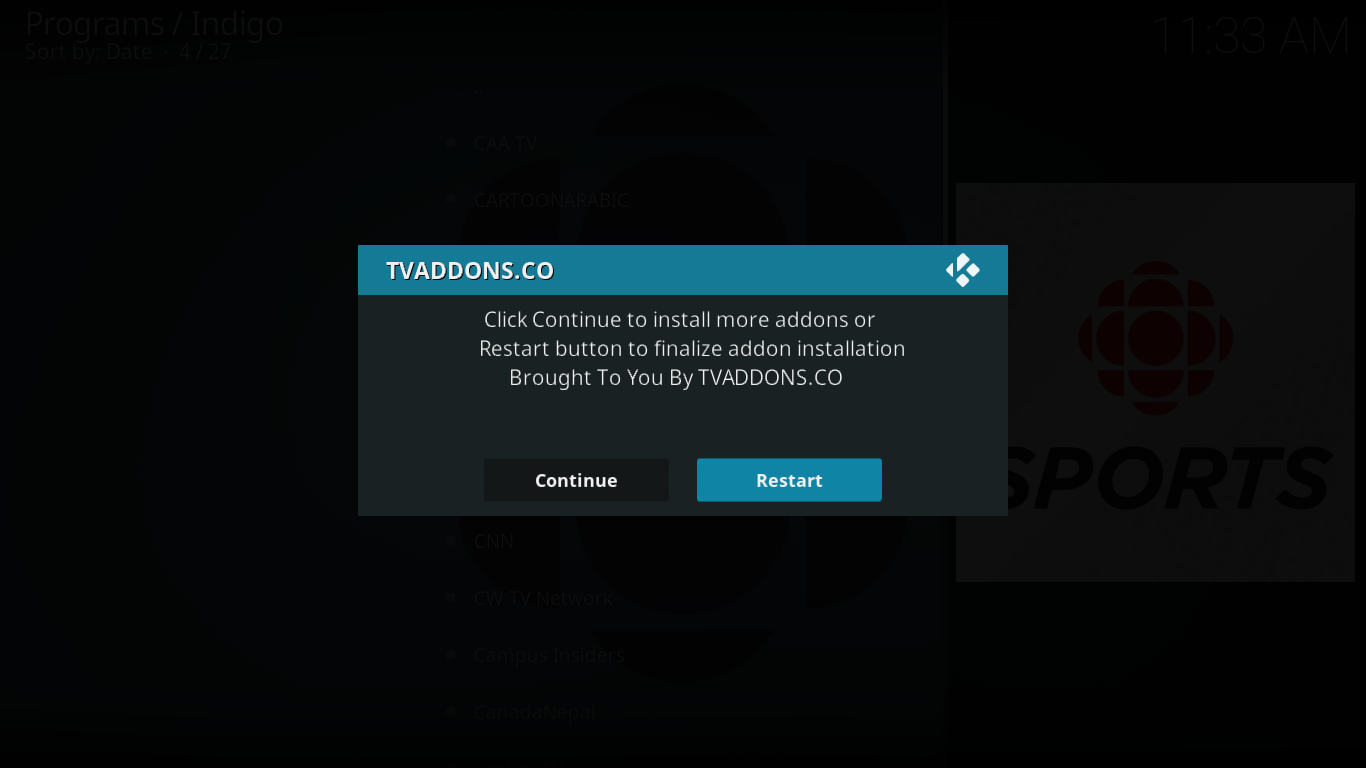 Click Restart to complete the process. On some platforms, Kodi will close but not restart, You'll have to restart it manually.
Once you Kodi restarts, you'll find the CBC Sports add-on in the Video add-ons section.
An Overview Of The CBC Sports Add-on
Let's have a look at what the CBC Sports add-on has to offer. With only four items, the least we can say about its main menu is that it's simplistic. the four selections are Live Schedule, Highlights, Most Recent, and Archive.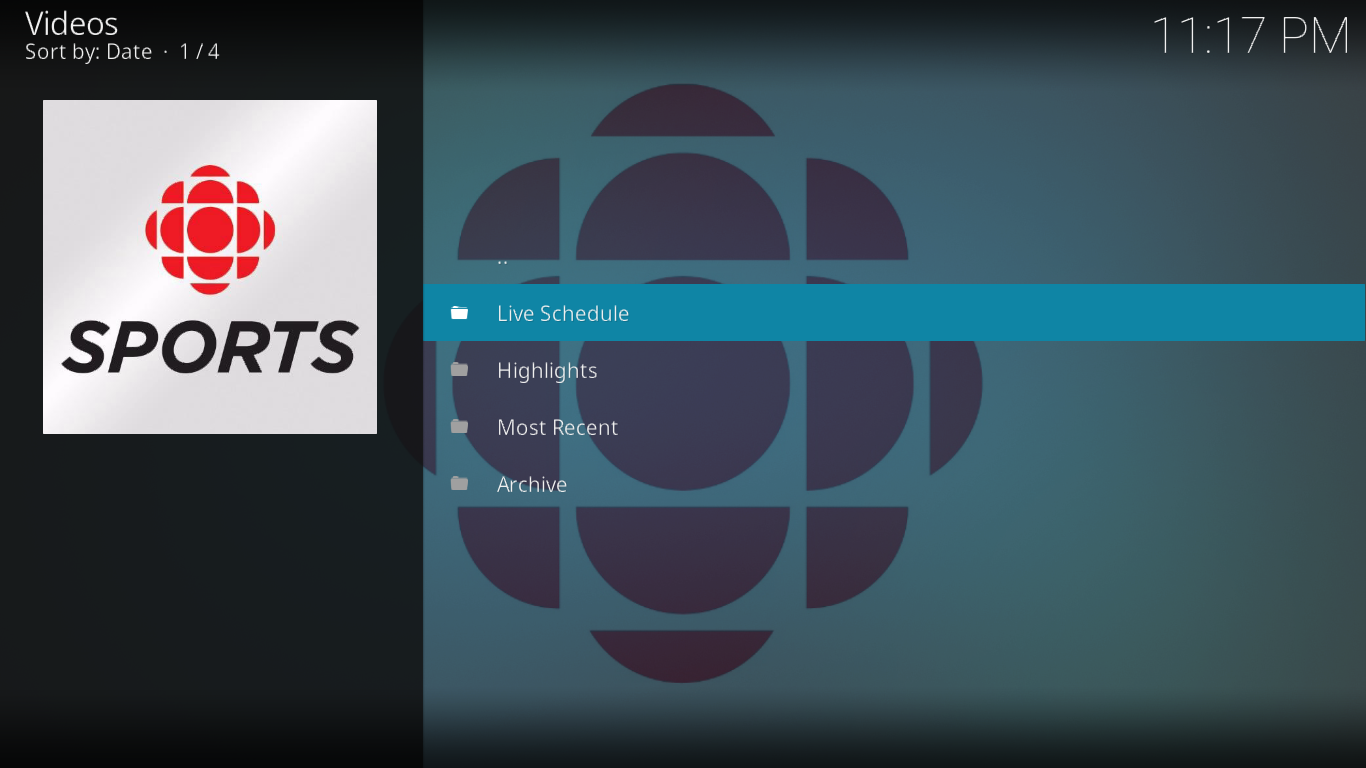 Let's see what each of these menu items reveals.
Live Schedule
Just as its name implies, this section shows you a live schedule of what's on CBC sports. The schedule goes quite far in the future. I'm writing this in mid-February and it goes all the way to early April. Every single program is listed.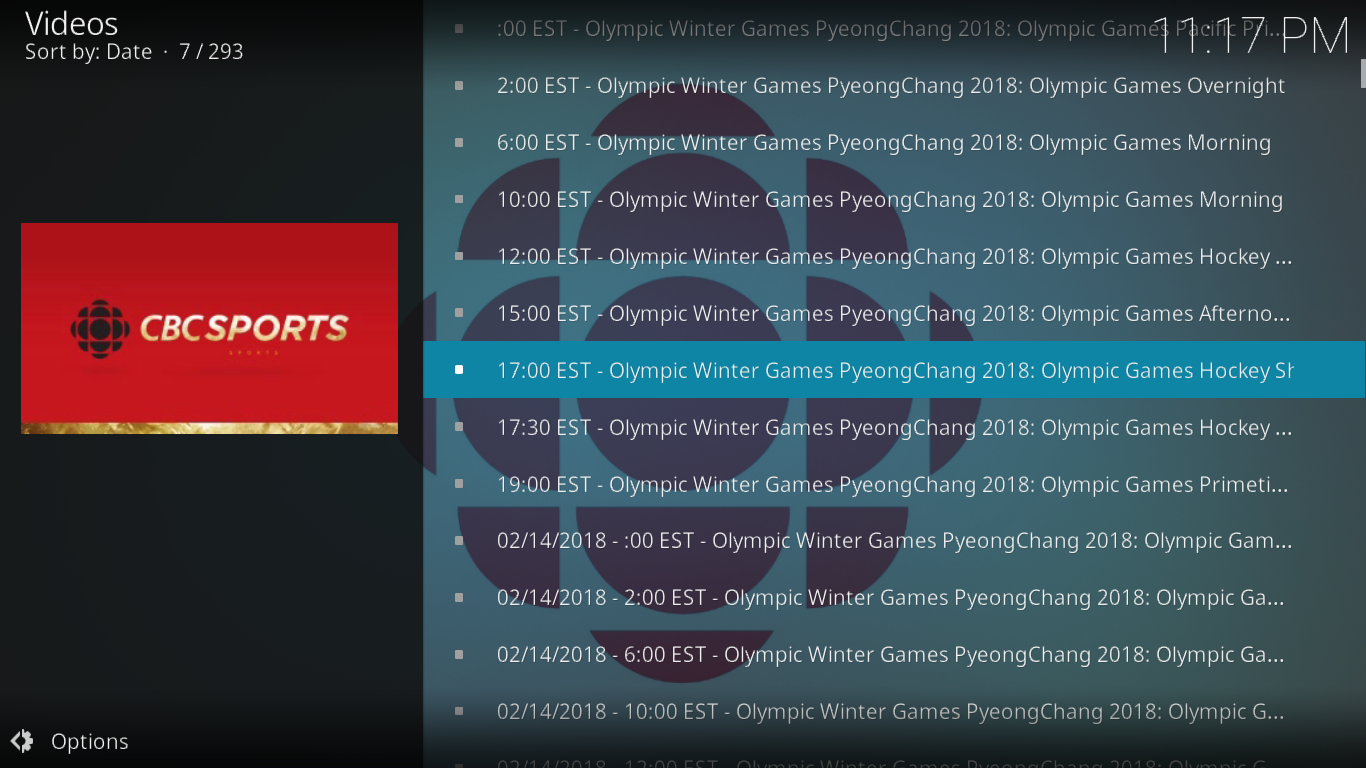 As this is being written, the 2018 Winter Olympics are underway and that's all there is on CBC sports but if you scroll down the schedule, you'll find more varied programming.
Normally, one would expect to click a program and it would start playing, hence the sections title, live schedule. And normally, it should. As of this writing, however, the live streams did not seem to work. We tried with a VPN from Canada, from the US and from Europe with the same disappointing results.
Highlights
This is a smallish section with only 10 entries. All it has is short on-demand videos highlighting the most recent major sports league game featuring a Canadian team.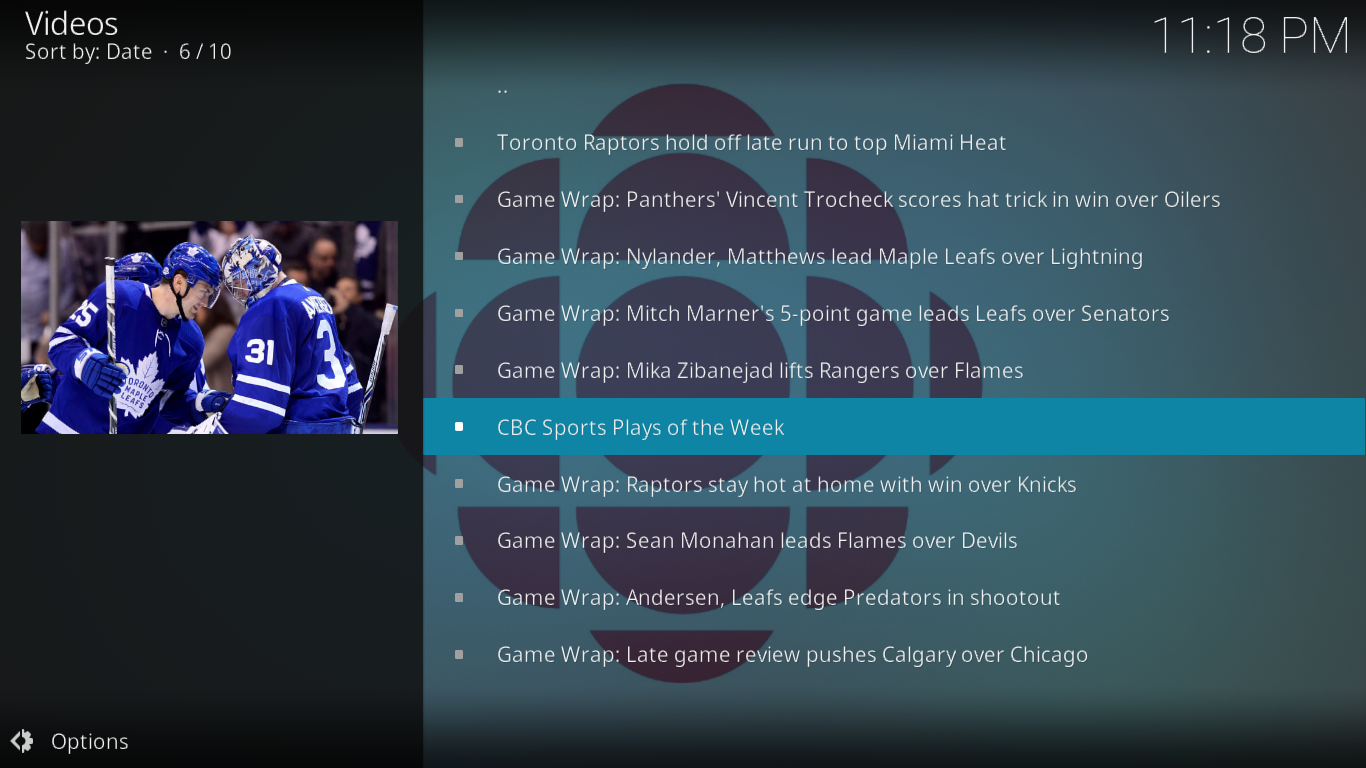 As we write this, it is both the Hockey and the Basketball season so you'll mostly find highlights of the Raptors' basketball games and hockey games from the Montreal Canadiens, Ottawa Senators, Toronto Maple Leafs, Winnipeg Jets, Edmonton Oilers, Calgary Flames, and Vancouver Canucks.
In the summer, it features highlights from the Toronto Blue Jays, the only major league baseball team in Canada.
Most Recent
Another small section of only 10 items, this one has recent videos. It's not clear what the difference is between this section and the previous one. It too has recent games highlights and game wraps.
And since the videos are not dated, it's hard to say how recent they really are. I'm not enough of a sports fan to be able to date them by looking at the content.
The content you have in this section, or in all sections, is of high quality. Each and every video we tried started almost immediately and never suffered from buffering.
Archive
With such a name, I had great expectations about this section. I thought I'd find classic material such as the hockey series of the century that opposed Canada and USSR back in 1972.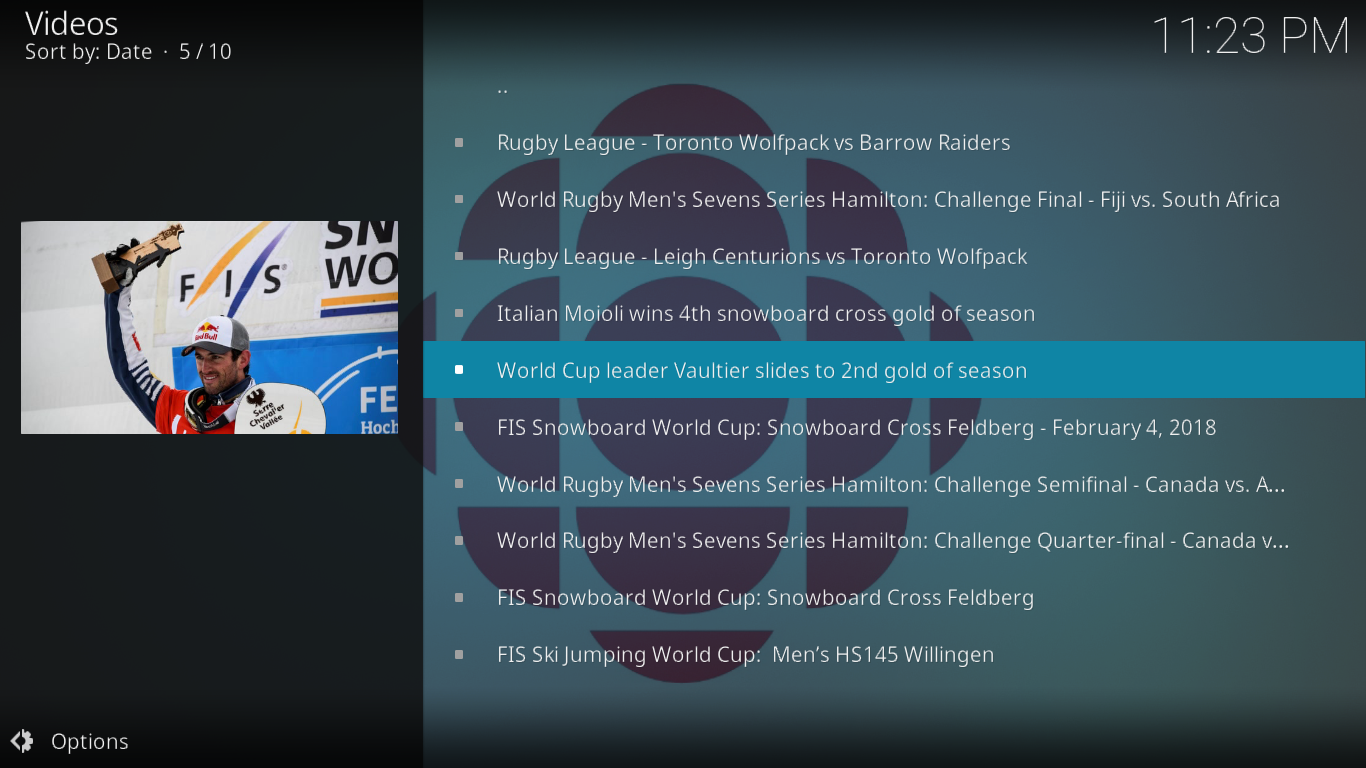 I was in for a surprise. All I found in this 10-items section is a handful of complete rugby games and some skiing and snowboarding races.
What we thought of the CBC Sports add-on
Overall, we have to admit that we were disappointed. Not only did the live section not work but the on-demand content is very limited. All in all, there are just 30 videos to watch.
We probably can't blame the add-on, however. The content of the add-on is possibly just a reflection of the current state of CBC Sports. It used to be the primary sports broadcaster in Canada but, due to multiple rounds of successive budget cuts, they can't afford to have any major sports league games anymore.
Another CBC Sports Add-on, CBC Olympics
If you're a fan of Olympic sports, make sure you have a look at the CBC Olympic add-on. As much as the CBC Sports add-on is weak in terms of content, this one is very strong.
CBC Olympics Add-on Installation
Like the CBC Sports add-on, this one installs from the Indigo tool. Since the toll was already installed when we installed the first add-on, you don't have to install it again.
So, from the Indigo tool Main menu, click Addon Installer.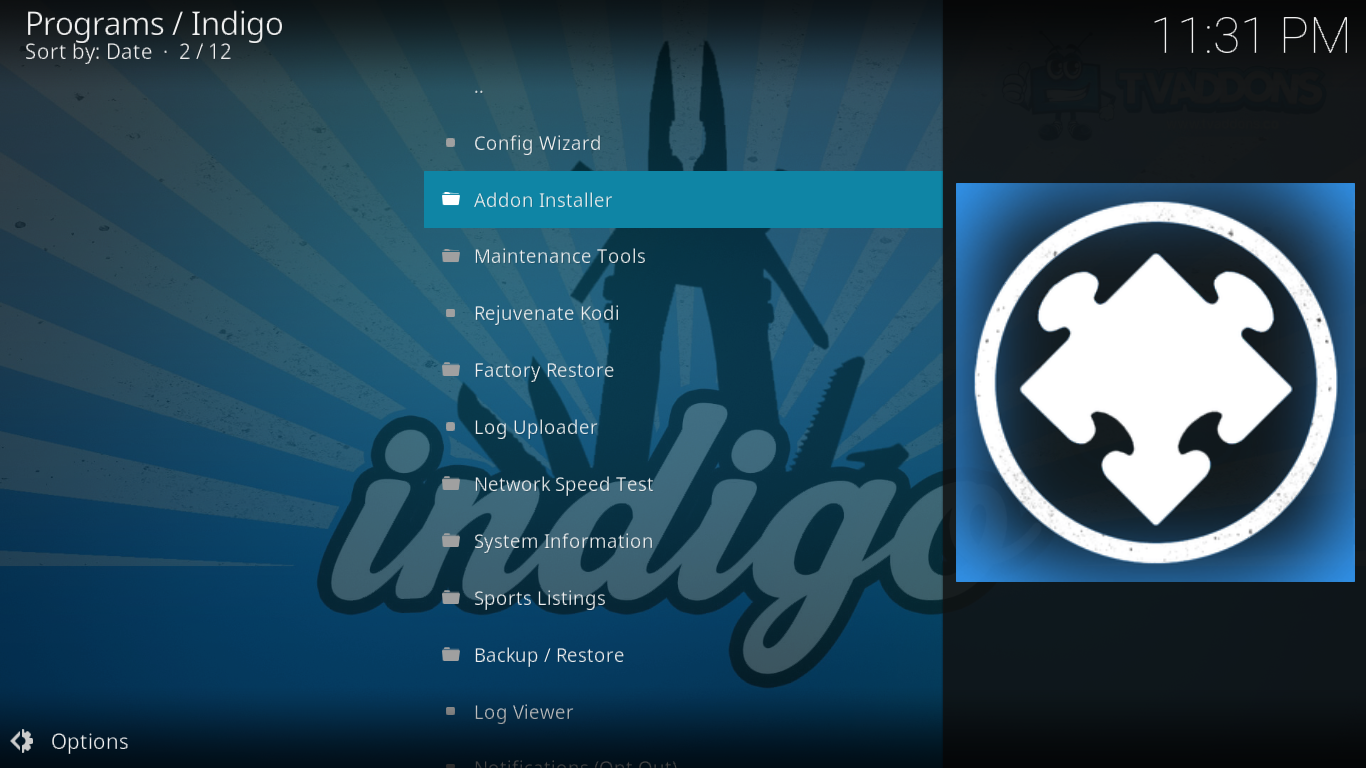 Next, click Video Addons, and then click "C". Finally, click CBC Olympics.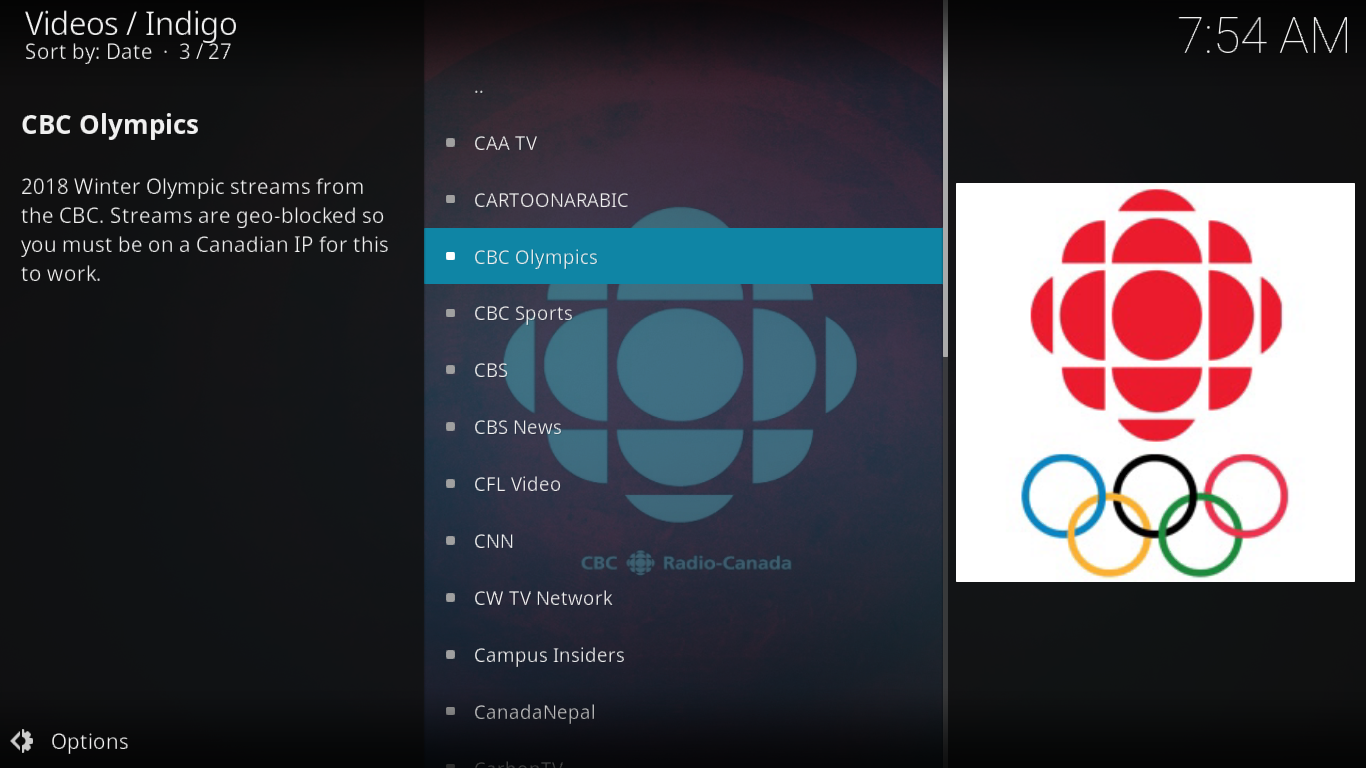 A confirmation request will pop up. Click Install to launch the installation of the add-on. Its repository and dependencies are the same as the CBC add-on's.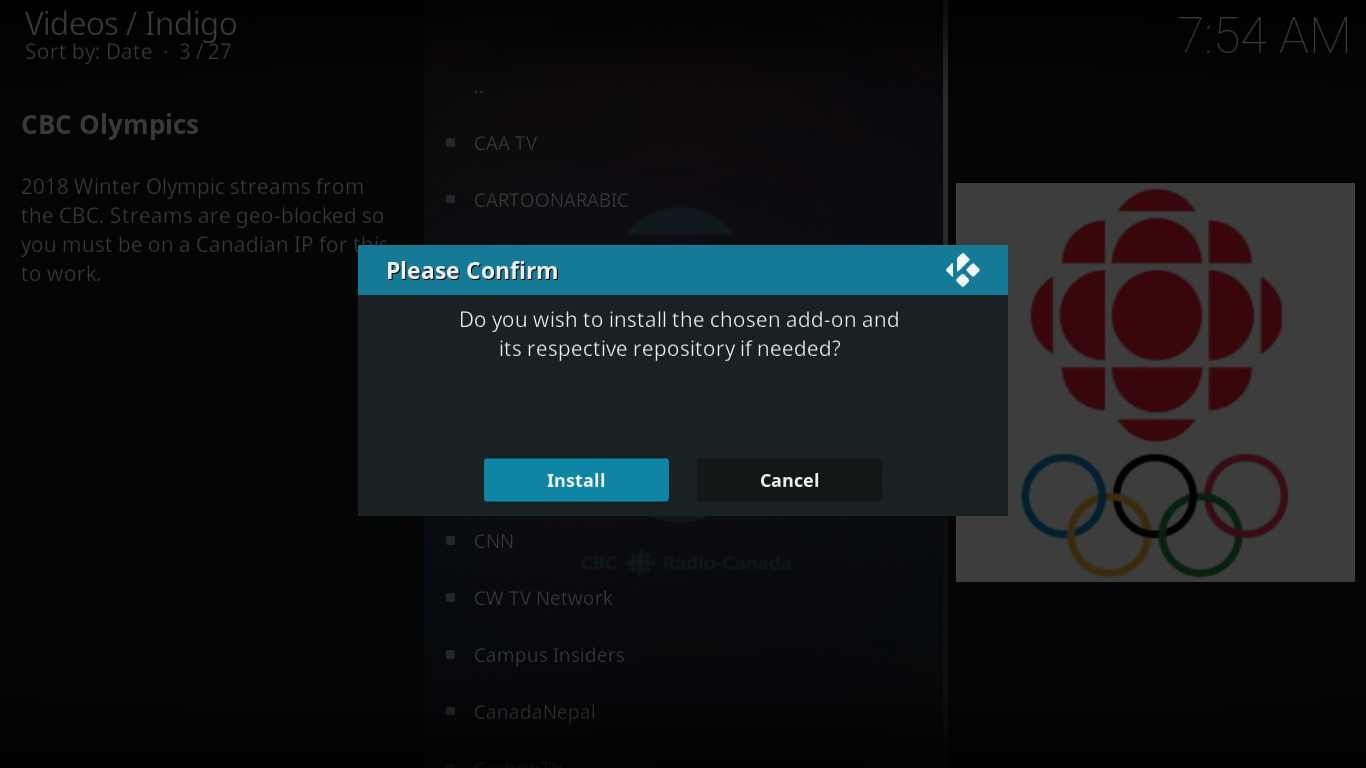 With no repository or dependency to install, this will be a very fast process. After the installation finishes, you'll be prompted to restart Kodi.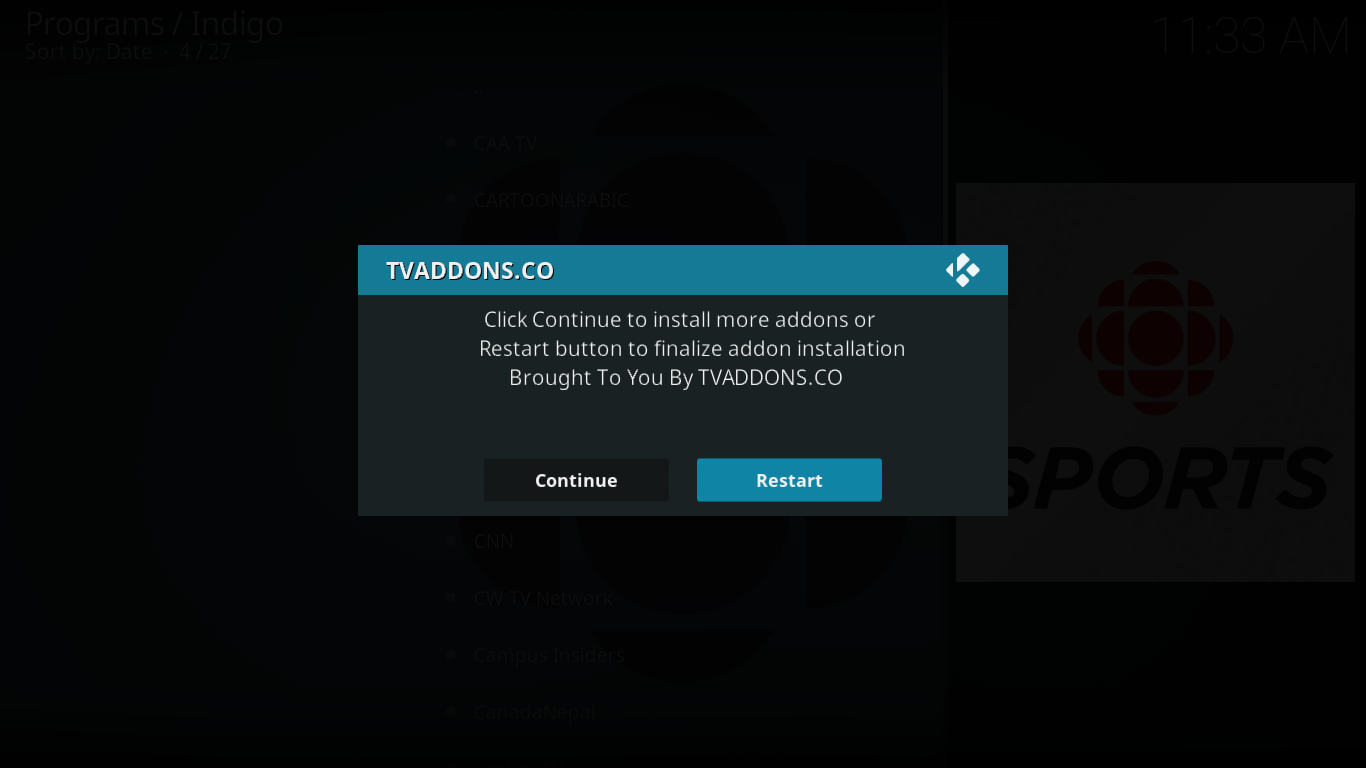 Click Restart to complete the process. Remember that you may have to manually restart Kodi, depending on your platform.
An Overview Of The CBC Olympics Add-on
Contrary to the CBC Sports add-on which, as we saw, can be disappointing in terms of content, this one has a lot of content for Olympic sports fans.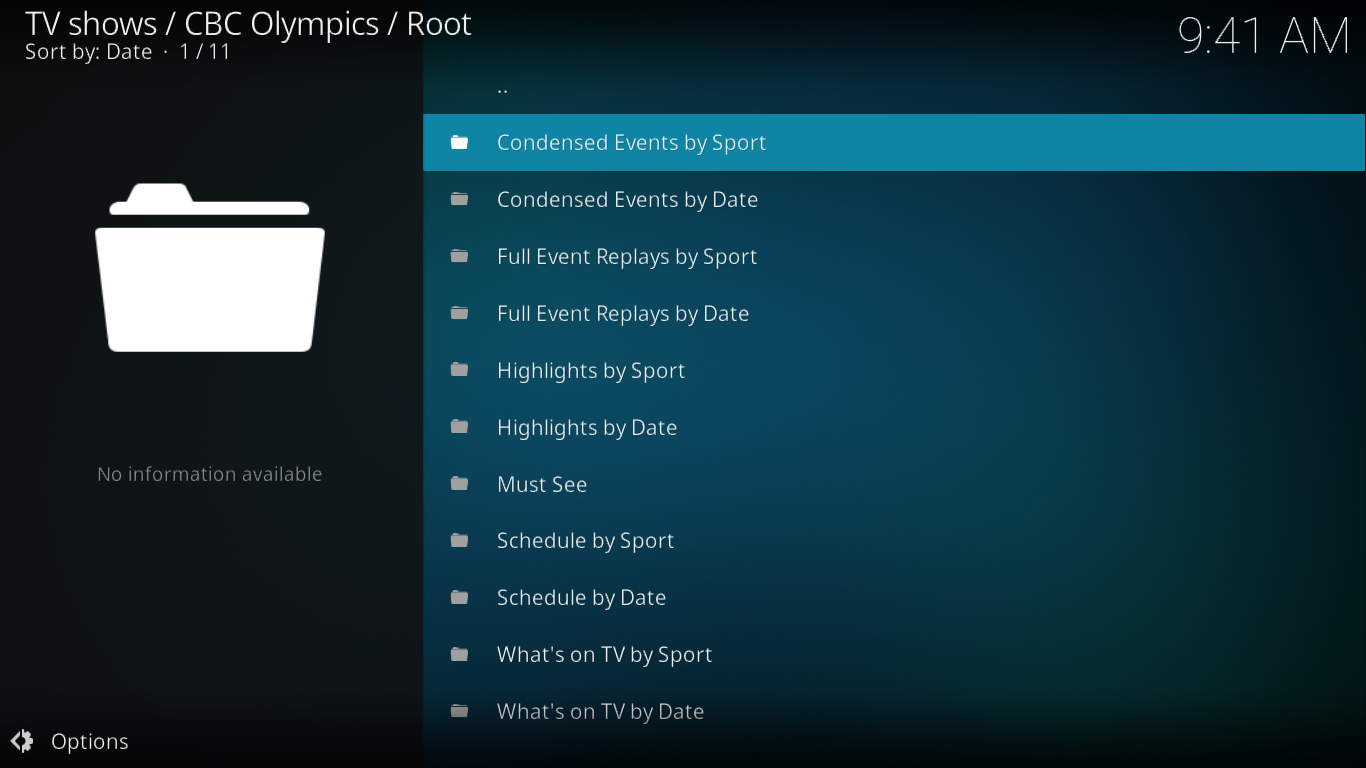 You can browse most of the add-ons sections either by sport or by date. And talking about the sections, let's see what each one reveals.
Condensed Events
The condensed events sections have on-demand recordings of events in a condensed form like you'd normally see on live TV Olympic coverage. You'll see the best performances, the final rounds and of course, this being a Canadian feed, most performances by Canadian athletes. When you choose the "by sport" view, you'll get a submenu of all 15 sports that are featured in the 2018 Pyeong Chang Winter Olympic Games.
Full Event
The full event sections are very different from the condensed one. The on-demand recordings cover Olympic events in their entirety, from beginning to end. In fact, some recordings even begin before the event actually starts and you can see footage shot by to cameras and hear the chit-chat of commentators as they prepare for the event's coverage. If you're passionate about a sport, you'll certainly love the opportunity of being able to watch events like you were there instead of seeing only those athletes that the networks choose to show you.
Highlights
The highlights section have even shorter segments of each event. Most are only a few minutes in length. They can be very handy if you're short on time and want to quickly see the essential. They are the same kind of segments as you'd find on sports news broadcasts.
Must See
If you want to be sure that you see the essence of the Olympics, this is where you need to go. It has a strong Canadian flavour but it hosts the best and greatest moments of the games so far. The section, like the others, is regularly updated and the segments are relatively short, most of them being only a few minutes.
Schedule
The schedules sections will show you every upcoming event. If you look at it during Korean's daytime, you can watch live feeds of the different events.
What's On TV
This section is very similar to the previous one but the content you can watch is not the live event but rather the feed that the CBC broadcasted of the event. It is, therefore, a condensed coverage with an obvious focus on Canadian Athletes.
Conclusion
The CBC Sports add-on is only as good as the CBC can provide good sports content. Unfortunately, the CBC being a poorly funded public station, the content tends to be poor as well. Contrary to public stations in the US that rely heavily on viewer's support, this is not possible in Canada and the only funding they get is what the Government allocates plus advertising revenue. This makes for rather poor content from a variety and diversity standpoint. However, the content you'll find is good, it plays well and image quality is excellent. And if you like the Olympics, the CBC Olympics add-on is great.
Have you tried the CBC Sports add-on or the CBC Olympics add-on? How was your experience? Did you have any issues installing or using it? Please, share your feedback using the comments below.