We are reader supported and may earn a commission when you buy through links on our site.
Learn more
Mullvad VPN not Working with Netflix? Here's What You Should Do
If you're experiencing trouble unblocking Netflix with Mullvad VPN, we have a workaround that will help you bypass this restriction so you can continue binge-watching your favorite TV series no matter where you travel to.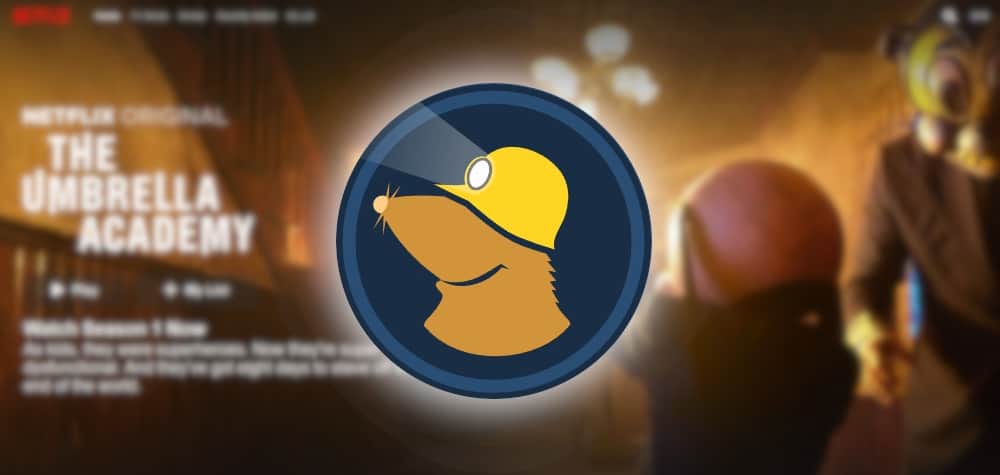 Few things are more frustrating than going on vacation, opening up Netflix, and discovering you can't watch your favorite shows. Netflix doesn't allow users to watch content from other countries, meaning you have to run a VPN to access movies from home. Furthermore, the Netflix proxy error often shows up when running certain VPNs, further locking down various streams.
If you're a regular VPN user, chances are Netflix has blocked your streams on at least one occasion, regardless of which provider you use. Most services work to bypass this restriction by switching up the list of IP addresses they use. However, there are many instances where you can utilize a few tricks to restore streams yourself. For the full scoop on how to do that with Mullvad VPN, check out our guide for the 2019 "Netflix blocked" workaround below.
30-days money back guarantee
Why doesn't Mullvad VPN work with Netflix?
Don't worry, it's not just you. Mullvad, like most VPNs, is almost always blocked by Netflix. This is due to the company attempting to prevent worldwide access to its various region-specific movie catalogs. Before you can unblock Mullvad VPN, you need to know a few things about how and why this restriction even exists in the first place.
IP addresses and geo-restrictions
An IP address is a string of numbers assigned to every device the moment it connects to the internet. Each IP is unique, serving as a sort of mailing address for digital data. If you want to send a file or a movie stream to someone, you need to know where it goes, right? That's how Netflix streams content to your smartphone, PC, and Fire Stick.
The other fact about IP addresses is that they contain location information. By looking at the numbers themselves it's surprisingly easy to determine what city the IP comes from. This is used by websites and streaming services to know where each connecting customer is located so they can be served content from their area.
VPNs change your IP address
VPNs do something unique with your public IP address: they hide it. When you connect to the internet through a VPN, your real IP address gets swapped out with an anonymous one. If you connect to a VPN server in Japan, for example, you will be given an anonymous Japanese IP address, fooling sites you visit into thinking you're sitting in Japan.
It's easy to see how this benefits Netflix users. Not only do you gain the ability to instantly change your location for worldwide movie access, but you can do so without divulging your actual location. You stay hidden, but you don't have to sacrifice usability in the process.
Netflix blocks VPNs
Due to licensing contracts, Netflix must restrict which movies and TV shows are available in different parts of the world. One show may not be streamable in your country, for example, but it shows up without a problem on Netflix America. You could physically move to the U.S. to watch the show, or you could simply run a VPN, pick an American server, and enjoy.
Here's the catch, however: Netflix has started blocking VPNs. They do this by keeping a master list of IP addresses associated with popular VPN services. If your anonymous IP matches something on that list, you're denied access to every stream, forcing you to disconnect before you can watch a movie.
Proxy blocks aren't perfect
The good news is that even if Mullvad VPN or another services is blocked by Netflix, there's likely a workaround you can use. This is due to the incomplete nature of these proxy blocks and the fact that VPNs can often provide access through new IP addresses before Netflix can block them.
Mullvad VPN blocked by Netflix? Here's a workaround: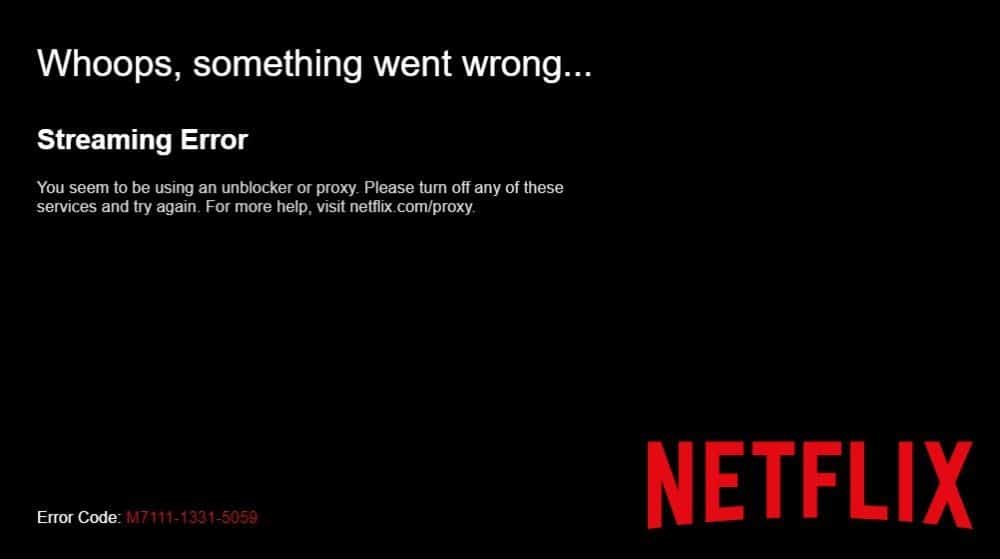 The battle between Netflix and VPNs of the world will never be won. As soon as new IP addresses and servers open up, Netflix will try and blacklist them. As soon as that happens, the VPNs will find another way to break through. This is great news for Mullvad users, as it means you may still be able to access Netflix even if the VPN is blocked.
Use Windows, Linux, or Mac
Netflix deploys two different methods to block VPNs from accessing their streams. One is the IP address filter mentioned above, while the other is a more robust DNS-based proxy blocker. The former goes into effect whenever you connect to Netflix through a web browser, no matter which device you're on. If you stream on a mobile app, Fire TV, Android TV, gaming console, or Apple TV, however, you're being tracked and restricted using the DNS proxy blocker.
Only a few VPNs can break through the Netflix app blocking restriction (see below). Unfortunately, Mullvad isn't one of them. This means that if you want to watch Netflix from behind a Mullvad proxy wall, you cannot do it on your mobile device. Try switching to a secure web browser on Windows, Linux, or Mac, logging into Netflix, and trying again.
Switch VPN servers
Mullvad runs hundreds of servers around the world, each with their own IP address listing. The company is always adding to and modifying this list. It would be impossible for Netflix to block all of these brand new IPs, which means if you run into the proxy error while connected, you may be able to switch to a different server and restore access. This method is, of course, never guaranteed to work, and if you want Netflix from a country where Mullvad only has a few server options, you may be out of luck.
Try again later
The sad truth is that Netflix is usually better at blocking VPNs than VPNs are at bypassing the blocks. Given time, however, services like Mullvad can find workarounds. If you're unwilling to switch to a different VPN and the above tricks don't work, all you can do is try back at a later time.
What to do when Mullvad fails – Mullvad VPN alternatives
Mullvad is a good VPN with a strong focus on privacy, but it isn't necessarily the best choice for reliable Netflix access. Consider one of the recommended VPNs in the following section for better streaming resources. Each provider is fast and easy to use, making them perfect to unblock all of your favorite movies on Netflix with just a few clicks.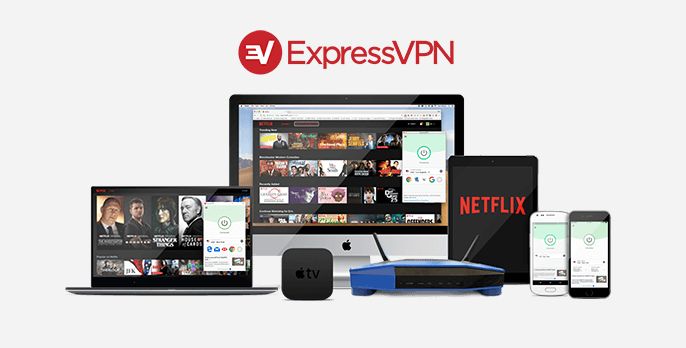 ExpressVPN is one of the fastest and most reliable VPNs in the world, and it's extremely easy to use, as well. The service offers lightweight apps that instantly connect you to a fast server on a variety of devices, keeping you safe and secure on PC, Mac, iPhone, Android, and more. With ExpressVPN you can sign in and start streaming Netflix in a matter of seconds with some of the highest rates of unblocked servers around.
ExpressVPN secures all data with military-grade 256-bit AES encryption and backed by a strict zero-logging policy on traffic, DNS requests, and IP addresses. Information stays protected by an automatic kill switch and DNS leak prevention features, as well. All of these work together with ExpressVPN's network of over 3,000 servers in 94 different countries to give you a fast and secure connection anywhere in the world.
For more info about this VPN and its great features, check out our ExpressVPN review.
Pros
Unblocking Netflix USA, iPlayer, Amazon Prime
Reliable and fast connections
Supports ALL devices
Strict no-logs policy
Great support (24/7 chat).
Cons
Max 3 simultaneous connections
Slightly more expensive than some other options.
BEST FOR NETFLIX:
ExpressVPN is our top choice
. They have specialized Netflix servers that are blazing fast and provide powerful protection in one app. 30-day money back guarantee included on all plans.
NordVPN is a safe, fast, popular, and incredibly reliable VPN that runs an impressively large network, currently over 5,400 servers in at least 61 countries. Each node is available without a single limitation on speed or bandwidth, allowing you to sign on and enjoy endless Netflix, Hulu, or YouTube streams from any device. This massive amount of server variety also allows NordVPN to offer unique features like double encryption, protection from DDoS attacks, and onion routing over VPN for added online privacy.
NordVPN's software comes with everything you need to stay safe on any device, from PC to Mac, Linux, iOS, Android, Fire TV, and more. You also get 256-bit AES encryption, DNS leak protection, an automatic kill switch, and a zero-logging policy that covers time stamps, DNS requests, IP addresses, and traffic when you join. It's extremely easy to set up NordVPN and use it on all of your devices, as well, making it the perfect choice for unblocking Netflix.
Learn more about the NordVPN experience in our full NordVPN review.
Pros
SPECIAL OFFER: 2-yr plan (68% off - link below)
Most VPN servers with different IP addresses
Up to 6 simultaneous connections
"Double" data protection
30-day money back guarantee.
Cons
Very little
They can take 30 days to process refunds.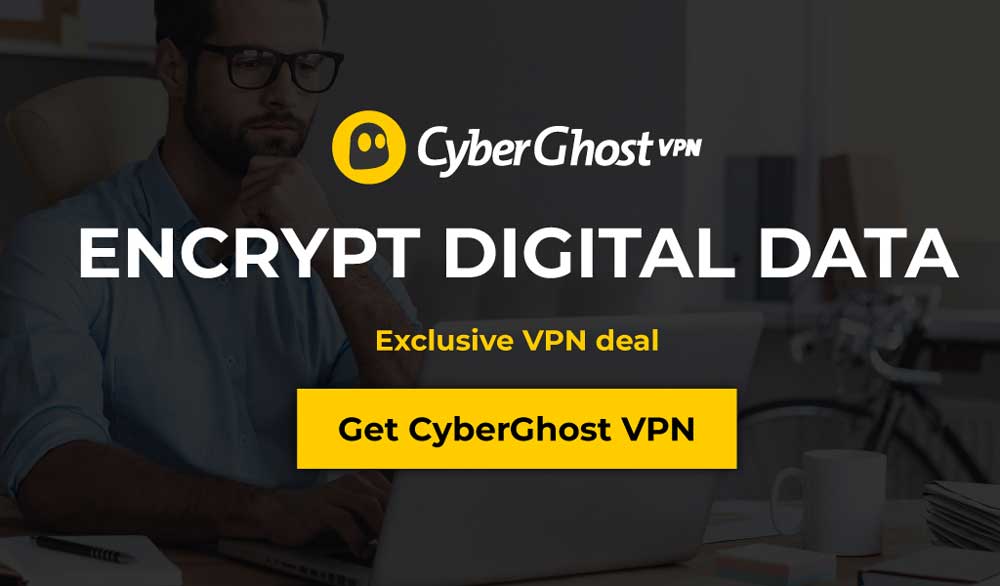 CyberGhost delivers an amazing VPN experience for newcomers, and it delivers enough customization for advanced users to appreciate the service, as well. CyberGhost is fast, easy to use, extremely secure, and runs on nearly every device imaginable, from iPhones and iPads to Android devices and laptops. As soon as you sign up you'll be able to access CyberGhost's massive network of over 3,300 servers in 60 countries, all with unlimited data and no restrictions on download speeds.
CyberGhost's privacy features keep everyone safe with 256-bit AES encryption on all data, a zero-logging policy on traffic, time stamps, and IP addresses, and both DNS leak protection and an automatic kill switch. These features hide your identity whenever you go online, allowing you to connect with fully encrypted data and an anonymous IP address no matter where you live. It makes reliable Netflix streaming access a breeze!
Learn more in our complete CyberGhost review.
Pros
Works with Netflix, iPlayer, Amazon Prime, Hulu
Fast, constant speeds
Versatile and user-friendly
Strict no logging
45-day no-quibble money back guarantee.
Cons
WebRTC leak detected
Doesn't unblock all streaming services.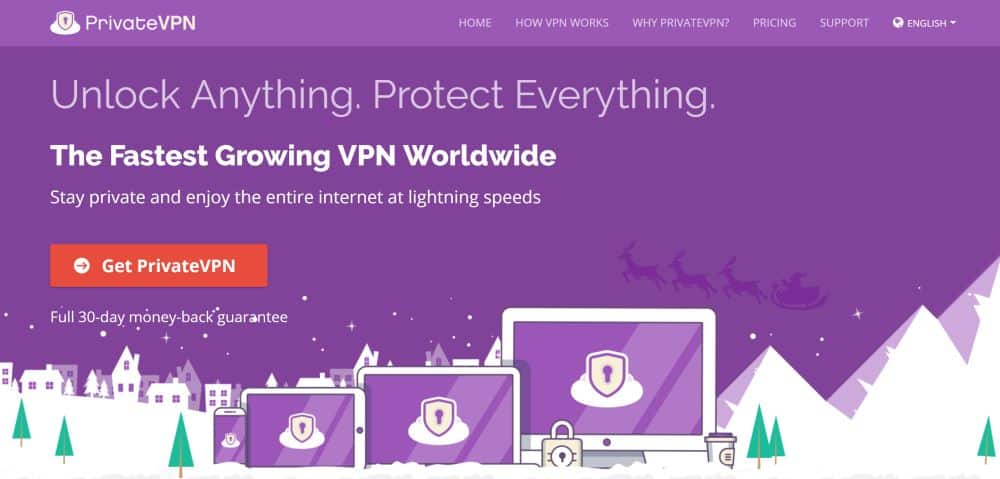 PrivateVPN is a strong, fast, well-liked, and safe VPN that makes it easy to keep your data secure on the internet. With PrivateVPN running in the background you can surf and stream with complete privacy on a wide array of devices, including PC, iOS, Android, and Mac, all thanks to the company's lightweight and straightforward software that connects to a reliable server with just a few clicks.
This provider operates a sturdy network of about 100 servers in 59 different countries–not as extensive as some, but singularly well-equipped to unblock U.S. Netflix. Data is locked down and secured with strong 256-bit AES encryption to keep your connection safe, and an automatic kill switch and DNS leak protection along with a zero logging policy on all traffic ensure your privacy is never at risk. It's the perfect solution for streaming movies to your favorite devices.
PrivateVPN's app makes it incredibly easy to unblock Netflix. Simply look on the server list and find a location marked with the Netflix icon. These are verified to be unblocked, so you can connect and stream without all the trial and error.
Read more about PrivateVPN's stellar features insp our complete PrivateVPN review.
How to use a VPN to unblock Netflix
Once you get the best Netflix VPN, your next step is to set everything up and start streaming some movies. If this is your first time using a VPN, don't worry, we'll walk you through the entire process, step by step.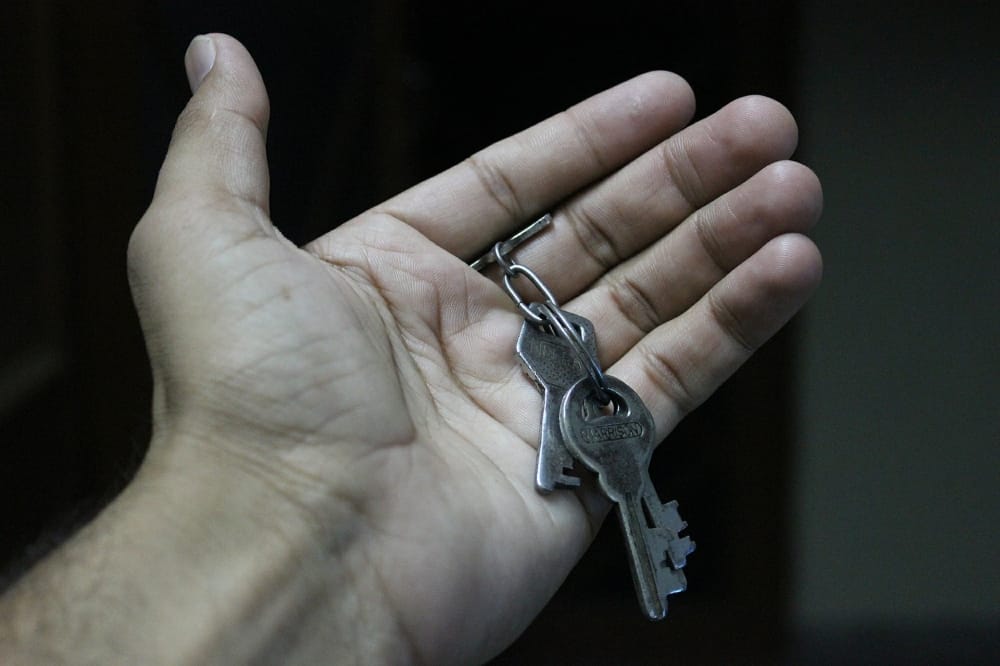 Step 1 – Get a Netflix subscription
No matter which VPN you use, none of them can let you stream from Netflix without an active, paid account. The good news is it doesn't matter where in the world your account is registered or where you really live, as long as it's in good standing. If you don't have a Netflix subscription, use the steps below to activate an account. If you already joined, simply skip to step 7.
Go to the Netflix website and click the red Join Free for a Month button.
Click See the Plans on the next screen to continue.
Netflix offers Basic, Standard, and Premium plans, shown on the next screen. If you just need simple online movie access, Basic will do fine. Standard lets you watch in HD and on multiple screens, which is good if you have a family, but it costs more.
In the next screen you'll enter an e-mail address and a password to create your account.
Choose a payment method. Note that if you're new to Netflix, you'll get a free month of service and won't have to pay until that ends.
Complete the checkout process and your account will be activated.
Go to the main Netflix website and sign in. Congratulations, you're ready to watch some movies!
Step 2 – Install your VPN
Before streaming you'll want to sign up with one of the VPNs recommended above, or use your Mullvad VPN account if you like. After that, open a PC web browser and log into your account. Visit the VPN's downloads section and choose the app for your device.
Download and install the VPN software, then launch the app and sign in using your login credentials. Most VPNs will automatically find the fastest server and connect as soon as you run the software. This is the best choice for most users, though because of the nature of Netflix proxy blocks, you may need to switch later.
Step 3 – Verify the VPN connection
Go ahead and verify your VPN connection to make sure there are no IP address leaks, which endanger your privacy by letting your real identity show. With your VPN active and connected to a server, open a web browser on the same device and go to dnsleaktest.com. When the page loads, it should show your IP and the IP addresses' country. As long as your real country doesn't show, it means you're safely behind a wall of encryption.
Step 4 – Try Netflix
Once you're connected and safely behind a VPN, it's time to try Netflix. Open the Netflix website and start browsing Netflix's catalogue of videos. You'll notice the selection has changed based on your chosen IP location, as Netflix allows you to browse and queue items even if you're behind a VPN. Search for something you know isn't available in your physical area, then begin streaming.
Did the movie start playing? If you used one of the more reliable VPNs listed above, you should be good to go. If you saw the "Whoops!" proxy error screen, however, continue to the step below and try one of the alternate content access tricks.
Step 5 – Change servers and try again
If your original server choice failed, there are two things you can try: wait and connect later, or switch servers. Netflix can't block all IP addresses from all VPNs all the time, and because VPN companies are constantly looking for new ways to restore Netflix access, chances are you'll be able to connect again soon.
Open your VPN software and look for the server browser. Choose another node located in the country of your choosing and connect. Once it resolves, go back to the Netflix website, reload, and try streaming. You can repeat this as many times as you like to find a connection that works. Sometimes it can take a few tries!
If you use the Netflix app on smartphones, tablets, gaming consoles, or streaming devices, it may be impossible to access while your VPN is active. This is due to the way the app prevents streaming from VPN IP addresses. If you can't connect, try the same server setup on your PC using a web browser, see if that fixes the problem.
Conclusion
Mullvad is an incredible VPN with a strong stance on digital privacy rights. The service can't always access Netflix, however, due to the frequent IP address blocks enacted by the streaming giant. With these 2019 workarounds for Mullvad VPN on Netflix, however, you might be able to break through those restrictions and watch any movie you want, any time.
Got any other tips or tricks for accessing Netflix on Mullvad VPN? Let us know in the comments below!