We are reader supported and may earn a commission when you buy through links on our site.
Learn more
How to Watch Netflix with ExpressVPN
Netflix has been the easiest and least expensive way to legally stream movies for years. The service crosses the globe with over 190 different countries and thousands of TV shows, films, and original programs available on-demand. It's even possible to watch Netflix from behind a VPN, allowing you to bypass the Netflix proxy error message and unlock worldwide movies with little effort (and far less travel budget!)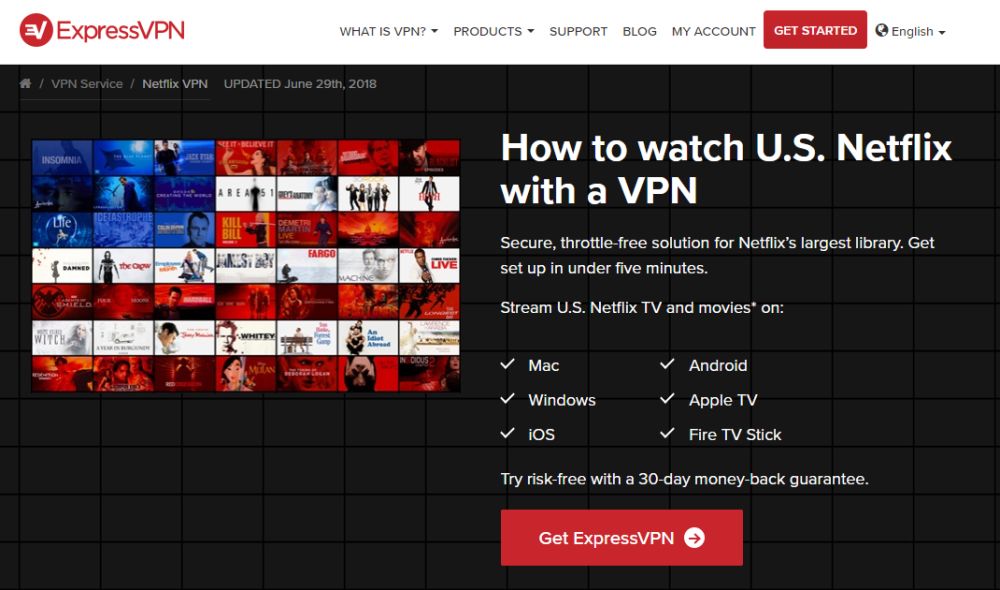 To unlock the true power of Netflix, you'll need the right virtual private network. A good VPN can help you break through geo-restriction barriers, bypass censorship firewalls, and keep your data safe and secure, all while hiding your identity online. ExpressVPN is one of the fastest and most reliable VPNs on the market, and it happens to be the best one to use with Netflix, as well. Read on for our full guide on how to watch Netflix with ExpressVPN.
30-days money back guarantee
The Power of VPNs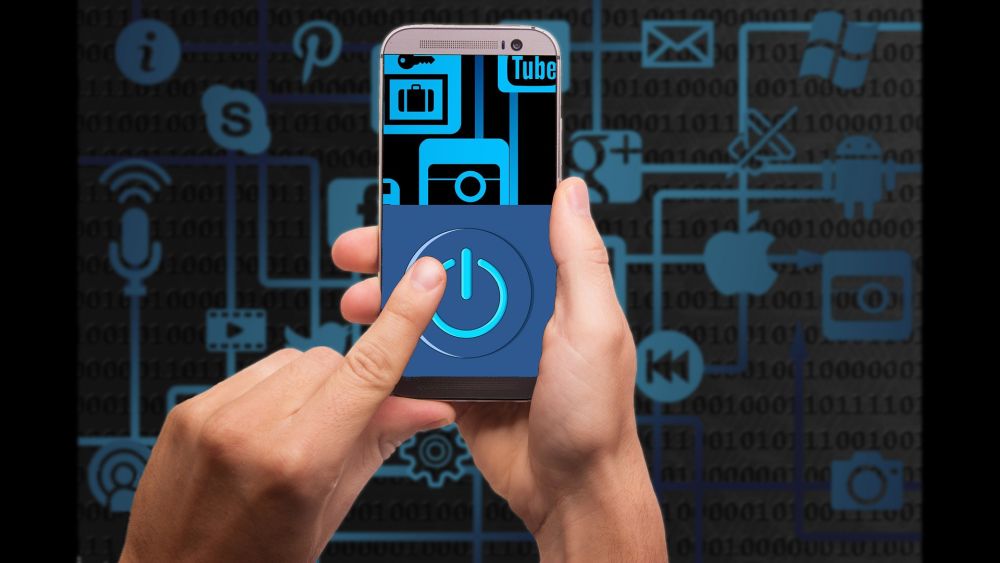 VPNs provide critical privacy and security features for a wide variety of internet-connected device, including iPhones, Android tablets, PCs, laptops, and even Kindle Fire TVs. They accomplish this by encrypting each packet of data before it leaves your hardware, making it impossible for anyone to see what you're downloading or streaming. This simple feature creates a private tunnel between you and the internet, allowing you do anything you want with complete privacy.
What Makes a VPN Good for Netflix?
There are dozens of features you should consider when researching the best VPN for Netflix. Speed is obviously important, especially if you subscribe to Netflix's 4K service. But you can't sacrifice privacy in the name of fast downloads, so you should also pay attention to things like encryption strength and logging policies, as well.
We've simplified the process for you by including the most important criteria for selecting the best VPN to use with Netflix. Any service that scores high on the list below will make an excellent streaming companion. ExpressVPN, our recommended choice, hits extremely high in every category.
Server network size – The more servers a VPN offers, the better your chances of finding a fast, low-lag connection anywhere in the world.
Netflix compatibility – Netflix blocks many VPNs. Unless you pick a service that actively maintains access, you could be out of luck.
Device support – Netflix runs on many different devices, and so should your VPN.
Logging policy – VPNs can log online activity, just like an ISP. To keep your data secure, always use services with a zero-logging policy.
Get ExpressVPN at a Discount
If you don't already have a subscription with ExpressVPN, you're in luck. We've partnered with the service to provide a fantastic deal on long-term plans, giving you an easy way to enjoy the fastest and most secure VPN in the world. Use it to stream Netflix, use it to lock down your identity, use it to protect your smartphone on public networks. ExpressVPN does it all, and now it does it for less, too!
1 – ExpressVPN – Fastest for Netflix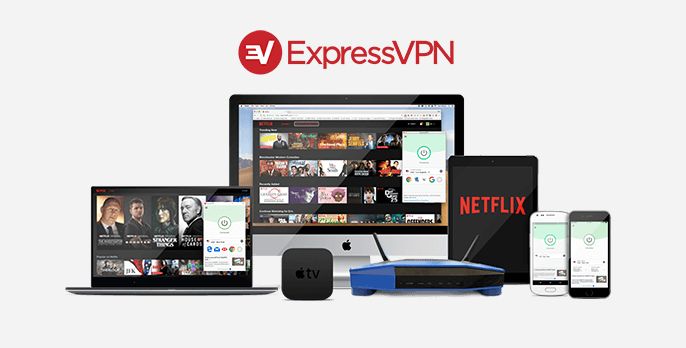 ExpressVPN is the VPN of choice when both speed and security are at the top of your list. Most VPNs are willing to sacrifice one for the other, turning down encryption strengths to make downloads run faster, for example. With ExpressVPN you don't have to give up your privacy just to watch HD movies, you'll be able to watch live TV, stream 720p, 1080p, or 4K movies, and download torrents with blazing fast speeds every time. ExpressVPN works on a wide variety of devices, including smartphones and Fire TV, making it one of the best all-purpose VPNs you can buy.
ExpressVPN offers fast internet access via hundreds of secure servers in 94 different locations around the world, giving you tons of options for fast, non-local IP addresses whenever you need them. Data is kept secure with 256-bit AES encryption and a zero-logging policy on traffic, DNS requests, and IP addresses. You'll also get unlimited bandwidth and unmonitored traffic, meaning no speed throttling no matter what you stream!
Want to know more about ExpressVPN? Check out our full ExpressVPN review.
Pros
SPECIAL OFFER: 3 months free (49% off - link below)
3,000+ super fast servers
Govt-level AES-256 encryption
Keeps no logs of personal data
Live chat support available.
Cons
Expensive month-to-month plan.
How to Watch Netflix with ExpressVPN
ExpressVPN makes it extremely easy to watch Netflix from behind a VPN. It's one of the fastest services in the world, and using it is so straightforward it practically runs itself. Our guide will walk you through the entire process of setting up and watching Netflix with ExpressVPN.
Step 1 – Create an Account with ExpressVPN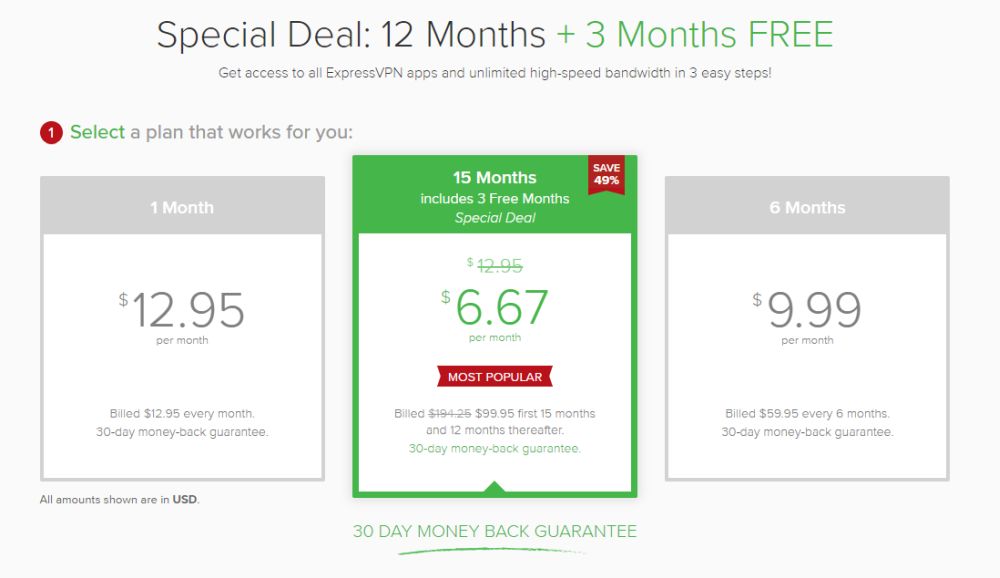 The first step is easy: create an account with ExpressVPN and start your subscription! Start by visiting the ExpressVPN deals page where you can get a special deal of 15 months of uninterrupted service for just $6.67 per month. And don't worry, if you're not satisfied with ExpressVPN, you can take advantage of the superb 30 day money back guarantee.
Select the subscription plan you want by clicking the boxes, then scroll down and enter your e-mail address. Choose a payment method, including credit cards, PayPal, Bitcoin, and others. Fill out the required information and complete the checkout process, then you're good to go!
Step 2 – Download and Install ExpressVPN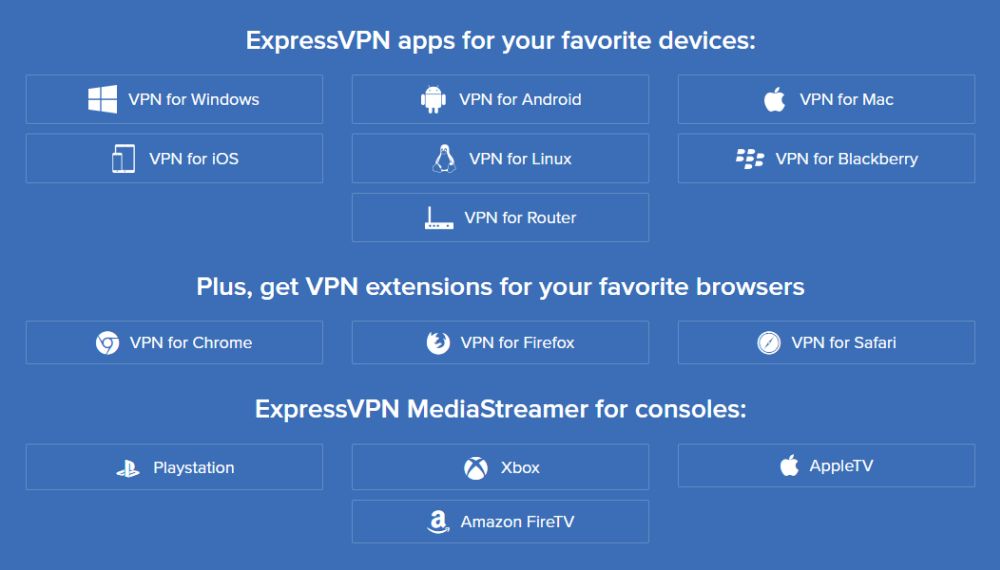 With an active account you can now download ExpressVPN to get things started. Log in on the ExpressVPN website, then visit the installation page to get the right app for your operating system. You should be automatically redirected to the right page for your OS, but if you're not, you can always choose a different platform from the list on the left.
ExpressVPN offers downloads for a huge variety of hardware. The usual Mac, Windows, and Linux options are there, along with full custom software for Android, iPhone, and iPad. You can also pick up Google Chrome, Apple Safari, and Mozilla Firefox extensions for lightweight protection, or learn how to install ExpressVPN on your PlayStation, Xbox, Apple TV, router, or Fire TV.
With the right platform selected, simply click the red download button to get the file. If you're installing on certain devices you may get a marketplace link or see an option to e-mail a setup link for an easier install.
Launch the installation file and ExpressVPN will add itself to your system. As soon as it's finished, open the app and you'll automatically be connected to the fastest server available. Congratulations, you can now surf and stream anything on the web in complete privacy!
Step 3 – Sign Up with Netflix
With ExpressVPN installed and running, you're ready to add Netflix to the picture. If you already have a subscription to the streaming service, you can skip this step. Otherwise, here's a quick rundown of how to sign up with Netflix in just a few seconds:
Go to the Netflix website and click the red "Join Free for a Month" button.
Click "See the Plans" on the next screen to continue.
Netflix offers Basic, Standard, and Premium plans, shown on the next screen. If you just need simple online movie access, Basic will work perfectly. Standard lets you watch in HD and on multiple screens, which is good if you have a family.
In the next screen you'll enter an e-mail address and a password to create your account.
Choose a payment method. Note that if you're new to Netflix, you'll get a free month of service and won't have to pay until then.
Complete the checkout process and your account will be activated.
Return to the main Netflix website and sign in. Congratulations, you're ready to watch some movies!
Step 4 – Run ExpressVPN and Connect to Netflix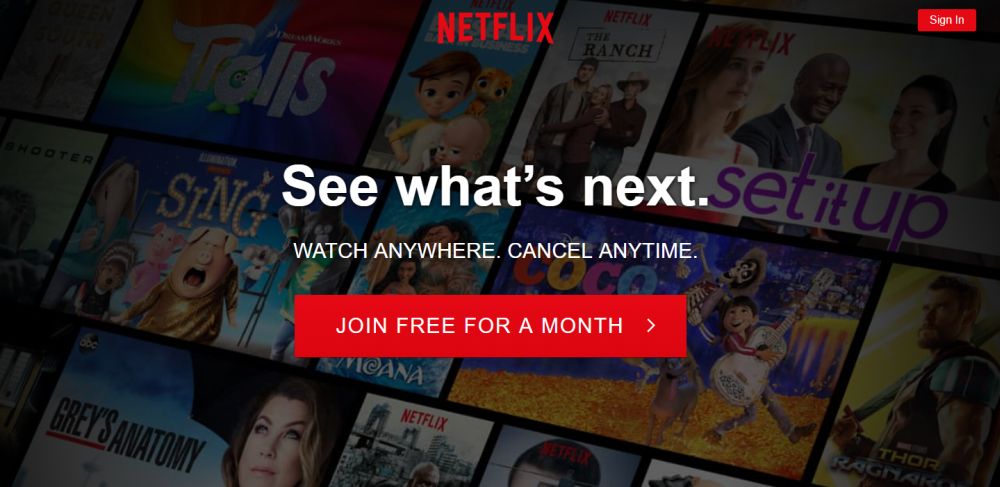 ExpressVPN should be running and active in the background on your device. Make sure it's connected to a server, as well, and not just sitting idle. Now open a browser window and sign in to Netflix using your account details from above. You can check out the movie selection, add items to your queue, and search for specific films all you want. When it's time for some fun, click the red Play arrow and start streaming!
Sometimes you may encounter the frustrating Netflix proxy error when launching a movie stream while connected through a VPN. If that's the case, see the next section for tips on how to fix it.
How to Unblock Netflix with ExpressVPN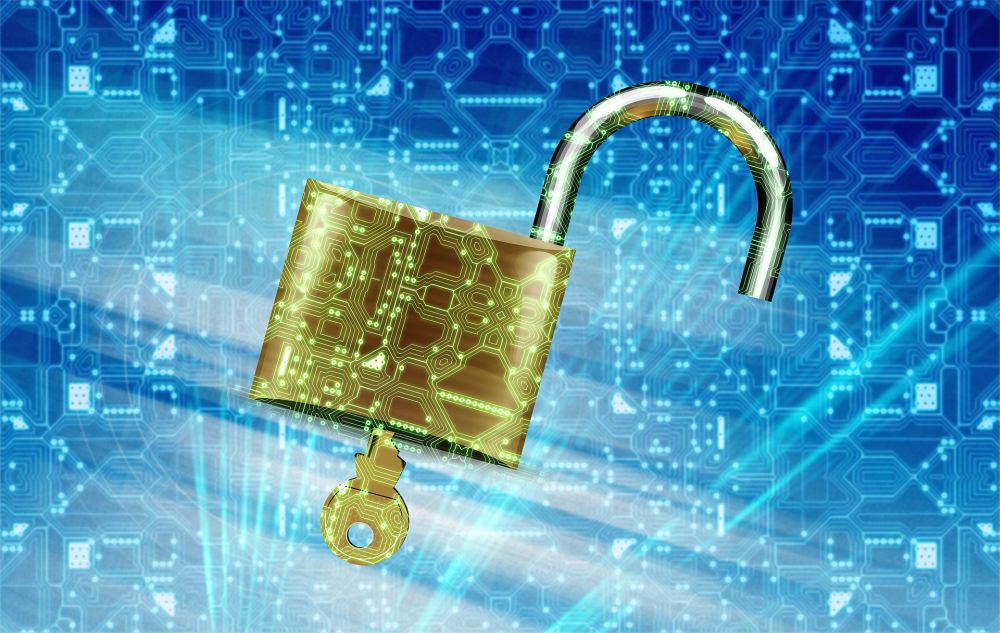 Tired of having your movie night cut short by Netflix's rage-inducing proxy error screens? Don't worry, ExpressVPN is one of the most reliable VPNs in the world, and it can help you break through those region lock barriers!
Why and How Does Netflix Block VPNs?
Netflix made headlines when it started blocking VPN services in bulk. It didn't matter where the VPN was located or how reliable it was, if you tried to stream a movie from Netflix while using a VPN, you were shown an error screen instead. This seemed to spell the end of bypassing geo-restriction content blocks, forcing users to use Netflix only in their home countries.
The good news is VPNs fought back. Top services like ExpressVPN discovered that Netflix blocks servers by IP address. If the VPN added new IPs, there would be a window of availability before Netflix could block those new servers. Unblocking access for Netflix's mobile apps would be a different and a difficult matter, but at least it was easy to provide worldwide movie access via browser connections.
ExpressVPN is one of the best VPNs to use with Netflix on any device. Its speeds are top notch, and it offers surprisingly reliable connections to Netflix from a variety of countries, including Canada, France, the UK, and the U.S. With ExpressVPN's mobile apps active, you can often access Netflix on your smartphone, a feature most other VPNs simply don't offer!
Follow the steps below to unblock Netflix and use ExpressVPN to stream all of its movies.
Step 1 – Get a Netflix Subscription
You still need an active Netflix subscription to access its library of movies. VPNs won't let you get around this. The good news is it doesn't matter where your account is located or where your billing address states you are from. Netflix only looks at your IP address when determining what content to serve, so as long as your account is active and in good standing, you can stream from anywhere in the world using a VPN.
Step 2 – Open a Web Browser
Netflix uses two different methods of blocking VPNs: browser IP filters and DNS-based app filters. It's easier to bypass the browser block with most VPNs, so for the best performance possible, try using a PC or laptop with a good browser. ExpressVPN provides surprisingly good access to Netflix via the smartphone and console apps, though, so don't be shy about trying it on your other streaming devices.
Step 3 – Set Up ExpressVPN
Use the guide above to create an account with ExpressVPN and start your subscription. Don't forget to use our exclusive deal link for the best price! Next, download the VPN app for your device, sign in, and let it run in the background. ExpressVPN works straight out of the box, so no need to tweak any configuration settings just yet.
Now open the ExpressVPN app and go to the server location browser. Find a country where you want your IP address to appear from and connect. If you want movies from America, for example, pick a server in the U.S. In general, the more densely populated the country, the more likely ExpressVPN is to have a server that isn't blocked by Netflix, but ultimately it's up to you and your taste in movies.
Step 4 – Try Using Netflix
Once you're connected and safely behind ExpressVPN's encryption and IP masks, it's time to try out Netflix. Open the website in your browser and start looking through Netflix's videos. The selection will automatically change based on your new virtual location.
To test things out, search for something you know isn't available in your local area. Netflix Originals tend to be worldwide, so try picking something else, then click the play button to start the stream.
If you're on an ExpressVPN server blocked by Netflix, you'll immediately run into the proxy error message. When this happens, just go back to the server browser, choose a different location, then try reloading Netflix and streaming again. With ExpressVPN on the job, odds are you won't bump into this proxy error too often!
More Tips and Tricks for Watching Netflix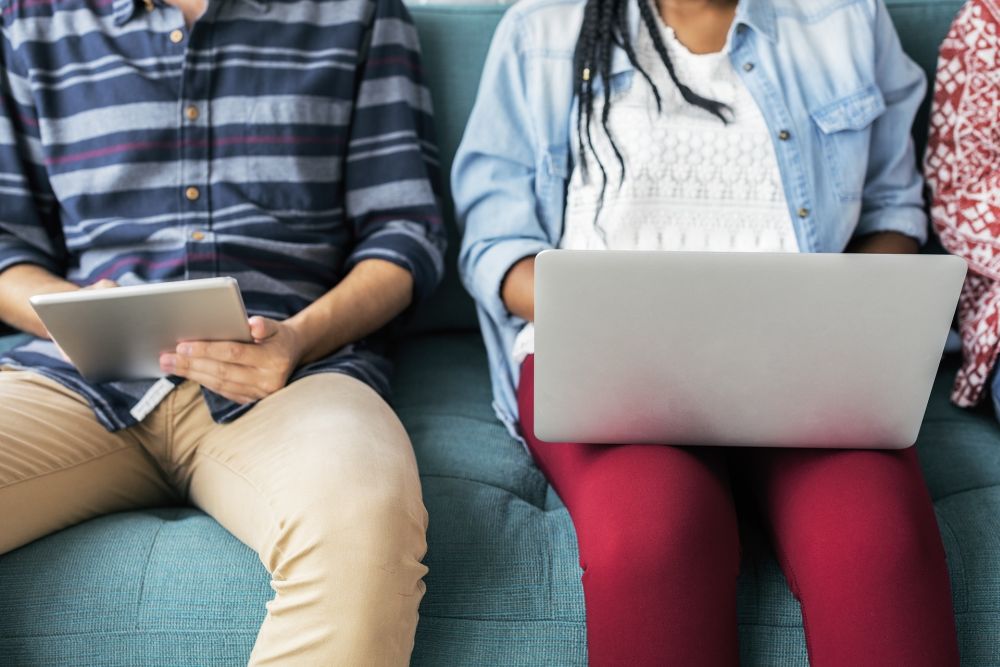 Overall, Netflix is a pretty straightforward service. You sign up for an account, you pick a movie, you start streaming. Different options will be available depending on which device you use or if you switch from an app to the browser interface. But apart from that, there really isn't much else to tweak, right?
Not quite! With a few simple tricks you can completely transform your Netflix experience on a variety of devices. Faster speeds, better quality movies, a wider selection of content, and much more. Once you have Netflix and ExpressVPN set up you'll have access to all the content you can handle, and the tips below will help you make the most of it!
Conclusion
Using Netflix is as easy as pie. Using ExpressVPN is just as straightforward. Putting the two together creates a smooth as silk experience that provides the most reliable access to worldwide movies you could ever hope for. Sign up for ExpressVPN today and start enjoy Netflix to the max!
What country's Netflix will you use ExpressVPN to unblock? Do you agree that ExpressVPN is the king of speed? Let us know your opinions in the comments below!