We are reader supported and may earn a commission when you buy through links on our site.
Learn more
Project Cypher for Kodi: How to Install the Project Cypher Kodi Add-on
Most Kodi users are on the lookout for a reliable IPTV addon and Project Cypher is definitely a strong contender. It has been on the Kodi scene for a while, but it is only really in 2017 when the developer has managed to get it up to the standard Kodi users have come to expect from their addons. But with some neat new features, its own repository, and a large number of high-quality streams available, Project Cypher has now really come into its own.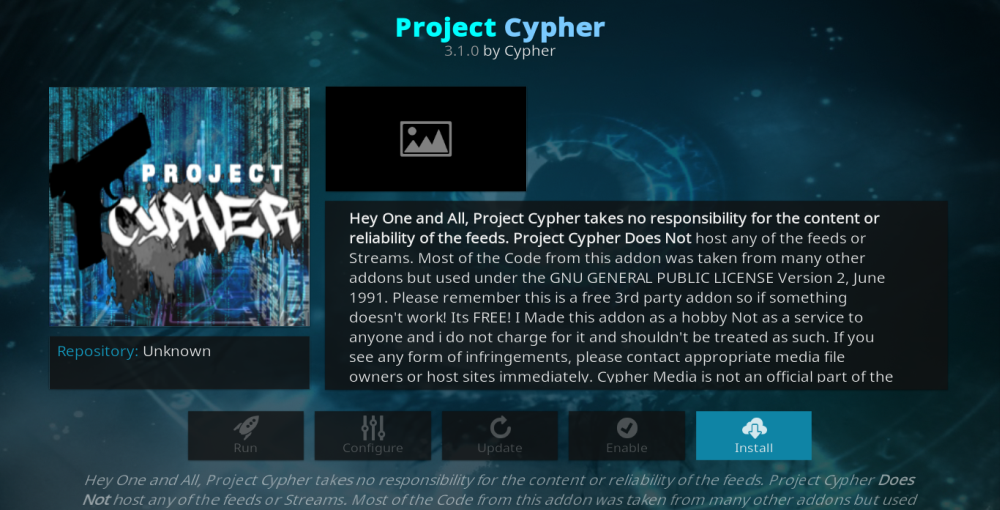 Project Cypher is a popular addon for live sports, although, like most IPTV addons, it is struggling to keep live sports feeds going in the wake of sustained pressure from copyright holders. It is doing at least as well as its main rivals though and a huge range of film content available and a great feature where you can play a movie in just one click is making it increasingly popular with movie fans too.  In this article, we will explain how you can download and install the Project Cypher Kodi addon as well as review its latest version to tell you everything you need to know.
Before you download Project Cypher – Install a VPN
Anyone who is streaming live TV or sports coverage through Project Cypher is strongly advised to use a VPN. A VPN is needed because Project Cypher streams a huge range of content and while some is legally available, some is probably not. Over the years, several of Kodi users have found themselves facing legal repercussion as a result of streaming copyrighted content on addons like Project Cypher. The latest crackdown by copyright holders makes a VPN even more important.
The addon itself takes no responsibility for its content, which means it is down to users to do so. A VPN works by making you anonymous online and encrypting all your online data. This makes it almost impossible to link your Kodi activity directly back to you and so protects you from possible repercussions. There are plenty of VPNs around, but when choosing the right one,  there are four core criteria you need to consider:
Fast connection speeds – Online streaming, especially IPTV streams, needs fast connection speeds. Some VPNs can slow connection speeds down too much, but the best do not.
Strong privacy settings – Kodi users reply on their VPN to provide them with security and privacy, so they need a provider which offers the very best of both.
No restrictions on data or traffic – Kodi addons use different types of files and streaming content can be very data intensive. Some VPNs have restrictions on both file types and data amounts, but Kodi users need one with no such restrictions.
Broad server availability – The more servers available, the faster your connection speeds are likely to be and the more international content you will be able to unblock.
The Best VPN for Kodi – IPVanish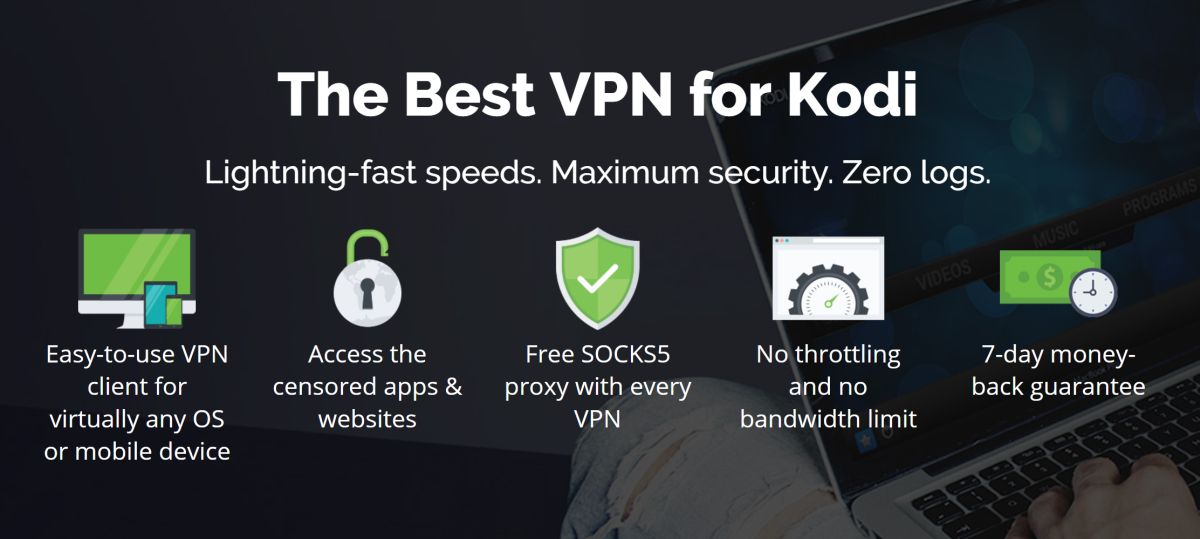 Considering all the best VPNs on the basis of these four core criteria, it is clear that IPVanish is the best all-round VPN for Kodi users. It offers super-fast connection speeds across their network of servers and these speeds are consistent and reliable too. And with a network of more than 850 servers in 60 countries around the world, they have a huge choice of servers to connect to. There are no usage restrictions whatsoever, which is perfect for Kodi users and their encryption and privacy provisions are on a par with all the best VPNs around. IPVanish also works on almost every device you might ever want to run Kodi on too, which makes it the best choice for Kodi users.
IPVanish offers a 7-day money back guarantee which means you have a week to test it risk-free. Please note that Addictive Tips readers can save a massive 60% here on the IPVanish annual plan, taking the monthly price down to only $4.87/mo.
How to install Project Cypher Kodi addon
After a few problems downloading Project Cypher over the course of its history, they have recently chosen to make it available through their own repository. This offers it a secure and reliable home where makes the process of downloading and installing it quick and easy. To download Project Cypher, all you need to do is follow these simple steps:
Open Kodi and click on the Settings icon, which looks like a gear wheel, in the top left of the screen.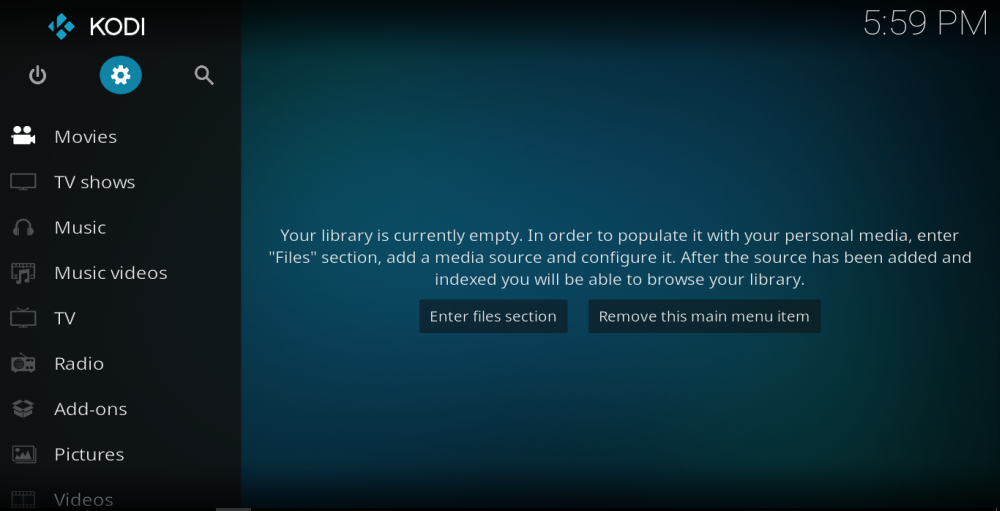 Select the File Manager tab at the bottom of the screen then click on Add Source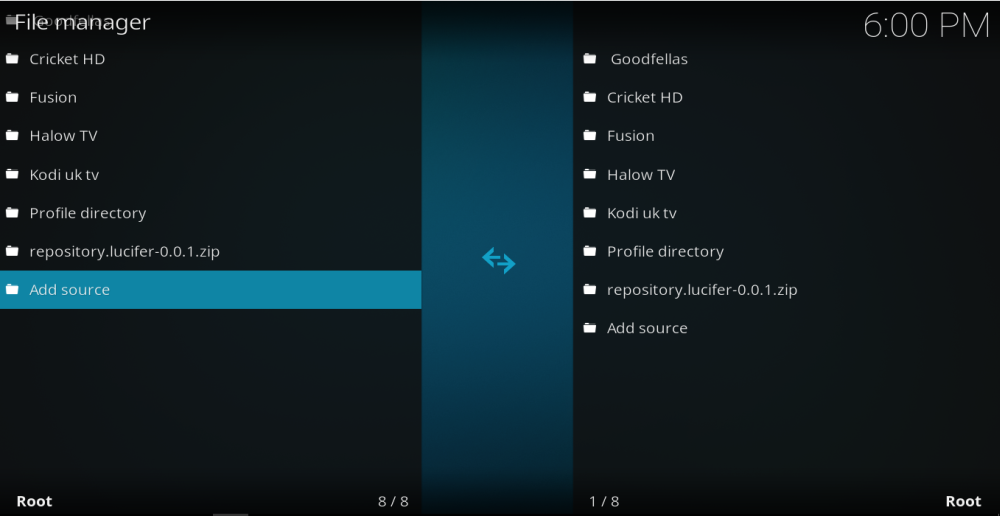 In the pop-up box which follows, click where it says <None> and enter the following URL exactly: https://cypher-media.co.uk/repo/ and then click OK. Give the new source a name, like CypherRepo, for the source and click OK again.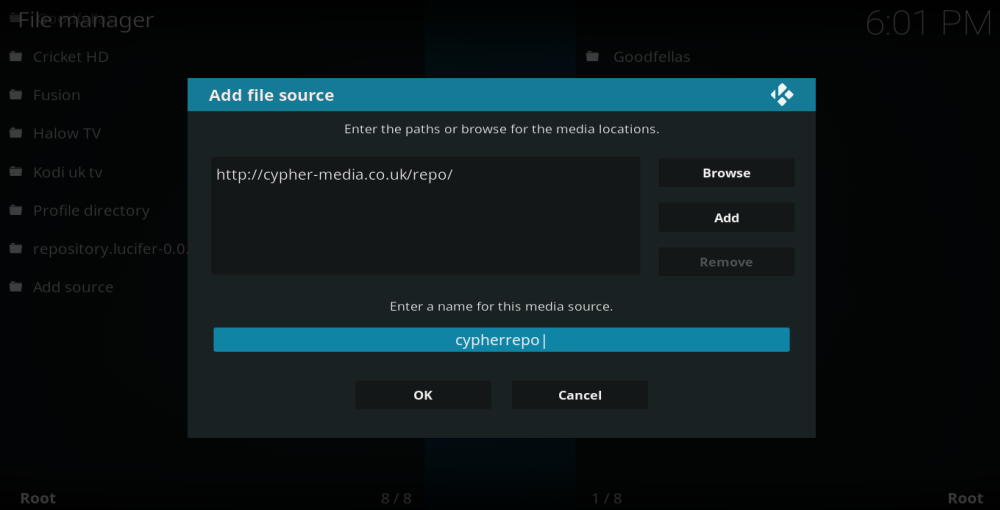 Return to the Kodi home page and this time click on the Addons tab.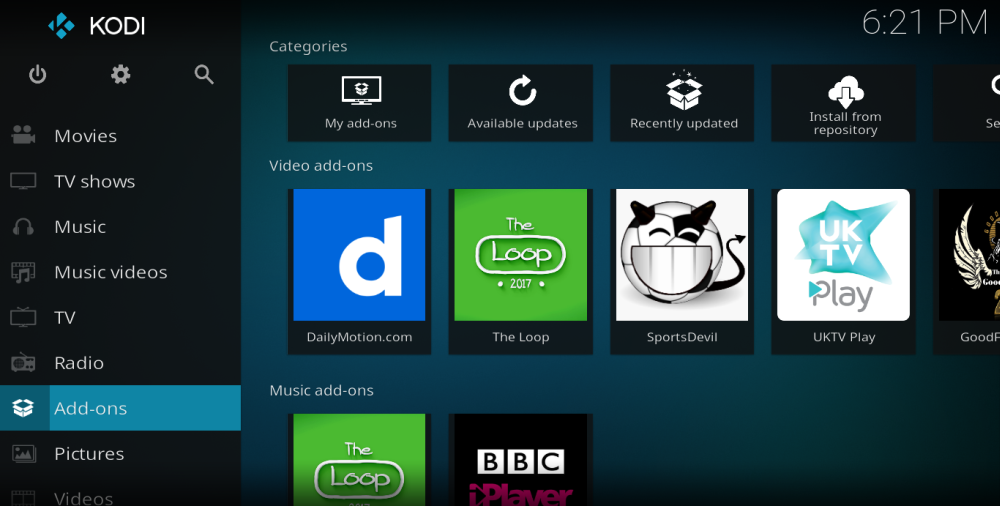 Click on the Addon Browser icon, which looks like an open box and is in the top left of the screen.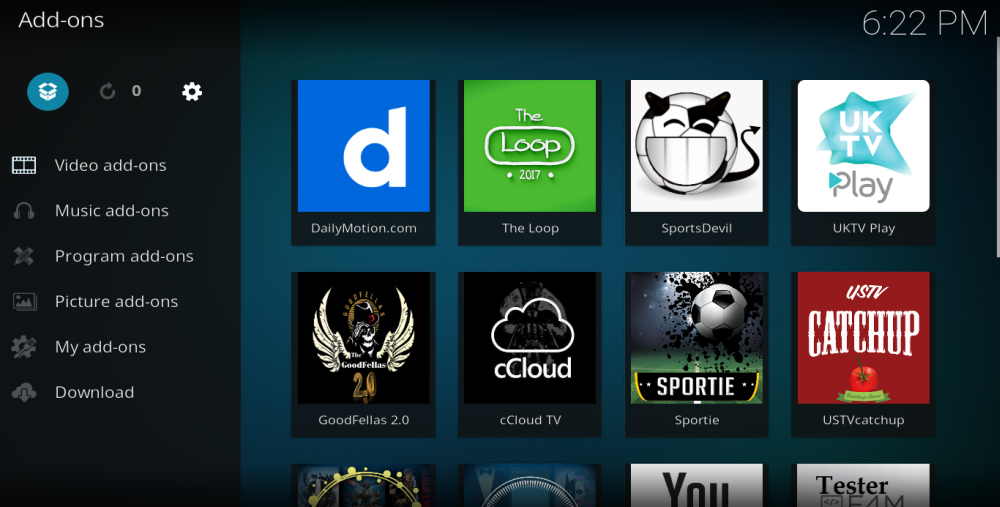 Now select Install from zip file. Click on CypherRepo and select a file called repository.Cypherslocker-x.x.x.zip. Wait until you receive a notification in the top right of the screen which confirms that your installation has been completed successfully.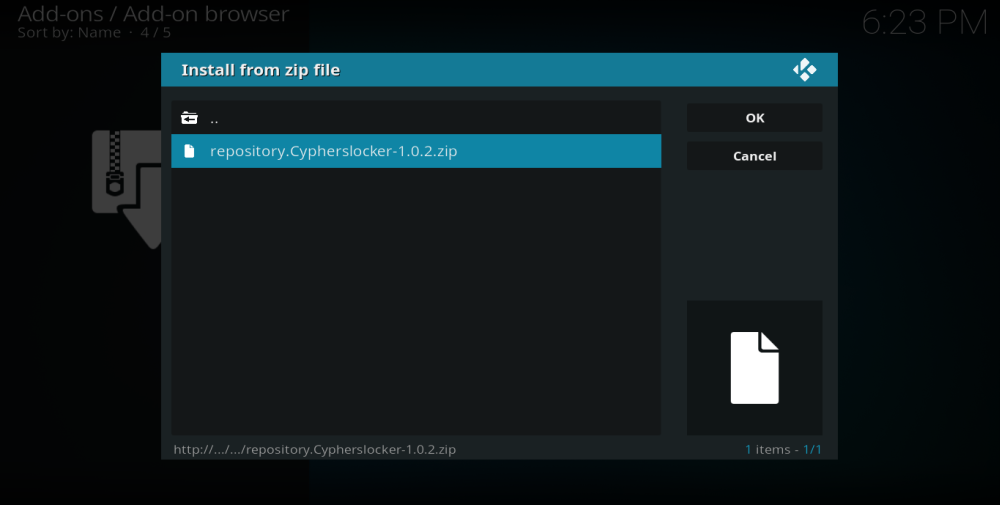 Now return to the Addon browser menu and this time click on Install from repository.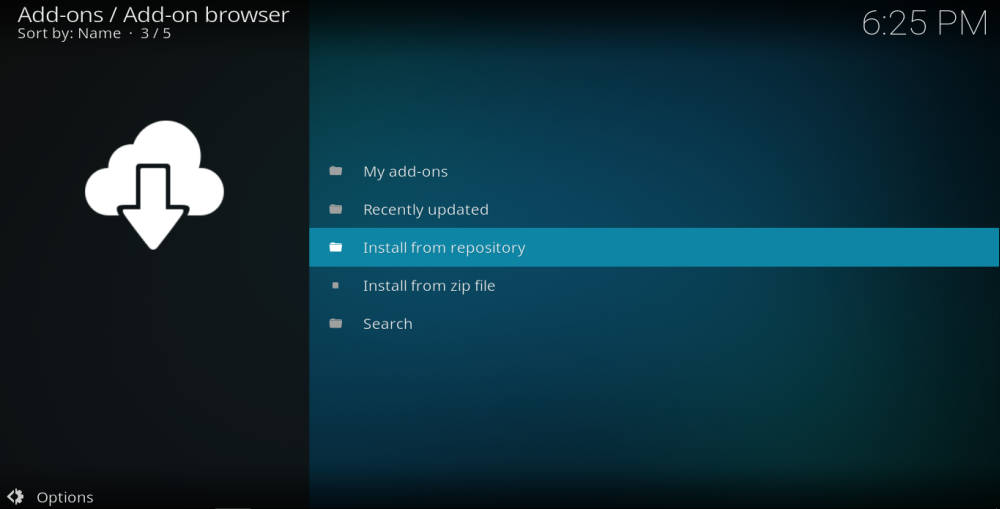 Open up Cyphers Locker then click on Video addons followed by Project Cypher. This will download and install the addon and again you will be notified in the top right of the screen when the process has been successfully completed.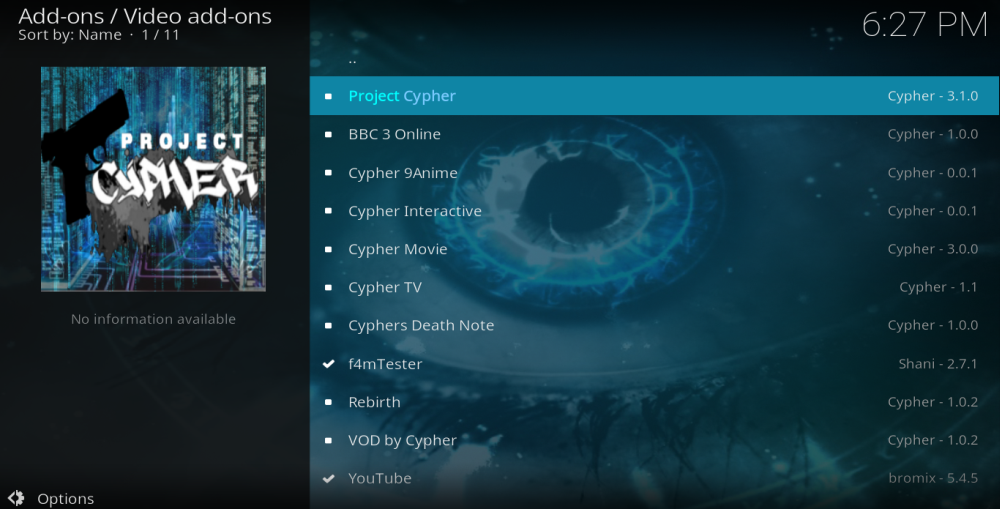 Now you will be able to go back to the home screen and click through Add-ons, Video Addons, and then Project Cypher to start watching.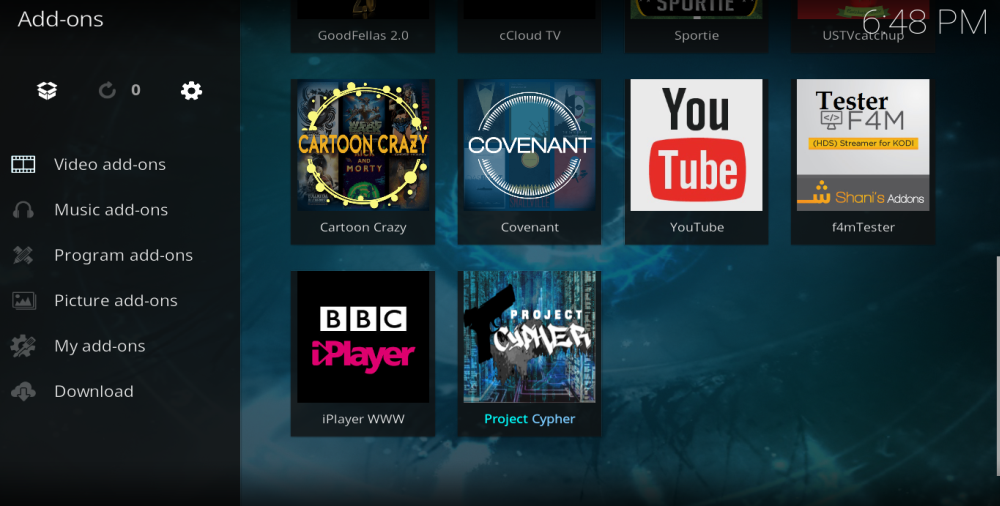 How to use Project Cypher Kodi addon
When opening Project Cypher for the first time you will be confronted with a fairly long and daunting looking main menu. Don't panic! Despite the amount of content available on this addon, it is actually relatively painless to navigate. The menu options are mostly self-explanatory, but here is a brief rundown of what you can expect:
IMDB Movies – This is the home of all the movie content on Project Cypher. You can search the available content by name or look specifically for box sets or collections if you are after a particular Hollywood franchise. There is also a feature called IMDB scraper which links to movies popular on the IMDB website and scrapes information from that site too.
IMDB TV Shows – This section works in pretty much exactly the same way as the previous one, but is focused on TV content rather than movies.
Search Movies and TV Shows – This feature requires users to download another addon known as ReBirth. It is by the same developer, but in general, we tend not to approve of addons trying to push other addons on their users.
Kids Centre – The Kids Centre is the place to go for family content, but the content is not as broad as some other dedicated children's addons. Users can link to YouTube kids content and search for animated content, and there is also a tantalising option which claims to offer every Disney movie. This is broken down by decades and while we can't vouch for every link working, seems to be pretty comprehensive and all the ones we tried were fine.
IPTV Channels – This option links to a list of available IPTV streams including channels from around the world. The sub-menus are not completely clear, but with a little digging around there isn't much you won't be able to find.
BBC Live Channels – This section connects to the BBC iPlayer and makes all national, local, and specialist BBC channels available to stream live. Project Cypher does warn that a VPN connected to a UK server will be needed to view the content.
Live World CCTV –This section allows users to watch live CCTV cameras from around the world. They are listed by location, with many of the world's most famous landmarks and places available as well as a few unconventional ones, such as from the International Space Station.
Sports VOD – This section allows viewers to enjoy highlights and replays from all the latest major US sports leagues and a number of European sports such as football and rugby too.
Miami TV – It is not immediately apparent why Miami TV makes it to the main menu, but it links to the various Miami TV channels.
Chilled Zone – Another quirky link, which is perhaps capitalizing on the recent trend for slow TV events. A number of link to content for you to chill out and relax too.
Concerts – This links to a number of live on-demand concerts from some of the world's biggest music artists, including Mumford and Sons, Foo Fighters, Adele, Kings of Leon, and Coldplay.
Serial Killer Directory – Another odd choice for the main menu, but this has links to a whole host of serial killer-related documentaries.
NASA Live Streams Directory – A big favourite of ours, this option connects to several live NASA streams allowing you to see the latest action from their projects in outer space.
Free PPV – This section tries, and often succeeds, in providing free links to Pay-Per-View sporting events, such as the latest boxing bouts and UFC events.
There are also a few administrative options at the bottom of the main menu, such as one which enables you to clear the Project Cypher cache if you find the addon starting to slow down. We found that on occasion, this option was extremely useful.
How the Project Cypher Kodi addon performs
Given the scale of the Project Cypher addon, its performance is pretty impressive. There are a few small issues. On the general search features throughout the Project Cypher addon, there is a real dearth of information. If you are looking for a movie, all you have to go on is the name and the year it was released. There is no image and no additional information, which can make it difficult to find content unless you know exactly what you are looking for. There are a few broken links, but in such a huge addon, it would be unreasonable to expect otherwise.
Despite these small issues, there is much to praise about Project Cypher. The people behind Project Cypher have made a real effort in recent times to improve the quality of their links. It has really paid off. Almost every link we connect to was either HD or SD quality which is certainly not the case with all of their rivals and is a real feather in the Project Cypher cap. Usability is not perfect, but it is not as bad as some rival addons and for the content most in demand by users (sports, Movies and TV), finding content is generally pretty straightforward.
Project Cypher Kodi addon conclusions
As IPTV goes, Project Cypher is undoubtedly up there with the very best. It has come on in leaps and bounds over recent months and, while there is definitely still room for improvement, we would certainly recommend it as a valuable addition to your Kodi library.
What do you make of Project Cypher? Did you find our download and installation guide worked ok? How did you find the addon to use? Was the quality of its content up to scratch? Feel free to share all your thoughts with us in the comments section below.