Best 50 Psychological Thrillers to Watch on Netflix
Sometimes you feel like laughing, other times, you feel like hiding under your blanket with your brain trying to make a million connections so you can figure out what's going on in the movie. Well, if you want to check some of the best 50 psychological thrillers you can find on Netflix, let's dive into it.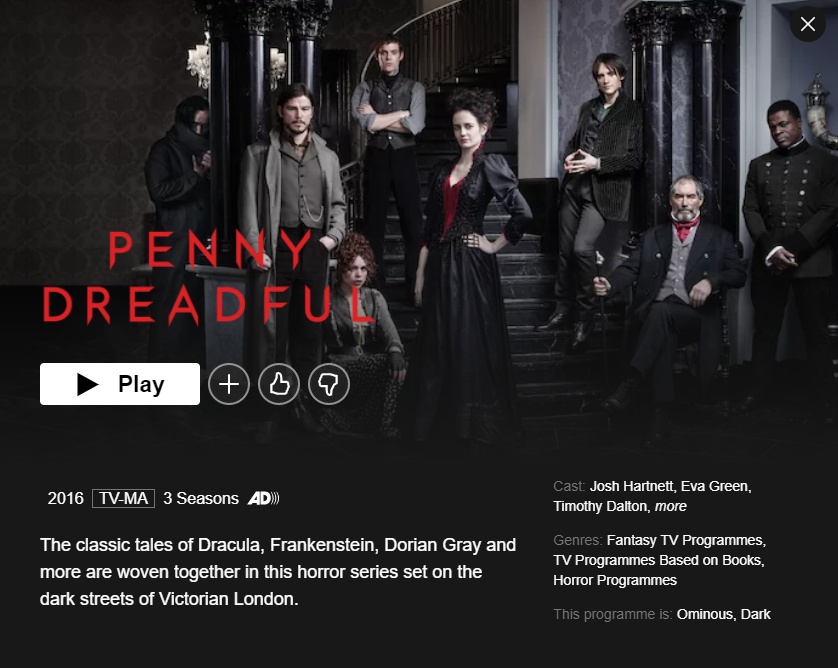 Psychological thrillers are often more subdued thrillers that pack a punch not because of making you jump out of your skin, but rather by emphasizing the mental states of the characters, whether we're talking about the way they perceive the world, how they grasp reality and so on.
These movies have plot twists, and unreliable narrators, questionable characters, and plenty of red herrings to throw you off the scent of the truth.
So, on Netflix, we managed to find quite a few of these films to keep us occupied for quite a while. Even better, we also found a few series that will keep us entertained for an even longer time.
In order to rank them, we checked out sites like IMDb, Rotten Tomatoes, and Metacritic to see what movie critics and audiences thought of these. Based on the scores there, we ran an average and came up with a new scoring system.
1. The Silence of the Lambs – 9.02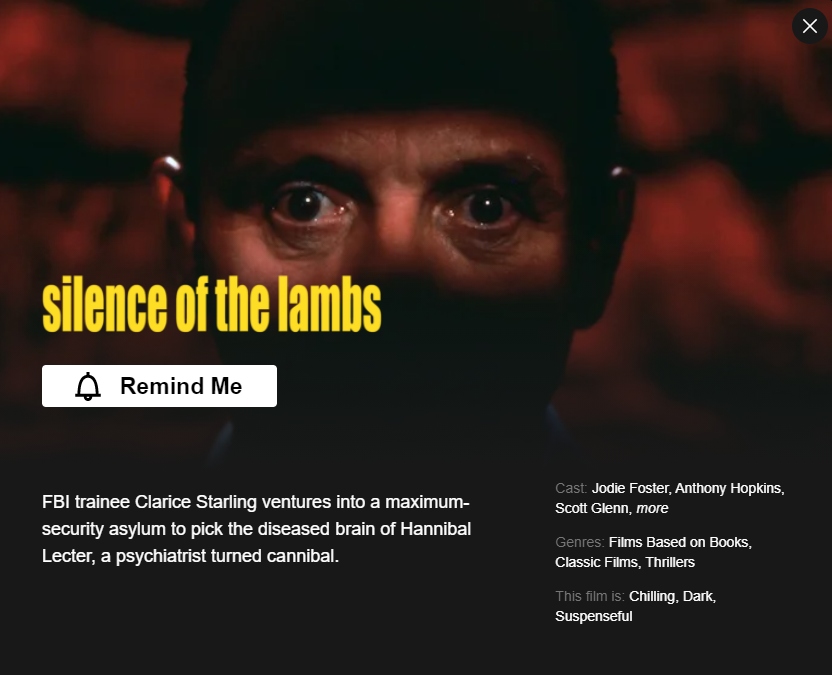 When it comes to psychological thrillers, Silence of the Lambs is one of the best-known movies. Released in 1991, this continues to be one of the biggest names in the genre, full of moments that have become part of pop culture. Featuring Jodie Foster and Anthony Hopkins, the film tells the terrifying story of Hannibal Lecter, a former psychiatrist and imprisoned serial killer with a penchant for cannibalism. The film won Best Picture, Best Director, Best Actor, Best Actress, and Best Adapted Screenplay during 1992's Oscar Awards. Silence of the Lambs had a budget of only $19 million, but made over $270 million at the box office.
We need to mention that Silence of the Lambs is not available on Netflix US, but you can find it in Canada. Continue reading and we'll tell you how to watch the movie, regardless of the country you're in.
2. Mindhunter – 8.92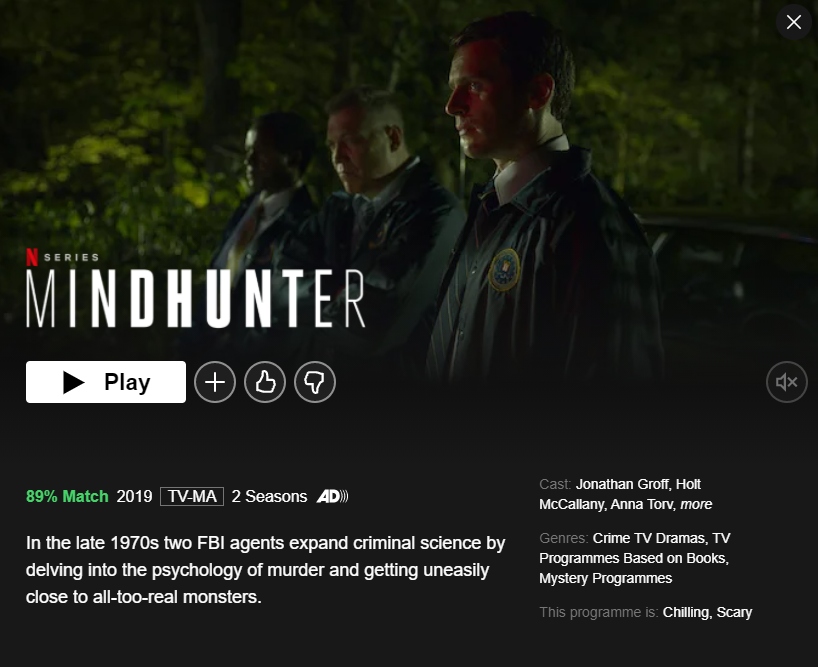 This time around, we have a TV series that will take you through 19 episodes that are full of thrills and scary situations. The show tells the story of the FBI's Behavioral Science Unit and how they dived into interviewing serial killers to better understand what they think and hope to be able to understand other killers too in order to solve more cases. The show features Jonathan Groff and Holt McCallany in the main roles. Mindhunter is a Netflix show, so you'll find it everywhere.
Related: The 50 Best Netflix Original Shows and Movies to Watch in 2021
3. Taxi Driver – 8.82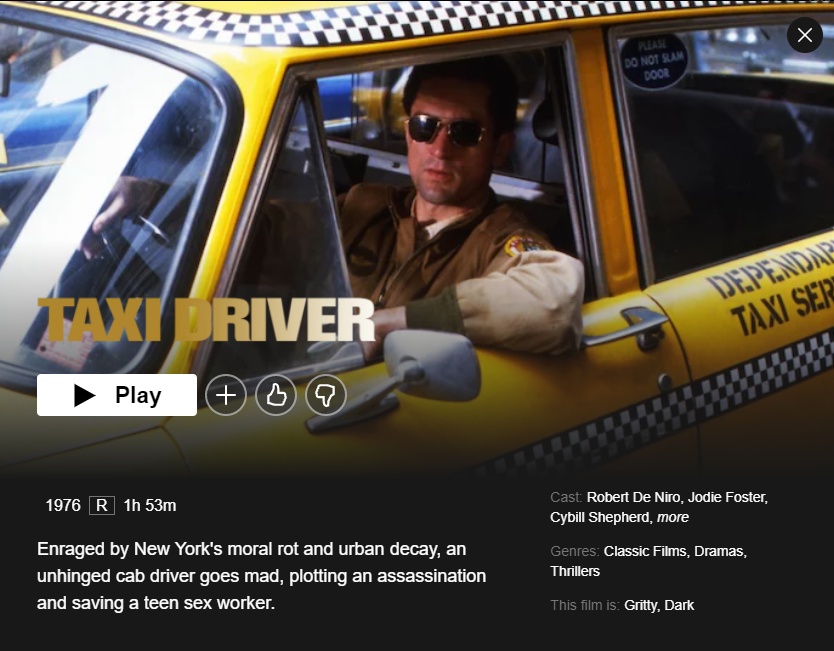 We're going back a few decades again to the oldest movie on our list. Nonetheless, we cannot create a list of the best psychological thrillers and not include Taxi Driver on it. This 1976 movie features Robert De Niro, Jodie Foster, Cybill Shepherd, and Harvey Keitel. We follow Travis Bickle, a former Marine and Vietnam War vet who takes on taxi driving at night. As he encounters the truths of the nightlife, he starts walking on a destructive path, especially as he tries to save Iris, a child prostitute.
4. Dark – 8.78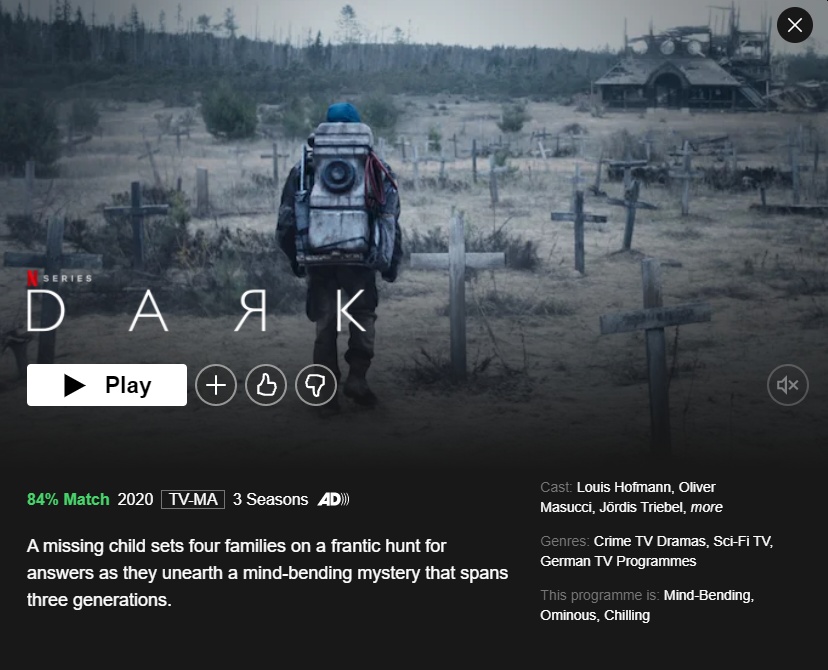 Next up, we have Dark, a German thriller series that will keep you on your toes. The series features three seasons that ran between 2017 and 2020 and it features four estranged families that work to understand a weird time travel conspiracy throughout the years. You need to keep your eyes on the screen every minute so you don't miss something.
5. Broadchurch – 8.76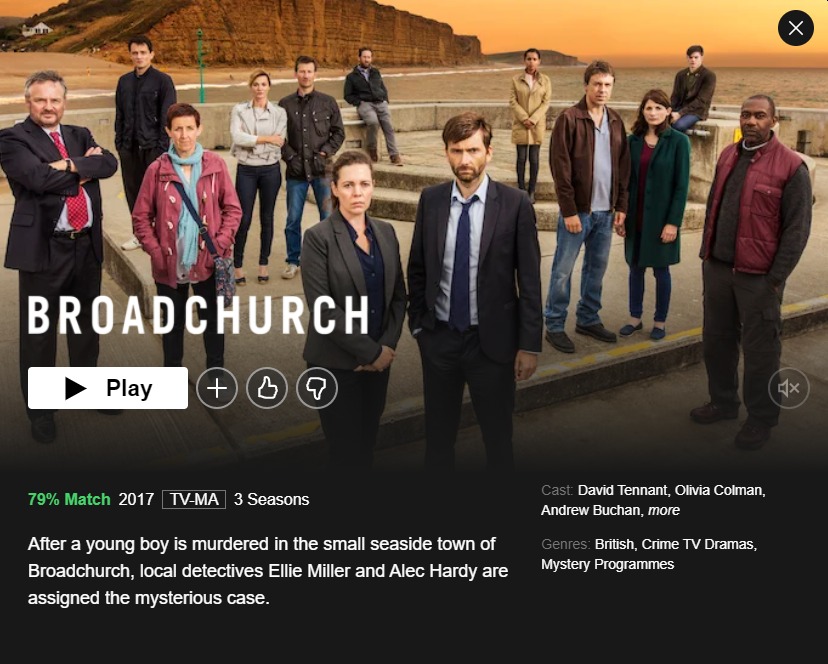 Running between 2013 and 2017, Broadchurch is a British crime series that follows the detectives trying to solve the mysterious death of a local 11-year-old boy. Not only do we go on a chase for the murderer, but we also get to see how the boy's death affects the small town. The show features David Tennant and Olivia Colman in the main roles. There are 24 episodes in total, so you'll have to spend a while in front of the TV.
6. Penny Dreadful – 8.38
One of the best shows to come from Showtime, Penny Dreadful craftily mixes in the thrill, the horror, and the psychological games. We dive into a world where Dorian Gray, Dracula, Frankenstein and his monsters, werewolves, and incarnations of goddesses are perfectly real, and where the main character is sought after by Fallen Angels as she is to become the Mother of Evil. Eva Green, Timothy Dalton, Reeve Carney, Rory Kinnear, Billie Piper, Harry Treadaway, Josh Hartnett, and Helen McCrory are part of an impressive cast that will make you believe everything is real. The show ran for three seasons and you can enjoy them all on Netflix.
7. Gone Girl – 8.32
Based on the same-named novel, Gone Girl is a psychological thriller that stars Ben Affleck, Rosamund Pike, Neil Patrick Harris, Tyler Perry, Kim Dickens, and others. We follow the story of Nick Dunne, a man who returns home to find his wife, Amy, missing on their five-year wedding anniversary. As police get involved, they suspect Nick may have killed Amy. The twists and turns of this story will keep you seated in front of the TV, no matter how you feel about Ben Affleck movies.
Gone Girl isn't available on Netflix in the United States, but we managed to find it in Romania.
8. Manhunt: Unabomber – 8.28
Manhunt is actually an anthology TV series and we get two different shows. This time around, we'll be focusing on Unabomber since that's the one with the heavy psychological thriller vibe. The show stars Sam Worthington and Paul Bettany, Elizabeth Reaser, Chris Noth, and plenty others. We follow the FBI trying to figure out who the infamous Unabomber is as they try to catch him.
9. Black Mirror – 8.24
Up next we have Black Mirror, a show that has been making quite the waves. Overall, the show has a strong dystopian science fiction undercurrent, but some of the episodes are full of moments that will raise the hairs on the back of your neck. The show kicked off in 2011 and wrapped up in 2019, totaling five seasons and 22 episodes. Each episode has its own cast and story, so you'll have to discover it on your own.
10. Zodiac – 8.1
This psychological thriller mixes in some mystery and keeps us on our toes as we try to figure out who the Zodiac killer is, putting together the various clues we have. The film premiered in 2007 and stars Jake Gyllenhaal, Mark Ruffalo, Robert Downey Jr., and many others. The film follows the chase for the Zodiac killer, the mysterious coded messages he sent out, the cases, and everything surrounding one of the most prolific serial killers in history.
Zodiac is not available on Netflix US, but you can find it in Canada.
11. You – 7.96
Starring Penn Badgley, Elizabeth Lail, and Victoria Pedretti, this psychological thriller follows Joe Goldberg, a bookstore manager who seems to be pretty normal. That is, until you find out he's actually a serial killer. He falls in love with a customer named Guinevere and develops an obsession. Later on, in the second season, he once more falls in love with a woman after he moves to Los Angeles. This time, however, he may have met his match. There have been two seasons thus far, and a third one is scheduled for 2021.
12. The Gift – 7.94
This 2015 film tells the story of a married couple – Simon and Robyn – who moves to Los Angeles, following a job offer. After a chance encounter, an old high school classmate of Simon's starts dropping by with gifts, making Simon rather uncomfortable. As the story progresses, we find out more details about Simon's past and his connection to his classmate. The film stars Jason Bateman, Rebecca Hall, and Joel Edgerton. The Gift had a $5 million budget but made close to $60 at the box office.
13. The Sinner – 7.8
The Sinner is an anthology drama mystery series that's full of twists and turns. Although the show was supposed to have eight episodes only, its success led to The Sinner now having three seasons. The show follows various cases, starting off with that of a woman who had stabbed a man to death, continuing with the story of a young boy who admits to poisoning a couple, and that of a fatal car accident that is more than it seems to be. The show features actors like Bill Pullman, Jessica Biel, Carrie Coon, Jessica Hecht, and Chris Messina. All three seasons come with eight episodes each, and a fourth season has been ordered.
14. The Guest – 7.8
Starring Dan Stevens, The Guest tells the story of David Collins, a man who returns from war and visits the family of another soldier, Caleb, who died in Afghanistan, saying he wants to help take care of them as Caleb would. Before long, it's obvious there's more to the story here and more to know about David. The film has a chilling note and will leave you unsettled.
15. Cape Fear – 7.7
Cape Fear is a film directed by Martin Scorsese, starring Robert De Niro, Nick Nolte, Juliette Lewis, Jessica Lange, and many other A-listers. We follow the story of a convicted rapist, Max Cady, who has had plenty of time to study the law and make a creative plan to get back at his former public defender. Since the lawyer had buried evidence on the victim that might have lightened the sentence, Max thinks he's to blame for him spending 14 years in prison. This is a movie that received two Academy Awards nominations, as well as a couple at that year's Golden Globe Awards.
16. Calibre – 7.54
The next psychological thriller on the list comes from the UK and it was directed by Matt Palmer. The film stars Jack Lowden and Martin McCann in the main roles. We follow Two friends who go hunting in the Scottish Highlands. What starts out as an accident after one of them shoots a boy hidden behind a deer, turns into a fight for their lives as the boy's father tries to retaliate. Instead of going to the police and admitting what they'd done, they instead hide the bodies. Before long, the situation grows even more complicated.
17. Gerald's Game – 7.42
This 2017 film is based on a Stephen King book, so you know what you can expect some pretty messed up things that will make you feeling unnerved. We follow Jessie and Gerald, a couple who goes away for the weekend, hoping to spice things up. When Gerald dies of a heart attack, while Jessie is handcuffed to the bed, things start to get interesting. On top of Jessie trying to find a way to escape and becoming anxious about her situation, a disfigured man makes an appearance. Gerald's Game stars Carla Gugino, Bruce Greenwood, and Carel Struycken.
18. The Invitation – 7.38
The Invitation is a thriller that's more on the horror side. Released in 2015, The Invitation follows a dinner party that turns weird, with the couples starting to act strange. One of the couples mentions a group they are a part of that works through grief with the help of spiritual philosophy called "The Invitation." The movie features Logan Marshall-Green, Tammy Blanchard, Michiel Huisman, Lindsay Burdge, and others.
19. The Platform – 7.26
This is a rather weird film, featuring a tower that's a Self-Management Center. The residents are deployed over multiple levels and are switched every 30 days. Since a platform comes down daily with food, those on the higher levels tend to gorge themselves, while those on the bottom floors have nothing left to eat. A couple of men start trying to straighten things out so food lasts for everyone, down to the bottom. The film features Iván Massagué, Zorion Eguileor, Antonia San Juan, Emilio Buale Coka, and Alexandra Masangkay.
20. Red Dragon – 7.18
This is a prequel to The Silence of the Lambs, so you sort of know what to expect. We follow an FBI agent visiting Hannibal Lecter to discuss a case during his time as a forensic psychiatrist. Realizing he's about to be found out, Hannibal stabs the agent and ends up in prison. Years later, Hannibal lends his knowledge to help catch another serial killer. The film stars Edward Norton, Anthony Hopkins, Ralph Fiennes, Harvey Keitel, Philip Seymour Hoffman, Emily Watson, and others.
21. Badla – 7.1
This 2019 film comes from India and was directed by Syjoy Ghosh. It tells the story of a young woman who insists she was framed for the murder of her lover. Her lawyer is insistent on her telling him the truth and they run a lengthy interview. It's a psychological game that may not have the winners you expect. Badla stars Amitabh Bachchan, Taapsee, Pannu, Amrita Singh, and Tony Luke.
22. The Alienist – 7.1
The Alienist is a period drama series where we see a team formed of a psychiatrist, a cartoonist and illustrator, a police secretary, and a couple of detectives work an investigation in parallel to the police to catch serial killers. There are two seasons of the show already and they are both thoroughly captivating. We get to enjoy Daniel Brühl, Luke Evans, Dakota Fanning, Brian Geraghty, Douglas Smith, Matthew Shear, and others.
The Alienist is no longer available on Netflix in the United States, but you can catch it on Netflix Canada.
23. The Killing of a Sacred Deer – 7.1
This psychological thriller was released in 2017. It stars Nicole Kitman, Colin Farrell, Alicia Silverstone, Bill Camp, and many others. We follow the story of a surgeon who befriends a teenage boy, whom he feels needs help with his grief after his father's death. After he introduces the boy to his family, his son and wife fall ill. Once the connected past of the surgeon and the boy becomes apparent, things take an even weirder turn. The film won the Best Screenplay Award at the Cannes Film Festival in 2017.
24. 1922 – 7
This horror film has a heavy psychological element to it, which is just what you'd expect when you find out that it is based on a Stephen King novella. The film stars Thomas Jane, Molly Parker, and Neal McDonough. It follows a farmer living with his wife and their son. When the mother wants to sell the farm and move away, the head of the family convinces his son to help murder her.
25. Everybody Knows – 6.92
This Spanish thriller features Javier Bardem and Penelope Cruz. Released in 2018, it follows the story of a woman returning with her children to her home country to attend her sister's wedding. That night, her daughter is kidnapped, so a race against time begins to get her back. Who's to blame and what needs to be done to save the girl? Let's find out!
Everybody Knows is missing from the US library, but can be found on Netflix Canada.
26. Cam – 6.76
This psychological horror film follows the story of Alice Ackerman, a young lady to works as a camgirl on a website that broadcasts sexy live shows. As she becomes obsessed with ranking higher and higher on the website, she becomes more entangled in this lifestyle and sharing more provocative footage. When doppelgangers start popping up across the platform, things start getting weird. The film stars Madeline Brewer, Patch Darragh, Melora Walters, Devin Druid, Imani Hakim, and others.
27. The Perfection – 6.24
Released in 2017, this psychological thriller and horror film follows the life of a young cellist, Charlotte. A rather twisted story where Charlotte has to leave the music school she attends in order to care for her ill mother. Years later, she rejoins the head of the academy in the search for a new student and she befriends the girl who took her place in the academy, Lizzie. We're not going to dive further in the story, so not to spoil it, but you'll get multiple whiplashes throughout the film. The Perfection stars Allison Williams, Logan Browning, Steven Weber, and Alaina Huffman.
28. Hannibal – 5.94
Inspired by the Thomas Harris novels featuring Hannibal Lecter, the same that inspired the 90's movies, Hannibal is a 3-season series that has been praised as one of the best horror series. The show follows FBI profiler Will Graham, getting help from Dr. Hannibal LEcter to catch various killers. Hannibal features Hugh Dancy as Graham and Mads Mikkelsen as Lecter, as well as Caroline Dhavernas, Hettienne Park, Laurence Fishburne, Gillian Anderson, and others.
29. The Call – 5.92
This is a 2020 film from South Korea and it's based on a 2011 film with the same name. The story follows Kim Seo-yeon who travels to her home town to visit her sick mother and receives a call on the old home phone. However, this isn't a regular call, as it's actually a woman who also lived in the same home decades earlier. By exchanging information, the two manage to change history. But is that a good thing? The film stars Park Shin-hye, Jeon Jong-seo, Kim Syng-ryung, Lee El, Oh Jung-se, and others.
30. Bid Box – 5.9
One of the most famous films created by Netflix, Bird Box is a post-apocalyptic thriller and horror that's based on a novel. We follow Malorie Hayes as she tries to protect herself and her children from supernatural entities that make people kill themselves by simply looking at them. The film stars Sandra Bullock, Trevante Rhodes, Jacki Weaver, John Malkovich, and Sarah Paulson.
31. The Occupant – 5.67
This 2020 film follows a former company executive who is left unemployed. Finding himself in financial hardship, he sells his apartment. However, unable to let go of his own path and social rank, he becomes obsessed with the new occupants of the apartment, and start infiltrating their lives. We can watch Javier Gutierrez, Mario Casas, Bruna Cusi, and Ruth Diaz.
32. The Frozen Ground – 5.52
The Frozen Ground is a psychological thriller released in 2013. The movie stars Nicholas Cage, John Cusack, Vanessa Hudgens, and 50 Cent, and it's a film based on serial killer Robert Hansen. The police investigate the death of multiple young women, even as they dismiss the statements of a young lady that is saved after being raped due to her being a prostitute. The fact that Robert Hansen, the man she is accusing, is an upstanding member of society also weighs against her.
33. Basic Instinct – 5.52
Back in 1992, Paul Verhoeven directed one of the most famous thriller movies in history. Basic Instinct stars Michael Douglas and Sharon Stone in the main roles. We get to watch detective Curran investigating the death of a rock star. Before long, he becomes romantically involved with the prime suspect in the murder, a beautiful writer. Basic Instinct was considered to offer a groundbreaking depiction of sexuality in mainstream cinemas.
34. Fractured – 5.3
This 2019 psychological thriller has Sam Worthington, Lily Rabe, and Lucy Capri, in the main roles. We follow the story of Ray, his wife Joanne, and daughter Peri. Returning from Thanksgiving dinner, they stop at a gas station, and they have an accident, ending up in the hospital after a nasty fall. From there on out, things get a bit crazy, and it's best for you to follow things on your own.
35. Unfriended: Dark Web – 5.14
Unfriended: Dark Web is a horror film that's full of mind games. We follow the events in the life of Matias, a man who finds a laptop in a cyber cafe and decides to take it home, hoping to use it to develop a sign language app for his deaf girlfriend. Soon, however, the original owner of the laptop keeps messaging him, and he becomes entangled in a messy dark web game with fatal consequences when The Circle gets involved. The film stars Colin Woodell, Betty Gabriel, Rebeca Rittenhouse, Andrew Lees, and Stephanie Nogueras.
The movie is not available in the US but can be watched on Netflix Romania, for example.
36. Along Came a Spider – 5.1
This 2001 psychological thriller follows a detective forensic psychologist who withdraws from work after his partner is killed during a sting operation. He returns only when the daughter of US senator is kidnapped by her teacher. Along Came a Spider stars Morgan Freeman, Monica Potter, Michael Wincott, Billy Burke, and Anton Yelkin.
37. Self/Less – 5.02
Staring Ryan Reynolds, Self/less is a 2015 psychological thriller that mixes in science fiction. The film follows a business tycoon who is diagnosed with a terminal illness. His consciousness is transferred into a younger body to help prologue his life. When memories that aren't his keep coming back, he discovers things aren't as he thought they were. We also get to watch Ben Kingsley, Natalie Martinez, Matthew Goode, and others.
38. Offering to the Storm – 4.93
Offering to the Storm is a Spanish film released in 2020 and it's the final movie in a trilogy that also includes The Invisible Guardian and The Legacy of the Bones. We follow inspector Amaia Salazar trying to unearth the origins of her nightmares just as the darkest secrets of the Baztán valley are also coming to light. The movie stars Marta Etura, Leonardo Sbaraglia, Paco Tous, and Alvaro Cervantes.
39. Secret in Their Eyes – 4.88
This next thriller was released in 2015 and it stars Chiwetel Ejiofor, Nicole Kidman, Julia Roberts, and Dean Norris. Secret in Their Eyes follows a story that features a counterterrorism agent, Ray, and an investigator for the LA district attorney's office, Jess. When they are called in to investigate an unknown woman's body dumped near a mosque, they discover it's Jess's daughter. A dangerous chase to find the killer ensues, and there are plenty of surprises to watch out for.
40. I Am The Pretty Thing That Lives in the House – 4.82
The next psychological thriller perfectly mixes in the horror and the supernatural. I Am The Pretty Thing That Lives in the House tells the story of a retired horror writer who suffers from dementia. As she moves into an old home, she is accompanied by a nurse. Soon, the ghost of a woman who had lived in the home starts popping up, as her own story is unearthed. The film features Ruth Wilson, Paula Prentiss, Bob Balaban, and Lucy Boynton.
41. Rebecca – 4.72
Rebecca was only just released this past October and it's a romantic thriller film based on the same-named novel from the '30s. The film stars Lily James, Armie Hammer, Keeley Hawkes, and Kristin Scott Thomas. We follow an unnamed young woman who works as a companion to a rich American woman on vacation in Monte Carlo. There, she meets a wealthy man called Maxim de Winter, recently widowed after his wife Rebecca died in a boating accident. Loads of secrets are revealed, unhealthy obsessions, and disturbing flaws. We watch Lily James, Armie Hammer, Kristin Scott Thomas, Keeley Haws, and Sam Riley.
42. Tau – 4.7
Released in 2018, Tau is a science fiction thriller that will have you questioning everything. The movie features a young woman who is abducted from her home and awakens in jail with an implant on the back of her neck. She discovers that she is being held captive by a scientist who tries to gain neural activity to improve his AI. Escaping is difficult as the house she is held in is run by the same Artificial Intelligence, Tau. Tau stars Maika Monroe, Ed Skrein, and the wonderful Gary Oldman who gives voice to Tau.
43. Would You Rather – 4.62
Would You Rather is a 2012 psychological thriller that stars Brittany Snow and Jeffrey Combs. Iris is a young woman is unable to cover the payments for her brother's leukemia treatments. When she's introduced to a philanthropist, he invites her for a game night that could win her money. This 'would you rather' game is sadistic, cruel, and violent, and leaves Iris fighting for her life.
44. The Paramedic – 4.56
This 2020 Spanish film follows Angel, a paramedic with questionable tendencies as he often steals from his patients. After an accident leaves him paralyzed from the waist down he becomes suspicious of his girlfriend and starts spying on her. When she figures things out, she leaves him. Months later, she has moved on, but Angel has not. The movie features Mario Casas, Deborah Francois, Celso Bugallo, Guillermo Pfening, and others.
45. In The Tall Grass – 4.4
This 2019 film is a supernatural horror drama that is based on the same-named novel by father-son duo Stephen King and Joe Hill. Two siblings enter a field of tall grass after hearing a boy's cries for help. While entering the grass is easy, getting out is not, as evil is in there as well. When they can't find their way out, things start going strange. In The Tall Grass stars Laysla De Oliveira, Avery Whitted, Patrick, Willson, and Will Buie Jr.
46. The Warning – 4.4
The Warning follows the events after a young boy receives a threatening letter stating that his life is in danger if he visits a store on his birthday. The movie takes a strange turn of events when we find out that the same date and location had been fatal for others before the boy, and we take a trip through different timelines. The movie stars Raul Arevalo, Hugo Arbues, Belen Cuesta, Aitor Luna, and others.
47. The Captive – 4.26
Starring Ryan Reynolds, this film may get you a bit confused due to the nonlinear presentation, jumping between timelines through flashbacks. This is also a story that will be hard to stomach as it features a hunt for a child pornographer that has kept a young girl captive for numerous years. The Captive also features Rosario Dawson, Scott Speedman, Mireille Enos, and Kevin Durand.
This film is currently available on Netflix Canada, as it's missing from the US.
48. House At the End of the Street – 3.88
This 2012 film may not have been that big of success at the box office, but it's one that you should watch nonetheless. The plot revolves around Elissa, a teenage girl who moves to the house at the end of the street with her mother. The home had seen a gruesome double murder at the hands of a girl called Carrie-Anne who was never caught. After Elissa starts dating Carrie-Anne's brother, the truth comes out. The movie stars Jennifer Lawrence, Max Thieriot, Elisabeth Shue, and Gil Bellows.
49. Secret Obsession – 3.05
Released in 2019, Secret Obsession tells us the story of a woman who becomes amnesiac after a car hits her while running from an unknown individual. As she returns to life with her husband, the police start looking into this man and whether or not he's who he says he is. When the truth comes to light, it's a fight for life. We enjoy Brenda Song, Mike Vogel, Dennis Haysbert, and Daniel Booko in this movie.
50. Fatal Affair – 2.8
This brand new psychological thriller was released in the summer of 2020. We follow Ellie, a successful attorney, who moves to a new house with her husband and daughter. When she nearly has an affair with a new colleague, things start getting crazy after he develops an obsession for her and starts interfering in her life. Fatal Affair stars Nia Long, Omar Epps, and Stephen Bishop.
How to watch films that are not locally available on Netflix?
For a few of these titles, we mentioned that they are not available in the United States. Of course, you may very well live in a different country and they may not be available there either. Either way, if you're in this situation, know that Netflix probably has your movie on its platform somewhere.
The thing about Netflix is that it's available in some 190 countries, and each of these locations has its own library, based on what licensing deals they managed to sign.
You can still access all this content by simply using a VPN which will change your IP address so you appear to be in any country you need to be. Our recommendation is NordVPN which is a pretty awesome service that has a ton of servers and some great privacy features thanks to the top-of-the-line encryption protocols they use.
You simply have to subscribe to NordVPN for which our readers get 70% OFF for the 2-year plan at $3.49 per month.
Once you get all the apps installed, you have to look for a server in the country we indicated.
As soon as the connection is done, you can load Netflix in your browser or relaunch the app.
Look for the movie you're interested in, and start streaming it.
There you go! It's fairly easy to watch any content on Netflix you want.