System Service Exception (BSOD Error) on Windows 10 – FIXED
Blue Screen of Death messages like SYSTEM SERVICE EXCEPTION are pretty frequent in the Windows consumer community. But it doesn't mean that you immediately have to turn to professional help.
By following our quick fixes below, you can quickly repair BSOD errors and get your computer working normally again, even if you don't have a lot of experience.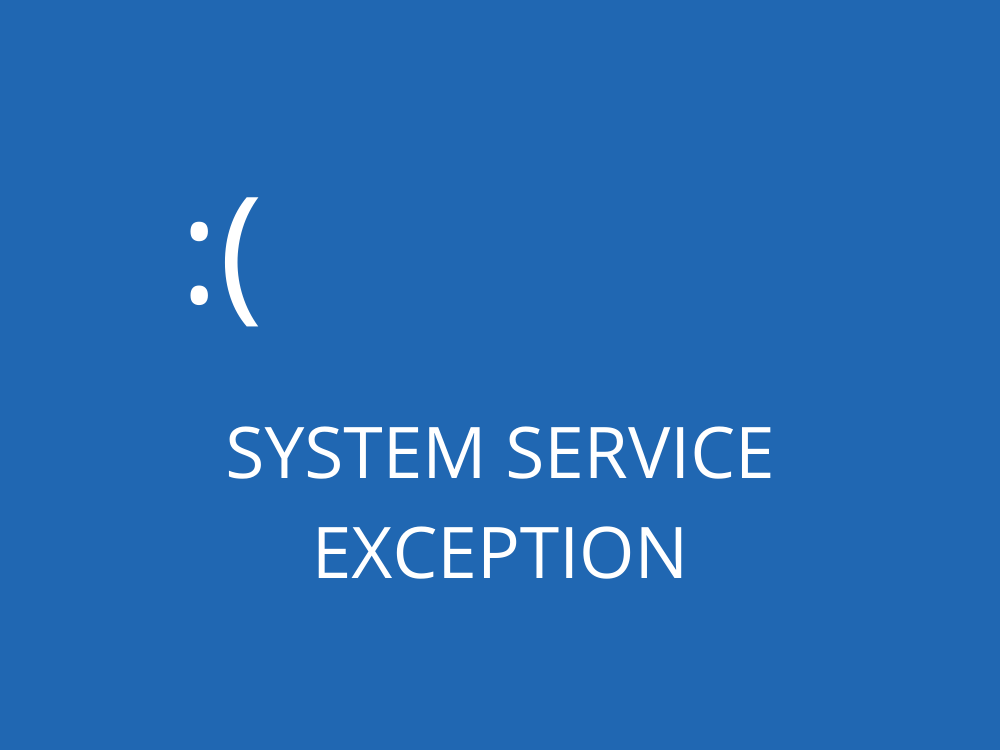 What is SYSTEM_SERVICE_EXCEPTION?
SYSTEM_SERVICE_EXCEPTION is a Blue Screen of Death error that can occur on Windows 10 computers. It signals a major problem that prevents your operating system from running properly.
The stop code is usually accompanied by the Ntfs.sys or ks.sys file name, which makes it easier to repair since you know exactly where to look. However, the troubleshooting process becomes more challenging when you don't have any indicators of this kind.
The SYSTEM SERVICE EXCEPTION BSOD error can be caused by various problems with your drivers, system updates, HDD or SSD, antivirus, installed software, or something else.
How to fix System Service Exception on Windows 10
Get started by creating a system restore point. It allows you to revert Windows 10 to the initial state, in case you need to roll back any changes you make.
1. Update Windows 10
If you don't allow Windows Update to get the latest features, improvements, and security patches for your operating system, this could trigger Blue Screen of Death errors on your PC, such as the dreaded SYSTEM_SERVICE_EXCEPTION.
Here's how to run Windows Update:
Restart your computer
2. Update your drivers
If your device drivers are obsolete, incompatible, or missing, this could result in serious issues on your operating system, including Blue Screen of Death messages like SYSTEM SERVICE EXCEPTION.
To resolve this matter, you can reinstall your devices, check for driver compatibility, and update drivers to the latest version.
Here's how to reinstall drivers:
Proceed with the given instructions and restart your PC. Windows 10 will auto-install the correct device
If you're having a hard time identifying old and obsolete drivers on your computer, we suggest opting for DriverVerifier. It's a simple tool made by Microsoft, which can help you identify driver issues.
Here's how to update drivers:
On the other hand, if Windows 10 fails to find any newer driver versions in Windows Update, you have to manually the drivers by checking the manufacturer's website.
But you risk getting an incompatible driver for your operating system, which would only make things worse. To avoid this, it's better to turn to a driver updating tool since it autodetects your current drivers and installs newer versions.
3. Run a malware scan
It's essential to check your computer for viruses, in case you've been infected with a malware agent powerful enough to disarm your processes and services.
Here's how to use Windows Defender:
If you have a third-party anti-malware solution installed, make sure to adjust the steps above accordingly.
4. Uninstall recent or suspicious programs
Your operating system may not be compliant with all your installed software applications, resulting in stop code SYSTEM SERVICE EXCEPTION.
Or, you might have multiple software programs that conflict with each other. For example, if you have recently installed two or more antivirus programs, their real-time engines could clash. But you should be able to easily repair it by removing any recent or suspicious apps from your PC.
Restart your PC and check for BSOD errors
On the other hand, if a guilty application has already added or updated any registry entries, removing it with the Windows default uninstaller might not be enough.
Instead, we recommend using a programs uninstaller. It gets rid of any remaining files and registry entries after removing an application from your PC.
5. Roll back Windows 10
If your computer has suffered major software changes recently, it should be easier to roll back Windows 10 using Recovery, instead of manually undoing all changes.
Make sure to log in as the admin
Reboot your computer
The rollback should instantly fix the SYSTEM_SERVICE_EXCEPTION error if it was caused by a software problem. Just make sure to pick a checkpoint that was created before your computer started acting up.
6. Repair disk and system errors
File and data corruption is one of the main causes of blue screen error messages, just like SYSTEM_SERVICE_EXCEPTION. As a result, you won't be able to get rid of this issue until you troubleshoot the corruption problem.
Thankfully, you don't have to install special software to make this happen since Windows 10 has some powerful utilities built in, which you can launch from Command Prompt: CHKDSK, SFC, and DISM.
Here's how to use CHKDSK (Check Disk):
Launch CMD and type chkdsk c: /f if your operating system is installed in the default C: partition. Otherwise, use the correct drive letter
When it asks you to schedule the volume checkup at the next system reboot, type y
Restart your computer and wait until CHKDSK finishes its job
You can turn to the Check Disk utility to verify and fix hard drive corruption. But if you still receive the SYSTEM SERVICE EXCEPTION error on Windows 10, proceed with the next tool.
Here's how to use SFC (System File Checker):
Wait until the task is over
Restart your computer
System File Checker is capable of finding and fixing corrupt system files, even those that trigger BSOD errors. However, if it still won't solve your problems, use the next utility.
Here's how to use DISM (Deployment Image Servicing and Management):
If the tool finds any problems, fix them using DISM /online /cleanup-image /restorehealth
Reboot your computer and go back to Command Prompt as admin
Restart your machine again
DISM should be your last resort when it comes to fixing BSOD errors from the command-line environment. It finds and repairs corrupt system files in the component store of the Windows image.
7. Start Windows in clean boot
If you're having trouble navigating your operating system because it keeps showing a blue screen, you can run a clean boot. It disables any unnecessary drivers, services, and processes, creating an ideal troubleshoot environment.
Do this for all startup processes with the Enabled status
Restart your computer
8. Free up disk space
If your hard drive is full, it could be the reason why you are encountering BSOD error messages like the SYSTEM_SERVICE_EXCEPTION stop code. It's a situation that prevents Windows 10 from operating normally.
The solution is simple: free up your disk space. Make sure to uninstall large applications that you no longer use, copy your sensitive information to an external hard drive, burn data discs, as well as upload files to the cloud.
When it comes to eliminating junk data, you can turn to third-party cleaners since there are numerous options out there. Otherwise, you can use Microsoft's Disk Cleanup utility, which comes bundled with Windows so that you don't have to install anything.
Here's how to use Disk Cleanup:
Make sure you're logged in as the PC administrator
Reboot your PC
9. Stop overclocking your PC
If you're a gamer, you might be familiar with overclocking software solutions. These are special tools that can amp up your system by overclocking your CPU, GPU, or RAM, depending on the type of application.
The bad news is that overclocking utilities frequently cause BSOD errors like SYSTEM SERVICE EXCEPTION. The solution is to turn them off and remove them from your computer. Afterward, make sure to reset your clock settings to default.
10. Unplug all external devices
Certain hardware components may not be compatible with your operating system, leading to the SYSTEM SERVICE EXCEPTION stop code. For example, many users have reported that their webcam was the culprit and removing it took care of the problem.
However, it can be difficult to tell which device is faulty. It's easier to unplug everything and reboot your computer. Once you can confirm that you are not receiving the BSOD error message anymore, you can start reattaching your external devices one by one to see which one is the bad seed.
11. Check your memory
Insufficient RAM or other RAM issues could be the reason why you keep seeing the SYSTEM SERVICE EXCEPTION error on Windows 10. Your operating system might not allocate enough memory to critical tasks and services.
You can easily check your RAM, without having to set up a third-party software solution, thanks to a built-in Windows utility.
Terminate all current processes
The Windows Memory Diagnostic will verify your system's memory during the following PC reboot, in order to fix any problems. If you're skilled in this area, we suggest giving MemTest a shot since it offers more advanced features.
Stop Code SYSTEM SERVICE EXCEPTION Can Be Easily Fixed
To conclude, you can repair the SYSTEM SERVICE EXCEPTION BSOD error by getting the latest Windows 10 and driver updates, running a malware scan, and uninstalling recent or suspicious applications.
You can also roll back Windows to a previous checkpoint, fix disk and system errors, run a clean boot, and free up disk space.
Additionally, you should stop overclocking your PC, unplug all peripheral devices, and check the integrity of your RAM.
Did any of these solutions work for you? Let us know in the comment section below.