The Best 50 Crime Shows to Watch on Netflix in 2021
Whether it's the mystery that is inherent to crime shows, or perhaps the action-packed scenes, or maybe the sleuthing, we know that this type of shows is always going to be sought after and beloved. So, let's see which are the best 50 crime shows to watch on Netflix.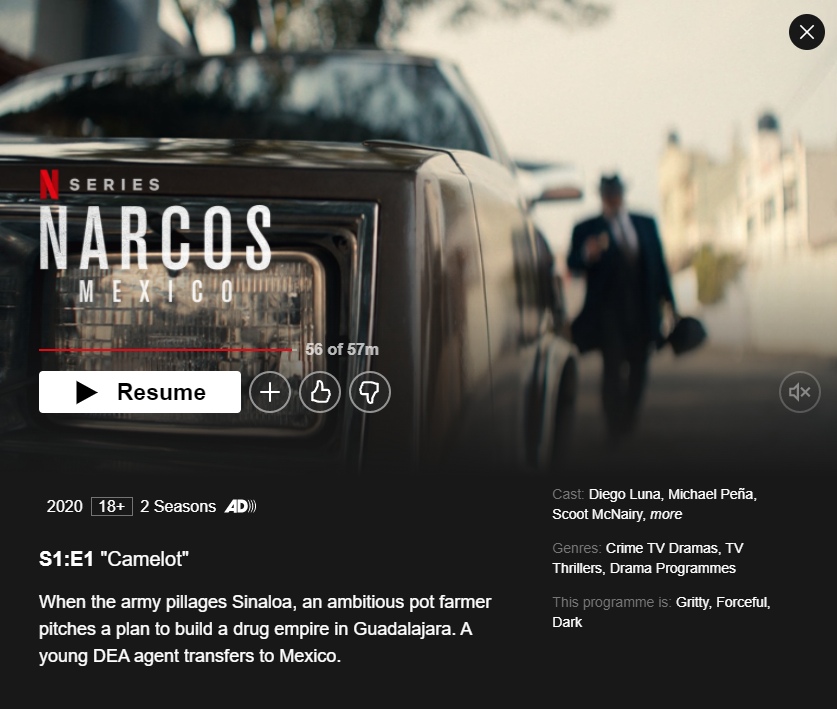 Crime shows need to be a perfect mix of action scenes, deduction work, psychological games, mystery, and straight out police work. If it's a documentary-type series, it's even better as we get to dive into real-world cases that rocked communities to their core, and we get to experience how the bad guys were put behind bars.
Related: The 50 Best Netflix Original Shows and Movies to Watch in 2021
Perhaps, however, that you don't like police procedurals but rather want to see the humans behind the villains, too.
Whichever type of crime shows you like best, Netflix has it all, and we invite you to check out the shows that caught our attention. In order to rank them, we went over the scores these shows had on several sites – IMDb, Rotten Tomatoes, and Metacritic. In this way, we offer you a better overall look at these shows and how well-received they are by critics and audiences alike.
Here are the 50 best crime shows on Netflix:
1. Breaking Bad – 9.38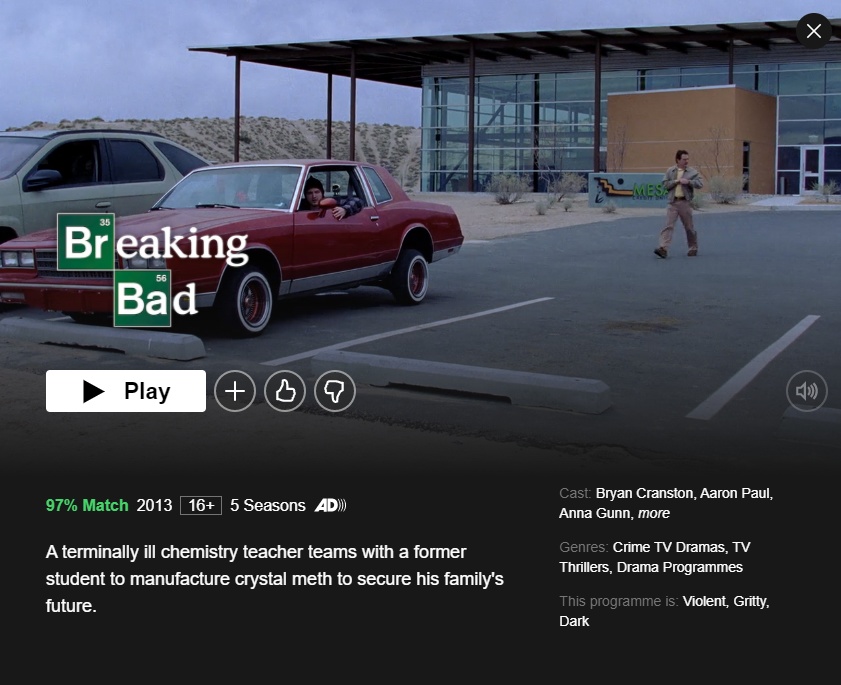 Topping the list is clearly one of the best shows to ever run on TV – Breaking Bad. Airing between 2008 and 2013, Breaking Bad tells the story of Walter White, a chemistry teacher that is severely underpaid, like most teachers. Following a diagnosis of stage-three lung cancer, he turns to producing and distributing crystal meth in order to make the money for his treatment. Alongside Jesse Pinkman, a former student, he goes head to head with the local drug dealers. The show ran for five seasons and won a dozen Emmys, as well as several Golden Globes and SAG awards. The series stars Bryan Cranston, Aaron Paul, Anna Gunn, Dean Norris, Bob Odenkirk, Giancarlo Esposito, Jonathan Banks, and others.
2. Peaky Blinders – 9.07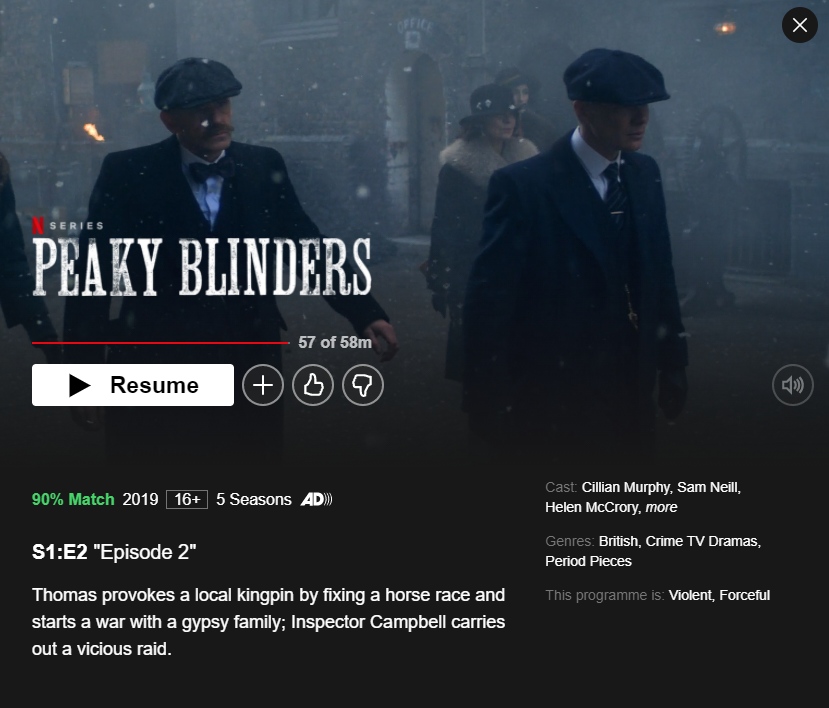 Next up, we have Peaky Blinders, a British period crime drama that follows the Shelby crime family in a post-WWI Birmingham. The family is led by Tommy Shelby, and alongside him, they face off against other criminals in town, as well as the police. The series stars Cillian Murphy, Sam Neill, Helen McCrory, Paul Anderson, Tom Hardy, Anya Taylor-Joy, and many others. The series won a lot of awards, over the years, including BAFTAs. There are five seasons available right now, and a couple more are to be released before the story is over.
3. Mindhunter – 8.92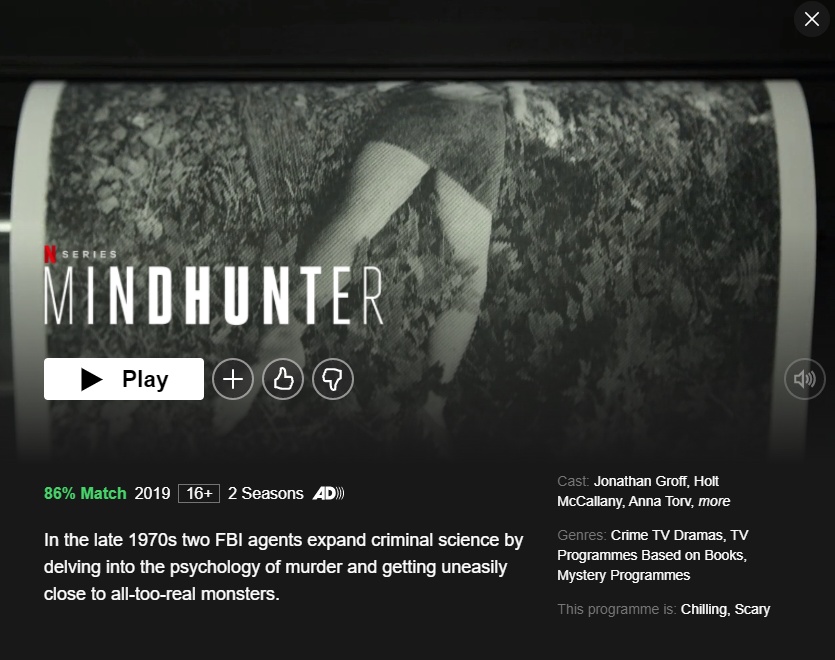 Mindhunter is an absolutely fabulous psychological crime thriller that was released in 2017. The show follows Holden Ford and Bill Tench, two FBI agents that, alongside Wendy Carr, operate the Behavioral Science Unit. The series starts off with them interviewing various serial killers, trying to understand them in order to better track and find other criminals. At the same time, they investigate some horrible crimes. The series stars Jonathan Groff, Holt McCallany, Anna Torv, and Cotter Smith. There are two seasons out, and the show has been put on hold in early 2020, mostly due to the pandemic.
4. When They See Us – 8.86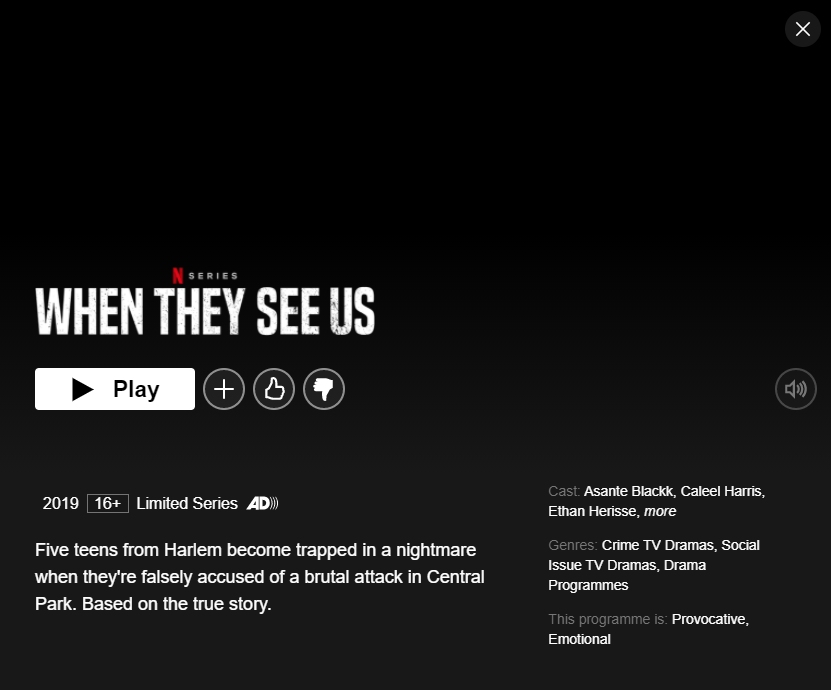 The list continues with When They See Us, a crime drama miniseries that premiered in 2019. We follow the case of the 1989 Central Park jogger, a woman who was raped by several individuals. The police quickly accused and prosecuted five black males who were exonerated many years later. The show tells us the story of these men and their families and how the events affected them all.
5. Unbelievable – 8.78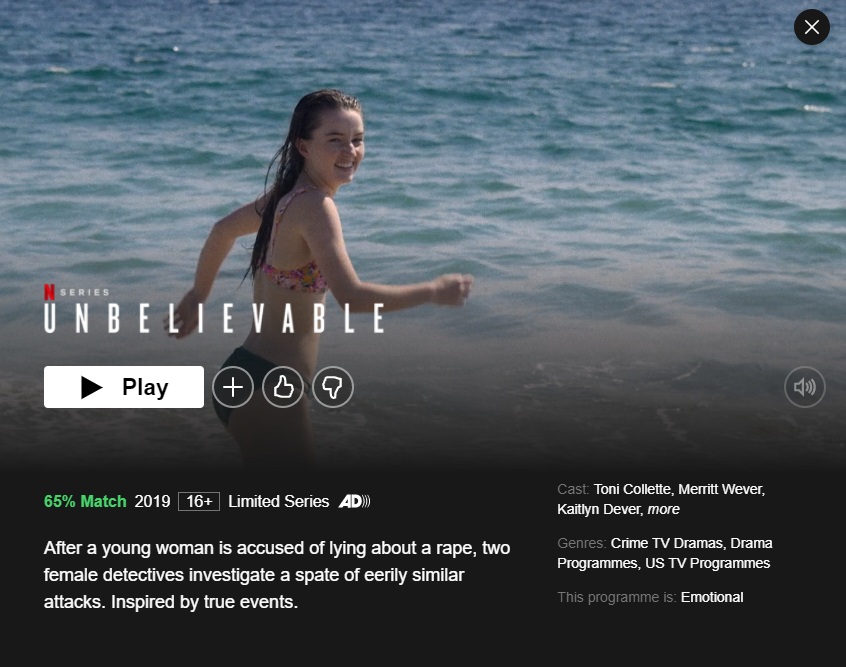 Touching on the problematic issue of rapes going uninvestigated as the victims are not deemed credible by police, Unbelievable tells a story that has roots in the real world. We follow a couple of detectives following a twisted path to uncover the connection between a series of rapes, including that of a teenager who was charged for lying about what happened to her. Unbelievable stars Toni Collette, Merritt Wever, and Kaitlyn Dever. There are eight episodes for you to binge on.
6. Dark – 8.78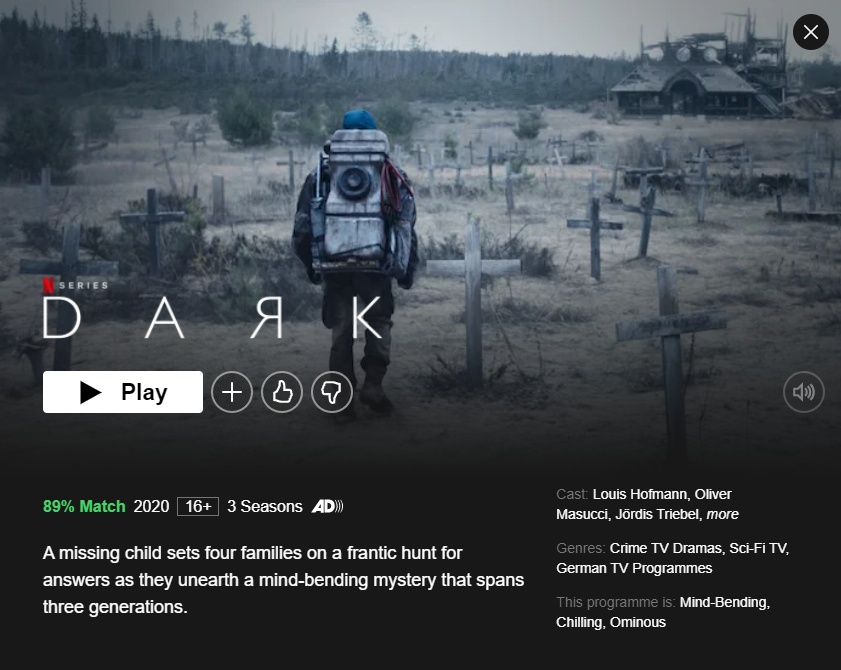 When a child disappears, four families go on a search for answers, discovering a weird time travel conspiracy that spans generations. It's a blink-and-you'll-miss-it kind of show, and you really need to pay attention to everything that's happening. There are three seasons out, and that story is now complete, so you can binge on the show easily.
7. Broadchurch – 8.76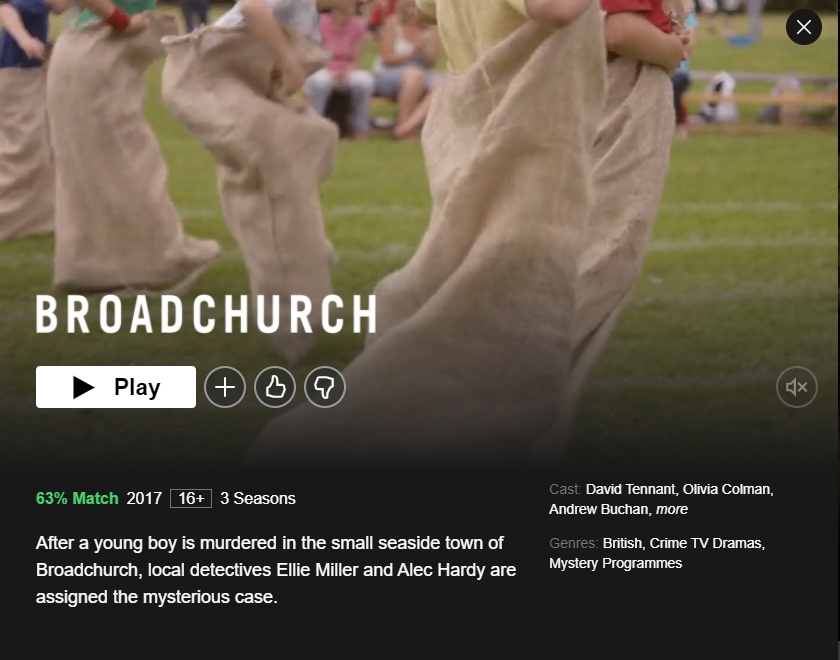 Up next, we have Broadchurch, a British serial crime drama that ran between 2013 and 2017. We follow the police force in a fictional town, with each season focusing on specific cases as the detectives fight to bring justice to the victims. There are three seasons, each with eight episodes. Broadchurch stars David Tennant, Olivia Colman, Jodie Whittaker, Andrew Buchan, and many others, and won several BAFTA awards and plenty others.
8. Narcos – 8.74
Narcos is one of those crime TV shows that will keep you on your toes from start to finish. We follow drug kingpin Pablo Escobar, his fights with competing cartels, as well as the DEA that keeps trying to take him down. It's an action-packed series that you'll want to binge on. There are three seasons, and the show is complete, so go right ahead! Narcos stars Wagner Moura, Boyd Holbrook, Pedro Pascal, Joanna Christie, Maurice Compte, and many others.
9. Marking a Murderer – 8.7
We continue with Making a Murderer, a true-crime documentary that tells the story of Steven Avery, a man who was wrongfully convicted of sexual assault and attempted murder, spending 18 years in prison. Once he is released and exonerated, he ends up in prison once more, accused of murder. Many believe, however, that he was framed once more. There are two seasons and 20 episodes to watch, so start it soon.
10. Twin Peaks – 8.68
We follow up with a series that marked a generation – Twin Peaks. The show ran in 1990 and 1991, and a third season was released on Showtime in 2017. The first two seasons are up on Netflix, however, and you can follow the show that quickly obtained a cult following and find out who killed Laura Palmer. The show stars Kyle MacLachlan, Michael Ontkean, Madchen Amick, Dana Ashbrook, Richard Beymer, Lara Flynn Boyle, and plenty others.
11. Longmire – 8.62
We have Longmire next, a modern Western crime drama that ran for six seasons between 2012 and 2017. The show is based on a series of novels by Craig Johnson, and we follow Walt Longmire, the sheriff of a fictional town, and his friend Henry Standing Bear, a Cheyenne man. We get to see investigations, relationships, and plenty of issues that are related to Native American life. The show stars Robert Taylor, Katee Sackhoff, Loud Diamond Phillips, Bailey Chase, Cassidy Freeman, Adam Bartley, and many others.
12. Sherlock – 8.58
Perhaps one of the most beloved Sherlock series as of yet, created by Steven Moffatt and Mark Gatiss, the show puts Sherlock and Doctor Watson in modern times. The two work together to solve mysteries while also facing off with Moriarty. Benedict Cumberbatch plays Sherlock, while Dr. Watson is played by Martin Freeman. We also have Rupert Graves, Louise Brealey, Una Stubbs, Mark Gatiss, Andrew Scott, and Amanda Abbington. There are four seasons and several specials you should watch. We keep hoping that more will happen if the schedules clear out for the main actors.
13. The Confession Tapes – 8.53
After premiering in 2017, The Confession Tapes went on to have two seasons, a total of 11 episodes. Each documentary presents alternate views on how various crimes could have taken place. We get to watch experts on criminal law, psychologist, justice, and more, give their opinions on what happened. If you like crime series that touch on real cases, then this is a perfect series to watch, especially as it was highly praised by critics and audiences alike.
14. Élite – 8.5
Next up, we have a cool thriller drama that follows the events from an elite secondary school where a bunch of working-class students geet enrolled through a scholarship. When one of their colleagues dies, we see plenty of the investigation, and we dive into the relationships between the new students and the rich ones, as well as the clashes between social classes. There are three seasons already, and two more have been ordered, so we're going to keep up with the show for a while longer. The series stars Maria Pedraza, Itzan Escamilla, Miguel Bernardeau, Ester Exposito, and plenty more.
15. Narcos: Mexico – 8.42
If you've watched Narcos or think the topic is appealing, then this spinoff is worth to watch too. Although originally intended as a fourth season to Narcos, it became its own entity. We follow the issues with the illegal drug trade in Mexico as opposed to Colombia. Two seasons are already out and a third has been ordered, but it remains to be seen when we'll get the episodes since between Season 1 and Season 2, two years passed. Narcos: Mexico stars Diego Luna, Michael Pena, Tenoch Huerta, Alyssa Diaz, Joaquin Cosio, and Matt Lescher, to name a few.
16. Bodyguard – 8.28
We continue our list of cool crime shows with Bodyguard, a police thriller that was released in 2018. It's a six-part series that you really have to watch, following a police sergeant who gets assigned to protect the new Home Secretary, whose politics he despises. The show stars Richard Madden, Keeley Hawes, Sophie Rundle, Vincent Franklin, and plenty of others. The show was nominated at the Golden Globe Awards, and managed to win Best Actor for a TV series drama for Richard Madden.
17. Imposters – 8.27
Coming up next, we have Imposters, which may be a crime show, but it's also full of comedic moments. We meet Maddie Jonson, a con artist who works for the Doctor. After Maddie becomes part of various people's lives and makes them fall in love with her, she steals all their valuables. The show stars Inbar Lavi, Rob Heaps, Parker Young, Uma Thurman, Katherine LaNasa, and plenty others that you'll recognize. There are two seasons to this show, and Imposters has been canceled, so there are no more to come.
18. Trial 4 – 8.25
Next, we have Trial 4, a true-crime documentary that has us diving into the story of Sean K. Ellis, a man who was convicted as a teen for killing a Boston police officer. However, he is innocent, and he only ended up in prison due to the systemic racism within the justice system and the corruption within the police force. There are eight episodes to watch of this recently launched series.
19. The Blacklist – 8.2
Starting with 2013, The Blacklist has made us eagerly watch for new episodes, hoping to decipher more and more of this complicated story. We follow an FBI team that manages to catch various criminals thanks to the insight given by Red, a master criminal turned confidential informant. Of course, there's more to the story, and you can definitely dive into it by watching the show. There are seven complete seasons, and the eighth one started back in November, so jump on the show! The Blacklist stars James Spader, Megan Boone, Diego Kattenhoff, Ryan Eggold, Laura Sohn, and others.
20. Ozark – 8.12
We have another cool crime drama up next called Ozark. The series has three seasons right now, and one more with 14 episodes is to be released sometime in the future. We follow Marty Byrde and his family who have a money-laundering scheme for a Mexican drug cartel. The more he tries to get out of the business, the more he gets dragged back in, becoming entangled with various local criminals. Ozark stars Jason Bateman, Laura Linney, Sofia Hublitz, Julia Garner, and Janet McTeer.
21. Money Heist – 8.1
La casa del papel, translated to Money Heist, is a complete phenomenon given the popularity the show quickly gained. We get the story of two heists led by the Profesor – one on the Royal Mint of Spain and one on the Bank of Spain. The show has thus far been split into four parts, and a final fifth one is incoming. Money Heist stars Alvaro Morte, Ursula Corbero, Itziar Ituno, Pedro Alonso, Paco Tous, Alba Flores, Miguel Herran, Jaime Lorente, Esther Acebo, and Darko Peric, to name a few.
22. How to Get Away With Murder – 8.08
Next up we have How to Get Away With Murder, a show that ran between 2014 and 2020. We follow a law professor who, alongside five of her students, becomes involved in a murder plot that they then try to get out of. The series received numerous nominations to award shows, winning quite a few Emmys, SAG awards, and Golden Globe awards. In fact, Viola Davis was the first black woman to win the Primetime Emmy Award for Outstanding Lead Actress in a Drama. The show stars Viola Davis, Billy Brown, Alfred Enoch, Jack Falahee, and Katie Findlay.
23. Criminal: UK – 7.96
We follow up with a British police procedural series that is part of a larger anthology series that is set in a specific country – France, Spain, and Germany being the other three. There are two seasons to the show, featuring seven episodes in total. Criminal: UK Stars David Tennant, Kit Harington, Sharon Horgan, Kunal Nayar, Aymen Hamdouchi, Nicholas Pinnock, and Clare-Hope Ashitey.
24. The Sinner – 7.8
The Sinner is next on our list and this is an anthology crime drama mystery series that is based on the same-named novel by Petra Hammesfahr. Each season comes with its own individual story, with Bill Pullman's character, a police detective, being the only joining link. Other actors starring in the show are Jessica Biel, Christopher Abbot, Carrie Coon, Natalie Paul, Jessica Hecht, Chris Messina, and others.
25. The Devil Next Door – 7.78
The Devil Next Door tells the story of a man who is accused of war crimes and crimes against humanity that he committed when he worked as a guard at Nazi extermination camps during WWII. John Demjanjuk, also known as Ivan the Terrible, inconspicuously lived in a neighborhood in Cleveland. There are five episodes telling the story of his trial, including interviews and historical footage.
26. Queen of the South – 7.72
If you enjoyed the stories in Narcos, then we can dive right back into the drug cartels of the South. Queen of the South is an adaptation of a telenovela with a similar name, both based on a novel by Arturo Pérez-Reverte. The series tells the story of Teresa Mendoza, a Mexican woman with a background of poverty who ends up running a drug empire. Queen of the South stars Alice Braga in the main role, alongside Veronica Falcó, Justina Machado, Peter Gadiot, and Hemky Madera, and others. There are four seasons out, and a fifth one was filming when the pandemic hit and production was suspended indefinitely.
27. Dare Me – 7.7
Based on a novel by Megan Abbott, Dare Me is a teen drama series. Unlike other series we've handled thus far, this one involves teenage girls who are masterfully pitted against each other, creating conflict over conflict, sometimes making it hard to figure out who to believe. Dare Me stars Willa Fitzgerald, Herizen Guardiola, Marlo Kelly, Rob Heps, Zach Roerig, Paul Fitzgerald, Alison Thornton, and many others. The show only has one season, so go ahead and enjoy it.
28. Good Girls – 7.62
We follow up with a crime show that's full of comedy. It all starts when three mothers find themselves barely making ends meet, so they decide to pull off a heist by robbing a supermarket. When their identities are found, their lives become even more complicated. The show stars Christina Hendricks, Retta, Me Whitman, Reno Wilson, Manny Montana, and Matthew Lillard. Three seasons are out already, and a fourth one has been ordered.
29. Don't F**k with Cats: Hunting an Internet Killer – 7.56
Up next, we have a true-crime documentary series about what turned out to be an online manhunt. We follow a group of amateur sleuths who take on an online investigation into the whereabouts and background of Luka Magnotta, a man who shared a horrible video online in which he kills two kittens. When it is revealed that Magnotta was convicted of murdering a student, it doesn't really come as a surprise. The documentary features John Green, Deanna Thompson, Detective Seargeant Claudette Hamlin, and others.
30. Manhunt: Deadly Games – 7.37
Manhunt is an anthology series and Deadly Games is the second part that was released in February 2020. We follow the hunt for Eric Rudolph, the man guilty of bombing the Centennial Olympic Park during the 1996 Summer Olympics. The series stars Cameron Britton, Jack Huston, Judith Light, Carla Gugino, Gethin Anthony, and others. There are ten episodes to enjoy, so go right ahead.
31. The Woods – 7.33
We continue with The Woods, a mystery thriller TV series from Poland. We follow the events from the woods surrounding a summer camp. Twenty years earlier, several people died in those woods, but now an individual, with a different name, resurfaces and claims to be one of the original homicide victims. It's weird, it's twisted, and it's going to turn you into a sleuth too. The show stars Grzegorz Damięcki, Agnieszka Grochowska, Hubert Miłkowski, Wiktoria Filus, and others. The show was released in June 2020.
32. Lucifer – 7.32
Next we have one of those shows that everyone should watch. After starting off on Fox and getting canceled, Netflix stepped in and adopted the show after #SaveLucifer began trending. Now, with five seasons out (the second half of the latter still to be released), we know there's going to be at least one more. The show follows Lucifer Morningstar, who becomes bored with ruling over Hell so he goes topside and establishes himself in Los Angeles where he runs a nightclub. He becomes involved in solving crimes alongside Detective Chloe Decker and her team. The show stars Tom Ellis, Lauren German, Kevin Alejandro, D.B. Woodside, Lesley-Ann Brandt, Rachael Harris, Aimee Garcia, Tom Welling, Inbar Lavi, and Tricia Helfer, to name a few.
33. Criminal Minds – 7.2
After running for 15 seasons, Criminal Minds reached its final episode in early 2020, wrapping up a fabulous story of the FBI's Behavioral Analysis Unit. The task force creates profiles to help the police investigate crimes and find killers. The show stars Mandy Patinkin, Thomas Gibson, Shemar Moore, Matthew Gray Gubler, A. J. Cook, Kirsten Vangsness, Paget Brewster, Joe Mantegna, Aisha Tyler, Jennifer Love Hewitt, Adam Rodriguez, and many others. We go on investigations alongside them, get a glimpse into their personal lives, and explore the deep friendships built between them all.
34. Safe – 7.17
We go on to another British TV drama miniseries that focuses on Tom Delaney, a pediatric surgeon. He's a widowed single father of two teenage daughters whom he has difficulties connecting with. When one of his daughters goes missing, secrets come out. This single-season show stars Michael C. Hall, Amy James-Kelly, Isabelle Allen, Marc Warren, Hannah Arterton, Amanda Abbington, and Emmett. J. Scanlan.
35. NCIS – 7.15
Next up, we have one of the most prolific police procedural TV series still running – NCIS. Not only is the main show still on, but there are also several spinoffs. NCIS itself is a spinoff of JAG, and it's been around since 2003, becoming the second-longest-running scripted primetime TV series. We follow Jethro Gibbs and his team solve crimes against Navy officers, while also fighting larger threats. The show stars Mark Harmon, Sean Murray, Cote de Pablo, Rocky Carroll, Brian Dietzen, Emily Wickersham, Wilmer Valderrama, Maria Bello, and Diona Reasonover. There are 17 seasons out, and the 18th is underway.
36. The Stranger – 7.08
The Stranger is a South Korean crime thriller that has been a hit across the world. We meed Hwang Si-mok, a great Prosecutor who has to undergo corrective surgery to fix a hypersensitivity issue he has. Following this surgery, he loses empathy and social skills. He goes on to investigate a mystery behind a murder, facing continuous issues as guilty parties seek to remain hidden. The show stars Cho Seung-woo, Bae Doona, Lee Joon-hyuk, Yoo Jae-Myung, and others. There are two seasons out thus far, the latest having been released in August 2020.
37. Aquarius – 7
Aquarius is a show that's placed in Los Angeles in the 1960s. The show follows an LAPD detective looking into the disappearance of a teenage girl. The man he's looking for is the notorious Charles Manson. Aquarius stars David Duchovny, Grey Damon, Gethin Anthony, and Emma Karn. There are only two seasons of this show, totaling 26 episodes, so you can breeze through this particular binge.
38. Altered Carbon – 7
We're up to Altered Carbon next, a cyberpunk TV series. The action takes place in a brand new world, 360 years into the future, where consciousness can be transferred to different bodies. We follow Takeshi Kovacs, the only surviving soldier of a rebel group. One of the wealthiest men in the world, having managed to get a new body for the past 300 years, takes Takeshi's consciousness out of prison and gives him a new body and asks him to investigate a murder. There are two seasons of this impressive show, and Netflix has canceled it, so you can binge it leisurely. The show stars Joel Kinnaman, Anthony Mackie, James Purefoy, Martha Higareda, Dichen Lachman, Ato Essandoh, and others.
39. Haven – 6.97
Up next, we have Haven, a supernatural drama that's based on The Colorado Kid, a Stephen King novel. The show takes us on an investigation alongside FBI agent Audrey Parker who goes to Haven on a routine case. However, when she discovers the people in town are affected by supernatural afflictions, she stays on to discover more about what's happening, and about herself. Haven stars Emily Rose, Lucas Bryant, Eric Balfour, Richard Donat, John Dunsworth, Nicholas Campbell, as well as Adam "Edge" Copeland. There are 78 episodes over 5 seasons for this show, running between 2010 and 2015.
40. The Day I Met El Chapo: The Kate Del Castillo Story – 6.95
This one is a biographical documentary series that is based on the real meeting between Mexican superstar Kate del Castillo and El Chapo. Kate and American actor Sean Penn met up with El Chapo for what was supposed to be a discussion about a film about his life. Instead, it turned into an interview between Penn and the drug lord for The Rolling Stone. Ultimately, this meeting is what led to El Chapo's arrest in 2016. We get to see Kate del Castillo's story, exclusive footage, and more. It's a thrilling experience spread over three episodes.
41. The Ripper – 6.93
The Ripper is another true crime docuseries. This four-part miniseries focuses on the murders of 13 women that took place between 1975 and 1980. The serial killer got to be known as the Yorkshire Ripper and the episodes feature interviews with investigators, survivors, and family members of the victims.
42. In the Dark – 6.92
In the Dark is a CW show that landed on Netflix shortly after its premiere. The series follows Murphy, a bling woman who's fond of drinking. When she goes out on a walk one night with her guide dog, she encounters the body of one of her two friends. When the body disappears before the police get there, she goes on an investigation to find out the truth on her own. The series stars Perry Mattfeld, Rich Sommer, Brooke Markham, Casey Deidrick, Keston John, and Kathleen York. There are two seasons out right now, and more have been ordered.
43. The Innocent Man – 6.9
The Innocent Man is an original Netflix true-crime documentary that's based on a book by John Grisham. The show touches on two murder cases and the potential false confessions of Ron Keith Williamson, Dennis Fritz, and others. Williamson is a former minor league baseball player who, alongside Fritz, was charged with raping and killing a woman in 1982. Williamson was on death row for 11 years when DNA evidence exonerated him and Fritz. There are six episodes to watch that will tell you the story of this case.
44. The Punisher – 6.88
We're moving on to the Punisher, a series based on the Marvel Comics character. Frank Castle turns vigilante and uses his strength and fighting skills to kill those who break the law. The show stars Jon Bernthal, Ebon Moss-Bachrach, Ben Barnes, Amber Rose, Daniel Webber, Daniel Webber, and others. The show ran between 2017 and 2019, and there are two seasons of a total of 26 episodes to watch.
45. Unsolved Mysteries – 6.86
We're moving on to another mystery documentary show. Unsolved Mysteries has been around since the '80s, but you'll only find the episodes produced by Netflix on the service. Released in 2020, this is the first reboot the show has received following the run on Spike between 2008 and 2010. Each of the 12 episodes you'll watch treats another case. It is unclear when we can expect more, but there's no news that the show has been canceled as of yet.
46. Conversation with a Killer: The Ted Bundy Tapes – 6.8
On the 30th anniversary of Ted Bundy's execution, Netflix premiered a documentary series that features four episodes. The series includes interviews and other footage featuring Bundy, as well as interviews with his family, surviving victims, as well as the law enforcement members that worked his case back in the '70s.
47. Riverdale – 6.74
Riverdale may be a teen drama, but it's also a serious crime show. Even though these teens have their own dramas to overcome, including romantic troubles, issues at school and at home, they also have to solve some dark mysteries from Riverdale. There are four seasons out already, and a fifth one is scheduled to premiere in January 2020. The show stars K.J. Apa, Lili Reinhart, Camila Mendes, Cole Sprouse, Casey Cott, Madelaine Petsch, and others.
48. Fear City: New York vs. The Mafia – 6.72
We now dive into another true-crime series that follows the Five Families of crime from New York City – Gambino, Colombo, Bonanno, Lucchese, and Genovese. The series tells us the experience of fighting against the mafia from the FBI's point of view. The three episodes of this series were released in the summer of 2020.
49. Hinterland – 6.66
Next up we have a Welsh police detective series. We follow Tom Mathias, a police chief, who tries to help solve some of the worst cases in his area. The show stars Richard Harrington, Mali Harries, Alex Harries, Hannah Daniel, and Aneirin Hughes. There are three seasons that were released between 2013 and 2016, a total of 26 episodes.
50. Waco – 6.64
We also have Waco on the list, a miniseries that was released in 2018. The series touches on a real case – the 1993 standoff between the FBI, ATF, and the Branch Davidians from Waco, Texas. The show stars Michael Shannon, Taylor Kitsch, Andrea Riseborough, John Leguizamo, Glenn Fleshler, and others. The plot was split over six episodes, which perhaps is less than expected for a siege that lasted over a month and a half.
What to do if the shows are not available locally?
Netflix is available in almost all countries of the world and has individual libraries in each of these. The problem is that the libraries don't always match and you'll find that you can't watch the show you want in your own country.
Well, if that's the case, we have a solution for you – VPNs. VPNs are strong tools that will route your Internet connection through whatever server you want. Once it does this, it encrypts your connection to make you untraceable and to protect your privacy, and assigns a new IP address to your device. To any site you access, you appear to be wherever the server is. So, if you choose a server in the US, Netflix will see you as being in the United States.
Our recommendation is to use NordVPN, which is the tool we feel has the best offer and works best. There are thousands of servers to choose from, and it also protects your privacy with unbreakable encryption protocols.
Here's what you need to do:
First, you have to subscribe to NordVPN. Our readers get 70% off the 2-year plan, paying only $3.49 per month.
Then, once you sort out the apps and sign into your account, you need to find a server in the US. All shows we mentioned above are currently available on Netflix US.
Once the connection is established, you have to load Netflix in your browser or launch the tool on your device.
Please be mindful to avoid free VPNs. Even though the Internet is full of them, we don't advise you to choose such a tool as they are often blacklisted by Netflix, keep logs on users, and offer extremely bad Internet speeds due to overcrowded servers. Plus, they're a security liability as oftentimes cybercriminals hide their malware under "free VPN" facades.
There you go. You now have all the tools at your disposal – you know the shows, you know how to watch from anywhere. You just need to have the free time to binge on your favorites on the list and to make a decision on which one to start with. Good luck!