We are reader supported and may earn a commission when you buy through links on our site.
Learn more
How to Reset Kodi on Firestick or Fire TV, Quick and Easy
Running Kodi on an Amazon Fire TV or Fire TV Stick is a great way to stream free movies, full TV series, and everything in-between. The more you add-ons you install and the longer you use Kodi, however, the slower it can get. There are plenty of speed hacks and slowdown fixes designed to keep your Fire Stick version of Kodi running smoothly, but sometimes your only option is a factory reset. Don't worry, it's not as drastic as it sounds.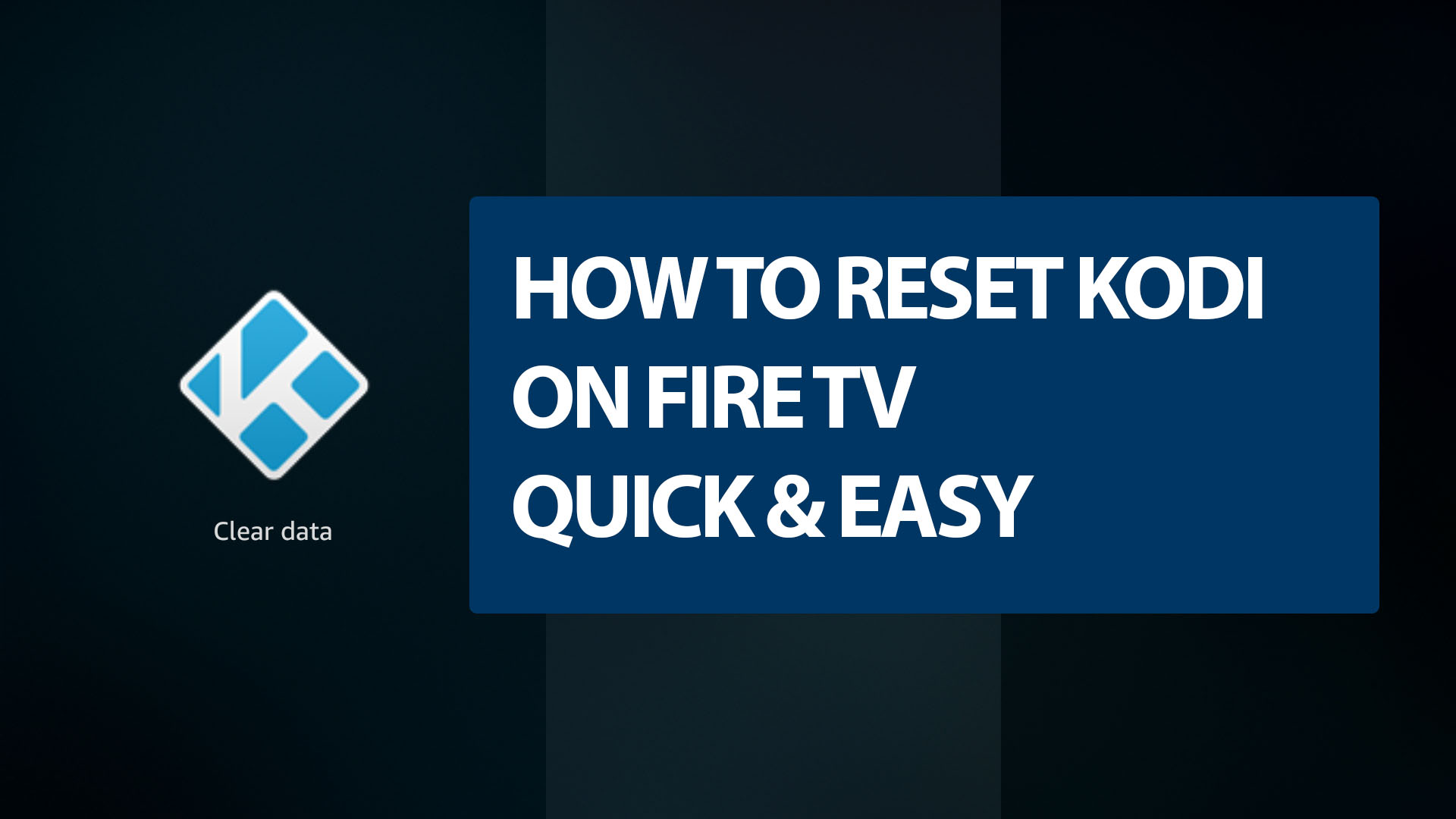 30-days money back guarantee
Stream in Private with a VPN
No matter what you're watching on Kodi, there's always the chance someone is monitoring your activity. Kodi streams set off flags with ISPs and government agencies, as some of the software's add-ons can be used for illegal content. This leads to speed throttles, copyright infringement notices, and even account terminations, all because you watched a movie on Kodi!
The good news is you can protect yourself from these invasions of privacy with a good VPN. VPNs encrypt data before it leaves your device, making it impossible for ISPs to tell what you're streaming. You'll enjoy fast and secure access to the internet and will be able to download whatever you like without fear.
Finding the best VPN to use with Kodi and Fire TV Sticks is a tough order to fill. We used the following criteria to select the most compatible VPN to suit your needs.
Compatible software – You have to be able to run the VPN on your Fire TV to stay safe.
Fast downloads – Speed is crucial when it comes to movie streams.
No bandwidth restrictions – Unlimited bandwidth is the only way to stream.
Zero-logging policy – Data logging of any type destroys your privacy.
IPVanish – The Best VPN for Fire TV and Kodi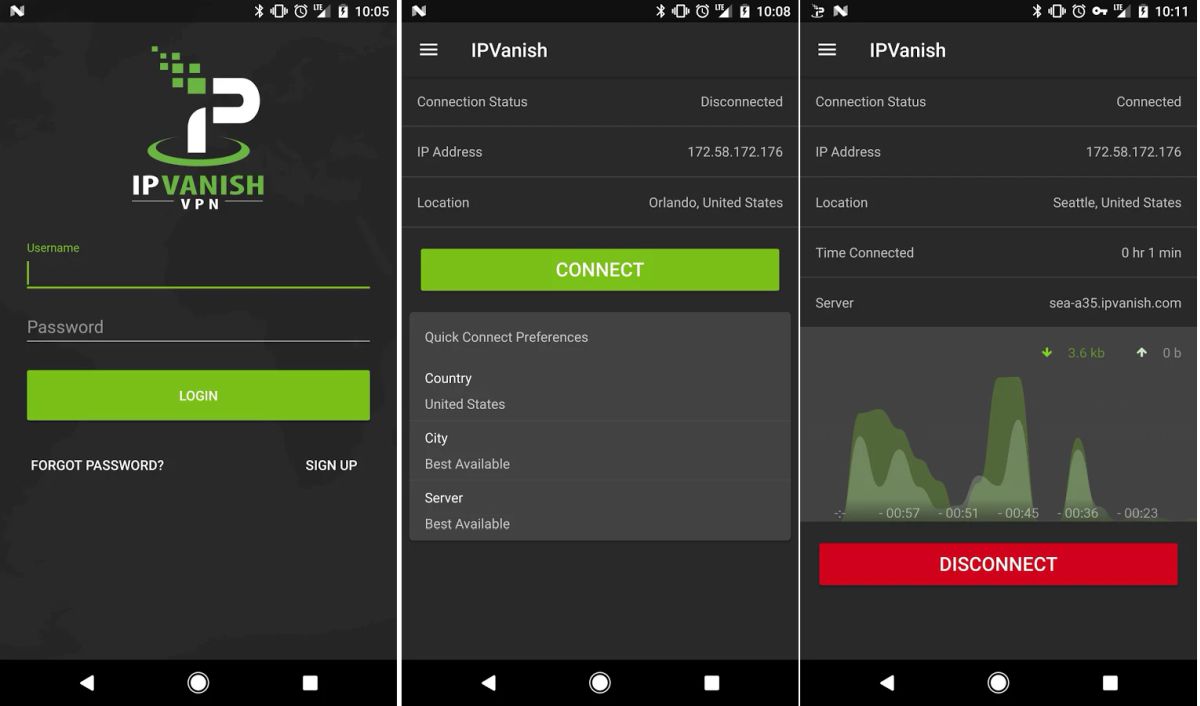 IPVanish emerged as the top VPN to use on Fire TV. It's fast, secure, lightweight, and incredibly easy to use, even with the Fire Stick's remote. It's also the only good VPN you can install without sideloading software, making installation as easy as clicking a few buttons! IPVanish boasts numerous other great features, including:
Unlimited bandwidth with no restrictions on P2P traffic or torrent downloads.
Defeat ISP throttling efforts and break through region locks with ease.
256-bit AES encryption with a strict zero-logging policy on traffic.
A huge network of 950 servers in 60 different countries.
IPVanish offers a 7-day money back guarantee which means you have a week to test it risk-free. Please note that Addictive Tips readers can save a massive 60% here on the IPVanish annual plan, taking the monthly price down to only $4.87/mo.
How to Reset Kodi on Fire Stick
Kodi doesn't offer a built-in factory reset option on any device, including Fire TV. For most platforms the easiest way to clear your settings is to dig into the file structure and delete personalized content manually. That's difficult to do on Fire TV, so we've outlined a few methods below that let you reset Kodi without all the hassle.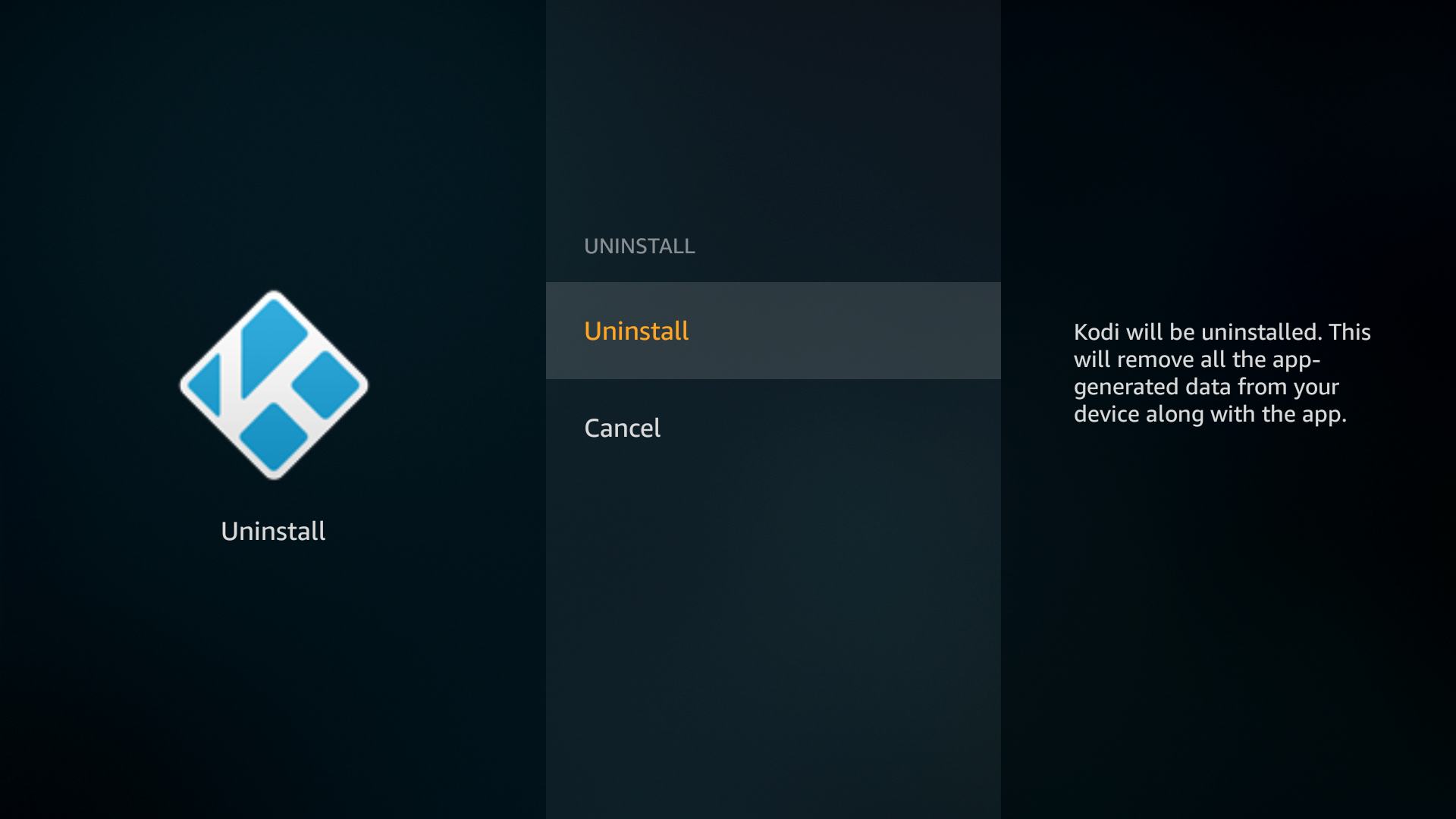 Reset Method 1 – Uninstall, Reinstall
Most Kodi reset methods rely on third party add-ons. Because these add-ons tend to disappear or stop working without notice, it's difficult to recommend a reliable extension that offers a quick reset. But since you're trying to get rid of all your Kodi data, a quick uninstall and reinstall can get the job done in no time.
Before You Begin, Uninstall Kodi
Uninstalling Kodi from your Fire Stick is a painless process. Follow the steps below to remove the app and all associated customizations and add-ons from your device. Make sure you want to do this before starting the process, as it can't be undone.
Open your Fire TV and go to the home menu.
On the menu items at the top of the screen, scroll to the right and choose Settings
Scroll right and choose Applications
In the Applications menu, move down and choose Manage Installed Applications
Scroll until you find Kodi in the list.
Select Kodi and a new screen will open. Scroll and choose Uninstall
A second screen will open. Choose Uninstall again.
After a moment Kodi and all of its data will be removed from your Fire TV.
Necessary First Steps
Once Kodi is gone from your device, it's time to prepare the new, reset version. There are a couple of methods to do this, and which one you use depends entirely on your personal preferences. Some steps are identical no matter how you install it, though, so follow the guide below, then pick an option and start installing.
On your Fire TV, go to Device > Developer Options and set "Apps from Unknown Sources" to ON.
Accept the warning message about installing external apps.
On your PC, visit Kodi.tv and click the blue Download button at the top of the screen.
Scroll down to the icons and choose Android.
Click the button marked ARMV7A (32BIT) to copy the link or download the Kodi apk file.
Use adbLink to Install and Reset Kodi
In order to install Kodi on your Fire TV, you need to go through a process known as sideloading. This simply means adding software that isn't available through the main Fire TV interface. No rooting or jailbreaking is required, you just need the right piece of software and the apps you want to download. We prefer using adbLink to sideload, as it's free, works on most desktop PCs, and is easy to use. Follow the steps below to install your new version of Kodi.
Follow the steps listed in the section above to prepare the Fire TV and download the Kodi apk to your desktop.
On your Fire TV device, go to Settings > About – Network and write down the IP address displayed there.
Visit the adbLink website on your PC and download the program.
Launch adbLink, then click "new" next to the devices box.
Add your Fire TV to the list.
Type the IP address of your Fire TV Stick into adbLink.
In adbLink, click the Install APK button.
Navigate to the Kodi apk file you downloaded earlier.
Click Yes when the Install APK prompt appears.
 The new, factory reset version of Kodi will install to your Fire TV.
As a nice bonus to using the adbLink method, you can also create backups, move Kodi data, or restore a fresh Kodi install from a previously exported file. To use any of these in conjunction with the above, just run adbLink before you uninstall Kodi, then click the appropriate button.
Use the Downloader App to Reinstall Kodi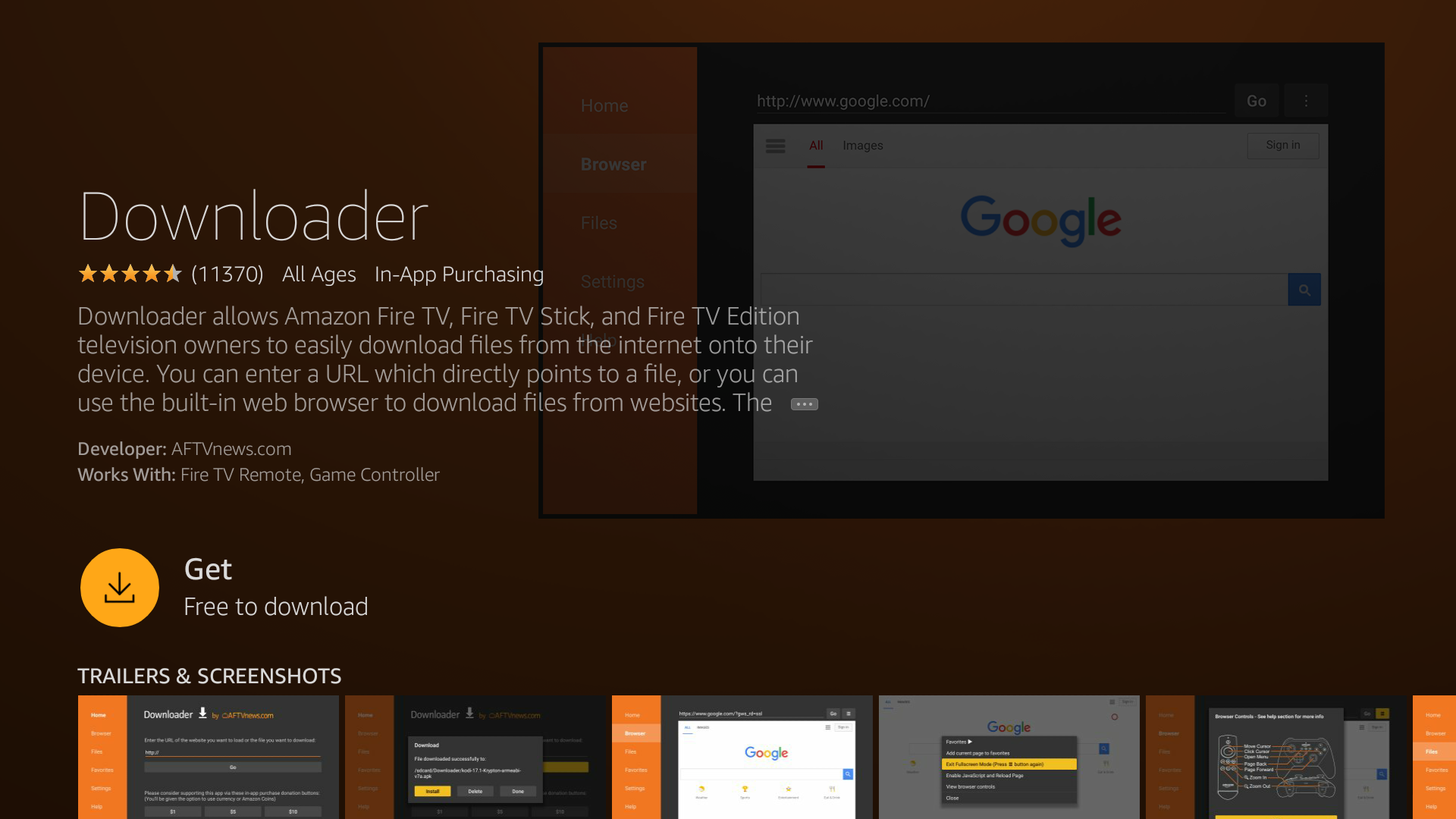 If you don't want to leave your Fire TV device to reinstall Kodi, you can always use the Downloader App featured on the Amazon Appstore. It's a little more cumbersome due to the extra typing involved, but it's just as easy as the other methods.
Follow the necessary steps listed in the section above to prepare the Fire Stick. Make sure you copy and save the apk download link somewhere safe.
Open the Amazon Appstore on your Fire TV by going to the home page and choosing Apps.
Browse for Downloader under the utilities category and install it.
On your Fire Stick, run Downloader and type the Android apk URL from the Kodi website into the box.
Downloader will get the file from the website.
Run the file from Downloader and it will install automatically.
Get a Factory Reset Version of Kodi with apps2fire
Got an extra Android device laying around? You can use it to push just about any app to your Fire TV device in seconds. All you need is the free apps2fire and a reliable Wi-Fi connection.
Follow the necessary steps listed in the section above to prepare your Fire TV Stick. You won't need to download or copy the apk link, just make sure your Fire device can access external sources.
On your Fire TV, go to Settings > About – Network and write down the IP address on the right.
Install the newest version of Kodi on your Android phone or tablet from the Google Play Store.
On the same Android phone, install apps2fire from Google Play.
Run apps2fire and let it create a list of your local installs.
Slide the menu left and tap Setup.
Enter your Fire TV's IP address from step 2, then tap "Save". You may also need to tap "Search Fire TVs" just below that.
Go to the Local Apps tab and scroll down to Kodi.
Tap on Kodi, then select "Install" when the window opens.
 After a moment, a fresh factory reset version of Kodi will upload to your Fire TV.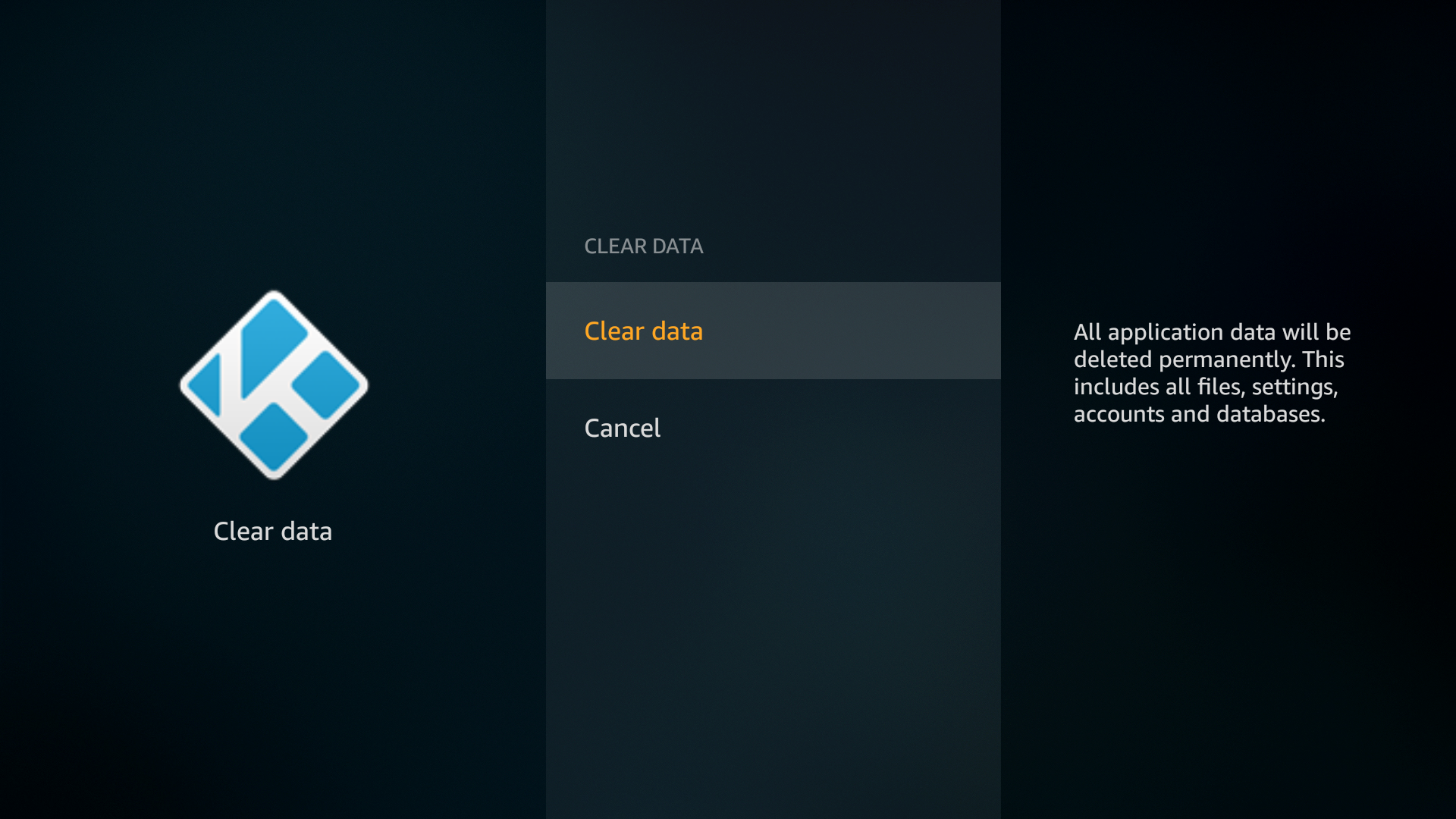 Reset Method 2 – Clear Kodi's Data
Not in the mood to uninstall and reinstall Kodi? Don't worry, you can clear most of the app's data through the Fire TV interface. It won't give you a true reset like the above and below methods will, but it gets rid of most of Kodi's custom content and leaves you with a sparkling new installation ready to stream.
Turn on your Fire TV and go to the home screen.
Scroll the menu at the top and click on Settings
Click the Applications icon, then choose Manage Applications
Scroll down and select Kodi from the list.
Choose the Clear Cache option first, then click it once.
Next, select the Clear Data option, then confirm when the window pops open.
Relaunch Kodi and enjoy the fresh, reset app environment.
Reset Method 3 – Use a Kodi Add-on
Add-on wizards are everywhere in the Kodi community. Some of the more popular ones have disappeared in recent months due to DMCA shutdowns, however, which means we'll need to use alternatives to clean and reset Kodi. Add-on wizards can be fast and convenient, but keep in mind you may not always be able to download or use the software if the developer shuts the project down without notice.
The Looking Glass repository has a nice, easy to use wizard we currently favor as the best of the bunch. Check out the steps below to install and run the Fresh Start Kodi reset option on your Fire TV installation.
Follow our guide to installing the Looking Glass Wizard for Kodi.
Run the Looking Glass Wizard add-on.
Go to the Maintenance folder, followed by Cleaning Tools.
Scroll down just a bit and choose Fresh Start.
A confirmation window pops open. Choose Continue and the reset process will begin.
Speeding Up Kodi without a Reset
No matter which way you cut it, resetting Kodi can leave you with a lot of work to do. You have add-ons to redownload and install, customization settings to tweak, themes to hunt down and initialize, the list goes on. If the reason you're looking to reset Kodi on Fire TV is to gain back a little speed, there are a few tricks you can deploy to cut down on buffering and get some boosts out of the program. They're not 100%, of course, but they're worth trying before you dive in and start the factory reset process.
Try a reboot – Video cache issues can be a problem for heavy Kodi users on any device. Because the Fire TV Stick has such a limited storage capacity, many users find their cache filling up after just a few streams. You can always reboot your Fire TV Stick to clear its temporary storage, which could speed up Kodi considerably.
Update Kodi – Older versions of Kodi are poorly optimized compared to newer versions. Better still, you don't have to sacrifice your add-ons or customizations to upgrade. If you have an older version of Kodi on your Fire TV, try updating it to the latest release before doing a factory reset.
Delete unneeded add-ons – Sometimes just getting rid of the old garbage can do wonders for your Kodi installation. If you have a lot of add-ons you don't use on a regular basis, remove them from your system ASAP. You might find Kodi suddenly turns snappy once you do.
Conclusion
Running Kodi on a Fire TV Stick is a great way to access a world of free content without any hassle. Sometimes the app can get a little sluggish, though, and sometimes you just want to start over from scratch. Either way, performing a Kodi reset can get you back to the beginning in a flash. Afterwards, simply reinstall your favorite add-ons and let the streaming commence.