We are reader supported and may earn a commission when you buy through links on our site.
Learn more
How to Set Up the Fire TV and Fire TV Stick: Quick and Straightforward Tutorial
Got a brand new Amazon Fire TV or Fire Stick device? Your entertainment options are about to increase exponentially! Setting up Fire TV is a nice and straightforward process that doesn't take a computer science genius to complete. To learn all you need to know, just check out our guide below on how to set up Fire Stick and Fire TV.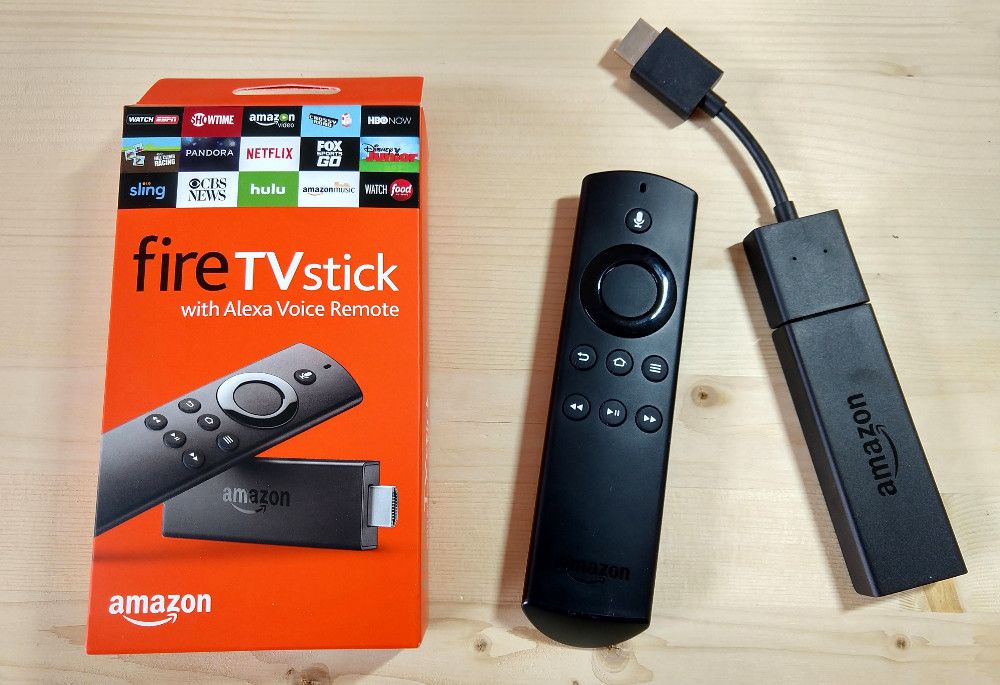 30-days money back guarantee
What You Need to Set Up Fire TV
Fire TV devices are some of the easiest streaming devices to set up. You don't need much in the way of accessories, just a base unit, an internet connection, and a TV. Check the list below to make sure you've got all the necessities.
Compatible TV : Fire devices work with any HD-ready TV that has HDMI input ports. Most newer flat screen devices have at least one HDMI port. Double check to make sure yours does, otherwise you can't connect your Fire TV.
Fire TV or Fire Stick: A base Fire TV unit that includes either the box hardware or Fire Stick. You can buy them used, but since they're so inexpensive, you might as well get a brand new device. Newer Fire TV devices come with a lot of the items below, making the setup process much easier.
HDMI and Power Cables: Fire TV connects to your TV via HDMI cable. You'll need a male-to-male cord that's long enough to connect one end to your Fire device and the other to your TV. You'll also need access to an open outlet to plug in the Fire TV or Fire Stick. New Fire TVs come with both cables included.
Remote with Batteries: Fire TV requires a remote to set up and use. New devices come with a voice-enabled remote and two Amazon brand AAA batteries. You can also use third party accessories or a Fire TV app to navigate menus.
Wi-Fi Network: You'll need a home Wi-Fi network your Fire TV can connect to, preferably one secured with a password. Speed is crucial for streaming HD content, but as long as it can connect to the internet, you'll have access. Some Fire devices were sold with an Ethernet adapter, but for most people it's recommended to use Wi-Fi for convenience purposes.
Amazon Account: All Fire TV devices require an active Amazon account to use. If you don't have one, it's best to set one up on your PC before turning on your Fire device, though you can create one during the Fire setup process if you like. Once you have a login name and password, all you need to do is enter them once on your Fire TV and you're set.
How to Set Up the Fire TV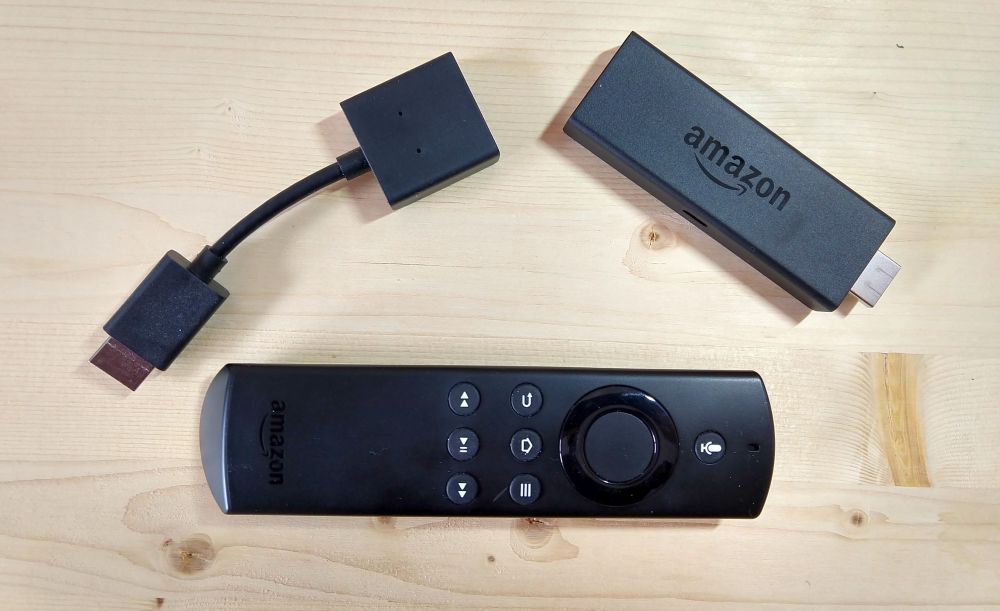 Amazon has gone to great lengths to make the Fire TV setup process as straightforward as possible. Gather your materials and carve out some free time, you've got a streaming device to install!
Step 1 – Unpack
Take everything out of the Fire TV's shipping box and make sure it's intact. You should have most of the items listed in the section above, enough so that you can connect the device and get it running.
Step 2 – Power
Take the Fire TV or Fire Stick out of the plastic and connect the power adapter to the port on the side. Plug the other end into a convenient outlet.
Step 3 – Connecting
Plug one end of your HDMI cable into your TV, then plug the other end into the back/side of your Fire TV or Fire Stick. Make sure the device is sitting securely on your entertainment center. Fire Sticks are light enough that they can hang from an HDMI port without damage. Optimally, though, you'll want the port to be parallel to the surface, not facing to the side.
Step 4 – TV Setup
With a powered Fire device connected, turn on your TV and select the input channel for the Fire's HDMI port. If you're not sure which channel it is, keep flipping until you see a loading screen with the Amazon Fire TV logo displayed on a blank background.
Step 5 – Remote
While the initial booting process takes place, take your remote out of the plastic and find two AAA batteries (included in new models). Grip the remote face down in your hands, then place your thumbs on the arrow at the bottom. Push down and up to slide the cover off, then lift it to access the battery slots. Insert both AAA batteries, then replace the cover.
Step 6 – Pair the Remote
Once the batteries are in, your Fire TV remote should automatically pair with the device. If it doesn't, hold the home button down for about ten seconds, then it will try again.
Step 7 – Connect to Wi-Fi
The Fire TV will prompt you to set up an internet connection. Follow the on-screen instructions to find a network, enter your password, and give the Fire Stick access to online content.
Step 8 – Register 
With an internet connection present, your Fire TV will ask to register your device. Enter your Amazon account details here. This is the only time you'll need to register your device.
Step 9 – Start Streaming
If everything went smoothly you'll be ready to stream. Pick a channel from your Fire TV's default selection, or install something new.
What to Install After Setting Up Fire TV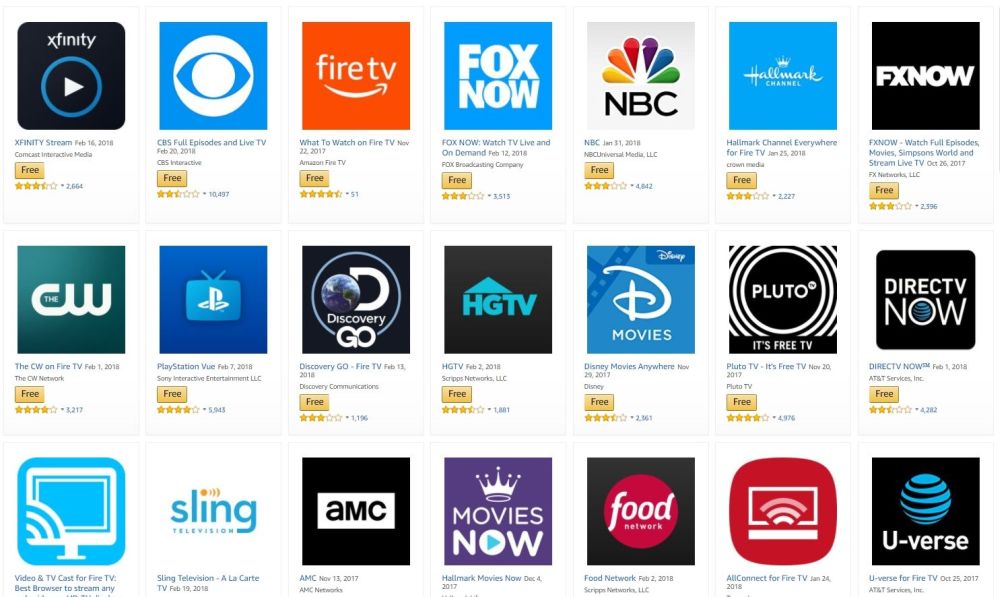 Fire TV comes with a handful of channels pre-installed. You'll want to add more than just the basics to get the most out of your new device, however. Below are a few of our favorite additions to the Fire TV experience. To install them, simply search for their name on the appstore, or browse through the category offerings manually.
Best TV & Movie Apps for Fire TV
From HBO to Netflix, Fire TV offers all the biggest names in entertainment.
HBO GO – Subscription-based HBO content, including Game of Thrones.
Hulu – Perfect for streaming new and classic TV shows.
Netflix – The powerhouse of movie and TV show entertainment has a fantastic app for Fire TV.
PBS Video – Documentaries, nature shows, educational content, and more, all for free.
PlayStation Vue – An incredibly useful live streaming app with access to hundreds of cable and satellite TV channels.
Plex – Stream videos from your PC directly to Fire TV.
Sling TV – A la carte TV service that lets you subscribe to individual channels.
Best Utilities for Fire TV
Fire TV is more than just a streaming device. Some of the utilities below turn it into an all-in-one media center!
Amazon Fire TV Remote – Control your Fire TV with an app on your smartphone.
Downloader – Download files from the internet directly to your Fire TV.
Firefox – The open-source browser is by far the best way to access the internet on Fire TV.
VLC for Fire – Play any media format.
What to Watch on Fire TV – An official app packed with recommendations.
Best Games for Fire TV
Android games work surprisingly well on Fire TV. Some require a gamepad, but others work just fine with the remote. Note that Fire Sticks usually don't handle intense games so well.
2048 – The hyper-addictive puzzle game is easy to play on any Fire device.
Crossy Road – Cute arcade action at your fingertips.
Jackbox Party Pack – The sassy quiz game you can play with your friends.
Minecraft – Yep, Minecraft runs on Fire TV. Don't get too addicted, ok?
PAC-MAN Championship Edition – The dot-munching arcade classic is alive and well on Fire TV.
Other Apps to Install
Amazon's appstore is packed with some amazing games, tools, and streaming utilities. By sideloading content, though, you can get even more awesome stuff on your device. Check out our complete guide on how to jailbreak and sideload programs on your Fire TV.
Use Kodi with Fire TV
The open-source media center software Kodi is available for a massive variety of devices. Unfortunately there's no appstore-downloadable version of Kodi just yet. Don't worry, it's easy to sideload, and it works like a dream once you get it running. Follow our complete guide on how to install Kodi on Fire TV to get started.
Get YouTube on Fire TV
Google pulled the official YouTube app from Amazon's Fire TV marketplace in early 2018. You don't have to go without YouTube on your new streaming companion, however. Check out our full guide on how to get YouTube on Fire TV and you'll be binging on content in no time.
Watch Fire TV Safely with a VPN
You can't overlook online safety while using a Fire TV. Streaming movies seems innocent enough, but every time you connect to the internet you're sending identifiable details about yourself and your location. ISPs and government agencies can use this data to track you, destroying any illusions of privacy in an instant.
VPNs can help keep you safe. With a VPN in place your data gets encrypted before it leaves your Fire TV, locking down private information so no one can trace you or monitor your activity. VPNs make it easy to stay safe and are indespensable tools for internet users, especially Fire TV owners.
IPVanish – Best VPN for Fire TV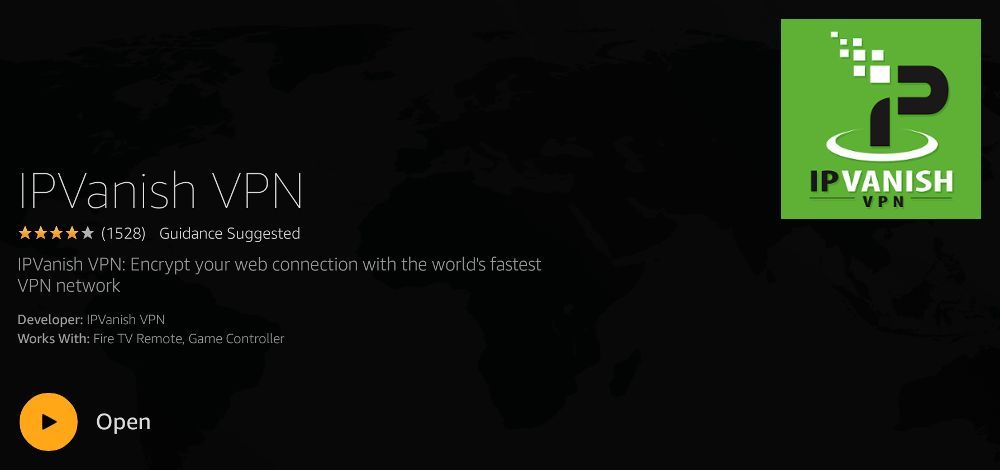 IPVanish combines speed, privacy, and security in an almost perfect balance. With it you can stay hidden online while encrypting your connection, all quietly and in the background. IPVanish runs a network of over 950 servers in 60 different countries, each one lightning fast and ready to connect to. Your data will be secured with DNS leak protection and an automatic kill switch, while a zero traffic logging policy combined with 256-bit AES encryption keeps everything safe from prying eyes. IPVanish can also be installed directly from the Fire TV appstore for the ultimate in convenience.
Give IPVanish a try with our EXCLUSIVE deal! Sign up and score a 60% discount on yearly plans, only $4.87 per month. You can even use the seven day money back guarantee to try before you buy.
Traveling with Fire TV
Fire TVs are so small and lightweight, it's easy to just throw them in a bag and take them wherever you go. Fire Sticks are especially portable and could even fit in your pocket! If you're taking a trip and don't want to leave your entertainment options behind, here's a quick guide on setting up your Fire TV on a secondary device.
Step 1 – Take the Essentials
Using Fire TV on another, temporary TV is easy. Make sure you take all the accessories you need, including the HDMI cable, power cord, remote, and the Fire TV itself. The
Step 2 – Attach to New TV
When you reach your destination, setting up the Fire TV is easy. Find a power outlet near the TV, then plug the Fire's cable into the wall. Connect the other end to your device. Use the HDMI cable to connect the Fire TV to the TV set. Turn the TV on and find the correct input channel. You should see your Fire's home screen, ready to accept remote input and start streaming.
Step 3 – Consider a VPN
Since you're sending data across unfamiliar networks, you'll definitely want to consider installing a VPN on your Fire TV. The process is quick and painless, especially if you use one of our recommended services above. VPNs can help keep your information secure while streaming away from home.
Conclusion
Lightweight, inexpensive, highly configurable, and easy to set up. Amazon's Fire TV and Fire TV Stick devices have a lot going for them. Whether you're installing one at home or using a Fire TV to watch movies on the go, setup is a painless process that lets you spend less time tangled in cables and more time streaming.