We are reader supported and may earn a commission when you buy through links on our site.
Learn more
TheKingdom Kodi Add-on: Watch Australian TV Shows and Movies
Australia can sometimes feel it is a little cut off from the rest of the world. It is a long way from most places and this isolation is one of the reason's so many Aussies head to Europe or America in their youth. This large ex-pat population remain keen to stay in touch with their culture and local entertainment while abroad, so there has long been a demand for a Kodi addon dedicated to Australian content. Now, there is one. The Kingdom Kodi addon has arrived as an all-in-one addon with a big focus on Aussie TV shows, movies, and live streams. Whether you are an Australian abroad, still at home or just a fan of Aussie culture, the Kingdom is an essential addon for you.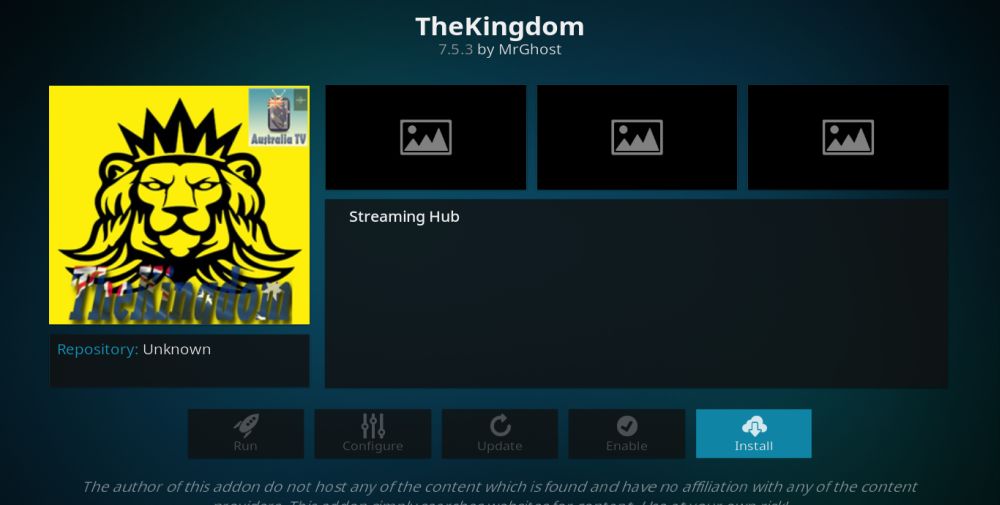 In this guide, we will be telling you everything you need to know about The Kingdom Kodi addon. We will give you a rundown on the range of content available, as well as offer some insight into how the addon works, its design, and main features. And we will also give you a simple, easy-to-follow guide on how to download and install The Kingdom addon onto your Kodi device.
Before you download The Kingdom Kodi addon – Install a VPN
If you are planning to stream TV or movie content on unofficial Kodi addons such as The Kingdom, it is always highly advisable to use a VPN. This is because copyright holders have been pursuing unofficial Kodi addons and their users in recent months as some such addons can be used to stream copyrighted content. As a result, users of these addons have been in receipt of legal letters and some have faced further legal action. But a VPN can help to protect them. It will encrypt all of your internet data and hide your IP Address, which helps to keep your online activity hidden from prying eyes. A VPN is now seen as essential by all Kodi users. The big question is which VPN they should be using.
The Best VPN for Kodi – IPVanish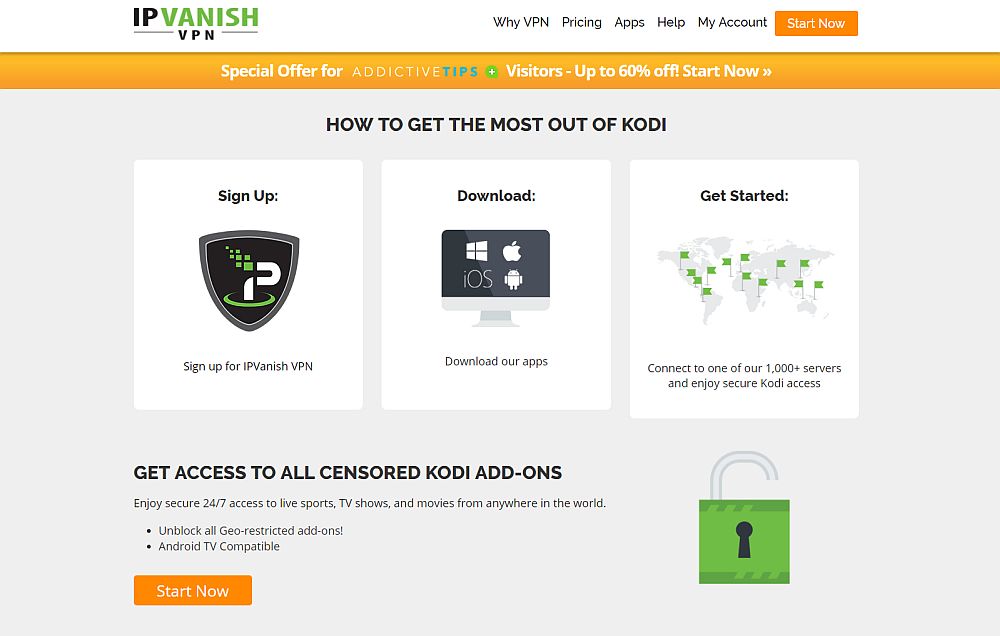 Our research and testing suggest that the best VPN on the market for Kodi users right now is IPVanish. There are a number of compelling reasons why we have come to this conclusion. IPVanish offers some of the fastest and most consistent connection speeds of any VPN provider. These are available across its entire server network which is ideal for Kodi users streaming content on unofficial addons. IPVanish also offers super-strong encryption which will ensure your online data safe, and its privacy policies are as good as it gets including a cast-iron no user logs guarantee. The IPVanish server network is a big one consisting of more than 850 servers in 60 countries around the world. This means Kodi users can access content from all over the world and helps boost connection speeds too.
There are also no restrictions on either file types or data amount users can access. And with dedicated, easy-to-use apps available on just about every device you might conceivably be running Kodi on, it is pretty obvious why IPVnaish is seen as the perfect VPN for Kodi users.
IPVanish offers a 7-day money back guarantee which means you have a week to test it risk-free. Please note that Addictive Tips readers can save a massive 60% here on the IPVanish annual plan, taking the monthly price down to only $4.87/mo.
How to install The Kingdom Kodi addon
The Kingdom Kodi addon is a relatively new addition to the market, but it already appears to have moved home once. At the moment, it can be found on the Brettus Repository. This repository bills itself as being primarily for Kodi builds. But it has a decent selection of addons available too with The Kingdom being amongst its number. When we were testing this addon, we found that there were two version of The Kingdom available on the Brettus Repository. We always recommend choosing the latest version as this will have the most up-to-date content as well as having security updates and other patches to fix any bugs the developers have noticed. Downloading and installing The Kingdom addon is a pretty simple process, but to help you through it, here is our simple ten-step guide:
The Kingdom Kodi addon Review
All-in-one Kodi addons can be cumbersome and difficult to navigate. Finding one which is simple and well-designed is a rare thing. So Australian Kodi users can breathe a sigh of relief because while The Kingdom is by no means a perfect Kodi addon, it has already done much of the hard work. The main menu when you open this addon is a blissfully straightforward affair. It has just four main categories to choose from and these are clearly labelled so finding what you are looking for shouldn't be too much of a problem. There is also a testing tab, which shows that the developers are still working on more features and users of the Kingdom addon can expect more improvements in the weeks and months ahead. But at the time of testing, here is what you can expect to find on The Kingdom Kodi addon:
Kingdom Live TV
This is the place to head if you want to watch Live IPTV streams. As with almost everything in this addon, the focus is on Australian content so at the top of the sub-menu are all the main Australian TV networks. As you scroll down, there are various other options including two tabs for live sports channels, one for music channels, four which offer lists of World IPTV channels, and an Acestreams TV Channel as well. Clicking on a link opens up a list of available channels and each channel will offer a selection of links. Choose your link and the channel should start to stream.
Kingdom Movies and TV Shows
This is the place to come for on-demand content. When you open it up there are three options, which are likely to mean little to those not already familiar with how Kodi addons can work. They are TMDB Network, Trakt Network, and IMDB Network. It is not the easiest on demand section to navigate by any means, but there is quite a lot of content available once you find your way to it. This is one part of the addon which could definitely be tidied up and be made more user-friendly though.
TMDB is powered by The Movie Database and offers a wide selection of movies and other content. Users can search by such options as Popular, Now Playing, and Top Rated, while scrolling down also offers a list of IPTV links too. There are movies and TV shows aplenty to be found, but you will need to familiarise yourself with the setup before you will be using it intuitively.
The Trakt Network option allows users to access content from the Trakt Network, which includes a wide range of movies and TV shows. This section is pretty easy to navigate around and find the content you want.
IMDB Network is sourced from the popular Internet Movie Database site and offers either a Chart Moviemeter or popular TV settings. Both will open up a decent list of on-demand content for you to choose from.
Meanwhile, there is also a section called Screeners which is the place to head if you want to watch new movie content. This section is a little more straightforward to navigate and open up a list of well over 100 new movies for you to choose from. They are listed alphabetically with a nice synopsis and is more what users have come to expect from an on-demand section of an addon.
Kingdom Other Streams
This is a slightly odd addition to the addon, but I guess some users may find it of interest. It features three options when you open it up. Live Cams features 24 CCTV camera feeds from across Australia, Australian Government features video feeds from the different house of the Australian parliament, and Special Events presumably features coverage of Australian events but was empty while we were testing.
Kingdom Music and Radio
It is fair to say that the music and radio section of The Kingdom addon is a work in progress. There were three links at the time we were testing. The Australian Digital Radio section offers a selection of around 35 Australian radio stations which can be listened to live. There are also links to LastFM and UK Music, but these were still marked as Testing when we were using the addon. It is probably safe to assume that the developers hope to add much more to this section in the weeks and months ahead.
The Kingdom Kodi addon Pros and Cons
Pros
If you are looking for an addon with the widest possible selection of Australian content then The Kingdom addon is the place to go. But that does come with a caveat. The Kingdom addon does warn that some of its content may be geo-restricted. Many Australian TV channels do employ geo-restrictions to stop people outside Australia from accessing their content. Don't worry. You should already have signed up to a VPN before downloading and install the Kodi addon. If you haven't, do so now. Once you have signed up, open your VPN and connect to a server in Australia. When you are connected, try to stream the channel in question again. It should now work without a problem.
With a VPN, there is pretty much no limit as to what this addon has to offer. It lives up to its billing as an all-in-one addon with both IPTV streams and on-demand content well catered for. There aren't many additional bells and whistles, but that works to its advantage in many ways as the addon has the feel of a simple, well-designed bit of software that knows what it is trying to achieve.
Cons
When you are selecting content on The Kingdom Addon, it requires you to choose which link you want to use. However, it gives minimal information about what differentiates these links. There is no advice on the quality of the stream or where it is being sourced from, which means choosing links is essentially just guesswork.
It matters too because some of the links available are much better than others. We didn't encounter too many broken links, but we did find links that were slow or frequently had buffering issues more often than we would have liked. In an all-in-one addon, this issue seems more common but is nonetheless disappointing. By providing more information about the links, users are able to choose the quality of the stream and the link sources which work best for them. It is a shame they cannot do that with The Kingdom addon and it is definitely something the developers could definitely improve moving forward.
Speed is not always The Kingdom addons greatest asset either. Clicking on a link or menu option can mean a pretty long wait for the next option to open and this doesn't seem to improve with multiple uses either. It will get there in the end, but if you are looking for an addon which will open up your chosen content quickly, then The Kingdom will probably not be your go-to all-in-one addon.
The Kingdom Kodi addon conclusions
There are both positives and negatives to the Kingdom Kodi addon, but generally speaking, it has much to praise. The selection of content is excellent, with an unashamedly Australian focus which it delivers well. It is, for the most part, well designed and easy to use, but there are some sections where a little polishing is required. It would benefit from running a little faster and from more information being provided to users at some points. But for Australians, Aussie expats, and fans of Australian TV and film, it is definitely an addon worth downloading.
In your own experiences, how did you find The Kingdom addon to use? Did you encounter any issues that we didn't mention? What were the strongest points about this addon for you? How helpful did you find our download and installation guide? We always welcome your views and comments, so why not share them with us in the comment box below?