We are reader supported and may earn a commission when you buy through links on our site.
Learn more
How to Watch UFC 224 – Nunes vs Pennington: Kodi and Live Streaming Options
UFC 224: Nunes vs. Pennington is a highly anticipated event scheduled for May 12, 2018 that pits champion Amanda Nunes against Raquel Pennington for the UFC Women's Bantamweight championship. The original lineup for UFC 224 was set to be Nunes vs Cris Cyborg in a battle for the UFC Women's Featherweight Championship. However, because Cyborg fought in UFC 222, the match was rescheduled.
When a bout this exciting is on the horizon, you'll want to have everything set up and ready for fight night so you don't miss a single grapple. Being able to watch UFC 224: Nunes vs Pennington means finding a reliable online stream or pre-purchasing a pay per view package. Either way, do your research before the night of the fight, otherwise you'll be scrambling at the last minute.
30-days money back guarantee
UFC 224 -What You Need to Know
The UFC (Ultimate Fighting Championship) has been around since 1993 when it was founded as a mixed martial arts tournament. The first dozen or so matches were raw and uncoordinated, but as the years went by the organization found its footing. It only took about a decade for UFC to become the largest MMA promotion in the world, drawing in top-ranked fighters interested in testing their skills for the ultimate prize. These days events draw hundreds of thousands of viewers and are often sold out days after tickets are made available.
UFC 224 is scheduled for May 12, 2018 in the Jeunesse Arena in Rio de Janeiro, Brazil. The main card starts at 10:00 PM ET , though exclusive Fight Pass preliminaries start as early as 6:15 PM ET and standard prelims at 8:00 PM ET. Main card matches include Vitor Belfort vs Lyoto Machida, John Lineker vs Brian Kelleher, Mackenzie Dern vs Amanda Cooper, and Ronaldo Souza vs Kelvin Gastelum.
How to Watch UFC 224
It can be a hassle to travel to Rio de Janeiro and fighting your way through the crowds to see UFC 224. The less expensive solution is to purchase the fight via pay per view, then invite some friends over and get ready to rumble.
Watch UFC 224 on Pay Per View
The easiest way to get access to pay per view streams of UFC 224 is to go through your existing cable or satellite TV provider. UFC partners with dozens of major companies across the globe to make it as easy as possible to purchase single fights without putting down your remote control.
A few days before the fight, simply check your provider's pay per view channel or website to see if UFC 224 is available. Some of the supported networks include AT&T U-verse, Charter Spectrum, Bright House, COX, DirecTV, Dish, Mediacom, Optimum, Verizon FiOS, and xFinity.
If you don't have a cable or satellite provider, UFC 224 will be available as a pay per view purchase on Amazon's Prime Video service. Simply search for the match a few days before it's scheduled to begin and you'll find the PPV options.
Pay per view prices for most providers are usually around $40 USD ($54.99 CAD) for standard definition and $50 USD ($65 CAD) for HD.
Watch UFC 224 at a Bar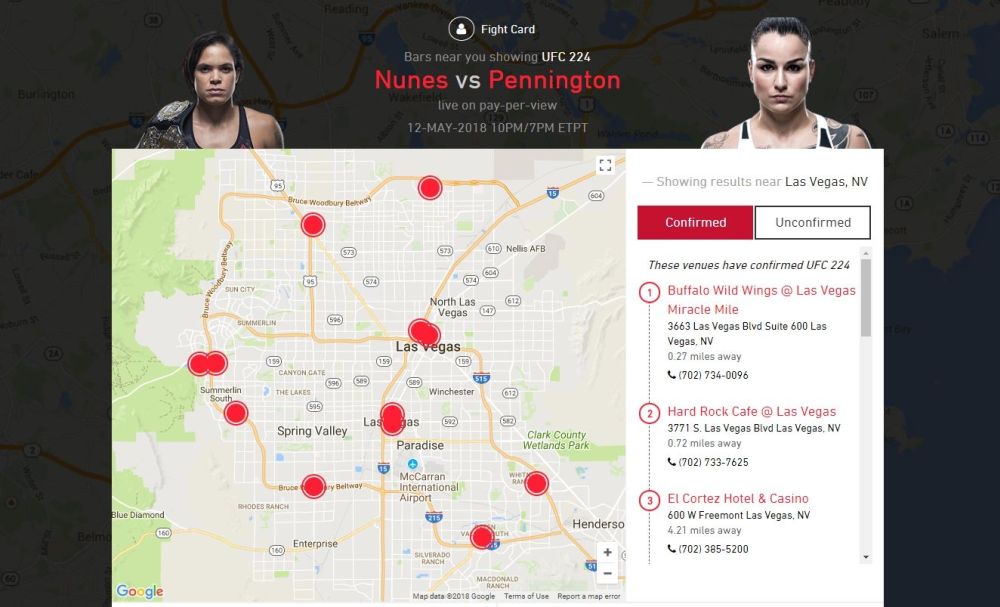 Public licenses for streaming pay per view UFC fights are purchased by thousands of bars and restaurants across the world. UFC provides a handy map that lets you search for confirmed showings of each upcoming fight, including the Nunes vs Pennington bout. Check out the official bar browser offered by UFC.com, switch to your area, then see where you can go once the fighting begins.
Use Fight Pass to Watch UFC 224
UFC Fight Pass is a subscription-based service owned by the UFC that lets users sign up for regular access to UFC events along with a wealth of on-demand entertainment. Fight Pass is available for Apple TV, iPhone, Android, Xbox, Roku, Amazon Fire TV, and many other platforms, and it streams to a variety of countries, including the U.S., Brazil, Australia, Canada, New Zealand, and Italy.
In addition to easy streaming access to a wide range of devices, Fight Pass also offers exclusive preliminary fights for every big UFC event. If the main card and standard preliminaries aren't enough, getting access to almost half a dozen new and earlier fights should do the trick!
Fight Pass subscribers get access to pay per view events such as UFC 224 at a reduced rate. You can sign up for a free 7 day trial by visiting the website above. UFC also occasionally offers bulk subscription deals that give you Fight Pass access along with a PPV event at a discount.
Watch UFC 224 Online with Kodi
If the pay per view options are too expensive or simply not available in your area, Kodi may offer a solution. The free and open-source media center grants you access to a huge variety of third party add-ons, many of which focus on live sports, MMA events, and other content.
Keep Your UFC Streams Private with a VPN
Before you grab Kodi and start streaming UFC 224, it's a good idea to check into a reliable VPN. Kodi streams are frequently monitored and throttled by ISPs in an effort to catch online piracy. Even if you use Kodi for purely legitimate content, you could find yourself a victim of these shady practices.
Fortunately, VPNs are an easy solution. They add encryption to each packet of data that leaves your device, making it nearly impossible for anyone to tell what you're watching or which websites you're visiting. They also help make you anonymous by replacing your IP address with a non-local one. Running a VPN keeps you protected from a ton of online dangers so you can stream sports, TV shows, and movies in complete privacy.
IPVanish – Fast, Secure, Safe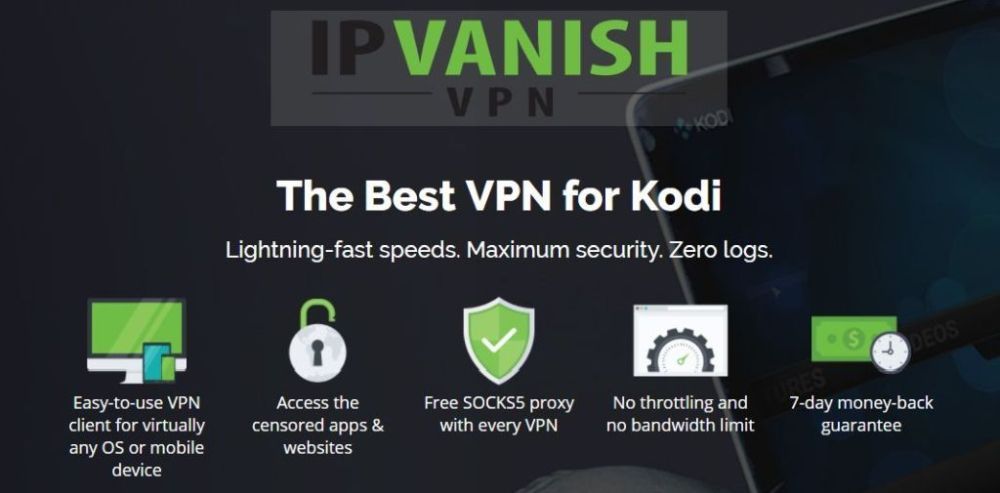 IPVanish is consistently ranked as one of the best VPNs to use with Kodi. It's fast, secure, easy to use, and provides just the right balance of features to keep you safe online. With IPVanish you have access to over 950 servers in 60 different countries, and each packet of data is protected by 256-bit AES encryption and a zero-logging policy on all traffic. IPVanish's software also includes DNS leak protection and an automatic kill switch, making it a great companion for Kodi streamers.
IPVanish offers a 7-day money back guarantee which means you have a week to test it risk-free. Please note that Addictive Tips readers can save a massive 60% here on the IPVanish annual plan, taking the monthly price down to only $4.87/mo.
Best Kodi Add-ons to Watch UFC 224
To get free sports and UFC streams on Kodi you'll need to install the right add-ons, which are available bundled together in third party repositories. You need to add the repos first, then find the add-ons individually. This process seems a little complicated at first, but after a few tries you'll see how easy it is.
Before you begin you'll need to toggle one of Kodi's internal options. This allows the program to manage downloads and install new content from outside sources. Follow the steps and you're ready to begin.
Open Kodi and click on the gear icon to enter the System menu.
Go to System Settings > Add-ons.
Toggle the slider next to the Unknown sources option.
Accept the warning message that pops up.
Note: Kodi's unofficial add-ons community pulls content from a wide variety of sources, including some streams that may or may not be legal in your country. Addictive Tips does not condone or encourage any violation of copyright restrictions. Please consider the law, victims, and risks of piracy before accessing copyrighted material without permission.
Sports365.Live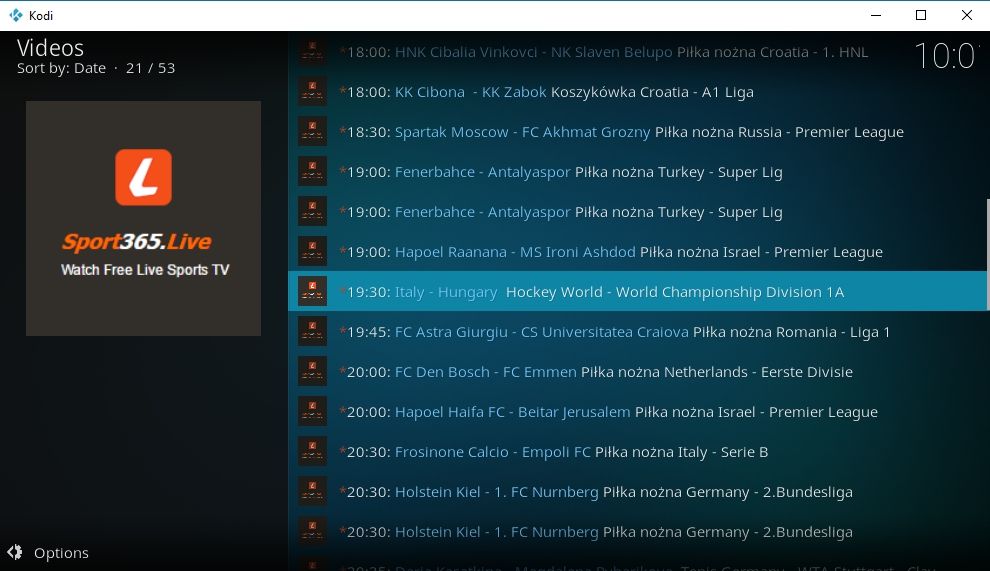 Sports365.Live is a glorious mess of a streaming add-on. It doesn't bother sorting or organizing content in any way, nor does it provide customization options or user-definable filters. Instead, Sports365.Live pulls in a ton of different sports streaming sources, then dumps them in a single list sorted by time. Finding what you want often means sifting through pages of unrelated content, but once you do set your eyes on something worthwhile, you're almost guaranteed to have a selection of reliable and high quality streams.
Sports365.Live is known to offer streaming UFC content on occasion. Pay per view events such as UFC 224 can also make their way onto the service. There's no way to know for sure ahead of time, however. All you can do is check the add-on the night of the fight and hope you get lucky. For this reason, Sports365.Live is a good add-on to keep installed as a backup.
How to Install Sports365.Live
Sports365.Live is available from the Bookmark repository, a relative newcomer on the Kodi scene. First you'll need to add this repo to your system, then look for the add-on and install it. The steps below will guide you through the process.
Start at Kodi's main menu, then click on the gear icon at the top of the screen.
Scroll down to File Manager, then choose Add source in the left hand pane.
In the Add File Source window, click in the center where it says <none>.
Type the following repo URL into the box that opens: https://archive.org/download/selflesslite
Click OK, then type a name in the box where indicated. Use something descriptive, like bookmark-repo
Click OK, then return to the Kodi main menu.
Open Add-ons and click the open box icon at the top.
Choose Install from zip file and select the bookmark-repo entry you created above.
Click the file marked repository.bookmark-#.#.zip and wait for the install to complete.
From the open box menu again, choose Install from repository.
Select Bookmark Repository followed by Video add-ons.
Look for the Sports365 add-on in the list, then click to install.
When the download completes, you can access Sports365.Live from the main add-ons menu at any time.
FTFA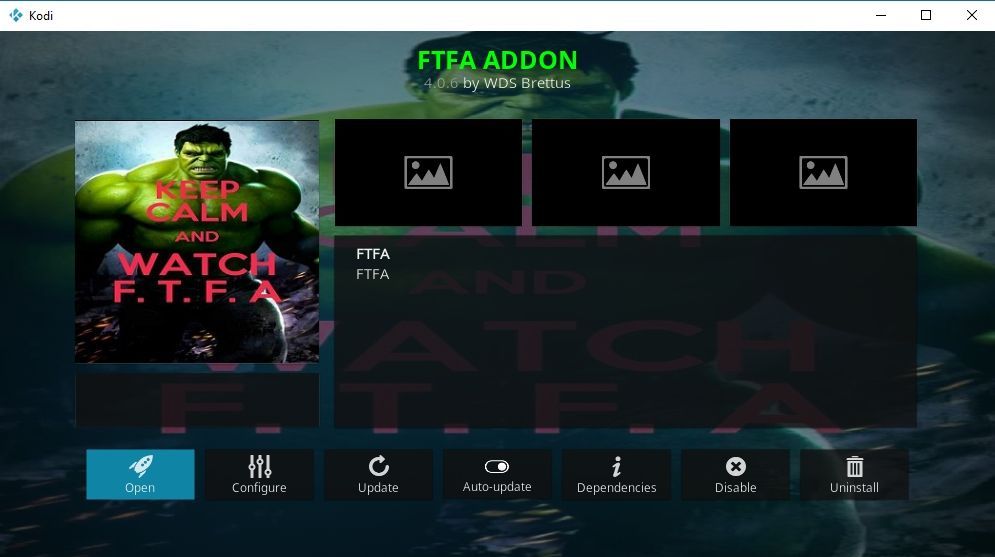 FTFA is a multi-use add-on that comes with a huge variety of streaming options. Want to watch a movie? TV show? Live sports event? FTFA can help, but you may need to do a little work for optimal results. The add-on organizes content by streaming source and channel type, not sport or genre. This means you'll be browsing sources on a per-channel basis, picking between a wealth of U.S.- and UK-based content that's easy to watch and in remarkably high quality.
A quick look at the content categories in FTFA:
UK Channels – BT Sport, Euro Sport, Sky Sport, and dozens of other channels, some of which air UFC pay per view events and preliminaries.
USA Channels – A selection of broadcast and cable channels including CBS, NBC, FOX, ABC, Sportsnet, ESPN, and Fight HD.
PPV LIVE –  Pay per view events broadcast as they air, including UFC and other MMA events.
To get a hold of UFC streams, look for special channels that pop up around broadcast time. There's also a dedicated section for pay per view content features on FTFA's main menu, which usually has a couple of great options for UFC.
Installing FTFA
FTFA is available from the Brettus repository. The steps below will walk you through the installation process, including an activation step you may need to complete before streaming.
Run Kodi on your device, go to the main menu, then click the gear icon.
Go to File Manager > Add Source.
Add the following URL into the text box: https://toptutorialsrepo.co.uk/kodi/Repos/
Enter an easy to remember name, such as toptut
Click OK. Kodi will add the repo to your sources list.
Go to the main menu and select Add-ons.
Click the box icon at the top of the menu.
Choose Install from Zip File, then select the repo above.
Scroll down and find the file named repository.Brettusrepo-#.#.zip
Install the repo, then go back to the open box menu.
Choose Install from Repository.
Select the entry named Brettus Builds Repository.
Navigate to Video add-ons and scroll until you see FTFA.
Install, then launch the FTFA add-on.
If you need to activate FTFA, run the add-on and follow these steps:
A window will open in Kodi asking for a PIN.
Click OK and a website will load in your browser.
Click the blue GENERATE button to receive a PIN. It should look something like this: AB1234
Copy the PIN, then go back to Kodi and paste it into the active window.
The PIN will validate and you're free to stream.
UK Turk Playlist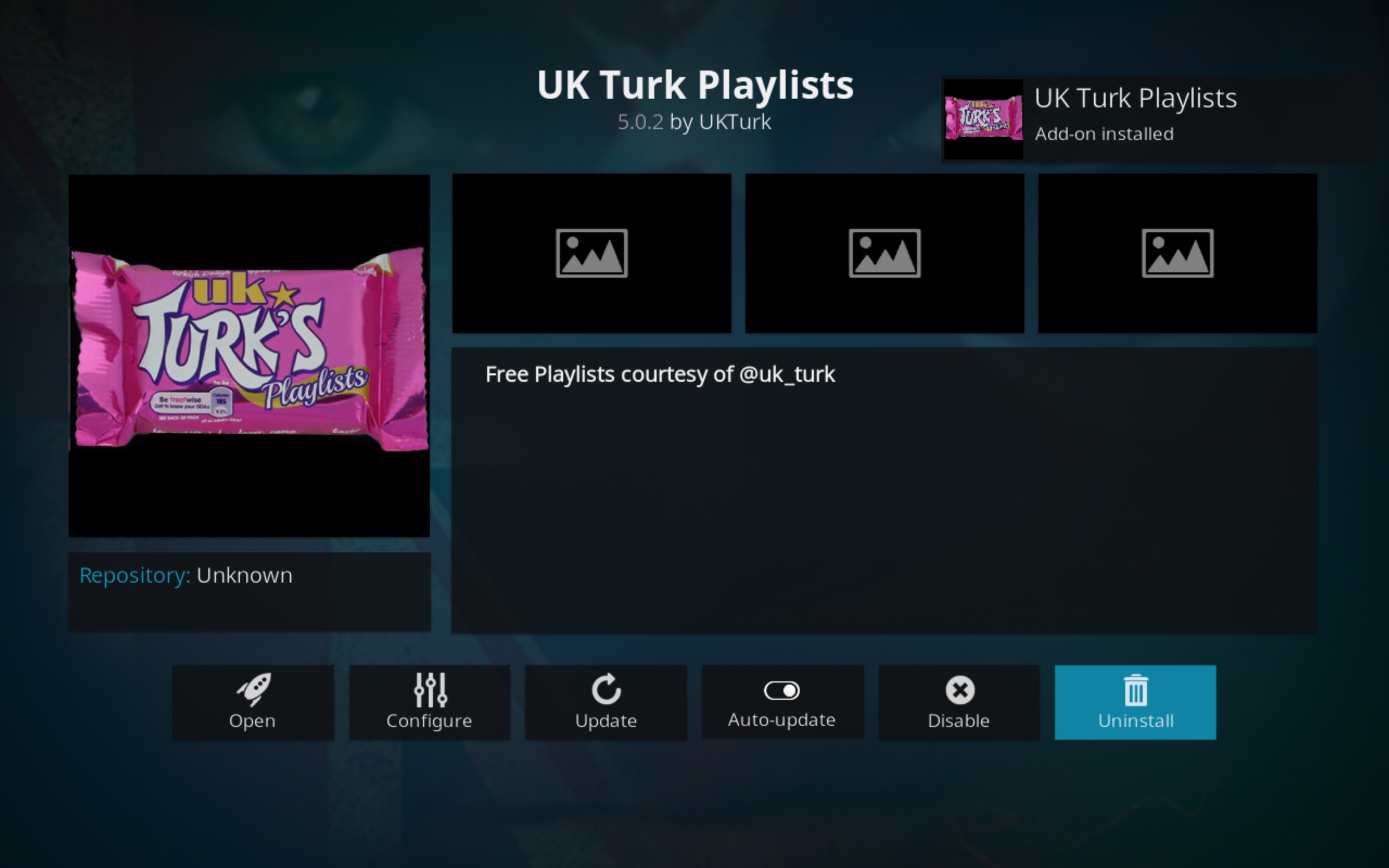 UK Turk Playlist is one of the Kodi community's perennial favorites for a large variety of streaming content. It's one of the best resources for TV shows both old and new, and it comes with a variety of source links for foreign films, independent content, and of course, Hollywood blockbusters. Better still, UK Turk features a wide variety of sports streaming categories that are perfect for finding UFC bouts the night they air.
To learn more about UK Turk or to install the add-on to your version of Kodi, check out our complete guide to installing UK Turk Playlists.
REMINDER: Use a VPN when streaming through Kodi – get 60% off with IPVanish.
Conclusion
UFC events keep getting bigger and better as the years go by. Huge bouts draw massive crowds and pack bars and living rooms full of people eager to see which fighter comes out on top. With the right resources, both official and unofficial, you can access live streams from any device and anywhere in the world. When UFC 224: Nunes vs Pennington arrives, you'd better be ready!