We are reader supported and may earn a commission when you buy through links on our site.
Learn more
How to Watch Captain America: The First Avenger on Netflix from Anywhere?
Is there anyone who doesn't love Captain America and the sweet demeanor of this character? Well, we are quite eager to go back and watch Captain America: The First Avenger on Netflix. But can we find the movie? Let's see!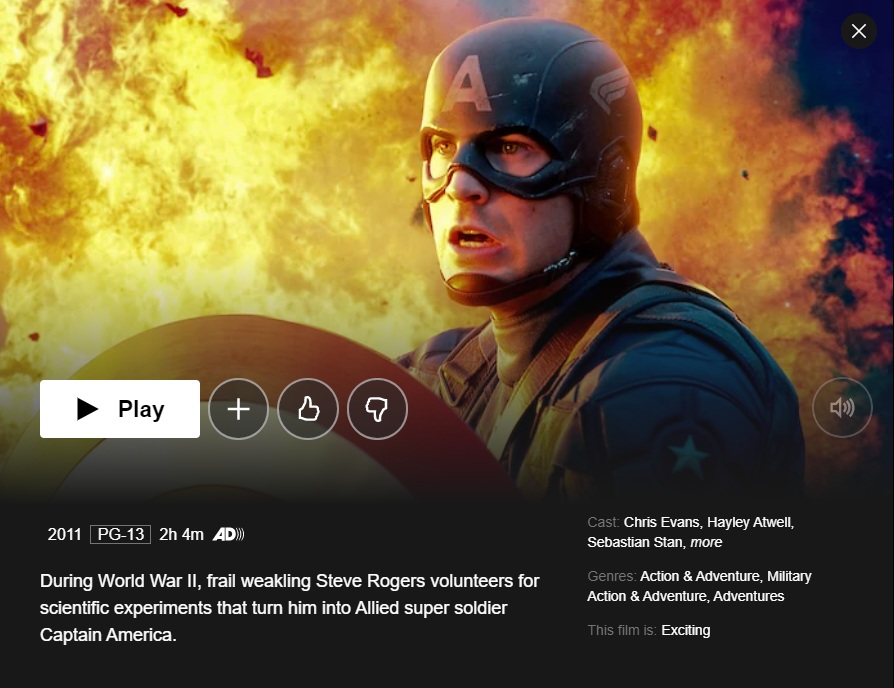 Captain America: The First Avenger was released in 2011, and it is the fifth film in the Marvel Cinematic Universe. The film had a budget of about $140 million, and it managed to bring in over $370 million at the box office, pretty much as the early Marvel films did.
The film features Chris Evans as Captain America, as well as Tommy Lee Jones, Hugo Weaving, Sebastian Stan, Stanley Tucci, Samuel L. Jackson, and many others. It is a movie that tells the story of how Captain America came to be, and it sets the tone for later movies from the series.
We follow Steve Rogers and how he's rejected for World War II military recruitment due to his various health and physical problems. He's recruited into the Strategic Scientific Reserve, which basically turns him into a super-soldier. Seven decades after WW2 ends, Rogers is rescued off the floor of the ocean and he becomes the first Avenger.
30-days money back guarantee
Can I watch Captain America: The First Avenger on Netflix?
Captain America: The First Avenger is definitely available to stream on Netflix, but we could only find it over in Canada, which means that it is sadly missing in countries like the United States, United Kingdom, or Australia, to name a few.
How can I watch Captain America: The First Avenger on Netflix?
If you want to watch Captain America: The First Avenger on Netflix, then you should know you're going to need to have a simple subscription with Netflix, as well as a VPN. As you may already know, Netflix is available in about 190 countries, and it has individual libraries in all of them. Since each library is geo-blocked, you cannot technically access it while in another country. However, if you have a VPN, you will appear to be in a country of your choice.
The VPN will route your internet connection through a server of your choice, so you will appear to be in Canada. Our recommendation is to go for NordVPN, which is one of the best tools on the market today, with thousands of servers all over the world and some really great privacy features that will ensure your safety online.
Here's what you need to do:
First, you're going to have to subscribe to NordVPN. You need to grab their deal, as our readers get 70% OFF for the 2-year plan at $3,49/mo!
Then, you need to get the apps and install them on your device. Sign in to your account and then go looking for a server that's located in Canada.
Once the connection is established, you can load Netflix in your browser or relaunch the app on your device. Search for Captain America: The First Avenger and start streaming the film.
There you have it! It's really pretty easy and straightforward, so we think you'll find it rather simple to follow as soon as you get the hang of things.
Won't Netflix know I'm using a VPN?
There is a chance that Netflix will know you are using a VPN. With NordVPN, that is less likely to happen. They do have VPN detection software that enables them to figure out which IP addresses come from VPNs when lots of people use them. However, this feature is not exactly going to work with a premium tool like NordVPN, so you are mostly safe. We say "mostly" because you can never say that they won't figure it out and blacklist one server at one point or another. That being said, if this ever happens to you, it's always possible to contact the NordVPN support team. They are available 24/7 and more than happy to help you out.
Why not use a free VPN instead?
The attraction of free VPNs is easy to understand, but it's something that you should avoid doing because free VPNs are often dangerous to use or plain useless.
One of the things that security researchers have figured out over the years is that VPNs are often used as a cover by cybercriminals for pushing malware to unsuspecting users. You go on the App Store and download a free VPN, and you somehow end up with a device full of malware. The outcome of this situation usually involves hacked email accounts, social media profiles, and even banking profiles. Anything from financial fraud to identity theft and even data breaches against your employers are on the table when risking using such an app.
Another thing you need to consider is that free VPNs are blacklisted by Netflix, so we won't even get to enjoy Captain America: The First Avenger with such an app. Even if they were to work with Netflix, you should know that they have few servers at their disposal but lots and lots of users, which means that people using the tool have really low internet speeds. Therefore they are going to be unsuitable for streaming content on Netflix.
There are also apps that are based on peer-to-peer that you should be avoiding because these VPNs come with another set of risks. More specifically, these apps will use your device as a server of sorts and give you access to another person's computer in exchange. However, this will have little impact on your device's performance, and the bad news is that the apps do not stop working when you disable the VPN. Instead, they continue running in the background, impacting your computer's resources. Furthermore, free VPNs keep logs on people's online activity, which means that the privacy aspect that comes with VPNs is compromised. Also, they do not use encryption, which means that your activity is open for anyone to check online.
Final thoughts
Using free VPNs may be something that you would like to do, but when it comes to VPNs, please stick to premium tools that can offer you the protection you need online. Now go ahead and connect to a Canadian server and start streaming Captain America: The First Avenger for as long as you possibly can.