We are reader supported and may earn a commission when you buy through links on our site.
Learn more
How to Watch Game On Season 1 from Anywhere in the World
Game On is a new show premiering on CBS soon after crossing the Ocean from the United Kingdom, where the original A League of Their Own comes from.
Game On will feature celebrities competing in various fun events, split into two teams. One team is led by Venus William, while Rob Gronkowski leads the other. The first episode of the show will feature Gabriel Iglesias and J.R. Smith as contestants, so you know it's going to be fun.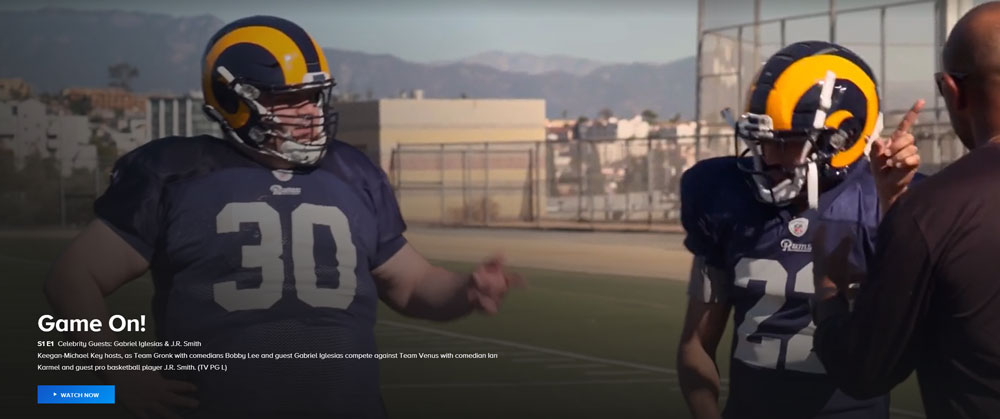 The problem is that the show is only broadcast in the United States, which be a problem if you travel abroad. As you know, US-based streaming services are geoblocked, so you can only enjoy them in US territories.
If you use a VPN, however, you'll circumvent the situation entirely.
30-days money back guarantee
How to watch Game On with a VPN from abroad?
If you happen to be traveling abroad and want to keep up with Game On, you'll be able to use a VPN to help you out. These tools are easy to use even by novices, thanks to the intuitive interface. We use NordVPN because it's the best tool we've reviewed. It also has dozens of servers in the United States alone, and several thousand globally.
Here's what steps you need to take to watch Game On with NordVPN:
Subscribe to NordVPN as a first step. They have 3 months for free and 68% OFF the 2-year plan, so grab the deal before it's gone!
Sort out the apps and log into your account.
Pick one of the US-based servers to connect to.
Once you get the green light, you can go ahead and tune in to your favorite streaming service.
Is this method foolproof?
Sadly, streaming platforms can still figure out when you're using a VPN. This doesn't happen all the time, of course, but it can be downright annoying when it does. Premium tools like NordVPN usually manage to fly under the radar, but they do sometimes get discovered. If that happens to you, you need to check in with the Support Team. As soon as you tell them the situation you're in, including which service you're trying to access, they'll help you out to find the right server.
Editor's note: NordVPN is our #1 choice for unblocking Netflix. Sign up for the 2-year plan with NordVPN at $3.49 per month, as well as 3 months for FREE. A 30-day money-back guarantee is included on all plans, so you can cancel any time and get your money back.
How about using a free VPN?
While we do recommend using VPNs, free tools aren't really the best option out there. The financial aspect is certainly important, but free VPNs can put your devices at risk. There have been numerous instances when tools marketed as free VPNs turned out to be malware.
Even tools that are completely safe to use won't give you a great experience. Often times, free VPNs have few servers since they're expensive to keep up. When you combine the high number of users and the small number of servers, you get Internet speeds that rival dial-up age. So, unless you want to take a trip down memory lane, you'd best avoid them altogether.
Where can you watch Game On?
Game On is a series that's created and broadcast by CBS in the United States. There are multiple ways you can watch the show, so we're going to go through them all.
CBS official website
Watching Game On on the CBS website is possible, but it's not going to be live. In fact, you may be able to watch the episode for free on the CS website if you wait a few hours after it airs. The episodes are only available for free for a limited time period, so hurry up!
Streaming services
The only way you're going to get access to a live stream for CBS is through a dedicated streaming service. One of the main options for CBS fans is CBS All Access, which holds the CBS live stream, as well as pretty much any show the network has created over the years.
CBS is also part of the channel bundles offered by Hulu Live TV, fuboTV, or YouTube TV. You can subscribe to either of these if you want to start watching TV online, as they'll enable you to watch dozens of networks in this manner. They all offer free trials, so you can definitely try them out before committing. You can watch any of these from abroad with NordVPN.
Can I watch Game On elsewhere in the world?
Game On is actually going to be broadcast in Canada at the same time the episodes are broadcast in the United States. The show is available on Global TV. If you have a cable subscription, you can use those credentials to sign in to Global TV's website and enjoy the live stream there.
If you don't have cable, you can still watch Game On, but it's going to be a bit more difficult. First, you need to have an Amazon Prime Video subscription and to add STACKTV to your account. This will cost you an additional $12.99 per month, on top of your regular subscription. STACKTV will allow you to watch about a dozen of the most popular channels in Canada, including Global TV, online.
As you may know, both Global TV's live stream and STACKTV are geoblocked, so you'll still need to use NordVPN to access them if you're traveling abroad. This time, around, you'll need a Canadian server to connect to.
What's Game On about?
Game On is a new show that will certainly keep you entertained. It's based on the British show called A League of Their Own. If they're going to follow the format to a T, we'll get somewhere between 8 and 10 episodes from this show, so we're going to have something to watch for a couple of months.
The show will feature two teams – one led by Venus William, and another by Rob Gronkowski. Celebrity guest stars will join in, and we already know two names – Gabriel Iglesias and J.R. Smith.
The teams will compete in three rounds, and at the end of the night, one of them is crowned the winner. Since this is all for fun, there's no real prize to be won. Nonetheless, we're sure everyone will be giving their best.
Parting Words
Watching Game On from abroad isn't the easiest thing in the world, as you need to take all these extra steps to make it possible, but we think the entertainment level promised here is worth the effort.