We are reader supported and may earn a commission when you buy through links on our site.
Learn more
How to Watch Italian TV From Everywhere in the World
Watching your favorite channels when you're abroad is not always easy, mostly because these networks are only available locally. The live streams to these channels are also geoblocked, so you need a little bit of extra help to reach them. Let's see how we could watch Italian TV from abroad.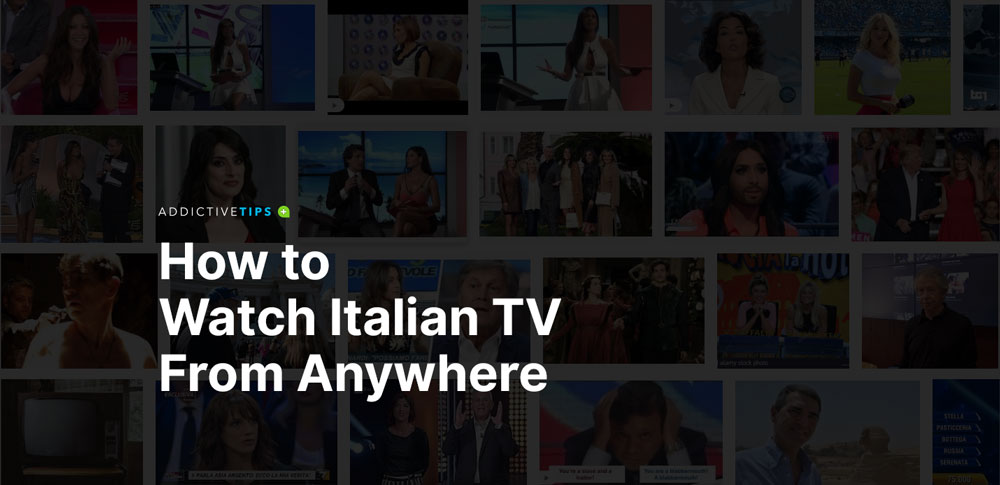 Streaming services are available all over the world, but they're mostly available in specific geographical regions. These regions are generally determined by country borders. Therefore, if you want to watch channels like Canale 5, TV8, RaiPlay, or other similar ones, you'll need extra help from a VPN.
30-days money back guarantee
Why do I need a VPN?
Every time you connect to the Internet with any type of device, you get an IP address. That IP address shows your location. Most of these services only care what country you're in, so if you want to watch Italian TV channels, you'll need to appear to be in Italy.
If you want to access Italian TV channels from abroad, you'll be able to use a VPN and connect to a local server in order to get a local IP address. In this way, the sites will think you're there instead of your actual location.c
Editor's note: NordVPN is our #1 choice for unblocking Netflix. Sign up for the 2-year plan with NordVPN at $3.49 per month, as well as 3 months for FREE. A 30-day money-back guarantee is included on all plans, so you can cancel any time and get your money back.
How do I use a VPN?
When it comes to VPNs, we can recommend the best one we've tested – NordVPN. This service comes with servers in close to 100 countries, including plenty in Italy. It also uses encryption to secure your connection, and this keeps you hidden from any trackers.
Here's how you can use NordVPN :
The first thing you need to do is to subscribe to NordVPN. They offer 3 months for free and 68% OFF the 2-year plan price, so grab that deal!
Once you've installed the apps, you can look for one of the Italian servers and connect to it.
In a few seconds, the app will display a green tick, signaling the connection is established. That's when you can go ahead and load the Italian TV channel stream you want to enjoy.
Is this method foolproof?
Unfortunately, VPNs can sometimes be detected by the platforms we access the most, and the IPs get blocked. We've had a pretty good experience with NordVPN, but you never know when a service can blacklist certain IPs. That being said, if you happen to go through this situation yourself, you don't need to despair, as the solution is fairly simple.
The only thing you need to do is to contact the NordVPN's Support Team. In just a few minutes, they'll help you figure out which server to connect to so you can bypass the blockade for whatever service you're trying to access. Keep in mind that one server may not work for every site you're trying to access.
What about free VPNs?
Free VPNs are rarely the right way to go because these tools come with one too many risks. First of all, there are a lot of users and very few servers to use, which means your Internet speed will go down quite a bit.
There's also the security risk, as many of these apps that appear to be VPNs are actually Trojans. The rest of them will collect entirely too much info on you. All in all, free VPNs sound great in theory, but they're entirely too problematic to trust.
What are some Italian channels and services I can access?
There are a ton of TV networks and platforms in Italy that you can access with the help of a VPN. Streaming platforms are also on the list because we're sure you'll want to access those too.
Netflix Italy
DMAX
La 7
RaiPlay
Cielo
Parting words
As you can see, watching TV from your home country when you're abroad is a bit more difficult, but it's not impossible. Using a VPN is pretty easy, so you'll certainly figure things out pretty fast.