We are reader supported and may earn a commission when you buy through links on our site.
Learn more
How to Watch Live TV on Kodi
VCRs, Tivo, DVD players, and eventually digital and internet broadcasting channels have revolutionized the way we watch television. The first big change was not having to rearrange our schedule to catch our favorite programs. On-demand content came next, allowing us to pick and choose what we watch whenever we're free. There's still something unique about watching live TV, though, and the development team behind Kodi knows just how we feel.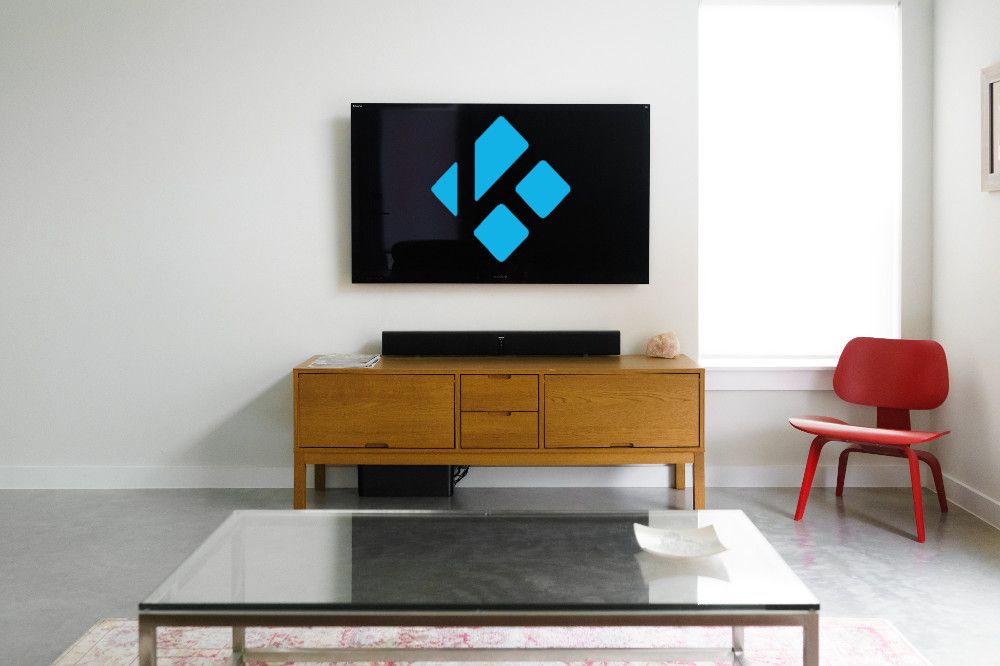 There are several methods to watch live TV on Kodi. The software itself comes with a few streaming and recording options, and you'll find a few live TV add-ons for Kodi that do a great job, too. You can even watch live sports from your smartphone! Below we'll discuss the best methods for watching live TV on your Kodi-enabled device.
30-days money back guarantee
Stay Safe on Kodi with a Good VPN
Kodi itself is fast, free, and completely legal to use. The open-source nature of the software means anyone can create new plug-in content, though, which allows for things like pirated movie streams and videos from questionable sources. You can never be sure where a file is hosted or whether or not it's legal to watch in your country, making the very act of opening Kodi a red flag in the eyes of governments and ISPs.
The good news is you can protect yourself from these potential invasions of privacy by installing a good VPN. VPNs encrypt all of your online traffic, making it completely unreadable to third parties. Data is routed through the VPN's non-local server network, too, which removes traces of your identity. With a VPN in place you'll be able to stream any Kodi content you like without worrying about ISP throttling or data logging.
If you're looking for the best VPN to use with Kodi, check out our recommendation below.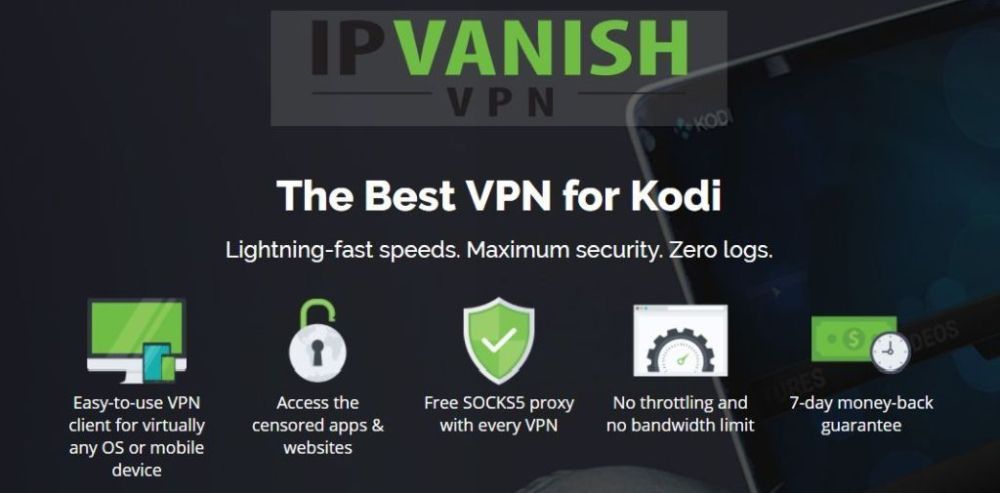 When you need both fast speeds and top notch security, IPVanish is the VPN to use. The service runs over 950 servers in 60 different countries, each one offering incredibly fast downloads around the world. Your data stays safe with 256-bit AES encryption, a zero logging policy on all traffic, DNS leak protection, and an automatic kill switch. You also get completely unmonitored traffic with IPVanish, allowing you full, private access to torrents, P2P networks, and Kodi add-ons, all with unlimited bandwidth!
Learn more about the benefits and capabilities of IPVanish by checking out our full IPVanish review.
IPVanish offers a 7-day money back guarantee which means you have a week to test it risk-free. Please note that Addictive Tips readers can save a massive 60% here on the IPVanish annual plan, taking the monthly price down to only $4.87/mo.
PVR, DVR, and Live TV
Live TV didn't just disappear when the internet became popular. Services like Netflix and Hulu do a great job of replacing TV channels and similar content, but there are plenty of options available for streaming broadcast network channels to your home entertainment center.
Limitations of Live TV
Most live TV options are limited to broadcasts in your immediate area. If you live near a city, you'll likely have a wealth of free digital broadcasts you can capture and record. If you don't, or if your town doesn't have a lot of TV stations nearby, your options will be limited.
Recording Live TV
A personal video recorder (PVR) and digital video recorder (DVR) are two terms that refer to essentially the same thing. The technology allows you to capture and save live broadcasts, including sports, news, and TV shows, from an open stream, store the content on a device, then access it later when you're ready to watch. It essentially turns live content into on-demand content, making broadcast TV extremely convenient.
Hardware
Unless you're accessing pure internet TV channels, you'll need a separate piece of hardware to stream live TV. These boxes range from digital antennas to cable-like equipment, interfacing directly with your PC via capture card and pulling in content from over the air broadcasts.
The hardware required for live TV streaming isn't expensive, and it usually doesn't come with a monthly subscription, either. Once you purchase the equipment you can set things up to stream and record as you see fit.
IPTV
Internet Protocol television (IPTV) is wholly separate from the live TV streams discussed in this article. With IPTV you can capture, record, and watch content directly from the internet, no separate hardware required. It's extremely convenient if you don't own the right devices, but you usually won't be able to access local programming like you would from an over-the-air digital broadcast.
Use Built-in Features to Watch Live TV on Kodi
A lot of Kodi users are surprised to find out that Kodi offers full live TV streaming features built into the software itself. You'll need to set a few things up to get it to work, but before you know it you'll be kicking back for some live broadcasts.
Step 1 – Requirements
Kodi can't source live TV streams from the internet by default. To keep things legal, the software only interfaces with your streaming hardware, such as a TV tuner, digital antenna, or cable box. You'll need a compatible device before setting Kodi up to capture and deliver your live streams.
Which hardware you buy is largely up to you. It's worth noting that antennas seem to have the best results interfacing with Kodi. They're limited to what digital channels are broadcast in your area, however. Cable streams are often encrypted, especially in the U.S. This means you need a PC TV tuner that supports decrypting, otherwise Kodi won't be able to read the data.
Step 2 – Install Kodi Backend
Kodi is capable of recognizing and streaming live TV signals, but it needs what's called a backend before it can turn them into watchable programming. We'll be using NextPVR, as it's one of the most popular ways to accomplish this.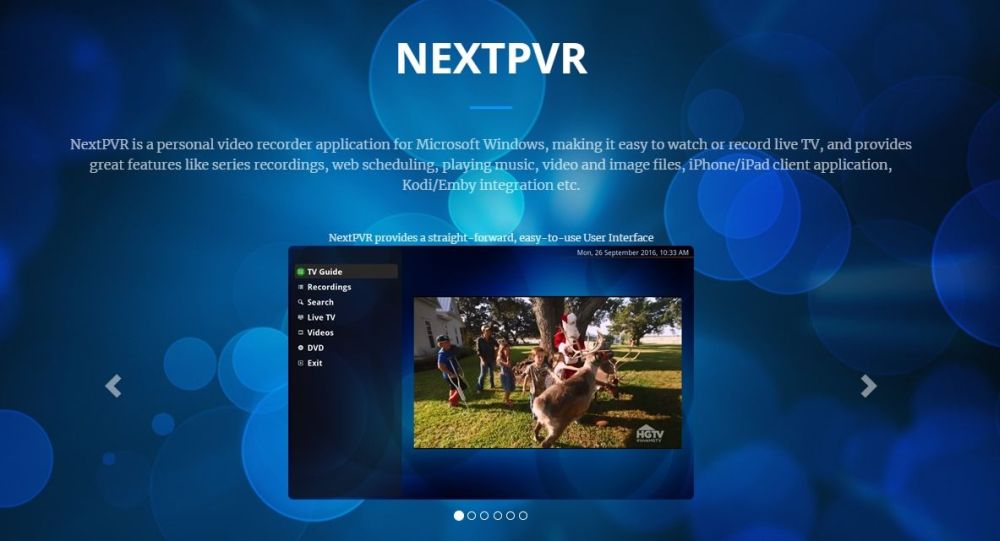 Start by visiting the NextPVR website and downloading the program. Run the setup file to install it to your system, then open the Settings window (you may need to right click on the taskbar icon to do this). Look for the Devices section on the left. Find your TV tuner on the list and select it. If it appears multiple times under different types, choose ATSC for antennas or QAM for cable boxes.
Step 3 – Setting Up NextPVR Backend
Under the Devices section, click Device Setup at the bottom of the screen. A new window will open. Click Scan in the lower right and NextPVR will automatically check your device and its capabilities. Don't be alarmed if this takes a minute or two to complete. When the scan is done click OK to save the list of located channels.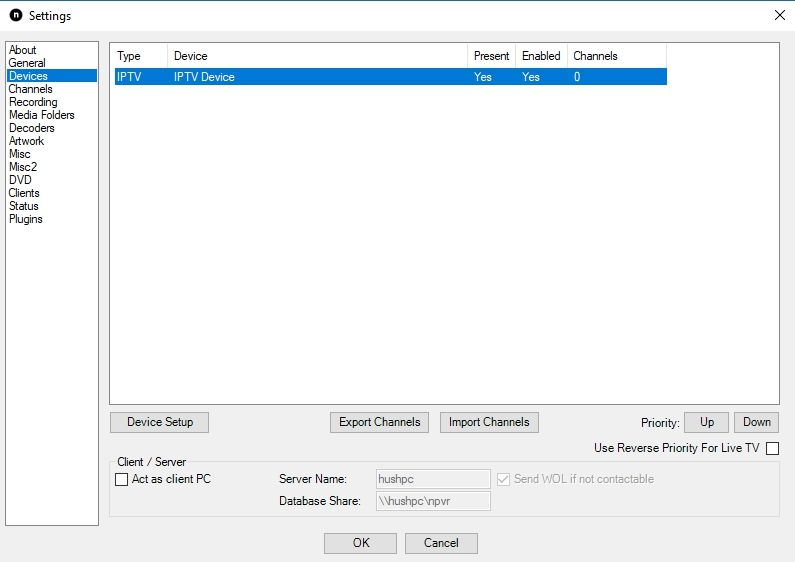 Now we'll need to go through a few settings pages listed in the left sidebar. First, you'll see an option named Channels. Click it, then click Update EPG. This will populate the shows guide so you can see which channels are broadcasting at any given moment.
Click the Decoders option. You'll see a lot of dropdown boxes for renderers and decoders. If you're using a newer version of Windows, switch as many of them as you can to Microsoft DTV-DVD Audio Decoder. This will give you the best possible playback without stuttering or lag. If you have your own decoders installed you can select them, as well.
Step 4 – Configure Optional Recording Settings
Before you save your settings and exit it's a good idea to change where digital TV recordings are stored. You don't have to do this if you don't plan on recording shows, but it only takes a moment and can save you some hassle in the long run.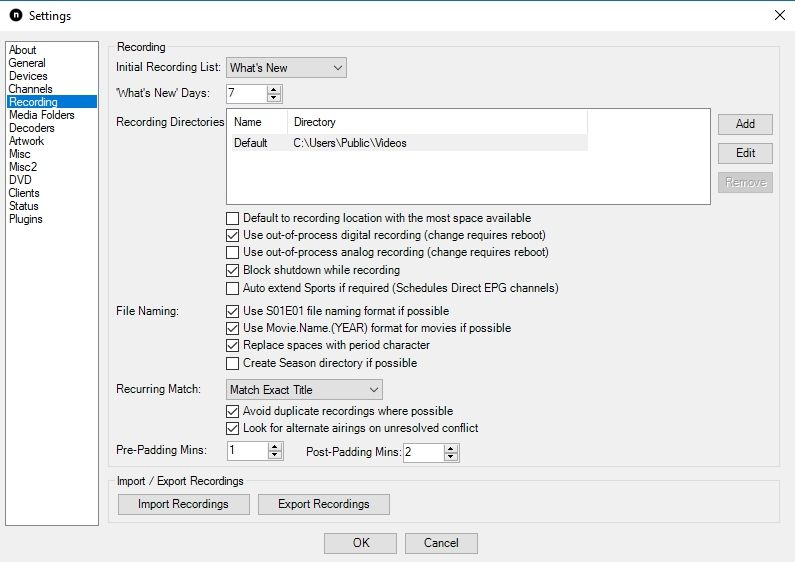 Click Recording in the left sidebar. Highlight where it says Default C:, then click Edit on the right. Browse to a different directory, preferably somewhere on a drive with lots of extra storage. Save these changes and exit the configurations menu.
Step 5 – Configuring Kodi
Now that your streaming hardware and backend are set up, it's time to teach Kodi how to interact with everything.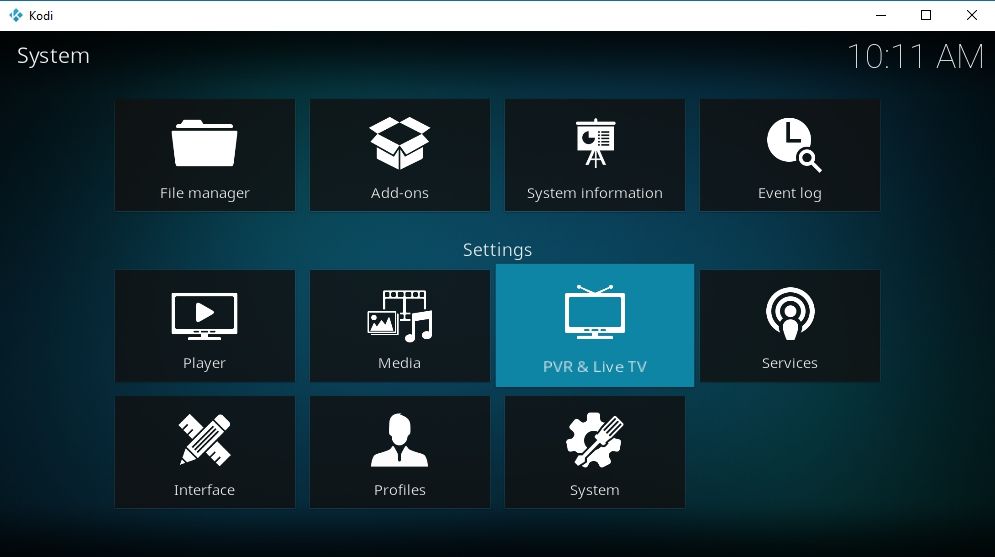 Run Kodi and go to the System Settings menu by clicking the gear icon on the left. Choose the PVR & Live TV icon. Make sure the text at the bottom says "Standard". If it doesn't, click it until it does, then go to the General tab. Enable PVR sources by toggling the slider to the right. Kodi will prompt you to install the NextPVR add-on.
Once the NextPVR add-on is installed, you're ready to go. Set any configuration options you like through the Kodi menu, then head back to the main menu. Choose the TV section, pick a channel, and start streaming.
DON'T FORGET: Use a VPN when streaming through Kodi. IPVanish gives our readers an exclusive discount of 60% and you'll only pay $4.87 a month to keep your browsing safe and private.
Official Kodi Add-ons to Watch Live TV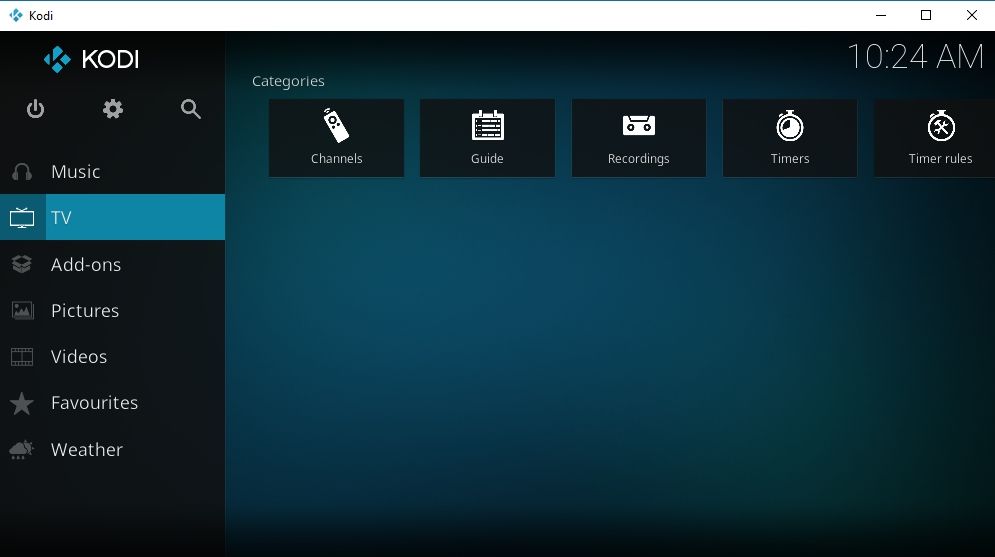 If you don't want to fuss with Kodi's built-in live TV features, you can always check out a few add-ons. Below are a few official and legal programs you can install on Kodi that interface with live TV streams from your hardware. For more suggestions, including unofficial add-ons, check out our guide for the best Kodi add-ons for live TV.
Zattoo Box
Zattoo Box is one of the best official add-ons for live TV streams. With it you can access your Zattoo library on any Kodi device, allowing you to stream content with very little effort, all in glorious HD quality. Zattoo itself is a live TV service that offers a handful of free channels along with premium paid content. You can watch over 200 channels without a subscription, and you can gain over 100 more by signing up.
To use the Zattoo Box add-on with Kodi, start by creating an account at the Zattoo website.  Once you have login credentials, follow the steps below to install the add-on to your system.
Open Kodi on your device and select Add-ons.
Click the open box icon at the top of the menu bar.
Choose Install from Repository.
Select Kodi Add-on repository, the official repo that comes with the software.
Scroll down to Video add-ons.
Select Zattoo Box from the bottom of the list and install it.
Set your username and password in the Zattoo add-ons configuration screen.
Launch the add-on and start streaming live TV.
Tablo
Tablo is a DVR device built for cordcutters. The hardware lets you stream and record over the air TV to a wide variety of devices, including Kodi. All you need is the Tablo box, access to the internet, and an inexpensive Tablo subscription, that's it. The device does all the work for you, functioning as a perfect replacement for expensive cable TV.
Tablo's Kodi add-on neatly interfaces with the box to deliver all your live and recorded content directly to the media center. Once you have the hardware and an active Tablo account, simply follow the steps below to install the add-on.
Open Kodi and select Add-ons from the left menu.
Click the open box icon at the top of the menu bar.
Choose Install from Repository.
Select Kodi Add-on repository, the official repo that comes with the software.
Scroll down to Video add-ons.
Select Tablo from the list and install it.
Launch the add-on from the add-ons menu. You will be guided through a brief setup before being able to stream your Tablo library.
Conclusion
Nothing beats sitting down in front of your favorite device and watching some live TV. You never know what will come on next. Sometimes your favorite shows, sometimes your local sports team. No matter where you live or what device you own, Kodi can help you get live TV content.
One of the best ways to stream Kodi to your TV is to install it on an Amazon Fire TV Stick. You'll have access to everything Kodi has to offer, including add-ons, live sports streams, TV shows, and movies. If Fire TV isn't your thing, you can also install Kodi on an Apple TV to get things up and running.