We are reader supported and may earn a commission when you buy through links on our site.
Learn more
Does CyberGhost Work With The American Netflix?
So many VPNs have fallen prey to Netflix's proxy detection methods, it's fair to wonder whether CyberGhost can still unblock American Netflix abroad. Today, we'll show you how these VPN blacklists work, plus answer your questions about how CyberGhost works to unblock your favorite US TV and movie streams.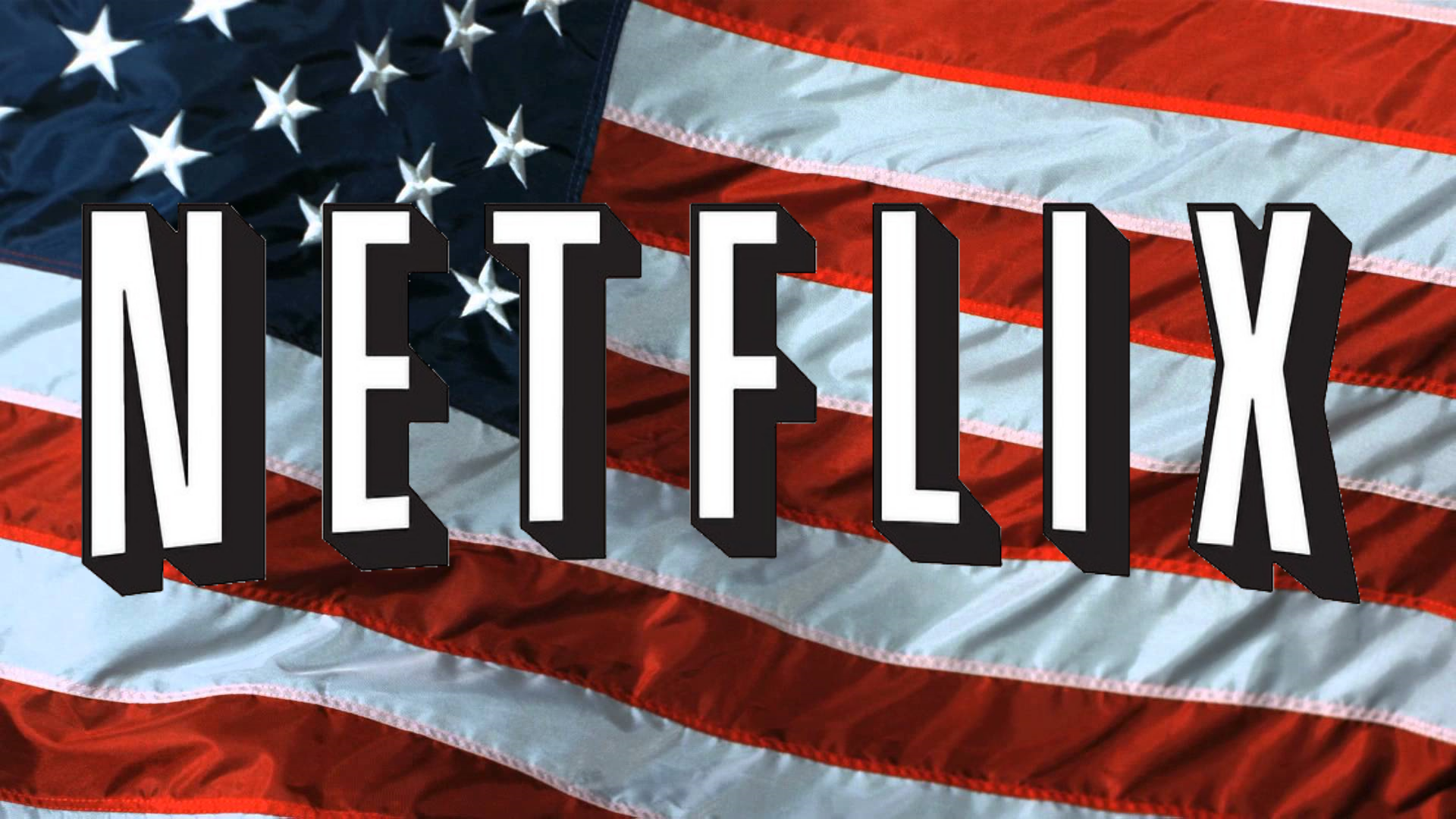 The American version of Netflix is the one with the most content and it's certainly the one most people would love to access… if only they could. Unfortunately, The American Netflix is reserved for people located in the US. And although Virtual Private Networks often offer a way to bypass these types of geographic restrictions, it seems like Netflix has gotten very good at detecting VPN connections and blocking them.
If you're a CyberGhost VPN user–or if you're thinking of becoming one–you may be asking yourself "Does CyberGhost work with the American Netflix?"
This is the question we're answering today. But first, we begin our discussion by talking about Netflix in general, what it is and what type of content it provides. Then, we'll discuss the why and how of the service's geo-blocking efforts. Next, we'll explain how Virtual Private Networks can help you bypass most geographic restrictions and how Netflix manages to block connections coming from VPNs. And finally, we'll complete our discussion with a short review of the CyberGhost VPN services, one of the handful that does work with the American Netflix.
30-days money back guarantee
About Netflix
Netflix was founded in 1997 by Reed Hastings and Marc Randolph who were then just starting an online DVD rental business. Or so they thought. By 2005 the service had gotten past the 4 million users mark. In 2007, Netflix introduced its streaming service. It was the beginning of a new era where users could watch movies and TV shows instantly on their computer. The following years saw Netflix entering partnerships with several television set, game console, and media player manufacturers to stream online content directly to their platforms.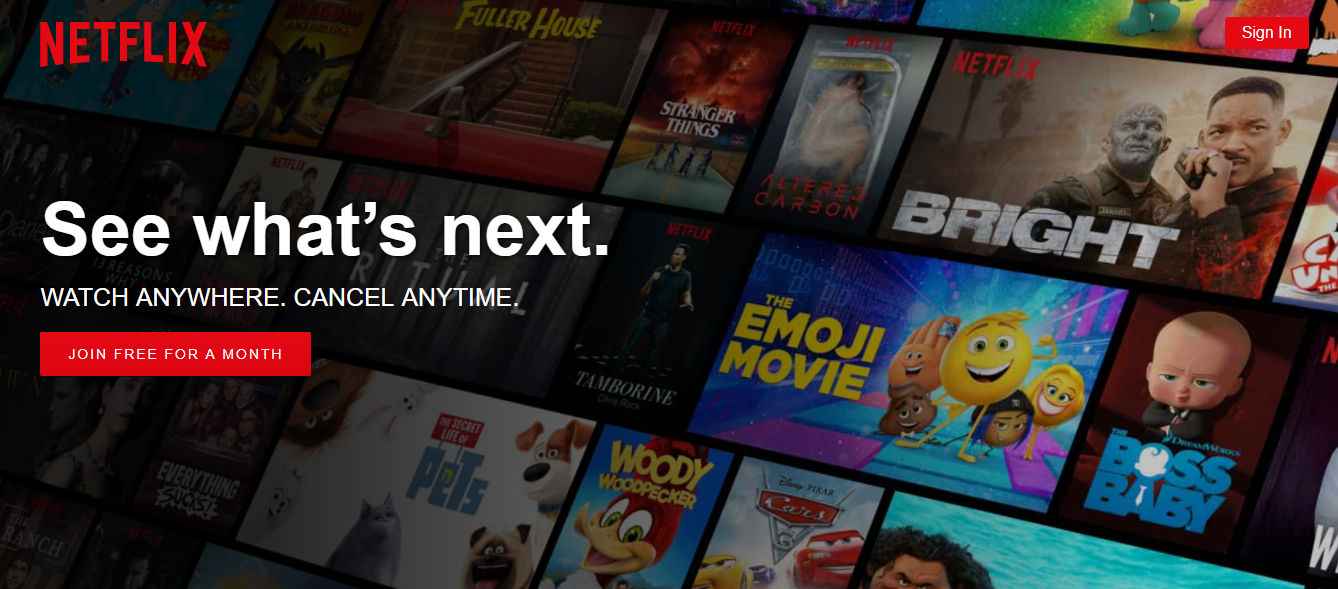 Since then, Netflix's growth never stopped and it is available today on virtually every smart TV, media player, major game console, Android and iOS smartphone and tablet. Although we don't have official figures, it is estimated that Netflix has now close to 120 million users worldwide. And this number still keeps increasing, With Netflix now reaching users in 190 some countries.
Netflix's Exclusive Content
Netflix is no longer just a streaming service, though. Since 2013, itis also a content producer. Netflix Originals, as they are called, are TV shows produced–or co-produced–by Netflix. Most of them are available exclusively on Netflix although some are available on broadcast TV.
Netflix Original shows are among the best and most popular TV shows these days. Think of Riverdale, airing on the CW, Orange is the New Black, Stranger Things, House of Cards, The Crown, Arrested Development, and Marvel superhero series Jessica Jones, Daredevil, The Punisher, Iron Fist, Luke Cage and Defenders and it will give you a pretty good idea of the general quality and/or popularity of Netflix's original shows.
Accessing The American Netflix From Anywhere
As a streaming provider, the distribution rights to series and movies that Netflix manages to secure are often limited. For example, they own streaming rights to the immensely popular TV show The Big Bang Theory in some European markets (like Netflix UK) but not in the US. Likewise, their own Netflix original content is often available in some markets on broadcast regular TV through agreements that forbid them from making it available on Netflix in these markets. Riverdale is a good example of a Netflix Original with restricted access.
To enforce these distribution restrictions, Netflix makes heavy use of a technique called geo-blocking. It ensures that users can only access their service locally. A user in the US, for example, can only access the American version of Netflix while one in Canada can only access the Canadian version and not the American one–you get the picture.
Due to these distribution restrictions, the available content varies from region to region. Some programs may not be available on your local version of Netflix while they are in the next country. Generally speaking, the American Netflix is the one with the most content (editor's note: nowadays, it's Netflix Japan.) And it is the one that's the most sought after, the one many non-US users would like to watch.
This geo-blocking can also be an issue for US residents, though. What if you're a US citizen travelling abroad? You won't be able to watch the Netflix you know and love. At least, not unless you find a way to bypass the geographic blocking.
Geo-blocking — How They Do It
Geo-blocking, as we usually call it, is done mainly by filtering–allowing or denying–traffic based on source IP address. An IP address is a unique identifier assigned to every computer connected to the Internet. It is used to route data to and from different Internet-connected computers. Every request transmitted to Netflix's server is marked with your IP address. This is what we refer to as the source IP address. You may think of it as the return address on an envelope. This is how Netflix's servers will know where to send the video stream you requested.
Just like postal addresses, there is a direct correlation between IP addresses and physical location. Netflix can know your location by cross-referencing your IP address and can then block your requests if it finds you're not in an authorized location.
The Solution — Use A VPN
Although the primary and original use of Virtual Private Networks, or VPNs, was to provided added security and privacy, they can help you connect to Netflix from anywhere in the world. Here's how. A VPN builds a virtual tunnel–hence the name–between your device running a VPN client and a VPN server in a remote location. All data in and out of your computer is sent through the tunnel after being encrypted using strong algorithms that make it impossible to crack. When data from your computer arrives at the VPN server, it is decrypted before being sent out on the Internet.

This is where a VPN helps you access Netflix. When the decrypted data leaves the VPN server, its source IP address is not that of your device but the VPN server's IP address. Netflix, therefore, will "think" that you're located wherever the VPN server is. So, to access the American Netflix from outside the US, all you should need to do is connect to a VPN server located in the US, isn't it? Well, not always.
How Netflix Manages To Block VPN Connections
Netflix works very hard to protect its content licensing agreements and will often block connections coming from VPN servers. How do they know they're coming from VPN servers? They've most likely done some type of reverse-engineering to find the IP addresses of as many VPN servers as they can–and they know a lot of VPN server addresses.
You'll need to carefully pick your VPN provider, but even then, there's no guarantee that Netflix won't eventually learn their IP addresses and block them. The best providers use different techniques–such as using ever-changing virtual IP addresses–to try to prevent that from happening.
CyberGhost, A VPN That Works With The American Netflix
CyberGhost has been around since 2011 and is based in Romania and Germany. The company claims its goal is to defend privacy as a basic human right and to be the first in the industry to publish a transparency report. This sounds good. From a privacy standpoint, the fact that it's based in Romania is a good thing. That country has no data retention laws like there are in some other countries such as the US or UK where your data (even when using a VPN) is never totally private as VPN providers have a legal obligation to log at least some usage data.
Main Features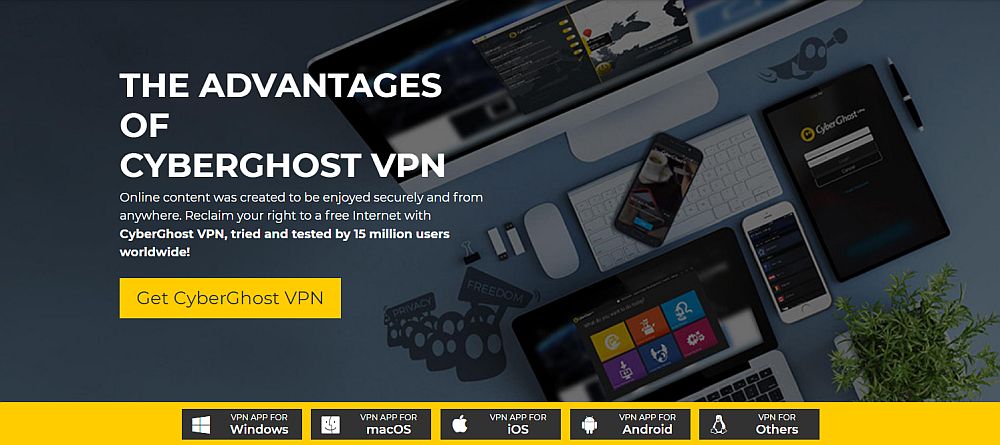 CyberGhost advertises an impressive 1300 servers in about 30 different countries. Although this may not be as many countries as some competitors, the available locations include rare places such as Hong Kong, Singapore and Israel. And with some 150 servers in the US, CyberGhost is an excellent option to unblock the American Netflix. Furthermore, CyberGhost is one of the rare providers that work with Netflix. Or at least, it does as we're writing this.
By default, CyberGhost uses the OpenVPN protocol with 256-bit AES Encryption, 2048-bit keys and MD5 HMAC authentication. Optional settings include data compression and HTTPS redirection. For the best security, CyberGhost uses perfect forward secrecy, generating a random key for each session making connection interception much harder.
CyberGhost has a strict zero logging policy and keeps no usage data whatsoever. Not only that, the provider doesn't even keep user's email addresses. All purchases are processed by resellers so the only personal information CyberGhost has about users is their usernames.
Another important feature of CyberGhost is its Internet kill switch that will automatically disconnect your network in the rare event that your VPN connection should go down unexpectedly. The service also has DNS and IP leak protection.
Support-wise, assistance is available via chat or email. There is, unfortunately, no telephone support available at this time. Although we never had to use the CyberGhost support, all reviews seem to agree that it is very good and reasonably quick.
Plans And Pricing
CyberGhost offers different plans. First, there's the free plan which, contrary to most free VPN services has no usage limit. Of course, it doesn't mean it has no limitations. The free plan only lets users access a subset of the servers. Performance is also severely limited when using the free plan. As CyberGhost advertises, paying users get up to five times the speed of the free services. However, many users of the free service have reported acceptable performance. Another limitation of the ad-supported free service is that it can only be installed on one device. Furthermore, free sessions are limited to a three hours duration. After that, you get disconnected.
For the best experience, you'll need to choose the Premium Plus service. It removes most limitations and gives you a full-performance connection. The only limitation that remains is the number of devices on which it can be installed which, while still limited, allows up to five devices.
The Premium Plus plan prices vary depending on whether you choose a monthly subscription or opt to pay for one or two years in advance. Standard prices vary from $3.50 to $11.99 a month.


As for payment methods, CyberGhost accepts credit cards and Paypal payments. But if you prefer to remain totally anonymous, you may also opt for Bitcoin.
Read our full CyberGhost review.
Pros
SPECIAL OFFER: 79%OFF
Compatible with TOR
Apps for ALL devices
Strict no-logging policy
Reliable and knowledgeable 24/7 live chat support.
Cons
Can't unblock some popular streaming sites.
A Tour Of The CyberGhost Windows Client
A great feature of the CyberGhost VPN service is its Windows client. While many–if not most–VPN clients let you choose between an automatic connection–one where the server is automatically selected–and a connection where you specify the country and sometimes the server within a given country, CyberGhost's client is quite different.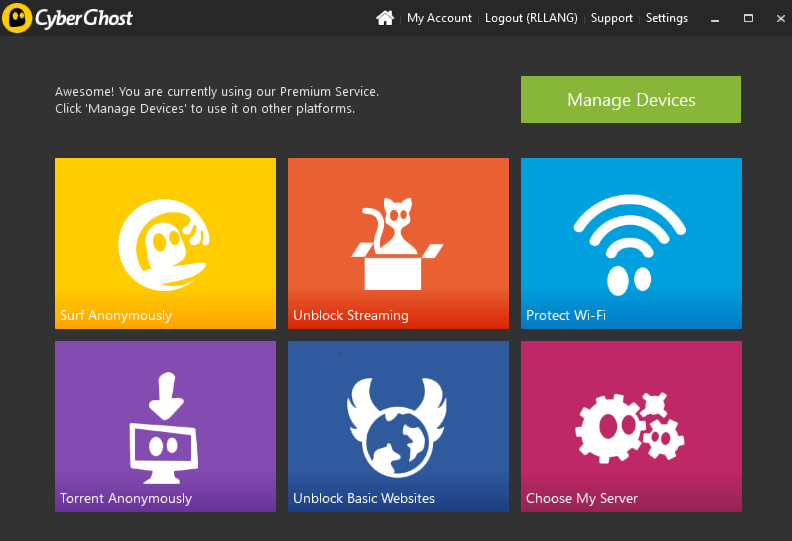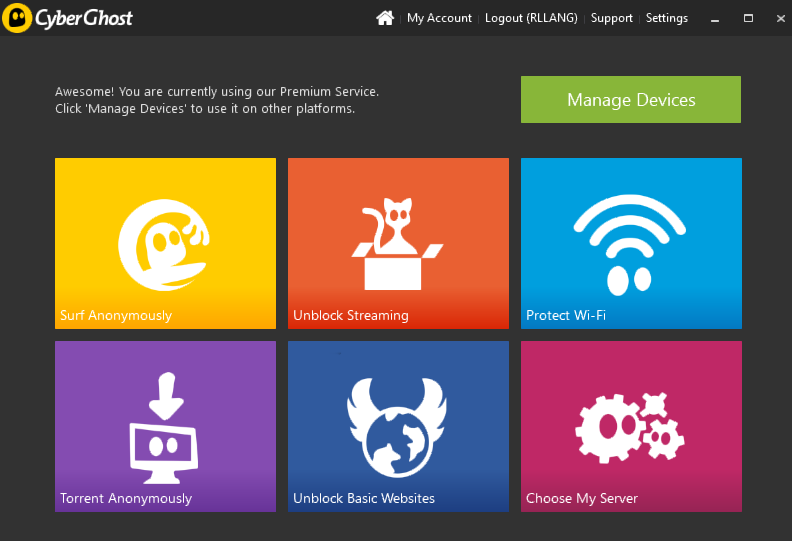 Instead of the usual Connect button you see on almost every other VPN client application, this one has no fewer than six connection buttons, each corresponding to a different usage. Let's see what they are.
Surf Anonymously
The first button, Surf Anonymously, will start the VPN but also enable filtering to block malicious websites, block ads, block online tracking, automatically redirect you to HTTPS sites when available and select servers for their speed. And that's not all. Once connected, the CyberGhost client application will start an instance of your default browser in incognito mode for extra security.
Unblock Streaming
The second button, Unblock Streaming, is impressive. It's also the one you'll use to unblock the American Netflix. When you click it, you're presented with a list of 20 different streaming sites. There's a great variety of sites such as Netflix, BBC, Eurosport, ESPN, Comedy Central and several more. For some of them, you can also choose the country where you want to connect. Once you select a streaming service, the VPN connects to the proper country and starts your default browser on the page of the selected streaming service.
Protect WiFi
The Protect WiFi button is similar to Surf Anonymously except that it doesn't do HTTPS redirection nor does it open an incognito browser for you. It just starts the VPN.
Torrent Anonymously
This will not only launch the VPN connection but also launch a torrent client of your choice once connected.
Unblock Basic Websites
This is what you'll use if you're in a place that won't let you access some Internet services. Somewhat like Unblock Streaming, you may select from 10 online services which are the most commonly blocked. When clicked, the VPN will connect and start your browser on the selected service's homepage.
Choose My Server
Last but not least, Choose My Server is where you go when you want complete control. You may choose any server to connect to and servers are sorted by country. Facing each server, you can see its current user load and whether or not it supports torrents.
In Conclusion
CyberGhost VPN appears to be an excellent choice to unblock and access the American Netflix from anywhere in the world. Perhaps it works because Netflix hasn't yet learned the IP addresses of the US CyberGhost servers. Or perhaps it is due to some stealth techniques used by CyberGhost. It doesn't really matter why; what is important is that it works and lets you access the American Netflix from anywhere.