We are reader supported and may earn a commission when you buy through links on our site.
Learn more
How to Watch Penny Dreadful: City of Angels Online in the US, UK, Canada, Australia
This Penny Dreadful spinoff has been a long time coming, and the world can't be more excited about it finally happening. With the first season of Penny Dreadful: City of Angels already underway, we're going to help you figure out how to watch the show.
Following its late April premiere, Penny Dreadful: City of Angels is already promising to be a massive contender for our Sunday night entertainment. The show follows the same supernatural flavor the first series had, taking on the war between the Devil and Santa Muerte in Hollywood during the 1930s. If that doesn't spark your interest, I don't know what will.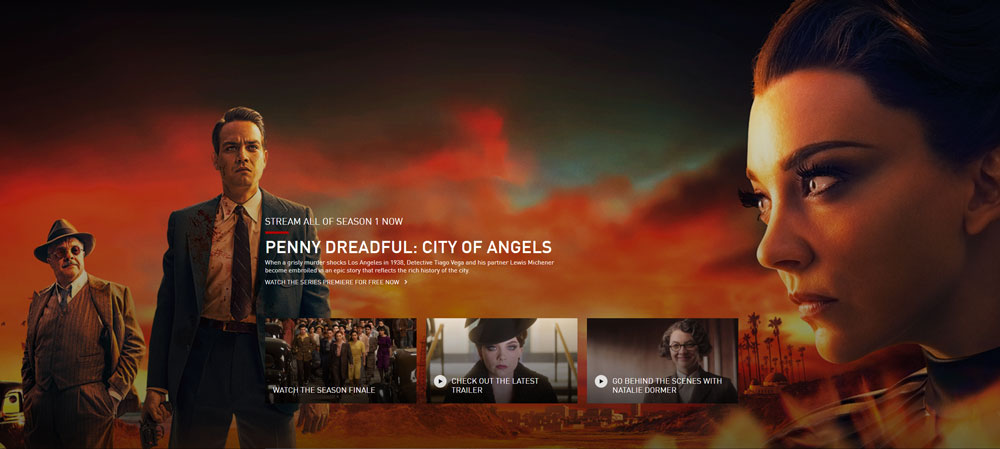 Maybe the fact that Natalie Dormer (Game of Thrones) plays the main role? Maybe that Rory Kinnear is returning to Penny Dreadful with a completely new role?
There are going to be eight episodes in total, so prepare for the finale on June 28th.
30-days money back guarantee
How to Watch Penny Dreadful: City of Angels Outside of the US?
If you're abroad, you'll need a VPN. Showtime's platform is geoblocked, and so are those of Hulu, fuboTV, Sling TV, and all other live TV services that may otherwise help you watch Penny Dreadful: City of Angels. Therefore, if you are abroad and want to access the American platform, you'll need to appear to be in the United States. This is fairly easy to do as VPNs can spoof your IP address in a matter of seconds.
Our recommendation is NordVPN since it does a marvelous job at making you appear in the United States, running dozens of servers locally (and thousands of them worldwide), while also encrypting your connection, so you don't get discovered.
Here's what you need to do:
First, you'll have to go subscribe to NordVPN. They're offering 3 months for free and nearly 70% OFF the 2-year plan to all new subscribers, so you should grab that deal now!
Once you've downloaded and installed the NordVPN app, you have to go pick a US-based server and connect to it.
When the connection is established, you'll get a notification. That's when you can launch Showtime's app.
Browse for Penny Dreadful: City of Angels and start watching. New episodes are added to the Showtime app as soon as they start airing on TV, so you won't have to avoid spoilers.
How to watch Penny Dreadful: City of Angels in the US?
Penny Dreadful: City of Angels is a Showtime series, so that's where you can watch the series in the United States. The episodes run at 10 PM EST on Sundays.
Showtime is a premium network, and you can add it to your cable subscription or to your live TV service if you've cut the cord. The network comes as an add-on with multiple live TV services, including Hulu, Sling TV, fuboTV, and you can even get it with Amazon Prime Video.
You can also subscribe to Showtime on its own, and they're even offering a 30-day free trial. A Showtime subscription will cost you $10.99 per month, and you can cancel any time. There are no ads when you watch online, and you can even download full episodes and movies to watch anytime you go offline.
The advantage of having a Showtime subscription is that you can immediately stream all episodes that have aired of Penny Dreadful: City of Angels, as well as all three seasons of the original Penny Dreadful show featuring Eva Green, Timothy Dalton, Reeve Carney, Rory Kinnear, Billie Piper, Harry Treadway, Josh Hartnett, and many others.
Showtime comes with apps for iPads, iPhones, Apple TV, Android devices, Android TV, Chromecast, Fire tablets, Fire TV, smart TVs from LG and Samsung, Xbox One, Roku, and Oculus. Of course, you can also watch on your browser.
In the US, the show is also available on Hulu.
Editor's note: NordVPN is our #1 choice for unblocking Netflix. Sign up for the 2-year plan with NordVPN at $3.49 per month, as well as 3 months for FREE. A 30-day money-back guarantee is included on all plans, so you can cancel any time and get your money back.
Where else can I watch Penny Dreadful: City of Angels?
There's some good news! Penny Dreadful: City of Angels isn't only available in the US. In fact, even though Showtime isn't a worldwide network, you can still watch the show in numerous countries after they've licensed off the show to other networks. Let's go through some of the ways you can live stream Penny Dreadful: City of Angels depending on where you live:
Canada
You'll be happy to know that Penny Dreadful: City of Angels is broadcast simultaneously in the US and in Canada. The show is available exclusively on Crave. If you have a cable contract that includes Crave, you're all set to also watch it only by logging into your account with your available credentials.
Signing up for a fresh membership on Crave will cost you $9.99 CAD per month. You'll get all-new episodes of Penny Dreadful: City of Angels live online. If you want, you can also stream the original three seasons of Penny Dreadful there too.
Since Crave is geoblocked, you'll have to use a VPN to access the content if you're abroad. You can use NordVPN many Canadian servers for that.
Australia
Over in Australia, watching Penny Dreadful: City of Angels can be done on the same day it's available in the US, which is super exciting, especially since Australian fans are usually given content a lot later than the rest of the world. This time, they get it all on time, and it's going to be via Stan.
This premium service offers 30 day free trials, and it goes for $10 AUD per month. Much like in Canada, this service also features the original Penny Dreadful series so you can watch them all.
Stan is also geoblocked, so you'll need NordVPN if you're abroad and want to access it. There are plenty of Australian servers to choose from.
UK
There's some sad news for Penny Dreadful fans in the United Kingdom – They're not getting the new series until July 1st. The streaming rights were handed over to Sky Atlantic, but they won't be able to help anyone watch the show until July, meaning once everyone else has already finished watching the entire first season.
That's quite a sad story, and we're sure determined folks will find alternative ways to enjoy it. Either way, once the show does become available on Sky Atlantic, Sky TV customers will be able to go to the Sky Go app.
Those who have already cut the cord can head over for Now TV, which features live and on-demand shows for £8.99 after a seven-day free trial. Both Sky Go and Now TV are under geoblock, so you'll need a VPN every time you go outside the UK. Thankfully, NordVPN has multiple servers there.
What if my VPN fails?
We're going to admit that VPNs can sometimes be detected by the platforms we're trying to enjoy, like Showtime, Sky Go, or Crave, to name a few. We've had a pretty good run with NordVPN and have largely go undetected when accessing platforms under geoblock, but it doesn't mean it can't happen.
If you find yourself getting a notification about shutting down your VPN, you should contact the NordVPN support team, and they'll help you figure out exactly which server you should connect to that works with the service you're trying to circumvent the blockade for.
Parting Words
There you go! You're all set! Please keep in mind that if you live in other countries, you could find the show locally on other platforms, like HBO, in some areas. Check your local channels to see which one's got the rights Penny Dreadful: City of Angels in your country. They certainly have an online alternative, and you'll be able to subscribe to watch.
Don't forget to make use of NordVPN every time you cross the border to keep up with your favorites.