We are reader supported and may earn a commission when you buy through links on our site.
Learn more
How to Watch Star Trek: Discovery on Netflix from Anywhere?
Star Trek has been around for quite a while now, and it's the new content that continues to bring new fans over to the franchise. Star Trek: Discovery is one of the most recent names in the franchise, actually coming in as the seventh series. Thankfully, fans can watch the show over on Netflix if they know how.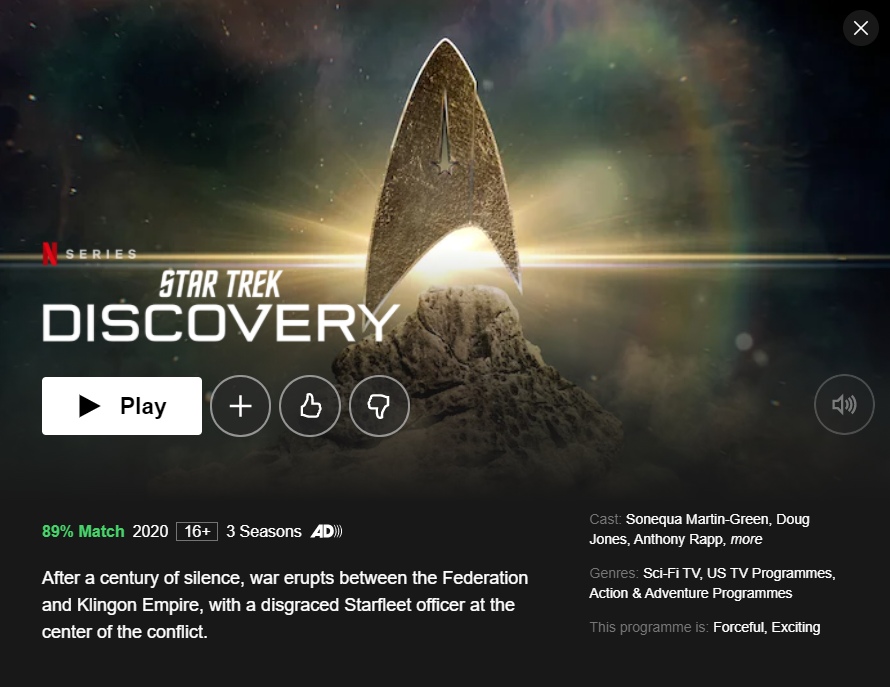 Star Trek: Discovery launched in 2017 as a series created specifically for CBS All Access, an American streaming service. The show already has three seasons, with the latest one starting off in mid-October and with plans to conclude in early January.
The show is placed in a timeline that happens about ten years before the events of Star Trek: The Original Series, and it follows the Klingon houses that become united in a war against the United Federation of Planets.
Can I watch Star Trek: Discovery on Netflix?
Yes! This is something that you can do, but not in the United States or Canada. We did find Star Trek: Discovery over in Australia and the United Kingdom, to name a very few. They get a weekly update with the latest episodes, so you'll be able to keep up with the show just like CBS All Access subscribers do.
How can I watch Star Trek: Discovery on Netflix?
Netflix is available in pretty much all the countries of the world, with only a few exceptions. However, each of these countries has its own library of shows and movies, depending on what licensing deals Netflix has managed to sign for that area, as well as what other platforms are available locally and what licensing deals they managed to get. Nonetheless, it's pretty easy to understand why Star Trek: Discovery is not available on Netflix in the United States since CBS All Access is also trying to grow its subscribers base with the help of this particular show. However, we understand how frustrating the situation can be for people who really do not want an extra subscription on the monthly list of bills.
Folks who live in countries where Netflix does not feature Star Trek: Discovery can still watch the show with the help of the platform by simply turning on a VPN. VPNs are really cool tools that have the power to route your internet connection through a foreign server of your choice in order to assign a new IP address to your device. By doing so, the platforms you are accessing will believe you are in this new location.
Our recommendation is NordVPN since it's the best tool that we have used so far, featuring thousands of servers all over the world and some great privacy features thanks to the encryption protocols they apply.
Here's how you can use a VPN and watch Star Trek: Discovery:
First, you're going to have to subscribe to NordVPN. You can get 70% OFF for the 2-year plan at $3,49/month!
Then, you need to get the app for your device and log into your account. Find a server that is located in the United Kingdom or Australia and connect.
Once the connection is established, you can go ahead and load Netflix in your browser or relaunch the app on your device. Search for Star Trek: Discovery and go enjoy the latest episodes.
There you have it! It's really not that difficult to watch Star Trek: Discovery on Netflix if you use a VPN.
Won't Netflix know I'm using a VPN?
Netflix has some VPN detection software on its platforms, but it doesn't always work, especially against premium tools like NordVPN. Although we haven't had any issues, it does not mean that this cannot happen for you. That being said, if you face any problems and cannot connect to Netflix with NordVPN, you should contact the NordVPN support team. They are available 24/7, and they are more than capable of helping you find a server that works with the specific Netflix library you are trying to access. You can also try to sort the problem yourself by switching the server and maybe even clearing out your cookies.
Why not use a free VPN instead?
The for of free but to full security. First of all, you should know that free VPNs are the first to get blacklisted by Netflix, so the chances of you bypassing the blockade with one of these tools are really low to start with. Even if you did manage to get on Netflix with your free VPN, it is unlikely that you'll be able to stream the content properly since they have a few servers and lots of users. Overcrowded servers translate into really low internet speeds for users, so streaming quality content on Netflix may be impossible.
Another thing you need to take into consideration is the fact that security researchers have discovered quite often over the years that malware was hidden in so-called VPNs. Once installed, these apps would start collecting information on the victims, including credentials for email addresses and social media accounts, making them quite dangerous.
If you use the same device for work, identity theft and data breaches against your employer can be a few of the things that could happen to you due to installing one bad app.
There is also another type of apps that might get you past the blockade on Netflix but have other problems. Apps that use peer-to-peer routing are on the list of tools we do not recommend to use because of how they work. Basically, you allow these apps to have access to your computer's resources, so your computer will act as a server of sorts for other people to use. This means that you'll be using another person's device in the same manner to try to connect to Netflix. This can have a heavy impact on your device's performance, and the bad news is that the app does not stop working when you close it. It will continue working in the background, even after you've disconnected from your selected server. These tools also keep logs on what people are doing online and do not use encryption, so your activity can be followed by your ISP and other entities.
Final thoughts
Paying for a VPN may not be something you want to do, but it's one of the best decisions you can make for your privacy and security online, so we encourage you to take this step. We hope that we've made it so much easier for you to keep up with Star Trek: Discovery even if you do not have a subscription with CBS All Access.