We are reader supported and may earn a commission when you buy through links on our site.
Learn more
Watch Online the 2018 Winter Olympics in Pyeongchang, Kodi Live Streams Included
There will be no shortage of people looking to tune into the 2018 Winter Olympic Games, which take place from 9th to 25th February 2018 in Pyeongchang County, South Korea. There will be fifteen sports and more than 100 events on display and competitors from at least 84 different countries will be taking part. Whether you're a citizen of a cold country where winning an Olympic gold is a matter of national pride or you simply enjoy the thrill of winter sports, this is an even that you won't want to miss!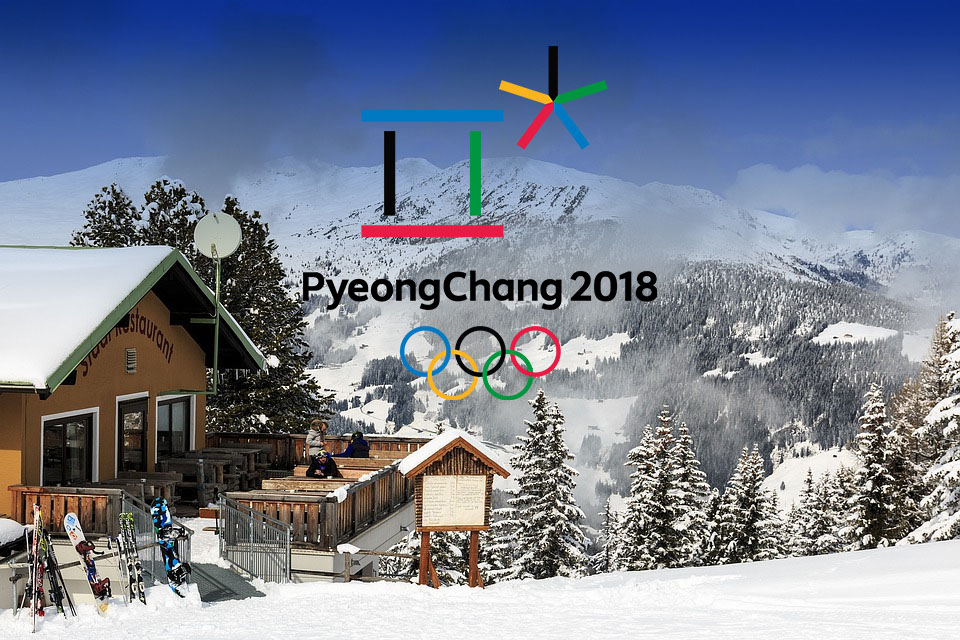 However, TV rights are held by a host of different broadcasters around the world. This means that in some countries, the whole tournament will be available for free, while in others you may have to sign up for a subscription TV service. And sadly, in some places, there will be little or no coverage at all.
Love the Winter Olympics but blocked from watching them online? Unblock your favorite sporting streams anywhere with these VPNs:
NordVPN – Best for Olympic Streaming – NordVPN is the world's best site unblocker, with tens of thousands of spoofable IPs around the globe. Connect to Winter Olympics streams in total privacy with the fast, secure NordLynx protocol.
ExpressVPN – A top recommendation for speed. Especially useful for streaming in 4K or connecting from bandwidth-starved countries.
IPVanish – The go-to choice for Firestick and other low-powered streaming devices thanks to its snappy apps and powerful encryption.
VyprVPN – For anyone connecting from a heavily censored country like China, the Chameleon protocol is a lifeline to the free and open Internet.
Fortunately, if you are unable to watch the events you love, there is a way around this. As you will see, by signing up for a VPN, you will be able to watch the Winter Olympics 2018 online wherever you are in the world.
30-days money back guarantee
Beat the geo-restrictions with a VPN
While there are many different national broadcasters covering the Winter Olympics 2018, they will all be required to restrict access to any content streamed online. This is because the Olympic Broadcasting Services, which produces the global feed, dictates and sells the rights to this by country and is keen to ensure that no-one can access unauthorised streams. This means that broadcasters will be using geo-restriction techniques to check users IP Addresses and ensure no one outside their home country is streaming that content.
However, by using a VPN, it is possible to change your IP Address and so fool national broadcasters into thinking you are in their country when you are, in fact, elsewhere. A VPN does this by rerouting your online traffic via a server located in that country. Your data is then tagged with that servers IP Address and as far as any site you visit is concerned, that means you are in the same country.
How we tested
Before looking at the best online streaming options available for the Winter Olympics 2018, let's take a quick look at which are the best VPNs to use. Choosing a VPN can be hard because there are so many on the market. But for online streaming, there are a few core criteria you can look for:
Large number of servers available
Strong encryption and privacy provisions
No bandwidth limits
On the basis of these, our pick of the best VPNs to use when streaming the Winter Olympics 2018 are: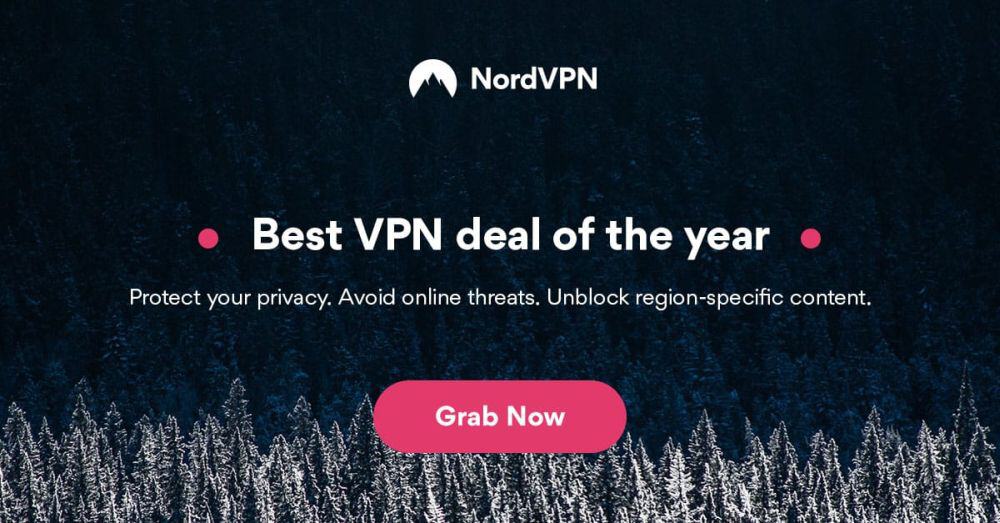 NordVPN has gotten some flack for their connection speeds in past years, but they have completely changed that. With more servers than ever before, and their cutting-edge NordLynx encryption protocol, they now set the standard for VPN performance. NordVPN is more affordable than either IPVanish or ExpressVPN but their service comes close with great encryption and privacy provisions. They also have no restrictions on data usage. You might have to switch servers now and then, but NordVPN will do the job well at a cost-effective price.
Read our full NordVPN review.
Pros
SPECIAL OFFER: 2-yr plan (68% off - link below)
5,400+ servers globally
256-bit AES encryption with perfect forward secrecy
Strict zero logs policy on both traffic and metadata
Great customer service via chat.
Cons
Sometimes slow in procesing refunds (but always do).
BEST:
NordVPN
Get a huge 70% discount on the 3-year plan ($3.49/mo), backed by a hassle-free 30-day money-back guarantee.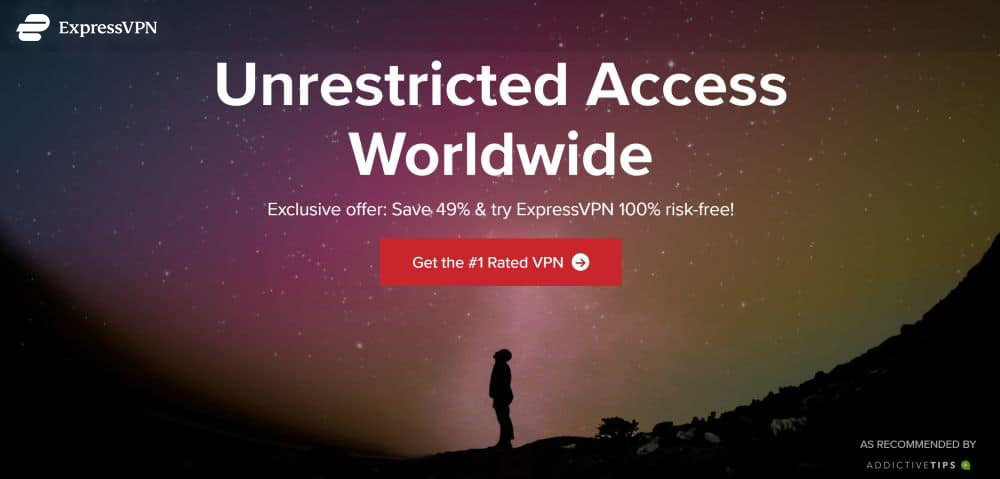 ExpressVPN is a big name in the VPN world and one which specialises in fast connection speeds, which is ideal for online streaming. Their security and privacy settings are up there with the best too, there are no bandwidth limits, and they have a network of servers to rival any other provider in the business. Ideal for watching the Winter Olympics 2018 online.
Read our full ExpressVPN review.
Pros
Works with US Netflix, iPlayer, Hulu and other services
94 countries, 3,000+ servers
AES-256 encryption
Strict no-logging policy
Great support (24/7 chat).
Cons
Max 3 connections simultaneously
Power-users configuration options.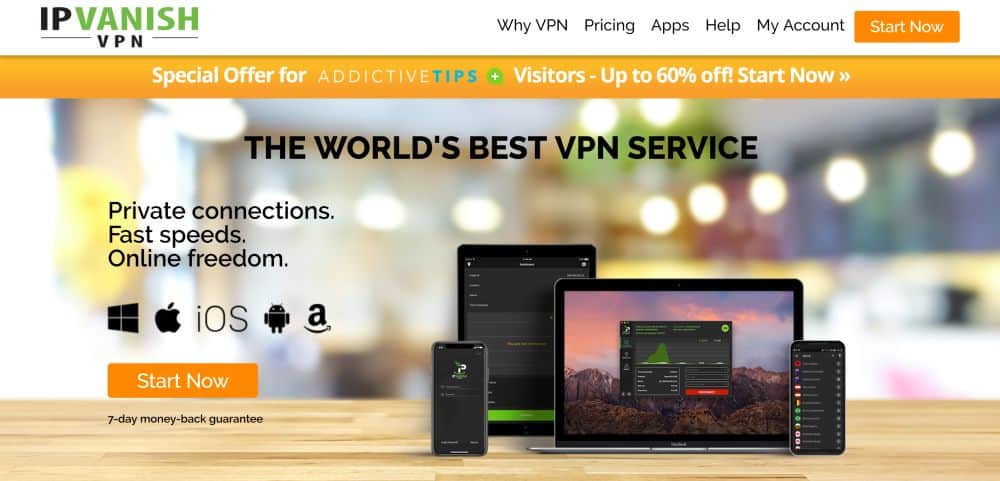 IPVanish is one of the biggest and best-known VPNs around which combines great security and privacy with fast connection speeds and offers a huge range of servers locations, including in all of the countries needed to stream the Winter Olympics 2018 online. With no bandwidth limits, you'll be able to enjoy your favorite streams with crystal-clear fidelity.
Read our full IPVanish review.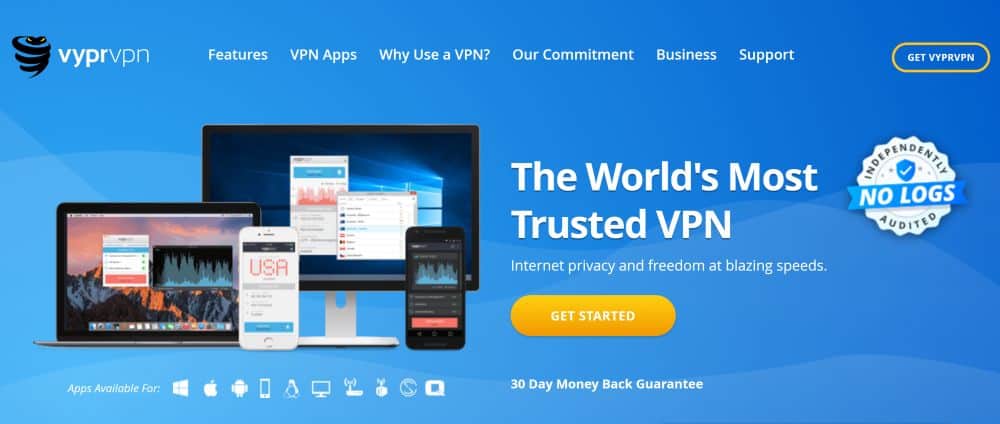 VyprVPN is also one of the most affordable premium VPN providers. Their basic package will offer everything you need, but if you upgrade to their Premium offering you get extra security and privacy in the form of their Chameleon protocol, which is perfect for users in highly restrictive countries like China. Like NordVPN, speeds can be hit and miss, but many of these servers are super-fast and with a huge network to choose from it shouldn't take long to find the perfect server for you.
Read our full VyprVPN review.
Best Online Streaming Services
There are plenty of national broadcasters who hold the rights to broadcast the Winter Olympics 2018, but not all of them will be offering coverage for free. Also, while some will offer comprehensive coverage of just about every event, others will be more selective in their coverage. If you want to be able to access full coverage of every sport, there are a number of standout broadcasters who will be offering an online streaming service. Using a VPN, you should have no trouble accessing their streams and enjoying as much Winter Olympics action as you like. Here is our rundown of the broadcasters to look out for:
NBC
In the USA, coverage of the Winter Olympics 2018 will be on NBC. They will be offering a full and comprehensive schedule with most events available live and plenty of other highlights shows, roundups, and feature programmes too. And the best thing about NBC's offering is that all of their coverage will be free on mobile and tablet devices, where you will also be able to access a number of exclusive features too.
You will be able to tune into NBC, NBCSN and the networks of NBC Universal to watch coverage if you are in the USA, but outside the USA, your best bet is to visit NBCOlympics.com, where you can stream every event live or watch it on-demand later as well as enjoy these extra features. Alternatively, why not download the NBC Sports app, where the same coverage will also be available.
How to Watch the Winter Olympics 2018 on NBC
If you want to enjoy everything the Winter Olympics 2018 has to offer on NBC, you will be relieved to learn that the process of doing so is an easy one. Just follow these 5 simple steps to start watching:
Sign up for a VPN.
Download your VPN app onto your chosen device.
Connect your VPN to a US-based server – we suggest you choose the one closest to your actual location, but any should suffice.
Visit https://www.nbcolympics.com or alternatively download the NBC Sports app onto your device.
Start watching the Winter Olympics 2018.
BBC
The BBC is the official UK broadcaster for the Winter Olympics 2018. They always offer a comprehensive coverage of all events, not just those in which British athletes are participating. Details of their broadcast schedules are not yet available, but users can expect extensive coverage and every event is likely to be available on the Winter Olympics website and their online streaming platform, the BBC iPlayer. They will also offer a huge selection of features, highlights, and roundup shows to ensure you shouldn't miss anything. As Britain's public service broadcaster, all BBC coverage will be free to all users and there will be no adverts to endure either.
How to Watch the Winter Olympics 2018 on BBC
To tune into the BBC's extensive coverage, you will need to use a VPN to access live streams on both their website and the BBC iPlayer. While the BBC iPlayer has been trying to restrict access for VPN users recently, all of the VPNs we have recommended here still work with the BBC iPlayer. Nevertheless, you may find you need a try a few British servers before you find one that works. When you open the BBC iPlayer, you will be asked to confirm that you have a British TV License. This is a legal requirement for all iPlayer users in the UK. To watch all the action, just follow these simple steps:
Sign up for a VPN.
Download your VPN app onto your chosen device.
Connect your VPN to a UK-based server.
Visit the BBC Olympics page or the BBC iPlayer site or download either the BBC Sport of iPlayer app onto your chosen device.
Start watching the Winter Olympics 2018.
CBC
In Canada, the Winter Olympics 2018 will be shown exclusively on CBC. They are yet to announce details of their schedules for the event, but users can expect the same comprehensive level of coverage as NBC and the BBC are offering. As a northern country, Canada has a great passion for winter sports and as well as enthusiastically support the many Canadian competitors, viewers are usually able to watch a wide range of additional content in addition to live streams of every event. All of this will be available for free!
How to Watch the Winter Olympics 2018 on CBC
Watching the Winter Olympics on CBC is also a simple process when using a VPN. Users just need to follow this simple 5-step guide:
Sign up for a VPN.
Download your VPN app onto your chosen device.
Connect your VPN to a Canada-based server.
Visit the official CBC Olympics page.
Start watching the Winter Olympics 2018.
7-Live
The fourth channel we are recommending is 7-Live, which is the official Australian Winter Olympics Broadcaster. They are one of the biggest broadcasters in Australia with a long track record of delivering top-quality sports coverage. Australia is sport mad and while winter sports are perhaps not the biggest draw in the country, many Australians will likely still tune in to catch the action. Users can expect a full and comprehensive coverage which is also free to watch.
How to Watch the Winter Olympics 2018 on 7-Live
7-Live will be showing a full range of live events as well as various highlights programmes live and on-demand on their 7-Live service. Using a VPN, you can tune in and enjoy the action too. Just follow these simple steps to get connected:
Sign up for a VPN.
Download your VPN app onto your chosen device.
Connect your VPN to an Australia-based server.
Visit the 7 Live website where live and on-demand coverage will be available.
Start watching the Winter Olympics 2018.
Eurosport
Another option users may want to consider is Eurosport. They also hold rights to show Winter Olympics events in the UK and certain other European countries. As a specialist sports channel, users can expect high-quality coverage as well as a great range of roundup shows. But the downside to Eurosport is that it is not free. To watch Winter Olympics 2018 on Eurosport, users will have to sign up to either their £5/day plan or their £30/year plan. But if that doesn't put you off, Eurosport is another great bet.
How to Watch the Winter Olympics 2018 on Eurosport
To watch the Winter Olympics 2018 on Eurosport, you will need to use a VPN and also sign up for their subscription service. The process is still pretty simple to follow. Just follow this short step-by-step guide:
Sign up for a VPN.
Download your VPN app onto your chosen device.
Connect your VPN to a UK-based server (or alternatively one of the other European countries where Eurosport has broadcast rights).
Visit the Eurosport website and sign up for either their £5/day plan or their £30/year
Start watching the Winter Olympics 2018.
Watch on Kodi
Another option for diehard Winter Olympics aficionados who are desperate to watch as much of the Winter Olympics as possible is to watch it using one of the many addons available on Kodi. For the uninitiated, Kodi is an online media player which has radically changed the way many people are watching TV, movies, and live sports. It is open-source software which allows developers to create unofficial addons that run on the core software. And this has led to plenty which allows users to enjoy a huge range of live and on-demand sports coverage. Keep reading if you want to know to know which are the best Kodi addons to enjoy the Winter Olympics 2018 on, but before that, we will briefly explain why it is so important to always use a VPN with Kodi.
Streaming with Kodi? Always Use a VPN
It is strongly advised that all Kodi users connect to a VPN before using the service, especially if they are planning to live stream content through an unofficial addon. Kodi is open-source software and therefore particularly prone to bugs and security threats, which a VPN can help protect you from. But more importantly, some users of unofficial Kodi addons have found themselves subject to legal action as a result of streaming copyrighted content. Kodi itself is 100% legal but some unofficial addons do allow users to access copyrighted content. Recently, there has been a big crackdown on this from copyright holders, especially targeted at live sports addons.
But a VPN can help protect Kodi users from the possible repercussions of viewing this copyrighted content. A VPN encrypts all of your online traffic which means any prying eyes are unable to see what you are using Kodi for. It can also hide your IP Address, which renders anonymous online and so makes it very hard to link their Kodi viewing habits directly back to them.
The Best VPN for Kodi – IPVanish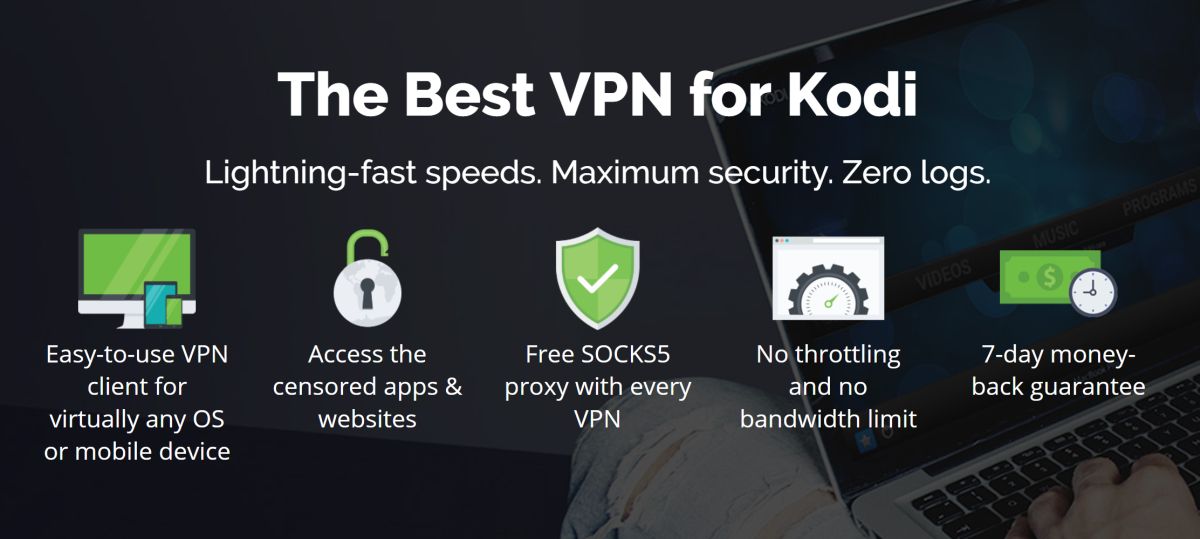 Plenty of VPNs work well for Kodi users and all of the ones we listed above will do a job for you. But our pick of the bunch for Kodi users is IPVanish. Their high standard of encryption combined with excellent privacy provisions, including guaranteed no user logs policy, means they offer exactly what Kodi users need. This provider also features fast connection speeds, a huge network of servers to choose from, and no restrictions on either file types or data amounts, which can affect Kodi users viewing pleasure. IPVanish is also available on just about every device you might ever want to use Kodi on, including the Amazon Fire TV Stick. Put this together and IPVanish is, without doubt, the best VPN for Kodi users.
IPVanish offers a 7-day money back guarantee which means you have a week to test it risk-free. Please note that Addictive Tips readers can save a massive 60% here on the IPVanish annual plan, taking the monthly price down to only $4.87/mo.
Best Kodi Addons to Watch the Winter Olympics
There are a number of addons which Kodi users could turn to for their Winter Olympics coverage. Some are dedicated sports addons, while others offer a great live IPTV coverage which includes channels that are broadcasting the Winter Olympics. To help you narrow down your options, here is our selection of the best Kodi addons to watch the Winter Olympics.
SportsDevil
SportsDevil is one of the oldest and best-loved Kodi sports addons around. In all the recent upheaval in the Kodi world, SportsDevil has just quietly continued doing what it does best, which is to offer a wide range of links to all the most popular sporting events. Users can expect the Winter Olympics to be no exception. SportsDevil is also an aggregator s the same caveat as the Sportie addon applies here, but nonetheless, they are likely to have links to a comprehensive range of live Winter Olympics 2018 events.
USTVNow
The USTVNow Kodi addon offers access to free TV channels from the primary OTA networks in the USA. This includes NBC and its various channels which are the exclusive broadcaster of the Winter Olympics in the USA. This means that every Winter Olympics event and show which is broadcast live on NBC will also be available on this addon too. As it links to official online streaming services, users can expect a high-quality stream too.
iPlayer WWW
iPlayer WWW is the Kodi addon for the BBC iPlayer service. The BBC is the official broadcaster of the Winter Olympics in the UK and, as we discussed above, users can expect a comprehensive coverage to be available through their BBC iPlayer online streaming platform. This addon is a great way to access that service as it is actually even easier to use than the iPlayer website itself. Users will be expected to confirm that they hold a British TV license before using this service and it will be geo-restricted to British users only. This means you will need to connect your VPN service to a British server in order to access content. But once you have done that, the iPlayer WWW addon will offer high-quality streams of every event.
cCloud TV
The cCloud TV addon is one of the biggest and best-regarded IPTV addons around. They offer links to an enormous range of live IPTV coverage. This will include many of the channels which are official broadcasters of the Winter Olympics 2018. There is also a huge dedicated live sports section which offers users access to an incredible range of live sports feeds from across the globe. This will include numerous channels which are covering the Winter Olympics. With cCloud TV, there is literally no excuse for missing any Winter Olympics event.
FTFA
FTFA is one of the latest IPTV Kodi addons to emerge. And it is already proving popular with sports fans thanks to its huge selection of sports channels. Digging down through the categories will reveal almost all of the big dedicated sports channels are available. But for Winter Olympics fans, more important will be the availability of almost all of the broadcast rights holders for the games. This means finding decent coverage is almost guaranteed.
Goodfellas 2.0
Goodfellas 2.0 is another top-draw IPTV addon which is particularly strong in its sports offerings. It offers a huge selection of live sports channels as well as many of the channels which have already been confirmed as covering the Winter Olympics 2018 live. Their links are generally pretty good although we did experience some buffering with a few connections. Nevertheless, users should have no trouble finding a working link to most Winter Olympics events.
Made in Canada IPTV
Made in Canada is an IPTV addon which is focused on the US, UK, and Canadian markets. They should have links to NBC, BBC, and CBC coverage you can watch. But they also offer a fantastic Sports Central section which has links to live feeds on most major sporting events as well as some on-demand replays too. Put these two together and Made in Canada should have your Winter Olympics viewing covered.
Rising Tides
Rising Tides is an addon which has several menu options to seek out live sports coverage. However, while some of these are well populated with links, others are not. For Winter Olympics fans, the best place to head is likely to be Sports Channels section where, with more than 200 dedicated sports channels to choose from, users should have no trouble finding coverage of most Winter Olympics 2018 events.
Conclusion
With that, we've covered a wide area of ground where you can find streams to 2018's Winter Olympics. What sports are you most looking forward to? Do you have a reliable source for streams not mentioned here? Let us know in the comments below!