We are reader supported and may earn a commission when you buy through links on our site.
Learn more
World Cup 2018 Group B – How to Watch Live Streams Portugal, Spain, Morocco, Iran
The FIFA World Cup 2018 is the highest profile football tournament in the world and a career highlight for every player that takes part. There are plenty of exciting fixtures lined up during the group stages, but few set the pulses racing more than the opening game in Group B between rivals Portugal and Spain. With Morocco and Iran making up the rest of the Group, most expect this game to decide who wins the group and with many of the world's best players on display it promise to be a mouth-watering spectacle.
30-days money back guarantee
In this article, we will explain how to watch Spain v Portugal and every other Group B game live. All World Cup matches can be watched on either free to air or low-priced cable channels in certain countries around the world. If you don't live in one of those countries, you can still access these streams if you use a VPN. In this article, we will tell exactly how to do this as well as recommend some of the best international streams to use.
Best VPN to watch Group B of the World Cup
If you want to watch any of the Group A fixtures on an overseas streaming service, you will need to use a VPN to access it overseas. To do this, you will need to choose a VPN with servers in the same country as your chosen broadcaster, connect to one of them, and then visit your broadcasters streaming service to watch the game. For example, you watch games on UK broadcasters BBC or ITV by connecting to a UK-based server. It might seem difficult to decide which VPN to choose for this important task, which is why we have tested all the best to identify the pick of the bunch for World Cup viewers.
Our recommended VPN to watch Group A of the World Cup is ExpressVPN.
Reader special deal: get three months free for the yearly plan.
ExpressVPN is the perfect VPN for fans of the World Cup. Their lightning-fast connections are perfect for reliably streaming content online and they are available across its entire range of servers. ExpressVPN offers 256-bit encryption as standard as well as extra security features such as an IP address checker and DNS leak protection. They also offer robust privacy protections including a guaranteed no-logging policy. ExpressVPN has a huge server network with more than1,500 servers available across 94 different countries. They have no data limits whatsoever and offer great apps for computers, mobile device, smart TVs and even Firesticks. So, if you want to watch any fixtures in Group B, ExpressVPN is the right VPN for you. You can read our full ExpressVPN review here.
How to use ExpressVPN to stream Group A World Cup matches
It's really simple to use ExpressVPN to stream matches in Group B at the World Cup. But we know some readers will be new to this process, so we have compiled a short step-by-step guide for you to follow to make things really simple. We have used the two free-to-air UK broadcasters as an example:
Head over to the ExpressVPN website and choose the best subscription package for your needs. Then following the simple onscreen instructions.
Next, head to the Products section of their website and download the correct app for your device. You will also find their app in your app store.
Open the ExpressVPN app and use the activation code provided in step one to log in.
Select a United Kingdom server and click on it. If it doesn't connect automatically, just click the Connect button too.
Lastly, visit the BBC and ITV streaming sites at the BBC iPlayer or ITV Hub respectively. If you don't have an account with either broadcaster already, you will want to sign up for one. There are simple on-screen guidelines to help you do this and all you will need is a UK post code (such as CV4 4MS)
Where to watch World Cup Group A Games
The World Cup is being streamed in most countries around the world, but in many you will need a cable subscription to watch the games. But there are some countries where all of the World Cup will be available live and without the need for a TV subscription. You can opt to try and watch the games on unofficial third-party services such as Kodi. But quality there will be varied, and you can be sure of top quality streams if you use a VPN to stream games from an official broadcaster. These channels will also make their coverage available via their online streaming platforms too. Here is a brief rundown of some of the best broadcasters you can use to watch live coverage of World Cup Group B matches:
UK – In Britain, the rights to World Cup games are shared between the BBC and ITV, which are both free-to-air channels. This means you can stream all of the Group B games and the rest of the tournament too on either the BBC iPlayer or the ITV Hub for free.
USA – There are also two official broadcasters in the USA too. Fox Sports has the rights to stream matches with English commentary. You can stream their coverage online for free if it is included in your Cable TV package or Sling TV subscription. If not, you can sign up for the FOX Soccer Match Pass which will set you back $19.99 a month but does offer a 7-day trial period. If you speak Spanish, you can try Telemundo Deportes, whose coverage will be streamed on the NBC Sports platform.
Canada – In Canada, there are three channels showing every World Cup game live. CTV, RDS, and TSN will all be streaming games online, but you do need a cable TV signup to watch.
Australia – Optus Sports has the rights to show every World Cup game. You can watch their coverage as part of all Optus packages, but even non-Optus viewers can subscribe for a very affordable A$15 per month.
All about World Cup Group B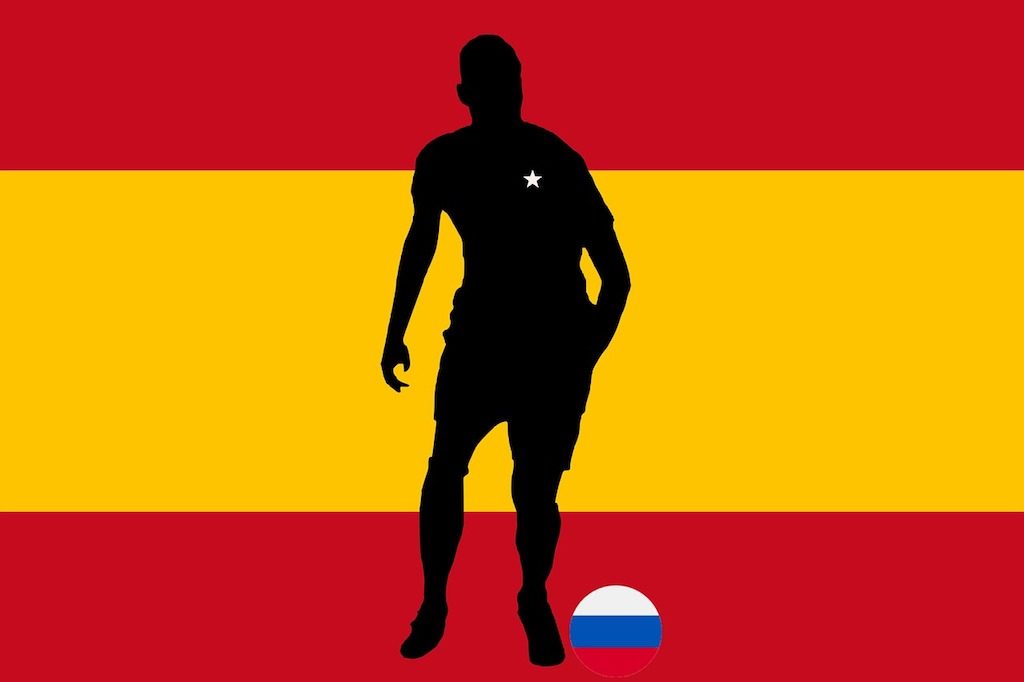 Spain
Spain's World Cup has been thrown into disarray after their manager, Julen Lopetegui was sacked just a day before the tournament started, after announcing he would be joining Real Madrid after the tournament. Spain and Madrid legend Fernando Hierro has stepped into the breach, but the drama has exacerbated tensions between Spain's Madrid and Barcelona contingents. How this will affect their performance in their opening game against Portugal is anybody's guess, but they should still have enough to get out of the Group. Whether Hierro can steer a talented squad with some of the world's best players to the latter stages remains to be seen.
Portugal
Spain's bitter rivals Portugal will be hoping to take advantage of their problems in the opening game of the tournament. Portugal are the reigning European Champions and spearheaded by Cristiano Ronaldo, arguably the best player in the world right now, could go far in this tournament too.
Morocco
This is Morocco's first World Cup and their opening game comes off the back of learning that their bid to host the 2026 tournament has failed. They bring some young, talented, and hungry players into the tournament, but face an up-hill struggle against Spain and Portugal. They will have to beat Iran in their opening game to stand any chance of progressing.
Iran
Like Morocco, Iran know they need something in the first game to give themselves a shot at the knockout stages. They have only ever won one World Cup game, against the USA in 1994, so are really up against it here. But they have some talented Europe-based players and their coach Carlos Quieroz will know Portugal well from his time managing his home nation. So, maybe they could spring a surprise.
Conclusion
World Cup Group B has plenty to get excited about as well as one of the games of the tournament in Spain v Portugal. And you can stream every match live no matter where you are based. We have highlighted some of the best channels to try in this article, many of which are free to access. But you will need a VPN and we have recommended ExpressVPN as the best one for streaming World Cup games right now.
If you are new to VPNs, we have included a step-by-step guide on how to use ExpressVPN to stream World Cup games. And there is also a short preview of Group B to whet your appetite for what is to come. If you have any thoughts comments or tips on any aspect of this article, why not share them with us using the comment box below? We always welcome the comments and thoughts of all our readers!