Adding Charts In PowerPoint 2010
Since presentations are the best channel to summarize huge content, creating charts of dataset would do it in much efficient and effective way. Rather than showing complete dataset, you can make a chart out of it and use in presentation directly. With PowerPoint 2010, you can create charts in presentation and sync them with an Excel spreadsheet to modify, add and formulate dataset. When you create a presentation in PowerPoint 2010, it opens an Excel sheet, letting you enter the data values and set fields and rows as per your requirements.
To get started, launch PowerPoint 2010 and open presentation slide on which you need to insert charts. Remove the clutter on the slide according to your needs and navigate to the Insert tab and click Chart.
It will bring up Insert Chart dialog, showing multiple types of charts. Just like Excel 2010, it lets you choose the chart template that best suits your data set. Additionally, you can choose the type of chart that you want to insert into the slide. It includes a number of chart types including Column, Line, Pie, Bar, Area, X Y (Scatter), Stock, Surface, Doughnut, Bubble and Radar. Selecting the chart type from left side shows the different styles of the chart. Choose the required chart type and from the main dialog select the chart style. In our case, we are inserting a simple Column chart.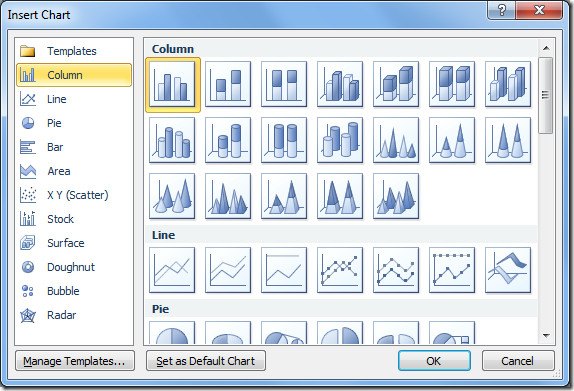 It will show a sample Chart in presentation slide and open up Excel spreadsheet filled with sample dataset.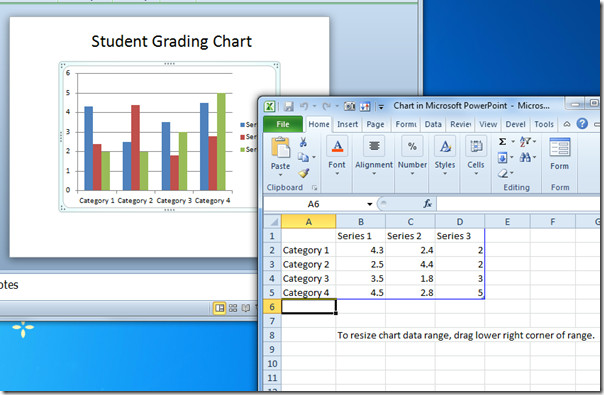 Start making out chart by modifying values in spreadsheet dataset. Interestingly you will notice a smooth synchronization between chart, chart legend and spreadsheet dataset. Thus, on changing categories in the spreadsheet will be reflected in the legend's title.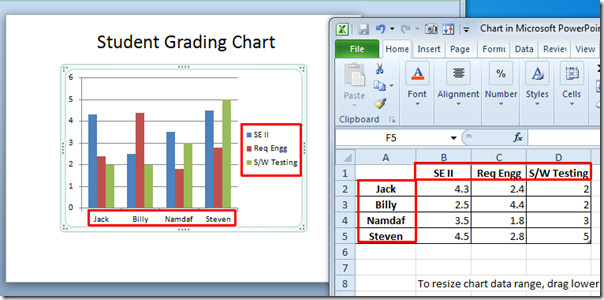 Start modifying sample dataset values according to the requirements. On modifying, presentation slide will automatically change the chart bars size and axis values to reflect the changes.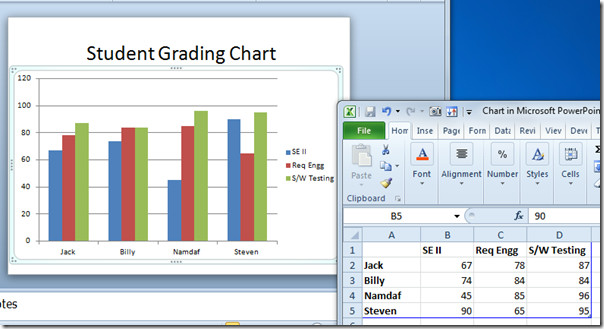 Once done, close Excel spreadsheet. PowerPoint 2010 presents significantly improved charting designs and styles. To adorn the chart in the desired way, on chart selection, you will see chart specific tabs in PowerPoint window. From Design tab, apply a suitable style from built-in design list.

The selected style will be instantly applied over it.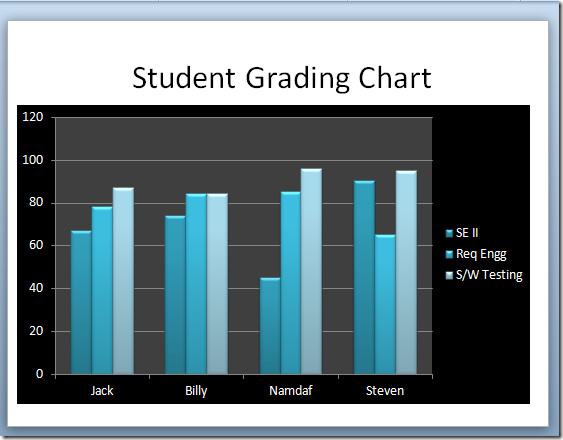 For changing legends, gridlines, horizontal and vertical axis of chart, switch to Layout tab, and start modifying them in a few clicks.

You can also check out previously reviewed guides on Compress Pictures in PowerPoint 2010 & Video Editing in PowerPoint 2010.