Advanced Outlook Security
To decide whether to disable Outlook Security alerts or keep them turned on is rather difficult, as they consistently informs us about potential security threats and risks. But these security alerts could really get annoying at times, when it starts popping-up with unwanted and superfluous security risks & threats. To cope up with this, Advance Outlook Security may provide you a better solution to deal with the situation. It is a small but extremely powerful add-in, solely built to replace default security alerts. In layman's term, it gets rid of annoying security alerts.
What it does to prevent and keep tab on security risk, threats, is by defining & identifying Violator. A violator is a fault of; an instance of thread, a thread, an app, which erupts due to installed add-in, or any other lib file or DLL file. It causes app crash or halt, eventually falling in violator category. To manage the violator alerts, it provides you with three basic options of specifying the status for the fault; allow access, block access, and you can allow basic Outlook Handler to deal with it in future. In this way, you can manage the alerts for future, prevent them from popping-up by specifying actions that will automatically be followed on the occasion of same fault, or violator (as author calls it) if erupts.
To get started, install the add-in, and launch Outlook. You will find Advance Outlook Security add-in, under Add-ins tab. Under Advanced Security options, there are three viewers namely Action List, Process List and Outlook Modules, they comes in handy for identifying the source of security threat. The standard Outlook Security has some drawbacks, first, it doesn't identify the threat source and secondly, it disrupts users with unwanted and false security warnings.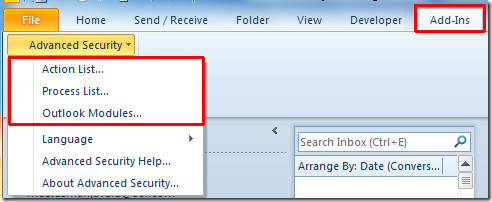 These viewer dialogs list the basic info like;
Action List viewer shows Module, and Version info.
Process Viewer, shows all the current system threads being running at back end and are categorized in three columns; CDO.DLL, OLMAPI32, MAPI32, it informs you about the threads which are using these three Outlook main API and LIB files (CDO.DLL, OLMAPI32.DLL, MAPI32.DLL).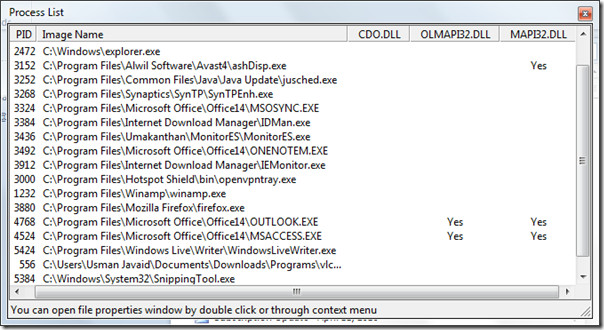 And finally Outlook Modules viewer, shows all the active Outlook modules with their physical address, under Outlook's specific PID (Process ID).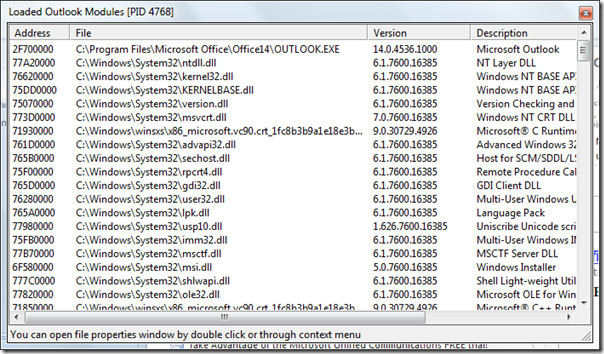 When it encounters a violator (add-in fault or DLL crash), it will immediately prompt you to specify an action to deal with if it erupts in future.
(Above Screenshot by Add-in Dev)
For more info about the mechanism it follows and other relevant information, go through the Help section included in installation package.
Download Advance Outlook Security
It runs on Windows XP, Windows Vista, and Windows 7. We tested it on system running Windows 7 32-Bit OS. It supports Outlook 2003, Outlook 2007 and the latest Outlook 2010 version (32-bit only).