Analyze, Mark Errors, And Get Feedbacks On MS Office Documents With Information Analysis
Analyzing a huge document having diverse sections is not a easy task and those who require analyzing the content of documents mark out sections, create a separate note, or jot down important points to help team members fix the document content. Take project related emails from team members as an instance, you may sometimes need to specify the details for a certain part of email, elaborate the risks involved in crucial project development stages, question veracity of statistics and so on. In such a scenario, creating a new document just for elaborating the details which are to be added and for providing suitable feedback to team members becomes not only tiring but time wasting too.
Information Analysis For MS Office is designed specifically to lessen the effort involved in analyzing the documents. It's an ingeniously smart add-in for MS Word, PowerPoint, and Outlook, letting you analyze the documents, presentations, and emails without having to create a separate note for each section of document content. The interesting part is that it offers a handful of analysis tools to make content analysis process as seamless as it can be. The most frequently used content placeholders for document analysis are available to get you started with analyzing document section. You select the document content which is to be analyzed and flag for writing a report on it. Similarly, you can view all the document selections to quickly add feedbacks, mark errors, ask question, respond to questions and marked errors, review stats, etc.
After installing the plug-in, you can see a newly added tab in MS Office applications ribbon called, Speak Logic. Under this tab, all the essential tools to analyze the document/email are lined up. First off, we start from analyzing the selected document content.

The analysis dialog lets you write analysis report on the selected content. Here, you can also add analysis questions for a specific part of the content, provide feedbacks on it, mark errors, add external Text and RTF files, etc.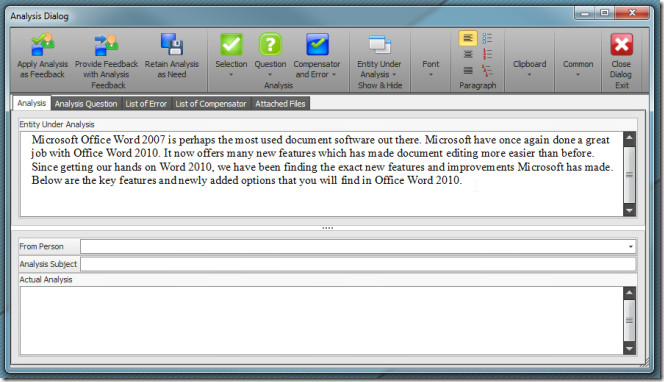 All the questions are listed in Analysis Question window. To add another question, from Question pull-down menu, select Add Question. If you want to respond to question asked by your team member, just right-click on the listed question, and select Respond To Analysis question.
Similarly, from ribbon, you can bring up Feedbacks dialog to write reports to specific team member. It allows you to add feedback subject, communication function, and email address.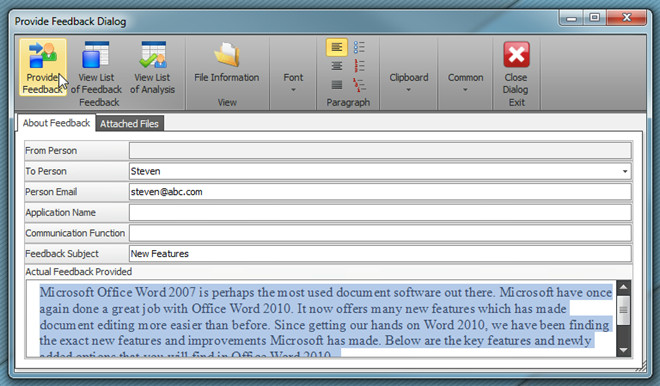 Next to Feedback, you can request for getting feedback on selected document content. It automatically separates the selected content from document and lets you add questions, opinions, and other complementarity data to get feedback on specific points included in the specified content. From History pull-down menu, you can get a preview of all the previously used document selections, list of flagged items, list of feedbacks, and all the retained analysis.
Information Analysis For MS Office works on both Office 2007 and Office 2010.
Download Information Analysis for MS Office