Automatically Update Outlook Contacts List With CorpGenome
You might have noticed that Outlook Contacts list doesn't get updated when you receive email from a new sender and when someone amongst your contact list updates his/her personnel information. If you've been largely relying on Outlook contacts and want to keep it updated with all the contacts specific changes, then CorpGenome is here to help. It is a small add-in for Outlook 2010, 2007, and 2003 which keeps you up-to-date with what your contacts are doing on the web and scans newly received emails for adding email addresses and other personnel information to Outlook Contact list.
Therefore, you wont have to manually update the information regarding any contact nor it requires you to add contact information of email senders to Outlook Contact folder. It works on user-defined scheduled intervals to check for latest changes and updates regarding the contact list. On finding an update or change, it will notify you about the specific contact update(s), so latest changes can be appended instantly.
After installing the add-in and registering with CorpGenome, you can access if from Add-Ins tab. Running it for the first time requires you to configure update schedule settings. Click CorpGenome and from Signature Scan Settings and Synchronization Schedule tabs, specify time interval for scanning email signature and sync schedule respectively. Apart from specifying time, you can also use provided scenario to look up for updates, such as, at exiting Outlook, after saving contact info, reading or receiving a new email, etc. If you've synced Facebook contacts with Outlook contact list, you might want to enable Facebook integration for scanning all the updates from Facebook contacts, so that contact information changes can be saved without any delay.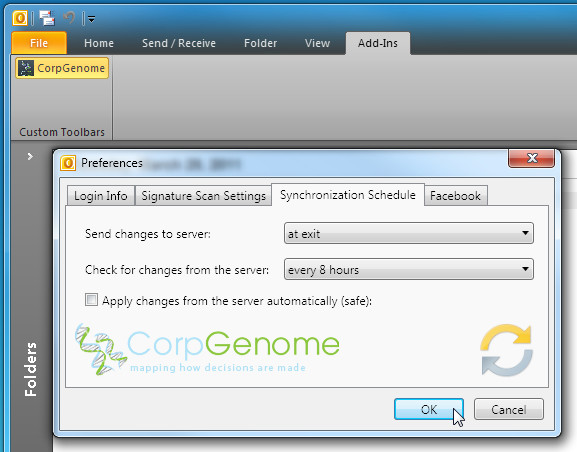 Once settings are saved, it will start looking for updates. On finding an update or contact specific change, it will notify you about the changes, so you can add more information, discard the update, copy updated info, or simply update the Outlook contact list.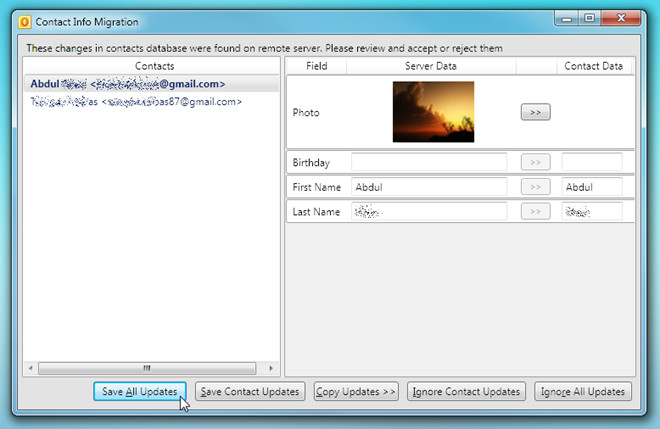 It is a very useful add-in that works on Outlook 2003, Outlook 2007, and Outlook 2010.