Gem Collects Commonly Used OneNote 2010 Options & Functions In Single Tab
OneNote 2010 comes with a host of features and tools to make note taking a breeze, but it doesn't allow categorizing most frequently used options into groups, such as, print out, create new page, section & indented page, adjust size, arrange printouts, view inserted files and so on. Since it becomes quite a wearisome task to manually find these options from OneNote 2010 interface, you may need a plugin that can collect these functions under one hood.
Gem is an add-in for OneNote 2010 that not only increases your note taking speed but also improves your skills. It adds frequently used notebook section and page specific options in a single tab including Create new notebook, notesheet, indented note, section, Insert Box, List inserted files, List media files, Merge current notebook section into another section and page, Sort notebook sections, Sort pages and Page navigation options.
Before installing the add-in, make sure that OneNote 2010 is not running in the background. Once installed, open OneNote 2010 main window. You will see a new tab namely Gem next to View tab on the ribbon. The Gem tab includes 6 groups in total including Page, Printout, Box, List, Merge, Sort and Navigation. The New group allows you to quickly create a Page, Indented Page, Section, Section Group, Notebook and new page from selected template. The Printout group contains options to adjust the size of printouts and arrange the pages you wish to print.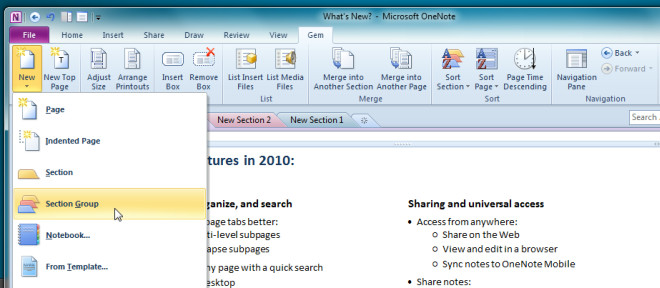 The Box group lets you create and remove text boxes, whereas the List group includes options to view all inserted documents and media files. When you click List Insert Files, it finds the inserted files and shows them in list with titles of source notesheets.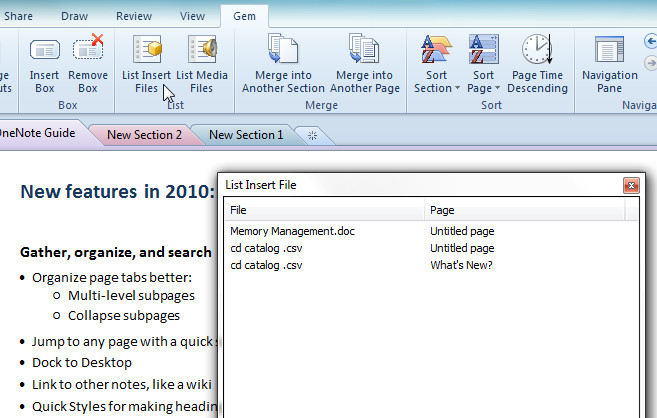 Under Merge group, you have features to merge notesheet into another section and merge notesheet into page. Clicking the option asks you to specify the notesheet/page to merge the notesheet with. Clicking Merge will merge the notesheet with selected notebook section/page.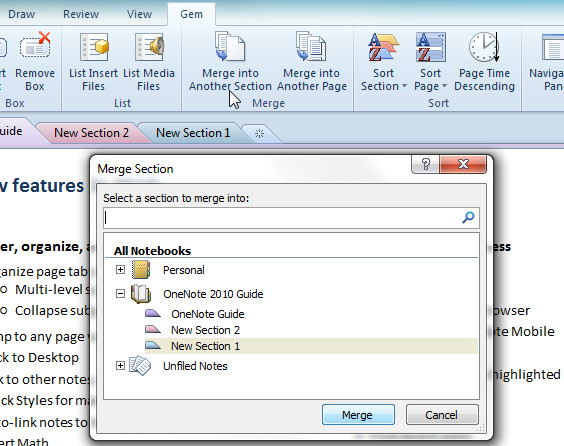 The Sort group includes Sort Section and Sort Page options, which allow you to sort section tabs listed underneath the ribbon and pages in right side bar, respectively. You can choose to sort them in alphabetical, time ascending and time descending order. Alongside Sort Pages, you have Page Descending option to sort all pages of current section in descending order.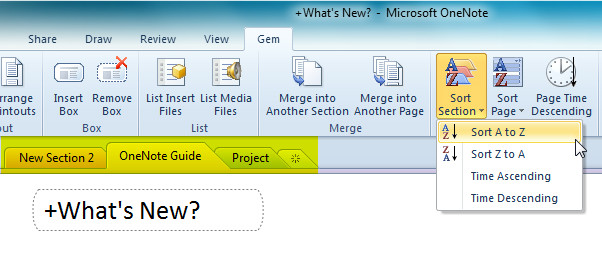 From Navigation, you can quickly view and access recently used notebook sections. Additionally, you can enable Navigation Pane in right sidebar to navigate between notebook sections and pages.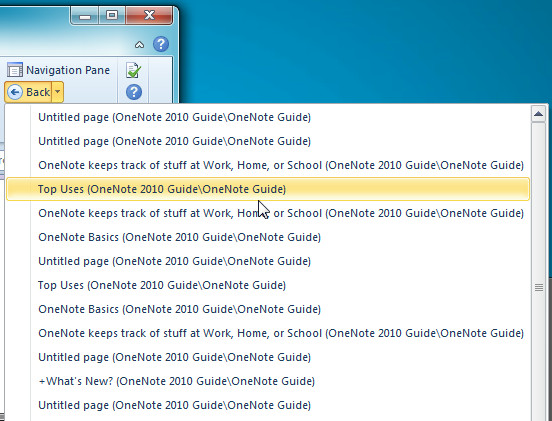 In a nutshell, Gem provides an easy way to access commonly used functions. If you use OneNote 2010 to create and manage your notes on daily basis, Gem will help you quickly perform numerous actions over notebook sections and pages. It is developed for OneNote 2010.