Combine Different Versions Of Two Documents In Word 2010
Word 2010 provides great feature to combine or merge documents into a single document. While working on different versions (revisions) of Word documents, it may become indispensible to combine them into one, going for it manually would be hectic and tedious, but by using built-in Word Combine feature, you can easily combine them with a few clicks. All minor and major changes are highlighted to make it easier for users to find out which changes have been made in the revised document.
Launch Word 2010 document which you want to combine with other document, navigate to Review tab, from Compare options, click Combine.

It will bring-up Combine Documents dialog, The dialog window is divided into two panes, from the left side we will be inserting the original or first version of the document and from right side we will insert the revised document. When done adding, click More >> button at the bottom-left of the dialog.

It will expand the dialog window showing advanced options for combining the documents. From Comparisons Settings you can enable/disable different options; ranges from Moves, Comments, Formatting to Text Boxes etc. Under Show changes, there are two categories; Show changes at and Show Changes in. Thoroughly go through the options available and enable/disable them according to the requirements.
Once done click OK to combine the documents.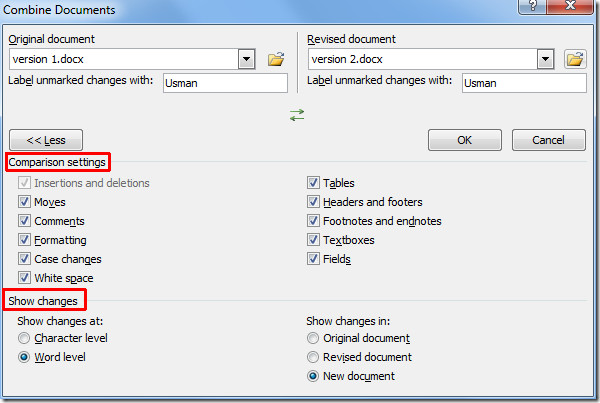 It will open a new document where it divides the window into four panes. The left most pane shows the primary document changes, the center pane shows combined document, where new content is marked in red color. In the right pane, both version of document are opened up to give a generic idea of what has been combined in both documents.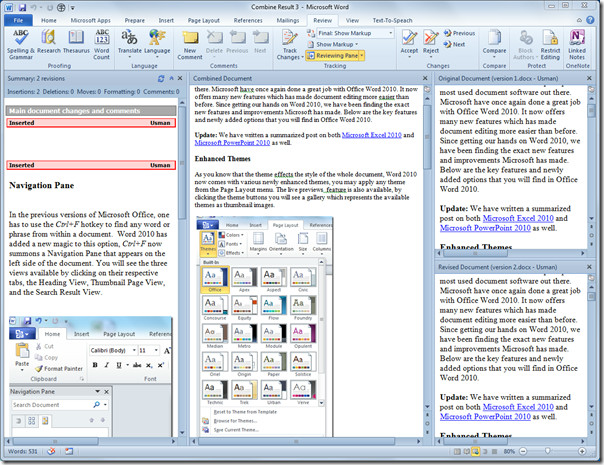 Now take a closer look at it, the red line in Combined Document pane shows the content which is not there in first version. The left pane shows the inserted content under Inserted heading.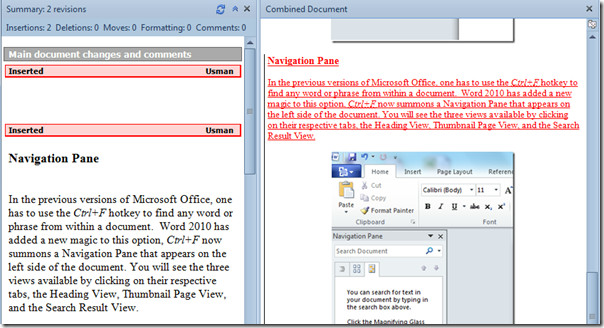 You can also check out previously reviewed guides on How to Merge Multiple Documents in Word 2010 & Using Place Holders in Word 2010 for fast Scrolling.