Important Mail Alert: Create Text-Based Email Alert Rule In Outlook 2010
Although Outlook 2010 comes with a comprehensive Rule Manager feature that supports creating customized email notifications and alerts for all types of mail accounts, one has to follow quite a tedious process to define the rule settings. If you're looking for a simple way to create rule-based email alert notification, Important Mail Alert is a solid pick. It's light-weight add-in for Outlook that lets you create and configure email rules & alerts without having to go through the hassle of selecting the email accounts. It integrates into Outlook interface, letting you manage the rules and alerts from Mail window. Apart from supporting all types of configured email accounts including POP3, IMAP, and Exchange, it automatically adds the accounts to rule box letting you disable the mail alert for a specific email account.
Before you install the addin, make sure that Outlook is not running in background. Once installed, launch Outlook and head over to AbleBits.com tab. Now enable the add-in to integrate it into Mail window. It adds a small rule and alert box at the bottom of the window, enabling you to create a text-based email alert rule.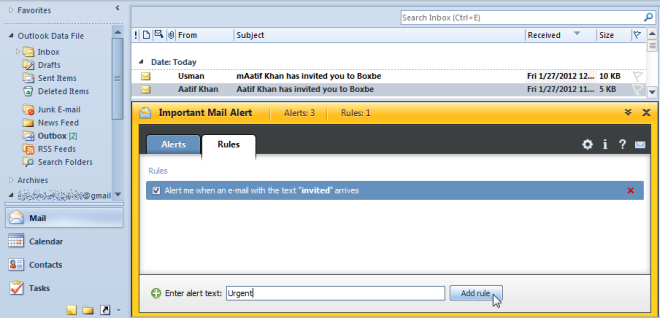 As mentioned earlier, it adds all the configured accounts in Rule box, you can disable the account on which you don't want to apply email alert rule; just hit Settings icon and uncheck the mail account.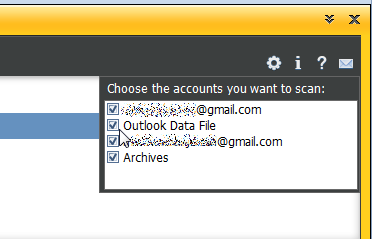 This add-in sends the alert notification to desktop and logs it, so that you can view all the notifications and open the emails without having to search them from each mail account. In Alerts tab, you will find all the past email notifications.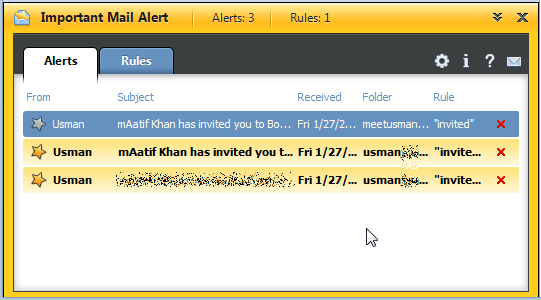 When an email arrives with defined alert text, it will immediately send a notification to desktop. Clicking the notification text opens the email.

Important Mail Alert certainly saves the time and effort involved in setting up a custom email alert. Nevertheless, it lacks some features like sound notifications, custom notification message etc., which would've made it more useful. We hope that developer will add these features in next iteration. It supports both Outlook 2003, Outlook 2007 and Outlook 2010.