Create Visual Summary Slide In PowerPoint 2010
To concise the presentation you can always use enhanced SmartArt graphics, which allows you to present your core idea across visually and make it very intriguing. In this post we will walk you through the step-by-step process of using SmartArt graphics to summarize presentation.
To begin with, move to the end of the presentation and create a new slide to summarize the whole presentation in it. For illustration, we have created a presentation on new features incorporated in Office 2010. To get started with creating a visual summary, we will be adding a new slide for inserting SmartArt graphics. Click Insert SmartArt Graphic link in slide.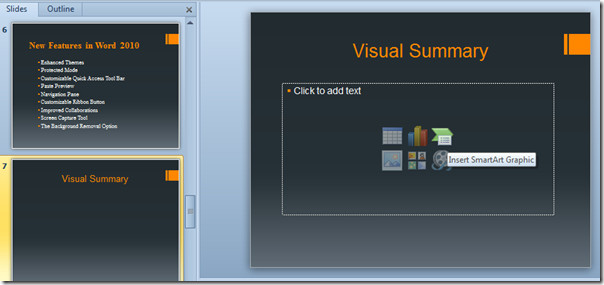 A dialog will appear containing list of SmartArt graphic types and designs. From the left pane choose the type of SmartArt and from center pane choose layout, among the list of selected SmartArt type. We reckon you to choose a graphic that best complements your presentation. Click OK to insert into presentation slide.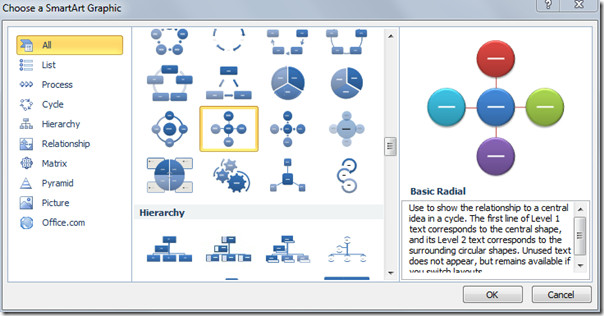 Now we will insert an image in each SmartArt graphic, for this right-click SmartArt graphic and select Format Shape.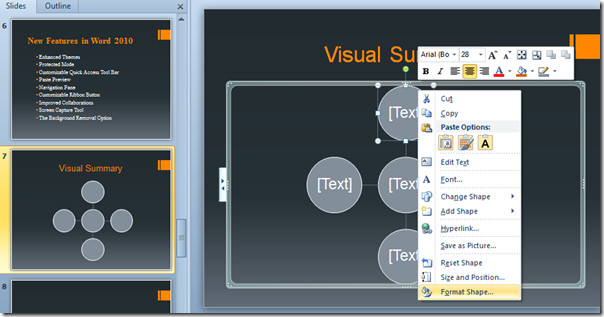 It will bring-up Format Picture dialog, under Fill, select Picture or texture fill option, and from Insert from, click File. Insert Picture dialog will appear, choose an image and click Insert.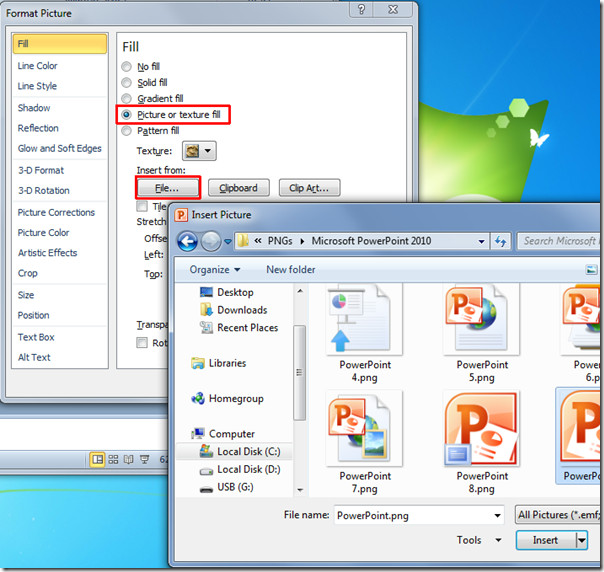 It will insert image in place of selected SmartArt graphic.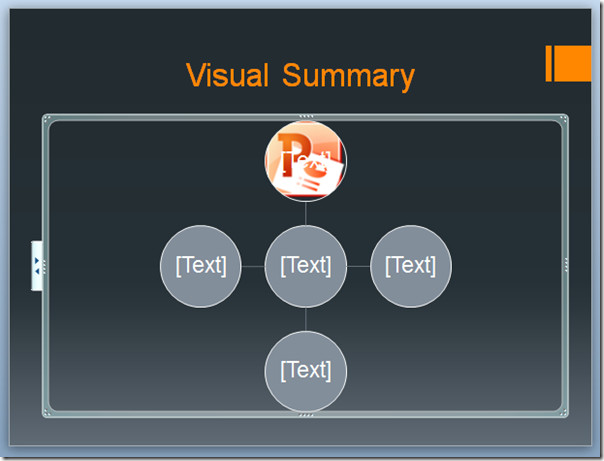 Now start populating other graphics with images by following the same procedure.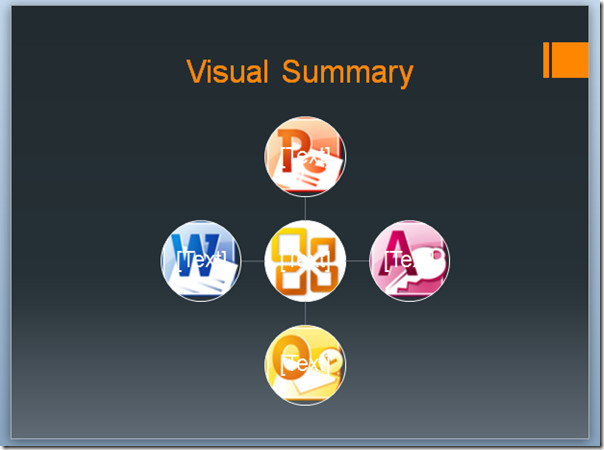 For changing shapes of SmartArt graphics, right-click the graphic and from Change Shape sub-menu, select one among the list.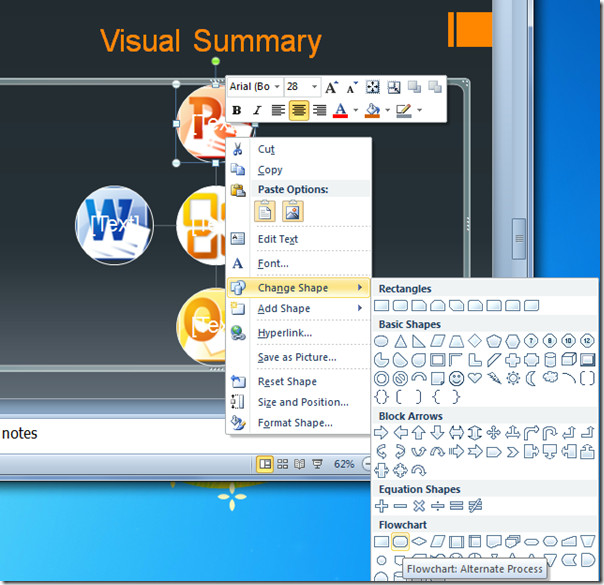 Start changing the shapes of all other graphics as desired.You might noticed that the SmartArt is only meant for text, that's the reason [Text] appears on each graphic. To remove it, click in slide area and select all the graphics (press Ctrl+A), head over Picture Tools Format tab and from Group options, click Ungroup. It will remove the instructional text [Text] from graphics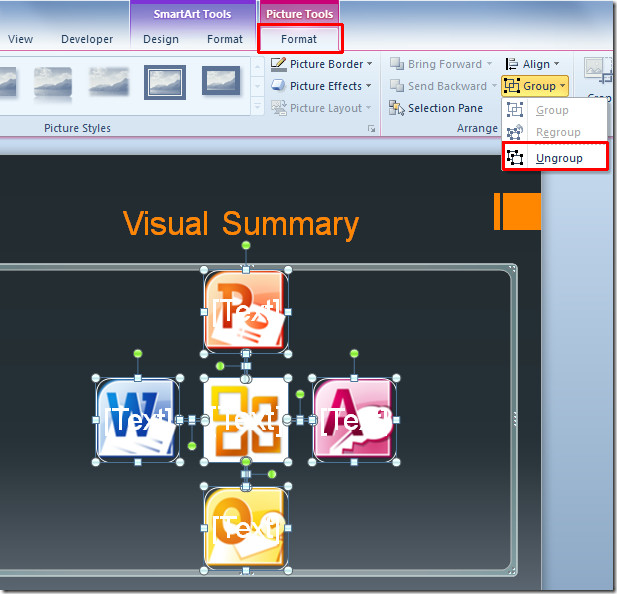 For quick access to the respective slide, you can also link graphics with other presentation slide elaborating details. For linking, right-click the graphic and select Hyperlink.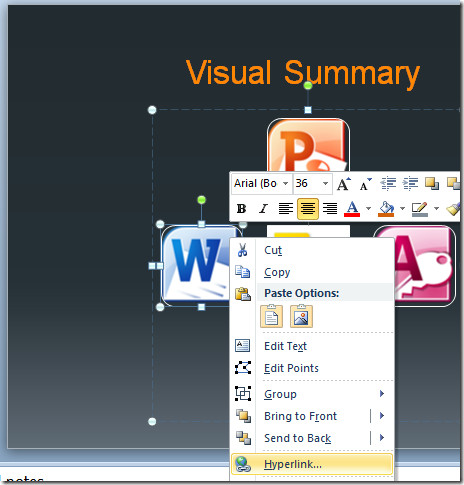 Insert Hyperlink dialog will appear, from left sidebar, select Place in This Document and from main window, select the presentation slide for which you want to create a hyperlink.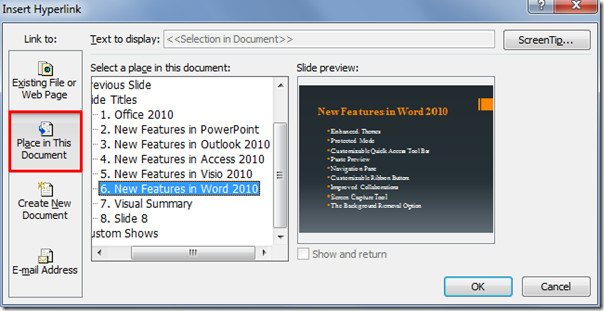 Repeat the same procedure for creating hyperlinks with other graphics as well. Once Done, run the slide show, from Visual Summary slide, you can access any slide as they are linked with the graphics.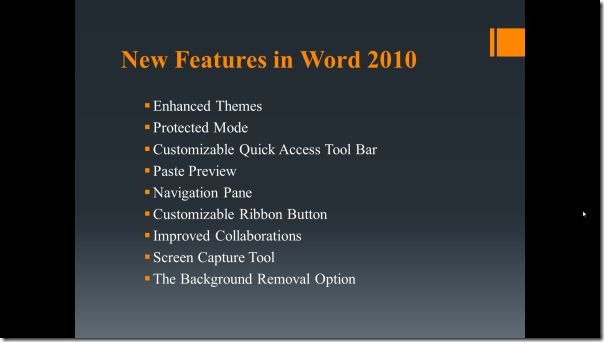 You can also check out previously reviewed guides on How to send Word 2010 document directly to PowerPoint & How to compare two Presentation in PowerPoint 2010.