Enrich Imported Outlook Calendar In Visio 2010
Microsoft Office 2010 suite apps have outstanding sharing capability which lets them collaborate between each other, as we have already demonstrated linking Excel spreadsheet with Visio 2010 in previous guide, today we will make Outlook work with Visio 2010.
Through Import Outlook Data option, you can specify date/time range for which you need to import Outlook items in Visio. It also allows you to import Calendar with every item details; meeting schedule, events, appointment, etc into Visio to further enrich it with intrinsic pictorial representation tools. Apart from importing Outlook Calendar feature, it also lets you add & configure Calendar items, i.e, you can add new appointments, important days, events and apply different styles & designs over it.
To begin with, launch Outlook 2010 and set up all calendar items; appointments, meetings schedule, events, etc which you want to import. For illustration, we have set up all the calendar items for the month of May 2010.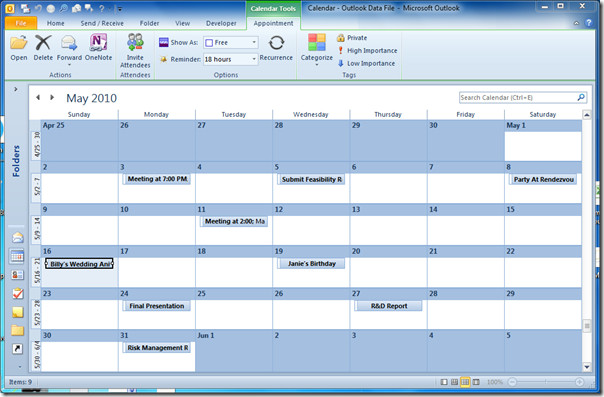 Now Launch Visio 2010 and from Backstage View, click Schedule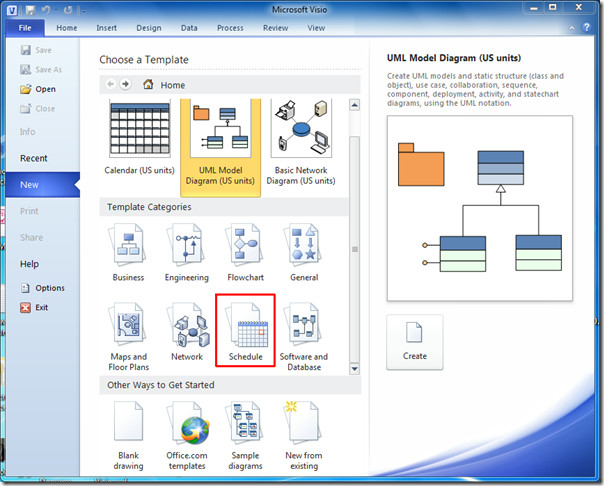 It will show Schedule diagram category, now click Calendar to start creating Calendar.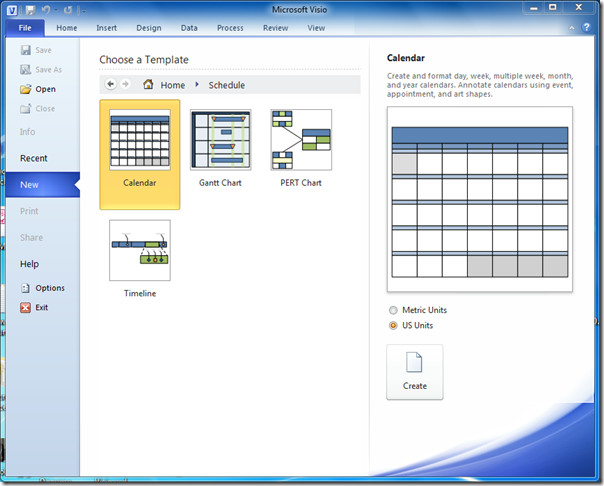 It will bring up Visio 2010 main window, showing Calendar shapes and items at the left sidebar and diagram area in the main window.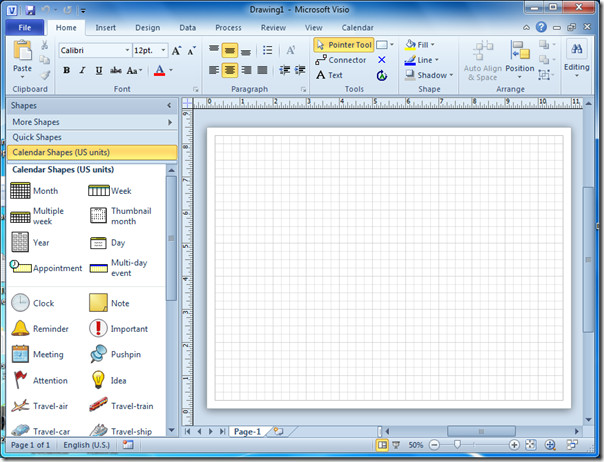 Since we need to import Outlook 2010 calendar, for this navigate to Calendar tab and click Import Outlook Data.

In Import Outlook Data Wizard, select New Visio calendar option and click Next.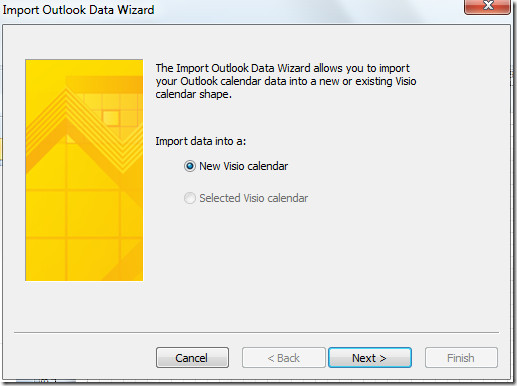 From start date, choose the starting date from which you to import Outlook Calendar events items, from End date choose an ending date to mark the complete range. You can also filter down Outlook Calendar items by clicking Filter. Once done, click Next to continue.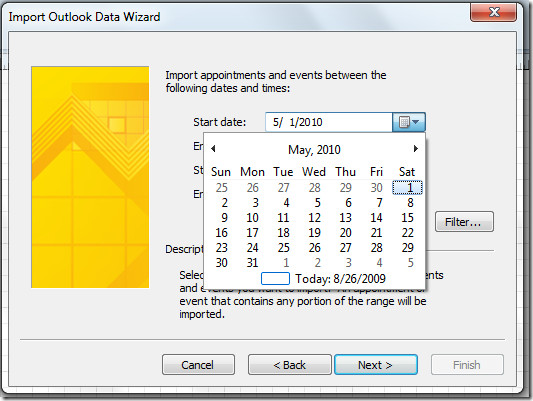 In this step of wizard, choose calendar type either Multiple week or Month. From Begin week on, select the starting day of week and for marking weekends in calendar, you can also enable/disable shading. Click Next to proceed further.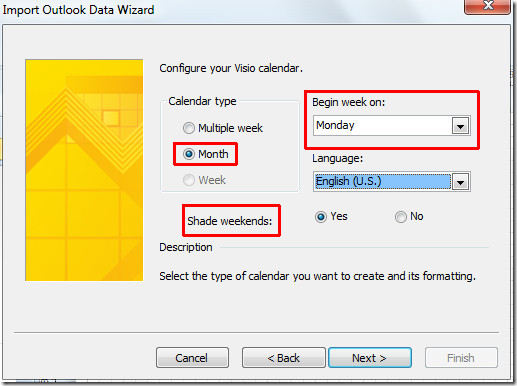 Here you can see the imported calendar type, settings, starting and ending date for generic verification. Click Finish to end the wizard.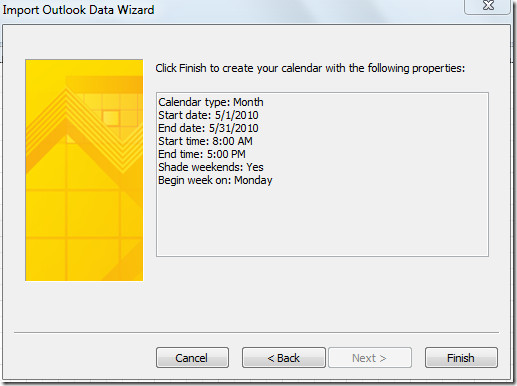 It will start importing Outlook 2010 Calendar items, if you are importing complete yearly calendar, it would take some time to complete the process. Once imported, you will see Outlook 2010 calendar in diagram area, with all appointments, meeting, and events details.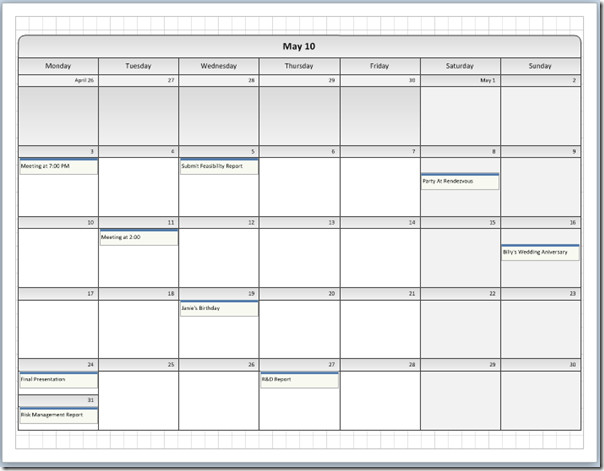 It might look a bit dull. To enrich it, move to Design tab, from Themes and Backgrounds group, apply styles, designs, colors, and background.

For changing font size of imported calendar, head over to Home tab and from Font group, change the Font size and color to make it more prominent.

For verifying items details, select a Calendar item and click Configure. It will bring up Configure dialog, where you can view item's detail; Subject, Location, Starting and Ending date. Once configured all items, click OK.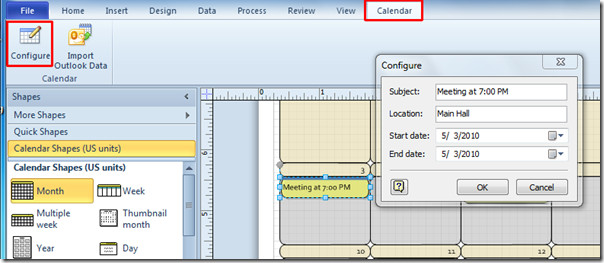 Now start filling out shapes with Visio Calendar items and shapes. Just drag the shape from left side bar into Calendar day box to attach with with desired item, as shown in the screenshot below.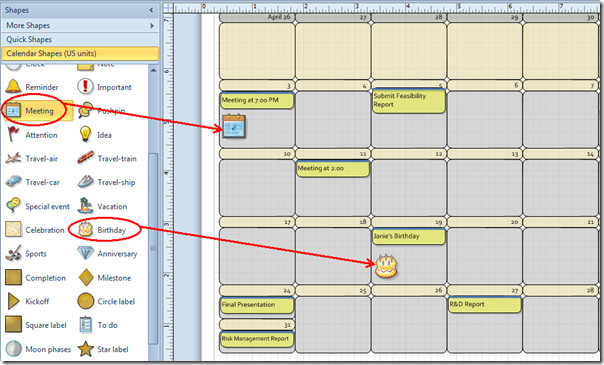 Once done with adding shapes into Calendar, save the Visio document first and then on File menu, click Save as.

We will be publishing it in PNG format for distribution and sharing purposes. In Save As dialog, from Save as type, select desired format, give it an appropriate name and click Save.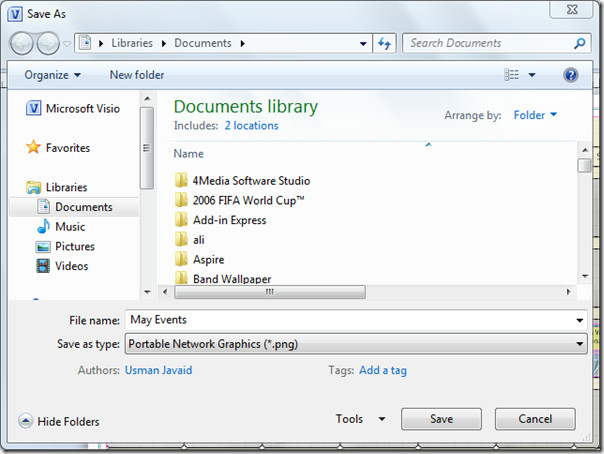 It will bring up PNG Output Options dialog, showing a lot of options for setting image size and quality. Select data format and color format. You can also add a background color from here. Under Transformation, change the layout of image and from Resolution, change the size of the image as desired. Click OK to save Calendar in PNG format.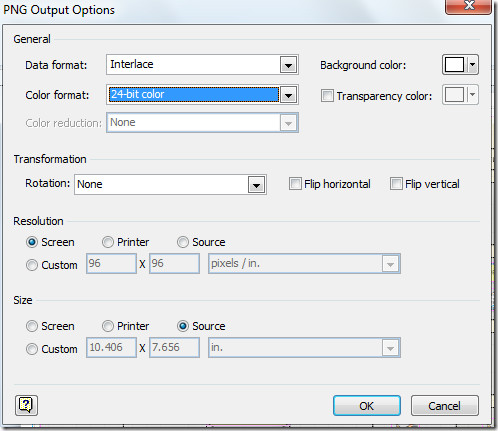 Open the PNG document to view the calendar items positioning and shapes quality. You can now share this work calendar with your co-workers.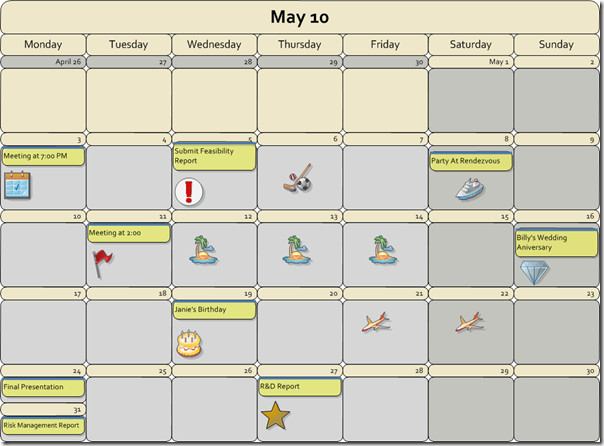 You can also check out previously reviewed guides on How to Round Shape Corners in Visio 2010 and How to Link Excel 2010 with Visio diagram.