Excel 2010: INFO Function
Excel  INFO function is used for showing different kind of information in the spreadsheet. This function encapsulates different commands that shows; Path of directory, Active Worksheets, Origin of first cell, OS version, Recalculation mode, Current Excel Version, and Operating Environment. On writing this function it will automatically shows the list from which you can choose the specific argument to place in, according to the situation.
Launch Excel 2010 spreadsheet in which you want to add different information from INFO function. For instance, we will be using INFO function to show each information it encapsulates. The Information field content in the table can be found out instantly from INFO function.

The syntax of INFO functions is;
=INFO(type_text)
You can write the following text as argument (enclosed in double quotation) to find out the corresponding information;DIRECTORY, NUMFILE, ORIGIN, OSVERSION, RECALC, RELEASE, SYSTEM.
The easiest way of showing respective info is writing function and then selecting type from the list, as shown in the screenshot below.

We will be finding out the current path of folder and show it in the first row of INFO field which will show the full path.

Now we will be filling in the INFO field for corresponding information being present in Information field. It currently shows 8 active Worksheets, the origin of top left cell as absolute reference, The OS version, Recalculation Mode as Automatic, Excel Version as 14.0, and Operating Environment as pcdos, as shown in the screenshot below.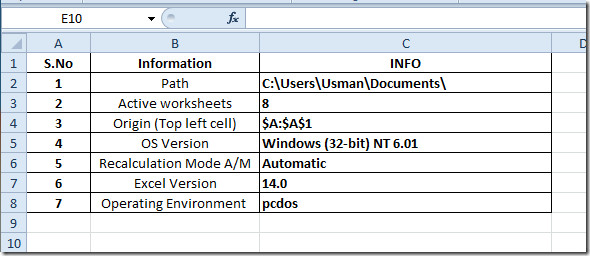 You can also check out previously reviewed Excel function; Logical Functions, DOLLAR, SUMPRODUCT, SUMIF, COUNTIF, VLOOKUP, HLOOKUP ,PMT, and LEN.