Excel Mixer Nano: MS Excel Add-In To Control Cell Values With Sliders
Excel Mixer Nano is an add-in for Microsoft Excel that provides Excel data and chart display by moving a simple slider. All you have to do is to select a range of cells in MS Excel, and use Excel Mixer Nano sliders (or scroll bar) for the selected cells to change values with a display of a value graph. Excel Mixer Nano has the ability to remember configurations, therefore, you do not require regularly configuring sliders. The main purpose of this application is to provide two major functionalities, i.e., to control cell values in Excel files with sliders, and to observe the real-time reaction of formulas with the help of MS Excel charts (displayed along side the sliders). Hence, Excel Mixer Nano brings your Excel data and charts to life with your mouse.
To get started, open an Excel sheet, enter (if not present already) and select the numerical values, and click New Slider. This will allow you to change the numeric values and see real time graphs for them.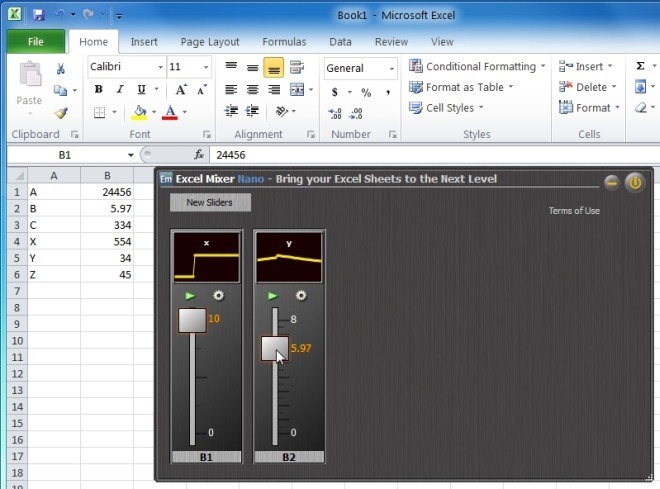 Excel Mixer also has a paid version with more features, labelled Excel Mixer Pro. This add-in allows multi-dimensional data cube generation, the option to export a chart as an image file, data export in text format and the utility to perform an in-depth analysis of formula results with just two clicks. For more information about this add-in, check out the below video.
Excel Mixer (both Nano and Pro version) work on Windows XP, Windows Vista, Windows 7 and Mac OS X. Testing was done on Microsoft Office Professional 2010.