OLFix – Find And Repair Outlook Search, Contacts & Profiles Problems
Resolving problems in Outlook is not an easy task, as one needs to run Outlook with different switches to identify and fix the problems but sometimes the supported switches don't help determine the root cause of problems. In such instances, it's recommended to use third-party repair tools to identify and fix all the known and unknown issues. If you frequently encounter problems while loading Outlook and switching between Outlook profiles, and with installed add-ins and Outlook internal links, OLfix may help you repair and restore Outlook back to normal state. It is a standalone application written for all versions of Outlook to find and fix almost all the widely known issues. including, corrupt PST file, truncated contact links, un-usable extended search folders, redundant Outlook profile services, duplicate data files, slow startup, etc.
Before you launch OLfix, make sure that Outlook instances are not running in background. On the main screen, it shows all the available repairing tools and options. Under Service menu, you will find Tools which are listed on main interface along with Find error code option to quickly get help on specified Outlook error codes. When you hover mouse pointer over options listed in Repair Outlook and Tools sections, it shows tool description in Hints window, which helps comprehend both the problem and available solutions.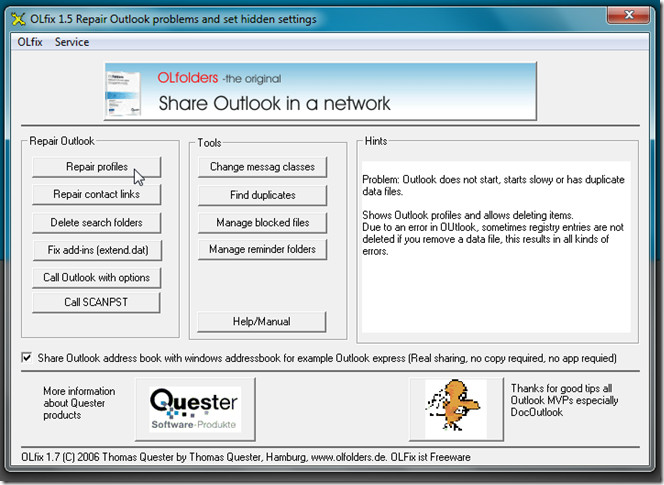 The Repair profiles repair option displays all active and unused services from user-selected profile. This lets you find and remove all unused services of any profile with one click. First off, select the profile from drop-down menu, click Select unused services followed by Delete unused services to remove the junk from your configured profiles.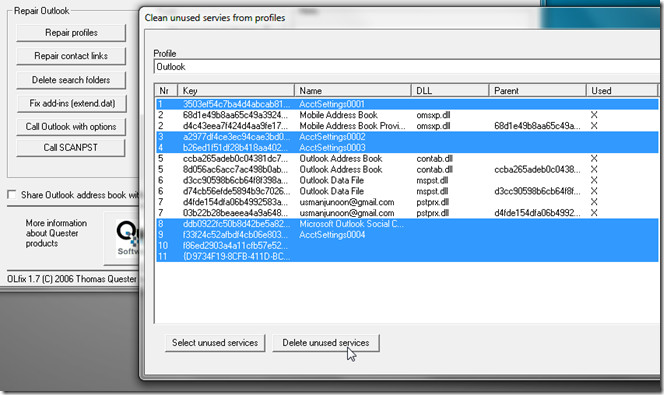 The Repair contact links feature is suitable for those who face problems while opening Outlook contacts. Outlook contacts links are highly prone to incorrect references and other irregularities. That's the reason why it's recommended to check and fix links after exporting the contact linked files. Under Repair contact files window, it reindexes all your contacts associated with selected mail account.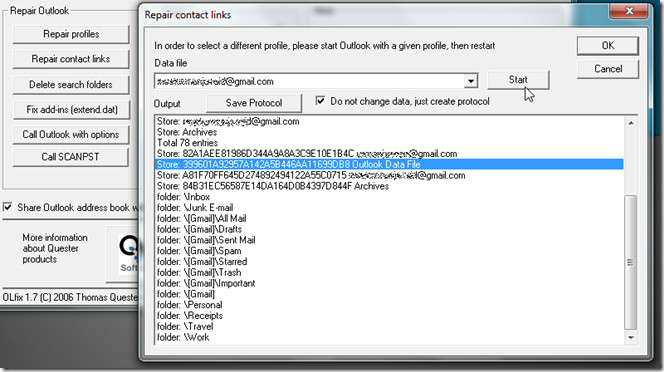 The Call Outlook with options contains 9 different Outlook switches, including, /safe, /cleanfinders, /cleanpas, /cleanreminders, /resetfolders, etc. You will find functionality description with each provided Outlook switch.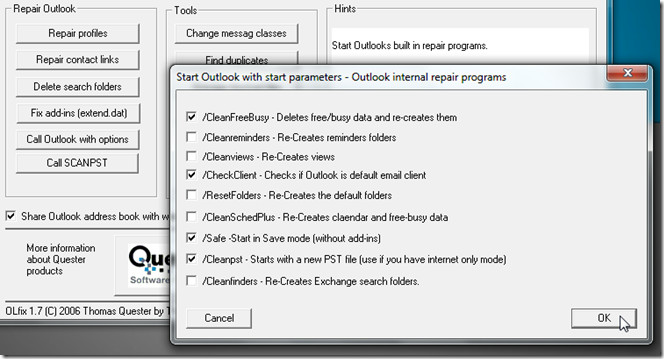 Outlook often fails to remove search folders which can seriously damage integrity of search results. The Clean search folders option can help you remove all search folders with a single click.
OLfix lets you find search folders and remove them from Delete search folders window.  Similarly, from Tools section on main screen, bring up required tool window to perform respective operations over Outlook. For instance, if you want to merge reminders from multiple folder into one, hit Manage blocked files and specify the folders you want to merge.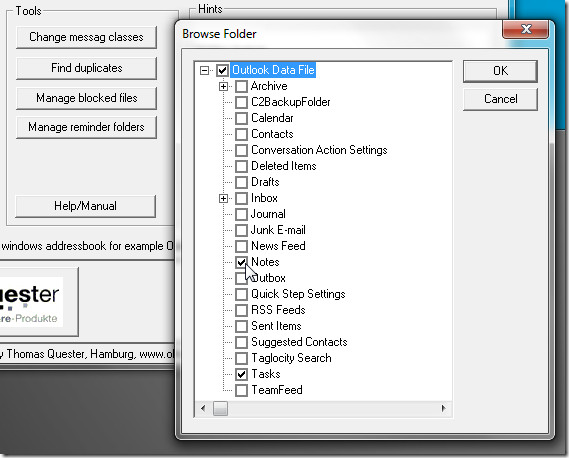 In short, OLfix provides a one-stop solution for diverse range of Outlook problems. You will find detailed documentation of each feature along with usage help manual on product page. OLfix works on all versions of Outlook, including Outlook 2010.