Get Custom Templates To Appear On The Start Screen In MS Office 2013
Microsoft provides a fairly large library of templates that users can download for free, for each of its productivity apps. Office also comes packed with a few templates and themes, and if you're looking for something exceptionally original, you can create your own templates or download, even buy them, online. In Office 2013, Microsoft added a start screen that shows popular templates or custom templates each time you launched the app. It makes  it easier to open templates instead of a blank presentation. There is just one little catch; if you download say a PowerPoint template, it doesn't show up on the start screen. Instead you have to browse to where it's downloaded every time you want to open it. This pretty much defeats the purpose of the start screen. The work around is pretty simple though so here's how you can get any template you've downloaded for an Office app to show up on its start screen. This works for templates for all Office 2013 apps.
If you've ever created a custom theme or template, you know that it shows up in the start screen. It's the ones you download that fail to appear there. This has nothing to do with where the template originated from. It is instead linked to where the template is saved. Put simply, you need to move a template to the right location on your local drive to have it appear on the start screen of the respective Office app.
To add a template to the start screen, simply paste it in C:\Users\YourUserName\Documents\Custom Office Templates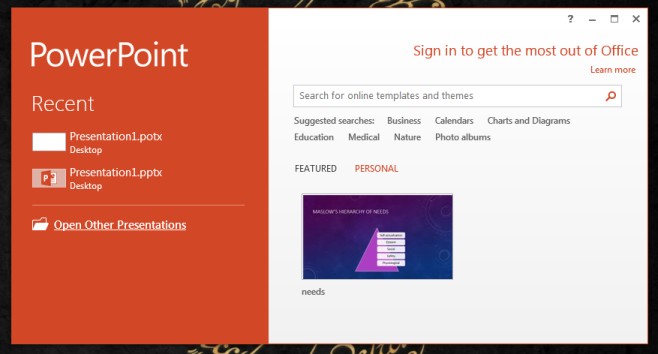 Launch the Office app that you downloaded the template for and switch to the Personal tab. Your templates will now appear here for quick and easy access. If you ever need to delete a template, return to the folder you pasted them in and send them packing. Now all we need is a way to get the apps to default to the Personal tab on the start screen instead of the Featured tab.