Google Cloud Connect Syncs Microsoft Office Documents With Google Docs
If you've been following Google Docs improvements for a long time, you must have heard about Cloud Sync in November, last year. At that time it was offered to only few users for testing. Now that the private beta phase has come to an end, Google in conjunction with Microsoft has released this awesome add-in to the public. It works on MS Office 2003, 2007 and 2010 applications, including, Word, Excel and PowerPoint to seamlessly synchronize mutually supported documents, initiate simultaneous collaboration with others on the go, and to share documents with your friends and colleagues. It also brings other famous features of Google Docs, like, revision history to check the previously edited documents and instant backup to create document backup to MS Office applications
Once you've downloaded the addin, getting it to work takes nothing more than installation and then configuring Google account details. After installation, open Word, Excel, or PowerPoint to connect the Google Docs account with your PC. Underneath the ribbon, you will see a Google Docs bar asking you to login with Google account details.

Now enter the username and password to let it connect with your system. It will ask you to grant access for Google Docs and Google Contacts.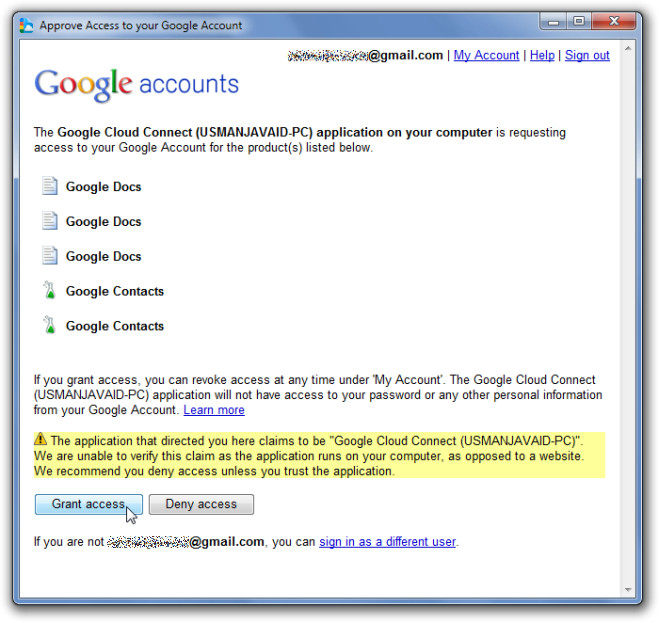 Clicking Grant access button will open a new dialog to setup default sync settings – Manual Sync or Automatic Sync. Select the type of sync and click OK.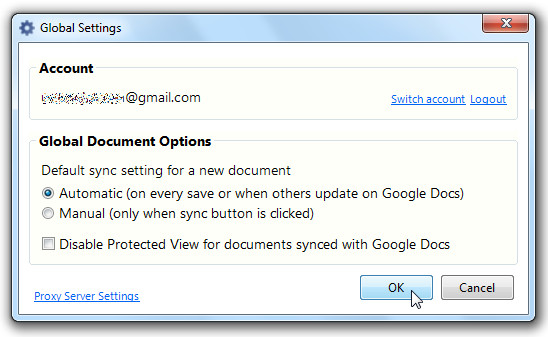 It will bring you back to MS Office application with Google Docs bar stating Success at right side of the toolbar. Now you can open any document to share with others, set up collaboration, make use of revision history feature and so on. You can change the sync settings from pull-down menu. To sync the document with cloud, click Sync to begin the process.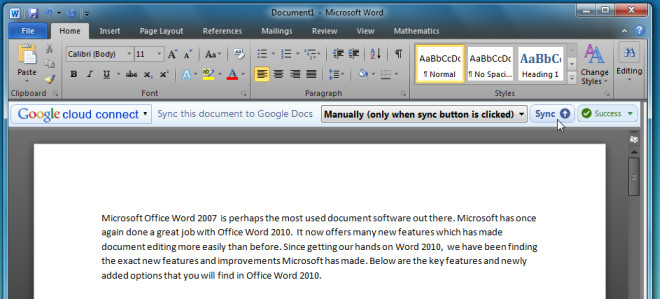 After the sync process is completed, it will show the Google Docs document link with options to copy document link to clipboard, view revision history and change Sync mode.

At the extreme right-side, you will see a Share option to start collaboration with others. Just specify the email address of person with whom you want to collaborate on current document and click Share button to send request.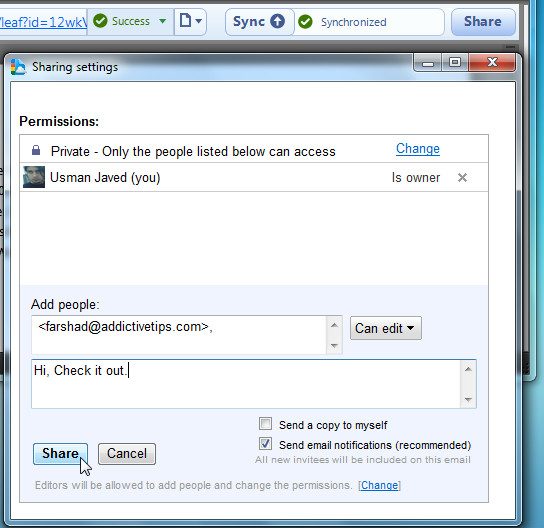 Below you can watch the official video from Google, demonstrating the usage in detail.